Even though our honeymoon was years ago now, I STILL dream about the Cook Islands pretty much errrrrday.
I mean how could you NOT:
When we were planning our trip, I had a hard time finding unbiased information on resorts in the Cook Islands, so I wanted to write a post about my experience in case it is useful or inspirational for anyone else.
To start, most people have never even heard of the Cook Islands, so allow me introduce you to a hidden gem:
(And no – those are not images I took from screensavers.  But they could be.)
Plus – it's January and let's be honest – red wine and looking longingly at beach photos is pretty much what gets you through this time of year.
Planning a Cook Islands Honeymoon
My husband and I were pretty much on the same page in terms of most of the criteria for our trip: a tropical setting with beautiful beaches, somewhere a bit exotic, a luxury resort (me), good food (him), somewhere we'd never been before, and relatively straightforward to get to from southern California.  As much as I was dying to visit the Maldives, this girl wasn't about to spend 24 hours getting there.
Based on what we wanted, the places that rose to the top of the list were Thailand, Bali, Bora Bora and Fiji.  I fell in love with Thailand's culture, Bali's beauty, Bora Bora's overwater bungalows, and Fiji's private islands.  And I think I would have loved visiting every one of them.  And I know I will, someday!
While looking at various options, I stumbled across the Cook Islands and the more we learned, the more it seemed to be a perfect fit for what we wanted.  Even better for us was that the Cook Islands were waaaaay more affordable than either Bora Bora or Fiji, but offered a similar experience: clear blue lagoons, luxurious resorts, and the exotic appeal of the South Pacific.
Honeymoon Itinerary in the Cook Islands: The Basics
If you're planning to visit the Cook Islands, I would recommend splitting your time between Rarotonga, the largest island, and Aitutaki, the second most populated island.  How you split your time between the two will really depend on how low-key you want your trip to be.
As in, it will either be low-key or REALLY low-key.
Most vacation packages to the Cook Islands offer stays on both islands, and also include a round-trip inter-island flight.
We decided to spend 7 nights on Rarotonga and 5 on Aitutaki, and bought a package through our hotel that included stays on both islands as well as the flight between the two.
Getting to the Cook Islands was surprisingly straightforward.  There's a direct flight from Los Angeles to Rarotonga that leaves every night at midnight.  This timing was perfect – by the time we'd had dinner, watched a movie, and taken an Ambien, we were already there.  When I tell people that it's only a nine-hour flight to the Cook Islands from California, they're always surprised.  That's closer than Europe!
Cook Islands Honeymoon: Where to Stay
Let's face it: choosing where to stay for your honeymoon can be just a little nerve-wracking.
I can't say enough good things about where we stayed in the Cook Islands.  Rumors Resorts has properties on both Rarotonga and Aitutaki and I was completely blown away by both of them.  Both properties have private villas that look out on to the clear blue lagoons that surround both islands.  In Aitutaki all of the villas sit right on the beach, and in Rarotonga, most of them do.  The villas all have private plunge pools, kitchens, gorgeous bathrooms, and are just HUGE.  Our villa in Rarotonga even had two bedrooms!
Our villa in Rarotonga
The service at these resorts is also second to none.  You'll be picked up at the airport and whisked away to your villa.  Every day, breakfast is delivered to you, and you can choose what you'd like to eat the night before.  You can also arrange for a private dinner in your villa, or if you'd like to have your own BBQ, or room service from a nearby restaurant, they will have the entire thing delivered to you.  The villas can also come pre-stocked with any food, drinks or snacks you might want during your stay.
 Tasty breakfast delivered every day, at a time of your choice
View from our villa in Rarotonga
Honestly – no request was too big or too small.  On our last night in Aitutaki, we wanted to do a dinner on a private islands – and the resort arranged everything for us.
View from our villa in Aitutaki
One thing that I really loved about the Rumours resorts was that they were small boutique resorts that catered to each individual.  There are no communal pools or bars – everything is private, just as you would probably want on your honeymoon.
Even though I would stay at both resorts again in a heartbeat, since the islands are pretty small, I also managed to check out some of the other resorts, and I've listed some other suggestions at the end of this post.
Cook Islands Honeymoon: What to Do
So you're in activity mode.  The Cook Islands has a decent mix of things to do – enough to keep you entertained for about a week on both islands, but allowing you to go at a relatively slow pace.
On both islands, renting a scooter is a must.  You'll have to pass a short driving test to get your license (easy peasy) and then you'll have your very own wheels for your stay.  On Rarotonga this is useful to ride into town and check out some of the restaurants or other resorts, and on Aitutaki, it's a great way to check out the entire island – it takes about 30-40 minutes to drive around the entire thing.
On Rarotonga, I would recommend checking out an Island Night, the Cook Islands' version of a luau.  There are plenty of options.  You can also rent or borrow a kayak and paddle out to one of the motu (small island) surrounding the main island and hang out for an afternoon.  Or if you're feeling adventurous, you can hike from one side of the island to the other.
On Aitutaki, the absolute must-do activity is a lagoon tour.  I highly recommend Teking – he's hilarious and the tour group is small enough that you'll get personal attention.  During the tour, you'll check out some of the uninhabited islands that ring Aitutaki, do plenty of snorkeling, and have a tasty BBQ lunch among fish.
One of the outer islands surrounding Aitutaki – I think where Survivor was filmed!
Snorkeling among coral in electric-blue water
More snorkeling finds: a blue starfish!
Lunch among fish
We loved Teking so much that we used his company to put together a private dinner on a remote island.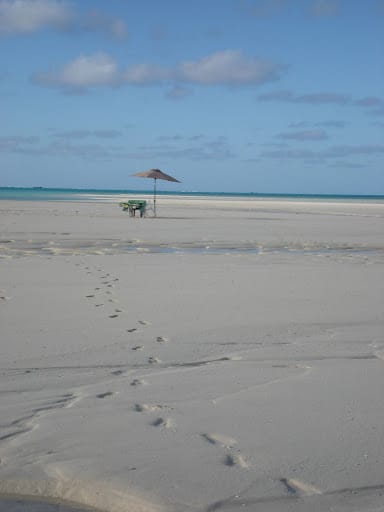 Table for two – this was our dinner table for our private meal
Speaking of which – I HIGHLY recommend doing this while you're visiting Aitutaki.  There are a ton of sandbars and tiny uninhabited islands that surround the main island, and various companies will set up a private dinner for you on your very own island.  It was an experience that I will cherish forever.
 Me – happy as can be – champagne in hand on a private island
What I Loved About the Cook Islands
Hmmm…where to start??  I loved the exotic South Pacific appeal of the Cook Islands.  The natural beauty of the islands truly shines through when you visit – and it's the thing that you really take in – not the hotels, the food, or anything else.
I loved that the Cook Islands felt undiscovered.  There's not a hotel chain to be found in the Cook Islands.  There are no high-rises or fast-food chains.  People say that the Cook Islands are how Tahiti used to be 20+ years ago.  Although there are a number of small, boutique hotels (some quite luxurious), they don't take away from the rest of the island feel.  Being there felt like a secret escape.
While the islands certainly have their share of tourists, it still feels like the culture is driving the tourists, not the other way around.  The people we met were so kind, and welcomed us with open arms – and I say that about everyone we met, not just the hotel staff who are typically paid to do so!
I loved that the Cook Islands felt far-flung but were actually pretty easy to get to – at least from the west coast of the U.S.  While we were there, it really felt like we could disconnect from everything, take a deep breath, and RELAX.  I'm not sure I would have felt the same way at a hotel with 48 floors, 24-hour room service, and wifi.
Lastly, budgets are a reality when it comes to any trip, and the Cook Islands had everything we wanted, but at a much lower price than the other alternatives we looked at.  Cost wasn't everything in our decision, but it definitely factored in, and thankfully it worked in our favor.
All in all – I can't recommend the Cook Islands highly enough – for a honeymoon or any other tropical vacation.  You'll have a completely memorable and unique experience.  I'd be happy to chat if you're planning a trip there – just email me!
Alternative Places to Stay in the Cook Islands:
Rarotonga:
Aitutaki:
Liked this post?  PIN IT!
Wanna Learn to Pack a Suitcase Like a Boss?
Subscribe to download my three BEST travel planning resources:
Travel outfit planner
Pre-travel checklist
Carry on packing list