Business Travel Capsule Wardrobe
This site uses affiliate links and I may earn a small commission when you use my links and make a purchase, at no extra cost to you. Many thanks for supporting this website!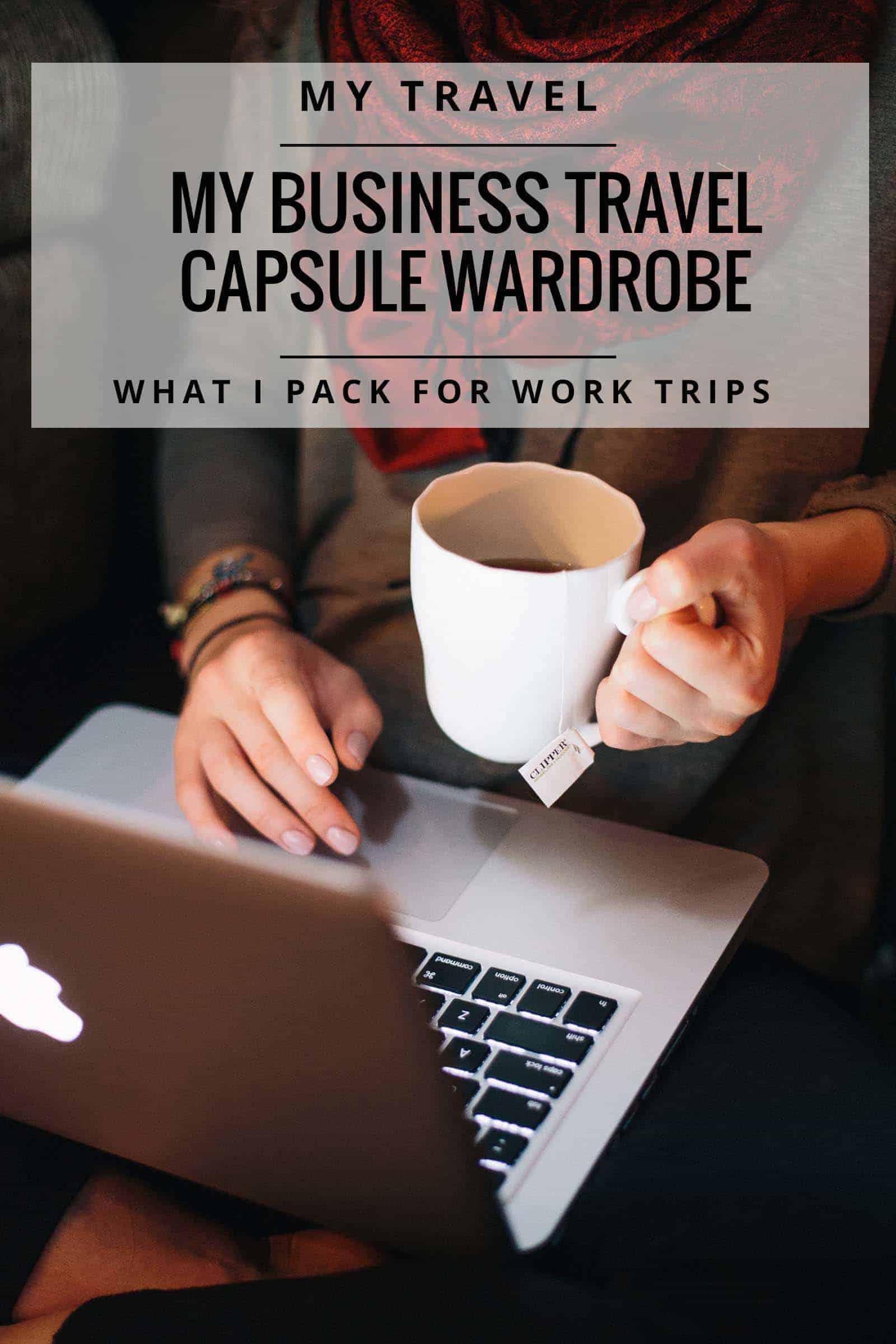 Choosing what to pack from an entire closet's worth of clothes can be overwhelming, time-consuming, and lead to overpacking. Just…..no.
What's a Capsule Wardrobe?
That's why when I heard about the concept of a capsule wardrobe from Caroline at Unfancy, it struck me that this was the perfect solution for women who travel for work all of the time. Personally, I have a bunch of go-to pieces that I rely on trip after trip, but I loved thinking about a collection of them as a business travel capsule wardrobe.
The best thing about a capsule wardrobe? They're all pieces that you would reach for when you want to look your best. They all go together. They are all versatile and can be dressed up or dressed down. They all make your life easier.
Say no more.
Update: For a hot-off-the-press example of a capsule wardrobe, check out this post I wrote on the perfect fall travel capsule wardrobe! I walk you through how to put together a capsule wardrobe, piece-by-piece. For colder weather, you can check out my cold weather travel capsule collection.
My Capsule Wardrobe for Business Travel
I've put mine together and it's 27 pieces: 4 dresses, 2 skirts, 3 pants, 9 tops, 5 jackets and 4 pairs of shoes. This distribution works for me, but of course the numbers can vary. In general, I can work with a pretty small number since most of my trips tend to average 3-4 days in length.
In addition, my capsule wardrobe reflects the fact that most of my work travel involves two types of clothes: dressier outfits for meetings, and casual but polished outfits for travel days, or dinners out with co-workers.
I've also included a few of the pieces that I recommend in my list of 40 travel essentials for women!
I work in an industry where business casual attire works the majority of the time, but there are also certain trips and meetings where I need to wear a suit, so you'll see some of those mixed in with the collection. In addition, most of my travel is to larger cities: New York, San Francisco, Chicago, Boston, and Washington DC. Depending on your profession and travel patterns, your capsule wardrobe could look entirely different!
You'll definitely see some repeats in terms of designers. Call me a creature of habit, but I have a few stores that I regularly depend on for business attire. I've built up this wardrobe after many (many) years of working in a corporate environment, so while there are some investment pieces, I certainly didn't buy them all at once! For pieces that are older, I've provided links to similar alternatives.
Women's Business Travel Capsule Wardrobe: Blouses, Shirts, and Sweaters
From left to right:
Row 1: Ivory lace blouse (similar) / Sleeveless blouse (similar) / Gray cardigan (similar)
Row 2: Linen t-shirt / Crewneck sweater / Short-sleeved silk blouse
Row 3: Blue patterned silk blouse / Sleeveless blouse (similar) / Ivory silk blouse (similar)
Women's Business Travel Capsule Wardrobe: Dresses and Skirts
From left to right:
Row 1: J. Black pencil skirt / Dark patterned dress (similar) / Black sheath dress
Row 2: Black suiting dress (similar) / White patterned dress (similar) / Gray pencil skirt
Women's Business Travel Capsule Wardrobe: Jackets, Pants and Shoes
From left to right:
Row 1: Leather jacket / Moto jacket (similar) / Navy blazer
Row 2: Suit jacket / Trench coat (similar) / Dark jeans
Row 3: Suit Pants / Black denim / Ballet flats (for similar ones, check out Tieks)
Row 4: Black sling backs / Nude pumps (similar) / Black ankle boots (similar)
In addition to picking from my business travel capsule wardrobe, I also have a few clothing items that I never travel without. All of these get tossed in my carry on along with my travel beauty products – and I'm pretty much packed!
Liked this post? PIN IT!
Wanna Learn to Pack a Suitcase Like a Boss?
Subscribe to download my three BEST travel planning resources:
Travel outfit planner
Pre-travel checklist
Carry on packing list