Traveling to Chaing Mai for the First Time?
I've got the perfect Chiang Mai itinerary for you!  If you're wondering what to do in Chiang Mai for 3 days, this itinerary has everything you need to know!
Posts on this blog may contain affiliate links. At no additional cost to you, if you click through an affiliate link and make a purchase, I may earn a small commission.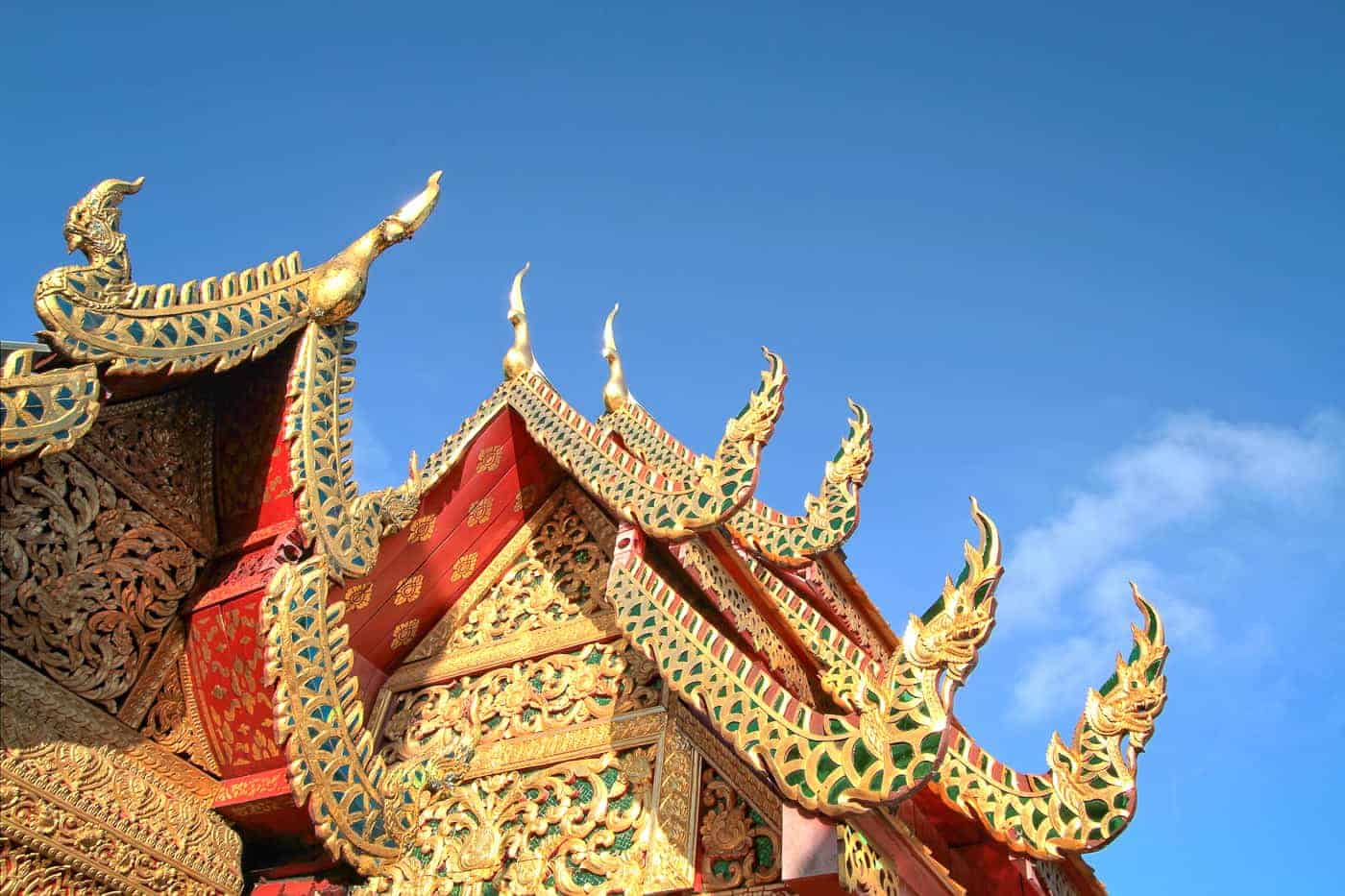 How Long to Spend in Chiang Mai
If you're wondering how long to spend in Chiang Mai as part of a longer Thailand itinerary, I'd recommend staying in Chiang Mai for at least three days.
What to Do in Chiang Mai in 3 Days
When you're planning your Chiang Mai itinerary, it's helpful to know that three days is the perfect amount of time to spend in Chiang Mai.  It's enough time to give you the flavor of the city and see several of the highlights.   With 3 days in Chiang Mai, you can cover quite a bit of ground without feeling rushed.  At the same time, it also leaves enough time to visit other parts of Thailand.
Wondering what to pack for Chiang Mai?  Check out my packing list for a trip to Asia, as well as my best packing tips for women!
Before You go to Chiang Mai…
Get yourself one of these.  You'll need it if you plan to visit any of Chiang Mai's temples when the weather is warm, since visitors must dress respectfully.
Where to Stay in Chiang Mai
A key piece to any Chiang Mai itinerary is where you'll be based during your stay.  Fortunately, there is a broad range of  places to stay in Chiang Mai – from the very budget-conscious backpacker hotspots, to the highest standard of luxury.  Here are my picks depending on your budget:
Luxury: If you're going to splash out on accommodation while you're visiting Chiang Mai, the Dhara Dhevi is phenomenal.  Another fabulous option is 137 Pillars House.  Both of these properties have gorgeous grounds, and the Thai architecture and charm are absolutely stunning.
Mid-range: Good mid-range hotel options in Chiang Mai are BED Phrasingh (adults only) or U Chiang Mai.
Budget: Kate and Hasu Boutique has all of the creature comforts of a luxury hotel, but at an affordable price point.  With the pool, a gym and chic, modern rooms, you'd never guess that the rate is around $50/night!  It's so cute – check it out!  Not to mention, there's also a rooftop lounge and a perfect central location.  This hotel truly has it all.
Have Some Extra Hotel Points?
I've stayed at the Le Meridien when I've had extra Starwood points, and this hotel has great value for points.  My three-night stay in Chiang Mai only ended up costing 9,000 Starpoints, which is pretty unheard of.  The Le Meridien was upscale and modern, and I loved that it was located a stone's throw from one of Chiang Mai's night markets.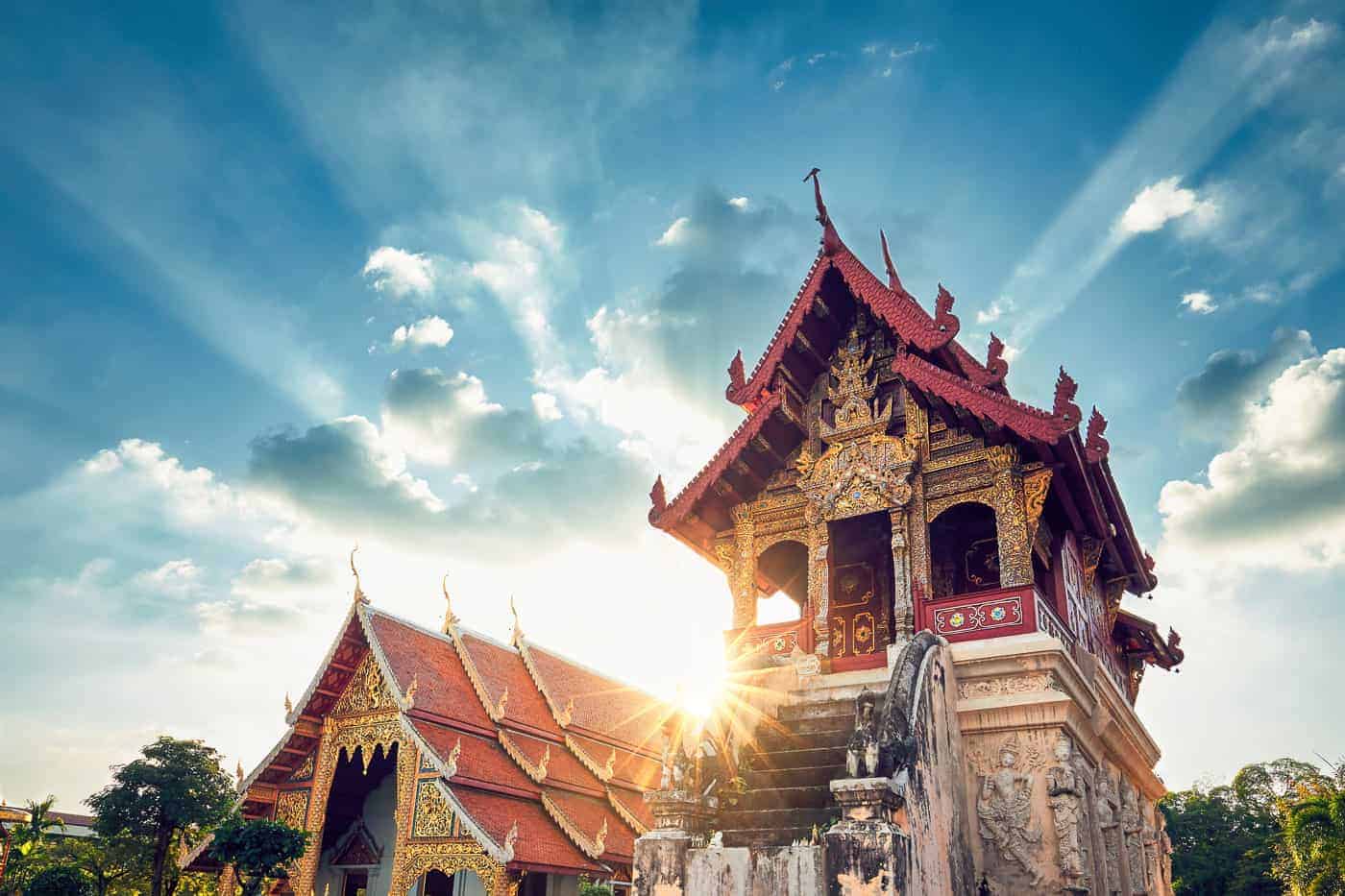 Chiang Mai Itinerary Day 1: Welcome to Thailand's Cultural Capital!
Here's the lowdown on what to do in Chiang Mai in 3 days.  I've broken this itinerary down into a day-by-day plan that's perfect for first-time visitors to Chiang Mai.
Wat Phra That Doi Suthep
An absolute must for any Chiang Mai itinerary is a visit to Wat Phra That Doi Suthep.  Get an early start, and plan to spend most of the morning of your first day in Chiang Mai visiting this temple.  The views from the temple are incredible, and the golden Lanna art everywhere you look is stunning.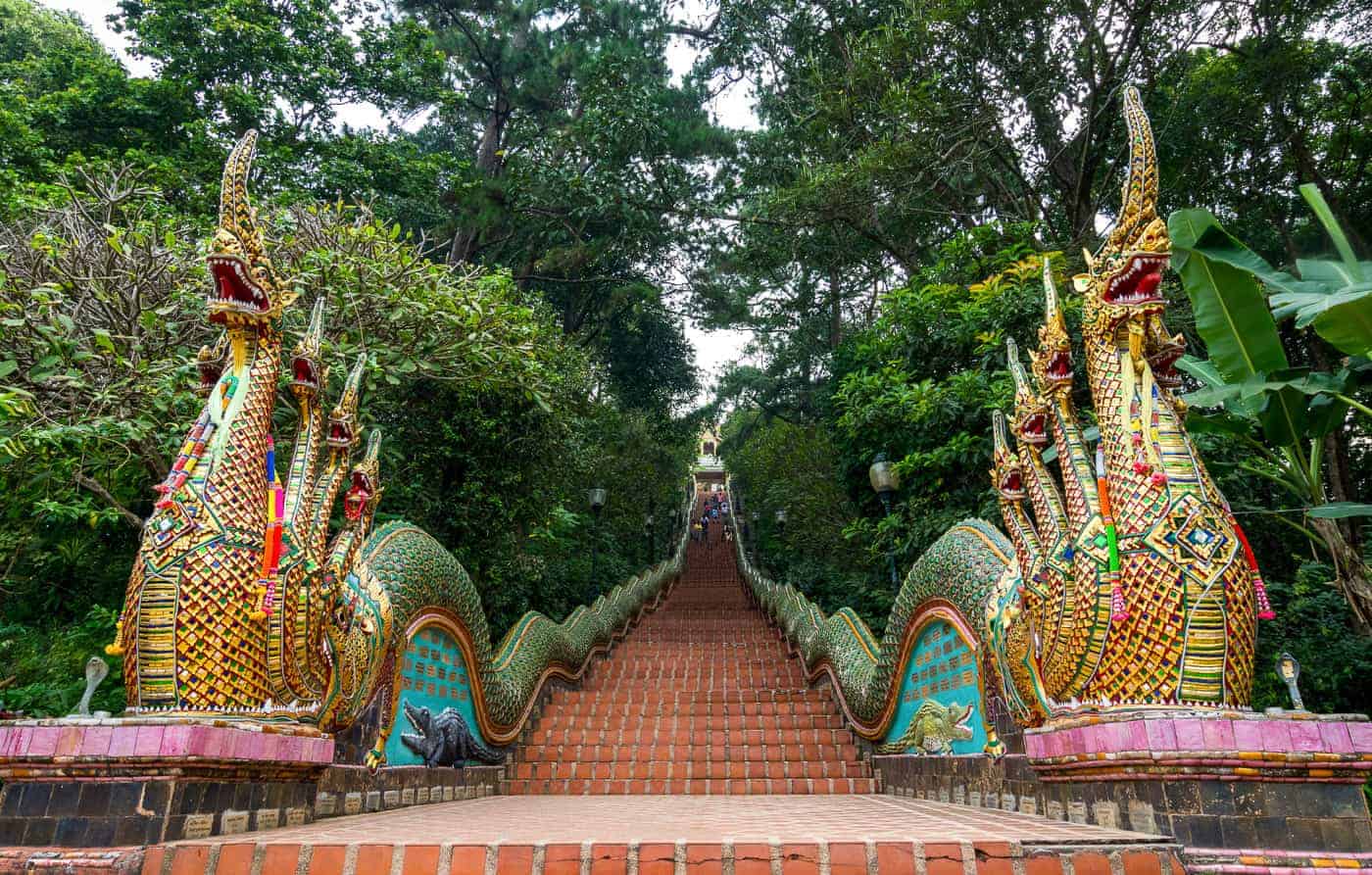 Wat Phra That Doi Suthep is top Doi Suthep's summit, and it's about 30 minutes outside of the city of Chiang Mai.  For more info on how to get there, check out this guide to getting to Doi Suthep – it has all of the information you need to know!  If you don't want to make arrangements on your own, there are plenty of tours that will take you there.  But either way, it's an absolute MUST for your visit to Chiang Mai.
Chiang Mai's Old City
After your visit to Doi Suthep, head back to Chiang Mai's Old City, to wander around and check out some of the city's 300+ Buddhist temples.  The Old City is a walled quarter filled with temples that showcase Thai culture and northern Thai (Lanna) architecture.
There are a few must-see temples which I've highlighted here, but it's also fun to just wander around the Old City and see what you stumble upon.  Getting around Chiang Mai's Old City is pretty easy to do either on foot or by bicycle.
Wat Chedi Luang
As you wander through the Old City, make sure to stop by Wat Chedi Luang.  This temple, located in the center of the city, dates back to the 14th century.   The chedi (or pagoda) here is one of the tallest structures in the Old City, but you'll notice that the top has crumbled due to damage from an earthquake back in the 1500's.
After checking out the temple and walking around the grounds, you can also participate in a Monk Chat, which is something I highly recommend.  Monk Chats offer visitors to Chiang Mai the opportunity to meet and speak with young Buddhist monks.  You can ask them questions about anything – their daily routines, Thai culture, Buddhism – anything!
Funny enough, the monks I spoke with were also keen to talk about pop culture, so brush up on your Us Weekly on the flight over to Thailand.  It's a great way for young monks to practice their English, and for visitors to Thailand to learn more about the culture.  Win-win.
Wat Phra Singh
Up next on your Chiang Mai itinerary of temple-spotting on Day 1: Wat Phra Singh.  This temple is one of the most frequently visited in Chiang Mai due to the Buddha image that it contains – Lion Bhudda.  If you can time your visit to coincide with the monk chant that begins at 5pm, you'll have the opportunity to listen in.  It's a phenomenal experience.
An Evening by the River
Wind down your busy first day in Chiang Mai with a relaxing sunset stroll along the River Mae Nam Ping.  A great riverside spot for dinner is Deck 1.  I loved their water views, modern decor, and incredible food.  If you can stay late enough, the restaurant often has live music, too, so the overall atmosphere can't be beat.
Chiang Mai Itinerary Day 2: Gentle Giants
No visit to Chiang Mai would be complete without spending some time with elephants, Thailand's majestic and gentle giants.  Sadly, there is a dark side to many of the animal-based attractions in Chiang Mai, where animals are mistreated, abused and exploited for the sole purpose of attracting tourism dollars.  It's so incredibly important to be aware of this before you visit Chiang Mai.
Elephant Nature Park
With the above in mind, I highly recommend the Elephant Nature Park for the second day of your Chiang Mai itinerary.  The Elephant Nature Park is truly a sanctuary for elephants that have been rescued from abusive situations throughout Thailand.  It's a registered Thai Nonprofit, and the animals are free to roam around the park, and are rehabilitated by the Park's employees and volunteers.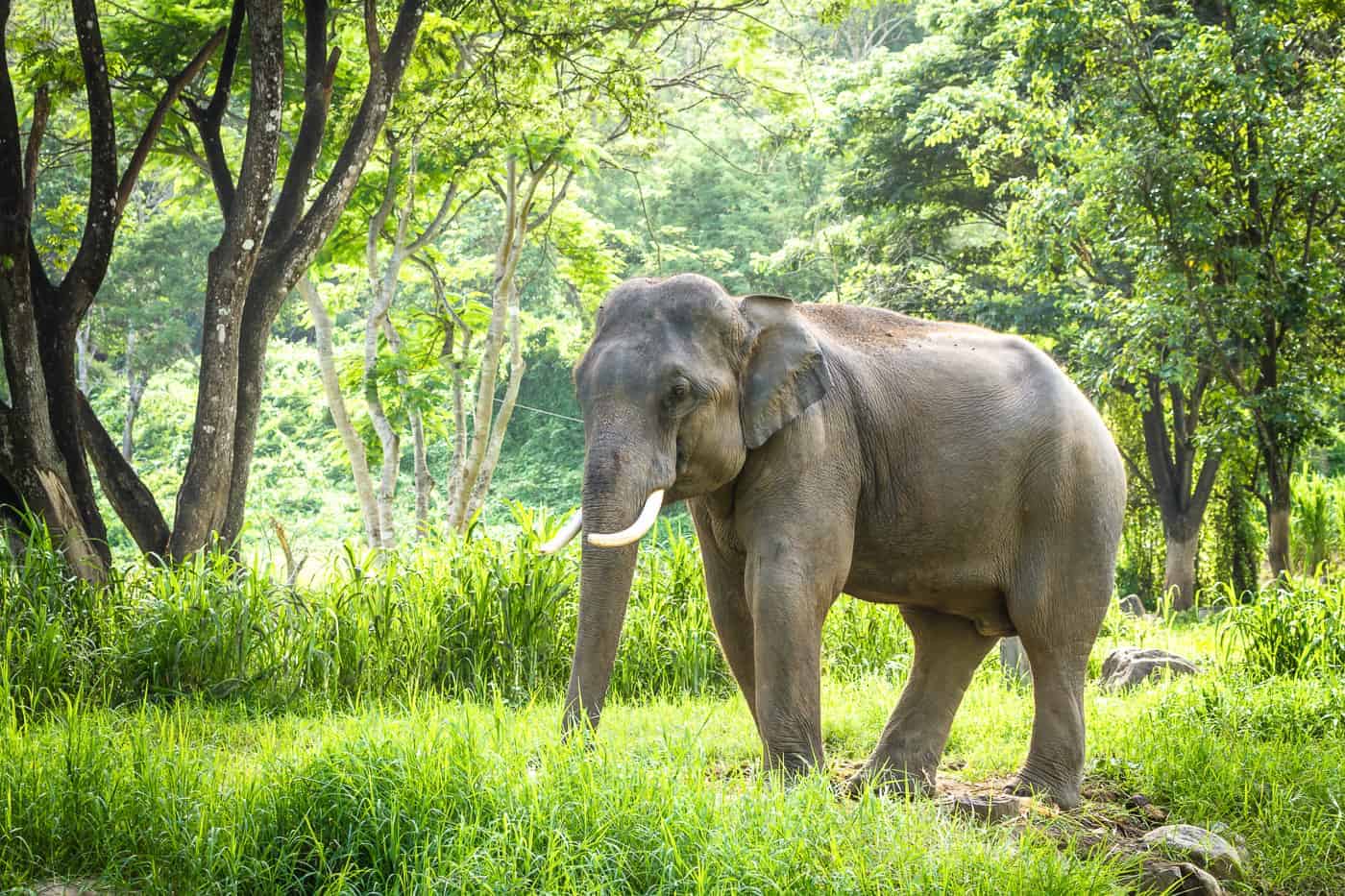 Visitors to the park can get up close and personal with elephants, including helping to feed and bathe them.  Most people visit the park on a day trip, but if you're interested, the park also offers overnight and week-long volunteer stays.
Importantly, a visit to the park does not include riding the elephants.  Elephant's spines aren't meant to support the weight of a human, and because of that, riding an elephant can cause serious long-term damage to the animal.  So please, please, when you visit Thailand, don't support anywhere that allows elephant rides!
Chiang Mai Itinerary Day 3: Indulge in Thai Food and Massage
Spend the last day of your Chiang Mai itinerary indulging in some of Chiang Mai's treats for the senses – food and massage!
Thai Cooking Class
Start off the last day of your time in Chiang Mai with a half-day cooking class.  Even if cooking isn't usually your thing, this is a great way to get acquainted with the staples of Thai cuisine, and learn how your favorite dishes are made.   Many of the dishes are very simple to put together.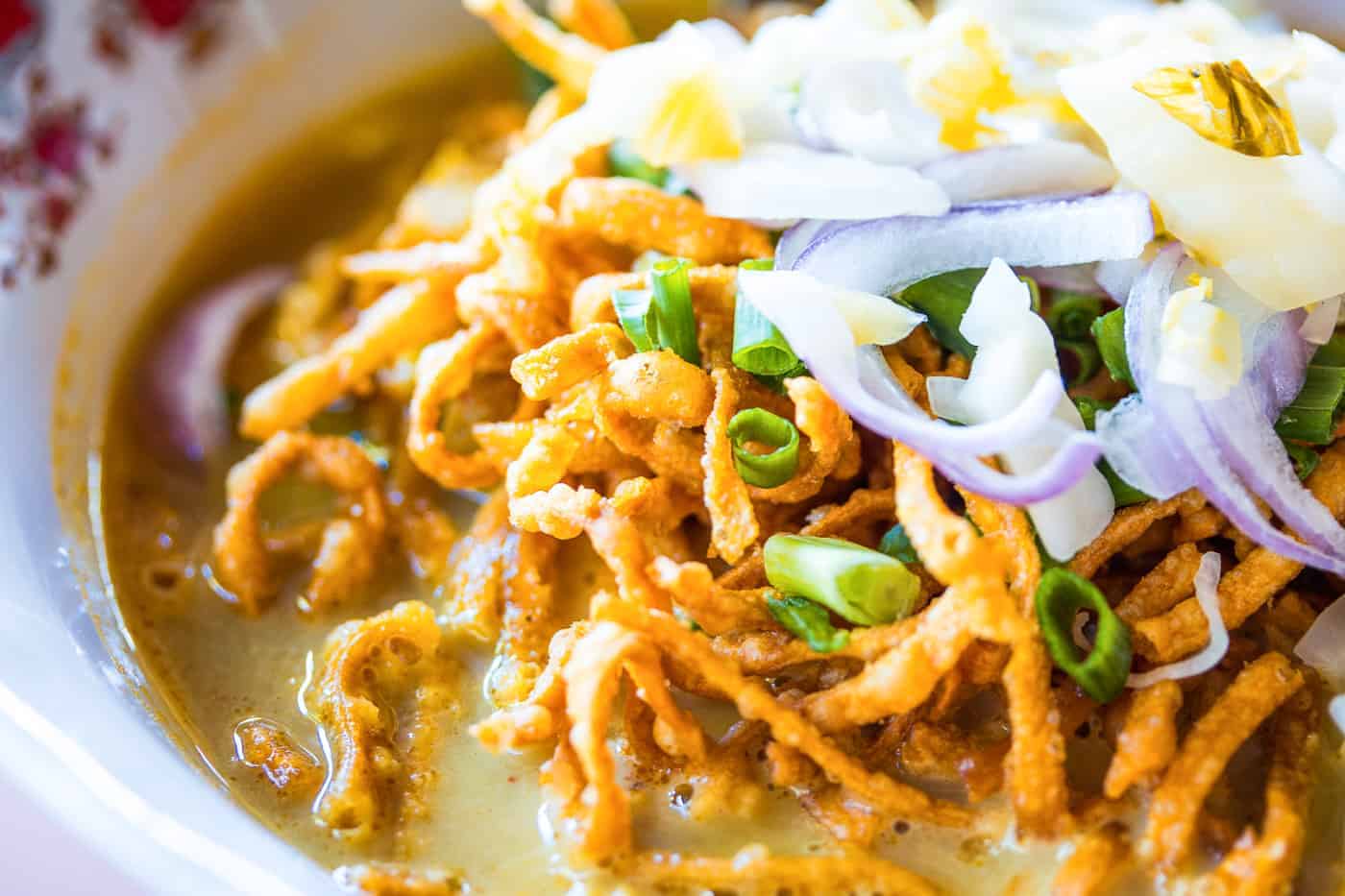 Half-day cooking classes usually include making three or four dishes, as well as a trip to a local market or garden, depending on the school where you take your class.  At the end of the class, you get to feast on your "projects" and you'll go home with a cookbook to help you re-create the dishes at home.  It's a ton of fun, and also a great way to meet other travelers.
If you have the chance, I highly recommend making Khao soi (pictured above).  This noodle dish is a Northern Thai specialty and it is to die for!
Thai Massage
Next up in your Chiang Mai itinerary – some time to relax from a morning spent cooking!  Indulge in one of Chiang Mai's many day spas, and enjoy a Thai or Swedish massage.
For day spas, I love this package because it includes transportation to and from your hotel, as well as 2 hours' worth of spa treatments.  If you prefer something more casual, it's easy to find a spa with good foot massages for a few dollars.
Another alternative that's unique to Chiang Mai?  Head over to the Chiang Mai Women's Prison where inmates (non-violent offenders) are trained in massage techniques.  You can get a one-hour massage for about $5.
Night Market
Refreshed from your massage or time at the spa, the last stop on your Chiang Mai itinerary is to check out one of Chiang Mai's night markets.  Explore what's on offer for souvenirs, people-watch, and grab a casual, cheap dinner of local specialties.  It's a safe bet that dinner won't cost you more than $5!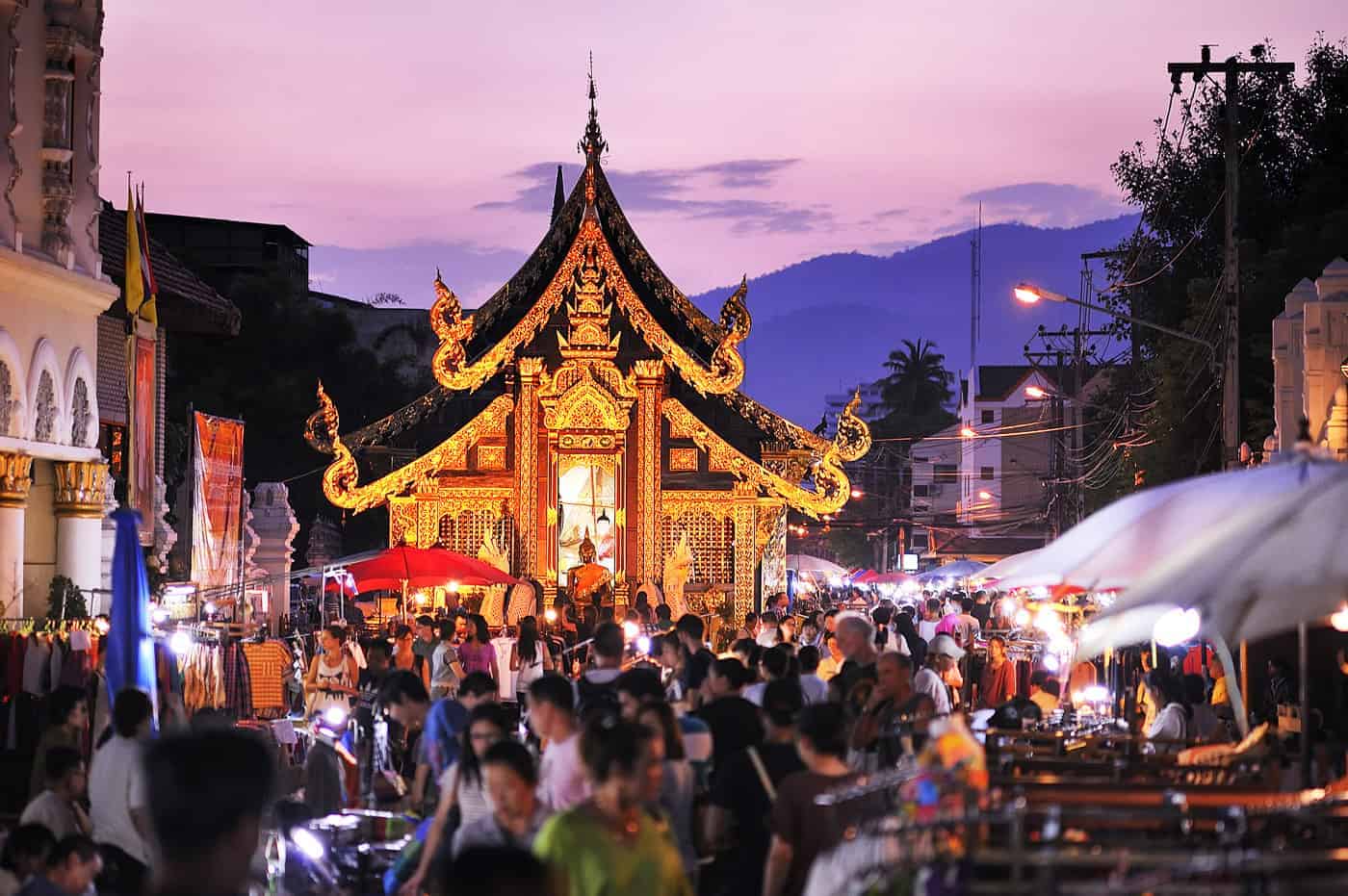 The Night Bazaar begins every night at 6pm, and takes place just east of the old walled city, on Chang Khlan road.
Getting Around Chiang Mai
There are quite a few ways to get around Chiang Mai.  The good news is that none of them are expensive!
Walking: walking is a great way to explore Chiang Mai's Old City.
Renting a bicycle: Getting around Chiang Mai by bike is another good option.  Within the city, the streets are flat, and in general, other vehicles will give you plenty of room.  Renting a bike will cost around 200 – 300 bhat/day.
Renting a scooter: If you're comfortable on a scooter, renting one in Chiang Mai will let you zip around the city.
Tuk-tuk: You haven't experienced Thailand until you've taken a ride in a Tuk Tuk!  A ride within Chiang Mai's Old Town will run 60-80 Bhat.  Plan to negotiate down to that from a higher starting number and make sure to agree on a price ahead of time.
Songthaew: These red trucks are similar to shared taxis.  Hail one down, tell the driver where you're heading, and if they're going in the same direction, they'll bring you along.  Shared rides usually cost 20 – 30 bhat.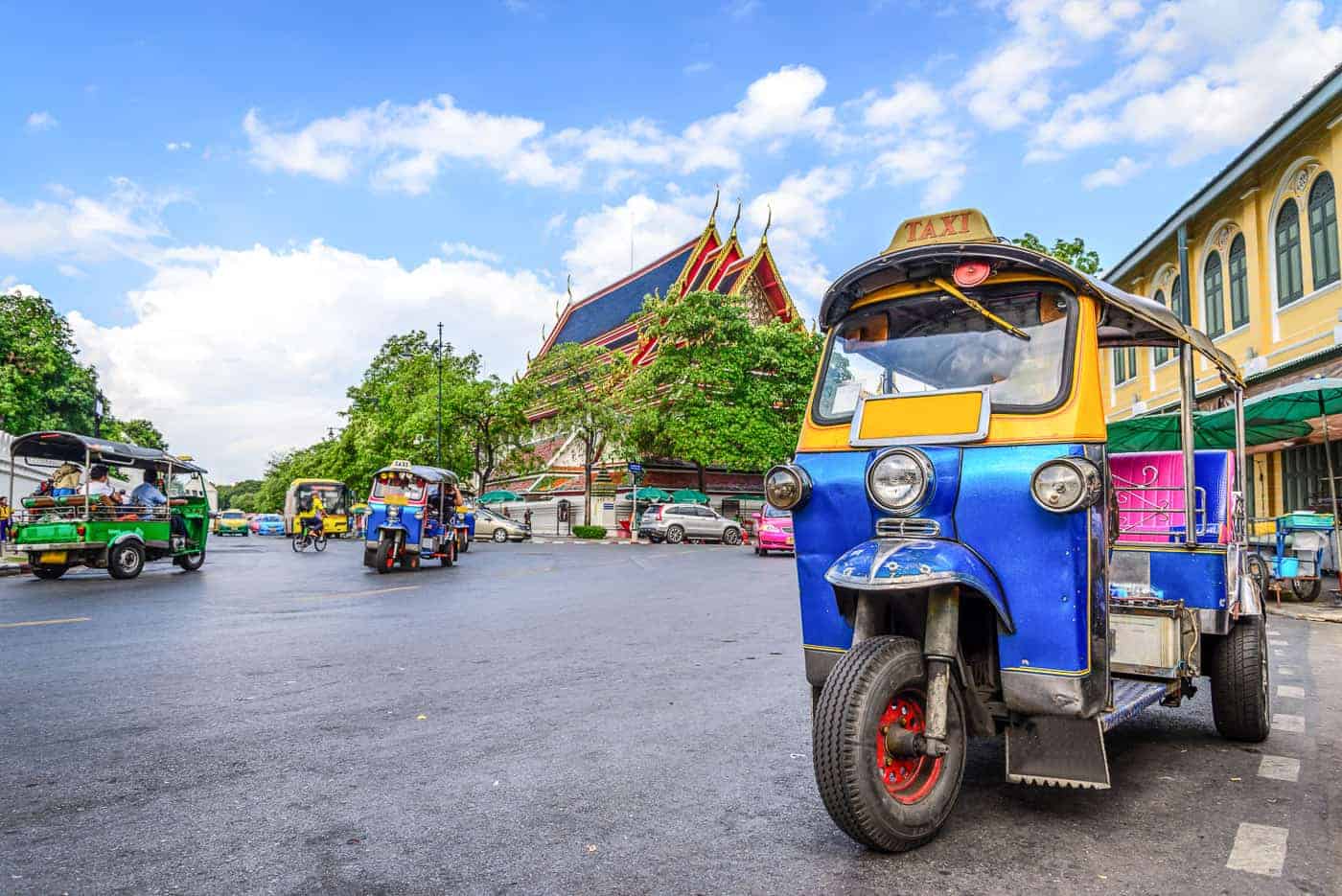 Coming to and from the airport, the easiest transport is a taxi, which will take you to most Chiang Mai hotels for about 200 bhat. You can also book a private transfer ahead of time to and from the airport.  At less than $20, the cost is very reasonable compared to cities in Europe and the US.  Knowing that someone will be waiting for you when you arrive in the city can also give you peace of mind.
Finally, keep in mind that many activities (including the Elephant Nature Park and most cooking classes) include transportation to and from your accommodation.  So, you may only need transportation around Chiang Mai on days when you're not booked in to any of these.
There you Have it – The Perfect Chiang Mai Itinerary!
Headed elsewhere in Asia?  Check out my recommendations for the perfect Hong Kong itinerary!
Wanna Learn to Pack a Suitcase Like a Boss?
Subscribe to download my three BEST travel planning resources:
Travel outfit planner
Pre-travel checklist
Carry on packing list