Packing Eye Makeup for Travel
This site uses affiliate links and I may earn a small commission when you use my links and make a purchase, at no extra cost to you. Many thanks for supporting this website!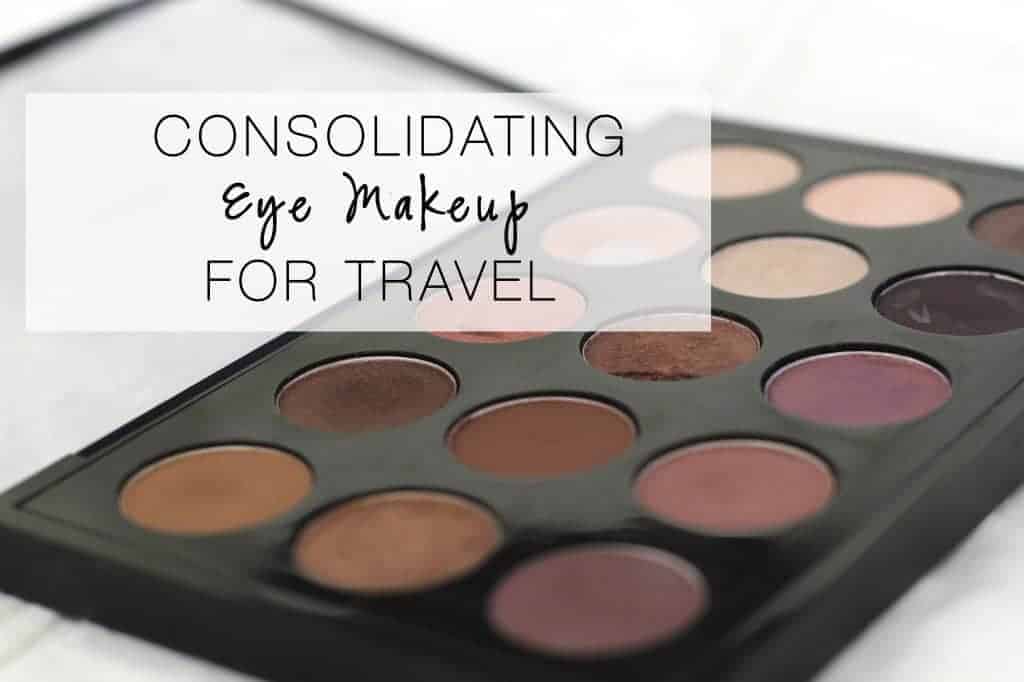 I don't know about you but my regular ol' eye makeup arsenal takes up about two drawers in my bathroom.
Which pretty much means that packing eye makeup for travel becomes a big problem.
I used to be completely adamant that there wasn't A SINGLE piece of eye makeup that could be left at home because…what if???  What if I needed sparkle eyeliner?  What if I HAD TO HAVE purple eye shadow?  What if the only thing that could do the trick was liquid liner?
I was constantly in need of infinite possibilities in the universe of eye makeup and I couldn't let it go.  And as a result, the weight of my suitcase suffered.  To the embarrassing point where I could not lift my own bag.  Which is ok sometimes, but becomes an issue when you're traveling solo.  In Italy.  Where stairs are EVERYWHERE.
So I learned (the hard way, as your mom would say) how to pare down my eye makeup to just a few essentials – but essentials that are so versatile, they will get me practically anywhere.
Eye Makeup for Travel: My Essentials
I've already written about what's in my travel makeup bag which is a good start.  But how did I arrive at my eye makeup picks?
Here are my tips:
Start with a good shadow primer.  Travel usually means long days, lots of activity and yep, potentially sweat.  A good primer will keep your makeup intact through whatever the day brings.  I use this one but these are also good options: one, two.
For shadows, you can go a few routes in bringing a palette of shadows: make your own palette or buy one that's really versatile.  Either way, I'd look for at least four shadows: a base nude color with some shimmer (great for day by itself or as a base or highlighter at night), a neutral matte medium color for the crease (browns, grays and purples always seem to work well), and a darker version of your crease color to add some depth.
Lastly, a dark matte brown or black that can be used as a liner or for a more dramatic look.  Ideally, one of the shadows can also be used to fill in your brows.  Building your own MAC 4-pan palette will give you plenty of options – here are my MAC shadow picks:
Base shimmery nude: Naked Lunch
Matte crease color: Quarry
Darker color for depth: Trax
Liner color: Espresso
And speaking of MAC, did you know that they have a whole line of travel size cosmetics?  Check out my favorites here.
If you prefer to use eyeliner instead of eye shadow, I've written an entire blog post on the best eyeliner for travel.
If you want to buy a pre-made palette, here are some great options: One, two (made for travel!), three, four (bonus: comes with a primer).
Don't forget to bring a few travel size makeup brushes.  This post has a rundown of the best ones.
They don't take up much room and having a variety of good brushes is a great way to add even more versatility when you have a limited number of  shadow colors.
As for the rest of my eye makeup, I always ALWAYS bring this eyeliner since it is pretty much the best liner ever.  In fact, I think it's the perfect eyeliner for travel.  It's just right for daytime but since it's pretty much a hybrid gel + pencil, it's really easy to add more for nighttime.
I toss a mini version of my mascara and a essentials to keep my brows in check and I'm good to go!
Liked this post?  Pin it!

Wanna Learn to Pack a Suitcase Like a Boss?
Subscribe to download my three BEST travel planning resources:
Travel outfit planner
Pre-travel checklist
Carry on packing list