How to Pack for Rainy Weather
This site uses affiliate links and I may earn a small commission when you use my links and make a purchase, at no extra cost to you. Many thanks for supporting this website!
Up next? Chicago.
Only problem is – it looks like Chicago will be welcoming me with rainclouds, thunder and lightning. In other words, a far cry from the usual southern California weather that I feel so lucky to have every day. I know this sounds really vapid….but sometimes I get so used to the (lack of) weather where I live, that when I'm packing, I almost forget that things like rainstorms and blizzards EXIST.
This is a crucial disconnect, because more often than not, I forget to pack an umbrella.
So I have, like, 20 black umbrellas at home. All overpriced and sold at drugstores for bozos like me who had no idea that rain was even a possibility.
You would think having spent at least a few hundo on umbrellas would have made me learn my lesson. But no – I just continue to skip out of the house umbrella-less.
And one time? I went to New York City in October – and it snowed. Like, a lot. Record-breaking a lot. They called it Snowtober. And I hadn't packed ANY socks or even nylons. So I traipsed through Manhattan with freezing feet.
So this time, I have vowed not to let Chicago and its rain triumph over me. I will pack an umbrella! And a coat! And weatherproof shoes! This is my fight song!
How to Pack for Rainy Weather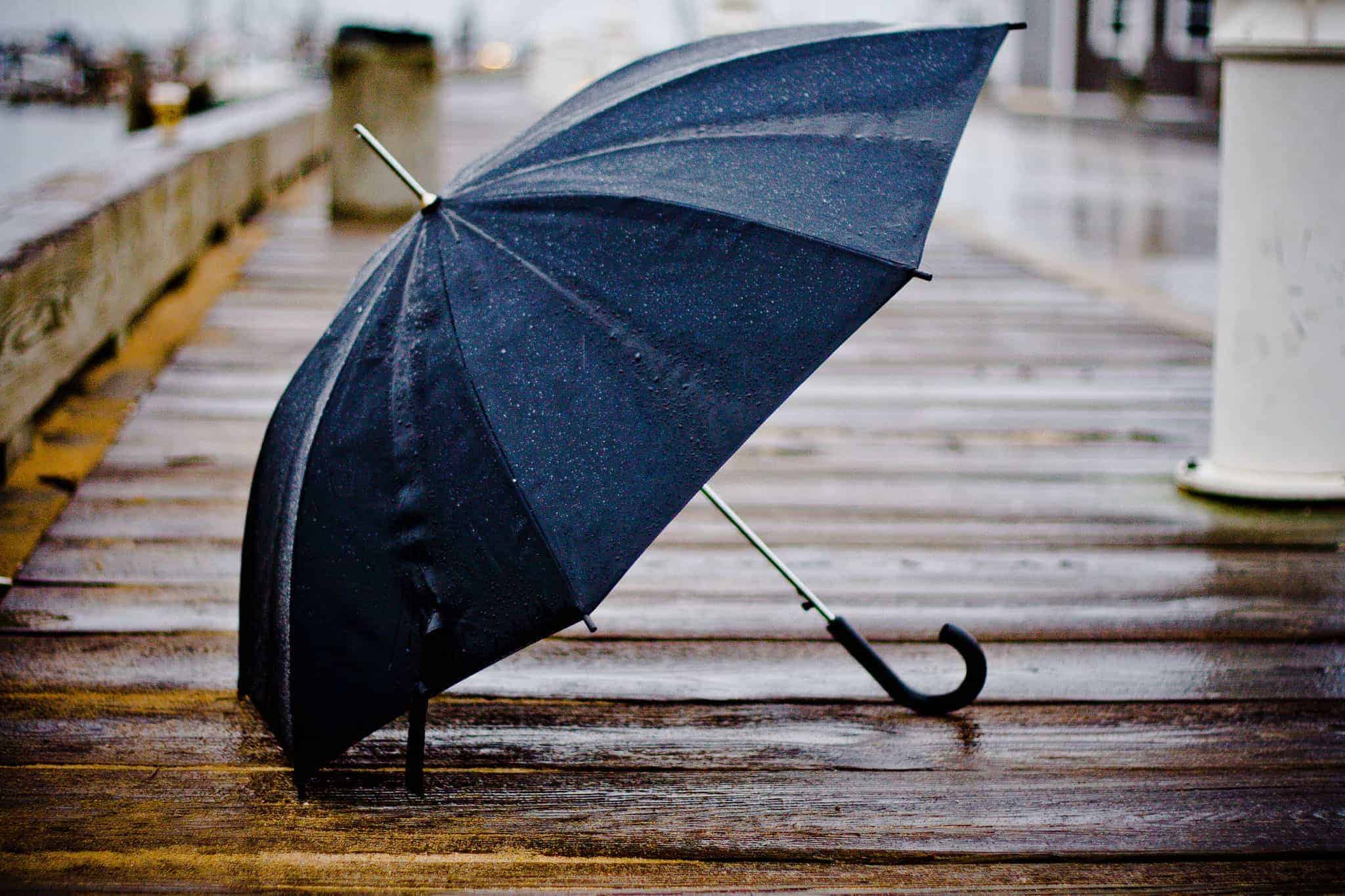 So what's the best packing approach to pack for rainy weather?
What To Pack if You'll Be Traveling in the Rain
1. Obviously – don't forget your umbrella
Here's a few cute options to toss in your bag (one, two).
2. Pack travel shoes for the rain.
Meaning, bring some shoes that are at least a little bit weatherproof. Personally, I don't own any of those cute rubber boots that you always see the gals in NYC rocking – they would sit in my closet in San Diego and gather dust. So instead, I invested in a pair of black ankle boots that are actually waterproof.
Now usually, waterproof = ugly. But these are totally cute – and I don't have to worry about ruining them. You can check them out in my business travel capsule wardrobe post and buy this year's version here. They are also suuuuper comfortable so I can walk everywhere in them.
READ MORE: Packing Shoes for Travel
READ MORE: My Best Packing Tips for Women
3. For a rainy vacation, pack quick-drying fabrics
If you're wondering what to wear in rainy weather, this is not the time for cotton or wool! Usually the fastest drying fabric is polyester – and there are plenty of options without having to buy clothes at a travel clothing store.
READ MORE: Printable Packing Lists for Travel
4. Pack a jacket that will withstand water
Unfortunately most raincoats are of the outdoor variety and have hoods – so it would be tough to style them with a dressier outfit.
As much as I love traveling with my favorite leather jacket, I force myself to leave it at home when rain is in the forecast because I don't want to risk damaging it.
Instead, I'll pack a lightweight trench coat – one that's not too bulky to bring on the plane, but one that I can layer under depending on the temperature outside. This one is pretty similar to mine (although mine is black) and here's another similar style.
I'll be bringing all of the above to Chicago – wish me luck! And unfrizzy hair!
Liked this post? PIN IT!
Wanna Learn to Pack a Suitcase Like a Boss?
Subscribe to download my three BEST travel planning resources:
Travel outfit planner
Pre-travel checklist
Carry on packing list