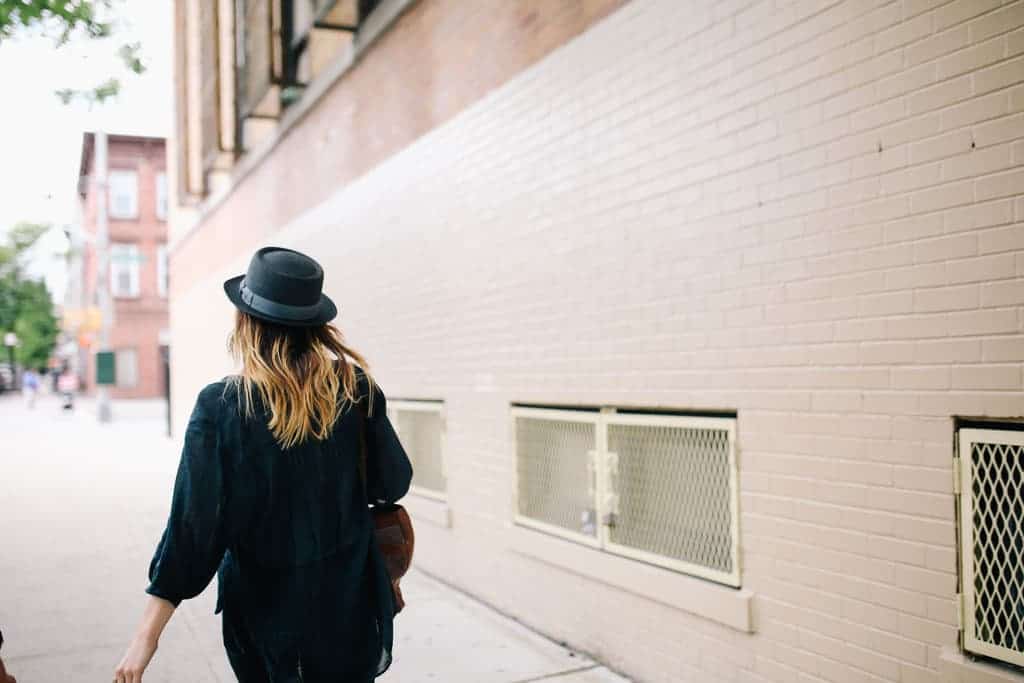 Welcome back to a new series of posts on The Belle Voyage, Secrets of a Stylish Traveler.   Each week, I will be profiling a fellow female blogger who shares my love of combining travel with fashion and beauty.  
I hope you'll enjoy getting to know some fabulous ladies, learning their favorite travel tips, and checking out some new blogs!  Personally, I am excited to get to know each of them.  I'm also hoping that that this feature will provide me with validation that I am not the only person out there who cares about things like travel-size makeup.  SQUAD.
Interested in being featured on Secrets of a Stylish Traveler?  Email me!
Meet Cassie from An Architect Abroad!
This week, I am excited to welcome Cassie from An Architect Abroad.  I so admire her for making the decision to pursue her dream of living abroad.  Cassie is a fellow lover-of- London  and carry-on-only traveler which is awesome.  Also her photos are just….goals.  And you just HAVE to read her hilarious story below about an overseas spa experience.  Read on…
Please tell us a bit about yourself, your blog, and how you came to love travel.
Hello, I'm Cassie, a Canadian-bred girl, recently relocated to the Mediterranean, with a serious affinity for all things travel, design, desserts, and fashion.
I think my love of travel started when I first went to study abroad at the age of 17 for a couple months in Mexico. Following that experience, I took every opportunity I could in my educational endeavors to go overseas, including Israel, Italy, and the Netherlands in University, where I studied Architecture.
After working for a few years at an Architecture firm in my hometown of Toronto , Canada, the travel itch became too great. I quit my job, packed up our apartment, and made the move to the tiny island of Malta with my boyfriend. We've now been here for almost 3 years, and have also lived in Ukraine for a stint, while travelling throughout Europe and beyond every chance we get!
The blog started as a way to document my life as an expat and traveller, while also as a creative outlet for all my various passions.
What's the last trip you got back from and the next trip you're going on?
I just got back from Cyprus, where I met up with my best friend from back in Canada and her family, who are originally Cypriot. In a few days we go to London for a bit (my favourite city of all), before road tripping through our most anticipated destinations this year: Slovenia.
Do you plan out your daily itinerary for each trip or wing it when you arrive?
It's usually a mix of both, but this is something that has really evolved over time. I used plan everything out down to the hour, and carry around the printed itinerary with me everywhere I went. I've since settled down (a bit!) so now I like to schedule one major thing a day, with also a restaurant reservation as a back up.
I do thorough research before any trip, and pin all the places I'm interested in seeing or eating at on an interactive Google Map. Then, when we have some free time or are feeling peckish, I simply pull up the map and see what points of interest we happen to be by right then and there!
Tell us about the trip of your dreams!
Oh boy, that is a heavy one! It would have to be a mix of city and nature. Like travelling through South Africa, hiking the mountains and swimming in the ocean, followed by some city time in Cape Town. 
What's the hardest part about frequent travel as a female?
Hmm, I don't think there is anything particularly hard about travelling as a female. Perhaps, just caring about how I look and coordinating outfits? I've been fortunate enough not to have run into any major troubles, even travelling as a solo woman.
What's the longest trip you've taken with only a carry-on bag? Tell us how you did it!
I always only travel with a carry-on and try to never check luggage. Of course this was impossible when I was moving abroad, but even then I only took one suitcase! I've since gotten packing my carry-on down to a science, and a two-week trip or more is totally doable with just the one bag. My OCD secret? I plan out every single outfit in advance, and only take pieces that I can coordinate with two or more things!
Best shopping purchase you've made while traveling?
Another tough question! I have so many favourites, from the bright pink sheepskin rug I bought in Eastern Europe's Carpathian mountains, to the hand painted notebook from Venice . From my Diptyque candle purchased in their flagship Paris store, to my gold leather Moroccan pouf, and mermaid-like leather flats from Spain. My ultimate favourite though: the traditional embroidered blouse I picked up in my grandmother's hometown in Ukraine.
Describe what you'd typically wear on a flight: pajama-ready or celeb-worthy?
I try to mix the best of both. I do have a go-to: a long black cotton maxi dress. I really don't get the claim that wearing jeans on an airplane is comfortable. A long thin dress is the absolute best because its breathable, looks chic, and can take you directly to dinner from stepping off the plane.
You get invited on a last-minute, week-long trip – what's the fastest you can pack a bag?
I would like to say five minutes, but my boyfriend would correct me in saying an hour. I now keep a travel toiletries bag ready at all times though, so I can just grab that and a couple outfits and I should be good to go!
Let's talk travel budgets. Between accommodations, flight upgrades, high-end food, activities, etc. – where do you splurge and where do you try and save?
This is actually something I touch on a lot, especially in my "Guide to Travelling in Affordable Style" (free) ebook. Here are my preferences:
Save: on transportation with budget flights, taking public transport, and walking everywhere.
Settle: on accommodation (think a designer Airbnb instead of a five-star hotel or cheap hostel).
Spend: on food, and once-in-a-lifetime activity opportunities.
What's the one beauty product you can't live without when you travel?
My eye lash curler. (*cue eye rolls*)
What are your in-flight necessities when it comes to entertainment, beauty, snacks, etc.?
I ALWAYS bring a protein bar on board with me, as well as water, mints, and gum. As for beauty, I bring my travel-sized face wash and a small washcloth. Before takeoff and landing I duck into the plane's bathrooms to wash my face and brush my teeth. It makes me feel SO much better!
Depending on the length of the flight, I treat myself to the latest edition of my favourite fashion magazine from the airport kiosk, and also always make sure to have my ereader handy. My favourite way to take off and land is put on some noise-cancelling headphones and listen to a killer playlist. Something about hearing music while soaring through clouds is so surreal.
Ever had an overseas spa treatment or beauty salon experience? Do tell!
I have a GREAT spa experience story.
While in Istanbul with my boyfriend, Jason, we decided to try out the traditional hammam (in which you lie on a heated marble surface and get scrubbed, washed, and massaged by a Turkish therapist.) As mens' and womens' quarters were kept separate, we were each handed a small basket with spa supplies and shown our own respective ways, with zero instruction.
In the basket was a small circle of cloth, with two strings sewn onto opposite ends of it. We got ourselves ready and headed into the treatment area in our robes. The receptionist asked Jason "Where is cloth?" Jason looked down and pointed at his, well, package and replied "on here." The receptionist, as well as every other man in the room, burst out laughing.
"Noo" he choked, "you must take it off!" To which Jason shrugged and did as he was told. Jason's therapist then entered the room, a massive burly man, wearing only very small bathing suit briefs. He grunted at Jason, stating "cloth", to which Jason handed it over. The man then proceeded to place his hands inside the cloth, where Jason had been himself just mere minutes earlier, which he used to scrub Jason down for the next hour.
Words of inspiration to women who might hesitate to travel?
Do it while you can. Many people work their butts off all their lives to save for retirement so they can travel, only to find out that they are immobile. My boyfriend and I both believe in working smart, and taking extended periods of time completely off to travel. It's what we love, and we will live with zero regrets as a result!
So very well said – Thank you, Cassie!
You can get to know Cassie and follow her adventures on Facebook, Twitter,  Instagram, and Pinterest.  I especially love her instagram feed!  You can also catch her on Snapchat (cassdraker).
Wanna Learn to Pack a Suitcase Like a Boss?
Subscribe to download my three BEST travel planning resources:
Travel outfit planner
Pre-travel checklist
Carry on packing list