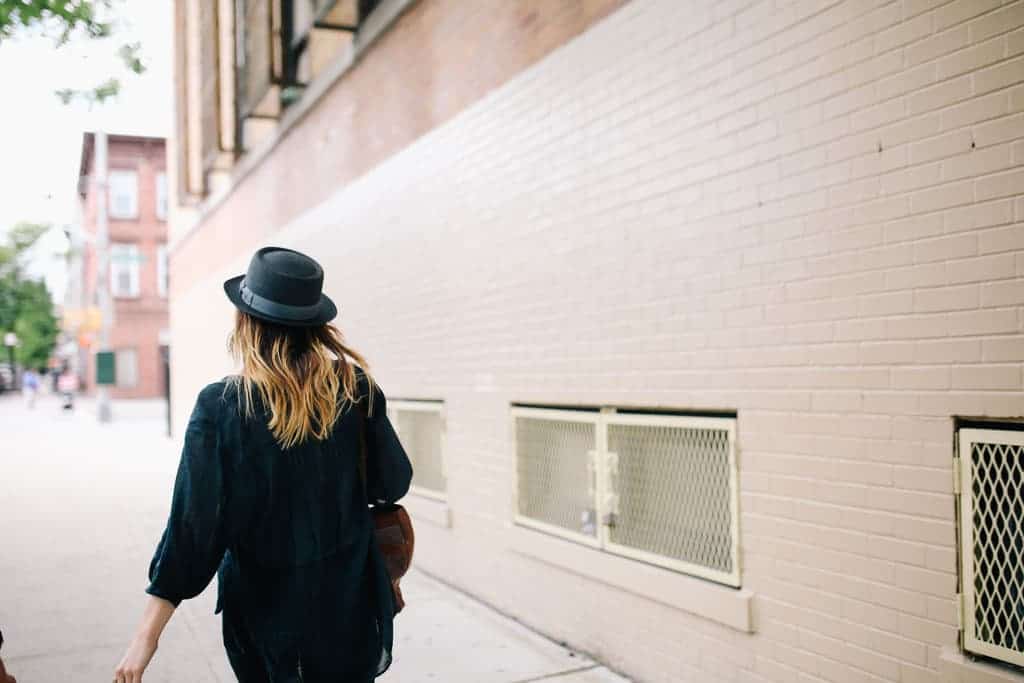 Welcome back to a new series of weekly posts on The Belle Voyage, Secrets of a Stylish Traveler.   Each week, I will be profiling a fellow female blogger who shares my love of combining travel with fashion and beauty.  
Posts on this blog may contain affiliate links. At no additional cost to you, if you click through an affiliate link and make a purchase, I may earn a small commission.
I hope you'll enjoy getting to know some fabulous ladies, learning their favorite travel tips, and checking out some new blogs!  Personally, I am excited to get to know each of them.  I'm also hoping that that this feature will provide me with validation that I am not the only person out there who cares about things like travel-size makeup.  SQUAD.
Interested in being featured on Secrets of a Stylish Traveler?  Email me!
Meet Kristina from I Left Home!
This week, I am excited to welcome Kristina from her blog, I Left Home.  She's about to embark on her next adventure teaching English in Vietnam, which I can't wait to hear more about.  I love that Kristina is a fellow fan of winged eyeliner (and can't travel without it!), and I especially love the words of inspiration she has for female travelers.  Read on…
Please tell us a bit about yourself, your blog, and how you came to love travel.
My name is Kristina Gaudet, a Canadian-born traveller currently backpacking Southeast Asia with my French boyfriend, Gaspard Walter. He is a professional travel writer and photographer, and has been in the field for over 10 years. Together we travel and document our stories as well as others'.
Our (English) blog, ilefthome.com, is a travel blog with posts, interviews of travellers, and (new addition) vlogs. Apart from blogging, we are both SCUBA instructors and have lots of dive experience and stories to share about that too! I have recently graduated with a Masters in Creative Arts Therapies and I am passionate about mindfulness and always try to travel with this practice in mind.
What's the last trip you got back from and the next trip you're going on?
Currently still on a trip and plan to continue for a long time to come! I am in Bangkok until the 18th of April where I will fly back home to Canada to visit for about 10 days. I will first spend a week visiting my sister in Vancouver , then back "home" to Montreal for a few days to catch up with family and friends there. I will then return to Southeast Asia, this time headed to Vietnam where I will be landing in Hanoi and ready to start my new adventure there, as an English Language Teacher! I am so nervous and so excited!
Do you plan out your daily itinerary for each trip or wing it when you arrive?
No daily plans! For the most part we are quite spontaneous with our travel plans and daily adventures. At the moment things have been a little different since I have been working and training here in Bangkok to become certified as an English Language Teacher under Cambridge's certification. So this past month has been more of a daily routine – getting up I the morning commuting to the English language center downtown, work, home in the evening. It's the most "normal" I have been in month!
Tell us about the trip of your dreams!
The trip of my dreams – wow! That's tough, but the first thing that comes to mind is definitely an adventurous goal I have for myself. I would love to return to Nepal, or travel around the North of India and trek and experience the spiritual and cultural richness of that region. It would definitely be a dream come true and my goal is to save enough money and make time to plan a proper trip there very soon!
What's the hardest part about frequent travel as a female?
I don't think the hardships I experience around frequent travelling is specifically female related. I'd say the one hardship I face at times is dealing with the uncertainty of having a stable base I can rely on if I ever get sick or need special medical attention. Thank the universe I never had to deal with that kind of situation, but I do have moments where I know that being a frequent traveller means you give up on having convenient health care. For me that is important to have.
What's the longest trip you've taken with only a carry-on bag? Tell us how you did it!
I don't think I have any impressive carry-on only trips! I've made small trips – a week or two with just a backpack, but I have not mastered the art of minimal packing when making long trips just yet! I still enjoy some luxuries such as having outfit options, some cosmetics and jewelry on hand, and I can't travel without my laptop!
Best shopping purchase you've made while traveling?
I bought all my SCUBA diving equipment in Thailand, and it was sent to me in Indonesia where I was working as a dive instructor that year I made the purchase! I bought myself a flashy new regulator, a blue mask and fins, and really cute wetsuit! I feel so powerful and really feminine in my wetsuit!
Describe what you'd typically wear on a flight: pajama-ready or celeb-worthy?
Something in-between! I like baggy boyfriend jeans on the plane and a band t-shirt with my vintage navy blue suede shoes. If not jeans then my light black cotton summer pants – cute but comfy!
You get invited on a last-minute, week-long trip – what's the fastest you can pack a bag?
10 minutes? I would probably forget folding and grab whatever is closest and shove it in my backpack! I'd be way too excited about accepting such a spontaneous invite to care about packing neatly!
Let's talk travel budgets. Between accommodations, flight upgrades, high-end food, activities, etc. – where do you splurge and where do you try and save?
I would say I save on food; I enjoy authentic local food and here in Asia that means cheap as well! It's a win-win situation.
I don't completely splurge on accommodation, but I do stay in mid-range hotels or serviced apartments. I think that's a perk of travelling with your boyfriend/girlfriend – you have a great excuse for staying in more comfortable accommodations!
My boyfriend and I enjoy the occasional date night, so we will splurge on evenings out at a fancy restaurant or when we feel playful we like to go bowling or find a water park or other amusement park in the area. Gaspard is a huge cinema buff so we enjoy going to the movies a lot too!
What's the one beauty product you can't live without when you travel?
My face cream, mascara, liquid pen eyeliner! I can't live without my face cream! I use the vitamin E cream from the body shop. It's extra moisturizing and light so its not heavy in tropical weather but it keeps my dry face smooth and hydrated all day!
I can't wear too much make-up in such humid weather so I tend to wear mascara only but when I feel fancy I love my Kat-Von D tattoo eyeliner in black, which I set with black eye shadow. I love me some winged eye liner!
What are your in-flight necessities when it comes to entertainment, beauty, snacks, etc.?
I always carry hand-sanitizer and face wipes to refresh my skin and moisturize conveniently. I always have lip balm, and it is almost always a Burt's Bees brand. I also carry a roll-on essential oil that works as a perfume as well as aromatherapy. It helps keep me calm and relaxed while travelling on long flights.
Ever had an overseas spa treatment or beauty salon experience? Do tell!
I've recently had a lovely massage on Gili Trawangan – a tiny island in Indonesia! It was a full body oil massage and the lady was brilliant! I felt so relaxed and all the tension in my back and neck were gone after the session. I smelt like lemongrass after it too!
I have also had some amazing manicures and pedicures in Singapore . It is expensive there ($50) compared to other parts of Asia but I was treated like a princess! I was the only one in the salon, they served me freshly brewed ginger tea, and really made my hands and feet look stunning! It was such a luxurious experience!
Words of inspiration to women who might hesitate to travel?
There is no right or wrong way to travel. Simply, be open, respectful, and ready to take on spontaneous invitations or other surprises a country will have waiting for you. Be ready to meet other travellers along the way… and be ready to end up spending hours at the pub, hostel, or park where you unexpectedly meet your new best friend. Be flexible with your time. There is no rush; there is no race to see who ticked off the most boxes on the bucket list.
One final thing that I think is important to remember – especially for us girls, as we are always told to be careful and be even MORE careful when travelling – is to not be so afraid! Be sensible, keep yourself in check, yes I agree. I think that should be a given anywhere you are, whether you are travelling or going about your daily life in your home country… Don't be so afraid that it hinders your experiences while travelling!
You will spend so much energy watching your back, mistrusting everyone who crosses your path, and you will be so stressed there would be no way to enjoy your adventure! People are people no matter where you are in the world, and whether you are travelling or not. There will be sleazy travellers on the road, and there will sleazy locals on the streets… but from my experience, more often than not the people you meet are incredibly helpful, friendly, and inspiring. Don't miss out on connecting with these people because you are afraid of the "what if" and the small chance that a person isn't pleasant.
If you are travelling – or even thinking about starting your first big trip – I can already assure you (even if we have not met) that you are a resourceful, independent, and courageous woman. Don't you forget that! Remember, you aren't helpless! Say no and leave a situation if you aren't comfortable. That rule never changes whether you're out with people in your hometown or half way across the globe. Other than that, my advice is – HAVE FUN, LEARN, AND EXPLORE!
So very well said – Thank you, Kristina!
You can get to know Kristina and follow her adventures on Facebook and Twitter.
Wanna Learn to Pack a Suitcase Like a Boss?
Subscribe to download my three BEST travel planning resources:
Travel outfit planner
Pre-travel checklist
Carry on packing list