That Time I Crashed Paris Fashion Week
This site uses affiliate links and I may earn a small commission when you use my links and make a purchase, at no extra cost to you. Many thanks for supporting this website!
Sometimes the best moments of a trip are entirely unplanned.  It's one reason why I love having a few gaps in my itinerary – so that I can see what sort of fun spontaneously arises.
My trip to Paris last week had plenty of unscheduled time.  Apart from the days I was working, my free days were truly that – free!
I'd been to Paris a few times before, so I felt like I'd covered many of the must-sees for visitors to the city.  On this trip, I wanted to spend my free time just soaking up the city's culture (and food.  and wine).
With that as my main agenda, I found myself wandering around the city each day, and consuming a minimum daily quota of one chocolate croissant, one nutella crepe, and one baguette.  Before dinner, obviously.
Welp, it just so happened – not on purpose, I swear – that my trip to Paris coincided with Paris Fashion Week.
I KNOW.
I figured this alignment of stars would just be a happy coincidence and that the presence of models, celebrities, and the Kardashians in Paris would largely go unnoticed by me since we don't exactly run in the same circles.
That was until one night while I was wandering the streets of Le Marais and I happened upon THIS:
OMG Becky it's the YSL show.  And my inner compass wins again.
Of course I had to stick around and scope it out.
By another stroke of luck and timing, I was one of the first of the spectators to arrive, so I snagged a spot right in front of the entrance, right up against the security fences.  Sure enough, once the photographers began to arrive one by one, I knew I was in store for some decent celebrity sightings.
And sure enough, it wasn't long before they started to roll in.  I had my camera with me so I even got to snap the evidence.
First up: Salma Hayek and her French billionaire husband, Francois-Henri Pinault.  They were nothing short of adorable.  Look at the sparkle coming off her YSL bag.  It speaks to me.
Next: the lovely Jessica Chastain.  She was SO sweet and down to earth.  The gal next to me waved her over and asked if she could give her a hug, to which Jessica said – of course!  Then she posed for selfies and chatted with a few of the gals next to me.  She seemed to be totally up for hanging but got whisked away by her PA pretty quickly.  Kudos Jessica for keepin' in real.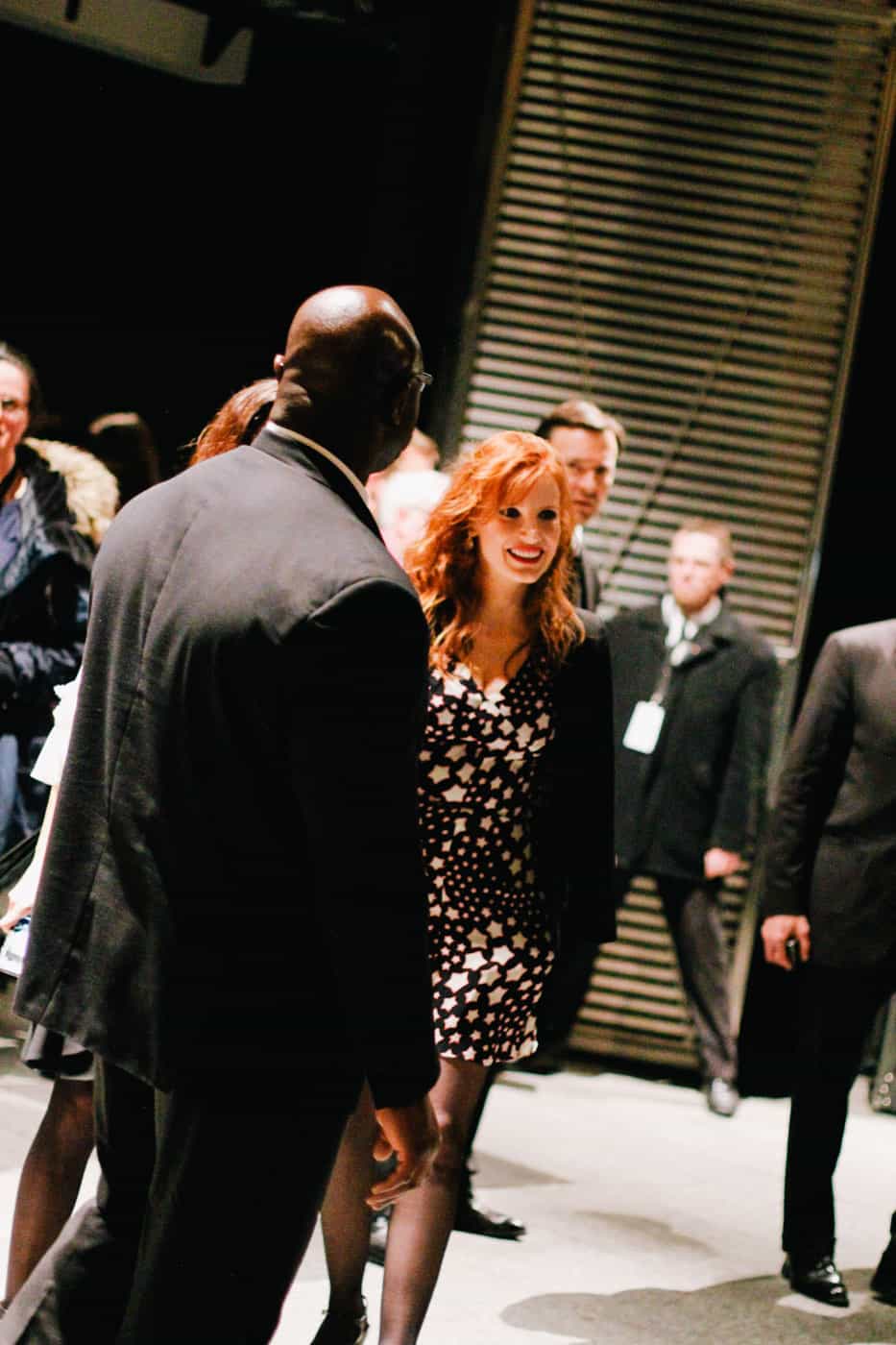 Posing for a selfie with the girl next to me
Finally – Anna Wintour!  Honestly, part of me wanted to confront her about the Kimye cover but I figured it wasn't the best time or place.  It's been a year now and I guess I'm still not over her lapse in judgement.
Oh and last but certainly not least – Models!  Can't have a fashion show without models.  And crazy hats, apparently.
I didn't recognize any of them.  Unless you've been on America's Next Top Model or your best friend is Taylor Swift, I don't really know my models.
More to come on my Paris trip, but I was just reeeeeally excited to share this story so it had to come first.  The rest of the Paris stories will likely be far more dull in comparison.
Liked this post?  PIN IT!
Wanna Learn to Pack a Suitcase Like a Boss?
Subscribe to download my three BEST travel planning resources:
Travel outfit planner
Pre-travel checklist
Carry on packing list