Posts on this blog may contain affiliate links. At no additional cost to you, if you click through an affiliate link and make a purchase, I may earn a small commission.
Tell me you've been there too. You've just washed your hair and you have 30 minutes to get ready. You pull open the random drawer, closet, or desk in your hotel room where the standard-issue hotel hair dryer is lurking, only to find that it is inadequate in every way possible.
It weighs less than your iphone, maxes out at about 100 watts of power, has one setting ("mediocre") and OMG – it folds in half. SAY IT ISN'T SO.
Drying your hair in this situation is like digging a tunnel with a teaspoon.
Some speedy online research tells me that there is an entire category of hair dryers that are specifically meant for hotels, and honestly, each one looks completely wimpy.
I'm not sure why anyone would think that the fact that you're traveling means that you are willing to lower the bar in terms of what is an acceptable hair tool. But instead of focusing on the problem, I choose to focus on the solution.
The Solution to Hotel Hair Dryers
The simple answer is BYOHD. But despite the pandemic of powerless hotel hair dryers, I still don't bring my own dryer with me when I travel because mine is gigantic and weighs a ton. In the world of hair dryers, I have learned that size matters.
Instead of packing my own, I have developed a strategy to deal with this shortcoming that seems to be present across all hotel chains, countries, and universes.
First and foremost, I try to scope out the hair dryer situation right when I get to my room to give myself some time to put a plan into action. Depending on where I am, the gravity of the situation, and how much time I have to address it, I'll do one of the following:
I call the front desk and plead my case. Hotels often have different models of hair dryers available for guests that are kept behind the scenes – sometimes from guests who have accidentally left them behind. Sometimes they just keep them around for high maintenance hair people like me.
When All Else Fails
I usually travel with a flat iron. At 1" wide, a flat iron easily fits in your carry on and won't weigh you down. Better yet: I've yet to have a hair situation that my GHD flat iron couldn't fix. When all else fails, I will wash my hair at night, let it air dry while I'm asleep, then get to work in the morning with my flat iron.
I'm also not above an emergency hair dryer purchase at a local drugstore. There are times when it's worth it to shell out the $25 to buy yourself a great model for your stay – and then you can leave it behind for the next damsel in distress. Here's some drugstore finds (Revlon and Conair) and that should do the trick.
Finally, for short trips, I sometimes get a blowout on my way to the airport. Drybar is a favorite of mine, and unless I'm on a crack of dawn flight, I can hit the first 8:00am appointment on the way to the airport. Get the app here and make an appointment in seconds. Somehow a professional blowout can last me 4 days, a feat I can never seem to achieve on my own.
Have an alternative strategy? Dish!
Liked this post?  PIN IT!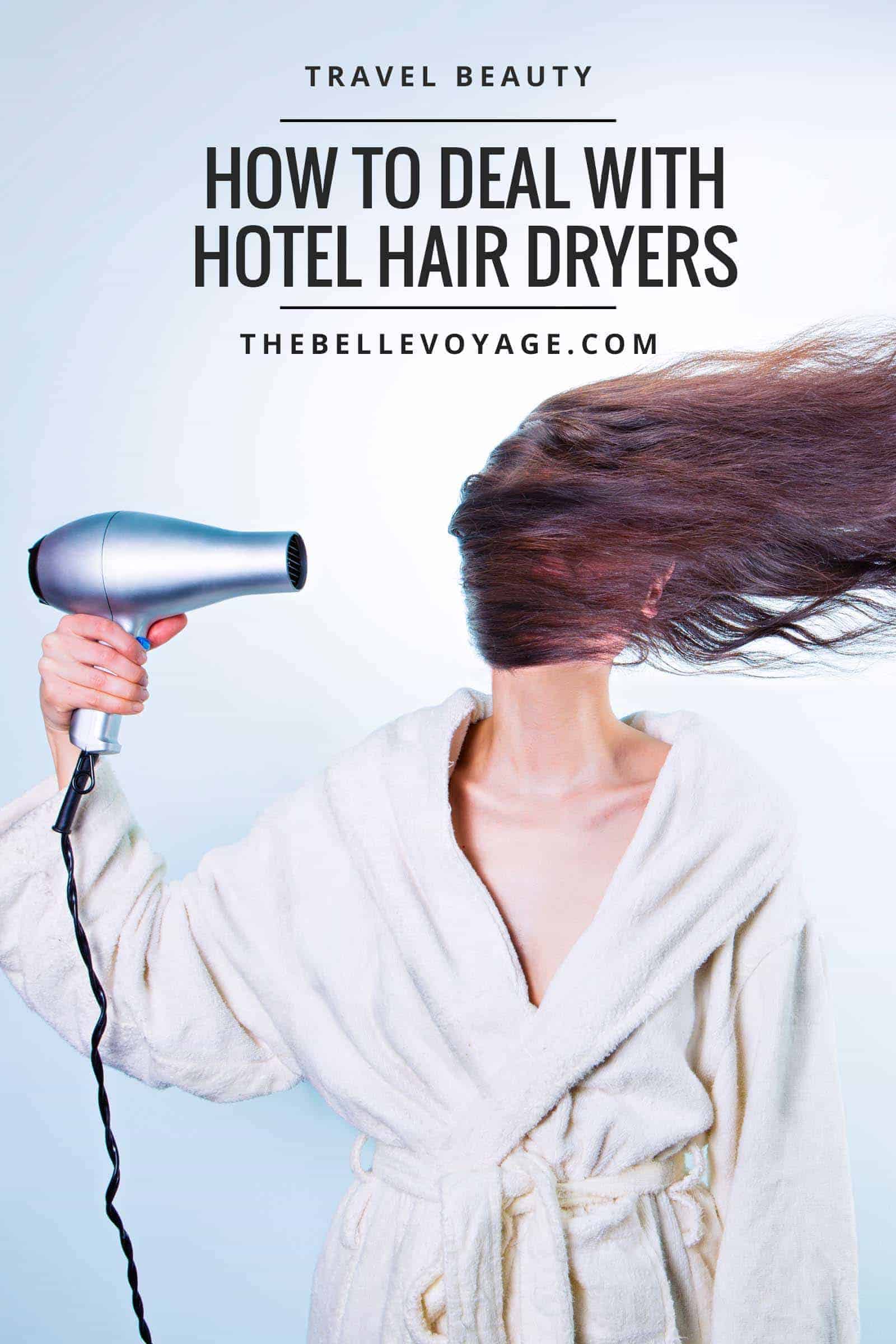 Wanna Learn to Pack a Suitcase Like a Boss?
Subscribe to download my three BEST travel planning resources:
Travel outfit planner
Pre-travel checklist
Carry on packing list