Free Printable Travel Planners
Need some help getting organized for your trip? My free printable travel planners and printable packing lists will do all the prep work for you! With these comprehensive guides, it's so much easier to pack and prepare for a trip.
Whether you need help figuring out what you need to do before you travel, or if you want to make sure you pack like a pro (without leaving anything at home!), these printables have everything you need to make planning for your trip super simple.
And best of all? They're all FREE!
Free Printable Travel Planners
Simply select a document below to get access my Resource Library. I'll hook you up with instant access to all of my free printable travel planners! From packing lists to travel outfit planners, I've got everything you need.
Printable Packing Lists for Vacation
It is next to impossible to remember every single little thing you should pack. Wouldn't it be easier if it was already planned for you?
My PDF printable packing lists and guides are some of the most popular downloads that I've ever created. By using these lists to pack for your vacation, you will avoid overpacking, and will also save on the cost of checking your luggage. It's easy to pack light and efficiently when you start with the right packing list!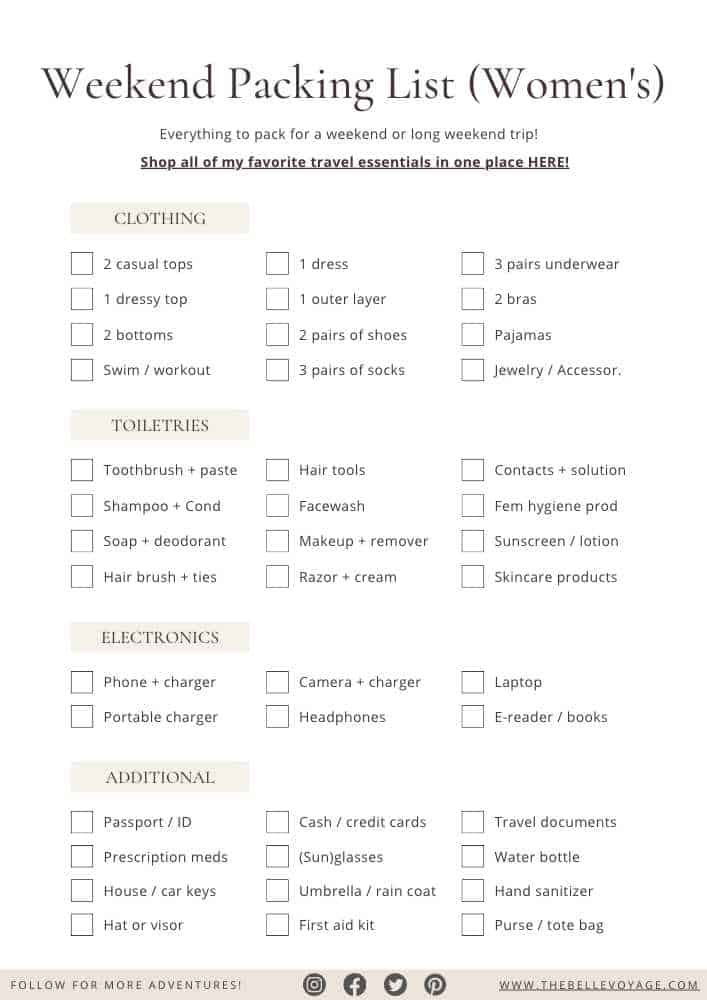 printable
WEEKEND PACKING LIST
If you're planning a weekend trip, this packing list is for you! It's got all the clothes, toiletries, accessories and other travel essentials for trips that are 2-3 days long. Pack light and still have everything you need for your weekend away!
printable
Carry On Packing List
This printable carry on packing list will show you how to travel carry on only (even if you love clothes).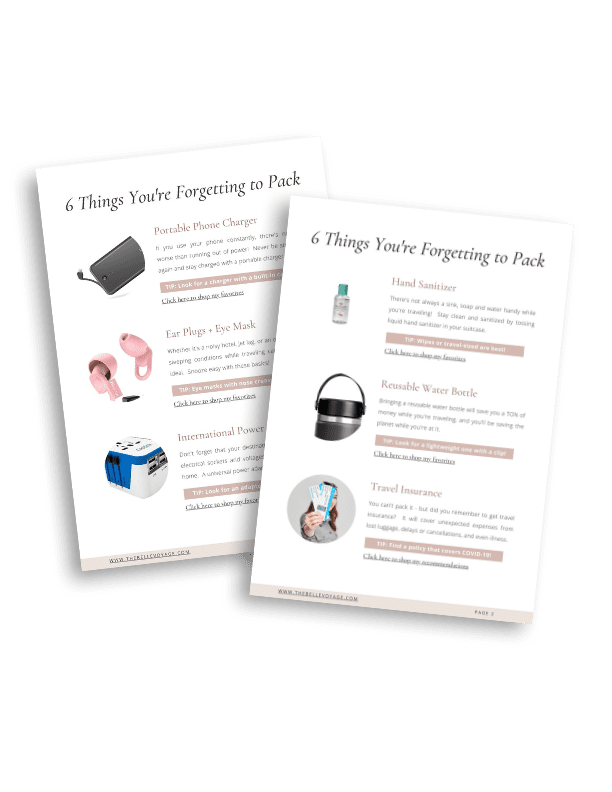 six things
Everyone Forgets to Pack
What items do travelers most often forget to pack when they go on vacation? This list has them all, along with my recommendations for exactly which travel products are worth your money.
printable
Travel Outfit Planner
My printable travel outfit planner is a day-by-day guide to help you plan all of your vacation outfits.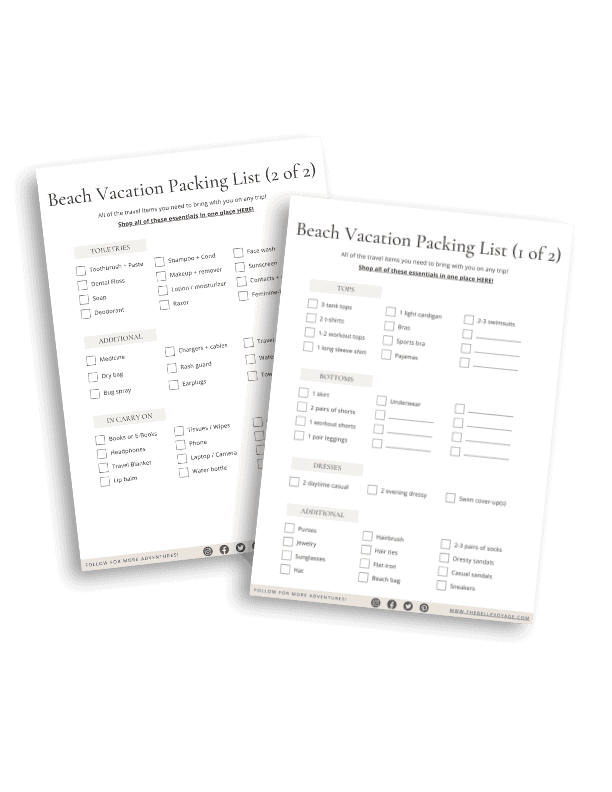 printable
Beach Vacation Packing List
Heading somewhere warm? This printable beach vacation packing list has everything you need to bring.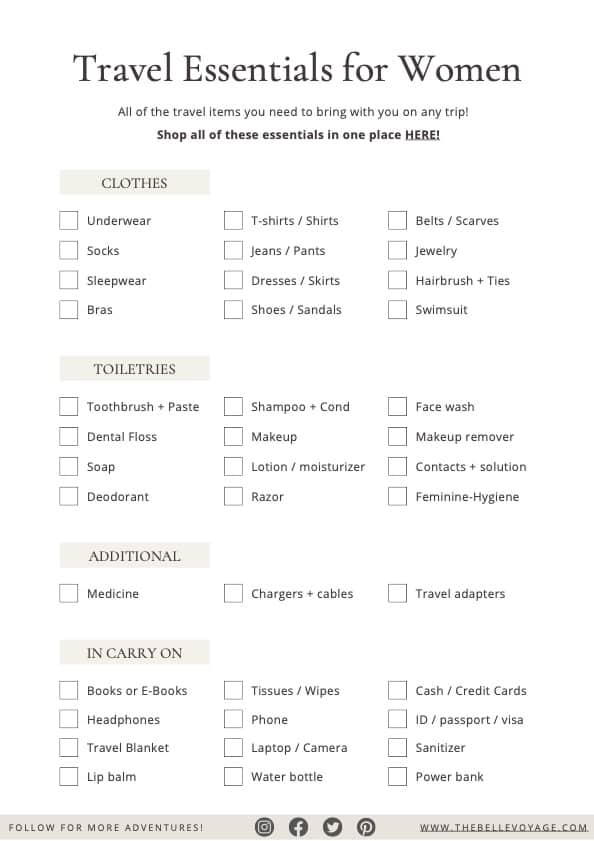 must-have
Female Travel Essentials
A printable packing list for women! This checklist includes all of the women's travel essentials you need, including clothing, toiletries, and makeup.
Travel Tips and Hacks
74 genius
TRAVEL HACKS
A printable list of all the best travel tips and hacks I've learned through decades of travel. From airport hacks to the best travel apps and websites, this list has everything you need to know to travel like a total pro!
Printable Travel Itinerary Planners and Checklists
Preparing for a trip can make you feel like you're running around like a madwoman! My printable travel itinerary planners will help you plan exactly what you need to do before you travel, and exactly when to do it.
When is the best time to book accommodations? What about flights, tours, and activities? It's all here!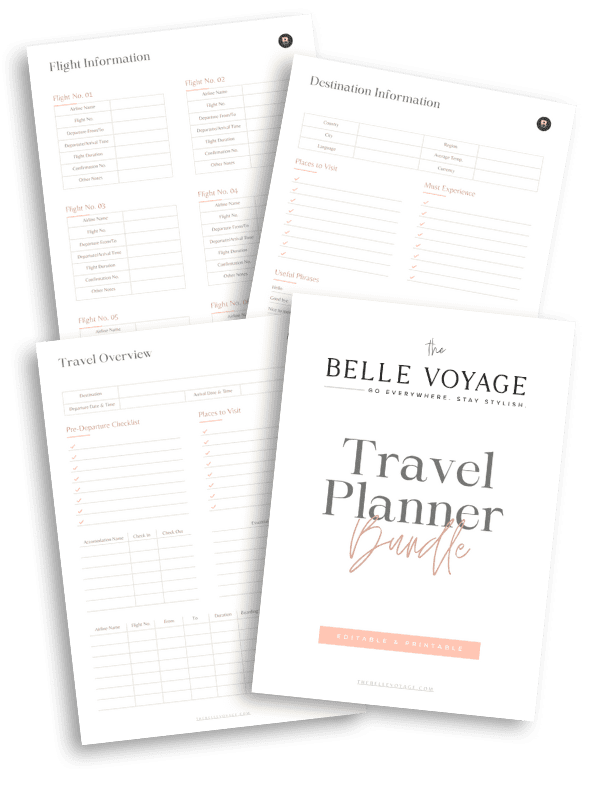 printable
Travel Itinerary Planner
This printable ultimate travel itinerary planner has over 30 pages that will organize every last detail of your trip! Day-by-day activity plans, tour and accommodation details, and more!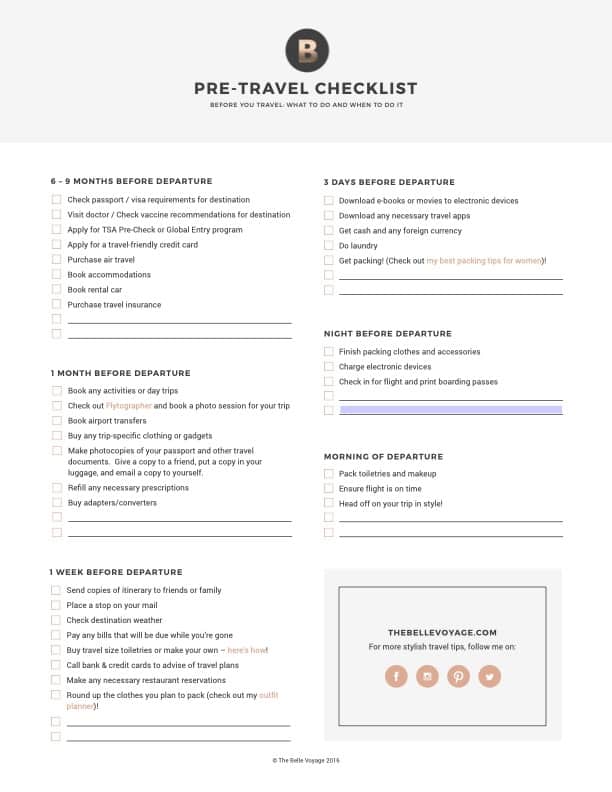 printable
PRE-Travel Checklist
I'll show you how to prepare for any trip like a pro! Here's exactly what to do before you travel…and exactly when to do it.
printable
International Travel Checklist
If you're traveling internationally, there are some extra steps you should take to prepare for your trip. This printable guide has everything you need to travel abroad with ease.
More Travel Guides
Need more help planning for your trip? Explore my favorite destinations for travel inspiration, travel like a pro with my favorite travel tips, learn how to put together the best women's travel outfits, or check out my shop for all of my favorite travel clothes and products.