Unveiling the Secrets of Checked Baggage: Your Ultimate Guide to Smooth Travel
This site uses affiliate links and I may earn a small commission when you use my links and make a purchase, at no extra cost to you. 
Thinking about checking your luggage for your next trip? Checked baggage might not be for everyone, but it can be a game-changer in the right situation. But before you throw your bags on that conveyor belt, it's essential to know a thing or two about what you're getting into. From the perks and pitfalls to the must-know tips and tricks, this post is your ultimate guide to everything you should know about checking your luggage.
Should You Check Your Luggage?
If you've been reading this blog for a while, you know that I always pack light and fly carry-on only (I learned the hard way).
But I know that traveling with just a carry-on suitcase might not be realistic for every traveler, whether that's due to the nature of a trip or your personal circumstances. Whatever your reason might be for wanting to check a bag, this post is for you!
After reading this post, you'll have a better idea of whether or not you should check your luggage for your next trip, and what to expect if you do.
Checked Baggage: The Basics
If it's your first time flying or you've never checked a bag before, let's start with some basics.
What exactly is checked baggage? Checking a bag at the airport means that you give your luggage to the airline before your flight rather than carry it on the plane with you.
Anything in your checked luggage will not be accessible to you while you're flying, and you'll retrieve your bag at the baggage claim area in your destination airport.
When Does it Make Sense to Check a Bag?
There are some situations when it makes more sense to check your suitcase rather than fly with just a carry on. It makes sense to check at least one bag if you're:
Moving homes (relocating)
Taking a trip that requires special equipment such as ski gear or golf clubs
Traveling with small children or have any mobility difficulties
Have heavier items and/or can't fit your things in a carry-on sized bag
The Advantages of Checked Luggage
Even though I am a self-professed light packer, I'll be the first to admit that there are plenty of advantages to checking your luggage.
Increased Packing Capacity
This one's obvious: checking your luggage allows you to carry more belongings compared to the limitations of carry-on restrictions.
This is particularly beneficial for longer trips or when you need to pack bulkier items such as winter clothing or special equipment.
Convenience at the Airport
Carrying a large or heavy suitcase can be cumbersome, especially during long layovers, when navigating through crowded airports, or if you have mobility challenges.
Checking your luggage relieves you the burden of carrying it around, which is obviously more convenient.
Liquid and Size Restrictions
When you check your luggage, you have the flexibility to pack liquids, gels, and other restricted items in larger quantities.
It's true: checking a bag eliminates the need to comply with the TSA's 3-1-1 rule for carry-on liquids, allowing you to bring full-size toiletries or other necessary items without worrying about the restrictions.
So go ahead and pack ALL of that sunscreen you need for your beach vacation.
Ease of Security Screening
While all luggage goes through security screening, checked bags typically have a separate screening process, often done behind the scenes.
If you're not lugging a suitcase through TSA screening yourself, it will likely result in faster and smoother security checks for you as a passenger, reducing the time spent in security lines.
Comfort during the flight
With less to carry on board, you can enjoy more legroom and space under the seat in front of you, providing greater comfort during the flight. Not mad about that!
Checked Baggage Allowance and Restrictions
If you've decided to check your luggage, there's a few important things to know in advance.
The first is that each airline has what's called a "checked baggage allowance". This refers to the number, size, and weight of luggage that each passenger is allowed to check on the flight.
The details of any baggage allowance vary from one airline to the next, and may differ between domestic vs. international flights. In addition, the fare type of your individual ticket may come with additional restrictions for checked bags.
There may also be checked bag restrictions that are specific to the country you're traveling to (yes! this exists!). For those reasons, it's best to check with your airline ahead of time to understand what restrictions exist for your specific circumstances.
Don't forget that airlines may also charge an extra fee if your bag is over a certain weight. If you're concerned that your bag will be overweight, a simple luggage scale will help you avoid any extra fees at the airport.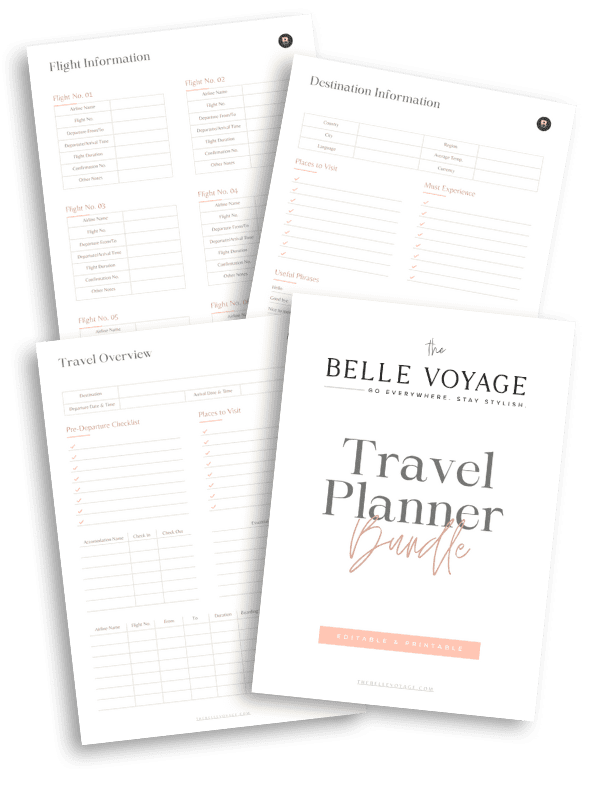 travel resources
Free Travel Printables
What's easier than planning and packing for your trip? If someone else does it for you! Check out my library of free printable travel planners, all tailor-made for the modern female traveler.
Checked Baggage Fees
Another key thing to know before you check your luggage is that it will almost always come at a cost, otherwise known as a "checked bag fee" or "baggage fee".
So if you plan to check your luggage, make sure you factor this cost into your overall travel budget.
How much does it cost to check a bag?
The cost to check a bag varies from one airline to the next, so check with your airline ahead of time to estimate the total fees you will be charged when you check your suitcase.
On average, most airlines charge $30-$50 per bag to check luggage. It may not sound like much, but don't forget that the fees refer to one bag, one-way.
If you have more than one bag and plan to check your luggage on the way there and back, the extra fees can add up quickly.
How to Avoid Checked Bag Fees
I'm happy to pay a checked bag fee! (Said nobody….ever). Seriously, who wants to pay an extra fee to check their bag. Turns out there's a few ways to avoid them.
Obviously the easiest way to avoid checked bag fees is to, welp, not check a bag! But let's just say you're going to check your suitcase. Then what?
Avoid checked bag fees by traveling on an airline that doesn't charge them! There are indeed a few that still exist. This is one of the main benefits of flying on Southwest Airlines. Passengers on Southwest can check two bags free of charge on each flight. Not too shabby!
Second, check out your airline's frequent flier program. These programs are free to join, and often come with benefits that can include free checked bags. Most have different levels of membership, so take a look to see what kinds of benefits are available to you, depending on how often you fly.
Third, explore options to open a credit card that is associated with your airline. In addition to offering sign-up bonuses, another benefit to some credit cards is that baggage fees are waived when traveling on that airline.
Make sure to note what the annual fee is for the card, and that the math makes sense depending on how much you plan to fly, and how many bags you plan to check. (And of course, always make sure that opening a new credit card won't adversely impact your personal financial situation – everyone's is unique!).
Finally, some air ticket classes come with free checked bags, either as part of a certain fare or premium cabin. Depending on how many bags you plan to check, it may be worth buying a more expensive ticket to get the benefit of free checked luggage – even if it's just for one person in your group. I'll let you decide who gets which seat 🙂
How to Prevent Your Luggage from Getting Lost
If you're checking your luggage, there's a few things you can do to decrease the risk that it might get lost.
Include Your Name and Contact info
Make sure to include your name and contact information both outside and inside your luggage. For the outside of your suitcase, try a luggage tag like this one, that has space to write your contact information.
Make sure to use contact information where you can be reached during your trip, and if you haven't used your suitcase in a while, be sure that your contact information is current.
Inside your suitcase, put a simple note card on top of your things with the same information. If your luggage tag disappears somehow, your bag can still be identified.
Personalize your bag
Prevent baggage mix-ups and make your suitcase easier to identify at baggage claim by tying a ribbon, string or bandana around one of the handles on your suitcase. Just make sure the ends of the fabric aren't too long to risk getting caught in baggage machinery.
Check in Early
Avoid the risk of lost luggage by ensuring that your bags have plenty of time to make it on your flight. Don't let your suitcase be the last one loaded on the plane!
In addition, many airlines have a cutoff time of 45 minutes prior to departure for checked bags. You won't be able to check your bag after this point in time, so be sure to arrive at the airport and check in at least 90 minutes before your flight.
Avoid Short Layovers
One of the best ways to prevent lost luggage is to avoid flight connections that have short layovers. If your connection is 45 minutes or less, the odds of your bags getting to your second flight are much slimmer.
Make sure your layover is at least 60-90 minutes to give you plenty of buffer time in case your first flight gets delayed.
Tips for Checking Luggage
Split Up Your Things
If you're traveling with a companion and plan to check your bags, you should each put half of your things in one bag, and half in the other bag.
That way, if one bag gets lost on your way there, you'll still have enough clothes and essentials in the other bag to get through the first few days of your trip. This strategy isn't 100% foolproof of course, but it lowers the chances of lost luggage impacting your trip.
Get travel insurance
If you plan to check your luggage, it's a good idea to have travel insurance for your trip. Travel insurance is always a good idea, because it can cover unexpected expenses for a pretty reasonable upfront price, including costs you might incur due to lost luggage (buying new clothes and toiletries, for example).
Each policy and company differs, so check the details ahead of time.
Pro Travel Tip: These days, travel can be more uncertain than ever. Check for any COVID-related restrictions at your destination, and never travel without travel insurance! I recommend SafetyWing, because they have flexible + affordable insurance plans, and also cover COVID-related impacts on your trip (not all companies do)!
Take photos and document what's in your suitcase
As you pack your checked luggage, take photos and document what is in your suitcase. In the event you need to demonstrate proof of your loss to an airline, insurance company, or credit card, having this documentation will ease the process.
It's also a good idea to note the size, color, and brand of your luggage, since you will need this to file a lost baggage claim in the event your bags don't make it to your destination.
Add an Air Tag to your Bag
If your bags get lost, knowing exactly where they are in the world can save the day, and help you get your bags back much faster.
If you decide to check your bag, always add an Apple AirTag inside of it. These tiny GPS tracking devices weigh next to nothing and allow you to see its location in real time.
If your bags get lost, sharing this information with the airline's agent can help expedite the process of getting your bag back.
If you're traveling as a family, you can also get a 4-pack of Apple AirTags. (Psst…they also make for a great gift for anyone who might be traveling this summer!)
Bring a change of clothes in your carry on
Pack at least one change of clothes (including socks and underwear!) in your carry-on suitcase or personal item.
If your luggage gets lost, you'll at least have enough clean clothes to get you through the night until you can shop for new ones or your bag is returned the next day.
Checked Luggage and Connecting Flights
If you have a connection on your flight, you can still check your bags, however the risk of lost luggage is higher with connecting flights than with direct flights.
And if your layover is an hour or less, there's a very high risk that your checked bags may not make it on your second flight. Lower the odds of lost luggage by ensuring that your layovers are at least an hour.
Flight Delays
Sometimes baggage loading and unloading can go quite quickly, but not always! If your first flight is delayed, even by a few minutes, the odds of your luggage getting lost are very high, especially if you have a tight connection.
International Connections
If you're flying internationally with a connection, remember that you will have to pick up your bags as soon as you land in the foreign country, bring them through customs, and then re-check them onto your next flight. In other words, your luggage won't automatically be loaded from one flight to the next.
For example, let's say you're flying from New York City to Rome , with a layover in London . If you check a bag, you will pick up that bag in London, take it through customs, and then re-check it for the flight from London to Rome.
If you are flying internationally with a connection and plan to check your luggage, make sure your layover is at least 2 hours so that you have enough time to go through the process of re-checking your bags in between flights.
Checking Luggage at the Airport
Checking Your Bag Inside the Airport Terminal
Within the airport terminal, you can either check your bag at the ticket counter while checking in for your flight, and pay the baggage fee in person, or pay online ahead of time and just drop off your suitcase.
Some airlines charge a higher fee at the airport, so it almost always makes sense to pay online ahead of time.
If you pay your fee online, head to the "bag drop" area at the airport where you can print your luggage tag and drop it off with an airline agent. These queues are typically much shorter than the queues at the ticket counter lines.
Curbside Check-In
Many airlines also offer a service called "curbside check-in", which allows you to both check in for your flight and also check your luggage before you even set foot inside the airport.
It's a great option if you're traveling with a lot of bags, small children, or have limited ability to navigate inside the terminal with a larger suitcase. Queues at curbside check-in also tend to be shorter than those at ticket counters, so you may save some time going this route.
Curbside check-in is considered an additional service, which means that it is only offered by some airlines in some locations. Check with your airline to see if it is offered at your departure airport.
The only downside to curbside check-in is the additional cost. Airlines typically charge a fee for this service (usually $2-$3 per bag) and tipping the airport support employees (often called "skycaps") is generally expected. But for some travelers, this is well-worth it.
Keep Your Baggage Claim Ticket
Once you check your bag, the airport agent, skycap, or kiosk (if you're not dealing with a human!) will give you a paper baggage claim ticket. Make sure to keep this until you and your suitcase are reunited at your destination.
If you're flustered or in a hurry at the airport, it's easy to either lost the ticket or accidentally throw it in the trash, but you'll need it if your bags get lost. So make sure to keep an eye on it! Taking a photo of it with your phone is another option, too.
What goes in Carry on vs Checked Luggage
So if you're checking a bag, what goes where? There are a few rules of thumb when it comes to what to pack in carry on vs. checked bags. Here's the short version:
The first is that you should pack anything you need during your flight in your carry-on suitcase or in your personal item (such as a purse).
The second is that you should never pack anything that's valuable, irreplaceable, or is essential to your health – more on this below!
Third, make sure to comply with TSA regulations for checked baggage, which you can find here.
5 Things You should Never Put in Checked Luggage
If you do decide to check your bag, there are a few things that you should never, ever pack inside your checked suitcase.
Prescription medicine
Always keep any prescription medicine with you when you fly, and never pack it inside a checked bag.
Even with this in mind, a common mistake travelers make is to pack their prescription medicine inside a toiletry bag, and then place the entire thing in their checked suitcase.
Make sure to remove any prescription drugs from your toiletry bag and keep them in your carry-on suitcase or personal item.
Passport and other travel documents
Make sure not to pack your passport or any important travel documents inside your checked bags.
You probably won't get very far without your passport, but it's easy to accidentally slip it inside a pocket of your suitcase during the check-in process, so make sure to keep these important documents on you at all times.
The same thing goes for credit cards and your wallet but I bet you already knew not to part with those!
Fine jewelry or other valuables
I always recommend leaving any fine jewelry at home when you travel to avoid any risk of loss or theft.
If you do plan to travel with jewelry or other valuables, make sure to put them in your carry-on suitcase instead of your checked bags.
Laptop computer (Or Spare Lithium Ion Batteries)
I know it's tempting to try and lighten your tote bag when you travel, but electronic devices such as laptops should never go inside checked baggage.
It's just too easy for laptops and other electronic devices to get damaged by rough baggage handling. The TSA also prohibits spare lithium ion batteries in checked bags; these must be carried on the plane.
Cherished or Irreplaceable Items
If you can't put a price on it, don't put it in your checked luggage.
Whether it's a family heirloom, a piece of art, or another priceless treasure, putting a valuable item (even if it's only valuable to you) in checked luggage is never risk-free, so use your judgment when it comes to deciding whether to travel with the item or not.
Sometimes it's unavoidable, and most of the time you won't have an issue, but it's always a good idea to at least think through alternatives to checking your prized possessions.
For example, can you carry it on the plane instead? Or could you mail it certified with insurance?
What to Do if Your Luggage Gets Lost
If you travel often enough and frequently check a bag, it's inevitable that you will deal with lost luggage at some point. Remember the chaos of last summer?
If (when?) you lose your luggage, here's a few tips for what to do to minimize the hassle so you can enjoy your trip as much as possible.
Check the Entire Baggage Claim Area
It's entirely possible that your bag arrived, but just got placed somewhere in the baggage claim area other than the carousel where it should be. This has happened to me several times!
Check all of the other baggage carousels as well as the surrounding areas, and you just might find your suitcase. I once found my bag in a random corner of a baggage claim area, grouped with a collection of bags that belonged to a tour group (I wasn't part of the group).
File a Lost Baggage Report
If you still can't find your bags, don't leave the airport to just call the airline! Instead, see an agent in the baggage claim area. The agent will help you locate your bag, and if needed, file a lost baggage claim with your airline.
If you packed an AirTag in your suitcase (you did, right?), now's the time to use it to track your suitcase and share that information with the agent.
You should also have the address and details of your travel accommodations handy so that the airline can deliver your bags to you (most airlines offer this service).
Ask for a Refund of Checked Bag Fees
If your luggage is lost, you should be able to recoup any fees you paid the airline to check your bags. However, this may not happen automatically!
So make sure to actually ask for a refund when you file your lost baggage claim.
Keep Your Receipts + Seek Reimbursement for Expenses
If your luggage does get lost, you will probably need to purchase a few essentials to get through your first night at your destination. Make sure to keep receipts for any of these expenses that you incur as a result of your bags being delayed or lost.
The first place to start in getting these expenses reimbursed is with the airline itself. Each airline has different policies for what they will reimburse if you incur expenses related to delayed luggage. Ask the agent what is covered when you file your claim.
Your credit card may also provide reimbursement for expenses beyond what the airline covers, if you used the card to pay for your trip.
Go Through Your Bags Once They're Returned
Once your luggage has been returned to you, make sure to give the contents a once-over. Check for any missing or damaged items, and if anything is amiss, contact your airline for help with making things right via repair, replacement, or compensation.
The Best Suitcases for Checking
Now that you're armed with everything you need to know about checked baggage, it's time to find the perfect suitcase. Here are my top two recommendations:
Samsonite Omni PC Hardside Expandable Luggage
For a long-lasting, hard sided suitcase that is as functional as it is stylish, check out the Samsonite Omni PC suitcase. I love that it comes in either a Medium (24") or Large (28") size, as well as tons of different colors. You can't go wrong with this bag!
Pros:
Durable and lightweight
Scratch-resistant
360 spinner wheel system is easy to maneuver
Fully-lined
TSA approved combination lock
Shop Now
Travelpro Maxlite 5 Softside Expandable Luggage
If you'd rather have a soft-sided large suitcase, the TravelPro Maxlite 5 is your best bet. It comes in two sizes: 25" (Medium) and 29" (Large), as well as a ton of different colors. I love that it has exterior pockets to help organize your things, too.
Pros:
Lightweight design and fully-lined interior
Made from stain and water-resistant fabric
Multi-directional spinner wheels
Expandable for additional packing space
Shop Now
FAQs
Is it worth it to check luggage?
It is worth checking your luggage if you need more packing capacity, are traveling with young children, or have mobility challenges and need more convenience at the airport. If not, consider carrying on your luggage to save on baggage fees.
What is the advantage of checked in luggage?
The advantages of checked luggage are additional capacity, convenience at the airport, easier security screening, and fewer liquid and size restrictions.
Does luggage get lost on connecting flights?
Yes, luggage can get lost on connecting flights, particularly with layovers that are less than an hour.
Conclusion
To sum it all up, knowing the ins and outs of checked baggage is a must for any traveler. It's all about understanding the details and following a few tips to make the most of this travel perk. Whether you're excited about packing more stuff, breezing through the airport hassle-free, or enjoying a comfortable flight, checking your luggage is the way to go. But don't forget to keep an eye out for the potential downsides and take necessary precautions. By getting familiar with the do's and don'ts, you'll be all set to check your bags like a pro, making your travel experiences smoother and stress-free. So, gear up and get ready for your next adventure with the knowledge you need to check your luggage like an expert!