4 Cute Road Trip Outfits: How To Stay Stylish and Comfortable on Your Adventure
This site uses affiliate links and I may earn a small commission when you use my links and make a purchase, at no extra cost to you. 
Are you ready to hit the road in style and comfort? Well, get ready to rev up your fashion game because I'm about to spill all the road trip outfit secrets you need to know. Whether you're embarking on a cross-country adventure for the summer or just exploring the hidden gems in your own backyard, finding the perfect travel outfit is crucial for a memorable and enjoyable journey. In this blog post, I'll guide you through the must-have pieces, share practical tips for packing and organization, and even dish out some styling tricks to effortlessly rock your road trip looks. So, buckle up and get ready to discover the ultimate road trip outfit that's as stylish as it is comfortable. Let's dive in and make every mile count!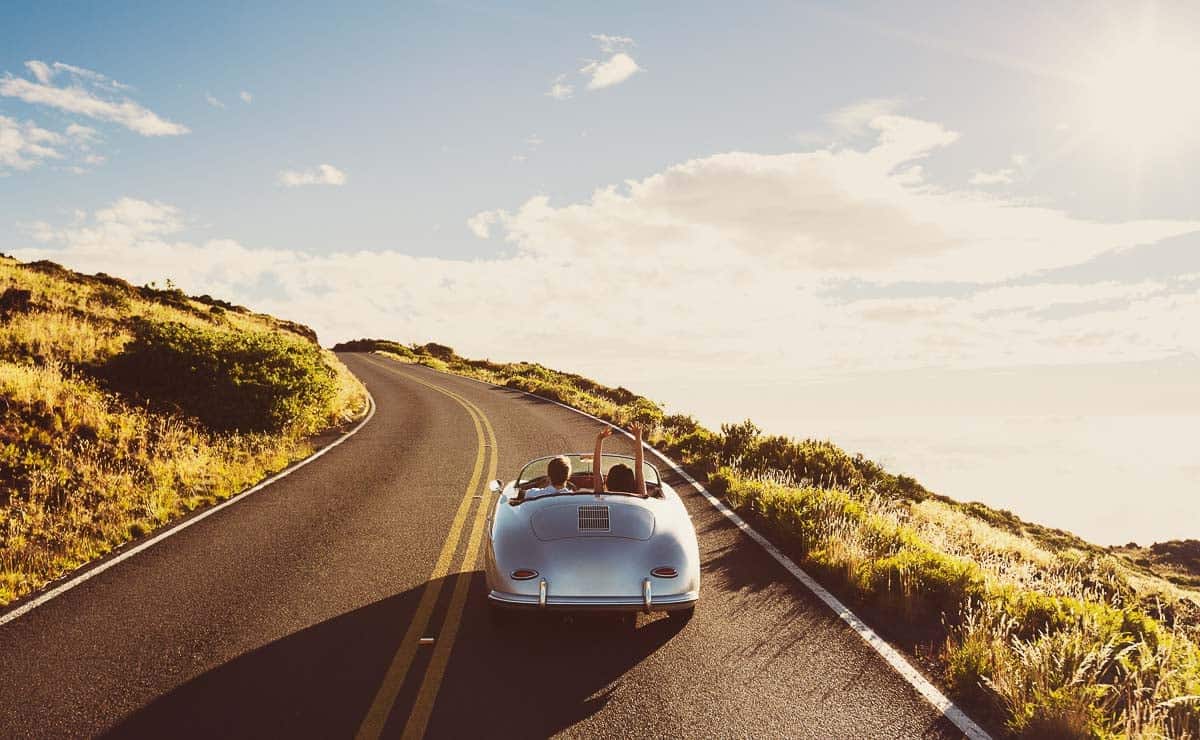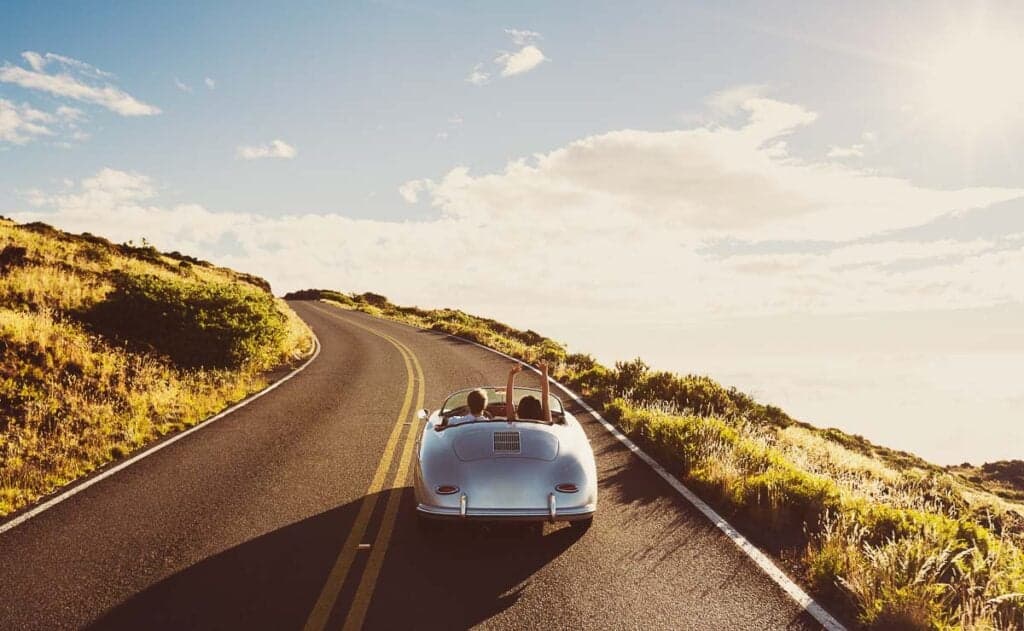 What to Wear on a Road Trip
Have I told you guys about my plans for this summer yet? I'm heading up north and taking a 10-day road trip down the coast of Oregon and northern California. Stay tuned for all of the details and reviews once I'm back home.
Even though my trip is still a few weeks away, I'm already planning what to pack. SInce I'll be spending a lot of time on the road, I've been thinking a lot about road trip outfits, and what to wear in the car for a long car trip.
Summer is such a popular time for road trips, so I figured I'm probably not the only one who is looking for road trip outfit inspiration. In fact, 80% of Americans who planned to travel in 2022 planned to take a road trip.
So if you have a car trip in your plans for the summer, and are wondering what to wear on a road trip, today I'm sharing all of my ideas for cute road trip outfits, as well as tips for packing and styling your clothes. Let's do it!
In a hurry? Jump directly to the outfits here.
How to Create the Perfect Road Trip Outfit
Let's start with the anatomy of a road trip outfit. Creating the perfect road trip outfit isn't too different from creating any other kind of women's travel outfit (like an airplane outfit, for example).
The key differences are that first, during road trips, you will probably stop multiple times each day for meals, bathroom breaks, and adventures, meaning that your outfit needs to be ultra-versatile.
Second, road trips mean constant travel, so your outfit has to be comfortable for sitting in a car for hours on end. In addition, if you will be the one driving, you also want to make sure your outfit won't distract you from the road.
To strike the right balance, here's a few things to keep in mind when choosing clothing for your road trip adventure.
Wear Light, Breathable Fabrics
Wearing breathable fabrics is so important if you will be clocking long hours in the car. There's nothing worse than feeling overheated in a moving vehicle, which can easily bring on feelings of nausea if you're prone to motion sickness.
Your road trip outfit should consist of light, breathable fabrics like cotton, linen and gauze to keep you nice and cool. Steer clear of thicker, heavy fabrics like polyester and wool.
Stretch and Flexibility
The pieces in your road trip outfit should be made with fabric that's stretchy and flexible to help with comfort and ease of movement sitting in a car seat for long periods of time.
Loose clothing is ideal because it will give you plenty of flex, but you can still wear fitted pieces if that's a look you prefer. If you decide to wear something more form-fitting, just make sure it's made from material that has plenty of stretch to it, like spandex.
Check the seams on any fitted pieces, too, to make sure they won't irritate your skin if you're sitting for hours at a time.
Layers
Like all travel outfits, wearing layers is key on a road trip. One minute the sun might be shining through the car window, and the next minute the air conditioning in the car could be blasting.
Layering your clothes will help you adapt to your environment and changing weather conditions. Try to wear one sleeveless or short-sleeved shirt under a light jacket or button down so that you're prepared for different temperatures during your adventure.
Must-Have Pieces for Your Road Trip Wardrobe
With those tips in mind, here are a few of the essentials that make up a practical (but cute!) road trip wardrobe.
Fill your suitcase with these basics, and you'll be able to mix and match them to create various road trip outfits for your journey.
Versatile tops
In terms of what to wear on a road trip, make sure to pack lots of versatile t-shirts, tank tops, and lightweight sweaters.
You'll need more tops than bottoms, and make sure that your tops are comfortable, light and layer-able.
Functional bottoms
The bottoms in your road trip wardrobe should be comfortable before anything else.
Avoid pants or bottoms that are too tight or constricting, and something lightweight is always better. I recommend joggers or leggings for the most comfort, and wide-leg pants are a great on-trend option, too.
If you decide to wear jeans on a road trip, just make sure they have a good amount of stretch to them so that you don't get uncomfortable while driving.
Essential outerwear
Pack at least one warmer layer for outerwear on a road trip, even during the summer. Between air conditioning, chilly evenings, or changing weather conditions, you just never know when you might need some extra warmth!
The best outerwear for road trips are layers like jackets, cardigans, or hoodies. Make sure your pieces can easily be taken on or off so that you have maximum versatility on the go.
Footwear essentials
Shoes are a really important part of what to wear on a road trip.
The best shoes to wear for long car trips are slip-on shoes – they're sturdy enough for driving, but also easy to slide off when you're a passenger!
In addition to slip-ons, bring comfortable shoes or sneakers for long walks and exploring you might do along the way, and keep these shoes handy to make a quick change if you need to.
Comfortable underwear
Road trips are the perfect time to break out the most comfortable underwear you have. Yep – the last thing you want to have to think about during a long drive is how your underwear isn't comfortable!
So find the bras and underwear that fit you best, and wear them as the foundation for your outfit.
Accessories
No travel outfit is complete without accessories! Just because you're on a road trip, doesn't mean you can't add some flair to your outfit. The best way to add finishing touches to a road trip outfit is to make your accessories practical and functional.
To do that, reach for a pair of sunglasses, a hat, and a versatile tote bag. You can also add some simple jewelry, but I recommend steering clear of belts (too constricting) and scarves (too hot!).
5 Cute Road Trip Outfits
Now that you have a good idea for the anatomy of a road trip outfit, let's check out some cute styles. Here are a few examples of stylish and comfy outfits to wear in the car. I'm using these as inspiration for my own packing list!
Road Trip Outfit #1: Simple and Chic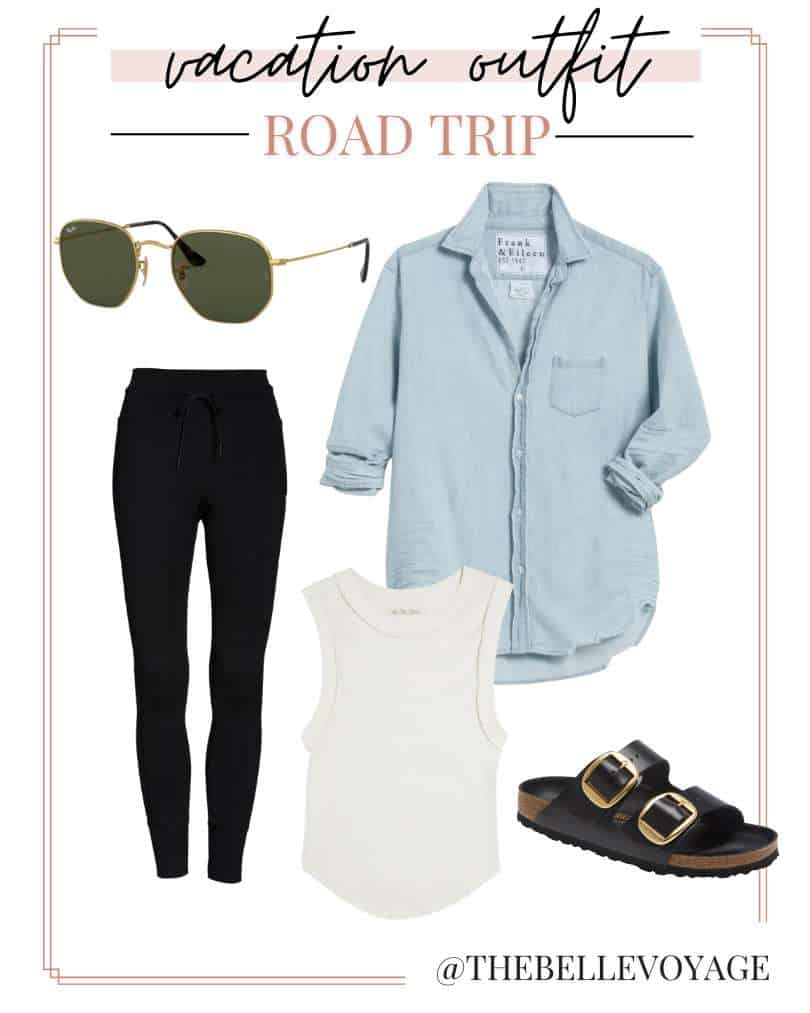 I'm starting off with this road trip outfit because I think it just might be my favorite.
Leggings and a simple tank are the perfect foundation to add an open chambray button-up shirt. Simple and chic! These leggings are SUPER light and breathable – I have them in a few colors already!
The gold buckles on these sandals plus the aviator sunglasses give the whole style the perfect finishing touch.
I'll be wearing a version of this outfit on just about every day of my trip this summer!
Road Trip Outfit #2: Trendy and Relaxed
I love the mix of textures in this road trip outfit, which pairs comfy joggers with a breathable tank and cropped jacket.
If you don't have Vuori joggers yet, you're missing out! The fabric is so luxe and soft, yet the overall look is still trendy and chic.
And can we talk about these sneakers? Who doesn't love Converse sneakers – but these are road-trip ready because they're a slip-on version of the sneaker. YES!
Road Trip Outfit #3: Active and Sporty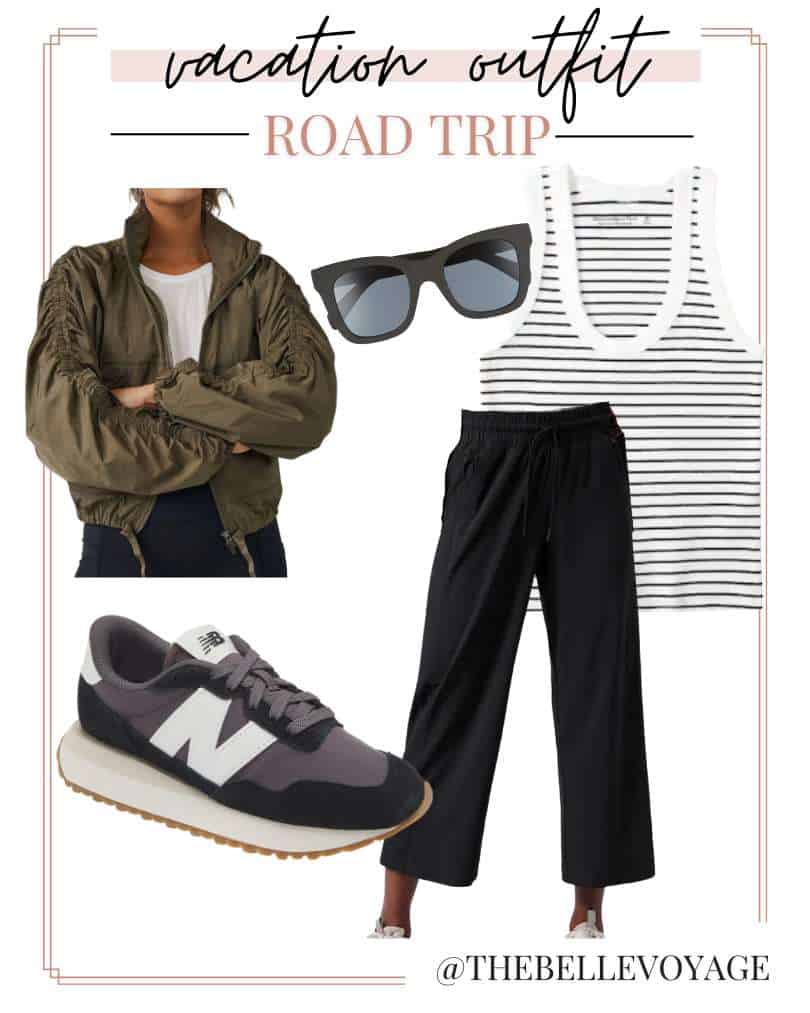 If you're looking for a sporty style for your road trip outfit, pair wide leg pants with a striped tank, sneakers and a rain-proof jacket that has unique, feminine details.
The pants are super comfy for sitting in the car all day long, and you can easily pair the tank top (or any one of these pieces) with other essentials in your road trip wardrobe to create lots of different styles.
Oversize sunglasses will keep your eyes free from glare so that you can focus on the road.
Road Trip Outfit #4: Elevated Style
If you need your road trip outfit to be evening-ready, this look is a perfect option.
The tank dress is incredibly comfortable, while the open-weave style of the cardigan adds polish without being overly heavy.
Pair the outfit with slip-on sandals, or switch it up with sneakers if you plan to do more walking.
Finally, the crossbody bag is large enough to hold your essentials while keeping your hands free for taking photos, but will look great at dinner, too.
What Not to Wear on a Road Trip
Now that you've got plenty of inspiration for your road trip outfit, it's important to keep in mind that there are also a few pieces you should NOT wear on a road trip. Leave these pieces at home, and you can thank me later!
Rompers and Jumpsuits
I love the look and ease of a romper or jumpsuit, but anything that is hard to layer, mix and match, and take on or off during bathroom stops is probably going to be a pain during a road trip adventure.
If you want the ease of a one-piece outfit, try a dress instead!
Tight or Constricting Clothing
For maximum comfort, stay away from clothing that's super tight or constricting. Wearing these kinds of clothes in the car is a quick way to make your trip pretty miserable.
Keep your clothes comfortable so that you can focus on the fun parts of road tripping!
Heavy or hot materials
The same goes for clothes made from hot or heavy materials. These kinds of pieces don't wear well in the car, because you can quickly get overheated.
And if you're driving, you'll have to wait until you're stopped to de-layer. No thanks!
Shorts
This one might be controversial, but stick with me. You might think that shorts are a good choice for what to wear on a road trip, but there are pros and cons.
Yes, shorts are great when it's hot outside. But remember that car seats can get even hotter when they're sitting in the sun, and that your legs will easily stick to them if you're wearing shorts.
In addition, depending on how short your shorts are, and how much you shift around in the car, you might risk showing off more than you intended! So think carefully about wearing shorts on a road trip, and decide whether or not they're right for you.
Fabric that wrinkles easily
Even though road trip outfits tend to be pretty casual, try to avoid fabric that wrinkles easily. If you want to wear linen, try to find a linen blend that will stay smoother while you're sitting.
White Clothes
I love your white jeans, too. But wearing white bottoms on a road trip is asking for trouble!
Between eating in the car, tipsy cup holders, and questionable bathrooms (gotta love those gas stations), your clothes are bound to get spilled on at some point during your adventure, and white clothing is the most susceptible to spills and smudges.
Instead of wearing white, try to wear darker colors instead, so that any spills or stains won't be as apparent if they do happen. Or if you do want to wear white, limit it to tops that you can layer over if needed.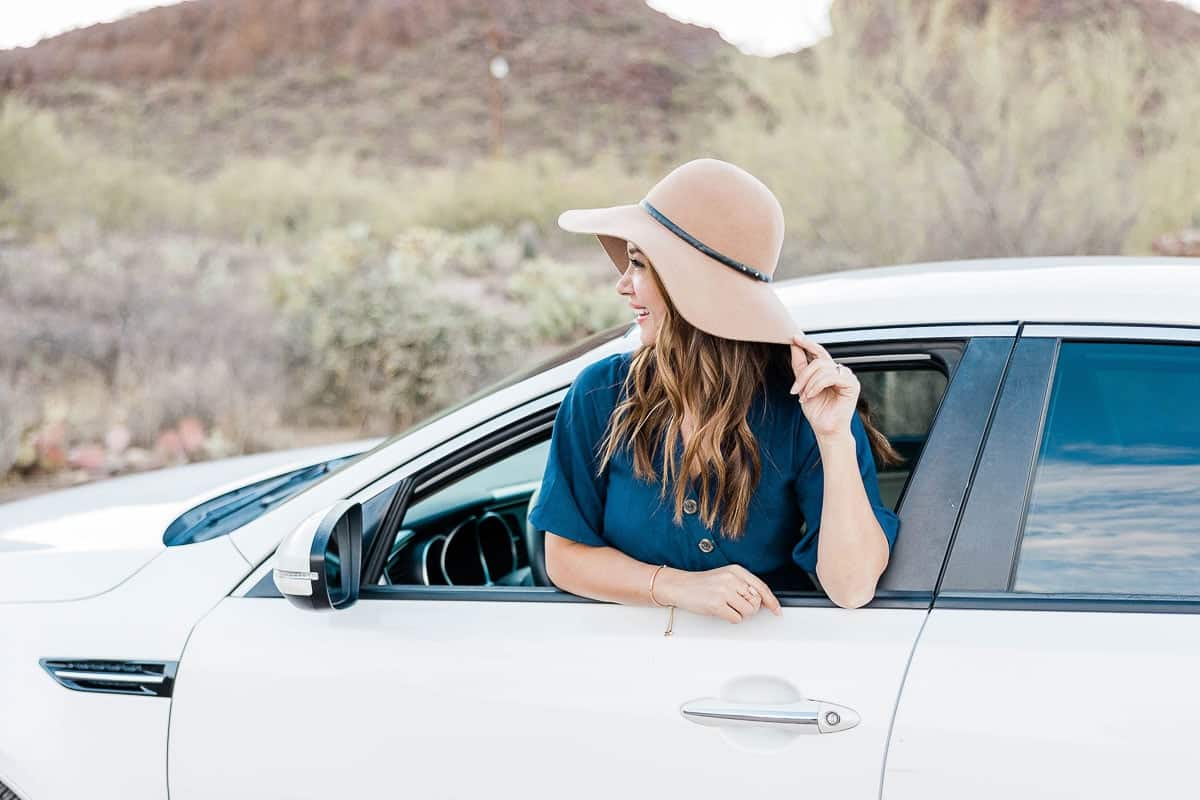 Styling Tips and Tricks for Effortlessly Chic Road Trip Looks
Now that you know what to wear and what not to wear on a road trip, let's talk about styling tips for putting together your own road trip looks.
Mix and match basics
Mixing and matching basic pieces is one of the best ways to create multiple outfits from just a few pieces of clothing.
Rather than plan for your road trip in terms of outfits, try to pack a capsule wardrobe of pieces that you can style in different combinations.
If you need inspiration, my summer travel capsule wardrobe has tons of ideas for travel outfits with just 15 pieces of clothing, and my recommended summer travel outfits have lots of cute looks, too.
Accessorize for impact
If you're going to pack light, you can elevate your outfit with minimal effort by using accessories.
The best accessories for travel outfits are things like hats, sunglasses, and jewelry. These accessories are all lightweight as well as practical for long days in the car.
Embrace color and patterns
Just because you're wearing basics doesn't mean they have to be boring! Add a bit of vibrancy to your road trip wardrobe by embracing color and patterns.
Pick one or two accent colors that go with a neutral palette, and use these to add interest to your ensembles.
When it comes to patterns, look for pieces that have simple patterns (I love stripes for travel) that you can pair with all of your other pieces. Stick to just one or two patterned pieces and use them to mix up outfits that consist of other basics.
Stay true to your personal style
Whenever you're dressing for, well, anything, stay true to your personal style! Incorporate elements that reflect your fashion preferences, what fits you best, and what makes you feel comfortable and confident.
For some women, that's a vintage tank top and shorts. For some, leggings and a t-shirt. The options are endless, and it's really up to you.
Packing and Organization Tips for Road Trip Outfits
Packing for travel can be challenging enough, but fitting all of your things into a car can make it even harder! Here are a few tips to help organize your things on a road trip.
Start With the Right Packing List
The best way to pack for any trip is to start with the right packing list! Lucky for you, I've got plenty of printable lists and travel planners to choose from, no matter what kind of trip you're taking.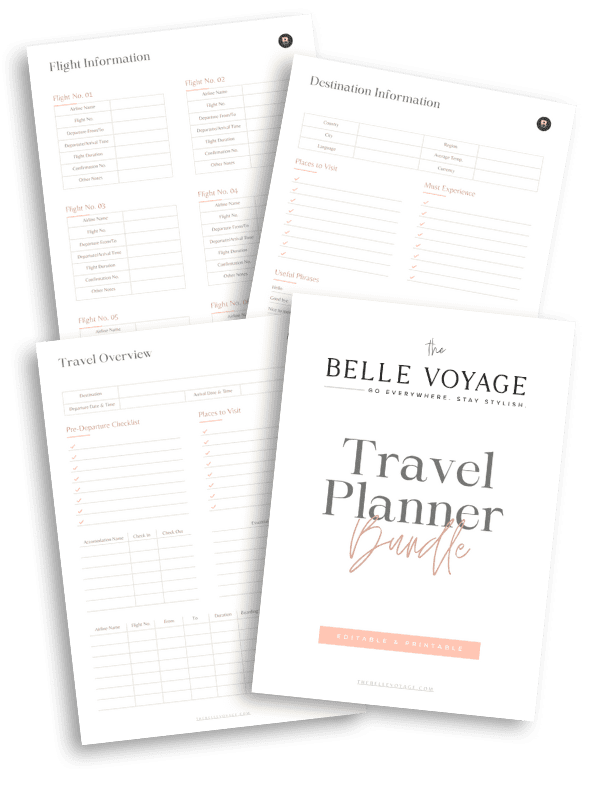 travel resources
Free Travel Printables
What's easier than planning and packing for your trip? If someone else does it for you! Check out my library of free printable packing lists and travel planners, all tailor-made for the modern female traveler.
Keep a Second Pair of Shoes and a Change of Clothes Handy
Road-tripping can often require a quick outfit change depending on what activities you have planned along the way.
Personally, I like to wear sandals while riding in the car, and then keep my sneakers handy for stops where I plan to do some walking or a short hike.
In addition, it makes sense to keep a change of clothes somewhere that's easily accessible, so that you don't have to unpack your entire bag if you need a quick outfit change.
Travel-friendly clothing
Real talk: nobody brings an iron on a road trip. Or even one of those travel size clothing steamers.
If you do, my type A-ness applauds you. But for the rest of us: without an iron, the clothes you pack for your road trip need to be wrinkle-resistant and easy-to-pack.
If you have pieces that wrinkle easily (such as clothes made from linen or rayon), leave these at home, and swap them for other fabrics like bamboo, nylon or silk.
Space-saving techniques
When traveling by car, you're limited on space for your things, especially if you're traveling with a group.
For that reason, to avoid overpacking, it's essential to know how to pack a suitcase to optimize its capacity. Always pack your heaviest things on the bottom of your bag, and roll your clothes instead of folding them. You'll save space and your clothes will be less likely to wrinkle.
Use packing cubes or compression bags
Another important tip when packing for a road trip is to use packing cubes or compression bags to keep things organized.
It's so much easier to reach for an outfit when you know where it is in your bag! Separate your clothes into categories, and use one cube or bag for each.
Top Pick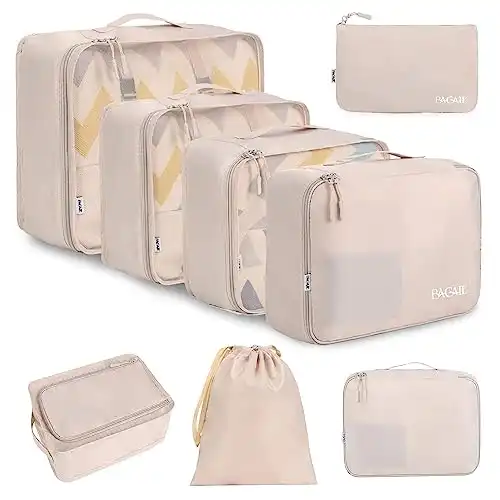 I love this set of packing cubes because there's a place for everything. The set includes a shoe bag, a toiletry bag, sock bag, an underwear bag, and even a drawstring bag for your dirty clothes. It comes in 13 different color options, too!
Shop Now
Separate outfits by day or activity
Another alternative method for organizing your clothes on a road trip is to separate your outfits by day or activity.
Some days, you might be hiking. Other days, sightseeing. And some days, you'll just be spending all day in the car.
Organize your outfits by groups according to your plans, and it'll be much easier to find what you're looking for in a fully-packed car.
FAQs About What to Wear on a Road Trip
What should I wear on a road trip?
When it comes to road trip outfits, opt for comfortable and versatile clothing like jeans, leggings, t-shirts, and layered tops. Don't forget to pack a lightweight jacket or hoodie for unpredictable weather.
How do I dress comfortably for a long road trip?
Choose loose-fitting clothes made of breathable fabrics. Consider wearing stretchy pants or leggings paired with a loose-fitting top. Don't forget to wear comfortable shoes like sneakers or sandals, and slip-on shoes are the easiest for maximum versatility.
What are some essential clothing items for a road trip?
Pack essentials like comfortable bottoms (leggings, joggers, or pants with stretch), versatile tops (t-shirts, tank tops, or button-down shirts), a lightweight jacket or hoodie, and underwear and socks for each day. Don't forget to bring swimwear and sleepwear as well.
What are the best shoes to wear on a road trip?
Opt for comfortable shoes that are suitable for walking, such as sneakers, slip-on shoes, or sandals. Make sure they provide good support and cushioning for long hours of driving or exploring.
How do I pack efficiently for a road trip?
To pack efficiently, choose clothing items that can be mixed and matched. Roll your clothes to save space and use packing cubes or compression bags. Don't forget to plan outfits in advance to avoid overpacking.
Are there any specific outfit ideas for different climates on a road trip?
For warmer climates, pack lightweight and breathable clothing like shorts, dresses, and t-shirts. In colder climates, layer up with sweaters, jackets, scarves, and hats. Don't forget to pack appropriate footwear and accessories accordingly.
Can I look stylish while staying comfortable during a road trip?
Absolutely! Opt for comfortable yet trendy clothing items like jumpsuits, maxi dresses, or stylish joggers. Add accessories like statement sunglasses, jewelry or hats to elevate your look while maintaining comfort.
What accessories should I bring on a road trip to enhance my outfit?
Accessorize with items like sunglasses, hats, and jewelry to add flair to your road trip outfits. Also, bring a spacious tote bag or backpack to carry essentials and complete your ensemble.
Are there any tips for staying fashionable while living out of a suitcase on a road trip?
Mix and match your clothing items to create different outfits. Choose versatile pieces that can be dressed up or down. Layer your outfits for added style and pack wrinkle-resistant clothing to avoid ironing.
How can I dress for both comfort and style when traveling by car?

Opt for stretchy and breathable fabrics that allow freedom of movement. Wear comfortable bottoms like leggings or jeans with a loose-fitting, stylish top. Add a lightweight jacket or cardigan for layering, and choose comfortable shoes that still look fashionable.
Conclusion
Now it's time to embark on your road trip with confidence and style! With these fabulous road trip outfits, you'll feel comfortable, chic, and ready to make memories. Whether you're cruising along the coast or exploring scenic routes, your fashion game will be on point. Remember, the journey is as important as the destination, so why not make it a fashionable one? Stay fabulous and keep exploring!