How to Mix and Match Outfits for Travel with Effortless Chic
This site uses affiliate links and I may earn a small commission when you use my links and make a purchase, at no extra cost to you. 
Traveling can be exciting, but packing for a trip can be a daunting task. Whether you're going on a weekend getaway or a long-term journey, it's important to pack smart and efficiently, but trying to figure out how to mix and match outfits for travel isn't always easy. What goes with what? And how do you maximize what's on your packing list? As a fashion junkie and full-time travel blogger, I am no stranger to this dilemma! Over the years, I've learned what works (and what doesn't) in terms of creating easy, stylish travel outfits.
In this guide, I'm sharing 13 tips on how to mix and match outfits for travel, the essential pieces you need in your travel wardrobe, and how I use my travel capsule wardrobe to easily create endless different outfit combinations with my clothes. I'm also sharing my recommendations for specific clothing pieces you can pack to make mixing and matching your clothes completely foolproof. Let's do it!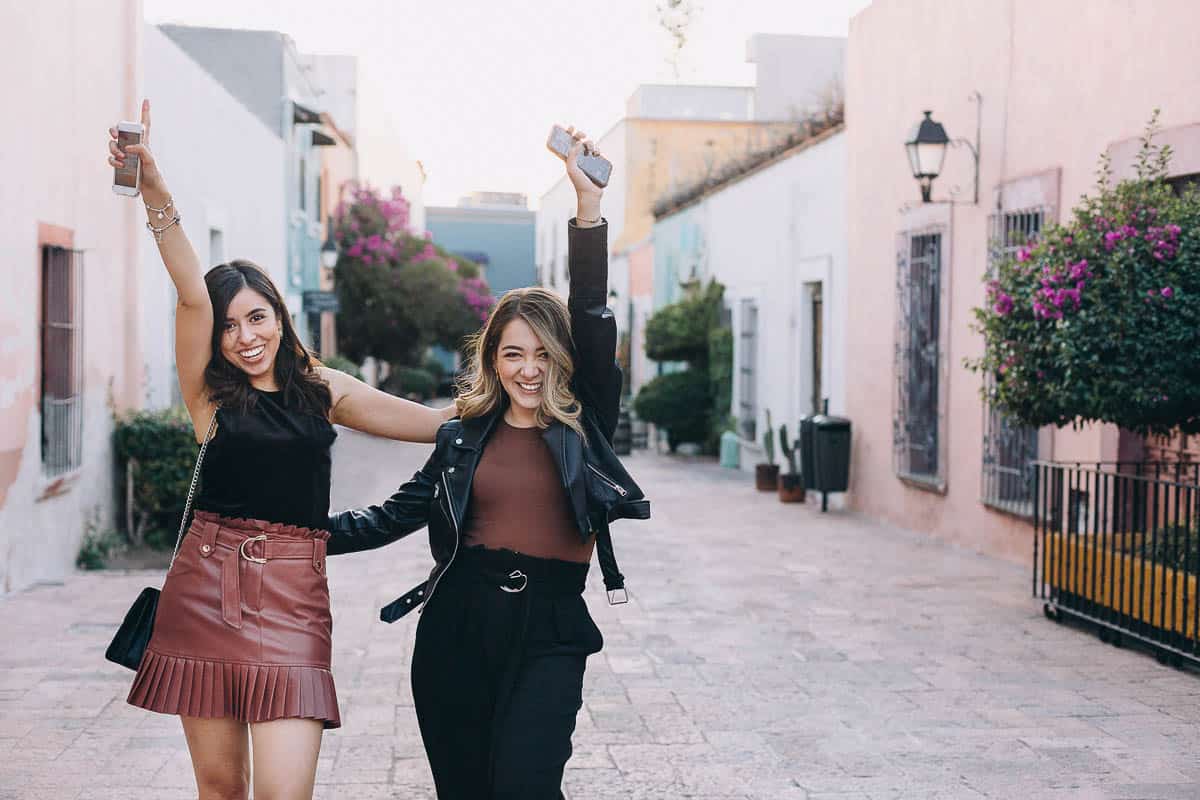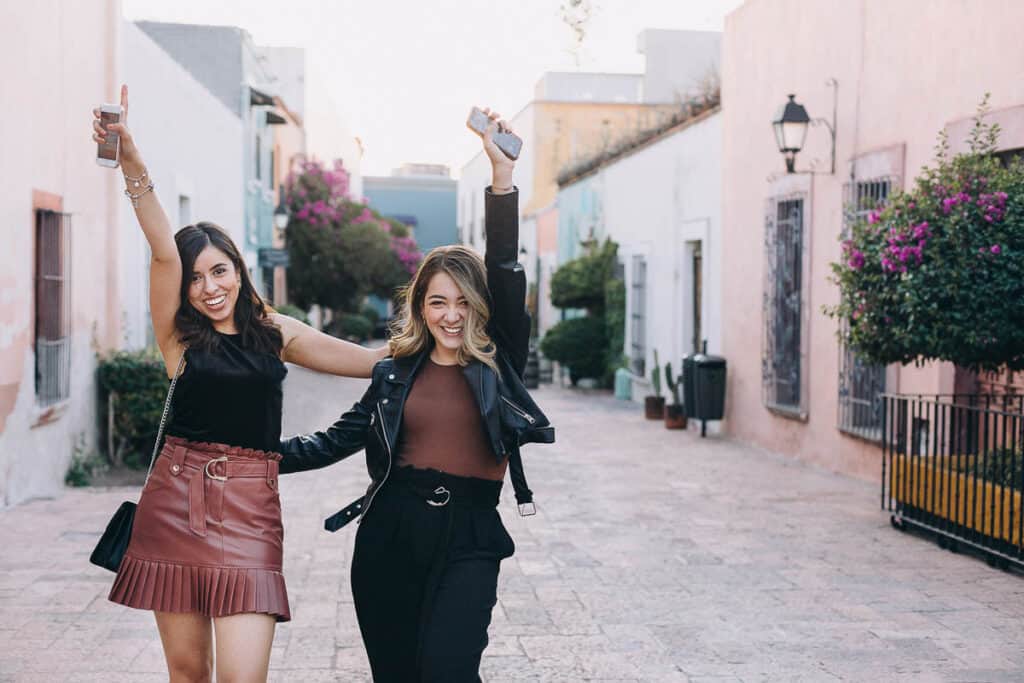 How to Mix and Match Outfits for Travel: 13 Tips
Plan Ahead
Mixing and matching your clothing is easiest with a little bit of advanced planning. So before packing your suitcase, try to plan your outfits in advance.
I promise that 10 minutes of planning will be WAY easier than hauling around an overpacked bag because you panicked and just threw in clothes at the last minute (speaking from experience here).
Keep the planning simple. Think about the forecast during your trip, and look at the activities that you plan to do. If that feels overwhelming, try thinking about your trip just one day at a time!
To help with this process, download my free travel outfit planner!
This day-by-day guide will make it super simple to organize the outfits you need ahead of time. It will also help you identify which pieces of clothing in your wardrobe are the most versatile.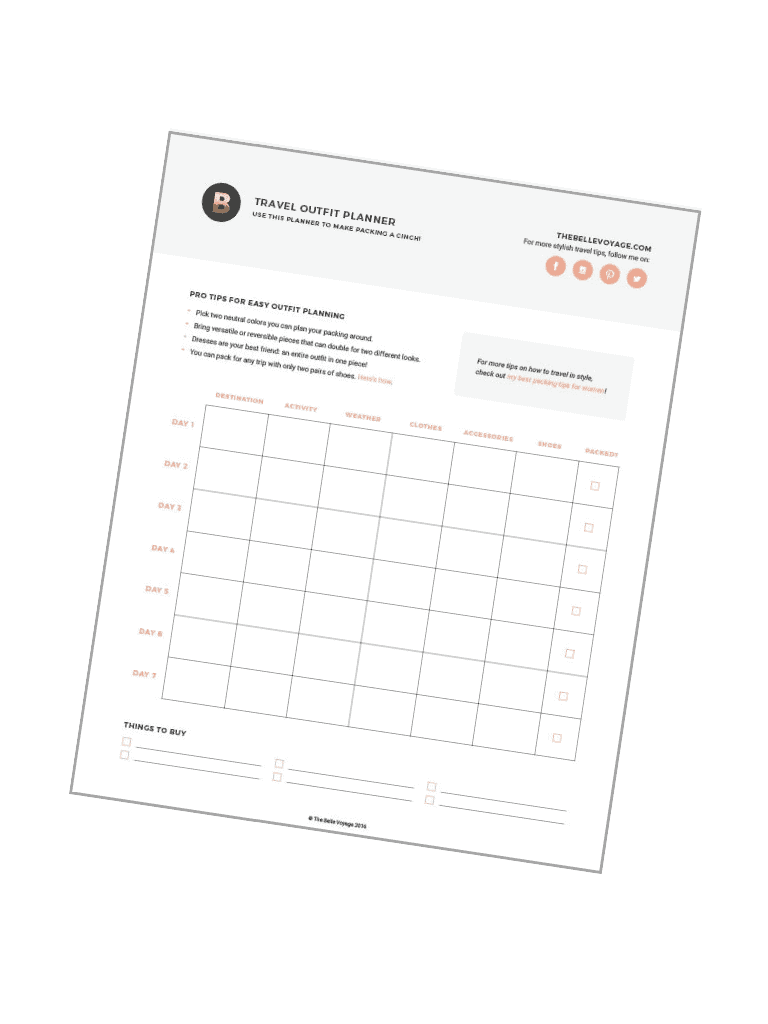 Invest in Some Basics
To create travel outfits with your eyes closed, invest in some basic pieces that you'll wear all the time. Keep reading for some of my top recommendations.
For me, these are things like a black v-neck t-shirt, a gray tank top, and a black dress. They're always on my packing rotation and can be styled in so many different ways.
Dress them up or dress them down. It's hard to think of any outfits where you couldn't work in one of these basics!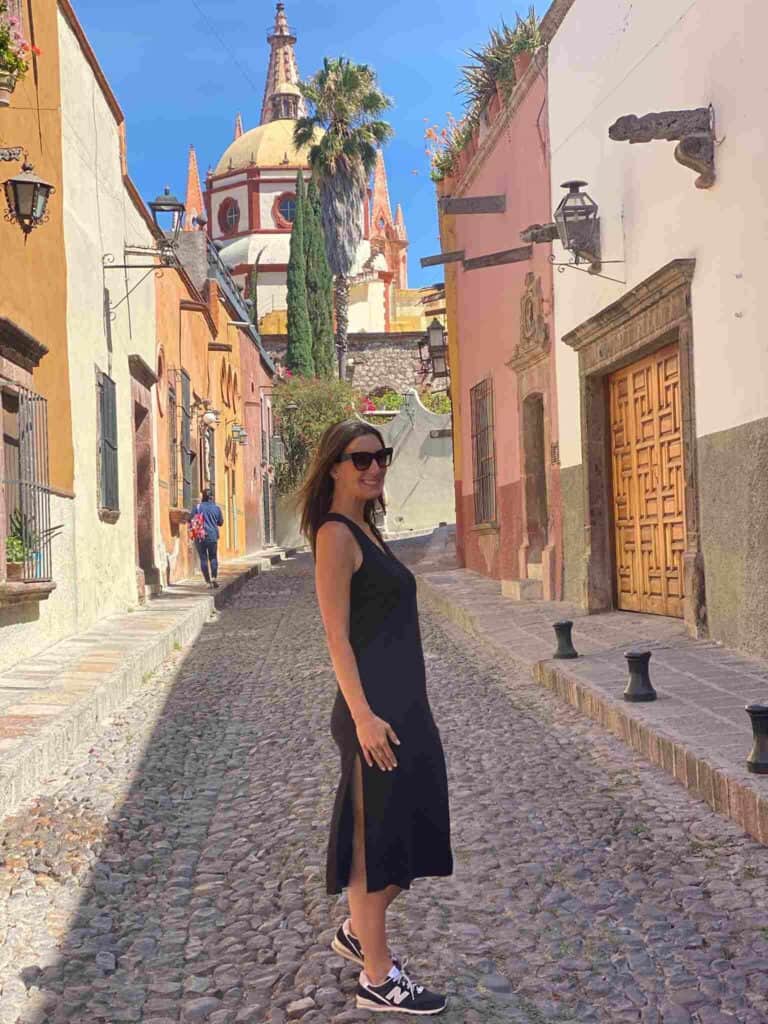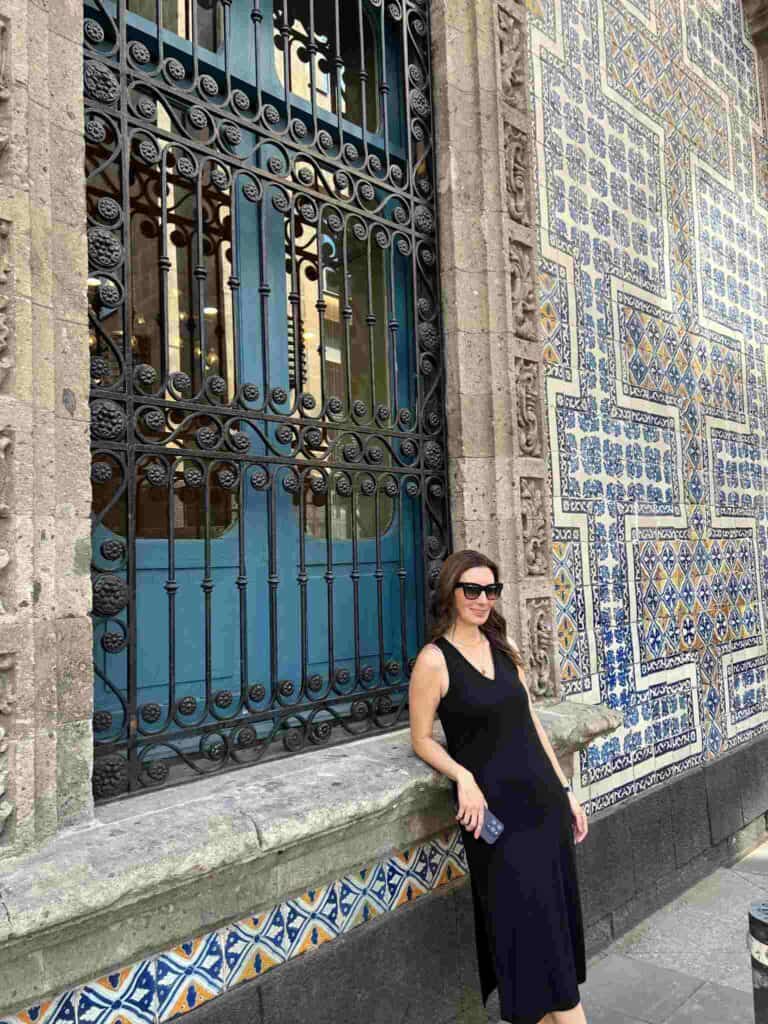 Layer Up
Layering is key to creating versatile outfits. The same outfit can look completely different when worn with or without an extra layer. In addition, layering is always a good strategy when it comes to travel, since you never know where you might find yourself, temperature-wise!
To create easy layered looks, try a denim jacket, a leather jacket, or a cardigan. I've got lots of recommendations below!
Pack a Variety of Pieces
To really maximize the number of outfit combinations you can create, try to pack a variety of pieces rather than duplicates of the same piece.
What do I mean by this? Take bottoms as an example. Let's say you plan to pack 3 bottoms for your trip. Instead of packing 3 pairs of jeans, pack one pair of jeans, a maxi skirt, and a pair of cargo pants.
For tops, instead of packing three button down shirts, pack a sleeveless top, a t-shirt, and a cardigan. When you pack a variety of pieces, it's so much easier to create distinct looks with your outfits.
Pair loose and flowy with fitted or cropped
This styling tip is a classic for any kind of outfit: pair something loose and flowy with a piece that's fitted or cropped.
This goes for both tops and bottoms! Skinny jeans look great with a top that is oversized and loose, whereas looser pants are best complemented by a more fitted top.
Everyone is different of course, but I personally find this to be the most flattering approach to putting together outfits and mixing and matching tops and bottoms.
Pack neutral colors
For foolproof mixing and matching, stick with a consistent color palette for your clothes, shoes and accessories. Start with 2 or three neutral colors like gray, black, tan, or white.
Then add 1 or 2 different accent colors like olive green, pink, or navy. When you choose items in complementary colors, it will be so much easier to mix and match your outfits!
Pack one or two patterned pieces
Even if you work with consistent colors, that doesn't mean your pieces have to be boring. Mix things up by adding a couple of patterned pieces to your travel wardrobe.
For maximum versatility, keep the patterns simple. Stripes are generally my go-to, but a simple check, plaid, or floral pattern that complements your color palette will add another dimension to putting together outfits.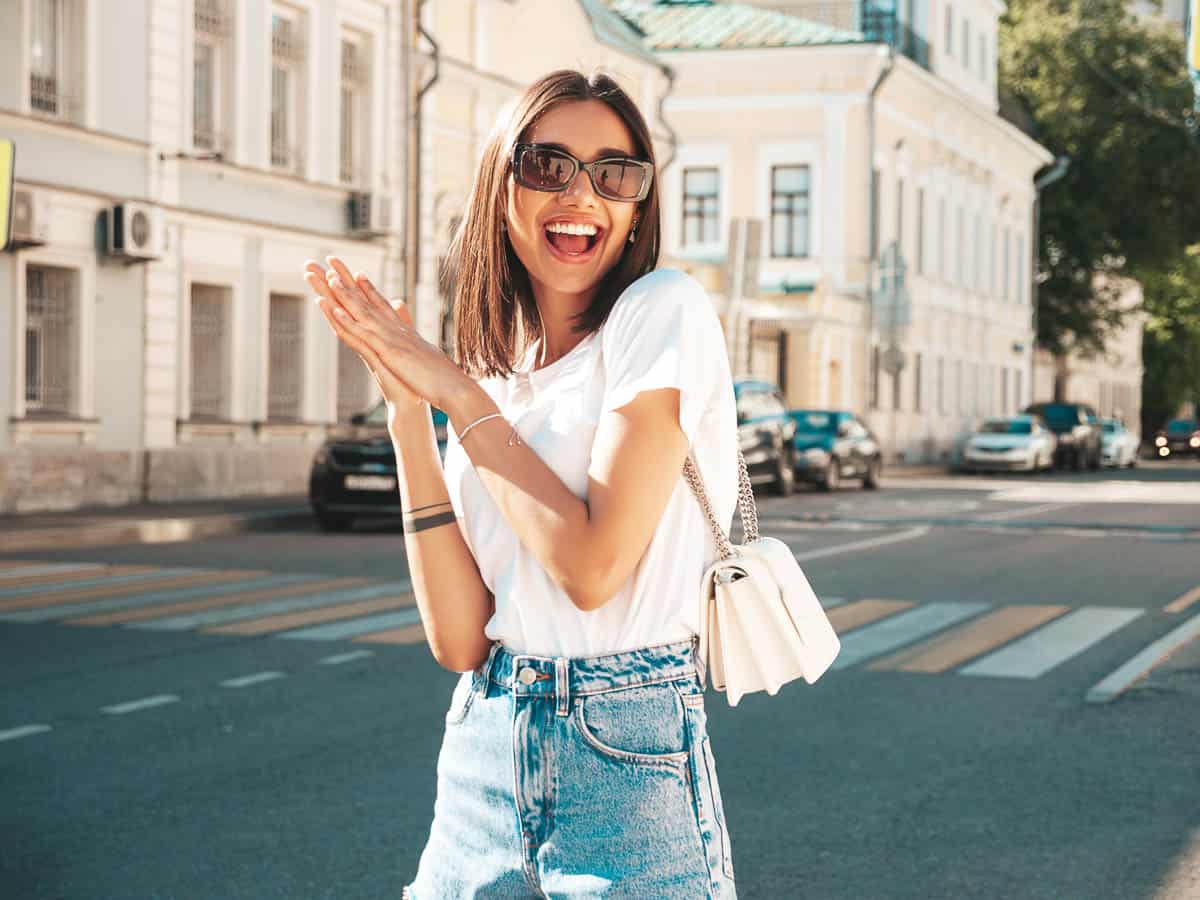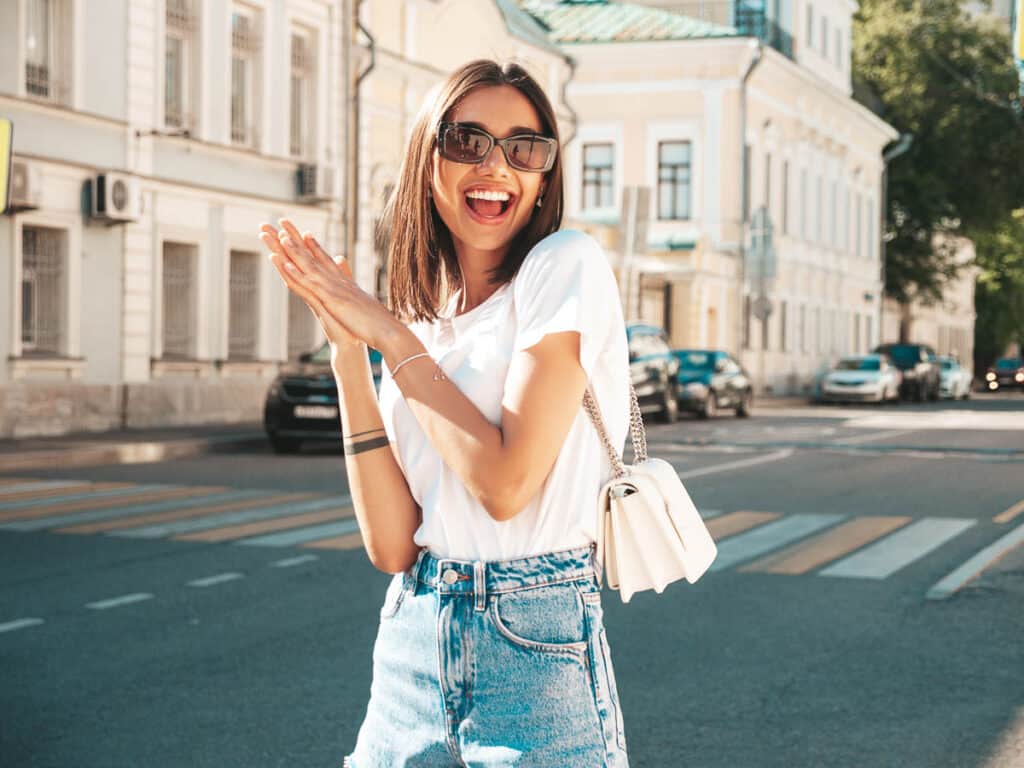 Look for Textured fabrics
Another way to elevate basic pieces is to buy them in a textured fabric. Adding in a bit of texture gives so much more visual interest to a single piece of clothing, as well as an entire ensemble.
What do I mean by textured? Think about pieces in ribbed, waffle, crinkle, or ruched fabric. Even a plain black tank dress is so much more interesting if it's made from ribbed fabric!
The same goes for interesting details in a piece of clothing. A unique neckline, seams, or pockets can elevate a basic black top to something that's much more eye-catching. Meaning that your "basic" black top can not only stand on its own, but also still match with everything else in your suitcase.
Mix casual and dressy pieces
Another way to create unique outfits is to mix casual and dressy pieces. While it might seem counterintuitive, pairing a fancier top with casual bottoms, or vice versa, can create an unexpected style that just works. It's an easy way to keep things interesting!
Wear The Same Piece in Multiple Ways
When choosing pieces for your travel outfits, look for clothes that you can wear multiple ways to create different styles.
For example, a button up shirt or cardigan can be worn open over another top, or closed and worn by itself. Tops can be tucked in or left hanging. Sleeves and pant legs can be rolled up or not, and jackets can be left on, off, or worn around your shoulders.
Choose shoes wisely
Oh, shoes. They can be the hardest part of packing for a trip! Shoes can take up a lot of space in your suitcase, and it's hard to find shoes that are truly versatile. That's why it's so important to be strategic when you pick your travel shoes.
I often find myself packing sneakers, ankle boots, or flat mules when I travel. These seem to go with anything and everything, but are still comfortable if I will be doing a lot of walking around.
Don't forget your color palette when picking your shoes! Bring shoes that will complement the palette you've chosen for easier mixing and matching.
Load up on accessories
One of the easiest ways to create different looks when you're traveling is to use accessories.
Accessories like scarves, jewelry can add personality to your travel outfits. They take up little space in your suitcase and can be mixed and matched with multiple outfits.
Throw a belt on a dress and it will look completely different than when unbelted.
The same goes for sunglasses and hats – both of these accessories can give completely different finishes to the same outfit.
Be creative!
Finally, when you're mixing and matching pieces to style an outfit, use your creativity. Remember, there are no rules here (and the stakes are low)!
Travel is an opportunity to try something different, so let it be the same when it comes to your travel outfits.
Essential Pieces for a Mix and Match Travel Wardrobe
There are a few essential wardrobe pieces that make outfit mixing and matching even easier. If you don't already have these pieces, check out my recommended favorites for each one!
Jeans
Obviously you already have jeans. But do you have jeans that work for travel?
When you're deciding which jeans to pack for a trip, keep in mind a few things.
Hem length: look for jeans that have a medium or shorter hem length, so that you can wear them with heels OR flats. If your jeans have a longer hem and you can only wear them with heels, your jeans will be less versatile.
Stretch: The best jeans for travel are ones that have a little bit of stretch. They'll be much more comfortable if you have to sit for a long period of time (like on an airplane).
Wash: Look for jeans that have a wash that will pair well with the tops you pack. For me, that's usually a mid-wash denim. Or if you want eye-catching contrast in your outfits, pair lighter wash jeans with darker tops, and vice versa.
Rise: Don't get me wrong: I love low rise jeans and also love my high-rises. But when it comes to travel, I like to pack mid-rise jeans. Why? Welp, they go with everything. And they're also perfect for airplane outfits. If you wear low rise jeans on a flight, you run the risk of a wardrobe malfunction while bending over, reaching for a bag, or sleeping, and high-rise jeans can be a little less comfortable to sit in for long periods of time. (That's why they're on my list of what not to wear on a plane).
Whew, that's a lot to think about! Want a shortcut to finding the perfect pair of jeans for travel? Here's a few current favorite denim options that meet all of the above criteria:

Leggings
If you don't have a pair of long black leggings yet, now's the time to get them! I pack my favorite leggings on almost every trip I take.
How to wear leggings while traveling: on the plane, for hiking or other active travel days, while lounging around, and for a casual day of exploring. They can even double as pajamas. And of course, workout clothing.
Black dress
A black dress should be in everyone's travel wardrobe! The dress you choose will depend on the weather and what you have planned during your trip.
There are endless options, but here are a few ideas:
Business travel: a sheath dress
Sightseeing and exploring: a t-shirt dress
Beach trips: a midi tank dress

Midi Skirt
If you want a really versatile piece to add to your travel wardrobe, try a midi skirt! You can mix and match a midi skirt with lots of different kinds of tops, and easily dress them up or down.
Midi skirts also make a great alternative to shorts if you're traveling in warm weather and want to look a bit more polished.
Sneakers
One of the most versatile shoes to mix and match are a pair of cute sneakers. And I don't mean your gym shoes (those are cool too, but less versatile).
I love sneakers that marry comfort with style for travel because you can wear them with dresses and skirts, and they don't look out of place. Check out these favorites for a few ideas:

Denim Jacket
I am admittedly SUPER late to the denim jacket game. It took me forever to actually buy one, but now I pack mine whenever I'm traveling somewhere warm, because it's the perfect light layering piece.
I can wear it on the plane with pants or leggings, and as an outer layer for chilly evenings.

Leather Jacket
Another warm staple for traveling during fall and winter is a leather (or vegan!) jacket. You can mix and match a leather jacket with anything!
It can dress up a simple jeans-and-t-shirt outfit for an evening look, double as a blazer for work travel, or be worn as a casual outer layer.
Mix and Match Clothes for Travel Using a Capsule Wardrobe
One of the best ways to mix and match outfits for travel is by using a travel capsule wardrobe.
What's a travel capsule wardrobe, you say? You've come to the right place!
A capsule wardrobe is a small collection of clothing pieces that all complement one another. Because all of the pieces go together, you can mix and match them in endless combinations to create tons of different looks.
Using a capsule wardrobe is a perfect strategy to avoid overpacking without sacrificing style, and lucky for you, I've got tons of different capsule wardrobe examples for you to peruse. Check these out:
More Outfit Ideas
I've written a lot of post about travel outfits. For more inspiration, check out these guides: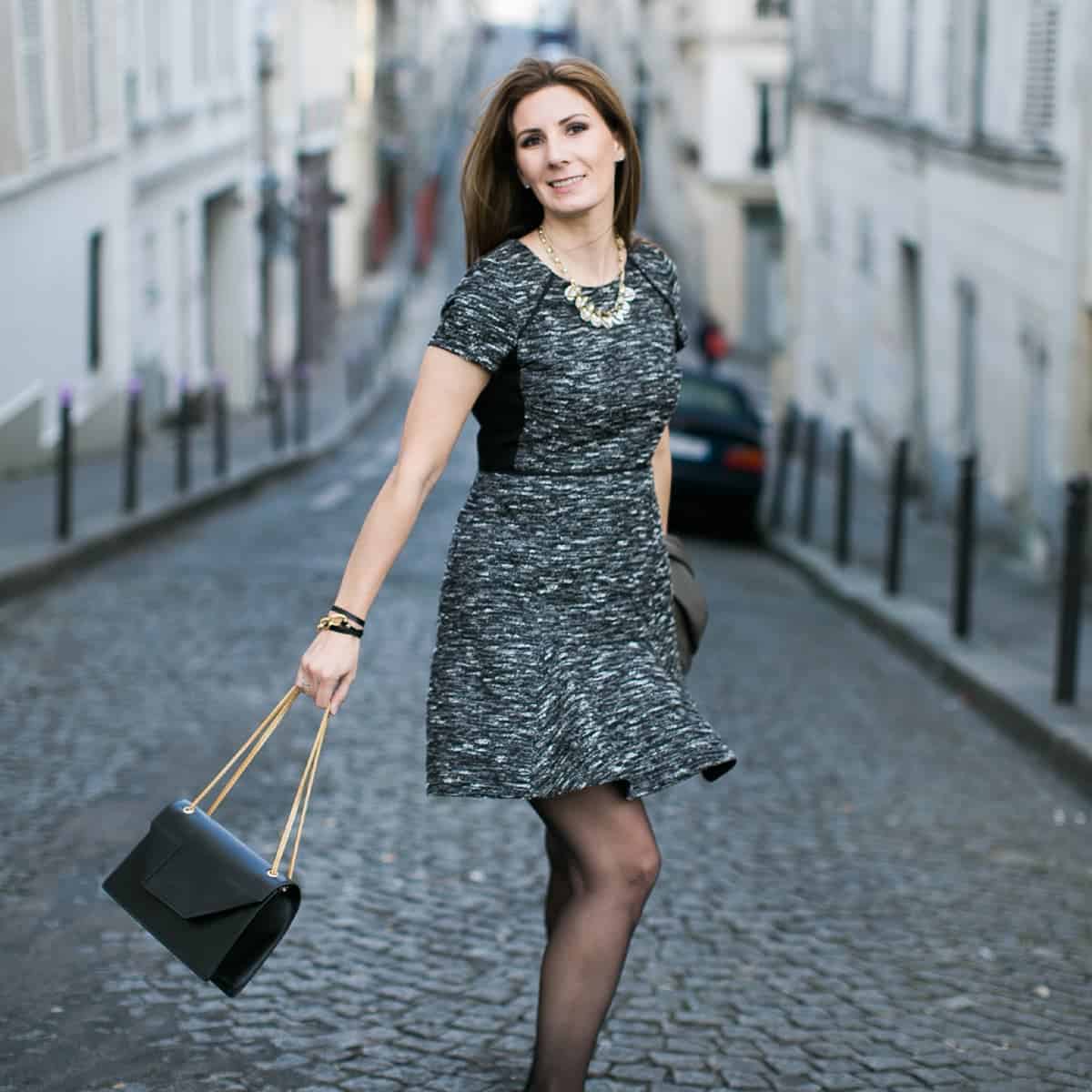 shop my favorite
TRAVEL ESSENTIALS
Ready to jet-set with ease? Discover my favorite travel products for your ultimate passport to stress-free adventures!
FAQs
How do you mix and match clothes on a trip?
Use a consistent color palette of 2-3 neutral colors, and add 1-2 accent colors. Stick to basics and limit the number of patterned pieces you pack. Pack versatile pieces that you can dress up or down, and be creative in how you blend styles!
How do you layer clothes for a flight?
Use 3 layered tops when you fly, and you'll be prepared for any temperature. Start with an inner layer: a simple tank top or t-shirt will work for most trips. Then add a second light layer, like a button down shirt, sweater or cardigan. Finally, add a coat or jacket. You can store this in the plane's overhead compartment, or wear it if you're cold during the flight.
Conclusion
Mixing and matching outfits for travel can save you time, money, and space in your suitcase. By following these tips, you can create stylish and practical travel outfits while packing light. Happy travels!