74 Genius Travel Hacks: Your Path to Seamless Adventures!
This site uses affiliate links and I may earn a small commission when you use my links and make a purchase, at no extra cost to you. 
Get ready to unlock the world with these genius travel hacks! There's nothing quite like the thrill of exploring new destinations, immersing yourself in diverse cultures, and creating lasting memories on the road. But let's be honest, travel isn't always easy, even for the most seasoned adventurers. Fear not! Today, I'm here to sprinkle some magic into your travel plans with my ultimate collection of travel hacks that will not only ease your journey but also enhance it in ways you never thought possible. From ingenious packing tips to savvy budget tricks and insider secrets, get ready to embark on a journey of discovery, filled with excitement, wonder, and a whole lot of wanderlust.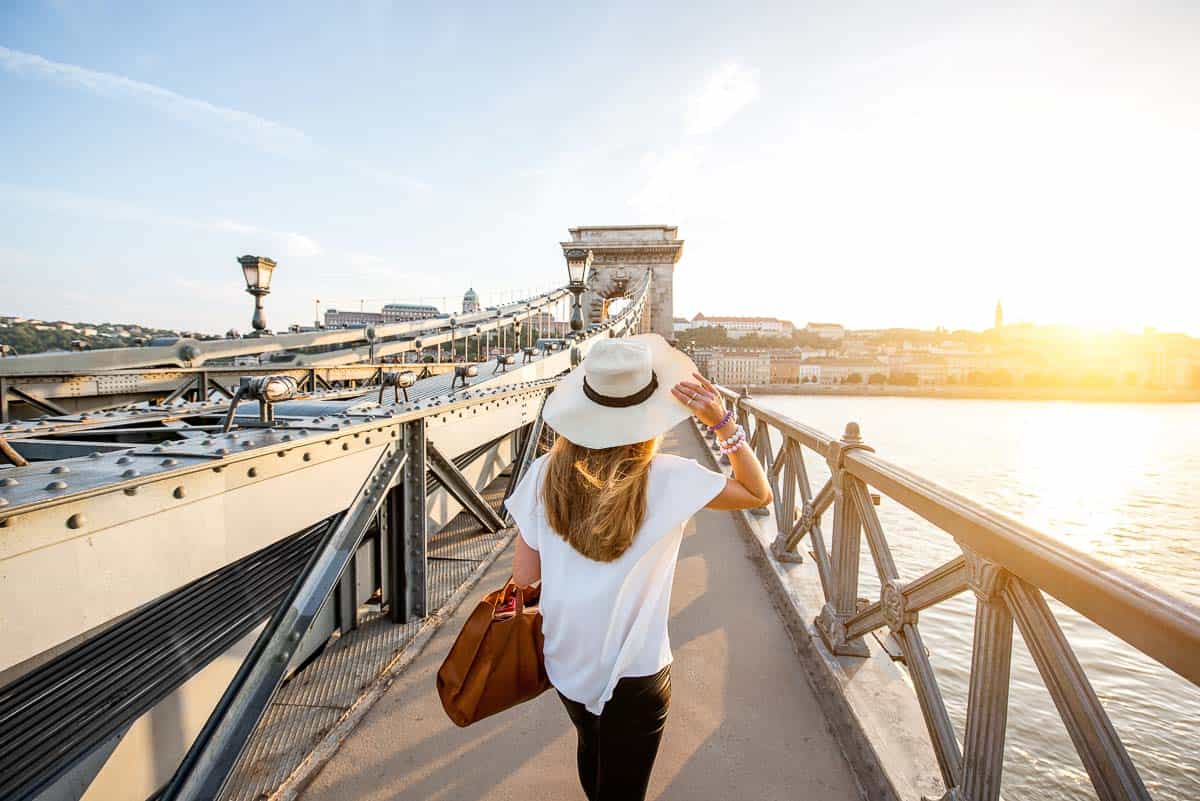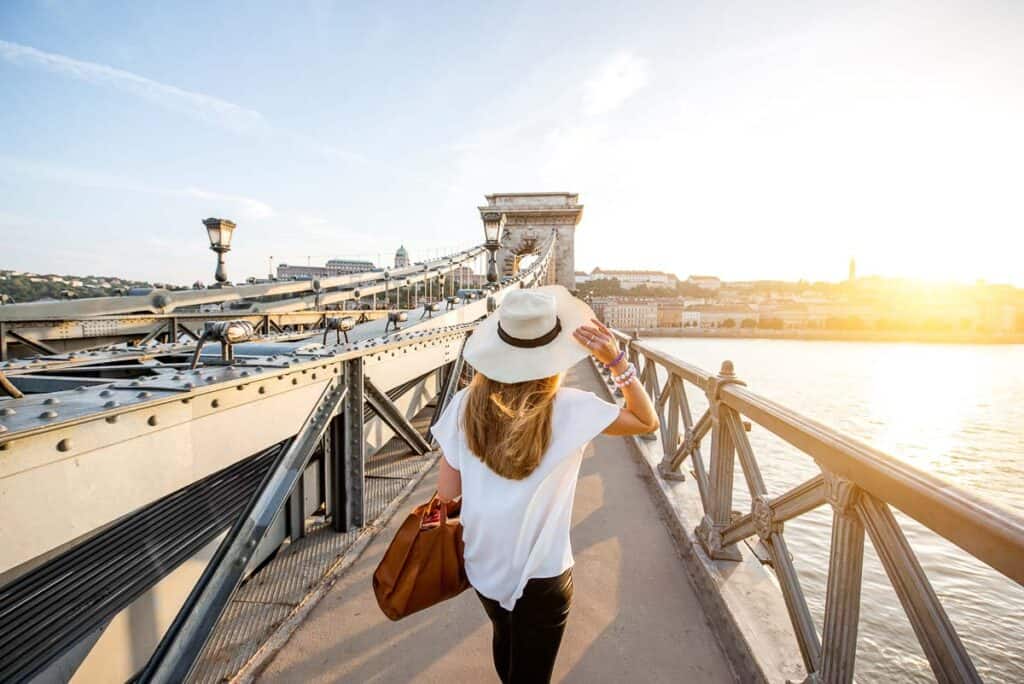 The Best Travel Hacks in 2023
After decades of frequent travel, I've learned a few things along the way. Most of this learning was unfortunately done the hard way. But the best thing about learning stuff the hard way is that you don't forget it!
So today I am sharing all of my best travel hacks and travel tips that you might not already know. Included in this post are all of my best travel planning hacks, airport hacks, flying hacks, road trip hacks, travel packing hacks, and of course a few budget travel hacks to help you get the best value for your money when you're exploring the world.
There are also a few bonus sections on international travel hacks and post-travel hacks, so make sure to read the entire list. I promise there are some valuable tidbits in here that even the most seasoned traveler probably doesn't know. Let's go!
Airport Hacks
If you've been traveling for a while, you probably already know that you should check in 24 hours before your flight and download your mobile boarding pass to your phone.
But for your next trip, here's a few extra tidbits to make your time at the airport – dare I say it? – enjoyable!
1. How to find the shortest security line
Take a quick look at the travelers in each line. If they look like business travelers, they probably travel often and will move quickly through security screening.
On the other hand, infrequent travelers or families with small kids will probably take longer (not their fault, of course).
Pick the line that has more people dressed in business casual attire and carrying laptop bags, and it'll probably move faster!
2. Plan and order your airport food ahead of time
Before you get to the airport, check out what restaurants and food options are available. This is especially helpful for anyone with dietary restrictions or allergies.
You can also use the Grab app to order food at the airport ahead of time. Yup – once you order through the app, you can just walk in and pick it right up once you're at the airport. Why wait in a long line of hungry travelers?
3. Bring a reusable water bottle
OK, this one might be basic, but I still see so many people buying bottled water all the time at the airport! Why buy bottled water when you can bring a reusable one?
These days, space isn't an excuse because you can get a collapsible water bottle. Bring it empty to the airport and then fill it up once you get through security.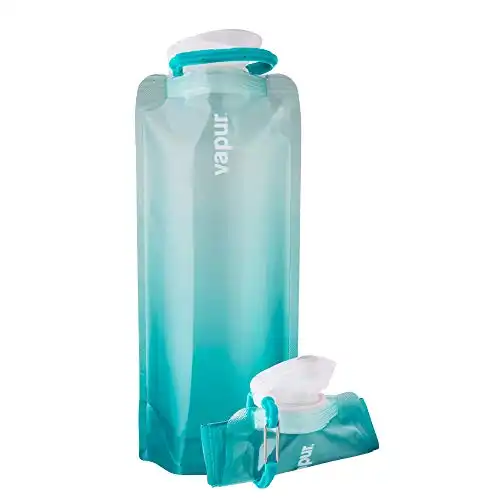 Collapsible Water Bottle
Save space in your bag with a water bottle that's collapsible and lightweight. I love this one because it can clip to your bag and comes in a ton of different colors.
Shop Now
Best Apps and Websites for Airport Hacks
Dayuse: If you're stuck with a long layover, Dayuse lets you book hotel rooms for day use so that you have a place to call home for the day. The rates are much cheaper than booking a room for a single night, and you can access all of the hotel's amenities. It's also useful for early arrivals and late departures.
LoungeBuddy: Airport lounges offer perks like free wi-fi, free food, and give you a comfortable, quiet place to wait for your flight. Certain credit cards and Priority Pass memberships allow free access to lounges, but it can be confusing to figure out which lounges you can access, and where. LoungeBuddy simplifies this by telling you exactly what you can access, and also whether you can buy a single-use day pass to enjoy the perks even if you don't already have access.
Flying Hacks
There are a million posts out there with flying hacks for staying comfortable and how to make economy feel like first class. But here are a few flying hacks that you may not already know.
And if flying makes you nervous? Here's a few more tips for first time flyers with anxiety.
4. Avoid delays by booking the first flight out in the morning
The first flights of the day are less susceptible to potential delays because they are generally not relying on an incoming plane before departing.
5. Book aisle and window seats…but still sit together
If you're booking air travel for two people, always book an aisle and window seat in the same row (rather than two seats right next to each other).
Middle seats are generally the last seats sold on a flight and can sometimes remain empty. You just might get lucky and have the whole row to yourselves! This is especially awesome on long flights.
If someone does show up for your middle seat and you still want to sit next to your travel companion, the other passenger will probably be happy to trade you their middle seat for one of your aisle or window seats. So no matter what happens, you can still sit together.
I learned this travel hack from my cousin years ago and it has worked SO MANY times, including on a flight to Australia in coach.
6. It's so basic
"Basic" Economy airfares can LOOK really attractive, but make sure to check the fine print before you purchase one.
Often, buying the cheapest fare class for a flight means that you can't bring a carry-on suitcase, choose your seat, or change your travel plans. Decide if the cost savings are worth it depending on your circumstances.
7. Accept all of the snacks
Always take any free snacks that are offered on a flight, even if you're not hungry. You never know when you might want something later on.
8. Track any flight via text
The day of your flight, text yourself (or someone else) your flight code. Presto…the flight number (ex. UA238) automatically turns into a link!
Just click on the code in your text and it will bring up all of your flight information, and even track your flight status. Allow me to demonstrate: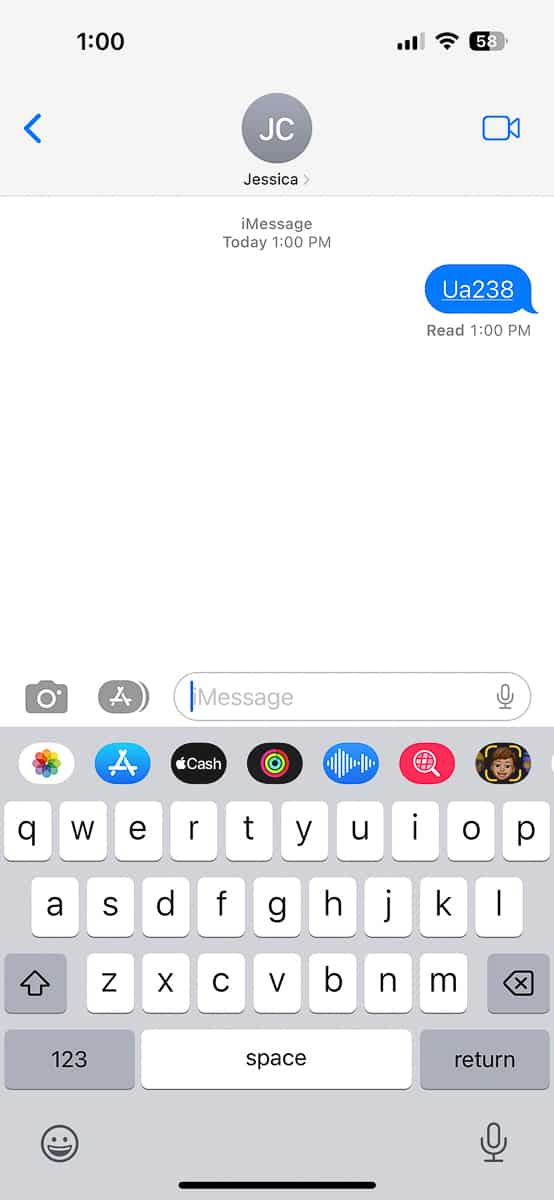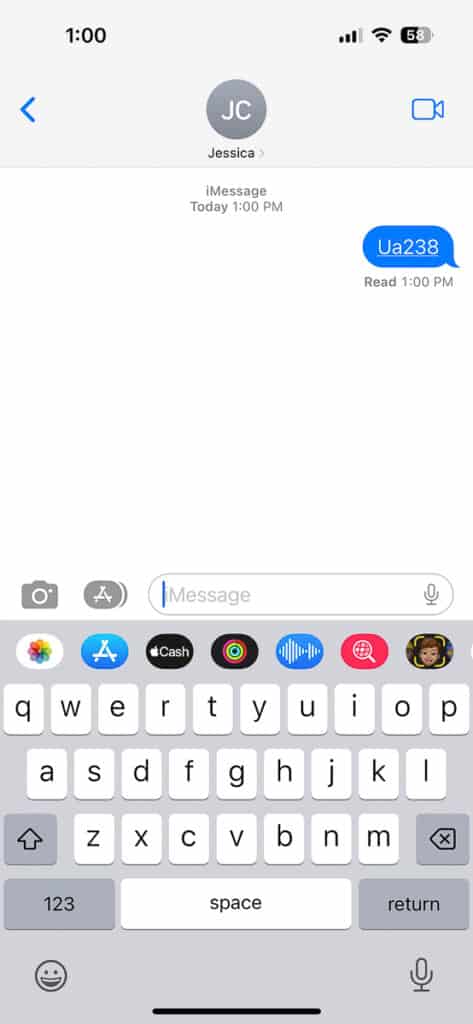 Start by sending a text with your flight code. The text will automatically change into a link once you send it.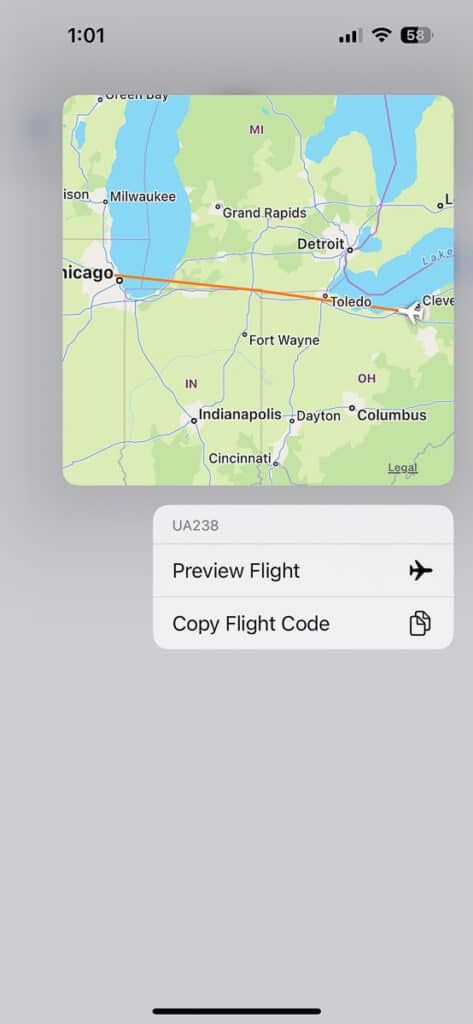 2. Click on the link for up-to-date flight tracking info. Easy!
Super handy for that sweet friend of yours who offered to pick you up from the airport (again).
9. If your flight gets canceled, get on the phone
Flight cancellations are the worst. If your flight gets canceled, call the airline's reservation number right away instead of waiting in line at the airport to book another flight.
Most likely your request will be handled faster, and you won't have to navigate the masses of passengers from your canceled flight who are simultaneously trying to rebook their plans in person.
10. Combat dehydration
Combat dehydration on a flight by bringing a Liquid IV packet. Mix one with water and you'll hydrate even faster than water alone.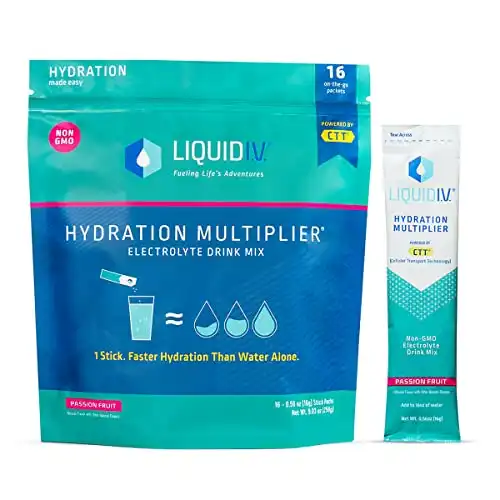 Liquid I.V. Hydration Packets
These electrolyte packets are perfect for keeping you hydrated while you're traveling!
All you do is mix one packet in a bottle of water - it will hydrate you so much faster than water alone.
Shop Now
11. Check for expiring frequent flier miles
Make sure to check the expiration dates for any frequent flier miles in your accounts. I like to do this at daylight savings time each year. That way, I know I'll check them at least twice a year!
12. Earn extra air miles from shopping online
Wondering how to earn frequent flyer points without flying? Don't miss out on opportunities to bag more miles when you shop online.
Many airlines and credit cards have online portals that you can use for shopping, so you can earn bonus miles for money you're already going to spend.
All you have to do is click on a store's link from the portal, and you'll earn 3-5 miles at common stores. Plus, even even more at certain specialty retailers. And yes, that's in addition to any miles you might already earn just by using a credit card. Here are a few examples:
Keep this in mind if you're planning a big purchase, or during times of the year when you might spend more than usual, such as holiday shopping.
Hotel Hacks
The right kind of hotel experience can make for the perfect trip. Here's a few hotel hacks and tips to make your time away from home just a little more elevated:
13. Enroll in the hotel's frequent traveler program (even if you're not one)
This is one of the easiest hotel room hacks. If your hotel is part of a chain, make sure to enroll in the chain's frequent traveler program before booking your room, even if you don't travel often.
These programs are free to join, and you may benefit from a better rate, an upgraded room, or other perks reserved for program members.
14. If your budget allows, avoid booking the cheapest room
Hotels often have different types of rooms with different rates. If your budget allows, try to avoid booking the cheapest room type.
Sometimes the cheapest rooms advertised can be in really unfavorable locations or incredibly small (speaking from experience here).
Instead, choose a room type that's at least the "second cheapest". They're generally not too much more expensive, and the extra size, location and views will probably be worth it.
Or consider a less expensive hotel where you can choose a room with a larger size, a better view or even perks like free drinks and snacks.
Road Trip Hacks and Rental Cars
If you're taking a road trip, here's a few road trip hacks that will make your travels smooth and comfortable.
15. Bring cash and coins
Bring cash and coins. Many toll roads these days are still old school in terms of how they collect tolls, but plenty of people don't keep cash or coins on hand.
Make sure you have some with you for a road trip to pay for any tolls along the way.
16. How to find the side with the gas tank in a rental car
Getting gas in a rental car can be a little annoying the first time, since you probably didn't check what side the gas tank is on before you started driving.
Here's the secret: just check the fuel gauge on your dashboard display.
You'll see a small arrow on one side of the pump icon. The side with the arrow is the side with the gas tank!
A friend taught me this travel hack and I am forever grateful that I no longer have to pull up to a gas pump, only to get back in the car to pull it around to the other side.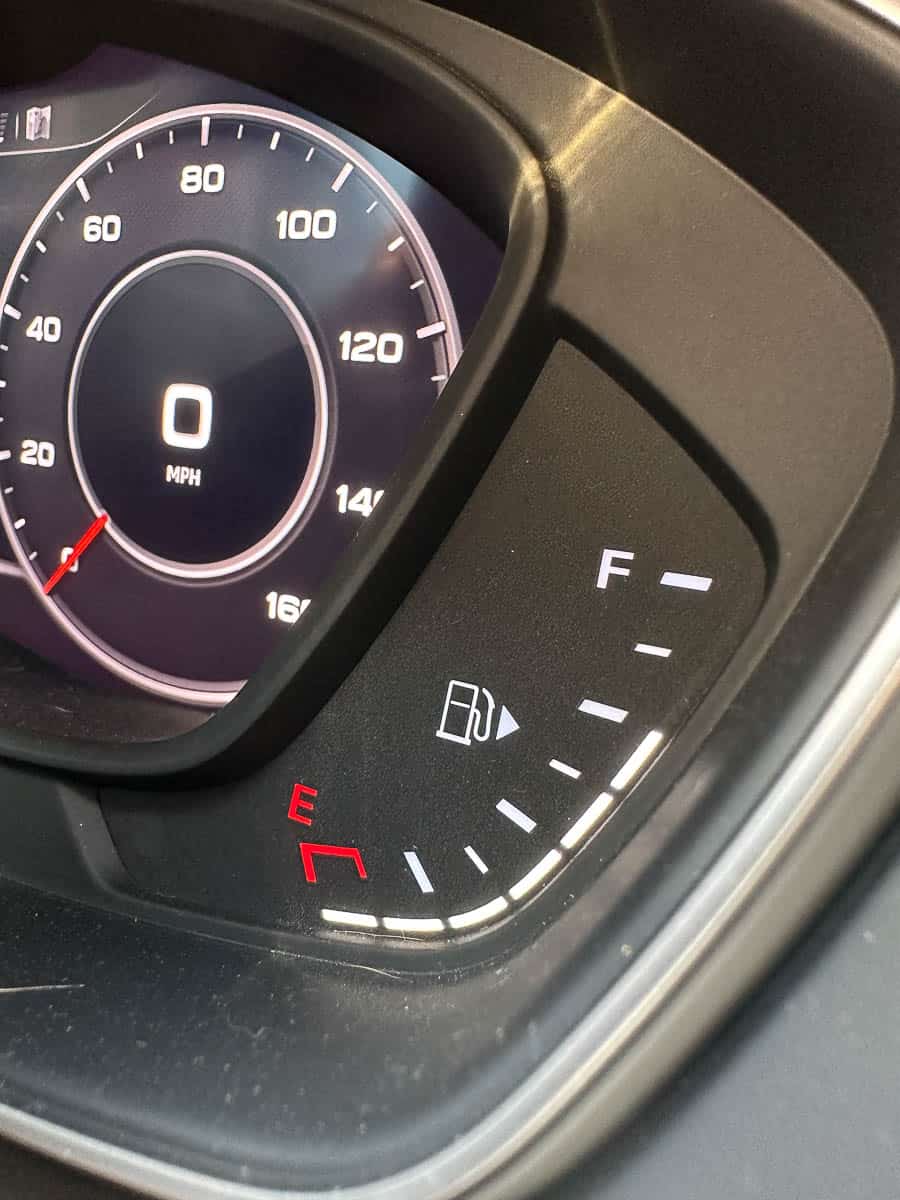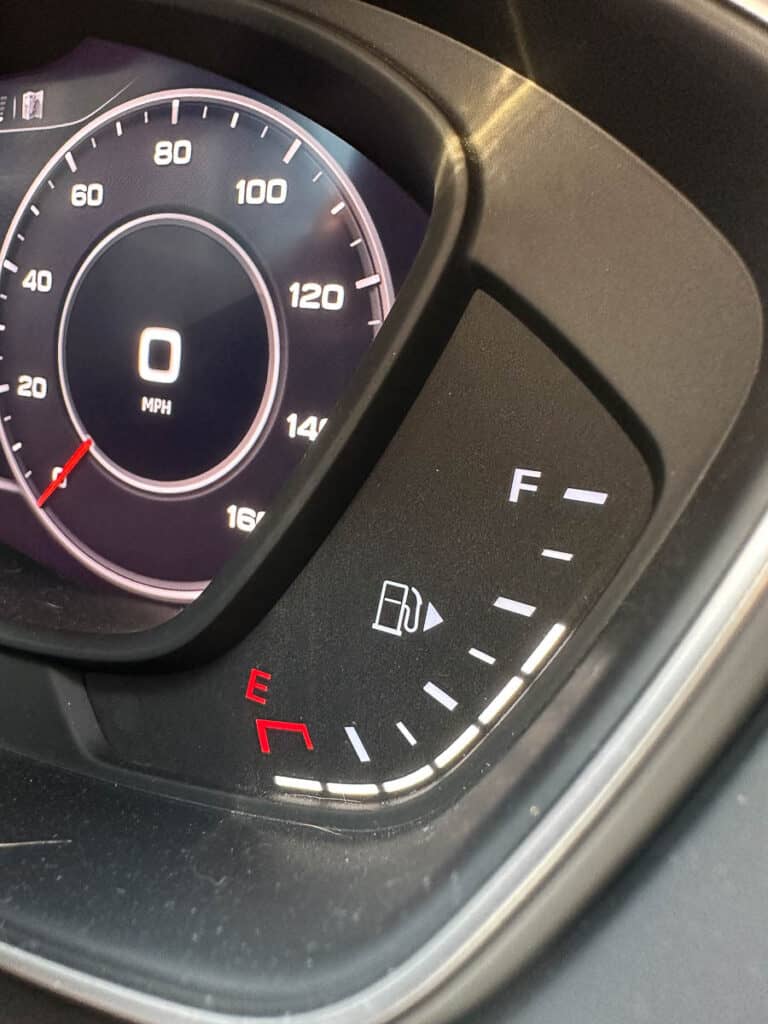 17. Find a good podcast series
Podcasts will make the miles fly by! Before a road trip, find a podcast series you like and make sure to download a few episodes to your device before you leave home. You'll barely notice the hours go by while you're engrossed in a captivating pod.
Road Trip Hacks: Best Apps and Websites
Roadtrippers: this app will help you find interesting places and sights to see along your driving route. Now you have absolutely no excuse to skip the giant corn maze.
iExit Interstate Exit Guide: plan your stops strategically with this app, which tells you what amenities are located at every exit on a freeway. No more guessing whether there will be gas, food, or restrooms. You can even add your favorite places (heyyyyy In 'n Out) and the app will tell you when one of them is coming up.
Turo: If you plan to rent a car on your trip, check out Turo. It's like Airbnb, but for cars, and can often be much less expensive than renting from a national chain.
Travel Hacks for Packing
I write a lot about packing on this site, so it was hard to pare down my list of travel packing hacks to just the ones on this list. For more tips, check out my Packing page!
18. Avoid a jumble of tangled necklaces
This packing hack will prevent your necklaces from tangling when they're packed. Simply open each necklace, thread it through a straw, and then close the clasp as you pack them. You'll arrive tangle-free!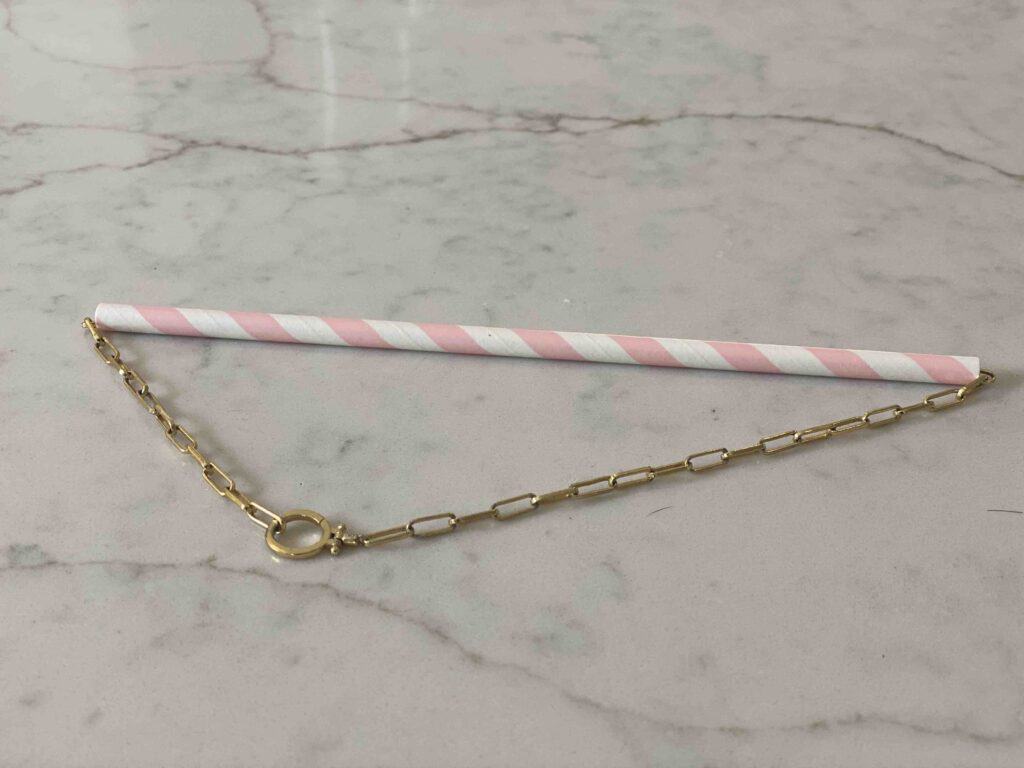 19. Place a dryer sheet inside your suitcase
Putting a dryer sheet in your luggage will keep your clothes smelling fresh and moisture-free while you travel, especially in hot or humid areas.
20. Put your contact information on your laptop or tablet
Laptops are some of the most frequently left items at airport security, but computer passwords prevent them from being returned to their owners.
Tape a business card or contact information on the outside of your laptop or tablet so that it can easily be returned to you if you leave it behind.
21. There are only 2 things you really need to pack
A friend gave me this packing advice years ago and I still get a kick out of it: All you really need to have when you travel is your ID and any prescription medicine. Everything else can be replaced!
It's tongue-in-cheek, but she was right, and I still repeat it to myself every time I leave home to ensure I don't forget these two true essentials.
22. Pack comfortable shoes, no matter where you're going
I promise that you will walk more than you might expect to on pretty much any trip, so make sure to pack comfortable shoes. You can thank me later 🙂
Luggage Hacks
23. International size restrictions may be smaller
Carefully check your airline's size and weight restrictions before you pack, especially when it comes to carry-on luggage. Many bags that are considered carry-on size in the US actually exceed airline carry-on size restrictions abroad.
24. Wear your biggest shoes on travel days
Shoes take up so much space in your bag! Save room in your suitcase by wearing your largest shoes on the plane.
25. Keep one day's worth of essentials in your carry-on bag or personal item
If you plan to check a bag, make sure to keep a change of clothes and basic toiletries in your carry-on or personal item.
If your checked bag gets lost or delayed, you will have enough to carry you through your first 24 hours of travel, or until your bag is returned to you.
26. Add an AirTag to your checked bag
Keep track of your bag's location by adding an AirTag to your bag. If your suitcase gets lost, you can let your airline know its location, which will help get your bag back to you faster.
Top Pick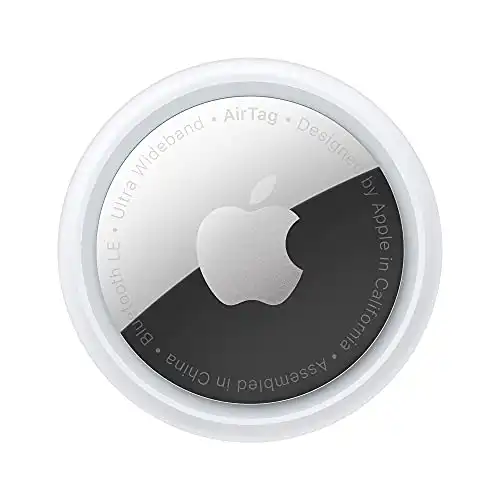 Apple AirTag
AirTags are a must if you're planning to check a bag! Put one in your checked luggage, and you'll always know your bag's location.
If your luggage gets lost, the AirTag app will tell you exactly where your bags are (before your airline does). They'll help you retrieve lost luggage faster!
Buy Now
27. Split up your things
If you're traveling with a companion and plan to check your bags, split up your things! Each person should pack half of their things in one bag and half in the other. That way, if one of your bags is lost, each person will still have a few days' worth of clothing.
28. Make a list of what you packed
Make an itemized list and take photos of everything that is in your checked baggage. In the event that your bag gets lost, this will help expedite the reimbursement process with an airline or travel insurance company.
Packing Hacks for Toiletries
29. Use contact lens cases
Use a contact lens case to pack the toiletries you'll only use sparingly. You know…things like eye cream or face serum.
You can easily fit 4-5 days' worth of these in a contact lens case. They're inexpensive and won't leak in your bag, and you'll save tons of space.
30. Prevent liquid leaks with cling wrap
To prevent leaks from your liquids bottles, place a small piece of cling wrap on the top of each bottle, underneath its screw-cap lid. This will make sure your liquids won't leak when they're packed in your suitcase.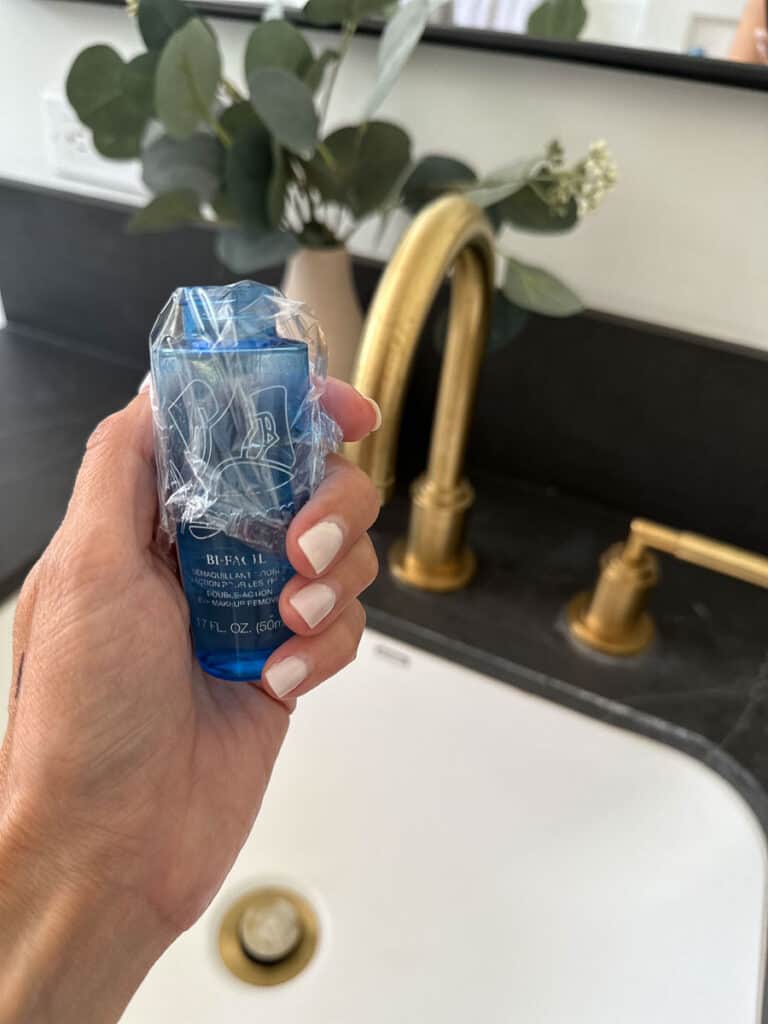 Place a small piece of cling wrap over the top of your bottle.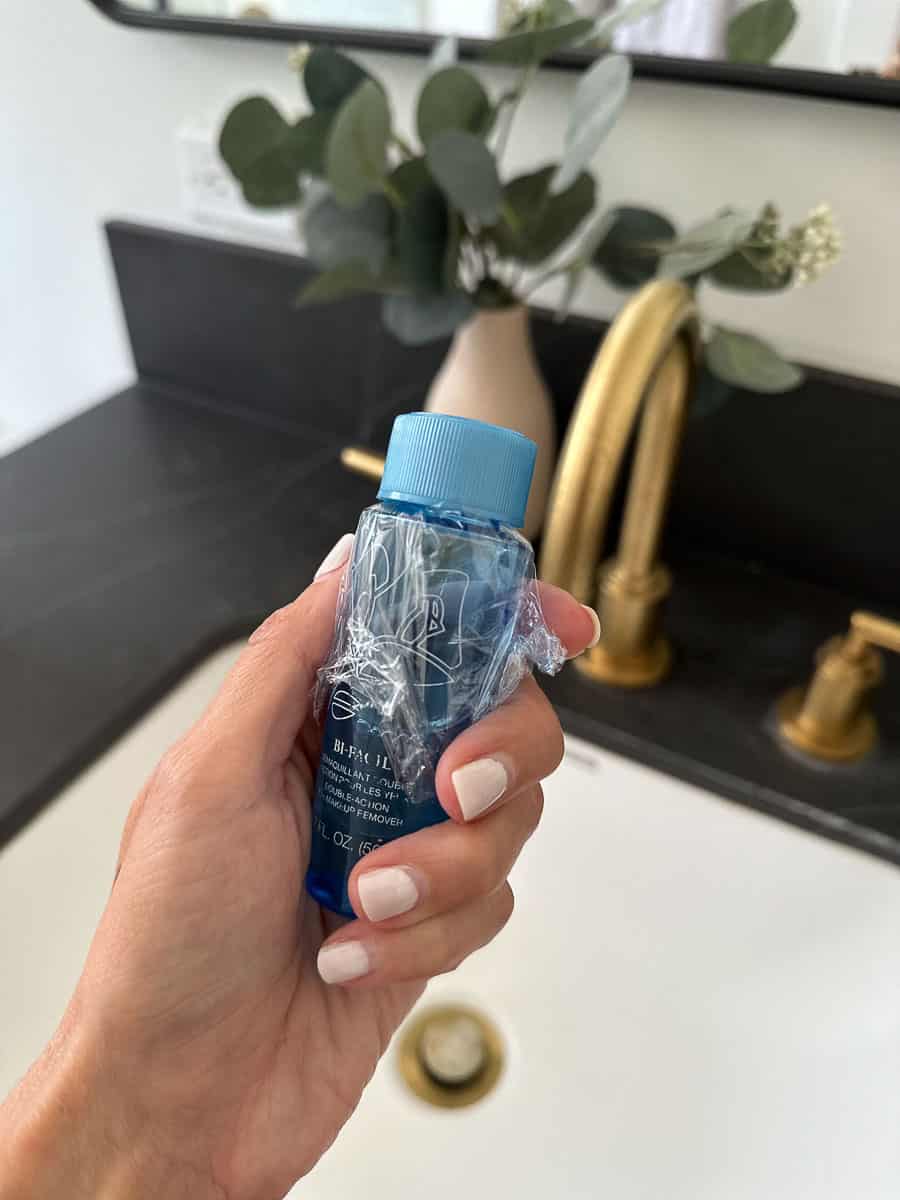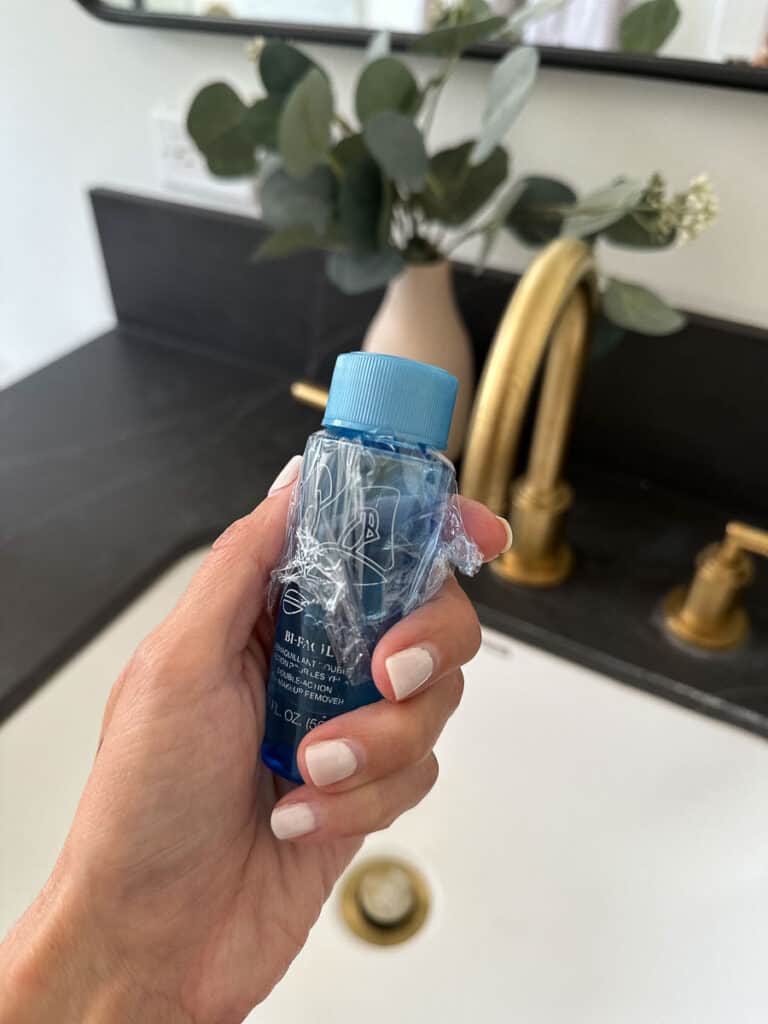 2. Seal the bottle as usual. You'll never have a leak again!
31. Save liquids space by packing solid toiletries
Too many liquids to fit in your quart-size bag? Look for solid versions of common toiletries, such as solid shampoo, body wash, foundation, concealer, and solid sunscreen. Or try cleansing wipes in place of face wash or makeup remover.
Healthy Travel Hacks
32. Pack your daily medications in a travel-size weekly pill planner
There are lots of travel-size pill cases out there, but the best ones for travel are small AND labeled with the day of the week like this one. Travel can easily throw off your routine, and a pill planner will make sure you don't miss any doses!
Top Pick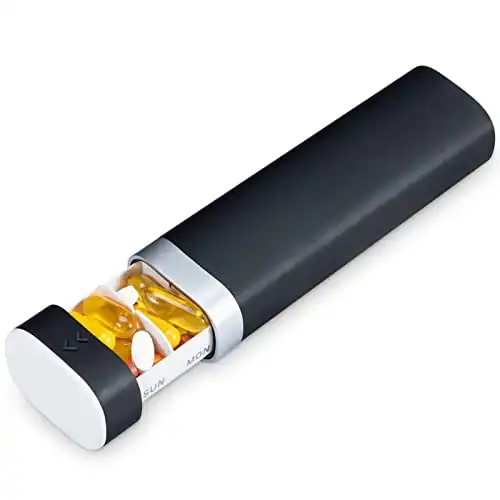 Travel Size Pill Organizer
Packing your daily medications in a pill organizer will ensure that you never miss a dose. This one is perfectly-sized for travel, too.
Shop Now
33. Beat motion sickness once and for all
If you suffer from motion sickness like I do, scopolamine patches will be a lifesaver. Dramamine, ginger, and pressure bracelets never worked for me, but these patches are a game changer.
You wear them behind your ear to prevent motion sickness. They're prescription-only, so talk to your doctor before your trip to see if they're an option.
34. Carry a basic first aid kit
I can't tell you how many times I've needed this! Travel-size first aid kits are inexpensive and won't take up much space in your bag. If you need it, you'll be so glad you have it.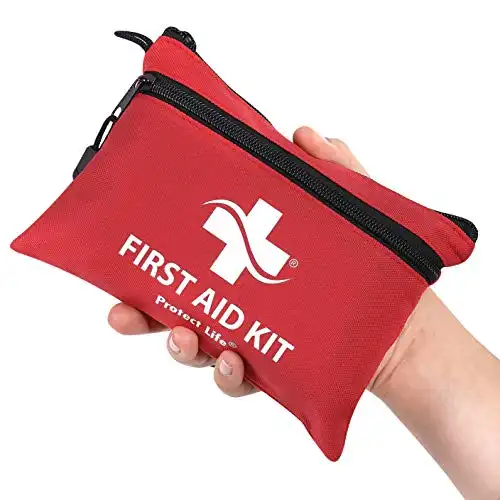 35. Bring your workouts on the road
Staying active is one of the best ways to practice self care while traveling. Even if you can't keep up with your regular workouts, try to take some with you!
I love the Peloton app because it gives me access to tons of workouts that I can do outside or even in a hotel room like cardio, mat pilates, yoga, or strength training.
36. Keep photos of your prescriptions
Take a photo of your prescriptions and keep a copy of them online or on your phone in case of an emergency.
37. Yes, you should get travel insurance
Give yourself peace of mind by getting travel insurance for your trip, especially if you're going abroad, or taking an adventure-centric trip.
Pro Travel Tip: These days, travel can be more uncertain than ever. Check for any COVID-related restrictions at your destination, and never travel without travel insurance! I recommend SafetyWing, because they have flexible + affordable insurance plans, and also cover COVID-related impacts on your trip (not all companies do)!
Travel Hacks for Itinerary Planning + During a Trip
38. Try not to over plan
Some of my best travel memories are from days that were spontaneous and unplanned. So try to leave some white space for the magic of travel to appear!
Pick a few things you absolutely want to do, and then give yourself time to explore a destination more deeply.
39. Make a Google Map and download it for use offline
Make a Google Map of your destination and include things you want to do or places you want to eat. Then, download the map so you can use it offline. You never know when you might lose connectivity!
40. Take a walking tour
I love to do a local walking tour when I first arrive at a new destination. They are often free or very inexpensive, and will give you valuable time with a local guide who knows the area well.
You'll get the lay of the land (saving you valuable navigation time throughout the rest of your trip), and can pick up a local's recommendations for places to eat and things to see and do.
41. Walk as much as you can
Speaking of walking, I know it's tempting to taxi or ride share everywhere you go, but try to walk and use public transportation as much as you can when you travel.
You'll get to experience a new place like a local, and get a much better appreciation for a new city and the people who live there.
42. Plan your must-do's early in your trip
Plan your "must-do" activities for one of the earliest days of your trip. That way, if you have to reschedule due to weather or other unexpected reasons, you'll still have plenty of other days left on your trip to take that rain check.
43. Try volunteering
For a unique travel experience, try volunteering on your trip. It's a great way to give back to the community you're visiting, and you'll probably meet some new friends, too.
On websites like Give A Day Global, you can search for short-term volunteer opportunities in destinations around the world.
44. Keep a copy of essential documents online and on your phone
Keep a copy of your plans and important documents online. Before you go, send them to a family member or friend who isn't traveling with you. I also like to keep photos of any important documents on my phone, too.
Best Apps and Websites for Travel Hacks During Your Trip
Printable Travel Tips List
Love this list? Subscribe below for a printable version and keep it for your next trip!
Simply enter your email and I'll send it straight to your inbox.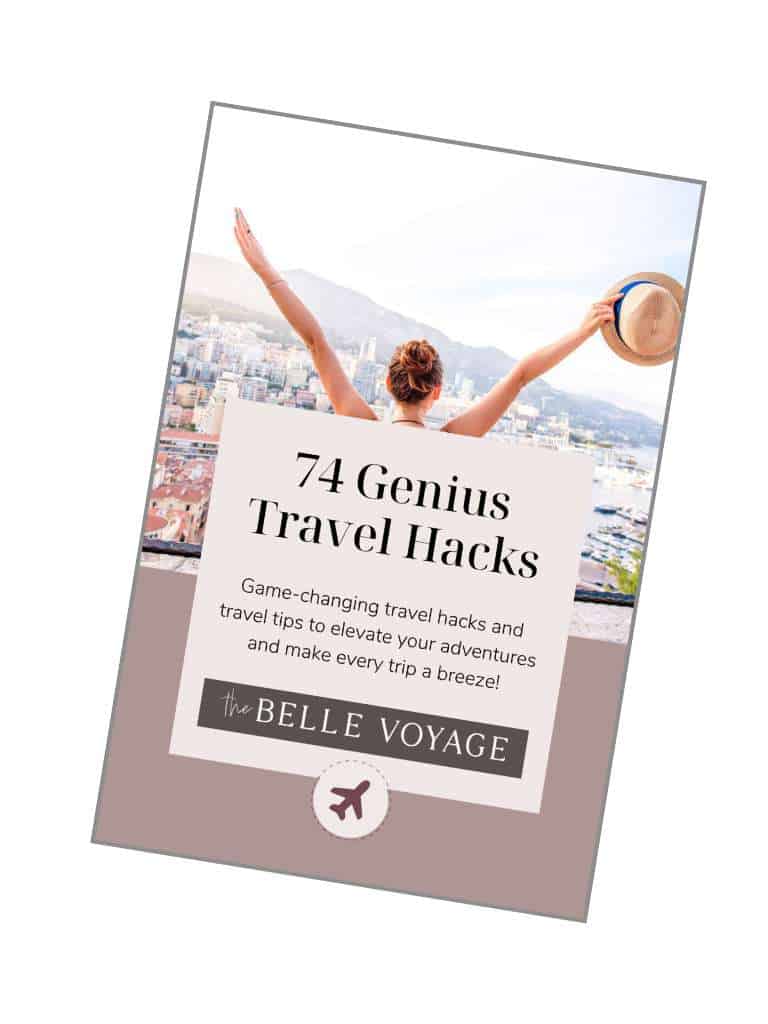 Don't forget to check out even more free resources on my printable travel planners page.
Solo Travel and Travel Safety Hacks
45. Try eating at the bar
If you hate the thought of dining alone, try sitting at the bar instead of a table at a restaurant. It's a much easier way to meet people, and if nothing else, bartenders are often happy to chat or share local recommendations for the rest of your trip.
46. Disguise your guidebook
Bringing a hardcopy of a guidebook? You can have it re-covered in a plain fabric inexpensively at Kinko's (or DIY it) so that you'll blend in better with the locals and be less of a target for trouble.
47. Wedge a doorstopper under your hotel room door
For extra safety when you're inside your hotel room, pack a doorstopper and wedge it at the base of the door. It's nearly impossible to open a door from the outside with this in place!
48. Add contact information to your phone's lock screen
Change your phone's lock screen to an image that has your contact information. Make sure to include your email or an alternative to your phone number.
You should also include the phone number of a close friend or family member, ideally someone who is traveling with you.
If you lose your phone, this will make it much easier for a Good Samaritan to contact you and return your phone.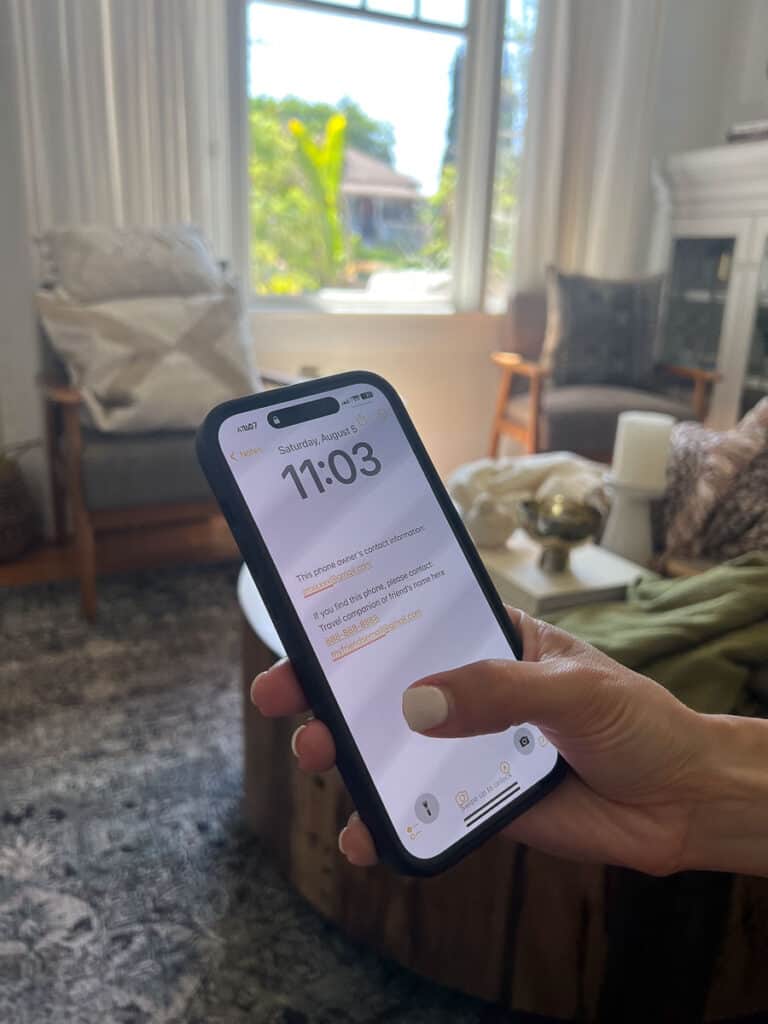 Use a graphic with a friend's contact information as your lock screen so your phone can be returned to you if lost.
Travel Gadgets and Gear Hacks (Pro's Edition)
You probably already have a suitcase and a luggage tag, but here's a few travel gadgets that you might not have yet, as well as some hacks for your gear.
49. Stay cool anytime
Going to Europe over the summer? A personal-sized fan is what you need! Many buildings and museums in Europe don't have air conditioning, and sweltering temperatures during the summer can be a real drag on your trip. Trust me on this. I love this one because it's rechargeable.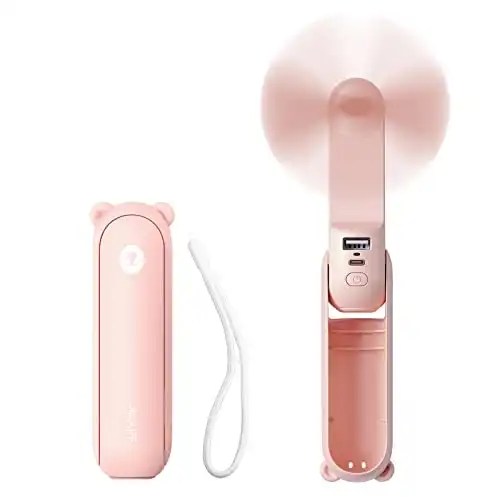 Rechargeable Handheld Mini Fan
A personal fan is a must, especially if you're traveling during the hot summer months or are prone to nausea. I love this one because it recharges with a USB connector, and it's small and lightweight.
Shop Now
50. Make the most of your phone's camera
If you plan to use your phone to take photos on your trip, take an iphone photography course. No, seriously – do it.
I thought I was pretty savvy with photography but I decided to take this course and I was blown away by how many things I learned. It was a small investment considering how much the phone itself cost.
I had no idea how many additional features are packed into my phone that I had been completely unaware of. My iPhone photos have never been so beautiful!
For more help, check out my travel photography tips for beginners.
51. Disguise it with duct tape
If you're traveling with expensive photo equipment, or any other sort of expensive gear, put some duct tape on it! Why? Nobody wants to steal something that looks broken.
Use GooGone to remove any residue from the tape after your trip
Travel Budget Hacks to Save Money
52. Get a credit card with lounge access
If you travel frequently, it's totally worth having a credit card that gives you airport lounge benefits. The savings from free wi-fi, drinks and snacks are likely to outweigh a card's annual fee, especially if you travel often and can bring a guest with you into the lounge.
53. Check codeshare partners to save on airfare
Some international flights are operated by one airline but codeshare with other "partner" airlines. Even though it's the same flight (and the same plane!), the fare can often differ depending on which airline you book your travel with.
On my last trip to London , my friend and I both flew on a British Airways flight. She saved $100 because she booked her ticket via FinnAir, the BA flight's codeshare partner. Same flight, better price!
54. Avoid foreign transaction fees
Before traveling abroad, check to see if your credit card charges foreign transaction fees for charges made in a non-US currency. If it does, it's probably worth opening a card that doesn't charge foreign transaction fees before your trip.
55. Splurge vs. save on hotels
If it's within your budget, you might think a luxury hotel is always worth it. But honestly, I think there's a time and a place for nice hotels. If you plan to actually enjoy the hotel and its amenities (like at a resort for example), it can be worth the splurge.
BUT….if you plan on doing mostly sightseeing and activities, you won't be spending much time at the hotel, except to sleep. If that's the case, consider no frills accommodations instead and save the splurge for another part of the trip.
56. Contribute to a travel fund each month
It can be hard to budget for travel since it occurs sporadically throughout the year. To make financial planning easier, set aside a certain amount each month for your "Travel Fund", and use it to pay for or offset the costs of travel once you have to pay for a trip.
57. Avoid checked bag fees
Did you buy too many souvenirs? If you're traveling within the US and can't fit everything in your suitcase on the way home, consider mailing a few things using a Flat Rate box rather than checking a bag on your flight home.
Using a Flat Rate box will cost $10 – $22 per box, so shipping a few things can be less expensive than checking an extra piece of luggage, especially if you have more than one!
58. Check out "Park and Fly" hotel rates
Have an early flight? Many airport hotels offer a park-and-fly deal. You spend the night before your flight at the hotel, and the nightly rate includes parking for a specified period of time. If you have a long trip, this is often less expensive than parking at the airport.
59. Avoid ATM fees
To save on those pesky ATM fees when you're traveling, the ATM Fee Saver app will help you find low fee or no-fee ATMs all around the world.
International Travel Hacks
If you're planning to travel to a foreign country, there are a few travel hacks just for you! And before you leave home, don't forget my international travel checklist. It will tell you exactly what to do before going abroad, and exactly when to do it.
60. Save time at immigration by submitting your forms electronically
Check out the Mobile Passport Control (MCP) app. This app allows travelers to submit their travel documentation electronically for immigration and customs, instead of completing paper forms.
The lines for MCP at immigration are much, much shorter than the regular line, so you will save a lot of time at the airport by using it.
The app is free and doesn't require any kind of pre-clearance, and is available at many major airports in the U.S.
61. Register with STEP
If you're a U.S. citizen traveling abroad, register your travel plans with the U.S. State Department's Smart Traveler Enrollment Program (STEP).
You will stay up-to-date on any relevant security issues, and in case of emergency (whether civil unrest, natural disaster or otherwise), it will make it easier for the government to find you and get you the help that you need from the local U.S. Embassy or consulate – including evacuation.
62. Consider regional holidays and peak travel periods
Know the local "peak travel" or main holiday periods at your destination and avoid them to save on travel expenses. We all know that it's expensive to travel during the year-end holidays, but there's plenty more to consider when you plan an international trip.
For example, DÍa de los Muertos may not be a holiday in the U.S., but it's one of the most expensive times to travel in many parts of Mexico!
63. Prepare ahead of time for faster jet lag recovery
Wondering how to get over jet lag quickly? To prepare your body for jet lag, try the Timeshifter app. It'll help you create a customized jet lag plan according to your origin and destination.
The plan will show you when to be in bright sunlight, when to avoid caffeine, and when to sleep to help your body adjust faster to a new time zone.
64. Download a translator app for offline use
If you're traveling internationally and don't speak the language, the Google Translate app is a must. You might already be familiar with this app, but did you know that it can also be used offline, and can translate text in images instantly by using your phone's camera? Genius.
65. Learn a few phrases in the local language
It's always worth learning a few phrases in the local dialect before you travel abroad. The locals will appreciate your effort and it will make your interactions much easier.
Try Duolingo (it's free!) to take a few quick lessons before your international trip.
66. Plan your meal times around local customs
Plan your meal times according to local customs, which may differ from what you're used to at home. For example, dinner at 6:30pm in Spain is unheard of (try 10:00pm instead), and don't even try to show up for lunch at 11:30.
Most restaurants won't even be serving lunch so early in the day. In some countries, restaurants close in the early afternoon for a break prior to dinner service. Learn the customs and plan accordingly!
67. Exercise the day before your flight to avoid jet lag
To avoid jet lag, get plenty of exercise the day before your flight. It'll be so much easier to sleep when you want to! And I know you want to get a coffee the morning of your flight, but try to skip any caffeine, too.
68. Where to find the best currency exchange rates
Try to avoid currency exchange kiosks at the airport, as they often have unfavorable rates. Instead, use a local ATM where the rates are generally better, even accounting for extra fees.
Make sure to check ahead of time what your bank will charge you for using foreign ATMs, and try to withdraw currency only once to minimize any extra charges.
69. Make sure you (or one of your travel companions) can actually lift your suitcase!
In many international destinations, there are more staircases than elevators and escalators, especially in hotels and train stations. Be prepared to do some heavy lifting as you get around!
70. Keep a photo of your passport on your phone
Keep a photo of your passport on your phone so that you don't have to dig out your passport (and risk losing it!) when it's time to do the in-flight immigration forms. (And don't forget to pack a pen!)
71. How to never lose your phone again
Attach your phone to the inside of your day bag or pack using a long phone lanyard. You will still be able to easily access your phone, but you won't risk leaving it behind!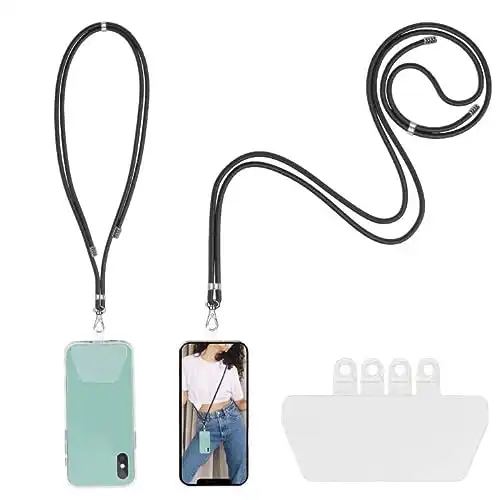 Long Phone Lanyard (2 Pack)
Use a long lanyard to clip your phone to the inside of your day bag or backpack. You can still easily access your phone, but you won't risk losing it!
Shop Now
Travel Hacks for Returning Home
72. Tired of coming home from a trip to an empty fridge?
I remember reading this travel hack a long time ago from a chef who travels frequently (unfortunately I cannot recall the exact source).
Instead of ordering expensive takeout, keep dry spaghetti, black pepper, butter and pecorino-romano cheese in your kitchen.
With these long-lasting ingredients, you can whip up cacio e pepe when you arrive back home. It's quick and easy, I promise! And it's the perfect comfort food to help you settle in back home.
73. Get your mail delivered
If you will be away for a while, put your mail on hold with the USPS. You can specify the dates you will be gone, and choose whether to pick up your accumulated mail when you come back home, or have the post office deliver it.
74. Come home to healthy plants
If you're a frequent traveler AND plant-lover like me, these watering globes are a (plant) lifesaver! Not to mention that they're cute, too. They self-water your plants while you're out of town.
Fill them with water and then put them in well-watered soil before you leave. They'll slowly distribute water to hydrate your plants as the wet soil dries out.
Plant Watering Globes
Use these simple watering globes for an easy self-watering system for your plants! They'll ensure you come home to happy, healthy plants, without having to ask your neighbor for a favor.
Shop Now
Conclusion
There you have it, friends, my list of favorite travel hacks! What are yours? Leave your favorite travel tip in the comments section below!