6 Cute Summer Travel Outfit Ideas: How to Stay Stylish and Comfortable!
This site uses affiliate links and I may earn a small commission when you use my links and make a purchase, at no extra cost to you. 
Welcome to my ultimate guide on summer travel outfits! ☀️✨ As the temperatures rise and the vacation season approaches, it's time to start planning your stylish ensembles for those much-awaited summer getaways. Whether you're jetting off to a tropical paradise, exploring a vibrant city, or embarking on a road trip adventure, I've got you covered with all the fashion inspiration you need. In this blog post, we'll unveil the latest trends, must-have pieces, and versatile travel outfit ideas that will keep you stylish, comfortable, and ready to conquer any adventure that awaits.
Get ready to elevate your travel style game and turn heads wherever you go. Let's dive into the world of summer travel outfits and get you set for a season of fashion-forward exploration!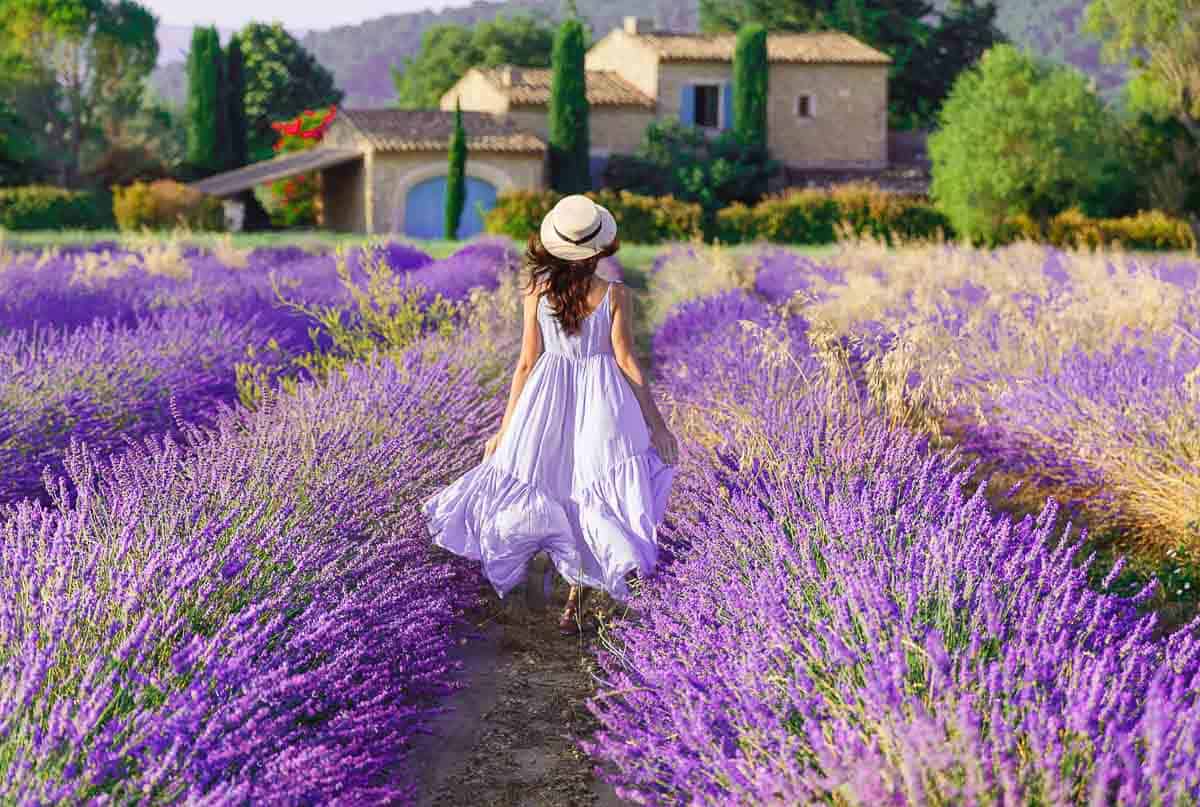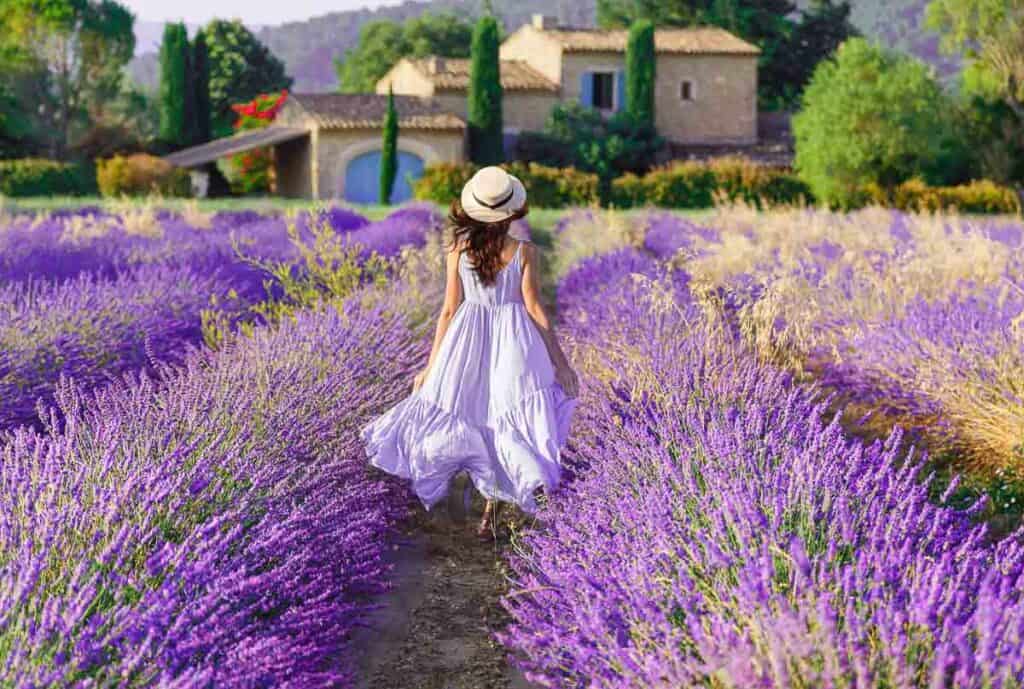 The Importance of Choosing the Right Summer Travel Outfit
Enhance Your Travel Experience
It might sound superficial, but hear me out: the right travel outfit can do a lot to enhance your trip. And if you've already found this fashion-focused travel blog, I probably don't even need to tell you that!
Looking your best and being comfortable will help you feel your best when you travel. In turn, feeling confident, positive and expressing your individuality will help you make the most of your experience when you're away from home. And who wouldn't want that?
So take some time before you leave home to give some thought to your travel outfits. The good news is that I've got you covered in this post with plenty of summer vacation styles, no matter where you're heading.
Clothes for Travel vs Travel Clothes
I'm a big believer that clothes for travel don't have to be, like, travel clothes. Knowwhatimean?
Keep it simple! Rather than buy a piece that's branded as being made specifically for travel (for example "travel pants" or a "travel jacket"), choose pieces that you will wear on a day-to-day basis, but ALSO work for travel because of their versatility.
It's more about constructing a wardrobe that works for travel, instead of buying an item that's branded as such that you'll never wear again.
Versatility is Key
So what makes regular clothing suitable for travel? Here's the deal: the best travel outfits are both comfortable and versatile. By versatile, I mean that you should be able to 1) dress your whole look up or down, and 2) style the pieces in your outfit so that they can mix and match to create different travel outfits.
Let's take a black t-shirt for example. You can pair it with a black blazer, dark jeans and heels and be ready for dinner. Or you can wear it with shorts and sandals and be ready to explore a new city on a warm day.
When your clothes are versatile, your outfits will be too, and you can adapt your looks to many different circumstances. This is key to not overpacking!
6 Cute Summer Travel Outfit Ideas
Let's get to the fun part – the outfit inspiration! I created many of these looks using my summer travel capsule wardrobe (which you should absolutely dive into if you haven't yet).
And if you have no idea what I'm talking about, here's the basic info on how to create a travel capsule wardrobe (and why they're great for packing light).
I digress.
Casual and Chic: Outfits for City Explorations
Heading to an urban destination this summer? If you'll be exploring a new city on your vacation, your travel outfits should work for casual daytime activities and also dressier evening outings.
In addition, you should also plan to include comfortable shoes as part of your outfit, since city breaks usually involve lots of walking. Here's a few cute summer travel outfits that are the perfect mix of style and comfort for urban adventures: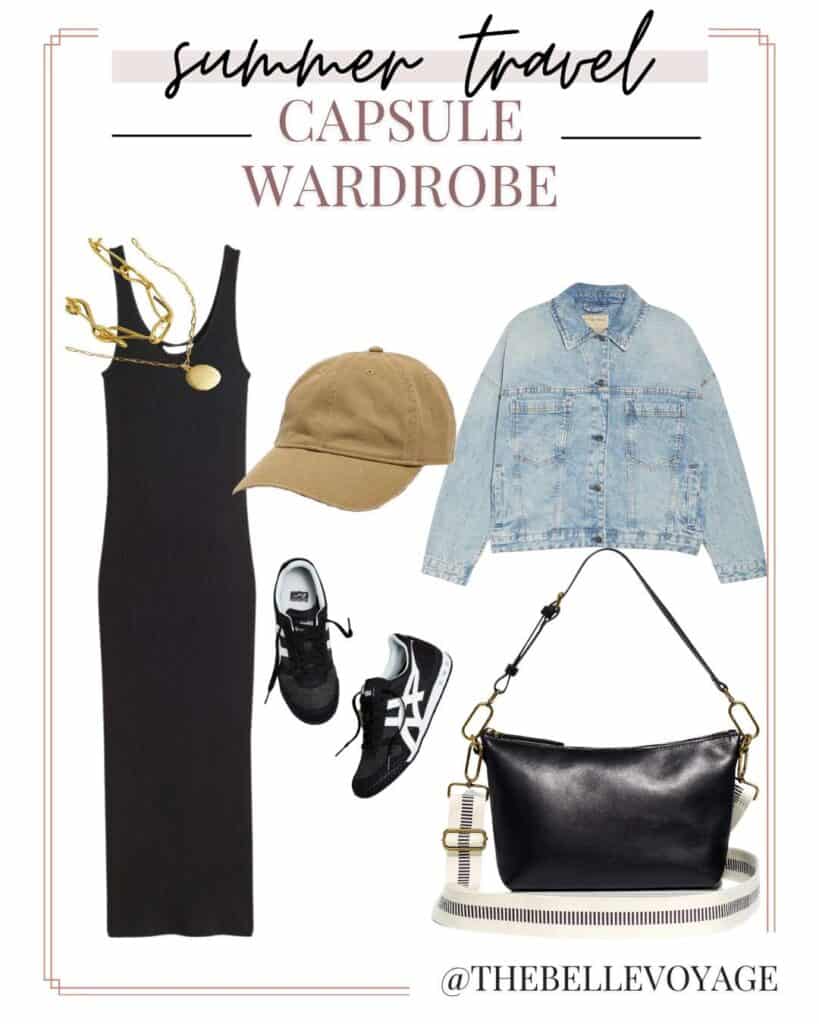 This effortless summer travel outfit is perfect for exploring a new city or neighborhood.
The sneakers will keep you comfortable and the hat will provide sun protection.
The centerpiece of this outfit, though, is the black ribbed tank dress. If it's not in your cart yet, don't wait! It's less than $20 and you'll wear it all summer long, day or night!
I love the denim jacket for a lightweight layer, as well as the convertible bag which you can wear as a crossbody or on your shoulder.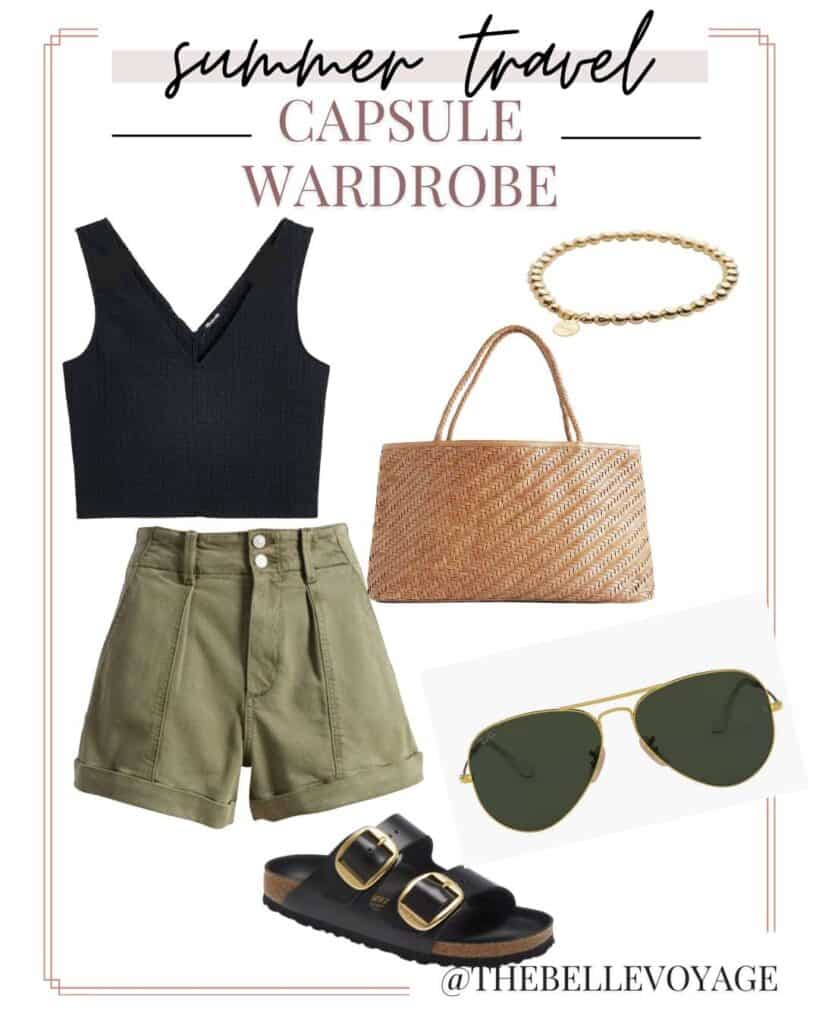 For another travel outfit idea, try this shorts and tank combo. It'll give you plenty of comfort and mobility for exploring museums or shopping districts.
I adore these high-waisted shorts. They've got thoughtful details in the double buttons, seams, and cuffs, but they're versatile enough to wear with any top you want!
I've styled them here with a cropped black tank from Madewell. I just bought this myself and have been wearing it nonstop! I promise you will, too.
Finally, Birkenstocks are super comfortable for lots of walking, and the gold buckles on this pair are such a cute accent.
Adventure-Ready: Outfits for Outdoor Exploration
Planning an outdoor adventure this summer? If so, your travel outfit should be functional and comfortable depending on the activities you have planned. But that doesn't mean it can't be stylish, too!
Here are a few summer travel outfit ideas that are practical, durable, and provide protection against the elements, all while keeping you looking your best. (And now I have total workout gear envy).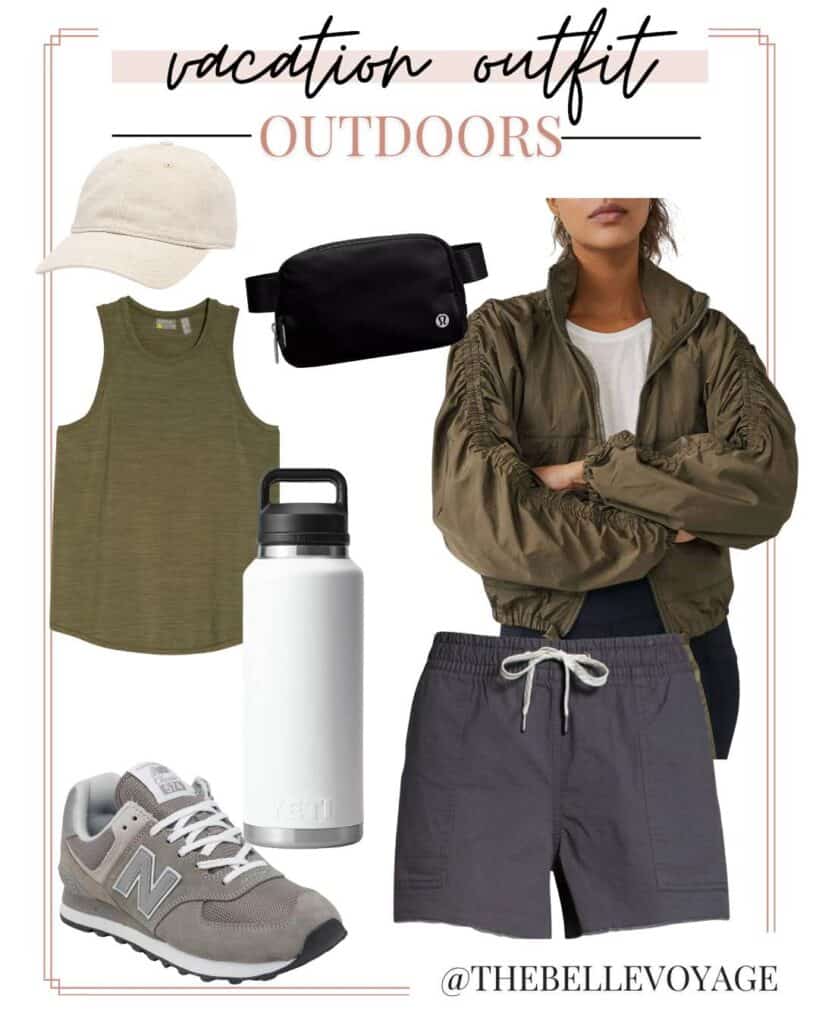 If you'll be doing light outdoor activity on your trip, this tank and shorts combination offers comfort and freedom of movement for activities like kayaking, biking, or beach hikes.
I especially love the olive green waterproof jacket. It's got such cute details and folds up to practically nothing, so it's very packable.
The gray retro sneakers are super comfy, and can also be worn with a skirt or dress.
Finally, if you don't have this belt bag yet, you're missing out. It goes with everything!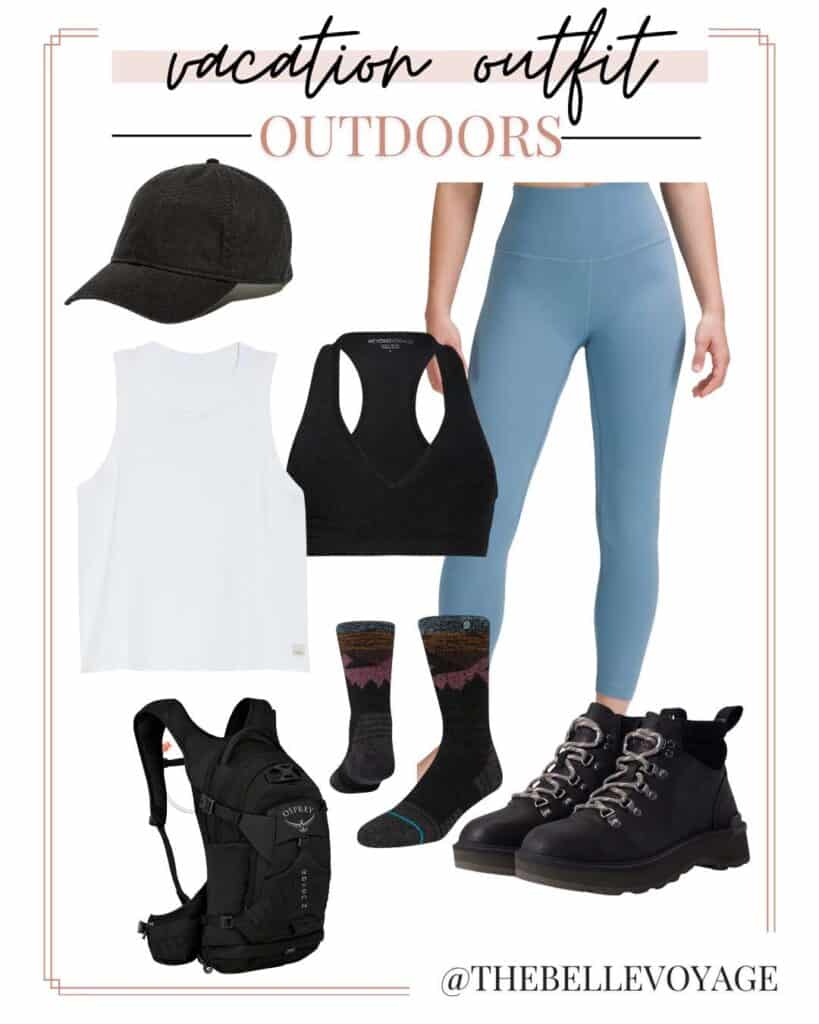 If you're planning on doing moderate to strenuous hiking on your summer trip, this outfit is for you!
The sports bra offers plenty of support layered under a lightweight breathable tank.
These leggings are ultra-light, so they'll protect your legs from scratches and sun without weighing you down.
Top it all off with cute wool hiking socks, a baseball cap and a day hike hydration pack. I have this exact one, and I can't recommend it enough.
Beach Bliss: Outfits for Tropical Getaways
Headed to the beach for your summer vacation? For beach-friendly outfits, look for lightweight, breathable, and easy-to-wear garments that are suitable for hot or tropical climates.
While you'll spend plenty of time in a swimsuit, here's a few other travel outfit options for other activities.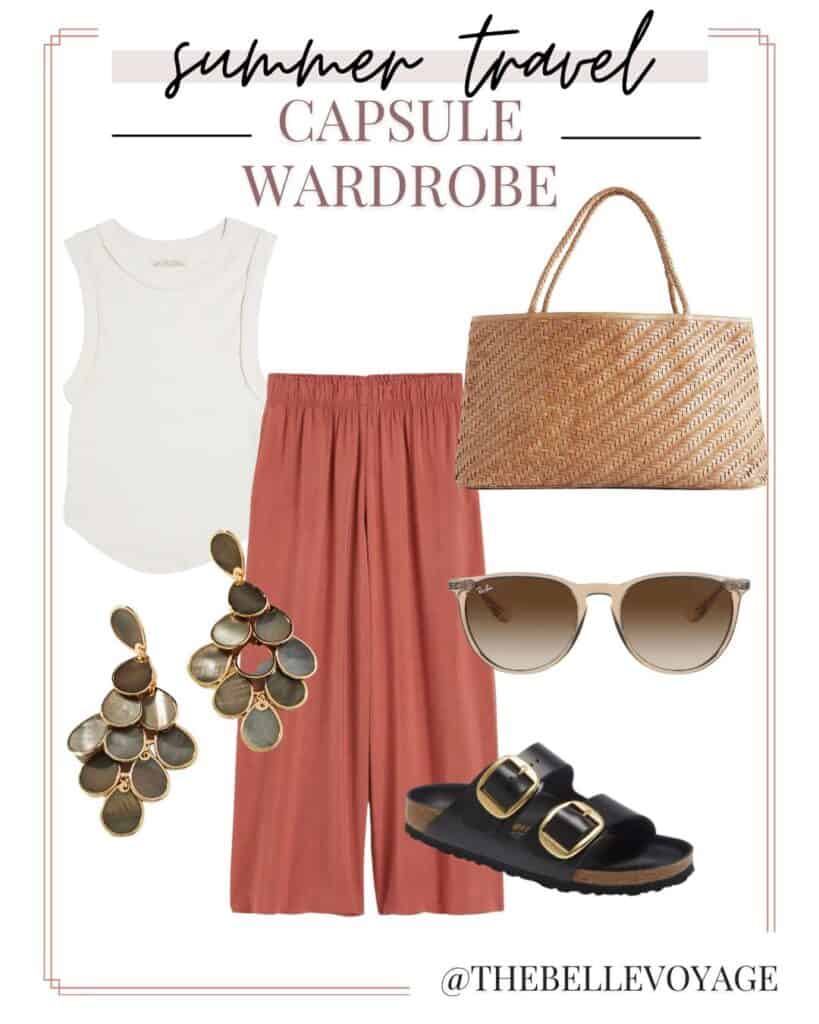 Wide leg cropped pants and a loose tank top allows for an easy transition between meals, the beach and resort activities.
Just layer them on over a swimsuit, and you're ready to roll!
The sandals are built for walking, and the statement earrings add a touch of elegance to this casual look.
Don't forget to add a hat and plenty of sunscreen for sun protection!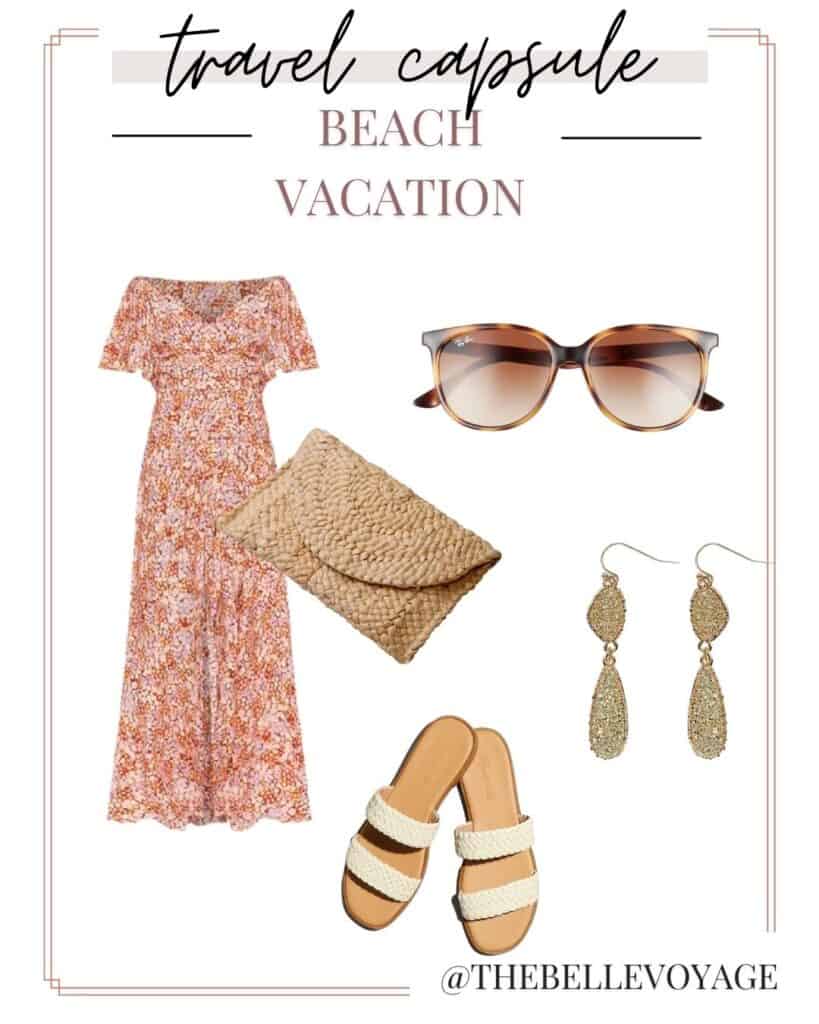 There's nothing like getting dressed up for dinner after a day at the beach, and the perfect outfit is a maxi dress with flat sandals.
The combination of the dress and sandals is chic and comfortable for beachside dinners or walks along the promenade.
I love the print on this wrap dress! It looks perfect with easy accessories like gold earrings and a straw clutch.
The silhouette of the dress is also really flattering, and it's made from 100% viscose so it won't wrinkle when packed in a suitcase.
For more ideas on what to wear for your beach-y vacation, check out the beach vacation capsule wardrobe I put together, along with my favorite picks for affordable resort wear.
I also just did a roundup of some gorgeous vacation dresses for Hawaii, that you could wear to any beach, anywhere!
Stylish and Practical: Travel-Friendly Accessories
The easiest way to elevate your travel outfit? Add accessories!
Accessories are one of the best ways to add personal style and functionality to any outfit, but especially when it comes to travel.
They're a lightweight way to transform a look from one day to the next, and even from day to night. Throw a few in your suitcase, and it will be easy to add the finishing touches to your travel outfits. Here's a few easy options:
Versatile scarf
Scarves aren't just for travel during the winter months! In fact, scarves are one of the best accessories for travel any time of year because they can be worn so many ways.
There are plenty of ways to style a scarf, and adding one to your outfit can completely change your look. In the summer, you can wear a lightweight scarf as a headband, belt, or shawl to provide sun protection or keep you warm in heavy air conditioning or at night.
Crossbody bag
Looking for an easy day bag for travel? Try a crossbody bag! Crossbody bags are super convenient when you're on the go, because they allow you to keep your essentials secure and easily accessible during your travels. And they keep your hands free so you can take plenty of photos!
I love cross body bags like this one that have multiple straps. Change out the strap and wear the bag as a crossbody purse or on your shoulder as a small tote. Another key feature to look for in a crossbody bag is multiple compartments for easy organization.
Statement jewelry pieces
To add a touch of elegance to any outfit, accessorize by putting on a piece of statement jewelry as a finishing touch. Statement jewelry can instantly elevate a simple travel outfit, allowing you to express your personality and create a polished look.
Any sort of jewelry will work, but personally, I prefer to pack statement earrings because earrings tend to be more lightweight than statement necklaces.
Summer Travel Clothes for Women: 6 Key Pieces and Trends
Looking for just a few key pieces to create your summer travel outfits? Let's break down some of the current fashion trends, and I'll help you pick stylish pieces that are ALSO great for travel.
And as an added bonus? They're all on-trend for 2023 but classic enough to look stylish for years to come. Invest in one of these pieces and it'll make putting together your travel outfit a total breeze!
Wide leg pants
Wide leg pants are EVERYWHERE right now. And since they're incredibly comfortable, they're perfect for travel, so it's no surprise that I am leaning into this trend hard.
Another benefit to wide leg pants is that they're often cut with a shorter hem, which means that they look great styled with flats. If you're going to do a lot of walking during your trip, wide leg pants look great paired with either sneakers or comfortable sandals.

Cargo pants
Denim can be heavy and constricting, so instead of jeans, try looser cargo pants as a foundation for your summer travel outfits.
Cargo pants are BACK, and I'm loving them for travel because they're so comfortable and versatile. Pair them with a simple tank top, statement jewelry and heels, or try them with sneakers and a cropped cardigan.

Joggers
Joggers, ladies, joggers. If you don't have a pair yet, get some. I highly, highly recommend Vuori joggers for their fit and ultra-soft fabric.
More polished than sweatpants, but looser than leggings, the right joggers can be worn with anything from a simple tank top and sneakers to a denim or leather jacket. They're also comfortable enough to double as loungewear or pajamas if needed!
Sneakers
I love that there are so many cute retro sneakers out right now, and that wearing them with everything from jeans to dresses is still very much on trend.
Sneakers are one of the most versatile and comfortable shoes that you can pack. The right sneaker can take you from brunch to dinner! Here are a few of my favorite picks:

Matching Sets
For a foolproof way to put together a travel outfit, try a matching set! There's a matching set for every trip under the sun: sets with short or long sleeves, cropped or not, and long or short bottoms, and even skirts.
Look for a set in a neutral color so that you can wear each piece separately, styled with other pieces in your suitcase. Here's a few I have my eye on:

Tank dresses
You'll find a simple tank dress in my suitcase three seasons out of the year. Why? They're so easy to dress up or down, and don't take up much space in your suitcase.
Look for tank dresses that have elevated details like ribbed fabric, or an interesting neckline. Pair your dress with sneakers for daytime exploring, and switch to dressy sandals and a clutch for evening.

How to Pack for Summer Travel
Plan Ahead
Let's talk packing for a summer trip.
Whenever you're packing for a trip, it pays to plan your outfits ahead of time. Throwing clothes in your suitcase at the last minute almost ALWAYS leads to overpacking, and I can't let you waste $60 checking a bag on your flight!
To plan your travel outfits, think about your trip one day at a time, and consider both the weather forecast and any planned meals or activities.
To help with this process, I created a free, printable travel outfit planner. This day-by-day guide will make packing a cinch and help you pack light, but still have everything you need.
Just enter your email below and I'll send it your way!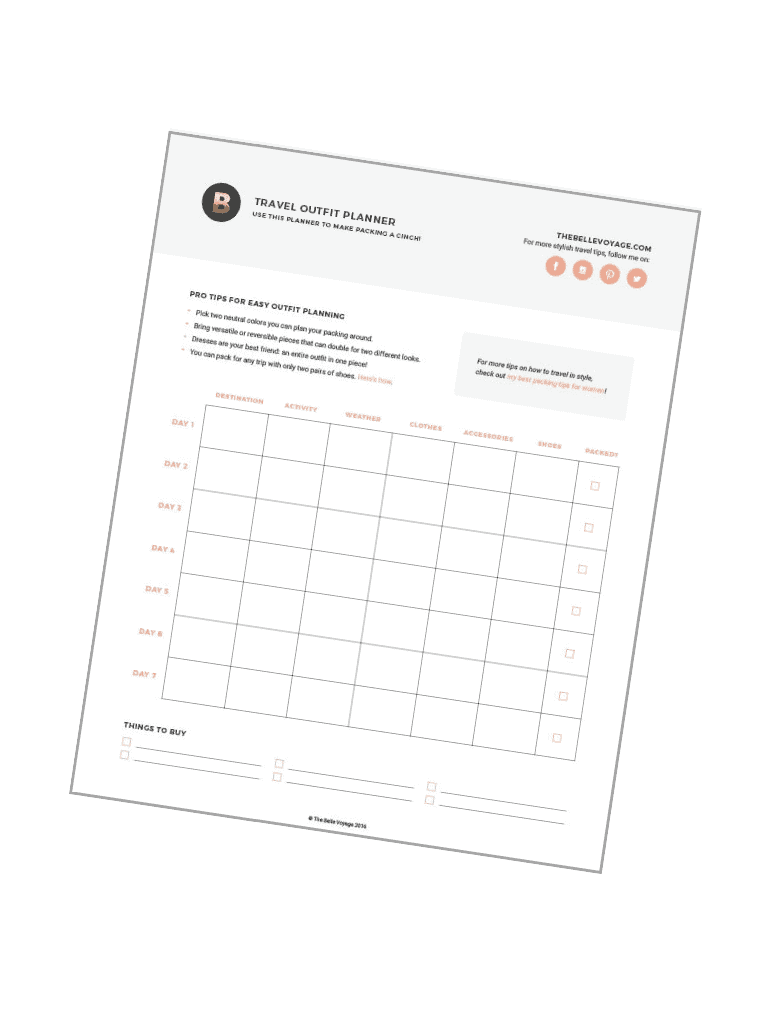 Love the outfit planner? You'll love all of the other free printable travel planners in my resource library!
Pack Layers
When packing for a summer trip, don't forget to pack at least one warmer top to wear as a light layer over tank tops, t-shirts and dresses. It is a very common packing mistake to leave a warmer layer at home!
Even though the temperatures outside might be through the roof, you never know when you might get stuck inside an over-air conditioned building or a freezing cold airplane. Wear your light layer as part of your airplane outfit and it won't take up any space in your suitcase.
Pieces like a cardigan, long sleeve button-down shirt, or denim jacket make for the perfect summer layering piece.
Dress for Your Destination
Make sure you pack pieces that are appropriate for your destination. This is particularly important during summer travel, when people tend to pack clothing with less coverage.
Keep in mind that some churches and other places of worship, particularly in Europe, may have a dress code that visitors must respect.
For example, at many churches (including the Vatican) in Italy, visitors are required to cover their shoulders and knees. If you're planning to travel to Europe this summer, make sure to pack accordingly so that you don't get stuck buying an overpriced shawl outside a cathedral!
And if you need more help, here's how to pack light and fashionable for Europe.
Check the Forecast
Don't forget that summer can still mean unpredictable weather. It's easy to assume that you'll have a vacation filled with sunny, warm days and forget to pack things like a light rain jacket or umbrella.
Make sure you're prepared for the weather conditions at your destination by checking the forecast ahead of time.
Summer Travel Packing List
I'm working on a packing list that's tailor made for summer travel. Until then, subscribe below and I'll send you a carry on packing list, a pre-travel checklist, AND the travel outfit planner.
FAQs About Summer Travel Outfits
Can you provide some outfit ideas for different types of summer travel, such as beach vacations, city explorations, or outdoor adventures?
I sure can! Here are a few outfit ideas:
Beach vacation: A flowy maxi dress with a floppy hat and flat sandals.
City exploration: High-waisted shorts paired with a loose blouse, comfortable sneakers, and a crossbody bag.
Outdoor adventure: Quick-dry shorts or leggings, a moisture-wicking top, a lightweight jacket, and sturdy hiking boots.
Remember to adapt these outfit ideas based on your personal style and the specific activities and climate of your destination.
What should I pack for a summer vacation?
When packing for a summer vacation, focus on lightweight and breathable clothing such as shorts, skirts, dresses, and tank tops. Don't forget to include swimwear, a versatile cover-up, a hat, sunglasses, comfortable footwear, and sunscreen.
How do I choose the right fabrics for hot weather destinations?
Opt for natural fabrics like cotton, linen, and bamboo, as they are breathable and help wick away moisture. Avoid heavy synthetic materials that can trap heat and make you feel uncomfortable.
What are some versatile pieces that can be mixed and matched for different outfits?
Versatile pieces like a maxi dress, a pair of denim shorts, a lightweight cardigan, a white button-down shirt, and a basic t-shirt can be mixed and matched with various accessories to create different outfit combinations.
What are some essential accessories to elevate my travel outfits?
Accessories like statement sunglasses, a wide-brimmed hat, a stylish tote bag, a versatile scarf, and a pair of comfortable sandals can instantly elevate your travel outfits and add a touch of glamour.
What are some tips for dressing stylishly while staying comfortable in humid climates?
Opt for loose-fitting, breathable clothing in light colors. Choose lightweight fabrics like linen and cotton, and consider wearing flowy dresses, shorts, and sleeveless tops. Don't forget to stay hydrated and wear sunscreen.
How do I transition from daytime sightseeing to evening events with my outfits?
Add a statement piece like a colorful scarf or a lightweight jacket to transform a casual daytime outfit into a more dressy look for evening events. Swap sneakers or sandals for a pair of stylish heels or wedges, and add some jewelry to complete the transition.
Are there any specific clothing items or accessories that are travel-friendly and wrinkle-resistant?
Look for wrinkle-resistant fabrics like jersey, knits, or wrinkle-resistant blends when selecting clothing items for your travels. Additionally, accessories like packing cubes or garment bags can help minimize wrinkles in your suitcase.
By following these summer travel outfit ideas, you can ensure that you stay stylish, comfortable, and ready for any adventure that comes your way. Whether you're exploring vibrant city streets, embarking on thrilling outdoor expeditions, or basking in the sun on tropical shores, these outfit suggestions and travel-friendly accessories will enhance your travel experience and help you create unforgettable memories. So pack your bags, embrace the spirit of summer, and embark on your next travel adventure in style! Happy travels!