The Best Travel Outfits for Women: The Ultimate Guide to Looking Cute While Staying Comfy
This site uses affiliate links and I may earn a small commission when you use my links and make a purchase, at no extra cost to you. 
If you're trying to find a cute women's travel outfit for your next trip, you've come to exactly the right place. As a fashion-loving full-time travel blogger, I know that one of the factors that can make or break your trip is your outfit. Travelling can be exciting, but it can also be tiring and uncomfortable. The right travel outfit can not only ensure that you are comfortable but also make you look stylish and put together. When you look your best, you feel your best, and you'll be able to enjoy your trip that much more. So whether you are going on a long flight or a road trip, choosing the right outfit is essential. In this ultimate guide, I'm sharing absolutely EVERYTHING you need to know about selecting the perfect travel outfit.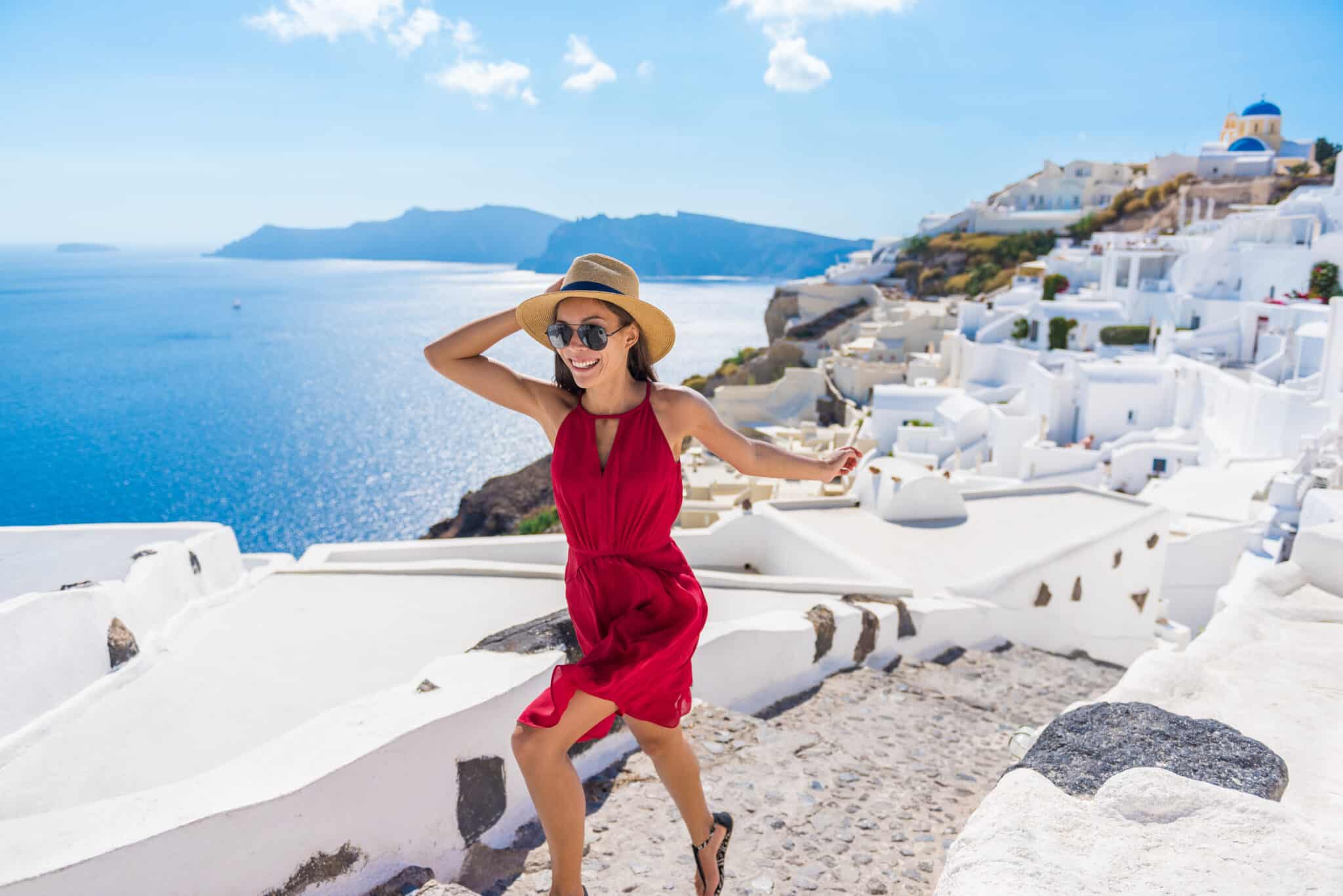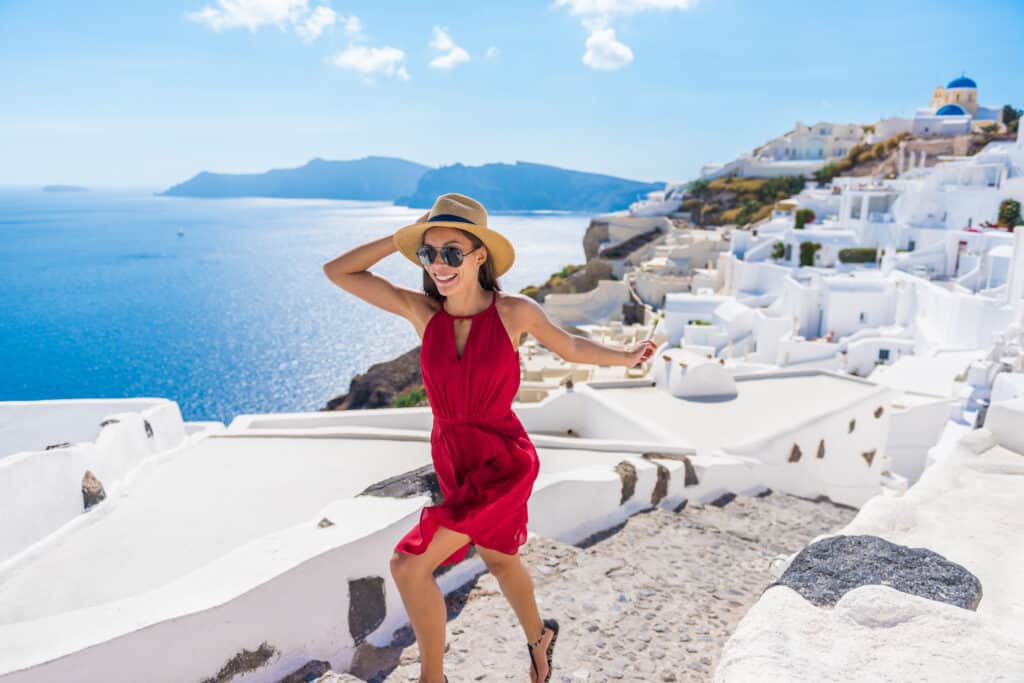 The Importance of Choosing the Right Travel Outfit
As a fashion-loving travel blogger, I know I'm biased – but hear me out: travel outfits matter. What you wear while traveling impacts how you feel, and everyone wants to feel their best when they're away from home. And just because you're traveling, it doesn't mean you have to sacrifice style.
But even if we set aside style for just a minute (just one, I promise), there are also practical implications to choosing the right travel outfit.
First, travel can be tiring and uncomfortable, so wearing comfortable clothes is essential. Second, if you have a long journey ahead of you, wearing something that is easy to move around in will make your trip that much easier.
Finally, and importantly for us ladies, depending on where you're traveling, what you wear (or don't wear) can have safety implications.
And if all of those aren't reason enough: I know you're already planning your Instagram photos, and I can't blame you for wanting to look fashionable in your travel pics while still traveling carry-on only. We will definitely be friends.
How to Put Together a Travel Outfit: The Essential Pieces
I've got TONS of tips on putting together the perfect travel outfit, but let's start with some of the basics: my top favorite pieces and must-haves.
Think of these as building blocks for your outfit. Stick with these essentials and you'll be able to whip up the perfect outfit in no time.
Keep reading for how to style them in different travel outfit combinations!
Clothing
Clothes are obviously the foundation of your travel outfits. It all starts here!
Pants, tops, dresses, t-shirts and skirts will comprise the majority of your suitcase on any trip, so when it comes to choosing the right clothes for your travel outfit, keep these things in mind:
Pants: I find that pants or jeans with a mid-rise and a cropped or ankle hem work best for travel. Why? A mid-rise fit is the Goldilocks of jeans: just right. Mid rise pants are more comfortable than an ultra-high rise waistline, but without the inherent risks that come from sitting down in low-rise pants (if you know, you know). And a cropped or ankle-length hem can be paired with either flats or heels, meaning that they'll be more versatile.
Colors: I try to pack mostly darker, neutral colors when I travel. Darker colors will camouflage any stains or spills better, and I find that it's easier to mix and match outfits with neutral colors.
Tops: Unless there's a good reason, try to steer clear of tops or dresses that require a special bra. It's just one less thing to pack!
Dresses: to pack light with style, dresses are your best friend. The right dress can be ultra-versatile, and one piece = one outfit. Done!
Outerwear
In addition to clothes, choosing the right outerwear is key to a good travel outfit. Even during the summer, you might find yourself stuck in an over-air conditioned space or outside on a chilly evening.
In addition, bringing a jacket, coat or sweater when you travel is a great way to create different looks with your travel outfits.
My favorite outer layers to pack for a trip are a black blazer, my leather jacket, or my denim jacket. They're all really versatile and can be combined with pretty much anything in my suitcase.
Shoes
Choosing the right shoes can be the hardest part of packing! Shoes can be bulky and take up a lot of real estate in your suitcase, so it's important to choose versatile shoes so that you can travel with no more than 3 pairs. I know you can do it.
Travel also usually means plenty of walking, so it's important to choose shoes that are as comfortable as they are stylish. Keep reading below for my suggestions on the best travel shoes.
Accessories
Accessories are the perfect finishing touch for any travel outfit. Things like belts, scarves, hats and sunglasses are all lightweight and easy to pack, but can quickly transform an outfit. I'm including my top picks for travel accessories below – keep reading for the details!
Traveling with expensive jewelry is never a good idea! Instead, check out these go-with-everything CZ studs which are worth every penny. You'll get to enjoy all of the sparkle of the real thing, minus the worry that you might leave them behind.

Shop Now

A cashmere scarf not only looks luxe, but it'll keep you warm and add that finishing touch to your travel outfit. And this one doesn't have that cashmere price point that we all want to run from!

Shop Now

In the world of weekender bags, this one is a total score. It's got a separate bottom compartment to fit your shoes and toiletries, so that they stay away from delicate clothes. It's also got a luggage sleeve so it can stack right on top of your suitcase. Perfection!

Shop Now

A cross-body bag will keep your hands free and your things safe while you're exploring. I love this one because its straps are adjustable and removable, meaning that you can wear it multiple ways and even carry it as a clutch.

Shop Now

Sun protection is a must, but nobody wants to tote a hat around all day when they're flying! That's why I love this hat: it's 100% packable! Roll it up and stash it in your suitcase while you're in transit, and it'll be the perfect way to accessorize your travel outfit once you arrive.

Shop Now
Toiletries and other travel essentials
Bringing the right toiletries and beauty items is also an important part of feeling your best when you travel.
For a complete list of everything to pack, you'll love my post on travel essentials for women, as well as this list of travel toiletries for women.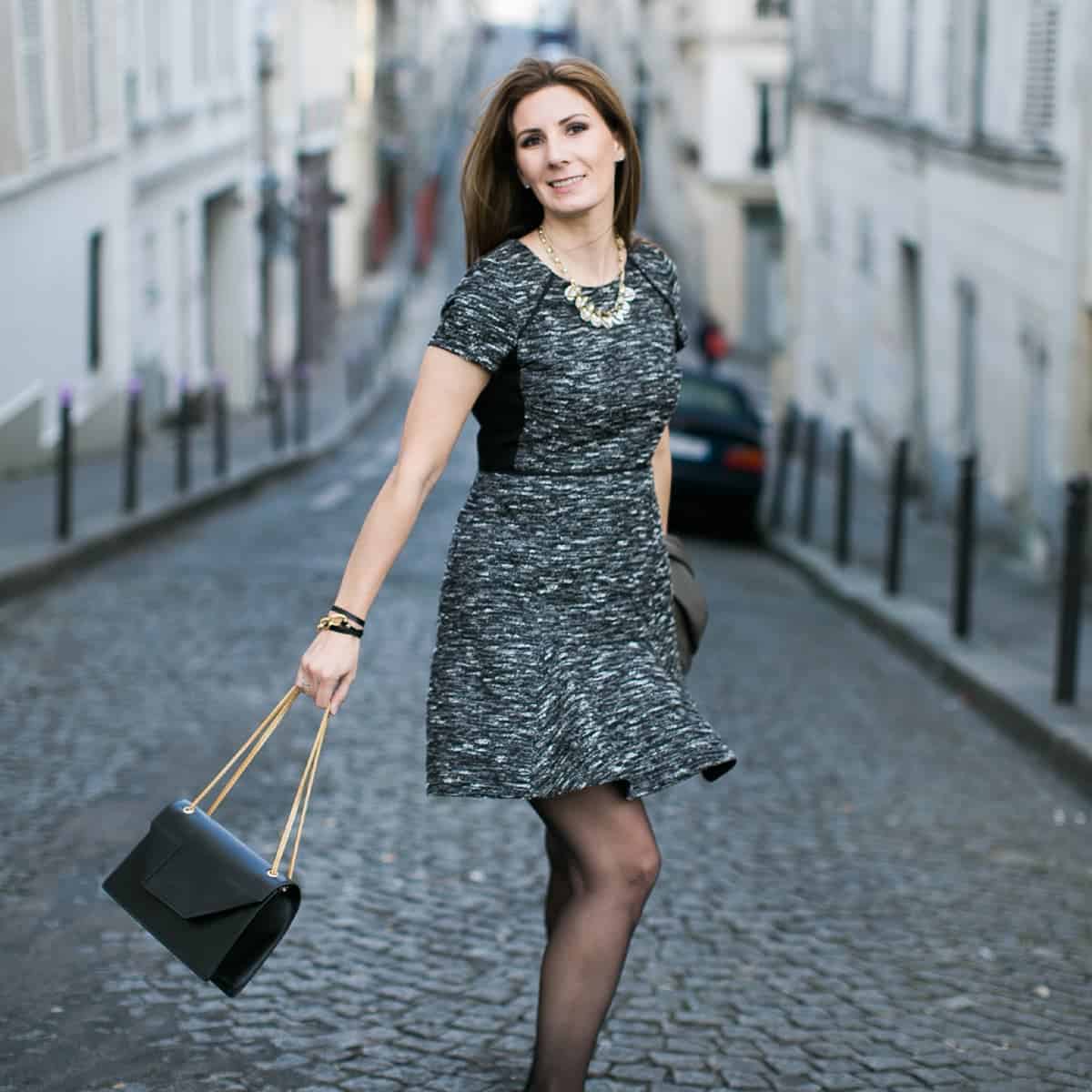 shop my favorite
TRAVEL ESSENTIALS
Ready to jet-set with ease? Discover my favorite travel products for your ultimate passport to stress-free adventures!
Best Travel Outfits for Women: Ideas and Inspiration
OK….I know why you're really here! You're looking for some oh-so-mouthwatering travel outfit ideas and inspiration.
Now that you're familiar with some of the pieces that can make up a cute travel outfit, let's take a look at some comfortable yet stylish options for different types of travel and different destinations. Read on below for more travel outfit options by season.
Outfit 1: Casual Travel Outfit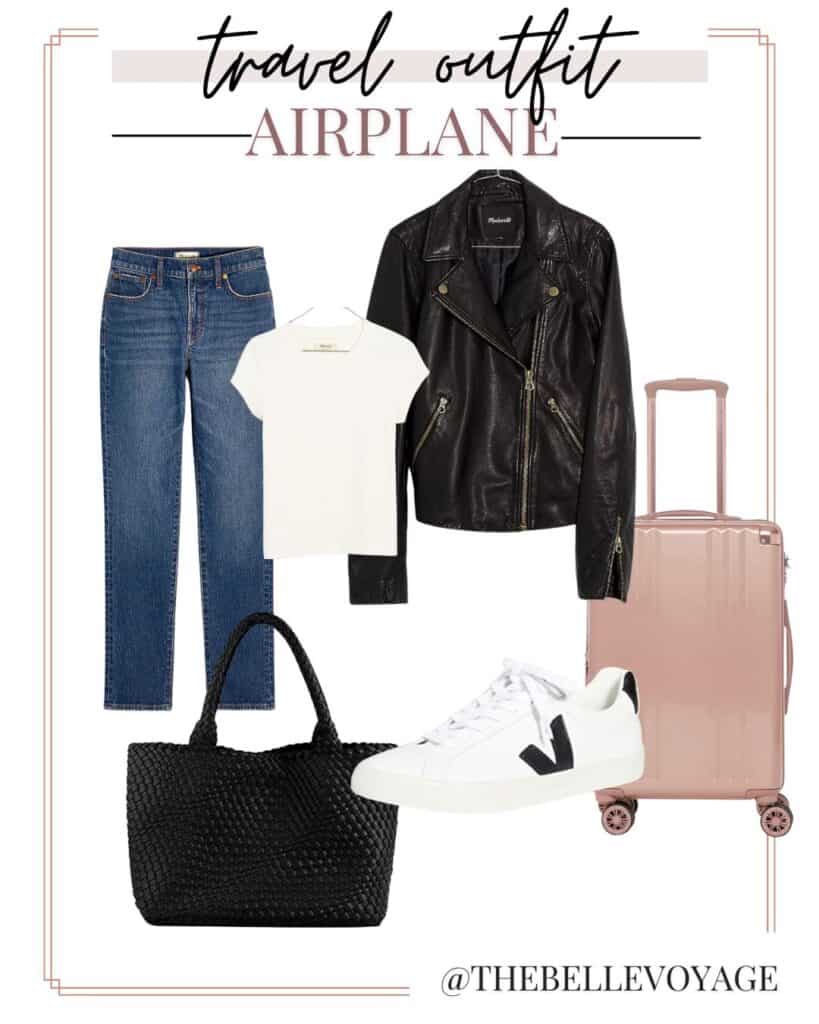 The universal outfit to wear on a plane or while traveling! Dress up some basics like a white t-shirt and jeans with a leather jacket, luxe woven tote bag and chic sneakers. Add some feminine polish with an adorable rose gold carry on suitcase!
Outfit 2: Chic Travel Outfit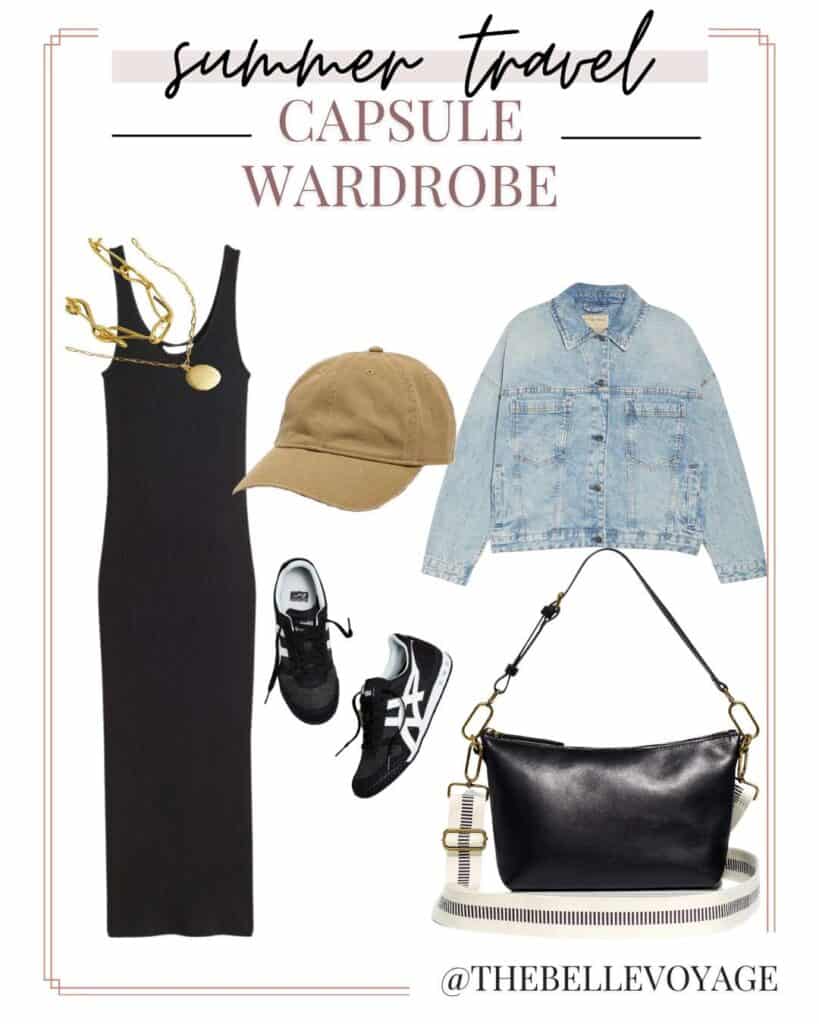 This effortless summer travel outfit is perfect for exploring a new city or neighborhood.
The sneakers will keep you comfortable and the hat will provide sun protection.
The centerpiece of this outfit, though, is the black ribbed tank dress. If it's not in your cart yet, don't wait! It's less than $20 and you'll wear it all summer long, day or night!
I love the denim jacket for a lightweight layer, as well as the convertible bag which you can wear as a crossbody or on your shoulder.
Outfit 3: Sporty Travel Outfit
For a sporty travel outfit, pair joggers with a versatile neutral tank and hoodie, along with retro sneakers.
Believe it or not the leather weekender bag is from Amazon – and it comes in multiple different colors.
Outfit 4: Road Trip Outfit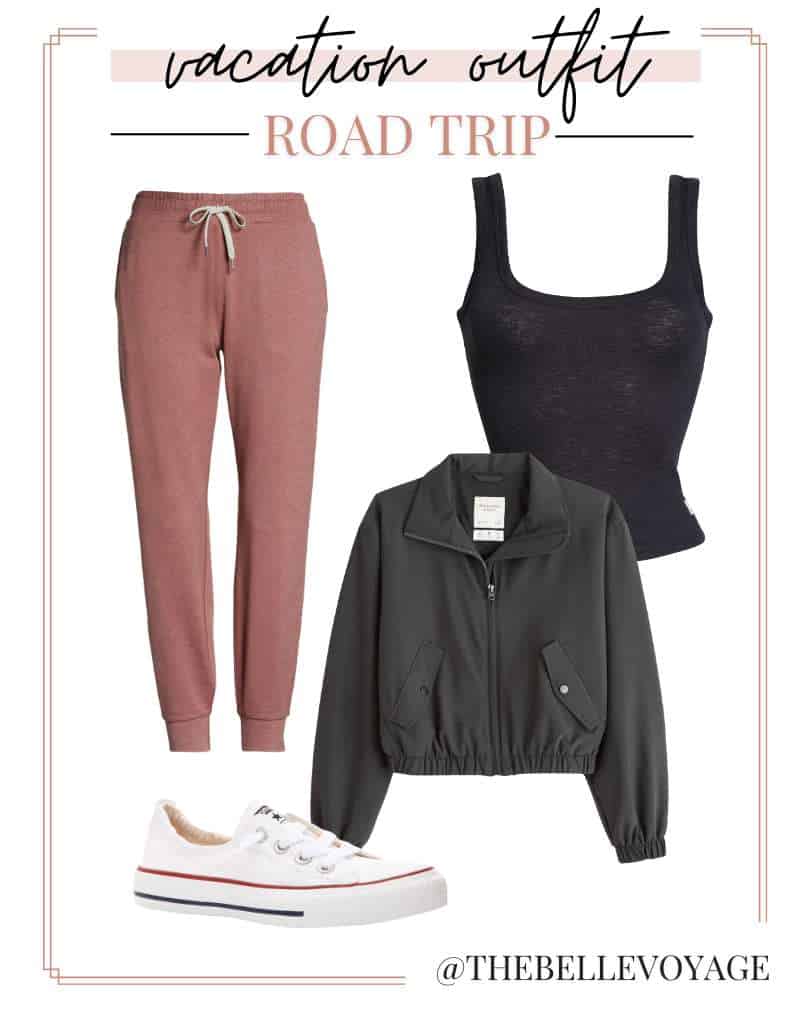 If you're heading on a road trip, your road trip outfit should include comfortable pants, layers on top, and shoes that are sturdy enough for driving but can slip on and off.
If you don't have these joggers yet, they are made from the most comfortable fabric ever!
Outfit 5: Business Travel Outfit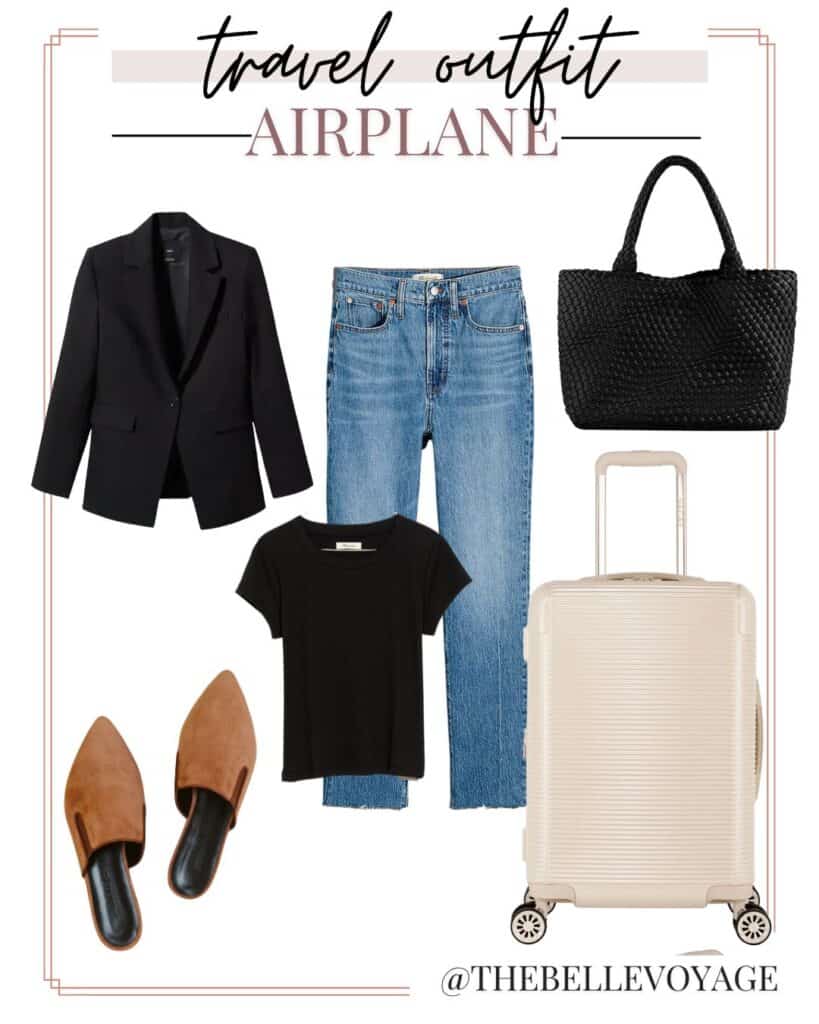 If you're traveling on business, your outfit should be polished but comfortable.
A black blazer adds just the right amount of business casual to jeans and a comfortable t-shirt. If you need to wear business casual while you're flying, swap the jeans for loose trousers instead.
Outfit 6: Beach Vacation Outfit
During a beach vacation, layer a swim cover-up over a bathing suit and pair it with stylishly simple but elevated accessories.
In the evening, opt for a flowy sundress, a straw clutch and wedges. To fill your suitcase, check out my favorite affordable resort wear pieces as well as the perfect beach vacation capsule wardrobe.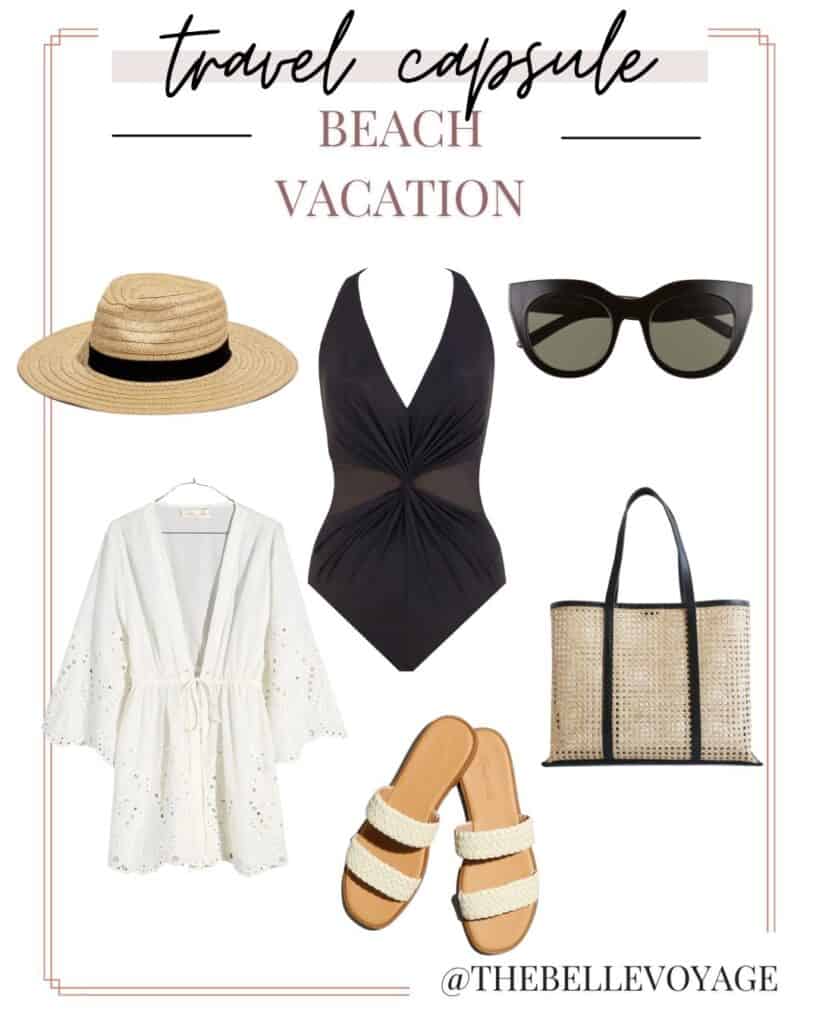 Outfit 7: Warm Weather Destination Travel Outfit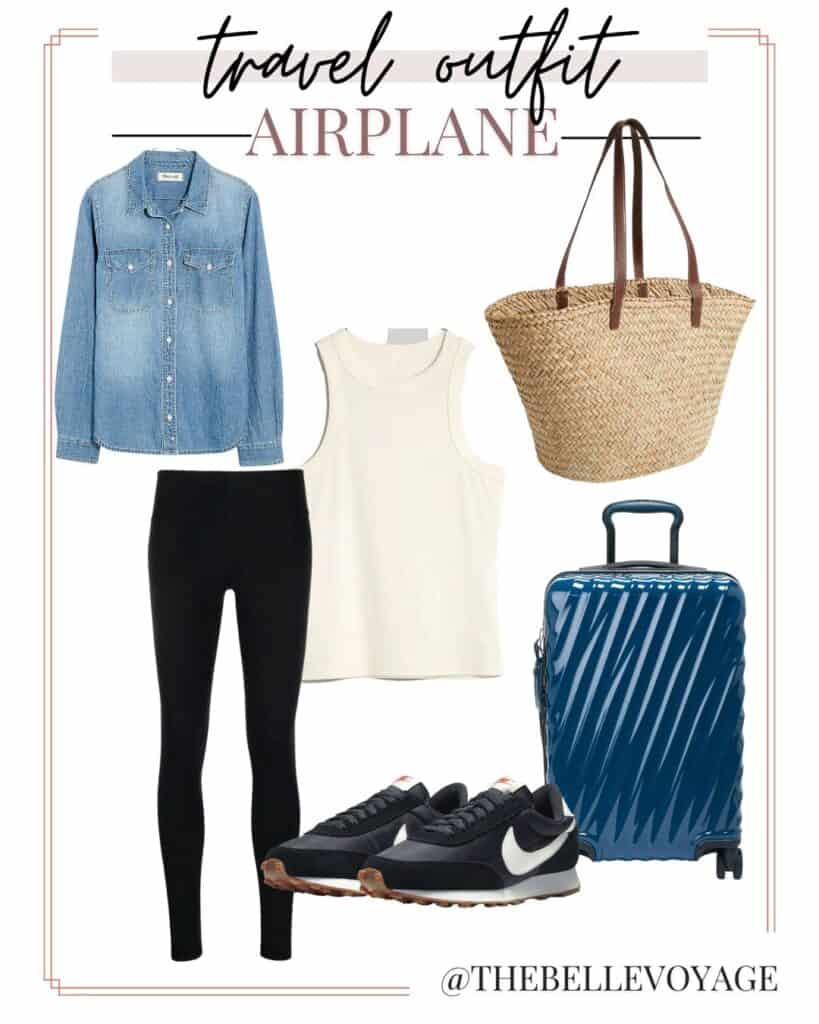 This look includes pieces that you can wear if you're flying to a warm weather destination like Hawaii, Mexico or the Caribbean. You'll stay warm enough on the plane, but you can wear all of the pieces again during your trip.
Airplane Outfits: What to Wear on a Plane
When it comes to air travel outfits, comfort is key. Opt for loose-fitting clothing, comfortable shoes, and avoid tight-fitting clothes. Bring a light jacket or cardigan as the temperature on the plane can vary.
Stylish Airplane Outfits
Comfortable doesn't have to mean frumpy, though. If you're trying to put together a cute airport outfit, try one of these looks:
For more ideas, I've got plenty more tips on cute airplane outfits.
Dressing for Long-Haul Flights
Trying to figure out what to wear on a long haul flight can be a challenge, especially if you want to dress stylishly and comfortably (don't we all?).
Opt for comfortable leggings or joggers, a loose-fitting top, and a light jacket or cardigan. Pair this with comfortable sneakers or slip-on shoes.
I also love combining stretchy skinny jeans with a long-sleeved fitted top and oversized cardigan sweater.
Either of these red eye flight outfits will keep you comfortable enough to get some rest on the flight, but stylish enough that you'll be ready to go upon arrival.
Now that you know what TO wear on a plane, it's just as important to know what NOT to wear on a plane!
Seasonal Travel Outfits
What to wear while traveling can vary by climate and season. That's why I love putting together travel outfits by season, too.
Spring
For spring travel, the best spring travel outfits embrace the season's vibrant colors and complement blooming landscapes. A sundress paired with a denim jacket is a versatile choice, allowing you to layer up or down depending on the weather. If it's cooler, opt for leggings, a lightweight sweater, and a jacket.
Don't forget a wide-brimmed hat and comfortable sandals to complete your chic and practical spring ensemble.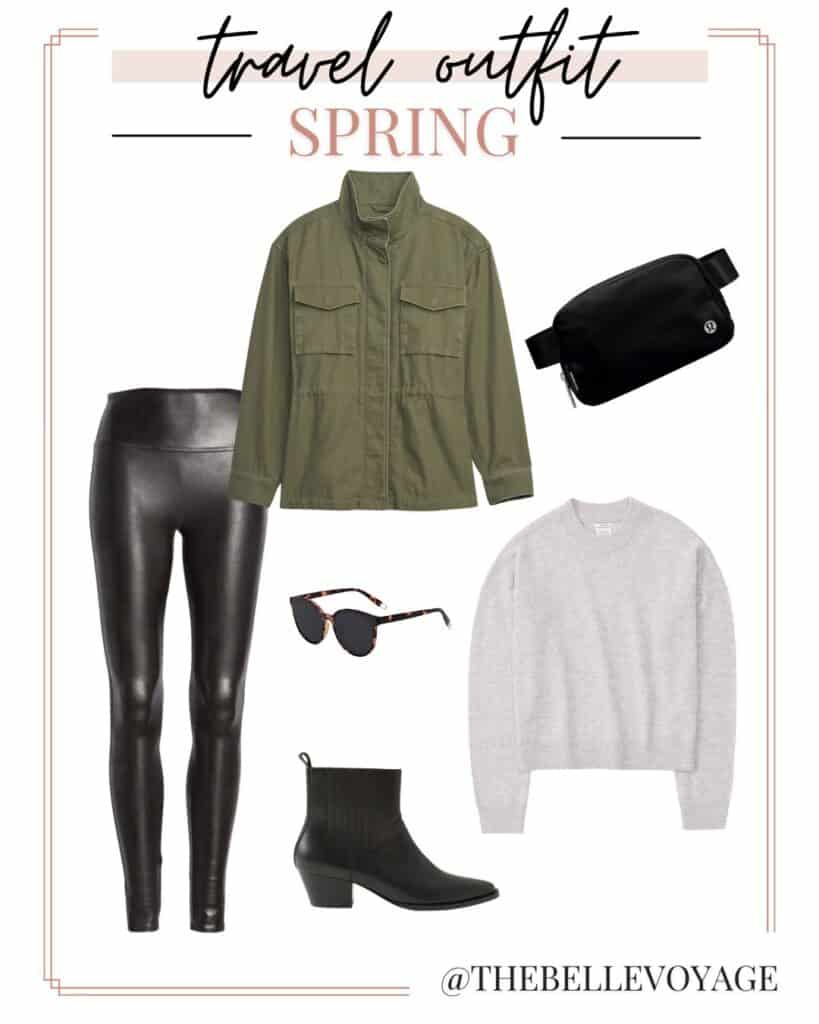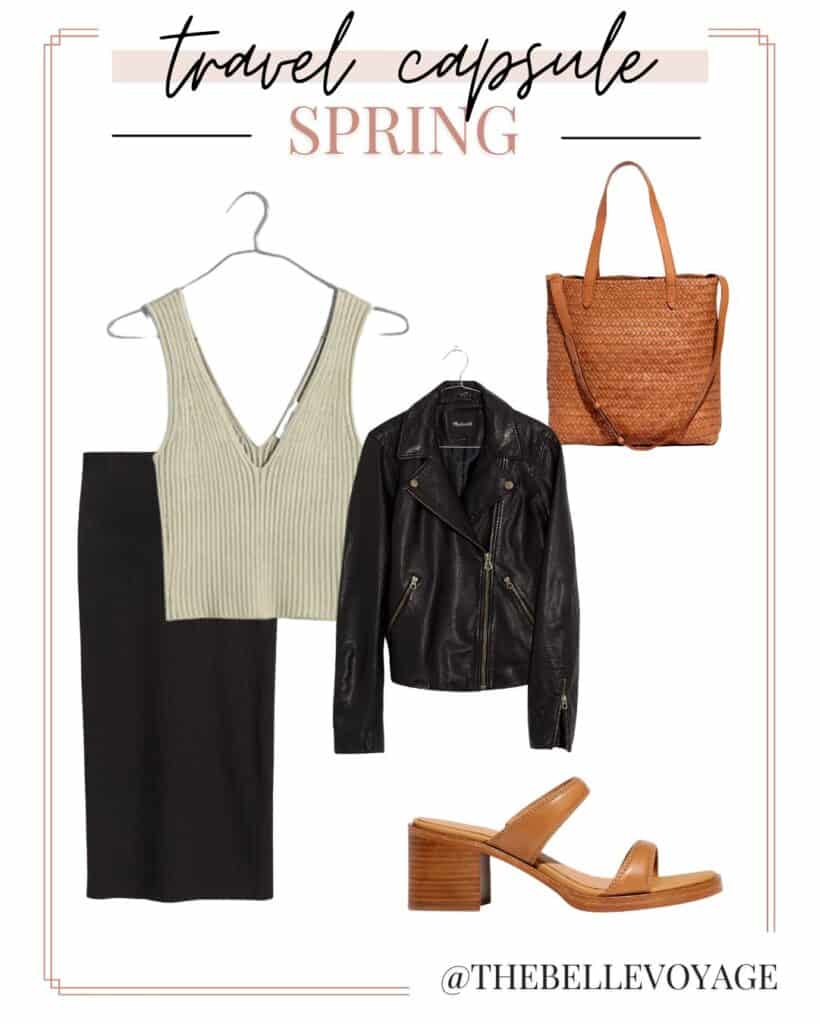 Summer
In the heat of summer, prioritize comfort and breathability with lightweight fabrics and minimal layers for your summer travel outfits.
A simple t-shirt dress in a neutral color is perfect for sightseeing, while a pair of loose wide-leg pants and a loose-fitting tank or blouse can keep you cool during outdoor adventures. Remember to bring a wide-brimmed hat, sunglasses, and sandals to beat the summer heat and protect yourself from the sun's rays.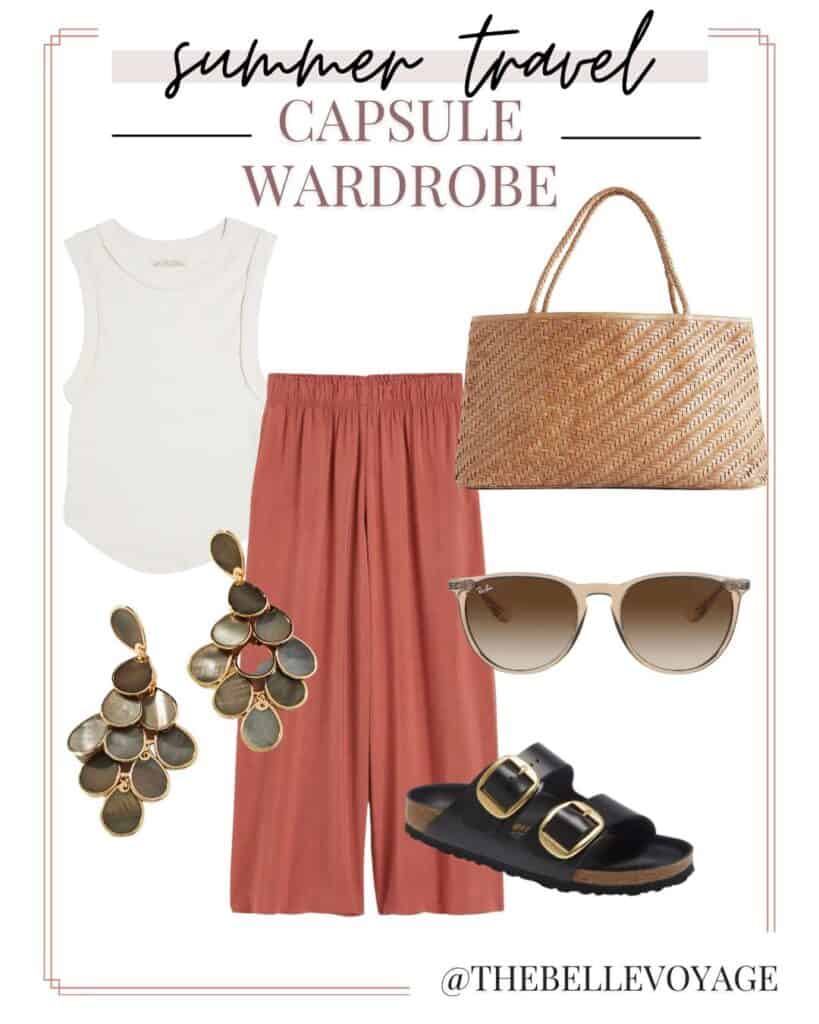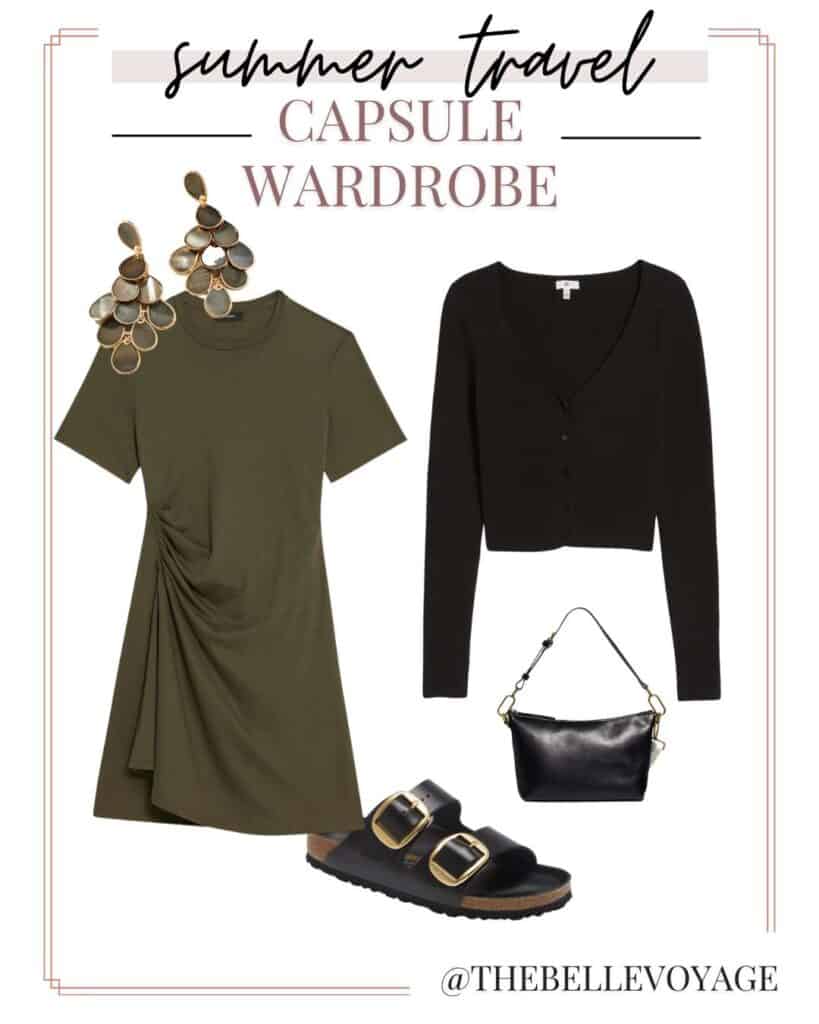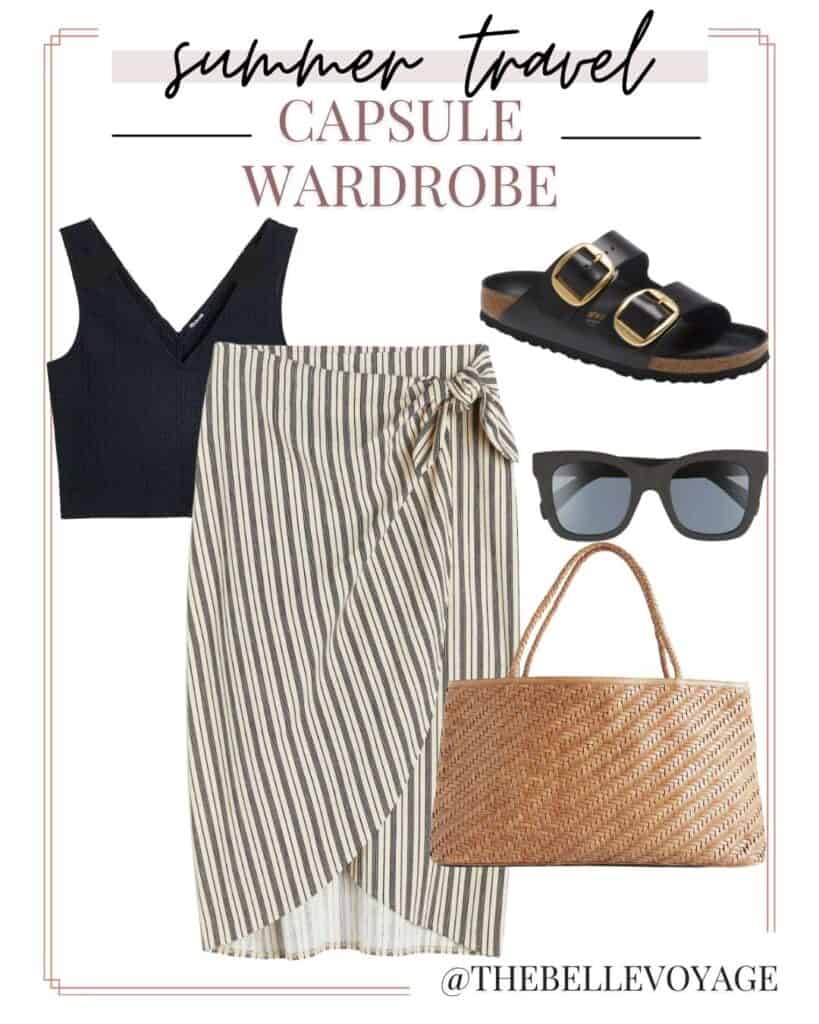 Fall
As temperatures start to cool down, embrace the cozy vibes of autumn with versatile layers and earthy tones. For an easy and chic fall travel outfit, pair a black leather jacket with jeans and a printed button-up shirt.
And for a classic fall look, or opt for a long cardigan over a fitted dress for a more relaxed outfit. Don't forget to accessorize with a scarf and sneakers or ankle boots to keep you warm and stylish during your fall travels.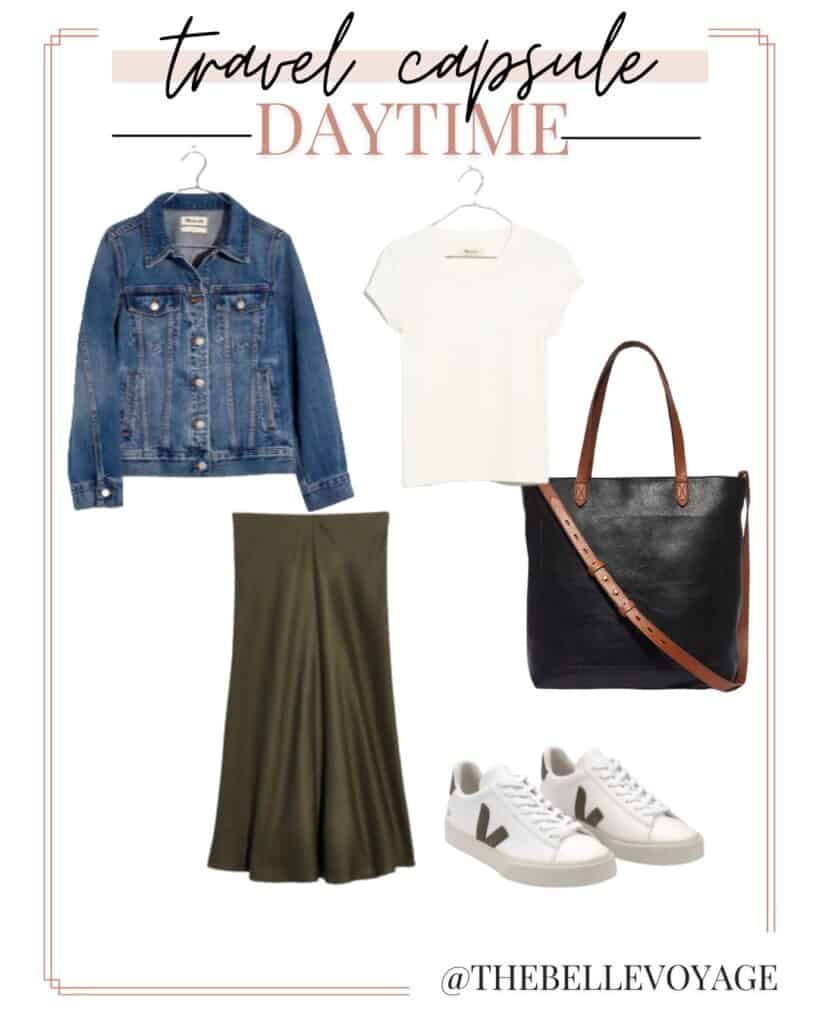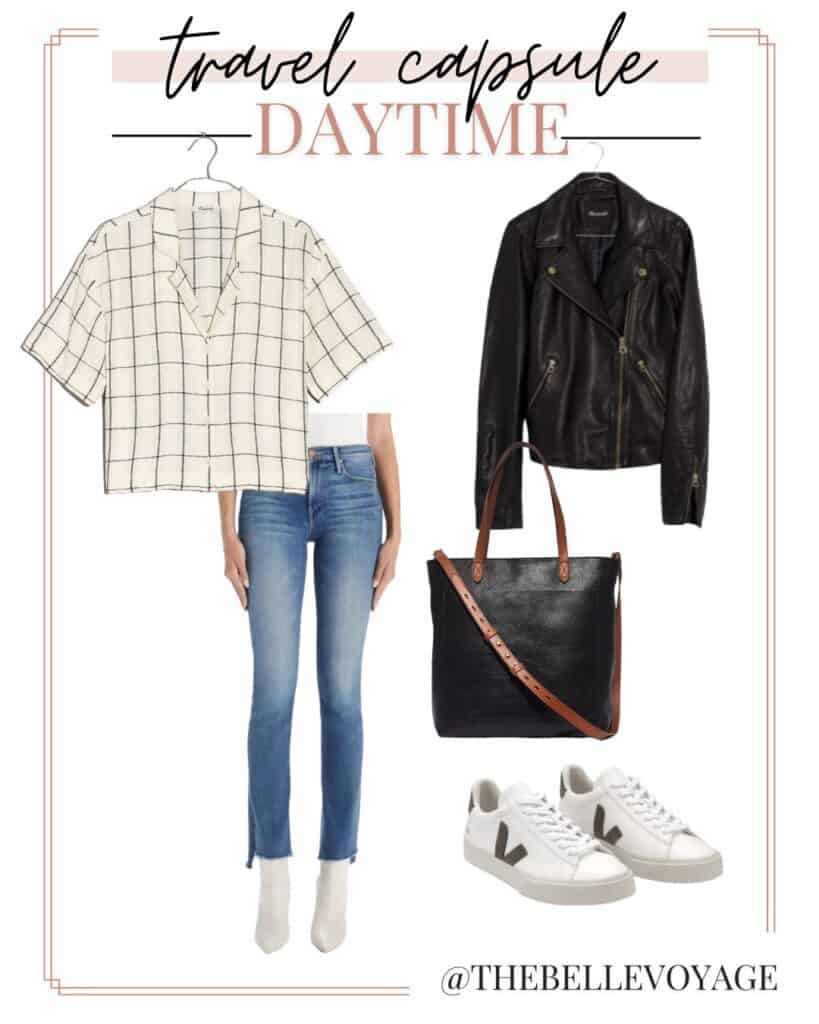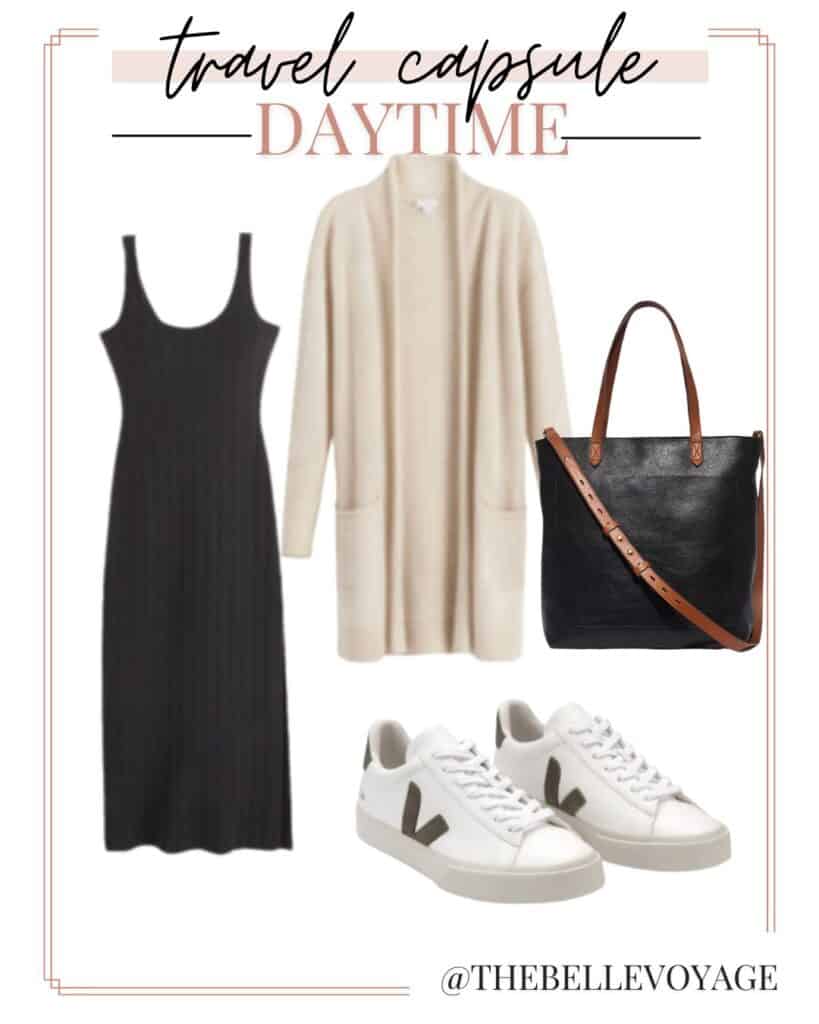 Winter
When traveling in winter, focus on warmth and comfort without sacrificing style. Bundle up in your winter travel outfit with a stylish wool coat paired with a chunky sweater and jeans for a casual yet polished ensemble.
Layer up with a cozy scarf, gloves, and a beanie to protect yourself from the cold. Waterproof boots with good traction will help you navigate snowy or icy conditions and ensure a comfortable and safe winter journey.
Create a Travel Capsule Wardrobe
Want to put together a cute travel outfit with your eyes closed? Try creating a travel capsule wardrobe!
A capsule wardrobe is a small collection of clothing pieces that all complement one another, so that they can be mixed and matched in many different ways to create endless outfit combinations. Capsules are perfect for travel because they'll help you pack efficiently while maintaining your style.
To create a travel capsule wardrobe, start with a color palette of 2-3 neutral colors, then add 1-2 accent colors. Choose 15 pieces of clothes within this color palette.
To select pieces, try using the 5-4-3-2-1 rule: 5 tops, 4 bottoms, 3 layers, 2 shoes and 1 dress. Choose pieces that complement one another, and putting together your travel outfits will be as simple as it gets.
I've got a capsule example for every season, so no matter when you're traveling, you can use these examples to create your very own mini travel wardrobe.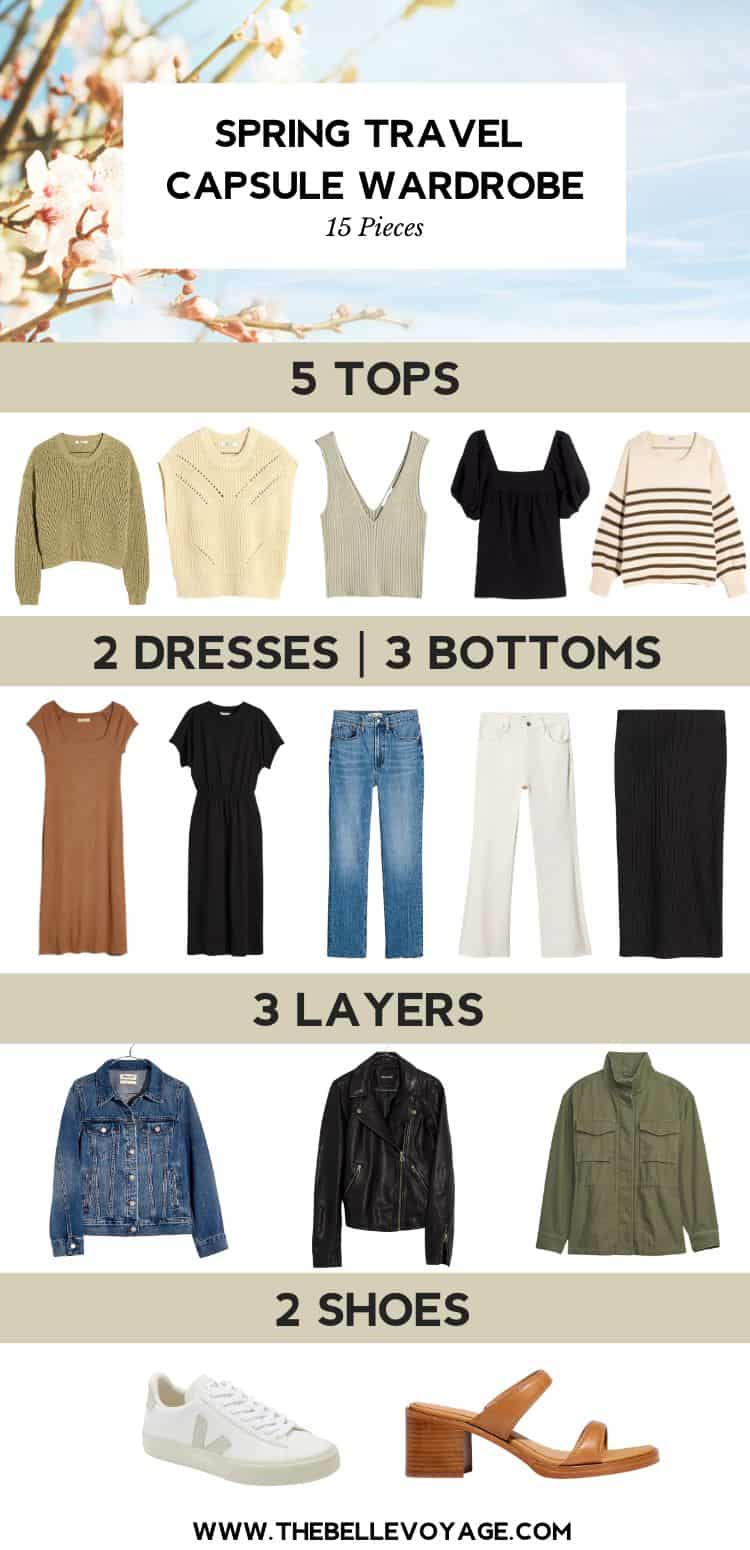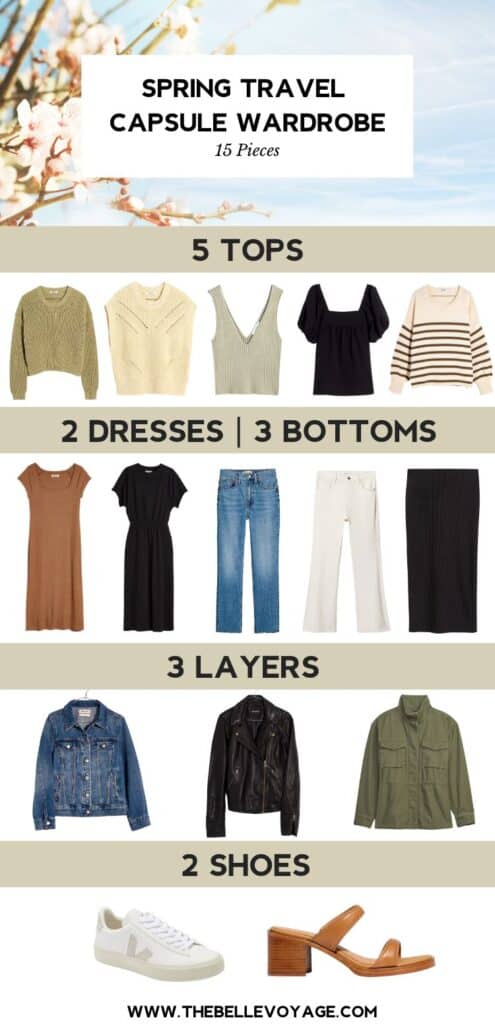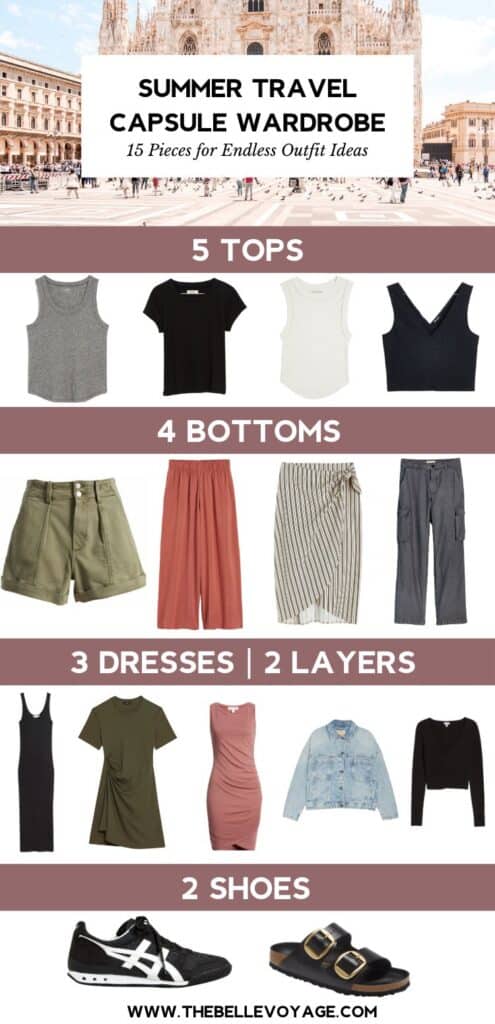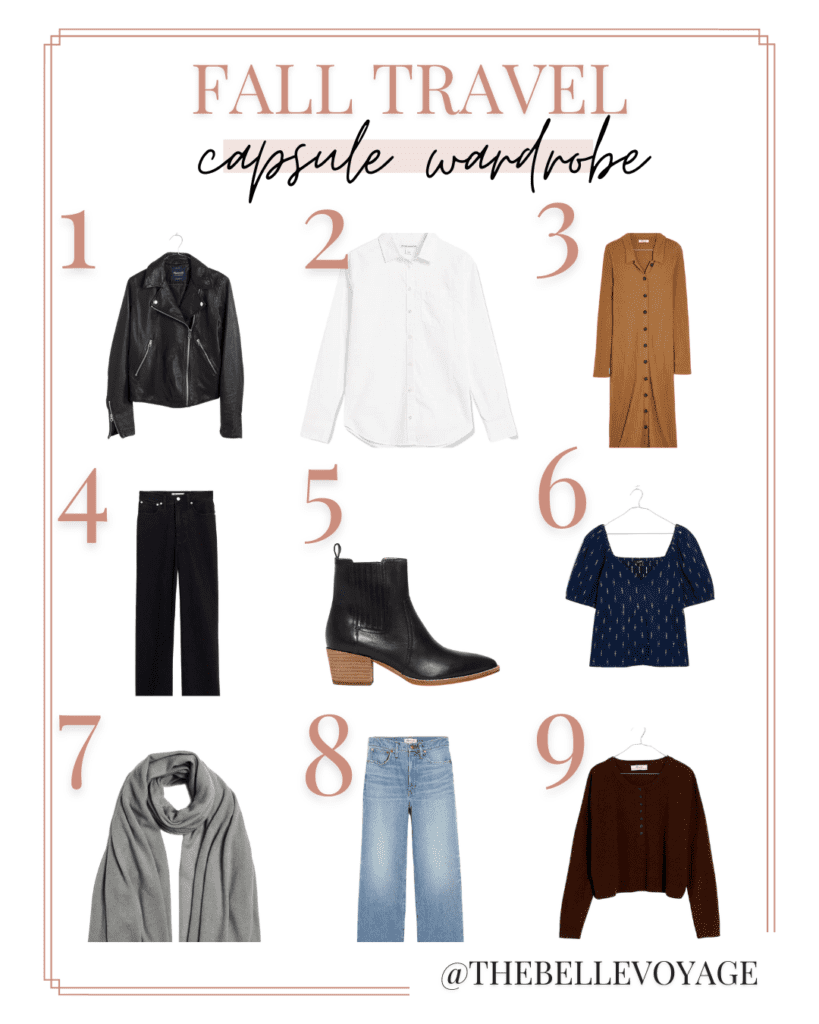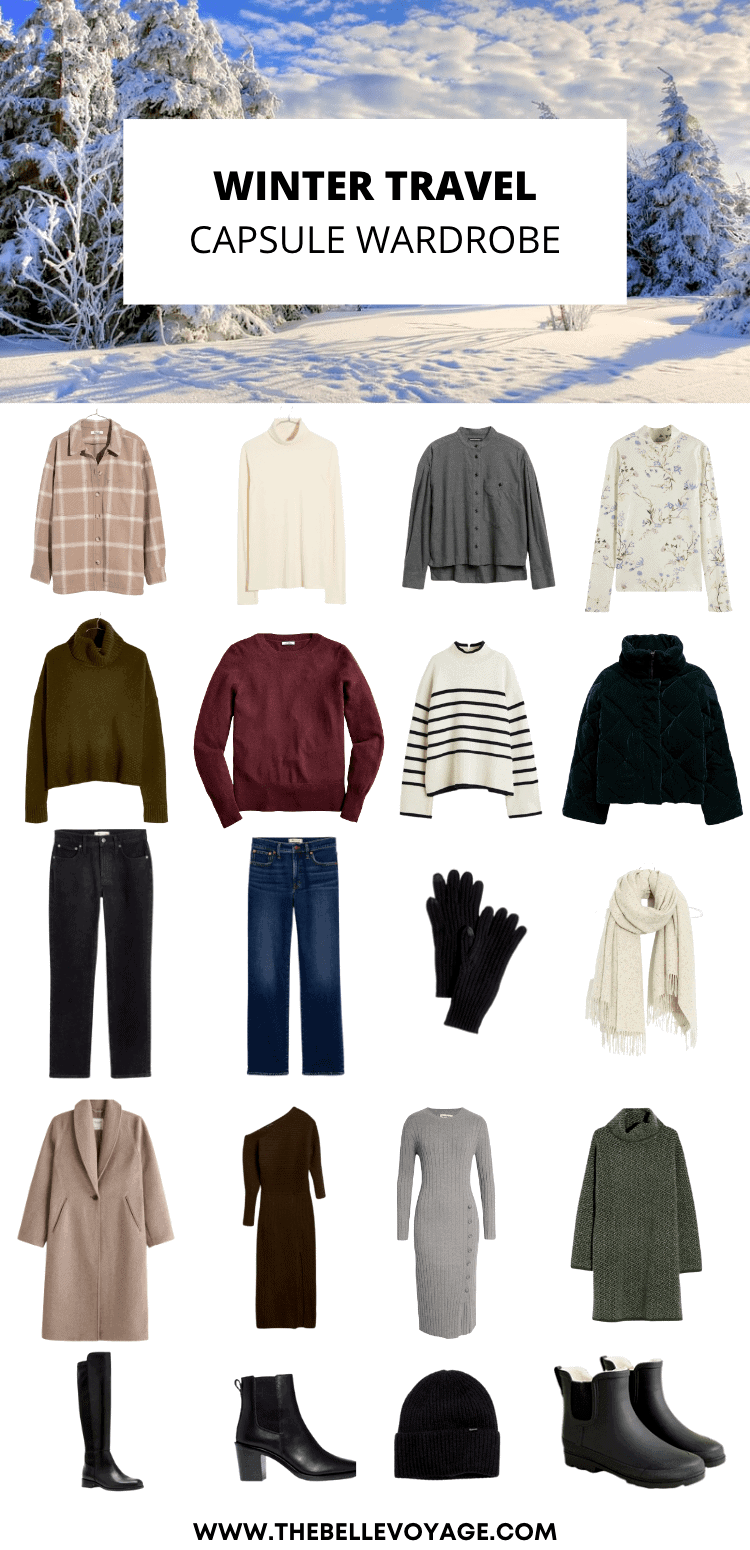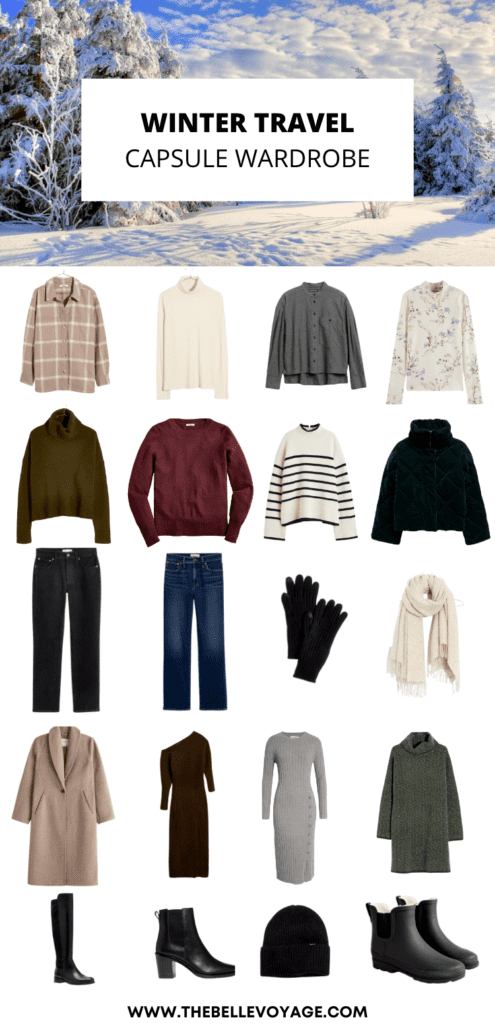 Planning Your Travel Outfits
Now that we've covered some basics, let's put together your outfit. The perfect travel outfit starts with some planning ahead, so let the planning phase begin!
Packing can be overwhelming, but it's so much easier to pack efficiently when you think through the outfits you actually need during your trip.
The best way to plan your outfits ahead of time is to think about your trip one day at a time. What activities are planned? Do you need special attire for any meals or events?
Next, check the forecast for your destination to make sure you have the right attire and accessories for the weather.
To help with this process, I've created a printable travel outfit planner. It's free to download and will make your outfit planning process about as simple as can be.
Simply enter your email address below, and the outfit planner will be on its way to your inbox!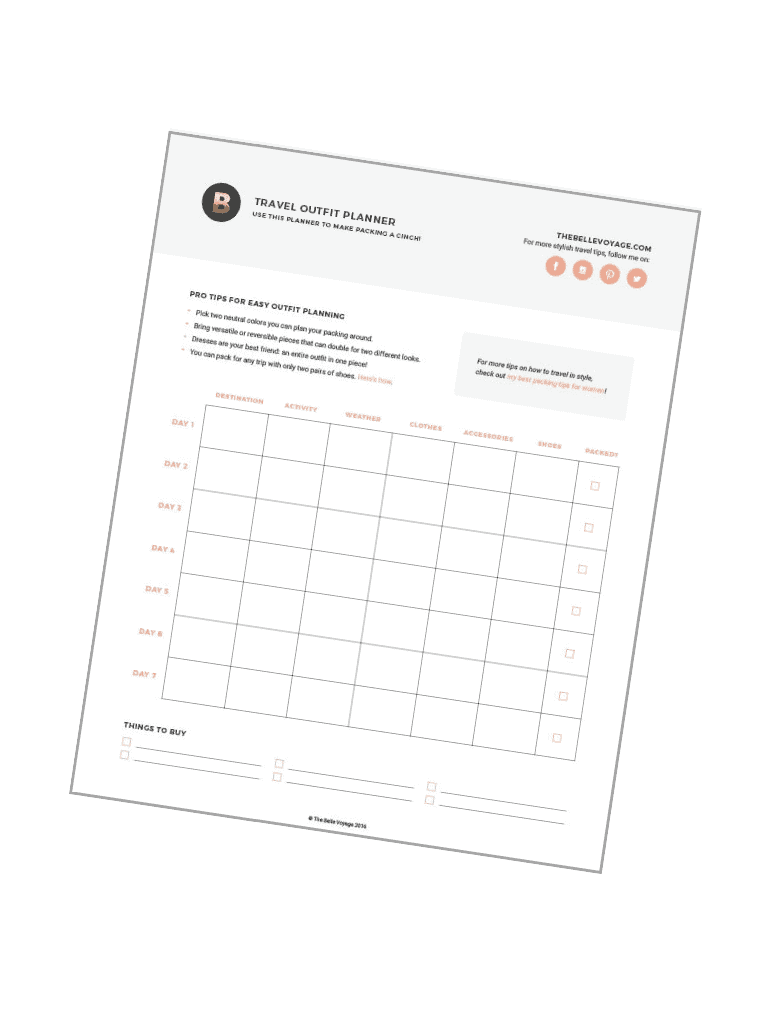 Love the planner? You'll also love my other printable travel planners, too!
Choosing the Right Clothing Materials
I like to choose travel clothes that will also work as part of my everyday wardrobe, but one of the things I keep in mind when I shop is fabric.
Choosing the right fabrics for your travel clothing is key to staying comfortable and looking your best, so breathable and wrinkle-resistant fabrics are always a priority.
Breathable Fabrics
Breathable fabrics like cotton, linen, or merino wool allow air circulation, keeping you cool in warm climates and preventing excessive sweating. They also help to wick away moisture, which will keep you dry and comfortable during activities like sightseeing or exploring.
Wrinkle-Resistant Fabrics
Wrinkle-resistant fabrics such as polyester blends or wrinkle-resistant cotton are ideal for travel, as they minimize the need for ironing, saving you time and hassle. Who wants to be ironing when they could be discovering a new city?
Fabric for Different Climates and Activities
For warmer climates, lightweight and moisture-wicking fabrics like bamboo or nylon are great options, while for cooler temperatures, consider fabrics with insulation properties like fleece or down.
Additionally, if you're engaging in activities like hiking or outdoor adventures, synthetic fabrics like polyester or nylon offer durability and quick-drying capabilities.
Ultimately, choosing travel clothing made from the right fabrics for the climate and activities ensures you'll stay comfortable, fresh, and ready for whatever your journey brings.
How to Create the Perfect Travel Outfit
Now that we know what to include in a cute travel outfit, let's take a look at how to create one. Here are some things to consider when selecting the perfect travel outfit:
Consider the weather
The weather is an important factor to consider when choosing your travel outfit. If you are traveling to a hot and humid destination, you want to wear breathable and lightweight clothes.
On the other hand, if you are traveling to a cold destination, you will obviously want to layer up and wear warm clothes. Make sure to check the weather forecast before you pack and choose appropriate clothes for the climate you're traveling to.
Comfort is Key (But That Doesn't Mean Boring)
Comfortable fabrics are key when it comes to choosing the perfect travel outfit. Opt for breathable and stretchy fabrics that allow you to move around easily. Fabrics like cotton, linen, and bamboo are excellent choices for travel outfits.
Comfort doesn't have to come at the expense of style, though. All of the outfits I've included in this post are made from travel-friendly fabrics. Woohoo!
Consider the length of your journey
The length of your journey is an important factor to consider when choosing your travel outfit. For shorter journeys, you can get away with wearing less comfortable clothes. However, for long-haul flights or road trips, you want to wear something that is comfortable and easy to move around in.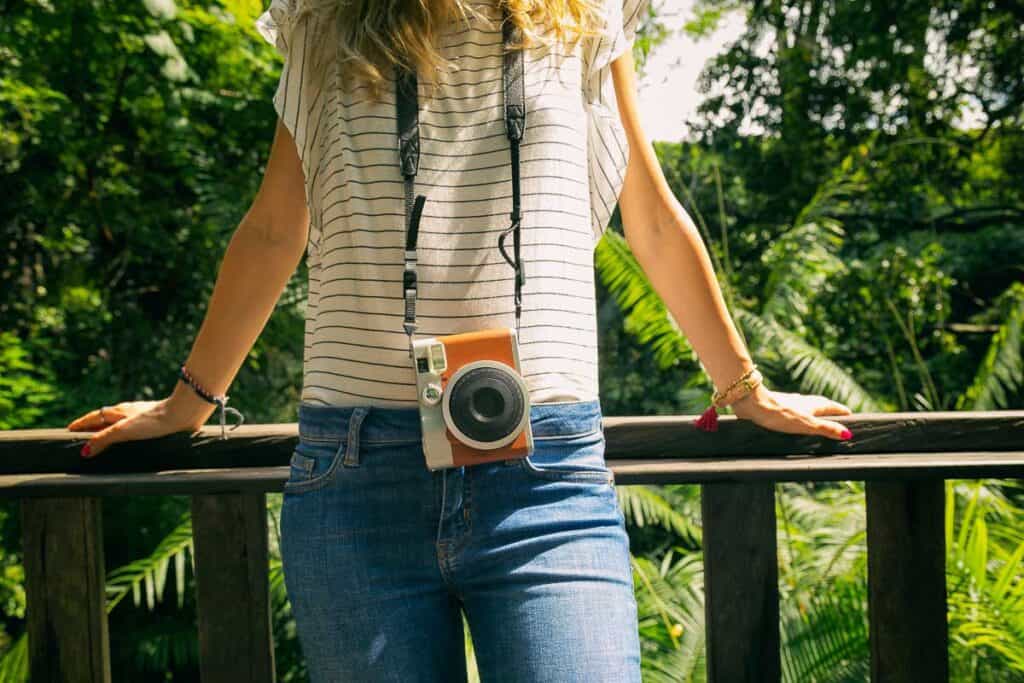 Comfortable Footwear Options
Choosing the right footwear to go with your travel outfits can be a real challenge. Shoes can be one of the hardest things to pack for a trip!
When it comes to travel footwear, the keys are versatility and comfort. You don't have to sacrifice style, though.
Choose comfortable shoes
In general, avoid wearing new shoes that haven't been broken in yet, as they can cause blisters and make your journey miserable. Make sure to take time to break in your new shoes before you travel. And on travel days, opt for sneakers or slip-on shoes that are easy to take on and off.
Consider your activities
When you're choosing travel shoes, think carefully about how you plan to spend your time while you're traveling.
If you will be doing lots of sightseeing and walking, wearing sneakers or walking sandals is a must. I've included a few of my top picks at the beginning of this post!
Packing Shoes for Travel
When you're packing shoes for travel, make sure to put them in a shoe bag to keep your clothes clean, and place them on the bottom of your suitcase. Stuff small items like socks and underwear inside your shoes to help them keep their shape in transit.
And finally, always wear your largest pair of shoes on the days you're actually traveling, so that they don't take up space in your suitcase.
Here's some recommended combinations of shoes to pack for different destinations. These combos will allow you to pack light while still having all the footwear you need to look stylish while you're traveling.
City sightseeing: Retro sneakers and dressy wedges (spring/summer) or ankle boots (fall/winter).
Beach vacation: Sneakers, waterproof sandals for the beach or pool, and dressy wedges.
Summer in Europe: Lightweight sneakers and walking sandals.
Outdoor adventure: Lightweight sneakers and comfortable sandals.
Business travel: Flat mules and simple ballet flats. Add a low heel if you want height.
Check out my travel capsule wardrobes (all linked below) to see how to put them together with different outfits.
Travel-Friendly Beauty and Skincare Essentials
I don't know about you, but if my skin looks off, it almost doesn't matter what sort of outfit I'm wearing – I still won't feel my best!
And there's nothing like travel to throw your skin out of whack. Dehydration from air travel and being out of your normal routine can quickly cause your skin to look dry and dull. And we can do better than that!
I have a specific travel skincare routine that I use to help keep my face looking fresh and healthy. I t's got everything I need, while still ensuring that I can fit my toiletries in a 1 quart bag to comply with TSA regulations for carry-on luggage.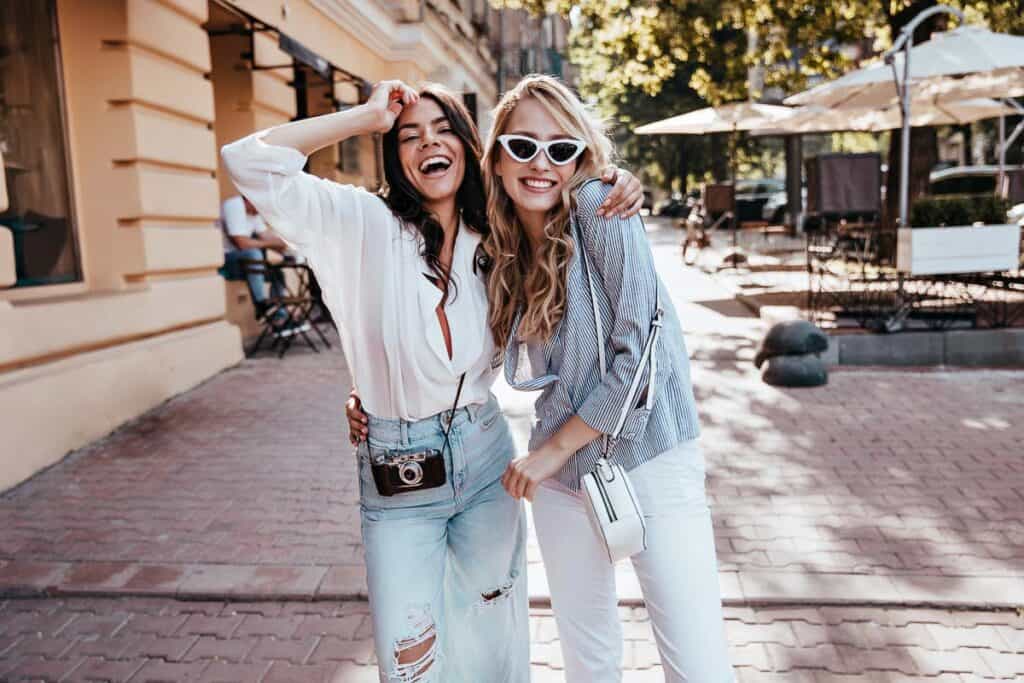 Travel Outfits for Multifunctional Use
The best travel outfits are ones that are versatile. By versatile, I mean that you should be able to style your outfit in different ways so that it can be worn for various occasions and activities.
To give you a better idea of what I mean, here's a few travel outfits that are ultra-versatile:
A black midi tank dress: wear it with sneakers, a denim jacket, and a baseball cap for sightseeing. Or pair it with heels, a clutch, and a leather jacket for the night.
Cropped jeans: pair cropped jeans with a t-shirt and cross-body bag for daytime exploring. At night, wear them with wedge sandals and a sleeveless top for a dressier look.
Button-up shirt: A button-up shirt will work perfectly as a warmer layer on an airplane, or it can be worn buttoned-up and front-tucked into pants, shorts, or a skirt.
To maximize your outfit versatility, I always recommend neutral colors, and bringing a variety of different accessories so that you can mix up your looks.
Versatility and Functionality
When selecting your travel outfit, prioritize versatility. Choose pieces that can be easily mixed and matched to create multiple outfits. This will help you pack lighter and make it easier to put together an outfit on the go.
Styling Travel Outfits
When it comes to styling tips for travel outfits, try to keep things as simple as possible. Everyone would rather spend time enjoying their trip than staring at a suitcase, wondering what to wear.
Mix and Match
To make styling your travel outfits completely foolproof, try to pack pieces that you can combine in multiple ways. If you can mix and match your outfits for travel, you'll be able to put together an outfit with your eyes closed.
It helps to pack mostly neutral colors, and complement your color palette with one or two accent colors. I also recommend limiting patterns in your pieces, to maximize the ways that each piece can be paired.
Instead of patterns, look for pieces with interesting details instead, such as a unique neckline, cool seams, or lace or ribbed fabric. These details will add interest without sacrificing versatility.
Add Layers
Layering your clothes is a game-changer when it comes to travel, and doing so is one of the best ways to pack light but ensure you have the outfits you need for your trip. It's one of my favorite strategies for packing because it comes with so many benefits.
First, layering allows you to adapt to varying temperatures and weather conditions effortlessly. By wearing multiple thin layers, you can easily add or remove clothing to regulate your body temperature and stay comfortable throughout your journey.
Whether you're on a freezing cold airplane or traveling across different climates, layering gives you the optionality you need to adapt.
Additionally, layering provides versatility in terms of style and fashion choices, as you can mix and match different pieces to create various outfits without overpacking.
Finally, layering can save precious space in your luggage, allowing you to pack lighter and avoid hefty baggage fees.
Tips for Layering Travel Clothes
When it comes to layering for different types of travel, there are a few tips to keep in mind. For colder destinations, start with a moisture-wicking base layer to keep you dry, followed by insulating layers such as sweaters or fleece jackets, and finish off with a waterproof and wind-resistant outer layer. This combination will keep you warm, protected, and ready to enjoy snowy adventures.
For warmer climates, opt for lightweight and breathable materials like cotton or linen for your base layer. Add a light sweater or a cardigan for cooler evenings or air-conditioned spaces. Don't forget to bring a lightweight, compact rain jacket in case of unexpected showers.
Dressing for Different Climates
One of the most common questions I receive from readers is: what should I wear on a trip that spans multiple climates?
It's definitely a packing conundrum. Trying to put together travel outfits for different climates can be a total head-scratcher. Here's a few tips that will help:
First, think in terms of pieces and layers, rather than outfits. If you choose the right pieces, you'll be able to combine them in different ways, and create way more outfits than you have pieces.
Second, choose your fabrics wisely, especially when it comes to pieces that are intended for colder climates. Stay away from bulky fabrics, because they'll take up way too much room in your suitcase. Instead, look for fabrics that provide warmth without extra weight, such as merino wool.
Another great piece in my packing rotation is my Patagonia Nano Puff jacket. It's so, SO warm, but rolls up into a tiny ball when I'm not wearing it.
Third, always wear your bulkiest items on your "travel" days. Sneakers, boots, heavier jeans, sweaters and jackets – these can all be worn while you're in transit to save you some space.
Accessorizing Travel Outfits
If you want to create different styles with your travel outfits, accessories are the way to go!
Accessorizing your travel outfit is one of the best ways to keep things fresh while still packing light. Pieces like scarves, belts, jewelry, sunglasses and hats can completely transform an outfit and give an entirely different look without adding bulk to your suitcase.
For example, a simple black t-shirt and jeans will look completely different if you style it with a baseball cap and a crossbody bag versus statement earrings and a clutch. See what I mean?
Keep it simple
When it comes to accessories, less is more, so keeping it simple is usually the best approach. The most travel-friendly accessories are lightweight and versatile.
Belts, scarves, and statement earrings are a few of my favorite pieces to bring if I'm trying to pack light because they're lightweight and won't weigh down my suitcase.
Hats, sunglasses and other jewelry can also add the perfect amount of interest to an otherwise simple outfit. Just make sure that you only bring inexpensive sunglasses and accessories, in case something happens to them while you're on the go. And if you do decide to travel with fine jewelry, never put it in your checked bag!
Must-have Travel Accessories
I am planning a post about my favorite travel accessories, so stay tuned for more details in the future (and subscribe below to receive new posts by email)!
But for now, here's a sneak preview of some of my favorite ways to accessorize my travel outfits:
A convertible scarf: talk about versatile! Encircled's Chrysalis Cardigan can be worn 8 different ways, including as a scarf. I often wear it in its scarf era on a flight, and then I have an extra top, cardigan, and dress on my trip!
Packable hat: sun protection is a must, but nobody wants to carry around a hat at the airport (or potentially leave it on the plane). That's why I love this packable hat. I can throw it in my suitcase, and it'll save me from the sun, as well as those times when my hair should have been washed yesterday.
Faux diamond stud earrings: after losing an earring on a trip to Mexico, I went on the hunt to find realistic-looking diamond stud earrings that I can wear when I travel. I found these CZ stud earrings and immediately added them to my cart. They go with any travel outfit imaginable, and if anything happens to them while I'm traveling, I won't be heartbroken.
Choose the Right Bag
One of the travel accessories you'll use every day when you travel is a day bag, purse, or tote.
Choosing the right bag is important for travel. Opt for a bag that is lightweight, practical, and spacious. Make sure your bag has enough compartments to keep your belongings organized and easily accessible.
A backpack, tote, or cross-body bag are all great options, but here's a few suggestions depending on the type of trip you're taking:
A foldable Longchamp tote is chic and sleek, and folds up to be super-small when you're not using it. Great to pack if you plan to do some shopping on your trip!
Convertible purse: purses that have convertible straps are great for travel because you can wear them in different ways between day and night. This convertible purse is the perfect example!
I absolutely adore my Lululemon belt bag. It's perfect to pair with casual travel outfits and keeps my things secure.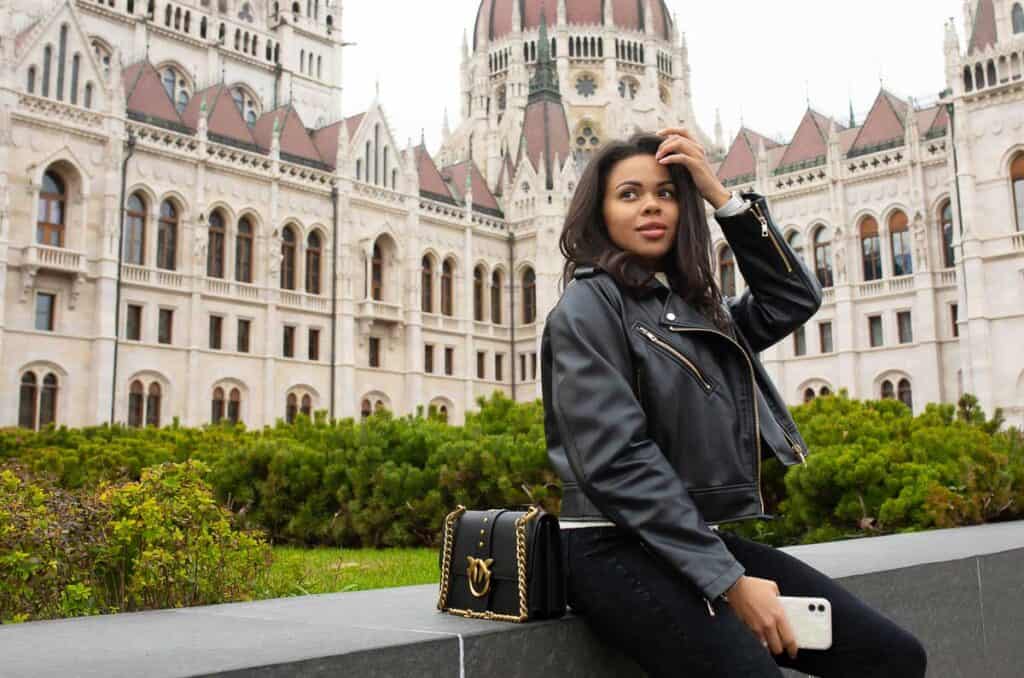 Sustainable and Ethical Travel Fashion Choices
Choosing sustainable clothes for travel is a great way to reduce our carbon footprint, minimize waste, and support ethical practices in the fashion industry. With so many sustainable travel clothing brands out there, it's easier than ever to make eco-conscious clothing decisions. Here's a few tips to keep in mind:
First, opt for high-quality, durable garments that are made to last, rather than fast-fashion items that quickly end up in landfills.
Second, choose clothing made from sustainable materials like organic cotton, bamboo, hemp, or recycled fabrics.
Third, pack versatile pieces that can be mixed and matched, reducing the need for excess luggage and minimizing resource consumption. Additionally, support local artisans and fair trade brands that prioritize ethical production and provide fair wages to workers.
By making sustainable fashion choices while traveling, you'll help contribute to a more responsible and environmentally friendly approach to fashion, benefiting both the planet you love to explore and the communities you visit.
Travel Outfits for Different Body Types
When it comes to travel outfits, the key is to feel confident and comfortable, regardless of your body type, so always dress in whatever way makes YOU feel your best. If you want to accentuate or divert attention from a certain body part, these visual tips will help with styling.
To highlight your waist, consider A-line dresses or skirts paired with fitted tops to highlight the waistline and create a balanced silhouette.
If you want to emphasize your curves, look for fitted dresses or tops with high-waisted bottoms. To draw attention away from the midsection, opt for empire waist dresses or flowy tops with wide-leg pants instead.
To create the illusion of curves, try to experiment with layering, such as wearing a belted jacket over a dress.
Lastly, for petite individuals, try monochromatic outfits or vertical stripes to elongate the body, and choose tailored pieces that won't overwhelm your frame.
Travel Outfits on a Budget
Affordability means something different to everyone, but here's a universal truth: you don't have to spend a fortune to find the perfect travel outfit.
In fact, as much as I love high-end brands, I don't recommend wearing expensive clothes when you travel. Why?
First, logo-heavy or obviously luxe clothing can make you a target, for theft (or worse). And we definitely don't want that.
Second, when you travel, you're probably much more active than you are at home. Sightseeing, public transportation, crowds, and eating on the go are a recipe for spills and snags, which are that much more heartbreaking when they happen to an investment piece.
To create stylish travel outfits without breaking the bank, try to stick to basic pieces that you can wear in different ways. You'll buy less, and spend less overall.
In addition, investing in classic pieces like a black blazer, a tailored pair of mid-rise jeans, or a versatile t-shirt dress means that your clothes will never go out of style.
And as much as it might sound counterintuitive, the cheapest clothes aren't usually a bargain in the long run because they'll fall apart quickly, or go out of style. So try to balance the price of a piece with how long you expect it to last.
These are the brands and stores I turn to again and again to shop for travel clothes, because they've got quality clothing without the Gucci price.
Madewell
Lululemon
Vuori
Patagonia
Marine Layer
Paige denim
Mother denim
Travel Outfits for Solo Female Travelers
Comfort and style are always important when it comes to choosing the right travel outfit, but if you're a woman traveling alone, it's also important to consider safety factors.
As a solo female traveler, I always try to choose clothes that allow me to blend in with the local culture, respect local customs, and avoid drawing unnecessary attention to myself.
Neutral colors and modest cuts (they don't have to be boring, I promise) can help you maintain a low profile, and clothing with hidden pockets or secure closures will help keep your valuables safe.
Additionally, dressing in layers allows you to adapt to different climates and cover up when needed. Pair comfortable shoes with good traction for long walks and exploration, and avoid wearing expensive or flashy jewelry that may attract unwanted attention.
Finally, carry a sturdy, crossbody bag or backpack to keep your belongings secure and always stay aware of your surroundings. By prioritizing safety in your travel outfit choices, you will be able to enjoy your solo adventures with more peace of mind.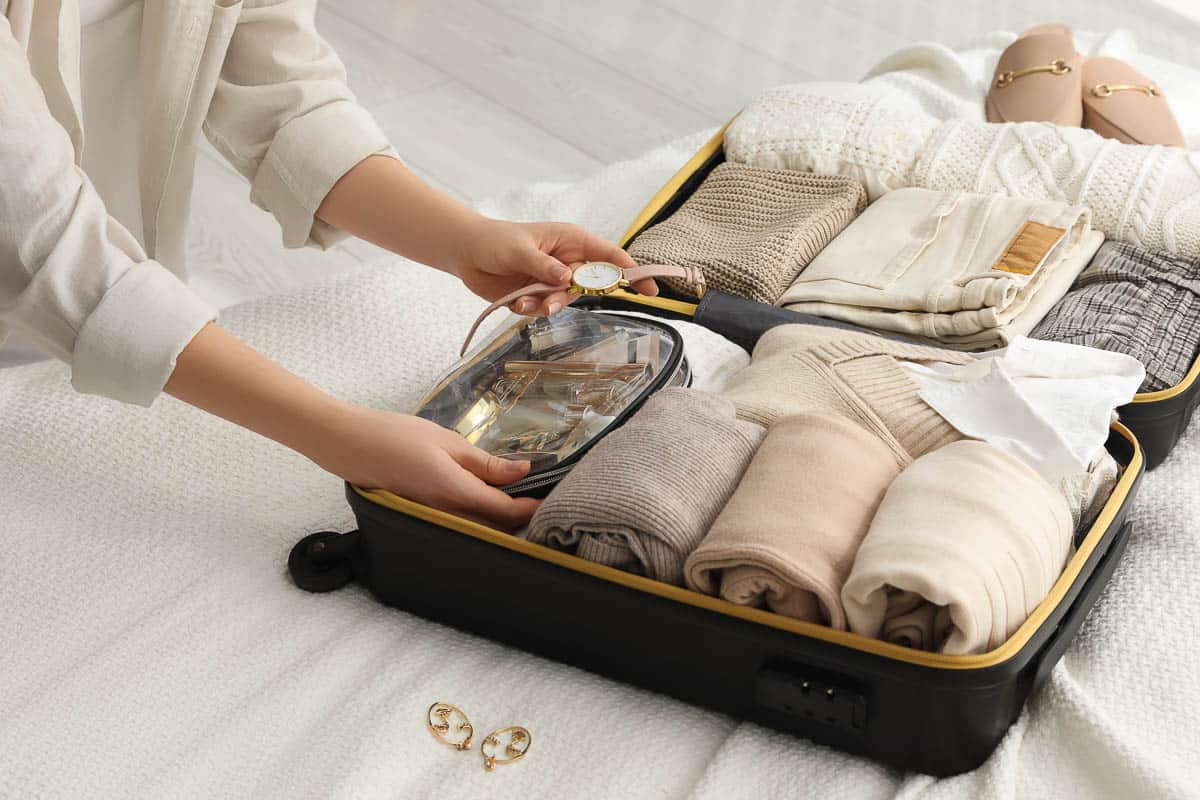 Packing Tips and Organization
When it comes time to pack your travel outfits, first create a packing list to stay organized, avoid overpacking, and don't forget anything at home.
The best way to pack a suitcase is to start by putting heavier or bulky items on the bottom to maintain balance and keep them from shifting while in transit.
Then, utilize the inside of your shoes to store small items like socks or accessories. Roll the rest of your clothes, working from largest to smallest. And it always makes sense to pack an extra foldable bag for dirty laundry or any souvenirs you might pick up on your trip.
And if you did WAY too much souvenir shopping, you can always use checked luggage to get everything home.
How to Organize Your Outfits and Accessories
One of the best ways to organize your travel outfits in your suitcase is to use packing cubes. Use one cube for each type of clothing: tops, bottoms, underwear, socks, etc.
You'll be able to fit so much more in your suitcase, and you won't have to spend precious travel time rummaging through your suitcase to find that blouse you're looking for.
Top Pick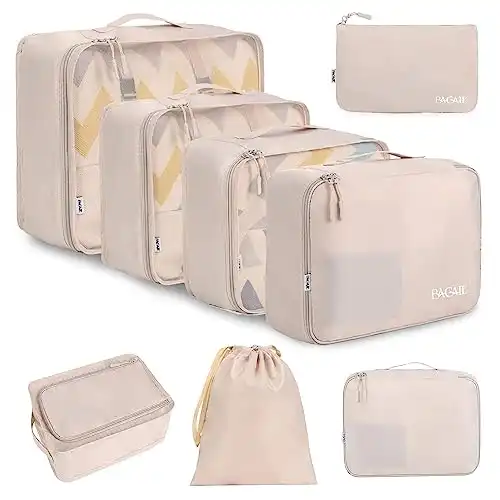 Set of 8 Packing Cubes
I love this set of packing cubes because there's a place for everything. The set includes a shoe bag, a toiletry bag, sock bag, an underwear bag, and even a drawstring bag for your dirty clothes. It comes in 13 different color options, too!
Shop Now
How to Pack Your Travel Outfits to Prevent Wrinkles
As you pack your suitcase, roll each piece of clothing before placing it in your packing cube or bag. You've probably heard this before, but there's a reason why: it works!
Rolling your clothes will prevent them from wrinkling while they're packed, and will also save space in your bag.
If you are packing pieces that are white or have delicate details such as lace or embroidery, roll them inside another item to give them more protection from any potential damage.
How Many Outfits to Pack
One of the questions I get asked most often is: how many outfits should I pack for a trip? It's a great question to ask, especially if you're trying to pack light. The answer: it's probably a lot less than you think!
For trips that are less than 7 days, plan on packing one outfit per day, and add 1-2 additional outfits for special activities or occasions.
For trips that are longer than 7 days, you can use the same rule of thumb, and just plan to do laundry at the end of each week.
Travel Outfit Maintenance
Nobody feels their best wearing dirty clothes, so keeping your travel outfits fresh and clean is essential for a comfortable and enjoyable trip. Here's a few tips to help you maintain your laundry routine while traveling.
Keeping your Travel Outfits So Fresh and So Clean (Clean)
Firstly, pack clothing made from wrinkle-resistant materials like polyester or merino wool to minimize the need for ironing.
Bring travel-size stain remover or wipes to tackle any unexpected spills or stains. Consider wearing layers, so you can remove and wash the topmost layer more frequently, extending the freshness of your clothing
Laundry Tips for Travel
If you have access to laundry facilities, opt for quick-drying clothing and do a small load of laundry every few days to avoid carrying excessive outfits.
For handwashing items, use a gentle detergent and roll your clothes in a clean towel to remove excess water before hanging them to dry.
Lastly, remember to pack a small, breathable laundry bag to separate dirty clothes from clean ones.
FAQs About Travel Outfits
What should I avoid wearing when traveling?
When traveling, it is best to avoid wearing clothes that are tight or uncomfortable. Also, avoid wearing clothing with offensive slogans or graphics. Lastly, avoid wearing excessive jewelry or accessories that may trigger the security scanners at airports.
Can I wear jeans when traveling?
Yes, you can wear jeans when traveling, but make sure they are comfortable and have some stretch to them. Avoid wearing jeans that are too tight as they can be uncomfortable for long journeys.
Can I wear leggings as pants when traveling?
Yes, you can wear leggings as pants when you're traveling. Opt for a longer shirt or sweater to wear over them to ensure that you're covered and comfortable.
Should I wear layers when traveling?
Yes, it is always a good idea to wear layers when traveling. This allows you to adjust your outfit to the temperature and makes it easier to take off or put on clothes as needed.
Can I wear high heels when traveling?
It is best to avoid wearing high heels when traveling, as they can be uncomfortable and difficult to move around in. Opt for comfortable flats or low heels instead.
Can I wear athleisure when traveling?
Yes, athleisure is a great option for travel outfits as it is comfortable and practical. Just make sure that your athleisure outfit is appropriate for your destination and activities.
What shoes should I wear when traveling?
Opt for comfortable shoes such as sneakers, mules, or flats.
Can I wear shorts when traveling?
Yes, you can wear shorts when traveling, but make sure they are appropriate for the destination and weather.
How can I make my travel outfit more stylish?
Use pieces in your everyday wardrobe that are also for suitable for traveling. Opt for versatile pieces, layering, and accessorizing with scarves or hats.
Conclusion
Choosing the perfect travel outfit is essential for a comfortable and enjoyable journey. When selecting your travel outfit, consider the weather, choose comfortable fabrics, prioritize versatility, and choose comfortable shoes. Whether you opt for a casual, chic, sporty, business, or beach vacation outfit, make sure that it ticks all the boxes for comfort, practicality, and style.