Printable Ultimate Packing Checklist for Travel Planning
This site uses affiliate links and I may earn a small commission when you use my links and make a purchase, at no extra cost to you. Many thanks for supporting this website!
I'm so very excited to share my brand new packing checklist with you! I think you're going to love each one of them. Why?
Well…..you know how it is before a trip. Your'e running around with about a zillion last-minute errands. You haven't even THOUGHT about what to pack. Your flight leaves in two hours. And then you realize that you still need to do laundry. By the time you leave home, you're a frazzled, half-crazed mess who is ready for a drink at the airport bar.
Not that there's anything wrong with that. But there's something to be said for a smooth departure, right?
So here's not one, not two, but THREE downloadable and printable travel planning resources. Subscribe below, and you'll get my Carry On Packing List, a Pre-Travel Checklist, as well as my Travel Outfit Planner. YES!!
Oh! And you can edit them and complete them right on your computer. In case you're like me and don't have a printer at home.
Need more help? Check out this countdown to travel for more info.
Pro Travel Tip: These days, travel can be more uncertain than ever. Check for any COVID-related restrictions at your destination, and never travel without travel insurance! I recommend SafetyWing, because they have flexible + affordable insurance plans, and also cover COVID-related impacts on your trip (not all companies do)!
Printable Carry On Packing Checklist
This is my most-requested list! This printable packing checklist has a list of everything you'll need for your next vacation or work trip. Aaaaaand it's specifically meant for carry on packing. That's right – no more checked bags! Save yourself those ridiculous checked baggage fees, and go carry on.
This checklist has everything you'll need to do just that! Subscribe below and I'll hook you up with all three printables!
For more tips on how to pack light (but stay stylish!), check out my best packing tips for women.
Traveling during the summer? You'll love this post on summer travel outfit ideas. I've got one for fall, too!
Printable Pre-Travel Checklist
Let's pretend you're leaving town in a week. Did you remember to renew your passport? Get a visa? Exchange money? The list is ENDLESS, and it's so easy to forget something.
Whenever I go out of town, there's a running list in my head of all the things I need to do ahead of time. I FINALLY put them all down on paper to make the countdown to your next trip soooooo much easier.
My Pre-Travel Checklist will have you set and ready to go – with nothing to worry about except having a fabulous trip.  Just sign up below, and all three of these checklists will be coming your way!
Printable Travel Outfit Planner
People always ask me how to avoid overpacking, and one of the best ways to do it is by planning outfits ahead of time. It's easy to do, especially if you have a good sense for what you'll be doing each day of your trip.
Planning outfits out ahead of time will help you identify pieces that you can wear in more than one setting. A few of my favorites are black skinny jeans and a leather jacket. You'd be surprised at how many different things I can pair them with! For more on my favorite packing essentials, check out this post.
Bonus: you can create a separate planner for every person in your group – these are especially perfect if you're packing for kids, too!
Just subscribe below and they'll all be heading right for you!
Pin it for Later!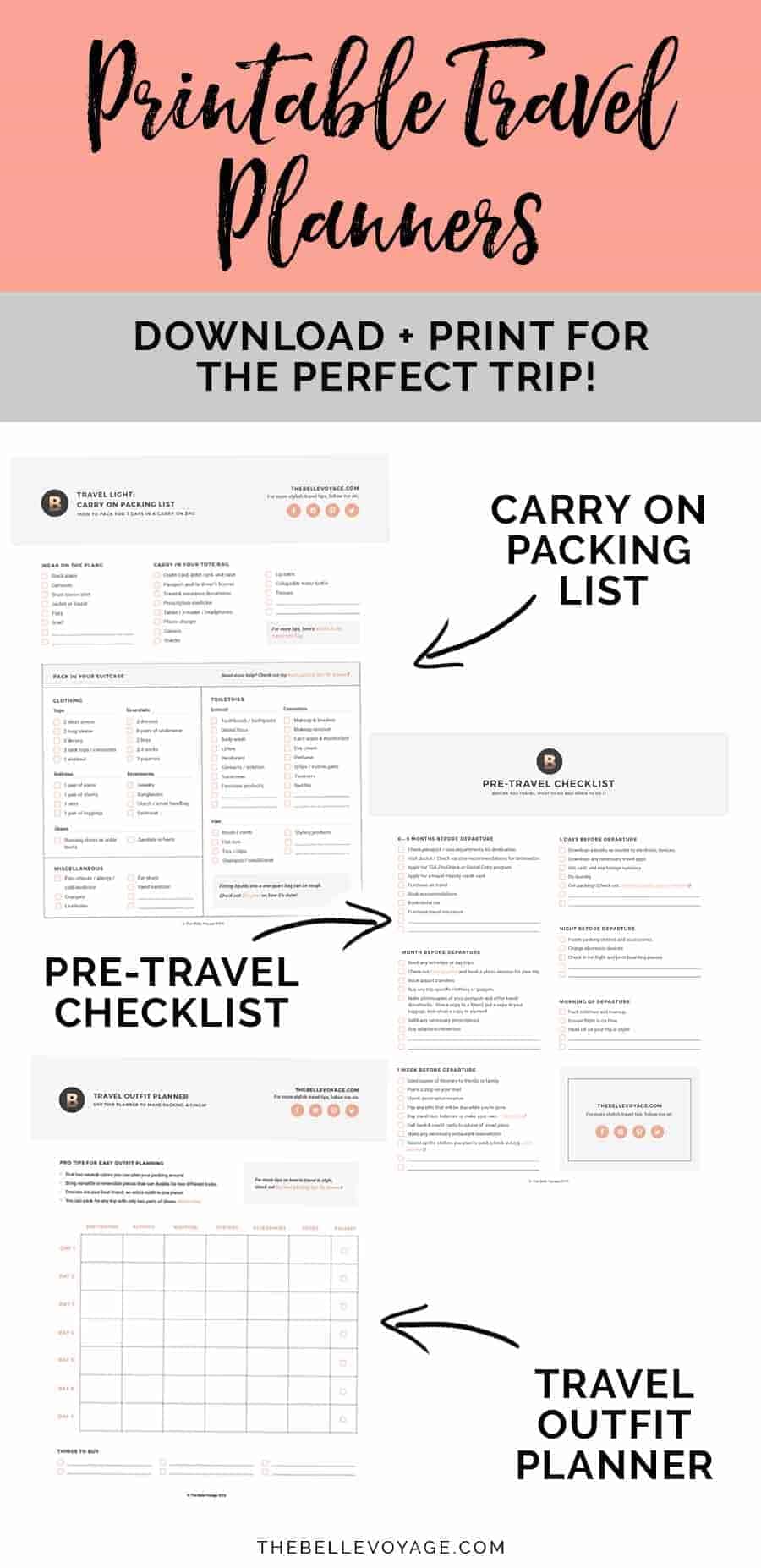 Wanna Learn to Pack a Suitcase Like a Boss?
Subscribe to download my three BEST travel planning resources:
Travel outfit planner
Pre-travel checklist
Carry on packing list