One Day in Bryce Canyon: The Perfect Itinerary
This site uses affiliate links and I may earn a small commission when you use my links and make a purchase, at no extra cost to you. 
If you're short on time but still want to see the best of Bryce Canyon National Park, I've got you covered! Bryce Canyon is one of the most scenic U.S. National Parks. Even if you only have one day in Bryce Canyon, you can still see most of the park's most popular sights. This Bryce Canyon one day itinerary is a step-by-step plan for how to do a day trip to Bryce Canyon.
You'll see all of the park's best sights, scenic viewpoints, and photo spots, but also avoid crowds and use your time efficiently.
I've also included recommendations on where to stay when visiting Bryce Canyon, as well as what to pack for a day trip to Bryce. Read on for all the details about what to do in Bryce Canyon in 1 day!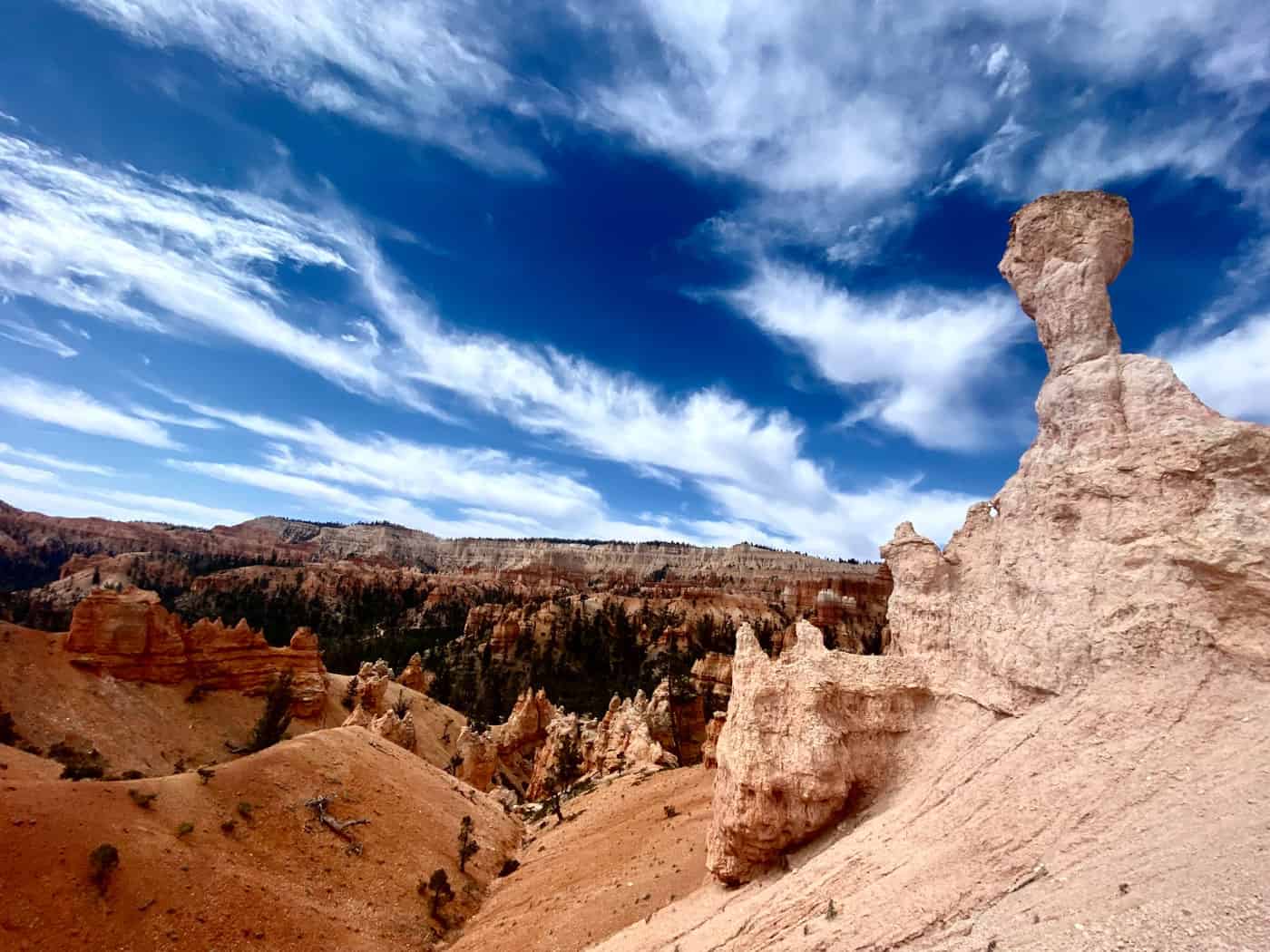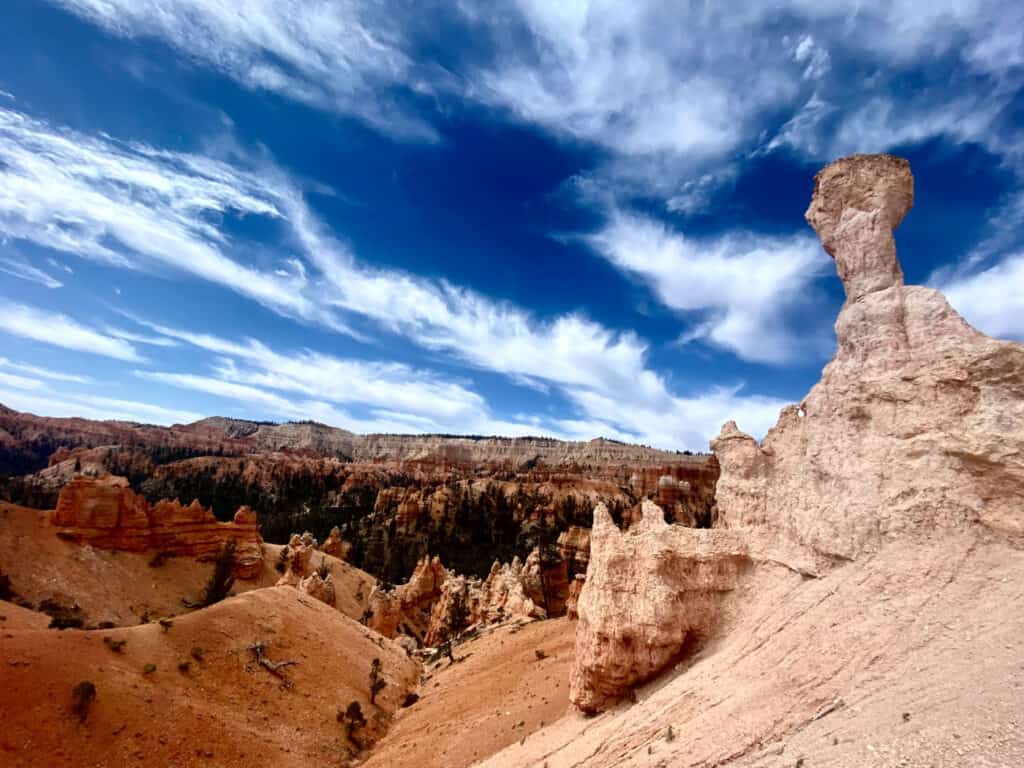 What to Do in Bryce Canyon in One Day
Here's your step-by-step guide for exactly what to do in Bryce Canyon in one day! As part of this day trip, you'll stop at all of the best viewpoints in the park, and also have time to do the park's most scenic hike.
This one day Bryce Canyon itinerary will take about 6 hours, depending on how fast you hike, and how often you stop for snacks and photos along the way.
So it's the perfect plan for a day trip, especially if you're driving a few hours to get to and from the park.
Is 1 Day Enough Time to Spend in Bryce Canyon National Park?
At only about 50 square miles, Bryce Canyon is one of the smaller National Parks in Utah. Most of the popular sights and viewpoints within Bryce are located quite close to one another.
In addition, there are several short hikes that pack a ton of scenery into a short distance.
For that reason, 1 day in Bryce Canyon is definitely enough time to visit the park, and feel like you've gotten to experience the best that the park has to offer, and also see the most photo-worthy spots.
You can absolutely see the best of the park in a day trip, without feeling rushed.
To help plan your trip, this guide will walk you through exactly what to see, step-by-step, and where to stop along the way!
How to Get Around Bryce Canyon
There are two options for getting around Bryce Canyon: by car or by shuttle. This itinerary assumes you're using your own car to get around, because it includes a stop at Natural Bridge.
Natural Bridge is located further into the park than the shuttle system goes, so if you want to stop at Natural Bridge, you will need to drive a car into the park.
There is one main road, Bryce Canyon Road, that runs through Bryce Canyon National Park. It runs north to south, with the park entrance on the north end, and goes about 17 miles south along the rim of the canyon.
In general, I recommend starting your itinerary by going all the way to the furthest point in the park you plan to visit, then work your way back.
This will help you to avoid both crowds and also left-hand turns.
Shuttle System at Bryce Canyon
If it's extra crowded (a holiday weekend, for example) or you didn't get an early start, you can also use the park's shuttle system to get around.
This itinerary can easily be done using the shuttle! If you use the shuttle, just skip the Natural Bridge stop below and start your itinerary at Bryce Point. I promise you'll still have an amazing experience.
Stop #1: Visitor Center
Enter the park and stop briefly at the Visitor Center. This is a great opportunity to chat with the park rangers and ask any questions you may have about your visit.
You can also watch a short film about the park, and find additional information about food and lodging inside and outside of the park.
While you're at the Visitor Center, you can also pick up a copy of The Hoodoo, the park's newspaper.
This publication is packed with current details and other information for park visitors, so I recommend grabbing a copy of it to bring with you during the day.
Stop #2: Natural Bridge
After the Visitor Center, drive into the park and go roughly 25 minutes to Natural Bridge.
Natural Bridge is an arch-shaped red rock formation, and the scenery is absolutely beautiful at this viewpoint.
Although Natural Bridge is beyond the reach of the park's shuttle system, I think it's worth the extra time to visit because it's such a unique sight. I'll let the photos speak for themselves.
There aren't any trails or restrooms available at Natural Bridge.
Note that if you have enough time, you can continue on further into the park and drive all the way down Bryce Canyon Road to Rainbow Point.
I haven't included that in this itinerary, since it is only a one day visit, but if you have some extra time, driving the final 5-6 miles of the park's main road would be a great addition to your trip to Bryce.
Stop #3: Bryce Point
After you've taken in the scenery at Natural Bridge, head back towards the Visitor Center, and make your next stop at Bryce Point.
Bryce Point is one of the most scenic viewpoints in the park, with a jaw-dropping view of the main amphitheater.
It is a fabulous place to watch the sunrise, but since this is a one day visit to Bryce, it's unlikely that you'll be watching a sunrise! Nevertheless, the views from Bryce Point are fantastic.
Stop #4: Inspiration Point
From Bryce Point, head back in the car for the 5 minute drive to Inspiration Point. Here, there are three different levels with a scenic overlook of Bryce Canyon's main amphitheater, from a slightly different angle than Bryce Point.
Visitors with limited mobility should stick to the lower level of the viewpoint – which is still spectacular.
If you're able, I recommend also doing the short 5-minute hike up to the middle and upper level viewpoints. Somehow, the views get even better!
Stop #5: Sunset Point
From Inspiration Point, it's an easy 30-45 minute stroll along the Rim Trail over to Sunset Point.
The walk along the Rim Trail is flat and easy to navigate. It's also an incredible view over the main amphitheater of hoodoos, so the scenery is not to be missed. If you prefer to drive, you can do that as well.
From Sunset Point, there is a fantastic view of Silent City, a tightly-packed group of hoodoos that is unlike anything else you'll ever see.
Stop #6: Navajo Loop-Queen's Garden Combination Trail
From Sunset Point, you can pick up the trailhead for the Navajo Loop-Queen's Garden combination trail.
In my opinion, this is the best day hike in Bryce Canyon! It packs the most scenery into a relatively short period of time.
Since you're only spending one day in Bryce Canyon, this itinerary has you doing the hike counter-clockwise so that you can be as efficient with your time as possible.
You may read recommendations elsewhere to do this hike clockwise – and if you like, you can certainly do so. Just follow these directions in reverse!
Regardless of which direction you go, this trail is approximately 3 miles long and will take most hikers between 2 and 3 hours to complete.
There are a few areas with steeper inclines, so visitors with limited mobility may want to skip this hike and just take in the scenery from the rim of the ampitheatre, where there is a wheelchair-friendly paved path.
While it's a short, moderate hike, many visitors stay on top of the rim, without going all the way down.
That results in very few crowds at the bottom of the trail, so doing this hike may give you a few minutes of the beauty of having the park all to yourself!
Just below Sunset Point is Thor's Hammer. Thor's Hammer is a very popular sight to see at Bryce because of its unique shape. Don't miss this!
From there, you'll walk through Wall Street and the Silent City, towards the bottom of the amphitheater and the canyon floor.
Follow the signs for the Queen's Garden Connecting Trail, head past Queen Victoria and up towards Sunrise Point.
Stop #7: Sunrise Point
You'll finish the Navajo Loop-Queen's Garden Combination Trail at Sunrise Point, which is another great scenic viewpoint within Bryce Canyon.
From Sunrise Point, be on the lookout for Limber Pines, where you'll see their precarious root systems that seem to stick out of the ground.
This unusual look is actually due to erosion of the canyon walls, but gives these trees an eerie, otherworldly feel.
If you left your car at Sunset Point, it's an easy 30 minute walk back to Sunset Point along the Rim Trail.
If you walked from Inspiration Point to Sunset Point, you can take the shuttle back to pick up your car.
Have you worked up an appetite? Now is a good time to feast on a picnic lunch!
If you didn't bring lunch with you, there are snacks available at The General Store near Sunrise Point. Grab something casual here, or continue on to the dining room at Bryce Canyon Lodge.
Tips For Visiting Bryce Canyon in One Day
If you're planning to visit Bryce Canyon in one day, here's a few important tips you should keep in mind.
Get an Early Start
If you're only spending one day in Bryce Canyon National Park, make sure to get an early start in the morning, especially if you're driving to and from Zion as part of your itinerary.
The most-visited sections of the park are relatively compact, and get more crowded as the day goes on.
Buy a National Park Pass Ahead of Time
If you're visiting Bryce Canyon, chances are that you're also visiting one of Utah's other National Parks.
If so, it makes sense to buy an America the Beautiful pass before your visit.
At $80, the pass buys you entrance to all of the U.S. National Parks in a 12-month consecutive period. It's a no-brainer!
And buying it ahead of time will save you the hassle and time when you're trying to enter Bryce Canyon first thing in the morning.
Use the Bryce Canyon Shuttle to Get Around the Park When It's Crowded
In the peak visitor months from early spring to early fall, the park operates a shuttle bus system which transports visitors throughout the park's most popular sights and trailheads.
This itinerary assumes that you're using a car to get around the park, because he first stop on this itinerary, Natural Bridge, isn't accessible by shuttle.
If the park is crowded, or you don't arrive early, I recommend using the shuttle to get around. Adjust this itinerary to skip Natural Bridge, and just begin the itinerary at Bryce Point.
Shuttle buses run every 15 minutes between 8am and 8pm during the high season. Park your car at Ruby's Inn outside the park, and catch the shuttle from there.
What to Bring on a Day Trip to Bryce Canyon
If you're visiting Bryce Canyon for a day, make sure you're well-prepared with the right packing list!
In addition to the usual hiking day trip essentials like a hat and sunscreen, here are a few things to make sure to bring to Bryce Canyon.
Reusable Water Bottle
It can get very dry and warm in the park, so make sure to bring a reusable water bottle with you for the day.
I recommend bringing a hydration daypack, so that you can keep your hands free for taking photos while you wander among the hoodoos.
There are plenty of water refill stations throughout the park.
Recommended Hydration Backpack
You'll need to bring plenty of water with you when you visit Bryce Canyon.
I recommend using a hydration daypack so that you can keep your water on your back, and keep your hands free.
I promise you'll be taking a million pictures when you visit Bryce, so keeping your hands free is a priority!
This pack is at a super reasonable price point, comes in a bunch of different colors, and also has smaller pockets to keep things like keys, snacks, and sunscreen.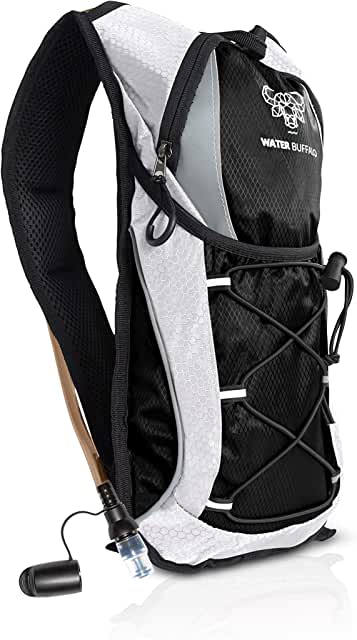 A Picnic Lunch and Snacks
The food and restaurant options within Bryce Canyon are pretty limited, so I definitely recommend bringing some snacks in your daypack.
Even better – plan on packing a picnic lunch. You'll have the benefit of eating anytime you're hungry, and also being able to enjoy your meal among spectacular scenery!
Clothing Layers and Comfortable Shoes or Hiking Boots
When I visited Bryce, it felt like I experienced a few seasons within a day!
The elevation of Bryce Canyon is 9,000 feet, so odds are good that you'll experience cooler temperatures at some point during your visit.
Be sure to bring a packable jacket or other clothes that you can layer as you hike.
In addition to layers, bring comfortable walking shoes or hiking boots. Some of the recommended short hikes in this itinerary have inclines that are a bit steep, and best done in sneakers or hiking boots.
I recently got these hiking boots and I love how lightweight they are!
A Guidebook
I also recommend bringing a guidebook with you when you visit Bryce Canyon, even on a day trip.
The reason why is that many areas in the park don't have cell phone service, so you won't be able to look up maps – or even (gasp!) this blog post.
I love this guidebook because it is incredibly detailed and also includes sections on Zion, as well as the other Utah National Parks.
Where to Stay When Visiting Bryce Canyon
Even if you're doing a day trip to Bryce Canyon, you might be in search of accommodations close to the park.
While the places to stay near Bryce Canyon are somewhat more limited, there are a few options worth checking out.
Be sure to book your accommodations well ahead of time, given the popularity of this park, and the limited number of places to stay near Bryce Canyon.
If you decide to stay closer to Zion and do a day trip to Bryce from Zion, I've got info on that below!
Guided Tours of Bryce Canyon in a Day Trip
If you prefer to take a guided tour of Bryce Canyon, there are several tour operators who will do all of the heavy lifting for you.
Check out these options that include either round-trip transportation, lunch and drinks. Make sure to check the pick up details, to ensure that the tour will pick you up from your chosen accommodations, whether those are closer to Zion or Bryce.
Scenic tour of Bryce Canyon: a guide will show you the park's highlights in a half-day tour
Full day tour of Bryce Canyon: this is a great option for a day trip to Bryce, as they will pick you up from any accommodations between Springdale (near Zion) and Bryce Canyon, and do the driving for you!
Audio tour of Bryce Canyon: this is a great, budget-friendly option to add on if you plan to drive yourself, or take the park shuttle. It's an audio guide that you can download (it'll work offline!) and everyone in your vehicle can listen to it as you explore the park. Highly recommended!
Visiting Bryce Canyon from Zion National Park
Is it possible to do a day trip to Bryce Canyon from Zion National Park? Absolutely!
To set expectations, there will be a fair amount of driving (approximately 4 hours total), but it is definitely possible to visit Bryce Canyon as a day trip from Zion. I've done it myself!
Many visitors decide to take a day trip to Bryce from Zion for a few reasons. First, there are many more accommodation options in and around Zion than there are near Bryce Canyon.
Secondly, Bryce Canyon is relatively small compared to the other National Parks in Utah. This means that you can see many of the park's highlights in just a short period of time.
Finally, the drive between Zion and Bryce is incredibly scenic, so the drive itself is far better than your average road trip, and becomes part of the adventure!
Visiting Zion In One Day
If you're short on time for all of the Utah parks, try pairing this itinerary with my itinerary for one day in Zion National Park.  You'll see the best that Zion and Bryce have to offer in just two days.
I've also written a complete guide to the Zion Narrows if you're planning to do that hike! 
One thing to note: I don't recommend trying to do Bryce AND Zion in a single day. You'll spend most of your time driving, and miss out on too much.
Pick one and spend your day enjoying it!
There are a lot of tours out there that include a visit to both parks in one day. Honestly – I would love for you to see both parks! But doing so in one day would shortchange you on the experience of both places. So I recommend just choosing either Bryce or Zion, and go for it. No matter way, you'll have an amazing day.
Now You're Ready to See Bryce Canyon in a Day!
Short on time to visit other National Parks? You'll love my Joshua Tree day trip itinerary!