The Perfect Joshua Tree Day Trip: A 1 Day Itinerary
This site uses affiliate links and I may earn a small commission when you use my links and make a purchase, at no extra cost to you. 
Planning a Joshua Tree day trip? Joshua Tree National Park is one of the most unique places to visit in Southern California. Situated above the Coachella Valley, the park rests at the intersection of the Mojave and the Colorado deserts. The park's landscape is almost otherworldly, with gigantic boulders, cholla cacti, and of course the park's namesake, the Joshua Tree itself. If you have one day in Joshua Tree, I've put together the perfect 1 day Joshua Tree itinerary that covers the park's best highlights and viewpoints!
Whether you're doing a day trip to Joshua Tree, or visiting the part as part of a longer weekend getaway, this guide will walk you through a step-by-step plan for how to spend your time. After you're done reading this guide, you'll know exactly what to do in Joshua Tree in one day!
Whether you're spending one day in Joshua Tree as a day trip from San Diego (you could add it to this 3 day San Diego itinerary), LA (add it to these 2 days in Los Angeles), Temecula, or Palm Springs, or just as part of a longer weekend getaway to the desert area, you're in for an incredibly unique experience! As a local, I think Joshua Tree is one of the best road trips from San Diego!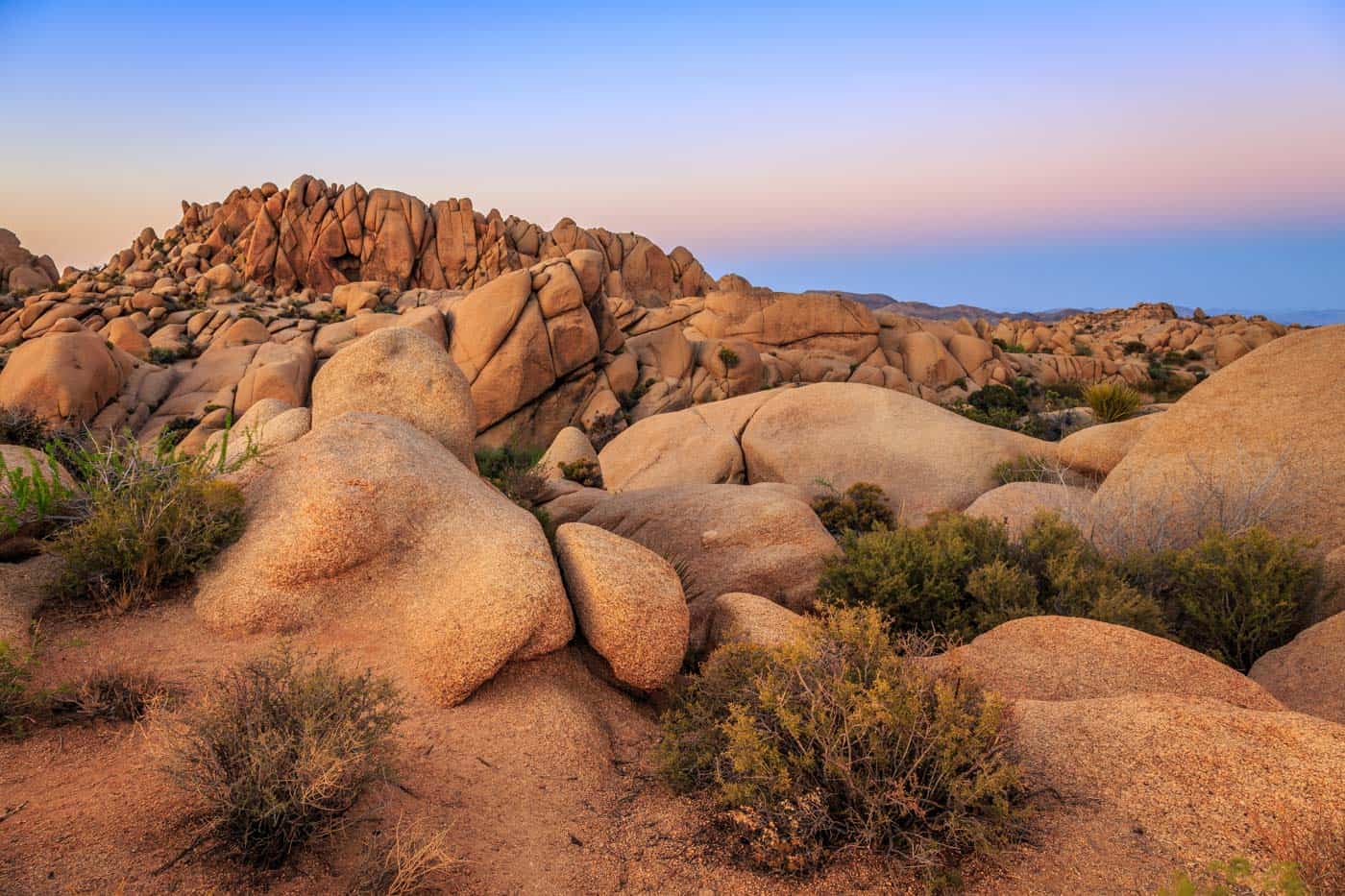 What to Do in Joshua Tree in One Day
If you only have one day in Joshua Tree, you're probably trying to figure out how to prioritize your time. I'm here to help! This 1 day Joshua Tree itinerary is perfect for park visitors who only have a short time to spend there, or are visiting Joshua Tree as a day trip. I've put together this step-by-step guide to help you navigate Joshua Tree's best sights, viewpoints and day hikes, all in just one day.
Is One Day Enough Time to Visit Joshua Tree?
If you only have 1 day to spend in Joshua Tree, you might be wondering if that's enough time to see the park, or whether it is worth going. The answer? Yes!
Can you do Joshua Tree in a Day?
You can absolutely do Joshua Tree in a day. While Joshua Tree is a vast geographic area with miles and miles of backcountry to explore, many of the park's most popular sights are easily accessible by car or on one of many short hikes throughout the park.
While you could certainly spend months in Joshua Tree and still have plenty to explore, it's definitely possible to see the park's highlights in one day.
How to Get Around Joshua Tree National Park
If you're visiting Southern California, odds are good that you're planning to rent a car. The best way to get around Joshua Tree National Park is with a car. Joshua Tree National Park doesn't have a shuttle system that transports guests around the park, so a private vehicle is your only option for getting around.
In addition, Joshua Tree is incredibly spread out, so it's not really possible to walk between the main sights in the park. Instead, you will have to drive.
How to Spend One Day in Joshua Tree National Park
It's easy to see Joshua Tree in a day if you plan your route carefully.
There are three entrances to Joshua Tree National Park. In this itinerary, you'll enter from the south border of the park, just north of the 10 Freeway. This is an easy access point if you're staying in Palm Springs, and visiting the park as a day trip.
Throughout this 1 day Joshua Tree itinerary, you'll head north and west, making stops at the best viewpoints and hikes along the way. You'll then exit the park at the West Entrance station, near the towns of Joshua Tree and Yucca Valley.
This one day Joshua Tree itinerary will take about 7-8 hours to complete, depending on how fast you hike, and how often you stop for snacks and photos along the way.
Ready to go? Let's get started!
Joshua Tree Day Trip Itinerary
Stop #1: Cottonwood Visitor Center
Welcome to Joshua Tree National Park!
Enter Joshua Tree at the south entrance to the park, just north of the 10 Freeway. Drive a few miles in, and you'll see the Cottonwood Visitor Center on your right.
Make the visitor center your first stop so that you can pay the fee to enter the park, and display your permit. Read my tips below for how to save money on visiting Joshua Tree, and other U.S. National Parks!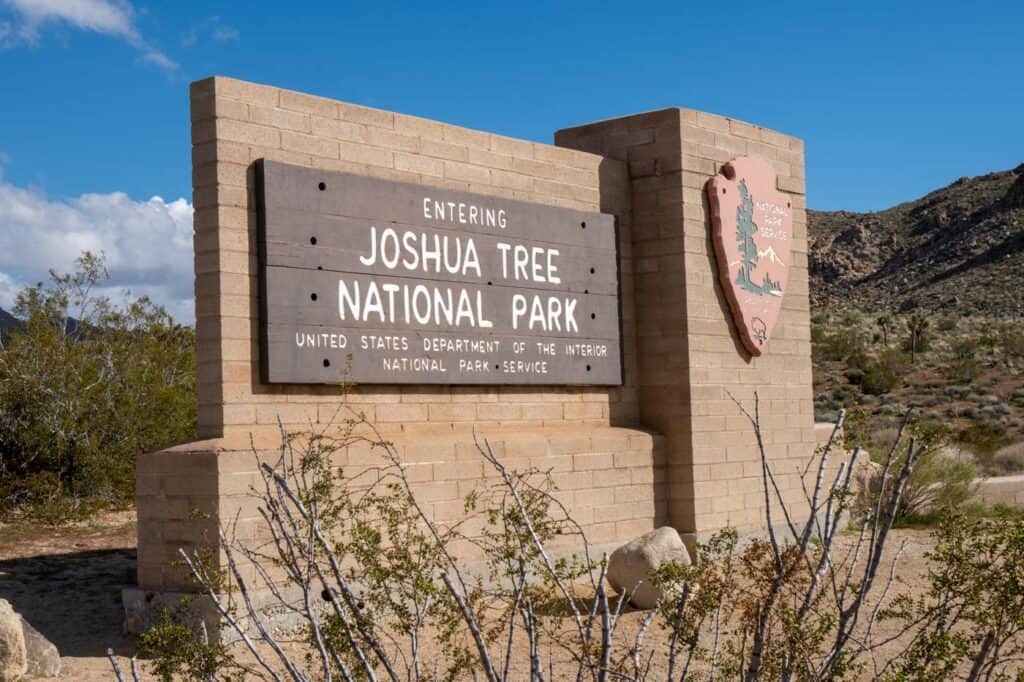 While you're at the visitor center, it's the perfect time to stop and chat with the park rangers about any questions you might have. They're also always happy to offer recommendations for what visitors should see and do. Finally, the park rangers are an excellent source of information for current park conditions. It's a good opportunity to ask if any trails or roads within the park are closed.
Before leaving the visitor center, make sure to pick up a park map to bring with you during your day.
Stop #2: Cholla Cactus Garden
Next, drive about 20 minutes towards the Cholla Cactus Garden (it's pronounced choy-ya), where you can park in one of the handful of parking spots nearby.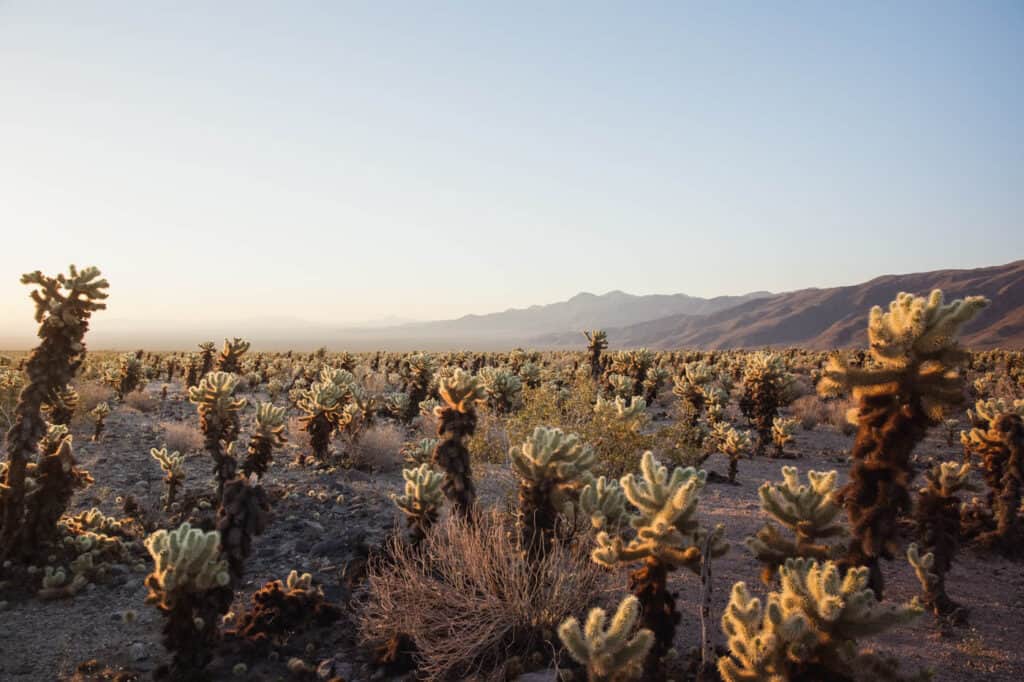 The Cholla Cactus Garden is one of my favorite places to visit within Joshua Tree! You can explore the garden via a nature trail that is 0.25 miles long, and winds through a vast field of teddybear cholla cacti.
The garden is located at a basin where the Colorado and Mojave deserts intersect, so there is a concentration of water in this location that allows the cacti to grow in large numbers. Be careful when you're near the cacti, as their spines are quite prickly!
If you can get to the Cholla Cactus Garden early in the morning while the sun is still low on the horizon, you'll be treated to a magical golden light that illuminates the cacti in a beautiful way. It's the perfect time of day to visit this spot in Joshua Tree, especially if you're interested in taking beautiful travel photos.
Stop #3: Skull Rock
After the Cholla Cactus Garden, continue on until you can turn left on Park Blvd towards Skull Rock. Park on the right hand side of the road as you approach Skull Rock.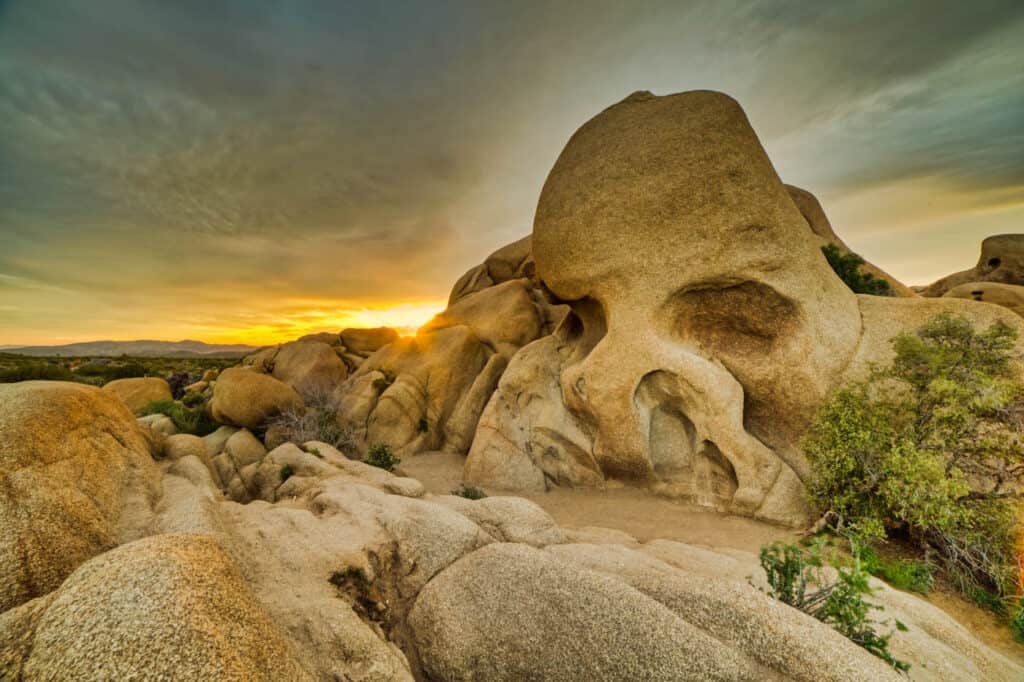 Skull Rock is one of the most popular sights in Joshua Tree, and is absolutely spectacular to see in person. You'll see that the rock formation certainly lives up to its name, given its resemblance to a human skull.
The hollowed sockets that appear to be eye sockets in a skull were formed over time when water settled into small depressions and eroded the rock.
If you wish, you can enjoy the short ~1.5 mile nature trail that winds through the rocks. Kids (and adults) will love climbing atop the giant rock formations, too!
Whether or not you hike the nature trail, you can expect to spend 1-1.5 hours exploring this part of the park, and taking photos of the boulders. It's just that scenic to look at!
The picnic area at nearby Split Rock is a perfect spot to enjoy lunch and snacks before continuing on to the next part of this itinerary, which will include the main hike in this day trip.
Stop #4: Lost Horse Mine Trail
After exploring the rocks, continue down Park Blvd and turn left towards Keys View, and then follow signs to the trailhead for Lost Horse Mine Trail.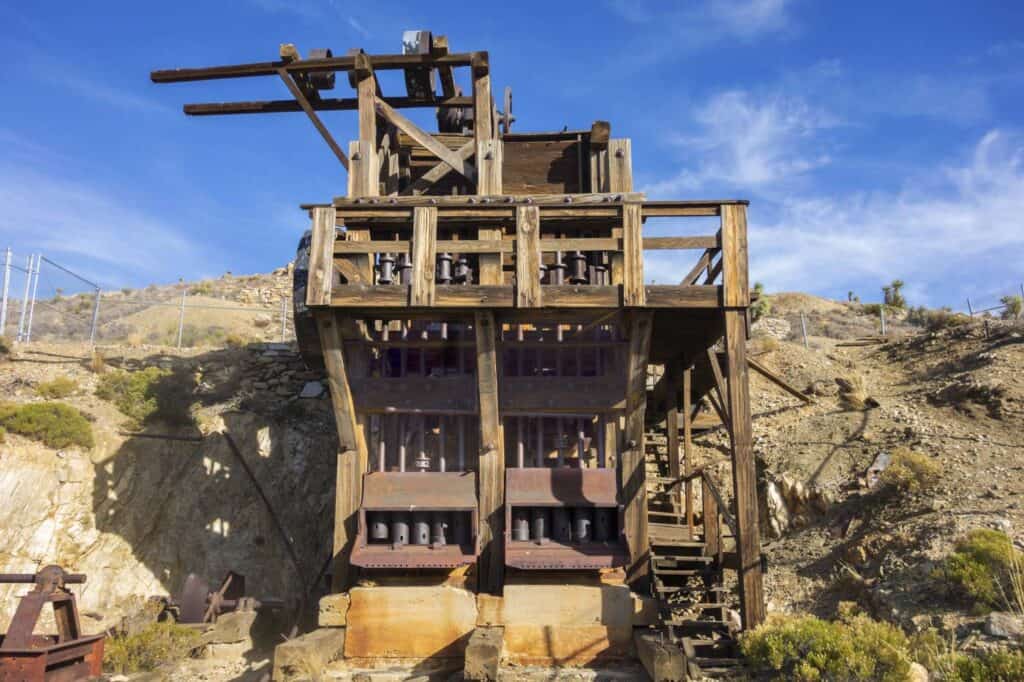 The Lost Horse Mine Trail is one of my favorite day hikes in Joshua Tree. The hike is considered to be moderate. It's about 4 miles long on an out-and-back trail and will take about 2-3 hours total.
This trail is unique because it leads to the Lost Horse Mine, one of the most successful gold mines in the park. A rancher bought the claim for $1,000 back in 1890. Before it closed in 1937, it produced over 10,000 ounces of gold and 16,000 ounces of silver.
As you hike, make sure to follow signs for the trail, and not the loop, which is a longer, 7-mile way to reach the same turnaround point as the out-and-back shorter trail. There is a restroom located at the trailhead, but no restrooms while you're on the trail.
Stop #5: Keys View Point
You've reached the last stop on this Joshua Tree itinerary!
After the Lost Horse Mine Trail hike, drive about 20 minutes down Keys View road to get to the Keys View lookout point. Keys View is perched right on the edge of the Little San Bernadino Mountains and looks out over the entire Coachella Valley. On a clear day, you'll be able to see all the way south to the Salton Sea.
Walk up the short, paved path to take a peek over the edge of the mountain and into the valley. It's a great spot for photos and to wrap up your 1 day in Joshua Park!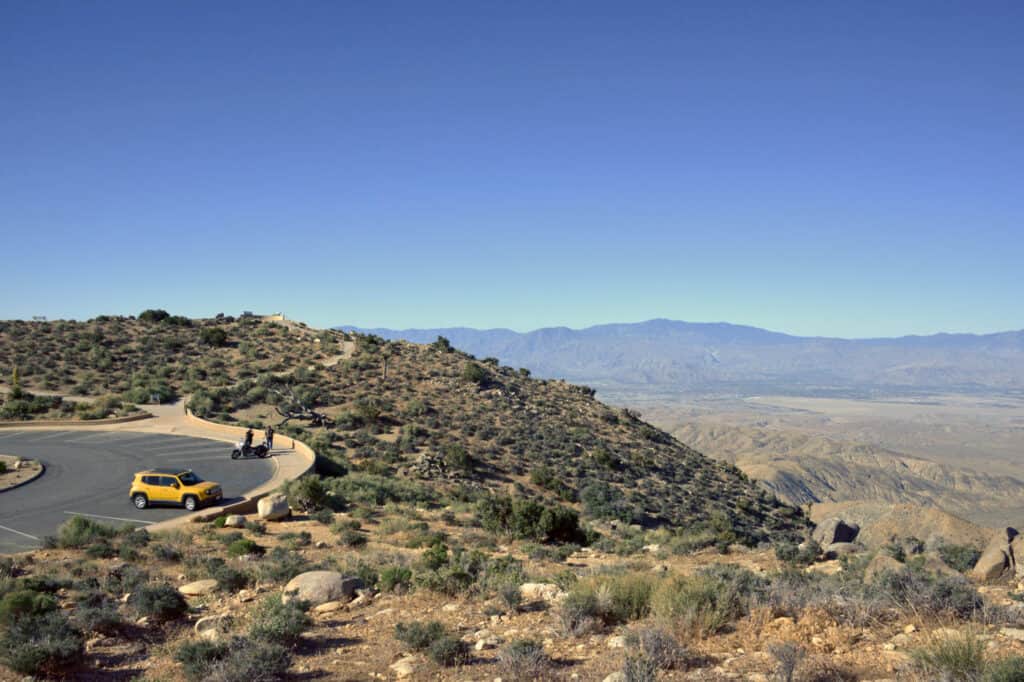 Take note: Keys View Point is a popular spot within Joshua Tree, but it also has very limited parking. Be prepared to circle the lot a few times before you find a spot, especially if you're visiting on a holiday weekend. I promise the view is worth it, though!
Exit The Park at the West Entrance Station
By now, you've probably worked up an appetite! If you're ready for dinner at the end of your day in Joshua Tree, I highly recommend stopping for dinner at Pappy & Harriet's on your way back to your accommodation.
A former biker bar with a rich history, Pappy & Harriet's is a great spot for all ages to enjoy BBQ after a day spent hiking. Check their calendar ahead of time to see if there are any live music shows playing the say you visit!
There are a few other unique and quirky places to stop in the town of Joshua Tree including the World Famous Crochet Museum. Seriously, it exists! And you'll love it.
Further into Yucca Valley, you can also check out my favorite store, The Wine and Rock Shop. Where you can find….you guessed it: wine. AND rocks. Oh, and also beer – they've got that, too. It's definitely worth a stop to pick up a souvenir from your trip.
Tips for Visiting Joshua Tree in One Day
If you're only spending 1 day in Joshua tree, there's a few things to know ahead of time. Keep these tips in mind to make for a smooth trip. In addition, these tips will help you make the most of your limited time in the park!
Get an Early Start to Your Day
If you only have one day to visit Joshua Tree, it makes sense to get an early start. You'll beat the crowds, which is advantageous because there is limited parking at many of the park's most popular spots. (Keys View Point, I'm looking at you!)
In addition, during the summer months, it is incredibly hot in Joshua Tree. So try to beat the worst of the day's temperatures by getting an early start.
If you don't get an early start in the summertime, I recommend taking caution when considering doing any day hikes in Joshua Tree. Temperatures climb into the triple digits, and it is advised not to hike between 10am and 4pm.
Check the Weather Forecast at Joshua Tree (Not Palm Springs!)
As you plan your day trip to Joshua Tree, it's important to know that the weather at the park can vary dramatically from the weather in the surrounding desert valley. Many first-time visitors to Joshua Tree assume that the weather forecast for Palm Springs is representative of the weather in the park, too. Wrong!
I made this exact same mistake the first time I visited Joshua Tree. While it was 70 degrees in Palm Springs, it was only 50 degrees in the park, and incredibly windy! Since the park is at elevation above the desert towns of Palm Springs, Palm Desert, and others, it is usually much cooler. When this happened to me, I was definitely not well-prepared! Because of that, I spent a lot of time warming up in the car in between sights.
Make sure that you check the weather in Joshua Tree, and not in Palm Springs! By doing so, you'll be better-prepared for your trip.
Buy a U.S. National Parks Pass Ahead of Time
The fee to enter Joshua Tree is $35 per car. The best value, though, is to buy an America the Beautiful Pass. An America the Beautiful pass is $80, but it buys you entry into all U.S. National Parks for a 12-month consecutive period.
So if you're planning to check out my perfect 3 day Yosemite itinerary, spend one day in Zion National Park, or maybe one day in Bryce Canyon in the coming year, an annual pass is your best bet! You can even buy the pass online ahead of your visit, and it'll save you some time the morning of your trip.
Plan Ahead for Restroom Stops
If you're visiting Joshua Tree, you're probably going to be guzzling water nonstop while you're there. Word of warning: there are very few restrooms in Joshua Tree. So try to make note on your park map where they are located so that you can plan ahead. Especially if you have little ones with you!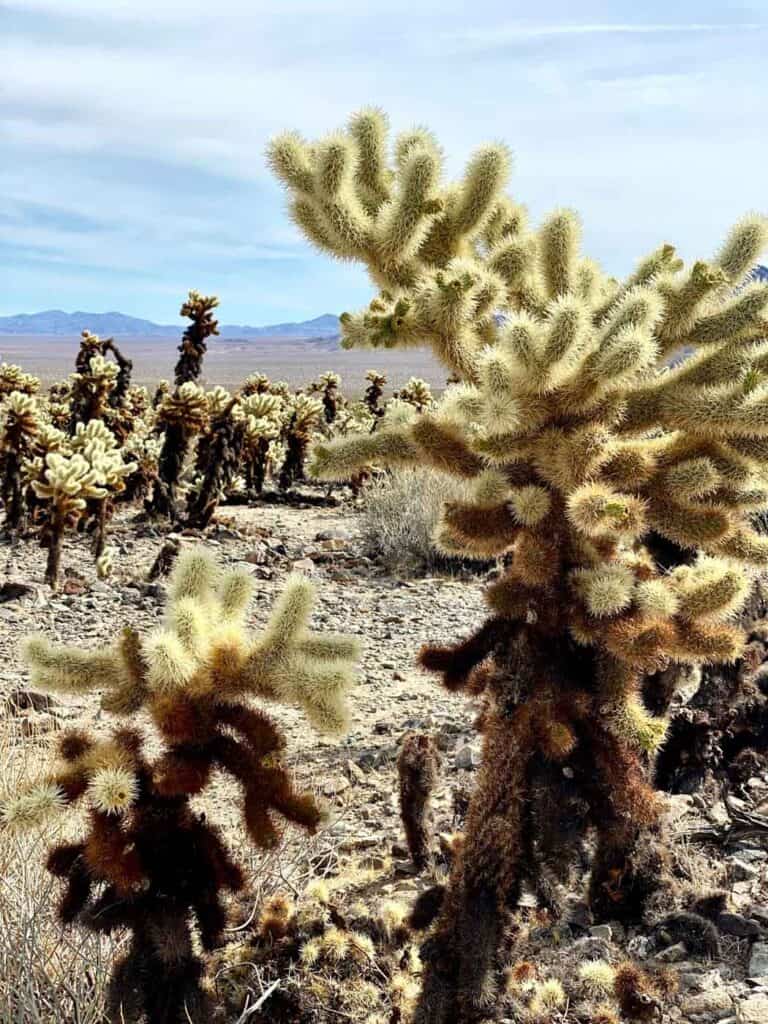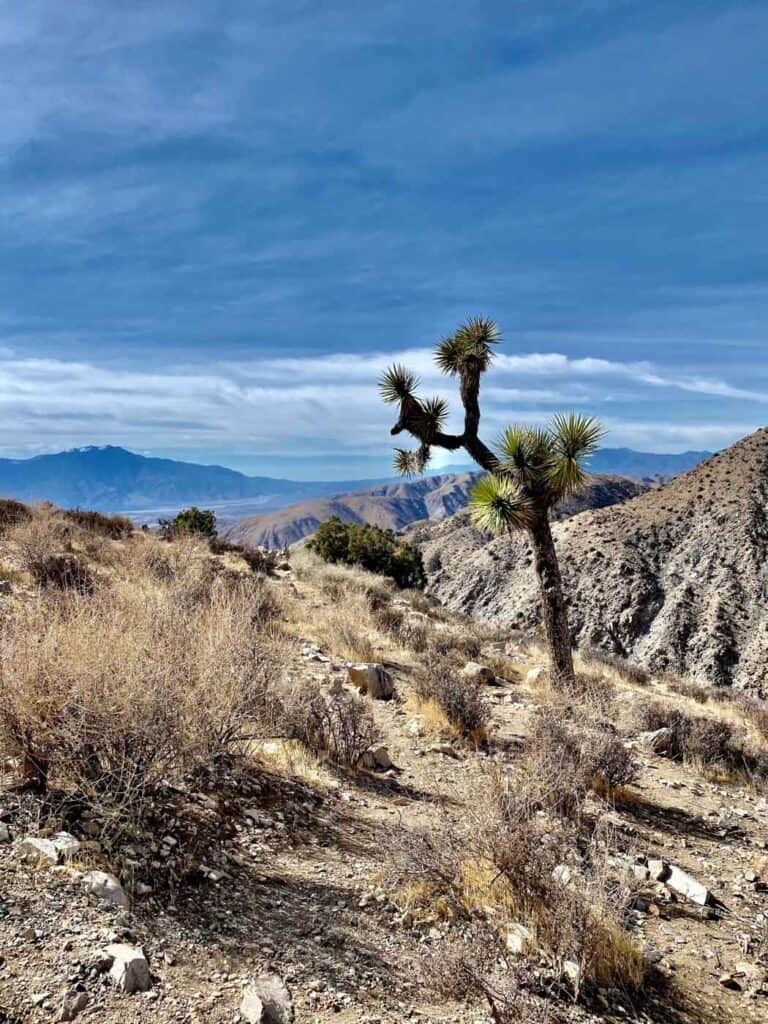 What to Pack for a Day Trip to Joshua Tree
Once you're inside of Joshua Tree National Park, you're in a very remote area. The park has very limited visitor services, so there are a few things you should make sure to bring with you for your one day in Joshua Tree.
Start with the basics such as a hat and sunscreen. Next, add these things to your Joshua Tree packing list:
Reusable Water Bottle
Bringing a reusable water bottle, or a hydration daypack, to Joshua Tree is a must! The park has limited water filling stations, so plan on bringing enough water for each person in your group to last you throughout the day.
If you're visiting Joshua Tree during the summer, bring even more water! There is very little shade throughout the park, and it is quite easy to get dehydrated.
Recommended Product: Hydration Daypack
Make sure to bring enough water for one day in Joshua tree! This Joshua Tree 1 day itinerary includes hiking, and it's important to stay hydrated throughout the day.
I recommend this hydration daypack because it holds 2 liters of water, which is enough for one person for a 3-4 hour hike.
It's also priced really reasonably, comes in a few color options, and has additional pockets to hold things like snacks and your car keys.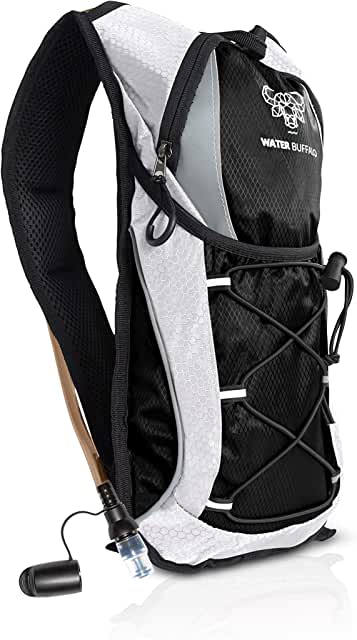 Picnic Lunch and Snacks
There aren't really any food options in Joshua Tree National Park. For this reason, you will need to make sure to pack a lunch and snacks with you when you visit. This is especially true if you're planning to do the day hikes that are part of this itinerary.
Clothing Layers and Comfortable Shoes or Boots
If you're visiting Joshua Tree during the spring, fall, or winter, make sure to bring layers of clothing to accommodate changes in weather. I love this packable jacket because it's lightweight and cozy, but can also be stuffed into a small daypack for easy storing when it gets warmer.
In addition to clothing layers, make sure to bring comfortable shoes or hiking boots to Joshua Tree. I can guarantee you'll want to do some short hikes, and maybe even scramble up some of the magnificent rock formations – and that'll be tough to do in sandals!
I just got these hiking boots and I love how lightweight they are. They come in a ton of different colors and the price point is super reasonable for the quality of the boots.
A Guidebook
What many visitors to Joshua Tree might not realize is that the park has virtually no cell phone service. Yup, it's one of those final few remaining cell phone black holes in California.
Without cell phone service, you won't be able to look up a map or directions while you're in the park. Don't panic, just plan ahead! I highly recommend bringing a guidebook with you that has information on the park's various sights and hiking trails. This way, you'll have a reference that you can turn to if needed during the day.
I like this guidebook because it also includes sections on nearby Palm Springs. So it's the perfect reference if you're visiting Palm Springs as part of your day trip to Joshua Tree.
Where to Stay When Visiting Joshua Tree
There are plenty of accommodation options near Joshua Tree. Whether you're looking for a luxury resort, a remote rental in the desert, or a place that can accommodate a group – there's something for everyone.
Most visitors to Joshua Tree stay in the Palm Springs area because it has the widest range of accommodation options. In addition, there are plenty of shops and restaurants nearby, so if you enjoy creature comforts, staying in Palm Springs is probably your best bet. Here are my recommendations for the best places to stay in Palm Springs when visiting Joshua Tree for a day:
If you're interested in staying in the town of Joshua Tree, your best bet is to find a rental property. Fortunately, there are plenty to choose from! Click below to search for properties in Joshua Tree:
Guided Tours of Joshua Tree
If you would rather take a guided tour of Joshua Tree, here are a few great options, including a couple that are day trips from Los Angeles and Palm Springs.
Now you're ready for your Joshua Tree Day Trip!