The Best Places to Stay In Zion National Park
This site uses affiliate links and I may earn a small commission when you use my links and make a purchase, at no extra cost to you. 
Are you planning a trip to Zion National Park? Planning your Zion accommodations ahead of time is important, but it can also be overwhelming! I've rounded up this guide with the best places to stay in Zion National Park to help you decide where to stay when visiting Zion.
And if you're planning a trip to Zion, check out all my Zion National Park tips for first-timers. It'll help you plan your trip, and you'll avoid all of the mistakes I made on my first visit to Zion! Finally, this guide focuses primarily on accommodations near Zion Canyon, because it is the most frequently visited part of Zion.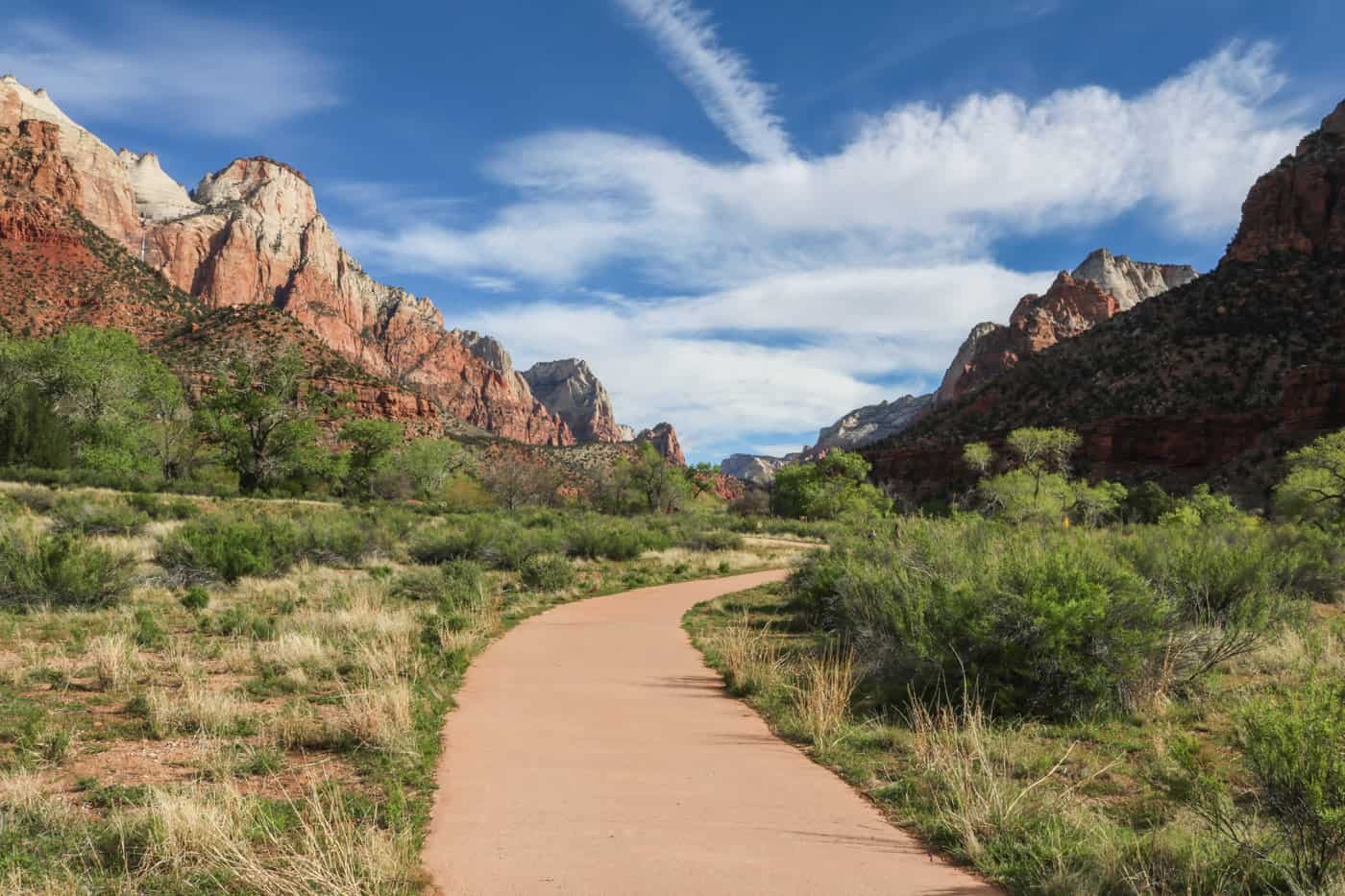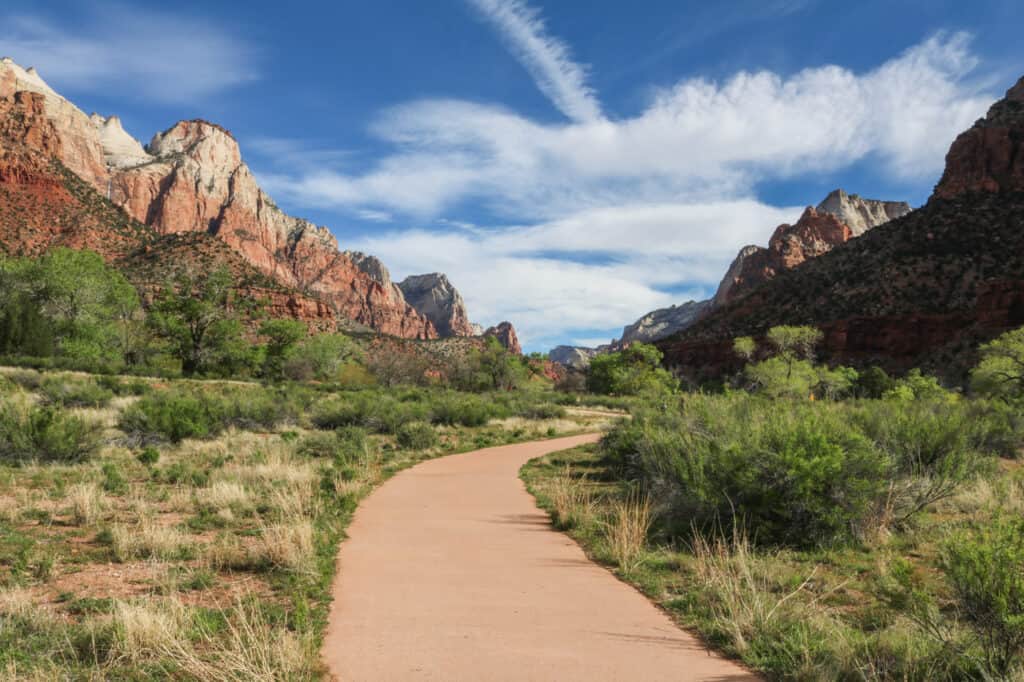 What to Consider When Choosing Your Zion Accommodations
When choosing your Zion accommodations, there are a number of things to keep in mind that will help you to choose the best place for you. In general, I recommend thinking about the kinds of amenities and facilities you need, how you plan to spend your time during your trip, and what your budget allows for.
What Facilities do you Need at your Accommodations?
First, an important factor in selecting your accommodations at Zion is what sort of facilities you're looking for in terms of where you stay.
For example, if you are traveling with kids, it might be preferable to stay somewhere with a full kitchen and an outdoor pool. Or maybe you'll be on a romantic getaway and you want a place with a hot tub overlooking the Virgin River! If you want to stay connected and stick to your daily routine while you're traveling you probably want a place with a fitness center and free wi-fi.
And of course, everyone wants free parking! No seriously, having free parking in Zion is a very good thing – more on this below.
All of these will factor into your choice. To review the full list of amenities available at each option I've recommended, make sure to check out the sites I've linked to for complete and the most up-to-date info.
What Are Your Daily Plans While Visiting Zion?
When choosing your Zion accommodations, think carefully about your day-to-day plans during your visit.
Do you want to be able to pop back to your hotel room for an afternoon nap each day? Do you want to get a leisurely start to your mornings? Maybe you're just visiting Zion to hike the Narrows and only need a place to crash for one or two nights. If so, make sure to check out my post on hiking the Narrows for beginners!
Or maybe you only have one day in Zion National Park and just want to be as close as possible to make the most out of your time there. Are you planning to cook your own meals, or do you want to be able to walk to a different restaurant each night?
Once you have a sense for your priorities, that will help narrow down the locations that will (and won't!) work best for you. If you're planning to do one long 10-hour day in the park, your best accommodation option might be quite different from a visitor who plans on spending only a few hours in the park at a time.
What's Your Budget?
Like any trip, budget will be a key factor in deciding where to stay when you visit Zion. Fortunately, there are a range of accommodation options close to and within Zion National Park that can fit any budget. From budget-friendly campgrounds to high end properties, there is something for everyone.
In general, you will find that the accommodation options in the town of Springdale tend to be the most expensive. This is because of their central location. Springdale is located immediately outside of the entrance to Zion, so it's a very convenient place to stay if you're visiting the park.
Camping is the least expensive option when it comes to staying in or near Zion. If you're looking for a hotel, here are more budget-friendly accommodation options in the surrounding towns, within a 20-60 minute drive to the park entrance.
The Three Areas Where You Can Stay When Visiting Zion
Let's start first with the general lay of the land. When you're visiting Zion, there are three areas where you can stay:
Inside Zion National Park
5-10 minutes away from Zion in the town of Springdale
20-60 minutes away from Zion in another town such as Virgin, La Verkin, Hurricane or St. George
Next, I'll walk through the pros and cons of staying in each area, and also give you my recommendations for the best places to stay in each.
1. Inside Zion National Park
If you want to stay inside Zion National Park during your visit, there are two different options. You can camp at one of the three campgrounds within the park, or stay in the sole hotel that is located inside Zion: The Zion Lodge. Here's the lowdown on each option.
Campgrounds Inside Zion National Park
There are three campgrounds inside of Zion National Park: The Watchman campground, the South Campground, and the Lava Point Campground.
Watchman Campground: Located in Zion Canyon and open all year-round
South Campground: Closed during the winter
Lava Point Campground: Located on Kolob Terrace Road, a 60-minute drive from Zion Canyon
If you're interested in camping inside Zion, the best place to start is on the Zion National Park campgrounds website. Make sure to plan your trip well in advance, as these campsites are incredibly popular, particularly during peak season.
And if you're interested in camping NEAR Zion, I recommend checking out the BLM St. George branch website as a starting point, as I will cover only hotels and rental properties as part of this guide.
Hotels Inside Zion
There is only one hotel located inside Zion National Park: the Zion National Park Lodge. While I haven't personally stayed at the Zion Lodge, the hotel has a nice restaurant and gift shop, in addition to its incredible location inside the park.
That said, if you stay at the lodge, you'll be a bit isolated from any other restaurants, coffee shops, or other things to do in Springdale or beyond. For some travelers, that might be just fine! Others may want to be closer to the amenities in Springdale.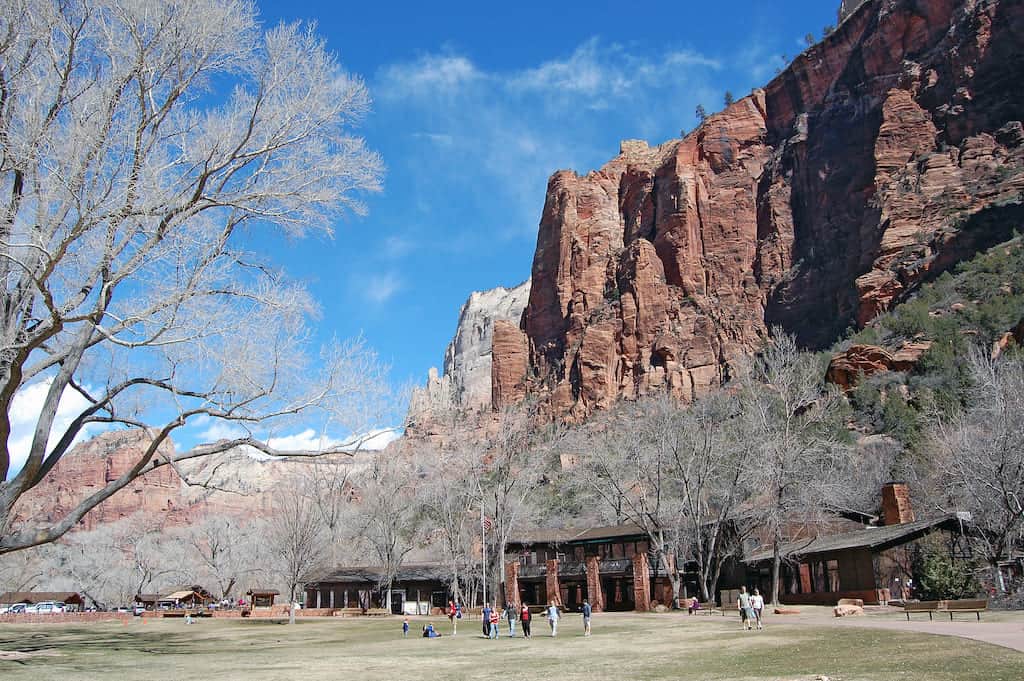 My Advice About Staying Inside Zion National Park
Whether you choose to camp or stay at the Zion Lodge, if you want to stay inside Zion National Park, you will need to make reservations REALLY far in advance. Like, stop reading this blog post and do it now.
Since accommodations inside Zion are quite limited, they book up very quickly. So the further in advance you can make your travel plans, the better your chances will be of getting a spot inside the park.
Is it Better to Stay Inside Zion or Outside the Park?
If you're trying to decide whether it is better to stay inside Zion, or outside the park – I'm here to help! Honestly, I don't think one is "better" than the other, and that it really just comes down to personal preference.
If you haven't visited Zion before, you might think that you HAVE TO stay inside the park in order to get the true experience, or that it will be terribly inconvenient to stay outside the park.
And neither one of those statements are true at all. There are actually so many more choices for accommodation outside of the park, that you are more likely to find something that fits your needs and budget in the town of Springdale or further out.
In addition, the park shuttle system makes it quite easy to get in and out of Zion Canyon. If you stay outside of the park, you can just use the shuttle system to get in and out of the park. So staying outside of the park doesn't really add incremental logistics to your day.
When I first traveled to Zion, everything inside the park was booked. I totally panicked and wondered if I should still even go! Of course, I was completely wrong! Staying outside the park is still quite convenient, and you'll have no problem getting to and from the main sights in Zion Canyon.
Is it Worth it to Stay Inside Zion?
During the peak spring – fall season, cars aren't allowed to drive inside Zion Canyon, and all visitors must use the shuttle system to get around. This means that whether you stay inside the park, or outside, you will have to use the shuttle system to see most of the park's highlights. So personally, I don't think that staying inside the park really saves you much in terms of time or logistics.
If you DO want to stay inside Zion, but there are no reservations available at the campgrounds or Zion Lodge, don't panic! And don't let this deter you from visiting. I promise that staying outside of Zion will not "ruin" your trip in any way whatsoever.
In fact, I actually prefer to stay outside of Zion, in the town of Springdale. It's super-duper easy to access the park, and I enjoy being able to walk to breakfast and dinner in the town. It's also easier to find accommodations that have what I'm looking for in terms of room types and amenities outside of Zion, versus inside.
2. Springdale (5-10 Minutes from Zion Park Entrance)
The best place to stay when visiting Zion is in the town of Springdale. This is primarily because of its great location. Springdale is located directly outside the entrance to Zion National Park, so it's the most convenient area to stay during a trip to the park. Many accommodation options in Springdale are just a few minutes walking distance to the Zion park entrance.
In addition, the Springdale shuttle runs through the town of Springdale, making various stops along the town's Main Street. So if walking is too far, you can simply catch the shuttle, which will take you directly to the entrance to Zion. Easy peasy!
Springdale has a wide range of accommodations, including hotels, Airbnb's, and Bed & Breakfasts, so you're bound to find something that meets your needs.
Pros For Staying in Springdale
When visiting Zion, staying in Springdale is a great area to stay because you are right outside the park entrance, so going between the park and your accommodations is a cinch. At the same time, you are also located within walking distance to restaurants, boutiques and galleries. So it's a very central location if you want to be able to eat out easily, pick up any supplies, or just explore the town.
Staying in Springdale is best for: pretty much anyone visiting Zion! Staying in Springdale is great for couples, Groups, families with smaller children, or travelers who want flexibility to return to their accommodations mid-day.
Cons for staying in Springdale
The only con for staying in Springdale is that it is the most popular place to stay when visiting Zion, so it tends to book up early! Accommodations in Springdale also tend to be more expensive than staying further outside the park.
If you decide to make a last-minute trip to Zion, or you aren't able to find anything in Springdale that fits your budget, you should consider staying further outside the park. There are lots of accommodations within a 15-30 minute drive of Zion.
Best Accommodations in Springdale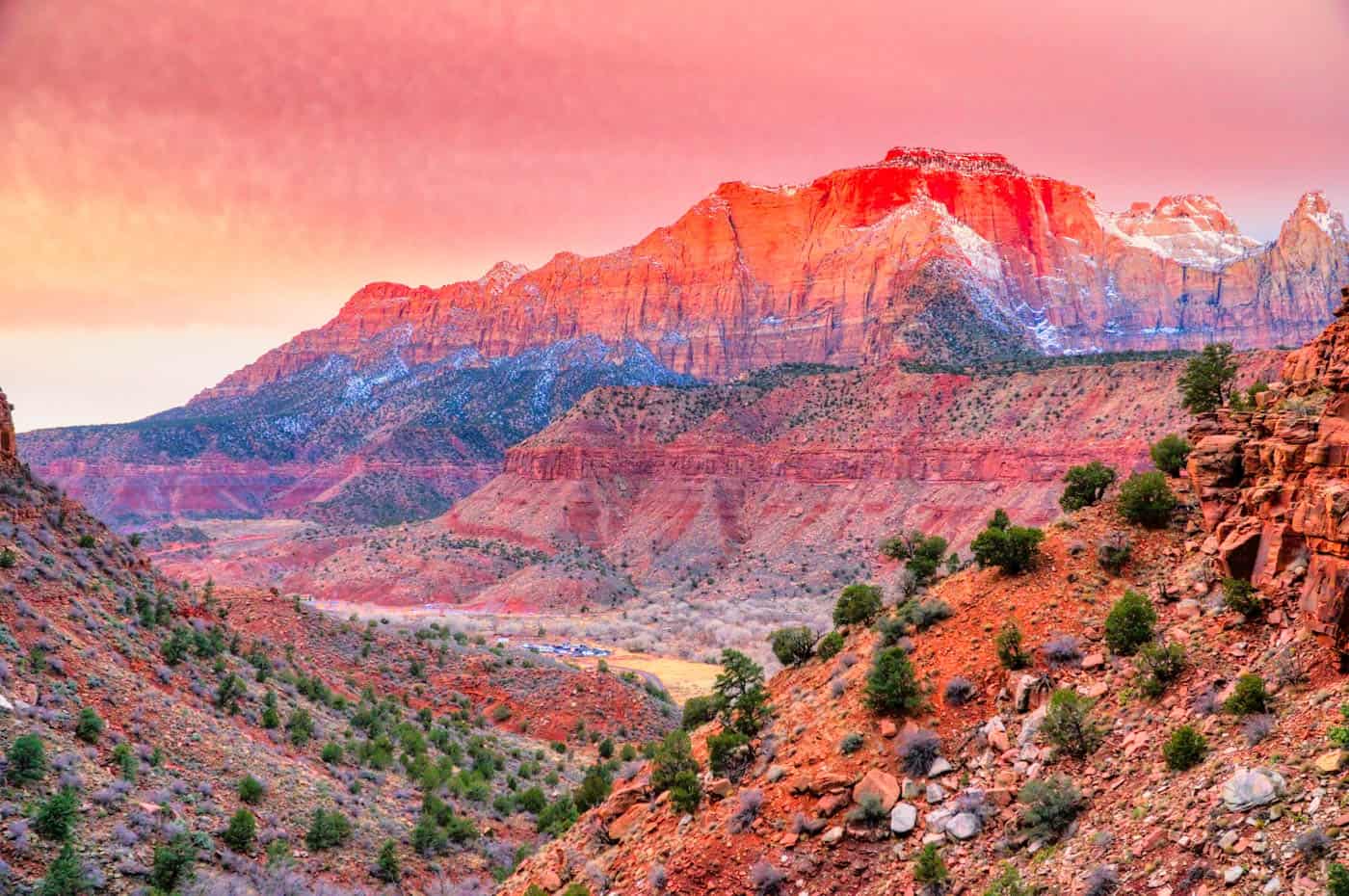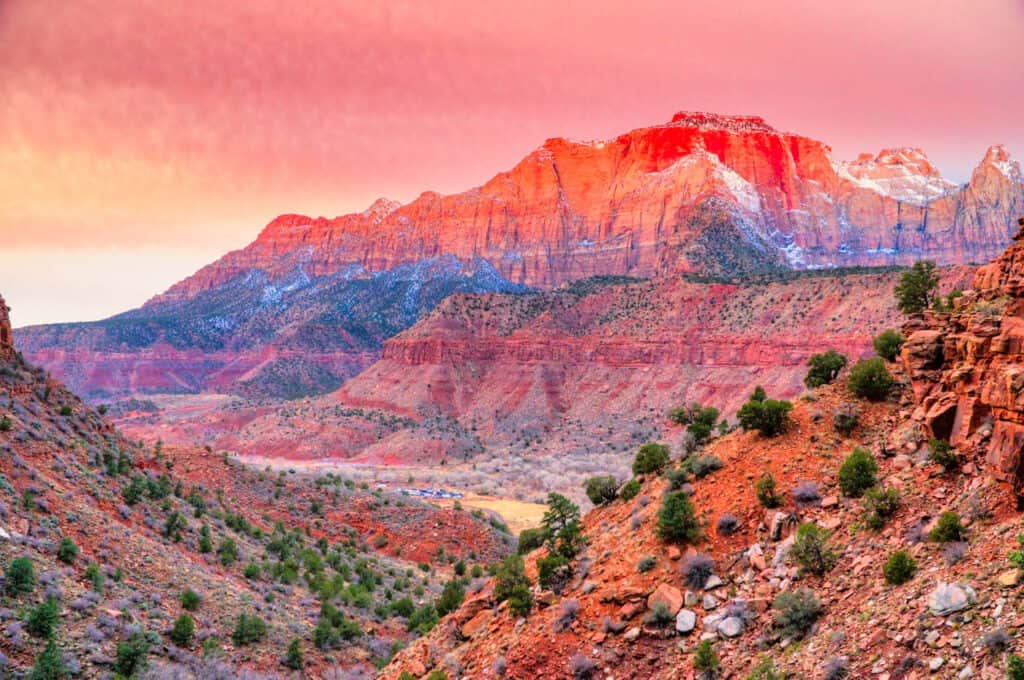 3. Best Places to Stay Outside Springdale (20 – 60 Minutes from Zion Park Entrance)
If you're not planning to stay in Springdale, there are plenty of other accommodation options outside of Springdale, including in the towns of Virgin, La Verkin, Hurricane and St. George. Approximate driving times to the Visitor Center in Zion Canyon are Virgin (20 minutes), La Verkin (30 minutes), Hurricane (35 minutes) and St. George (60 minutes).
Pro tip: if you stay outside of Springdale, try to get an early start to your day so that you can arrive at the park before all of the free parking spaces are taken! If you don't, you'll have to pay for parking in Springdale. When I was there, it was $40 for the day! Yikes.
Staying outside of Springdale is best for: Travelers who've made their plans on short notice, or those with less flexibility in terms of travel dates or budget. It's also a great option for those interested in glamping. More on that below!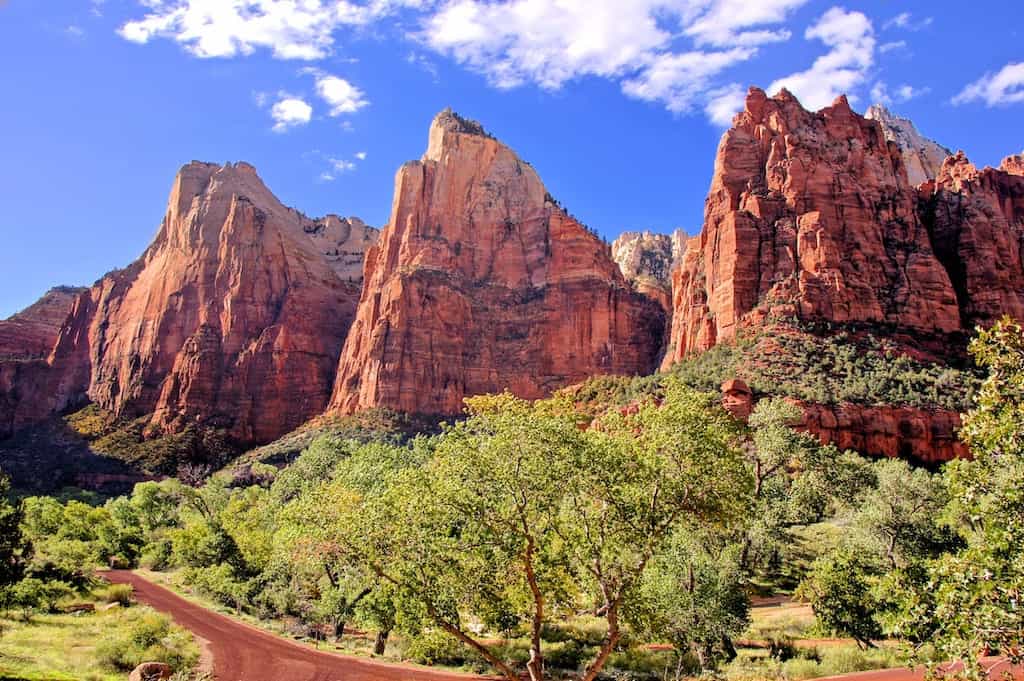 Pros of Staying Outside Springdale
There are several advantages of staying outside of Springdale. The first is that, in general, the accommodations outside of Springdale aren't booked up as far out in advance as those closer to the park. This means that if you are planning a last minute trip, you'll have a much easier time finding a place to stay. Not everyone is able to plan their Zion trip a year, or even months, in advance!
The second advantage to staying outside Springdale is that these accommodations generally tend to be less expensive. The tradeoff, of course, if that you're driving further to access the park. But if you're willing to do that, the savings definitely pay off!
Finally, staying outside of Springdale may make more sense depending on the rest of your Utah itinerary. If you plan on spending one day in Bryce Canyon as part of the same trip, staying in Hurricane would be convenient for both parks.
Cons of Staying Outside of Springdale
The main disadvantage to staying outside of Springdale is truly just time and distance. In other words, you'll be further away from the park and have to drive there and back each day. For most travelers, this isn't a big deal. But if you want the ability to rest mid-day, you might want to consider staying in Springdale.
It's also less likely that you'll be walking distance to amenities such as shops and restaurants. Most of the towns I've listed below do have their own shops and restaurants of course, but they're just not in areas that are as walkable as Springdale.
Again, this isn't a big deal if you don't mind driving to get around. Another option is to just plan to have your meals in Springdale, before and after you enter the park.
Best Accommodations Outside Springdale
Here are my top picks for places to stay outside Springdale. They're listed from closest to furthest from the park, and each of these options are within a 60 minute drive of Zion.
Glamping Near Zion National Park
I couldn't write this guide without mentioning glamping! If you're interested in glamping near Zion National Park, there are some very cool accommodations to check out. These unique places to stay near Zion include covered wagons and tented camps, most of which are quite luxurious!
Zion White Buffalo Glamping: Accommodation options include covered wagons, cliffside dwellings, and RV suites.
Under Canvas Zion: Safari-inspired tents with king size beds, luxury linens and en-suite bathrooms. Definitely more "glam" than "camp"!
Zion Wildflower Resort: Stay in a covered wagon, a tent (with air conditioning!), or a bungalow – the choice is yours!
I haven't personally done glamping in Zion, but I did look at all three of these places during my trip. They were totally intriguing and I definitely plan on glamping next time I visit Zion!
What to Bring to Zion National Park
Don't forget to pack these additional must-haves for your trip to Zion!
Now You Know The Best Places to Stay in Zion!
Whether you're camping, glamping, or staying in a hotel when you're visiting Zion, you can't go wrong! Regardless of where you decide to stay during your visit, you will have a magical trip thanks to the natural beauty of Zion National Park. Check out the 5 best easy hikes in Zion, as well as a comprehensive Zion packing list for more help in preparing for your trip!