3 Day Yosemite Itinerary – Perfect For First-Time Visitors
This site uses affiliate links and I may earn a small commission when you use my links and make a purchase, at no extra cost to you. 
If you're planning a trip to Yosemite National Park and looking for a 3 Day Yosemite itinerary to help you figure out where to go and what to do during your first time in Yosemite, this guide has you covered!
With only 3 days in Yosemite, it is important to plan your time wisely, especially if it is your first time in Yosemite. There are so many things to see and do in Yosemite National Park, that having a trip itinerary in advance will help you see all of the highlights of the park in just a few days. Here's my guide for all of the best things to do in Yosemite if you have 3 days to spend in the Park.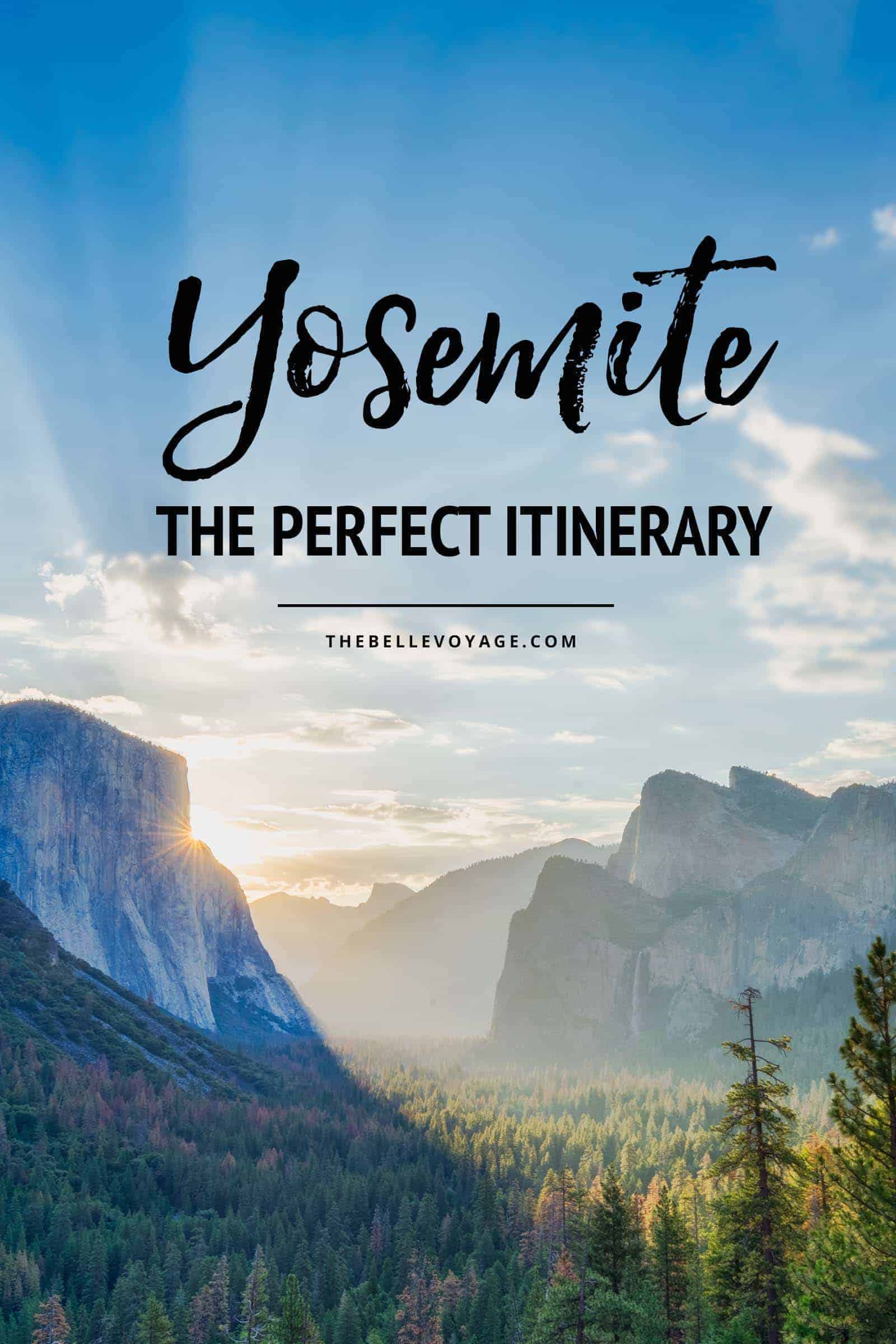 I just got back from spending 3 days in Yosemite National Park.  It was my first visit to Yosemite, but I think it's one of the best road trips from San Diego. I keep wishing that I hadn't waited to long to see it!
Yosemite is a true natural jewel, and there's so much to see that you could spend months taking in everything that the park has to offer. Unfortunately, most of us don't have months to spend there…so I have boiled down all of my favorite sites into the perfect three day Yosemite itinerary!
Need Ideas for What to do in Yosemite National Park in 3 Days?
This guide for things to do in Yosemite for 3 days has it all, and is based on a moderate level of activity, which you can adjust to accommodate your desired activity level.
Most of the hikes I've included in this Yosemite National Park itinerary are 3 miles or less, and relatively flat. One exception is the Mist trail which is a hefty incline (but worth it in views!).
Want to go a little more hardcore? I've also included some a couple of alternative options for hikes that are geared for visitors who want a bit more of a workout!
Finally, this 3 day Yosemite itinerary assumes you're entering the park from the south or west sides, which is most likely, but if you're entering Yosemite National Park from the east on Tioga Pass, just adjust Day 1 accordingly.
Pro Travel Tip: These days, travel can be more uncertain than ever. Check for any COVID-related restrictions at your destination, and never travel without travel insurance! I recommend SafetyWing, because they have flexible + affordable insurance plans, and also cover COVID-related impacts on your trip (not all companies do)!
Things to Know Before You Visit Yosemite
There are a few very important things you should know before you visit Yosemite for the first time.
Visit the Yosemite National Park Official Website for Current Info and Restrictions, Including Any Park Closures
As you plan your 3 day Yosemite itinerary, make sure you visit the official National Park Website for Yosemite. Here you will see all current alerts, current closures.
Do You need a Reservation to Visit Yosemite?
No! In 2023, a park reservation is no longer required to visit Yosemite. Woohoo!
Where to stay with 3 days in Yosemite
If it's your first time visiting Yosemite, you may not know that there are two areas you can stay in Yosemite: inside the park, or outside the park.
It is important to make your Yosemite hotel reservations far in advance, since accommodations in Yosemite are limited. With only 3 days in the park, you'll want to be as close to the action as possible.
With Only 3 Days in Yosemite, Try to Stay inside the Park
My top pick for staying inside the park at Yosemite is the Ahwahnee. It's absolutely gorgeous! Another great option is the Yosemite Valley Lodge.
Here's The Best Places to Stay Outside of Yosemite
If you're not able to stay inside Yosemite, there are plenty of options for places to stay outside the park. My recommendations are the Yosemite View Lodge because it's very close to the park, or this cozy rental unit if you need more space.
First Day of The 3 Day Yosemite Itinerary: Welcome to Yosemite!
As you drive in to Yosemite, your first stop should be Tunnel View for a classic view of Yosemite Valley, and two of Yosemite's beauties: El Capitan and Half Dome.
Tunnel View is well-marked and easy to pull in to. No place to park? Don't worry, you can always pop in again another day (Day 3 of this Yosemite itinerary would be a great alternative).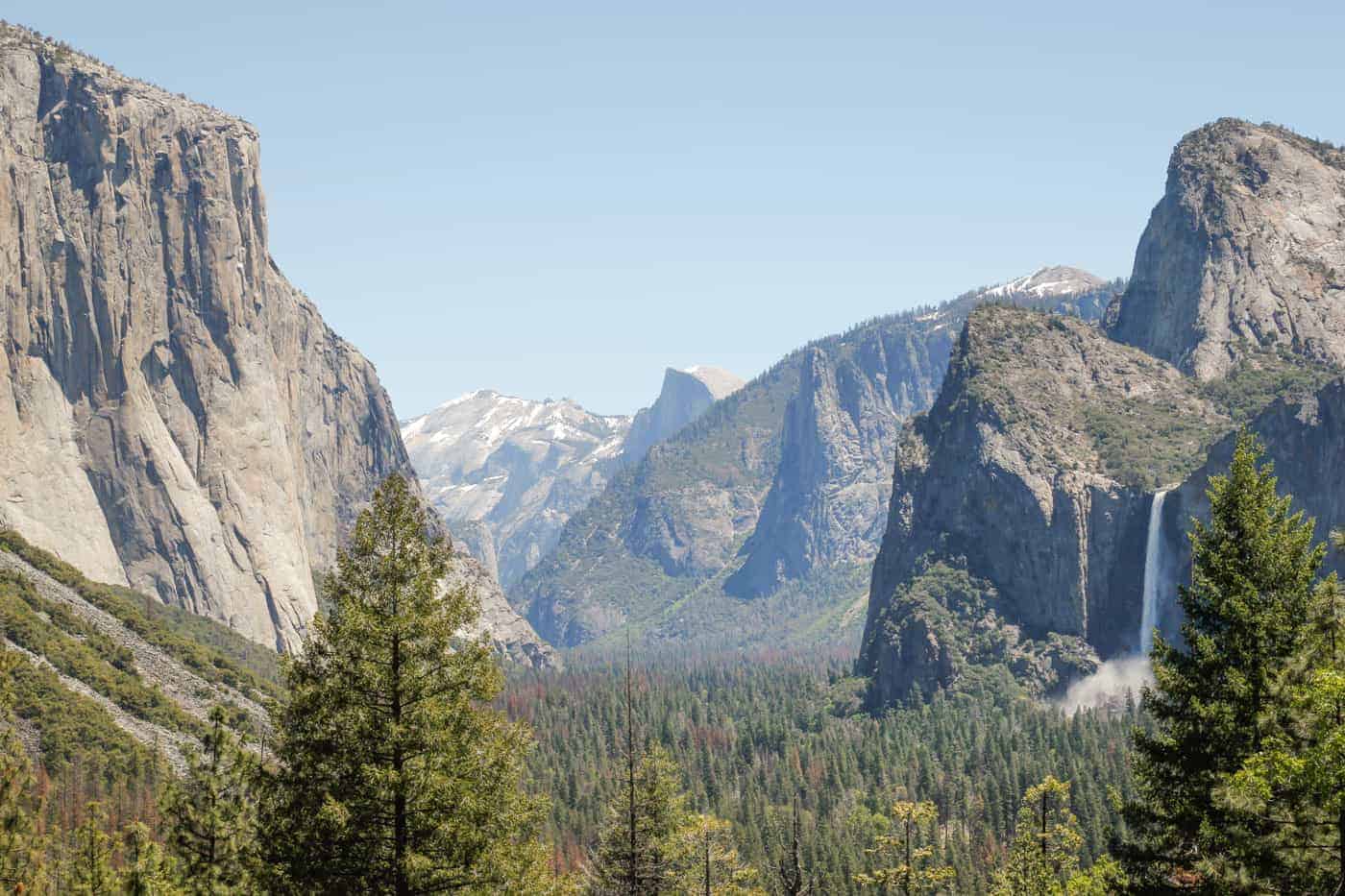 Bridalveil Fall
Just past Tunnel View, a bit further along your way into the valley, you'll see signs on your right for Bridalveil Fall, one of Yosemite's most impressive (and misty!) waterfalls. It's a quick walk up the pathway to see the falls – but you'll start to feel them before you even get there.
Make Sure to Bring Rain Gear
Make sure to bring a poncho or rain gear for this quick walk to Bridalveil Fall, otherwise you'll get completely soaked! I love these ponchos because they come with their own case, fold up to be tiny and lightweight, and, bonus – they're only $13!
When I visited, I was only able to sneak in this one quick photo, because I was worried about getting my new camera lens wet! There's another great photo spot for Bridalveil Fall which you'll hit up on Day 3, just in case you need an alternative.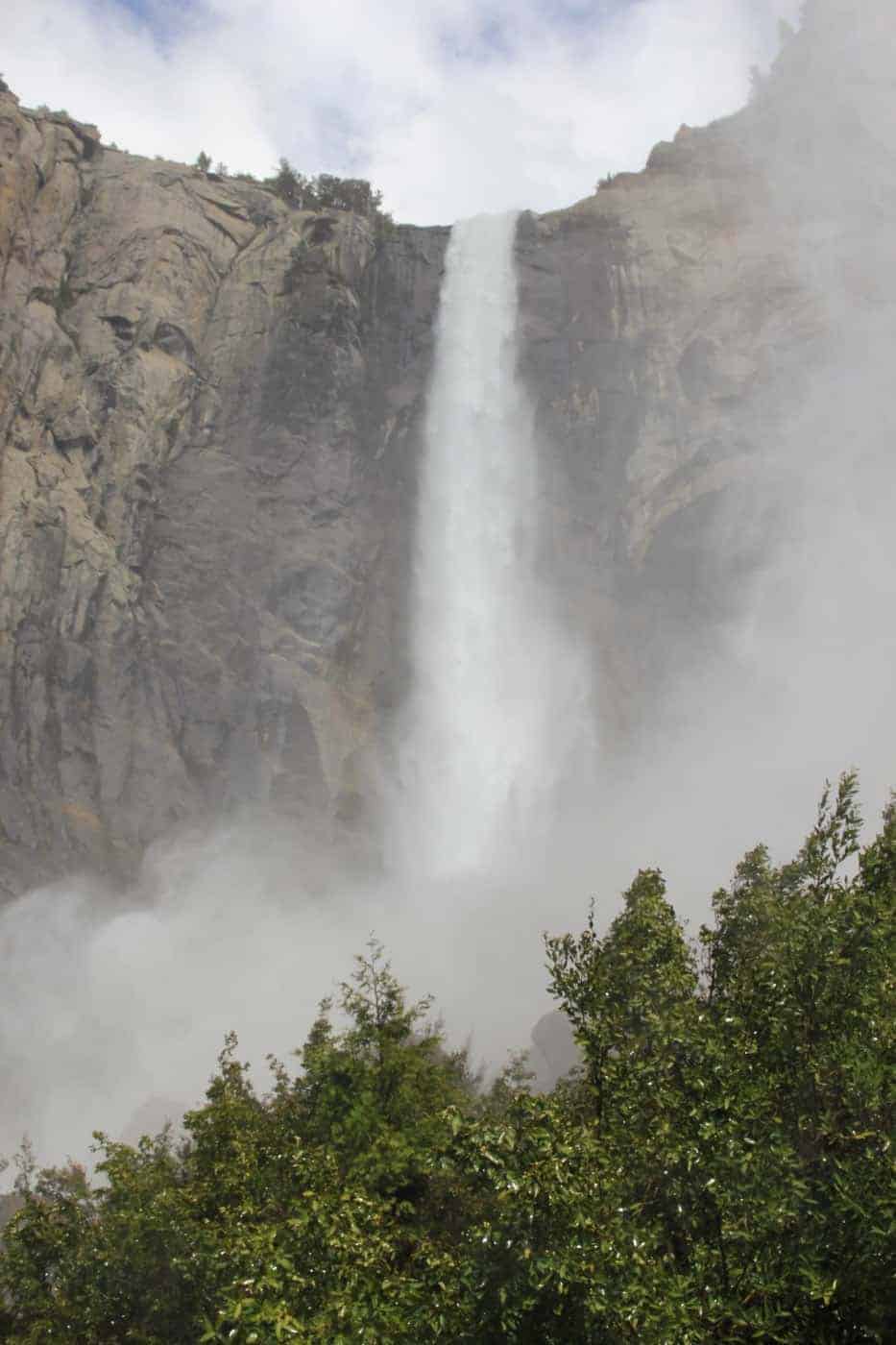 After you've seen the falls up close, you can wander a bit further down the short trail and over to the main road for an impressive view of El Capitan right in front of you!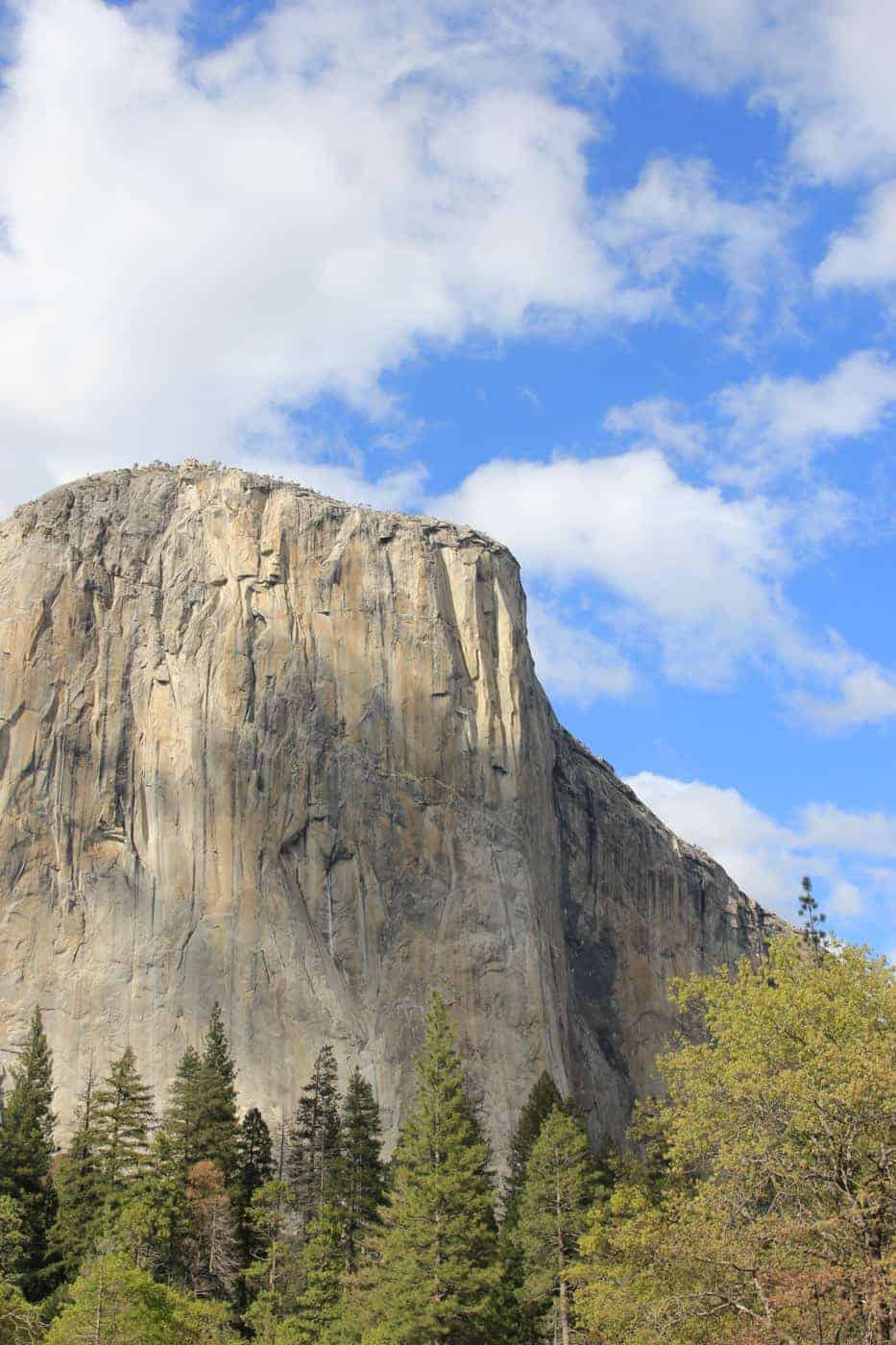 HikE Cook's Meadow Trail
Next, head over to your accommodation for the evening, and once you're settled in, get your comfy shoes on for an easy afternoon hike that will take you through some of the highlights of the valley.
The Cook's Meadow Trail is the perfect 2 mile loop that will take you past beautiful views of Yosemite Falls, Half Dome and Glacier Point.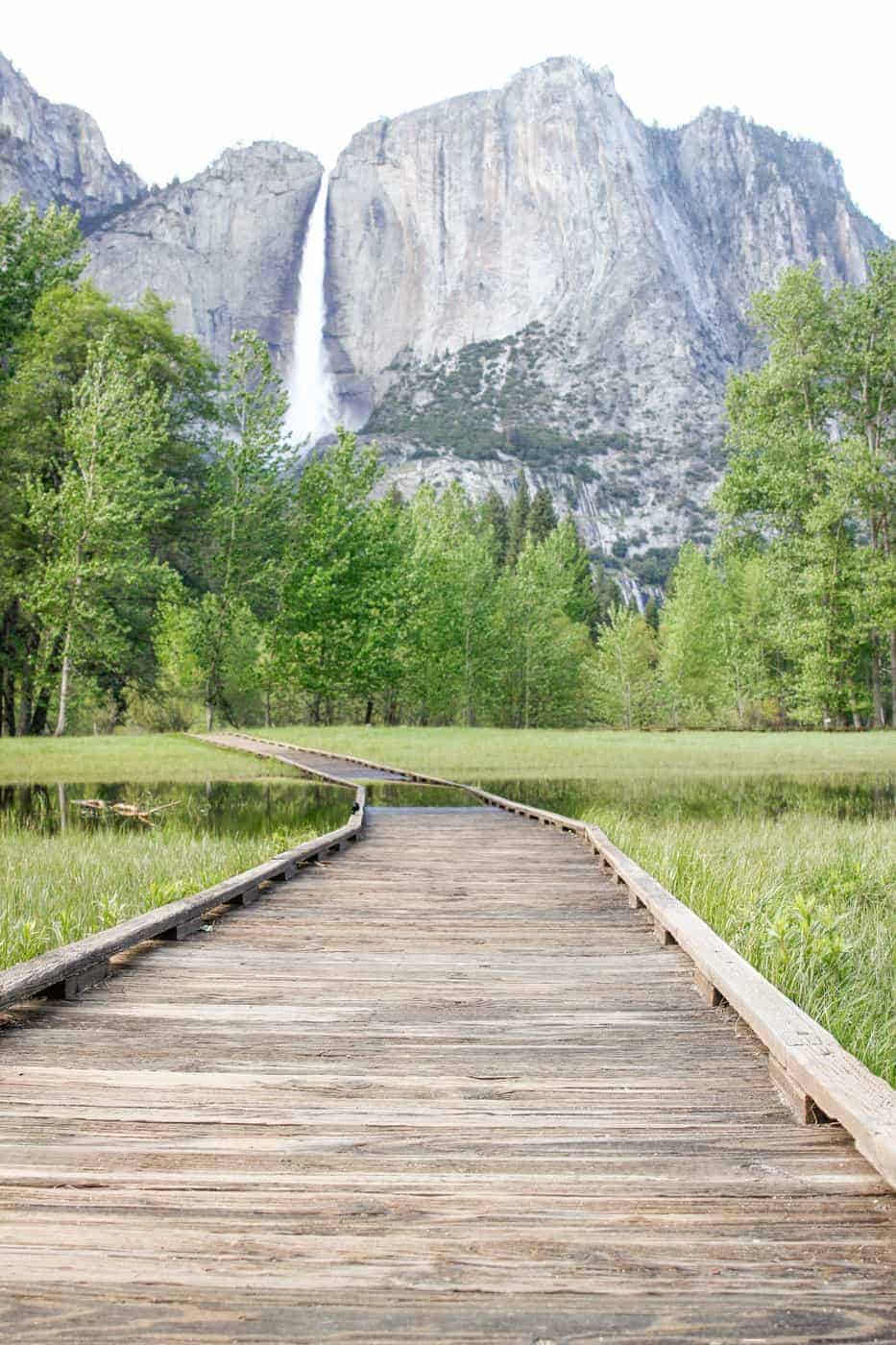 You can also take a side trip up to the base of Yosemite Falls either before or after the loop, which is another mile round-trip – and prepare to get wet! Yosemite Falls is the tallest waterfall in North America and it has the spray to prove it!
For dinner, check out The Mountain Room at the Yosemite Valley Lodge. Make sure that you have a reservation, as most of the Yosemite restaurants book up quickly! Then get a good night's sleep for an active day the following day.
Yosemite Itinerary Day 2: The Mist Trail and Mirror Lake
Start off your second day in Yosemite National Park by checking out the Mist Trail, one of Yosemite's most popular hiking trails, and also the start of the 15 mile hike up to the top of Half Dome. The Mist Trail is one of the most beautiful hikes in Yosemite, and it is a must-do for first time visitors to Yosemite National Park.
Hike The Mist Trail
Most tourists to Yosemite hike up the steep incline and make it as far as the Vernal Falls footbridge, which is a total distance of about 1.5 miles.
The footbridge has an amazing view of Vernal Falls, and the surrounding river. If you hike a little further, you can get to the top of Vernal Falls – which would be a total hike of about 3 miles.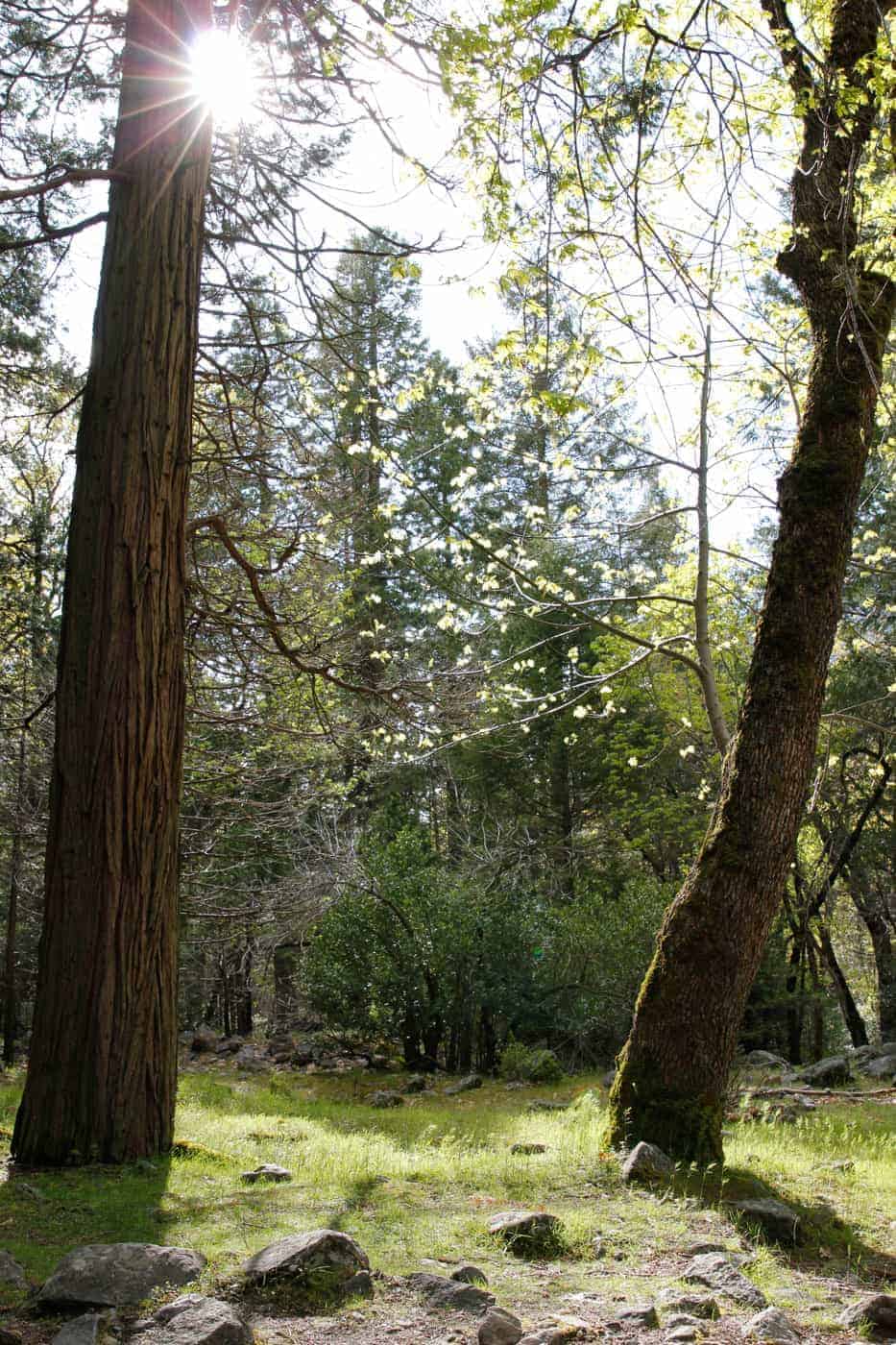 Wanna keep going? You can hike the next 2 miles to the top of Nevada Falls. Hiking to Nevada Falls and back would be a total of 7 miles.
The trail continues all the way up to the top of Half Dome, so you can continue your hike if you're ambitious, but keep in mind that you need to have a permit in advance if you want to go all the way up to the tippy-top.
No matter how far you hike on the Mist Trail, you will definitely be ready for some lunch afterwards! The pizza restaurant in nearby Half Dome Village is a great option for a post-hike fill-up.
Renting a Bike is One of The Best Ways to See Yosemite in 3 Days
From Half Dome Village, you can rent bikes for the afternoon, and ride the easy 1.5 miles on a paved pathway to Mirror Lake.
The pathway leading up to the lake is gorgeous, and walking a bit around the lake will give you a unique view of Half Dome. I think renting bikes is one of the best ways to see Yosemite in 3 days!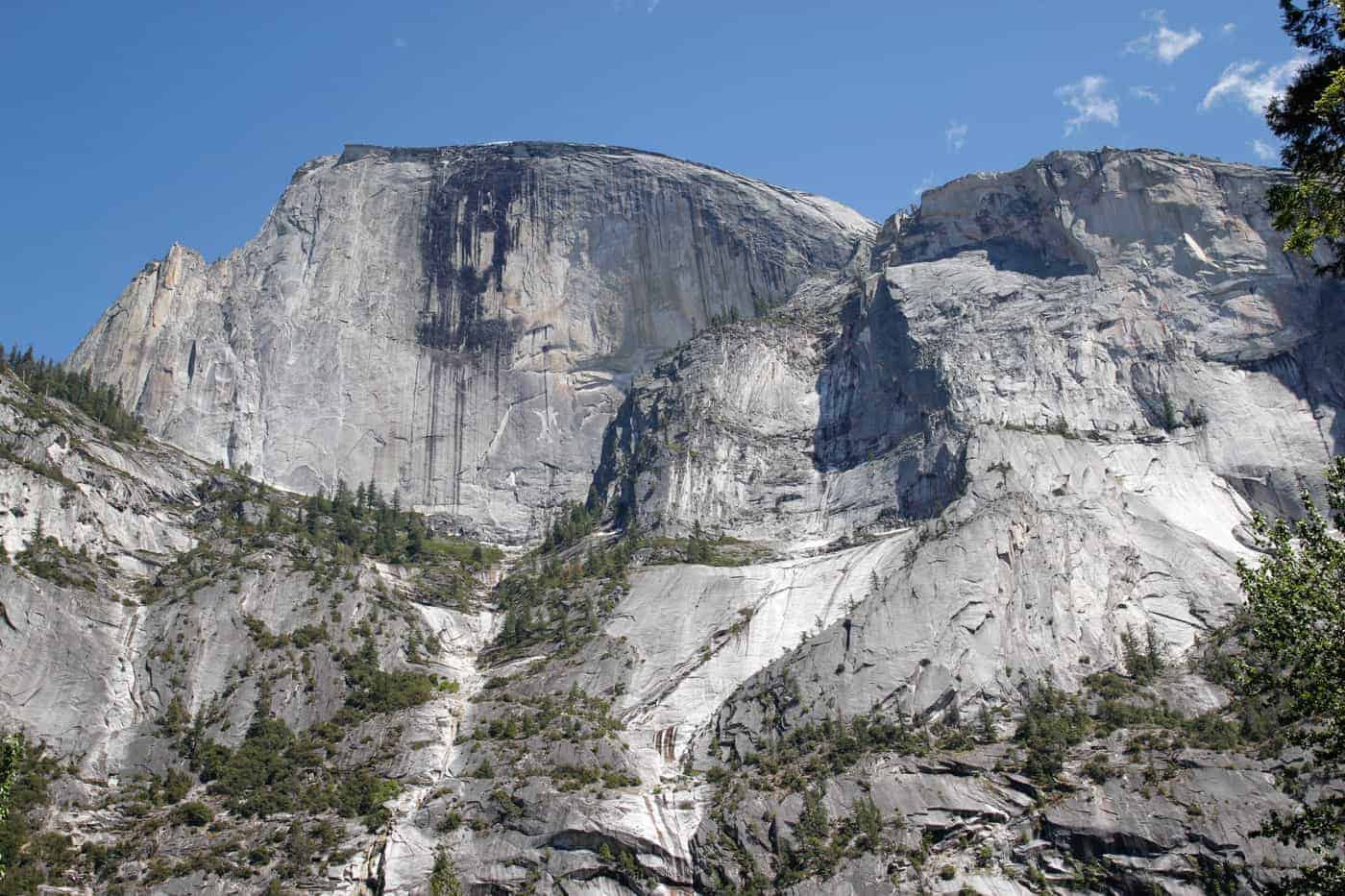 If It's Your First Time in Yosemite, Dining at the Ahwahnee is a Must!
Next on your Yosemite itinerary: time to eat! Dinner tonight is a special treat: the Dining Room at the Ahwahnee. I recommend arriving for your dinner reservation on the early side so that you can explore the hotel, and have a glass of wine at the bar or on the outdoor patio, which has a perfect view of Yosemite Valley's beauty.
The Dining Room at the Ahwahnee
The dining room itself is a sight to be seen – I won't spoil any surprises! But I promise that it will be one of the highlights of your 3 day Yosemite itinerary.
Make sure that you have a reservation in advance, and that you've packed for the restaurant's dress code. (Basically – don't show up in your hiking gear).
Be on the lookout during dinner for animals in the meadow that surround the dining room. Especially the bear who loves the nearby apple tree!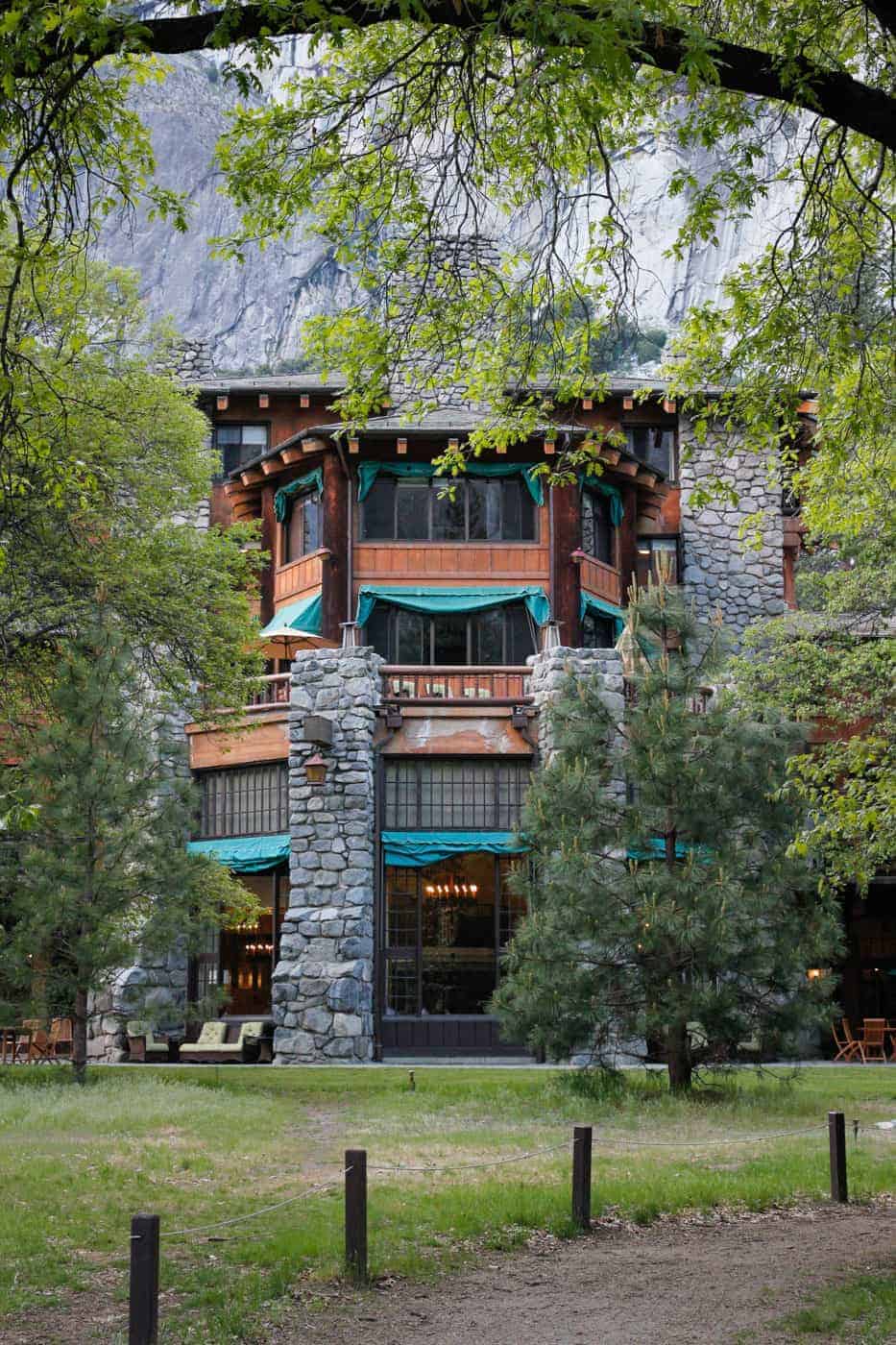 After dinner, you can hit up the Sweet Shop at the hotel, and head outside for some nighttime stargazing! The lack of light pollution in the valley makes for perfect viewing.
Yosemite Itinerary Day 3: Glacier Point, Taft Point, and Sentinel Dome
After spending your first two days of your Yosemite itinerary exploring Yosemite Valley, it's time to see Yosemite from up above. No 3 day Yosemite itinerary would be complete without a trip up to Glacier Point for an incredible view of many of Yosemite's iconic sights from the very top of the valley.
Getting to Glacier Point from Yosemite Valley
It's about a 45 minute drive from the valley to the trailhead for today's day hikes. But first, on your way out of the valley, you'll see a turnout on the left-hand side, which has a picture-perfect view of Bridalveil Fall from across a meadow.
Remember the alternative photo spot I mentioned on Day 1 of the 3 day Yosemite itinerary? This is it! If you got soaked getting up close to the falls, this is another great spot to admire the beauty of the waterfall without having to wield a raincoat.
Sentinel Dome and Taft Point Trails
Continue on up to Glacier Point road, and once you reach the trailhead for Sentinel Dome and Taft Point, you'll see that two separate hikes go from the trailhead to each viewpoint, and are each about 2 miles round-trip.
There's a trail that connect the two, but (in my opinion) it's less scenic, and going back to the trailhead in between will allow you to hit up the restroom.
Views from Glacier Point
After the hikes, this 3 day Yosemite itinerary takes you down Glacier Point Road for another 10 minutes until you reach Glacier Point, where there's a large parking lot and THE MOST INCREDIBLE views of Half Dome, Yosemite Falls, Nevada Falls, Vernal Falls, and El Capitan. It's jaw-dropping.
There's an outdoor amphitheater which is a great spot for a picnic lunch, and there's a small shop that sells gifts and some limited food items – good for snacks, but probably not for a full-fledged lunch since you'll be hungry from your morning hike! I'd recommend packing in your own food.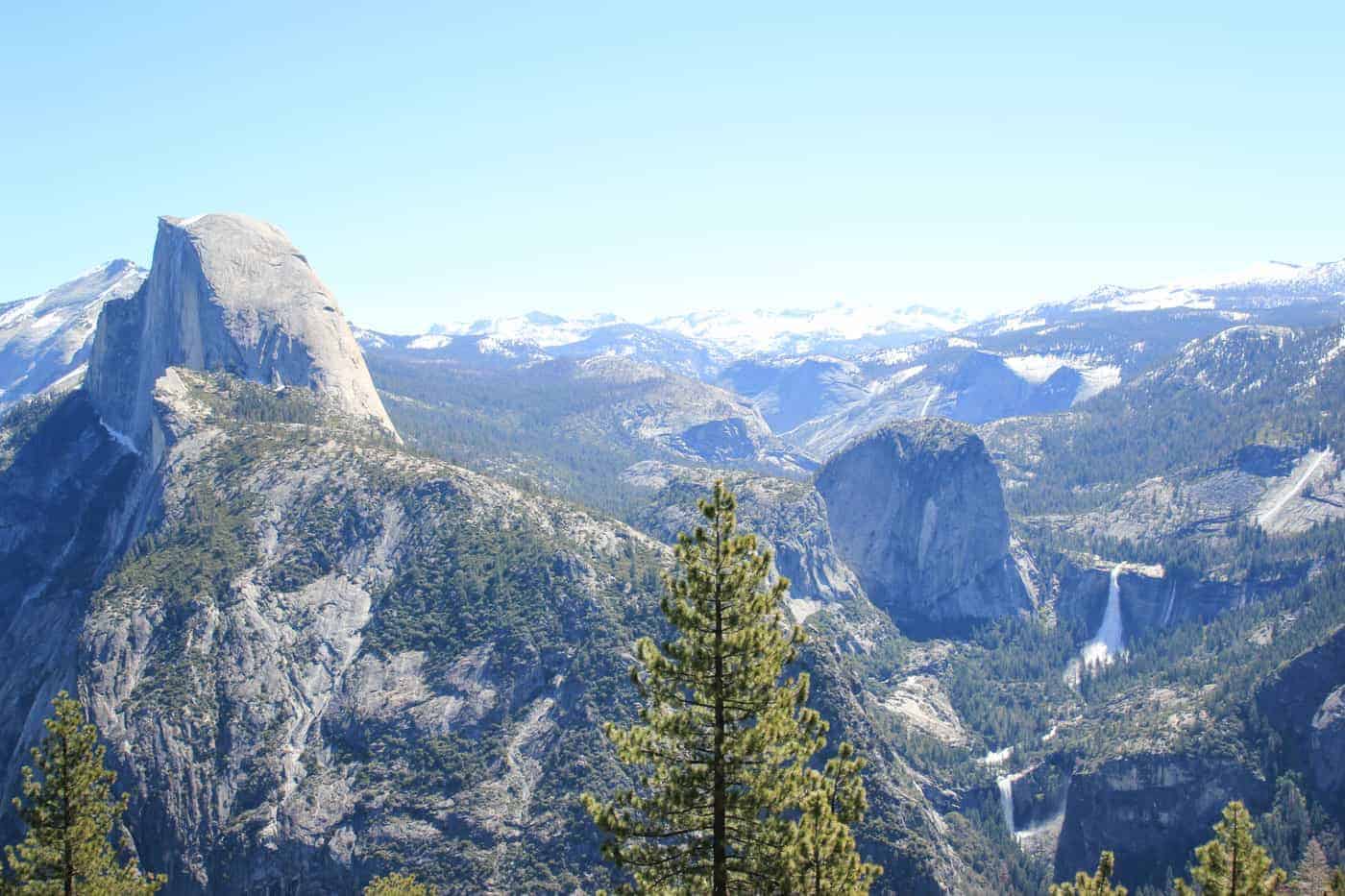 If you want to opt for a longer, more strenuous hike, you can buy a ticket to take a shuttle one-way up to Glacier Point, and then hike down to the bottom of the valley via either the Four Mile Trail (you guessed it….four miles long) or the Panorama Trail (8.5 miles).
However you decide to hike, Glacier Point will be an absolutely highlight of your 3 day Yosemite itinerary!
Float Down the Merced River
If you have a few hours left in the afternoon, a great way to cool off is with a float trip down the Merced river. You can rent a raft at the tourist kiosks in Half Dome Village or in Yosemite Valley Village. You can also use your own raft and buy a one-way shuttle ticket that will take you back to Half Dome Village.
For dinner, check out one of the many casual dining options in Yosemite Valley Village.
Is 3 Days Enough Time in Yosemite?
If you're wondering whether 3 days in Yosemite is enough time to spend in the park, I think you'll find that it is exactly the right amount of time, especially if it is your first trip to Yosemite.
With 3 days in Yosemite, you will have enough time to see the park's best sights, without rushing from place to place. 3 days in Yosemite will also give you time for some of the park's best day hikes.
If You Have More Than 3 Days in Yosemite…
Do you have more than three days to spend in Yosemite? If you have more time to spend in Yosemite National Park, this Yosemite itinerary is a great introduction to Yosemite, but of course there are plenty more sights to see!
How To Spend Your Time in Yosemite if you Have more Than Three Days
If you have more than three days in Yosemite National Park and want to add to this 3 day Yosemite itinerary, I would recommend adding a day in the Tuolumne Meadows area, on the eastern side of the park.
The scenery is entirely unique and different from that of the Valley, and there are a ton of picturesque day hikes which you can check out here.
What to Pack for Yosemite
Don't forget these Yosemite packing essentials! Here's a few of my top picks for what to pack for Yosemite.
There You Have it – The Perfect 3 Day Yosemite Itinerary!
If you'll be in northern California, check out my suggestions for the perfect San Francisco itinerary, as well as the Sonoma wine tasting that you can't miss! And if you love the outdoors, you'll also love my other posts on U.S. National Parks, including what to do with one day in Zion National Park, how to do one day in Bryce Canyon, and a one day Joshua Tree itinerary.
Pin it for later!