The Perfect 4 Day Cape Town Itinerary for First-Time Visitors to South Africa
This site uses affiliate links and I may earn a small commission when you use my links and make a purchase, at no extra cost to you. 
Planning a trip to Cape Town? Cape Town has a cosmopolitan edge, incredible beaches, and phenomenal food and wine. Not to mention a culture steeped in history, and nearly-perfect weather. This 4 day Cape Town itinerary will cover the city's natural beauty, immerse you in the region's food and wine scene, and allow you to get a sense for Cape Town's history. If you have 4 days in Cape Town and are trying to decide how to spend your time in this town, this guide is for you!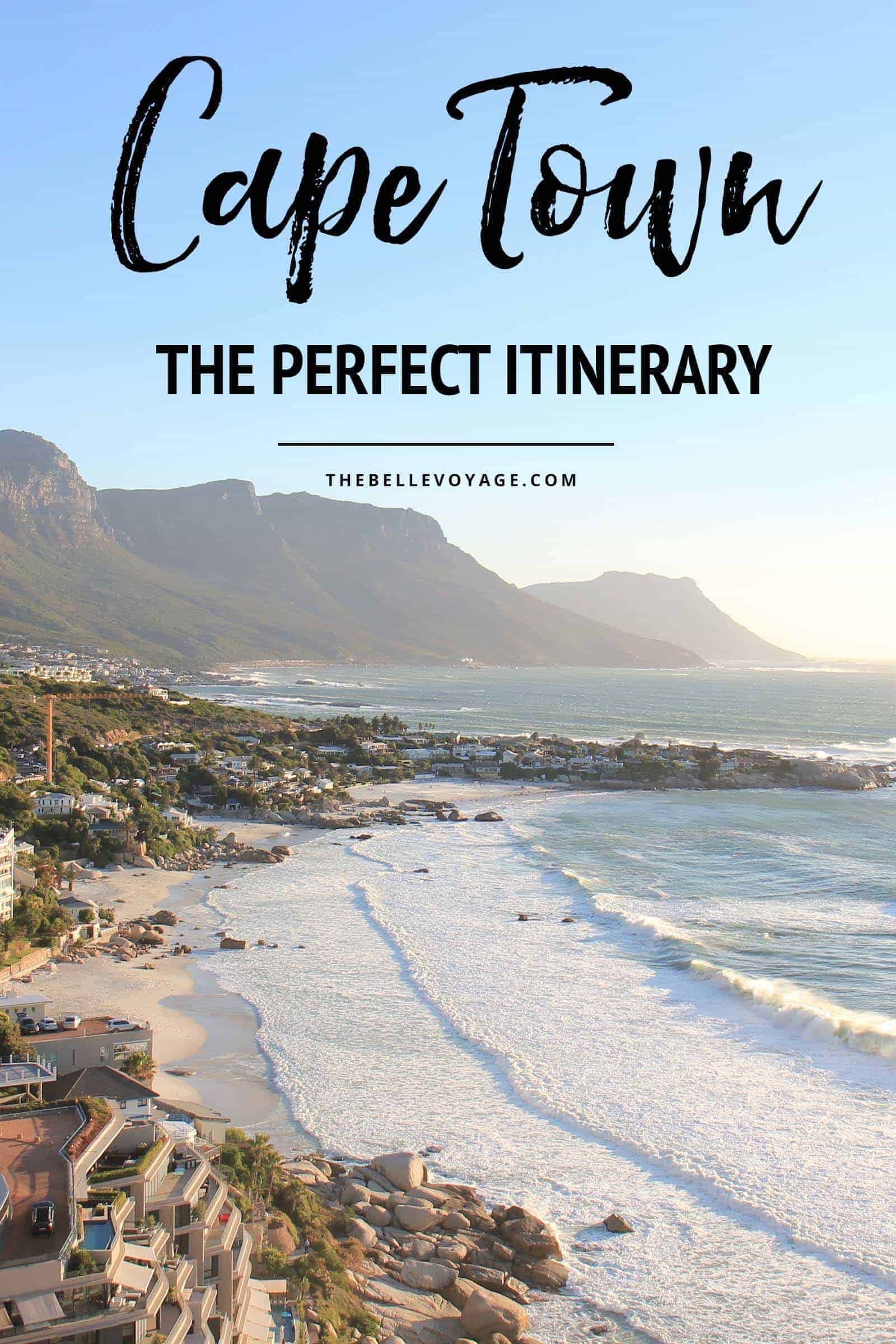 Cape Town is also the perfect jumping-off point if you want to continue on to a safari in South Africa! I did a TON of research before my trip, and here's the lowdown on the perfect Cape Town itinerary.
Before you go to Cape Town…
There are a few specific things you should pack for going to South Africa.
Important Packing tip for South Africa: Don't forget to pack a power adapter! South Africa has a unique adapter so you MUST have this specific type. I love this 3 Pack of South Africa adapters because they're less than $15!
And if you're going on safari during your time in South Africa, check out my very best African safari tips for first timers.
READ MORE: 5 Things You Must Pack for South Africa
Where to Stay in Cape Town
If you're planning a trip to Cape Town, you're probably trying to decide where to stay in the city.
The selection of hotels in Cape Town can be absolutely overwhelming. As a city that caters to high tourist volume, Cape Town has hotels to meet any budget and style.
Best Neighborhoods to Stay in with 4 Days in Cape Town
If you have 4 days in Cape Town, I recommend staying either in Clifton, or near the V&A waterfront. Both areas are centrally located and will make it easy to get around for the rest of this Cape Town itinerary.
Clifton is a great location if you want to be close to beaches. On the other hand, the V&A waterfront is very central, and close to plenty of shops and dining.
My absolute favorite hotel in Cape Town is the Cape View Clifton. It's perched up on a cliff overlooking Clifton's beaches, so the view is STUNNING.
If you prefer to stay close to the V&A Waterfront, then I'd recommend the Protea North Wharf. If your budget allows, The One & Only Cape Town is impeccable.
Pro Travel Tip: These days, travel can be more uncertain than ever. Check for any COVID-related restrictions at your destination, and never travel without travel insurance! I recommend SafetyWing, because they have flexible + affordable insurance plans, and also cover COVID-related impacts on your trip (not all companies do)!
Cape Town Itinerary Day 1: Welcome to Cape Town!
Cape Town's natural beauty is stunning, and there's no better place to admire it from up above, atop Table Mountain. If you're planning a trip to Cape Town, you absolutely must include a visit to Table Mountain as part of your Cape Town itinerary.
Visiting Table Mountain
Book your tickets for the gondola ahead of time and plan to go first thing in the morning. As the day goes on, the area can quickly get very crowded.
It's a good idea to plan on doing Table Mountain your first day in Cape Town. That way, you'll be able to reschedule if the weather isn't cooperating.
The trails on the top of the mountain are easy to explore, so it's likely you'll end up spending an hour or two up on top of the mountain.
It's a great spot to sit back and enjoy some snacks or even some wine too! The restaurant on top of the mountain sells some snacks, but the selection is limited.
For that reason, you may want to bring your own to save a few bucks.
The Bo-Kaap Neighborhood in Cape Town
On the way down from Table Mountain, stop by Bo Kaap, Cape Town's colorful Cape Malay neighborhood.
The neon-colored houses are eclectically charming, and you won't be able to resist photos of the kaleidoscope streets.
After Bo Kaap, head over to Bree Street, my favorite boutique shopping street in Cape Town.
It's devoid of the usual tourist souvenir offerings, and filled with independent shops, so it's a great spot to hunt for gifts to take home.
For dinner, I would recommend Manna Epicure – an adorable bistro with a fusion of global creations. I went here for dinner on Christmas Eve and we had the coziest dinner imaginable!
Cape Town Itinerary Day 2: Robben Island and The Waterfront
On day 2 of your Cape Town itinerary, book a morning tour to Robben Island, where Nelson Mandela was imprisoned for 18 years.
The tours of the prison are given by former inmates, so the history that you will experience is quite moving. Make sure to book your tickets online ahead of time.
Explore the V&A Waterfront
Once you return, spend some time strolling along the V&A Waterfront, and checking out the markets and boutiques.
Pop back to your hotel to grab towels and beach chairs, and then take a cab to Camps Bay, one of Cape Town's most beautiful beaches, and a great spot to spend the remainder of the day.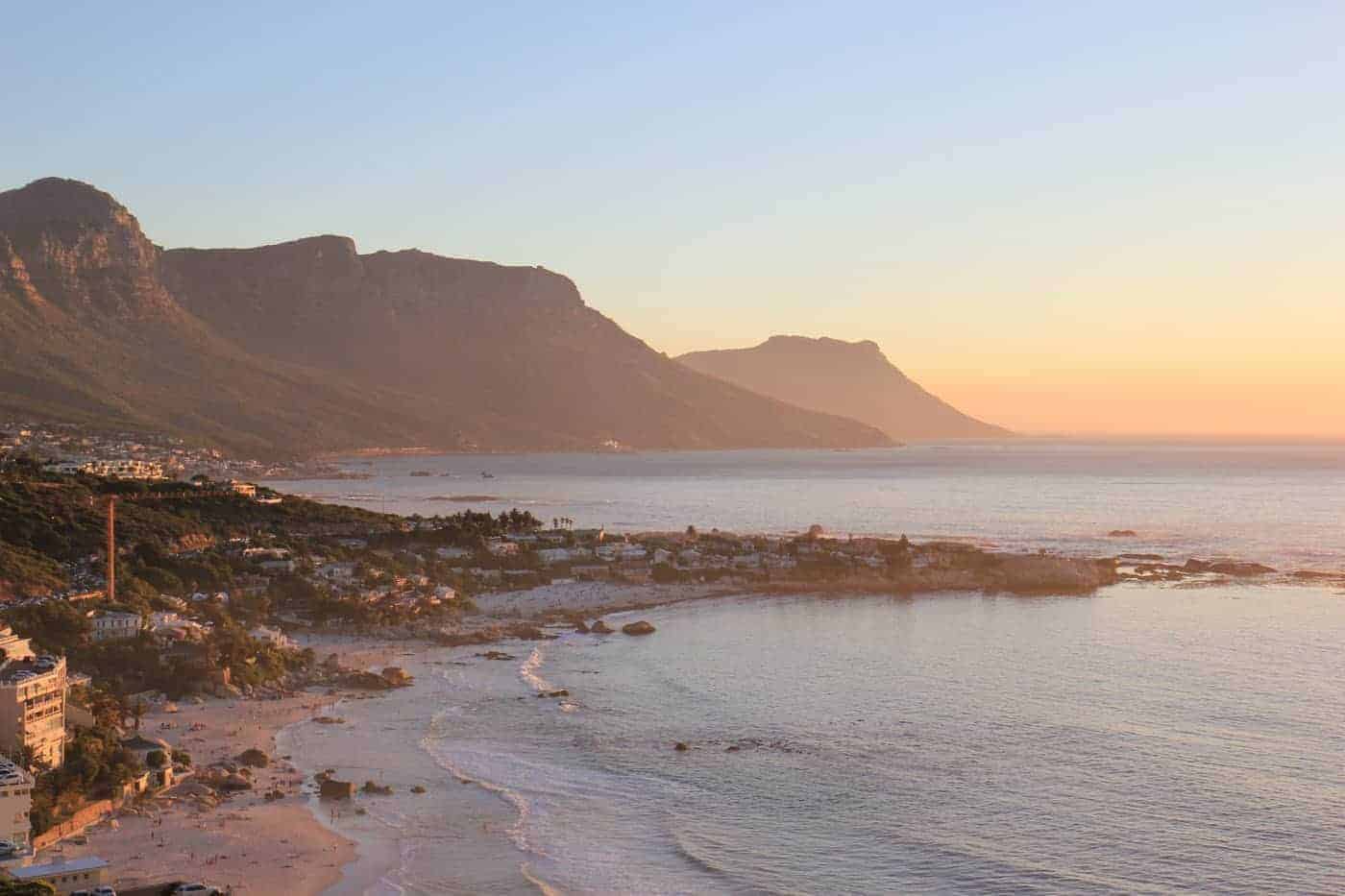 You'll love the incredible views of Cape Town's 12 Apostles as the backdrop to this stretch of sand.
The restaurants and cafes along the main street of Camps Bay are the perfect place to kick back for sundowners and dinner, all with a view of Camps Bay beach.
Cape Town Itinerary Day 3: Cape Day Trip
Pack up the car for the day trip of a lifetime! Today you're headed down to the Cape of Good Hope, and will explore Boulders Beach and its resident penguins on the way.
Boulders Beach Penguins
Yep, I said penguins! For today, you'll want to either rent a car for the day, or look into a group or private tour of the Cape, since public transportation isn't really easily accessible for the entire route.
First stop is a view of the penguins on Boulders Beach. It can get incredibly crowded on the viewing platform, so I recommend getting to the beach as early in the day as possible.
Also keep in mind that there are viewing platforms on BOTH sides of the beach – most people don't realize this – so you can make use of the less-crowded platform by taking a short walk through the trees (watch out for sleeping penguins on the way!).
After Boulders Beach, continue on down south to the protected wildlife reserve at the Cape of Good Hope, where you can explore the indigenous plants and animals, and visit the lighthouse at the tip of the Cape.
Day 4: Explore The Winelands
With 4 days in Cape Town, you will have time to get outside of the city and explore the nearby wine region. I loved adding on some time in the Winelands to my Cape Town itinerary, so I recommend that you do the same!
So plan on spending your last day in Cape Town enjoying South Africa's winelands, which are about a 45 minute drive outside of the city.
Depending on how much wine you plan to taste, you might want to consider hiring a private driver for the day.
Best Wineries to Visit in South Africa
Start your day off with a wine tasting at Fairview Wine and Cheese – and give yourself plenty of time to watch the playful goats in front of the property! They're part of the unique charm at Fairview.
For the wine tasting, I recommend doing the tasting that's paired with all different kinds of cheeses. YES PLEASE. It will please any Type A traveler out there.
Next, head over to Babylonstoren, an idyllic Cape Dutch farm-turned winery and hotel that is just begging to be instagrammed at every corner.
You can do another wine tasting there, or make a booking for lunch at Babel, a chic restaurant with all-white decor and incredible food. Or…you can do both!
Either way, don't miss a stroll through the incredible garden at Babylonstoren, too – it's one-of-a-kind, and you'll be tempted to pick all of the fresh fruits and vegetables.
After Babylonstoren, take a quick spin through the town of Franshoek, with it's cute main street, cafes, and shops.
If you're game for a third winery, I would recommend heading over to Stellenbosch to check out Tokara. Of all the wines I tasted in South Africa (and I tasted A LOT), this place had my favorites by far.
For dinner, you cannot go wrong with the tasting menu at nearby Rust en Vrede – it's an incredible experience but best saved for a special occasion, or a night when you want to go ALL OUT.
For something more casual, I'd recommend Reuben's which is back in Franshoek.
There you have it – the Perfect 4 Day Cape Town Itinerary!
I hope that this guide has helped you with planning a trip to Cape Town. Happy travels to South Africa! Are you headed there soon? Let me know in the comments below!
Need Help Packing?
Check out everything you need to know about travel packing for women!
Pin It For Later!