The Perfect 3 Day San Francisco Itinerary for First-Timers
This site uses affiliate links and I may earn a small commission when you use my links and make a purchase, at no extra cost to you. 
Planning to spend 3 days in San Francisco? The good news is that you're in for an incredible trip. I've pulled together all of my favorite spots into the perfect 3 day San Francisco itinerary, to make it super-duper easy to cover the city's highlights in just a few days. Once you've read this guide, you'll be ready for your 3 day trip to San Francisco! If you'll be in California for a while, check out my California bucket list with my 20 favorite places in the state to visit.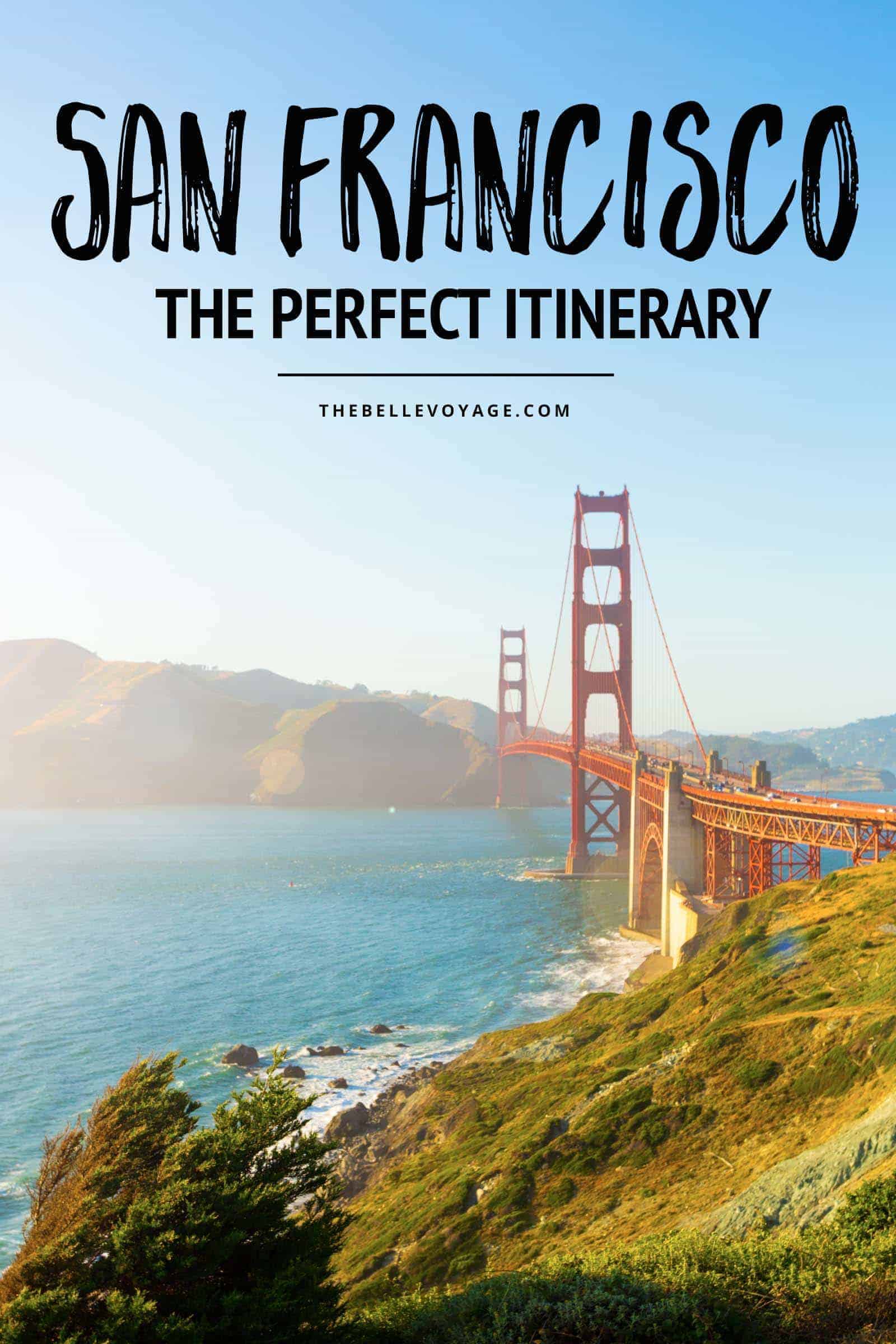 How to Plan a 3 Day Trip to San Francisco
Planning a 3 day trip to San Francisco can be overwhelming. There's so much to see and do in this beautiful city!
Living in Southern California myself, I have had the chance to visit San Francisco many times – in fact, it's one of my favorite road trips from San Diego! This guide will help you plan your San Francisco trip by helping you choose where to stay, and show you a day-by-day guide for the best things to do in the city.
At the end of the guide, you will find a map of this itinerary, answers to frequently asked questions, and some ideas for what to do if you have 4, 5, or 6 days in the city. Let's go!
Where to Stay if you have 3 Days in San Francisco
Start planning your San Francisco trip by choosing your accommodations. If you are visiting San Francisco for the first time, you'll want to find something that's centrally located to the city's main attractions.
Best Areas to Stay in San Francisco for First-Time Visitors
The best places to stay for this San Francisco 3 day itinerary are Union Square or Fisherman's Wharf. They're both walking distance to plenty of shops and restaurants, and are centrally-located, so they will be good neighborhoods to stay in the city.
I recommend staying in smaller, boutique-style hotels, since there's so many great ones in the city, and they just ooze San Franciscan charm. Here are my picks:
Hotel with the best San Francisco Style: the Beacon Grand Hotel – you'll love the atmosphere.
Hotel with the best decor in Fisherman's Wharf: The Argonaut – I love the style of this hotel!
Pro Travel Tip: These days, travel can be more uncertain than ever. Check for any COVID-related restrictions at your destination, and never travel without travel insurance! I recommend SafetyWing, because they have flexible + affordable insurance plans, and also cover COVID-related impacts on your trip (not all companies do)!
The Best Things to do in 3 Days in San Francisco
If you have 3 days to visit San Francisco, you can still see so many of the city's highlights. I've put together the perfect San Francisco itinerary to help you navigate your way around, especially if it's your first time in the city.
In this guide, I'm sharing my absolute favorite things to see in the city. I've organized them in a day-by-day itinerary that will walk you through the best things to do in San Francisco if you have 3 days.
Use this trip planner to help you decide where to stay, where to eat, and exactly what to see and do!
Day 1: Alcatraz, Lombard Street, Chinatown and North Beach
Welcome to San Francisco! On your first day in SF, you'll explore some of the city's classic popular attractions, and also check out some of the area's most unique neighborhoods.
Get an early start, since this day is filled with tons of awesome San Francisco must-sees!
Alcatraz Island
Start off your 3 day San Francisco itinerary by booking a morning tour to Alcatraz Island. Located just over a mile off of the mainland, Alcatraz is a National Park that was once a fort, a military prison, and a maximum security federal penitentary.
History of Alcatraz
Alcatraz Island has a complex and fascinating history that you'll learn about during your tour. It is perhaps most commonly known for the incarceration of Al Capone, who served a total of 4.5 years in the prison.
To take the guided tour, you can buy your tickets online ahead of time, and tickets include both the ferry ride to the island, as well as an audio tour while you're there.
Tickets can book up a few weeks in advance, so it's a good idea to get your tickets to Alcatraz as soon as you can.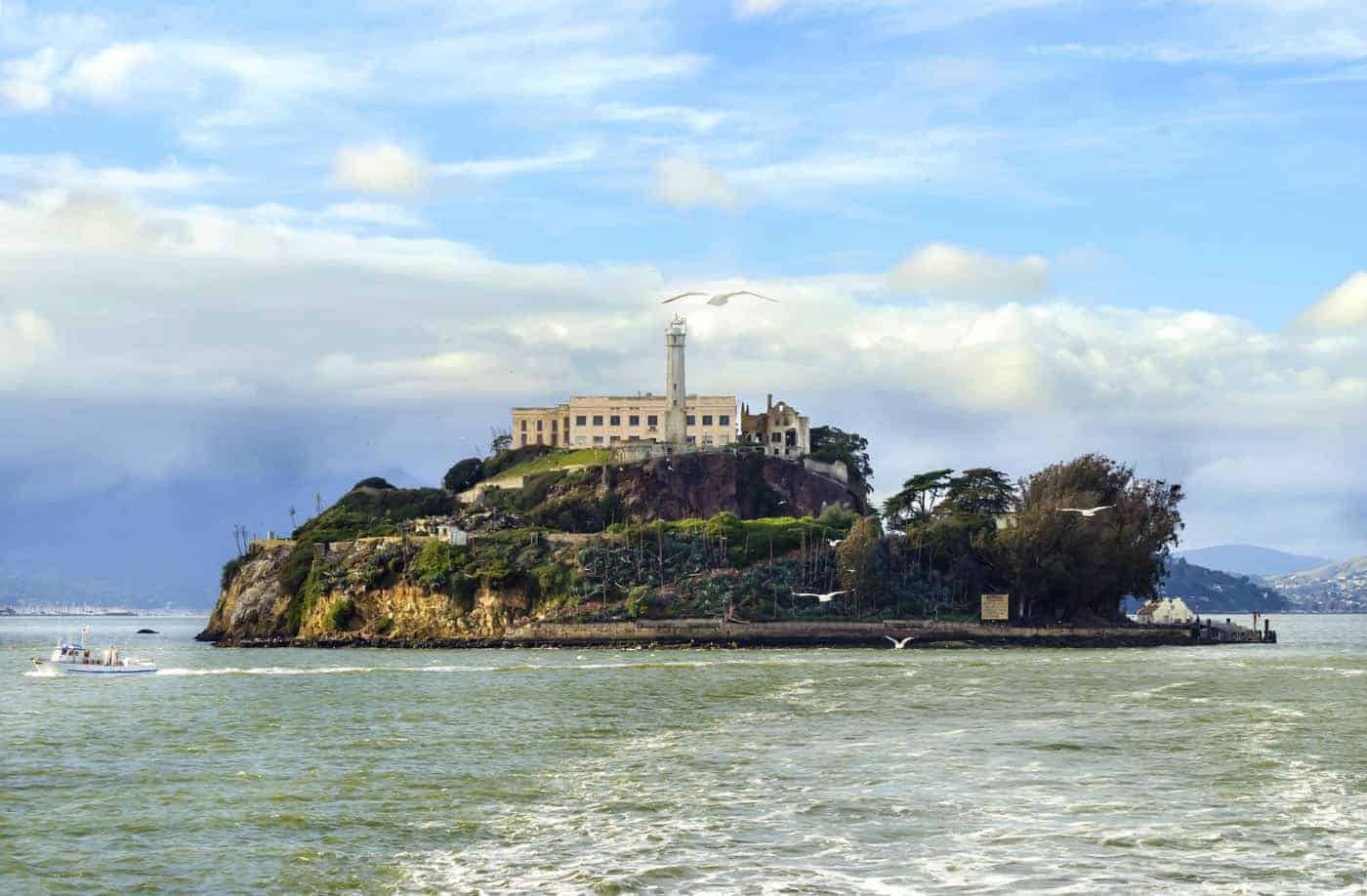 Have Lunch at Fisherman's Wharf
No 3 day trip to San Francisco would be complete without a visit to Fisherman's Wharf. After spending a few hours touring Alcatraz, take the ferry back to the mainland and explore Fisherman's Wharf, Pier 39, and Ghirardelli Square. Don't miss the sea lions that call Pier 39 home!
Take a short walk and wander through the souvenir shops, street performers, and food carts. Touristy? Yes – but it wouldn't be your first trip to San Francisco without exploring this famous part of town.
The Wharf is also a great spot to grab a light lunch – clam chowder in a sourdough bread bowl is a very San Franciscan treat.
Visit Lombard Street, The World's CrookedEST Street
Leaving the Fisherman's Wharf area, drive down Lombard Street, the world's most crooked street. Start at the top of the street (it's one-way), and zig-zag your way down the hill, enjoying the beautiful gardens that line both sides of the road.
Telegraph Hill and CoIt Tower
Once you've conquered Lombard Street, head over over to Telegraph Hill. Just east of Washington Square, you'll find Coit Tower, which you can climb up for a spectacular view of the city, the bay, and the surrounding bridges.
This 200 foot tower was built in the early 1930's with the objective of further beautifying the city of San Francisco.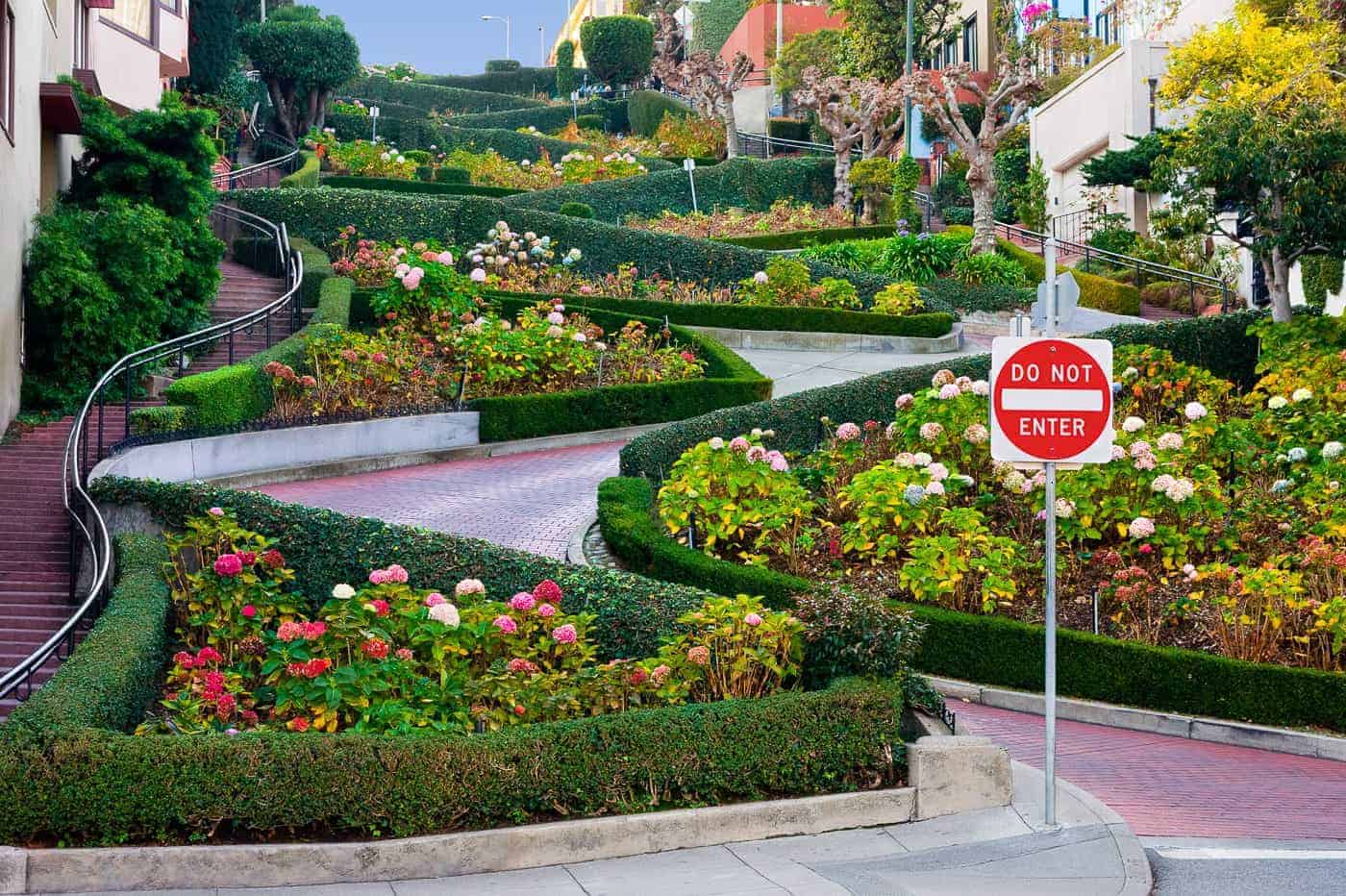 Chinatown and North Beach
After Coit Towner, you'll be perfectly-positioned to explore San Francisco's famous neighborhoods of Chinatown and North Beach for the rest of the afternoon and into the evening.
Depending on what you're in the mood for (Chinese or Italian), they're also great neighborhoods to land in for dinner.
Chinatown
Most visitors to San Francisco make a stop in Chinatown for dim sum, which I highly recommend.
Even if you don't stop for dim sum in Chinatown, I still recommend walking through the Dragon gate (the entrance to Chinatown), and taking in the bustling atmosphere of this unique neighborhood.
North Beach
North Beach is considered San Francisco's Little Italy. Although you won't find an actual beach, you will find blocks lined with Italian trattorias, independent shops, and plenty of live music.
City Lights Bookstore
In North Beach, don't miss the City Lights Bookstore on the corner of Columbus Avenue and Grant Avenue.
City Lights is possibly the best-known independent bookstore on the West Coast, and a must for book-lovers. I love wandering the aisles to find a new read, and the store employees are a great sources of recommendations for new books.
Day 2: The Mission, Hayes Valley, and Union Square
For the second day of this 3 day San Francisco trip planner, you'll explore Union Square, the Ferry Building, and some of the city's lively neighborhoods that surround both areas.
The Mission District
Start your day by heading to the Mission District for brunch. If you haven't had brunch in San Francisco, have you really visited?
I like Kitchen Story for their bottomless mimosas. The outdoor patio is the perfect place on a warm day. Afterwards, take some time to explore this eclectic and ever-changing part of the city.
Mission Dolores
As you explore the Mission District, make sure to check out Mission Dolores, the oldest building in San Francisco.
The original mission was founded in 1776, but the present church was dedicated in 1791. It is incredibly uncommon to find buildings in California that date back this far, so don't miss this interesting piece of San Francisco history as you visit.
Haight Ashbury
For another perspective into San Francisco's history, head to Haight-Ashbury, known as the birthplace of the hippie movement in the United States in the 1960's.
Today the neighborhood remains eclectic, and if you're interested, you can check out the homes of Janis Joplin and The Grateful Dead, both on Ashbury street.
Alamo Square and the Painted Ladies
Next, head to Alamo Square, home of charming Victorian architecture including the "Painted Ladies".
If you watched TV at any point during the 90's, you'll recognize this row of six ornately painted homes as that one picnic scene in the opening credits of Full House.
By either standard, the Painted Ladies are an example of the city's beautiful architecture, and a classic San Francisco sight! I could honestly wander this neighborhood for ages and never get bored of the great views from the steep hills, and all of the quaint houses.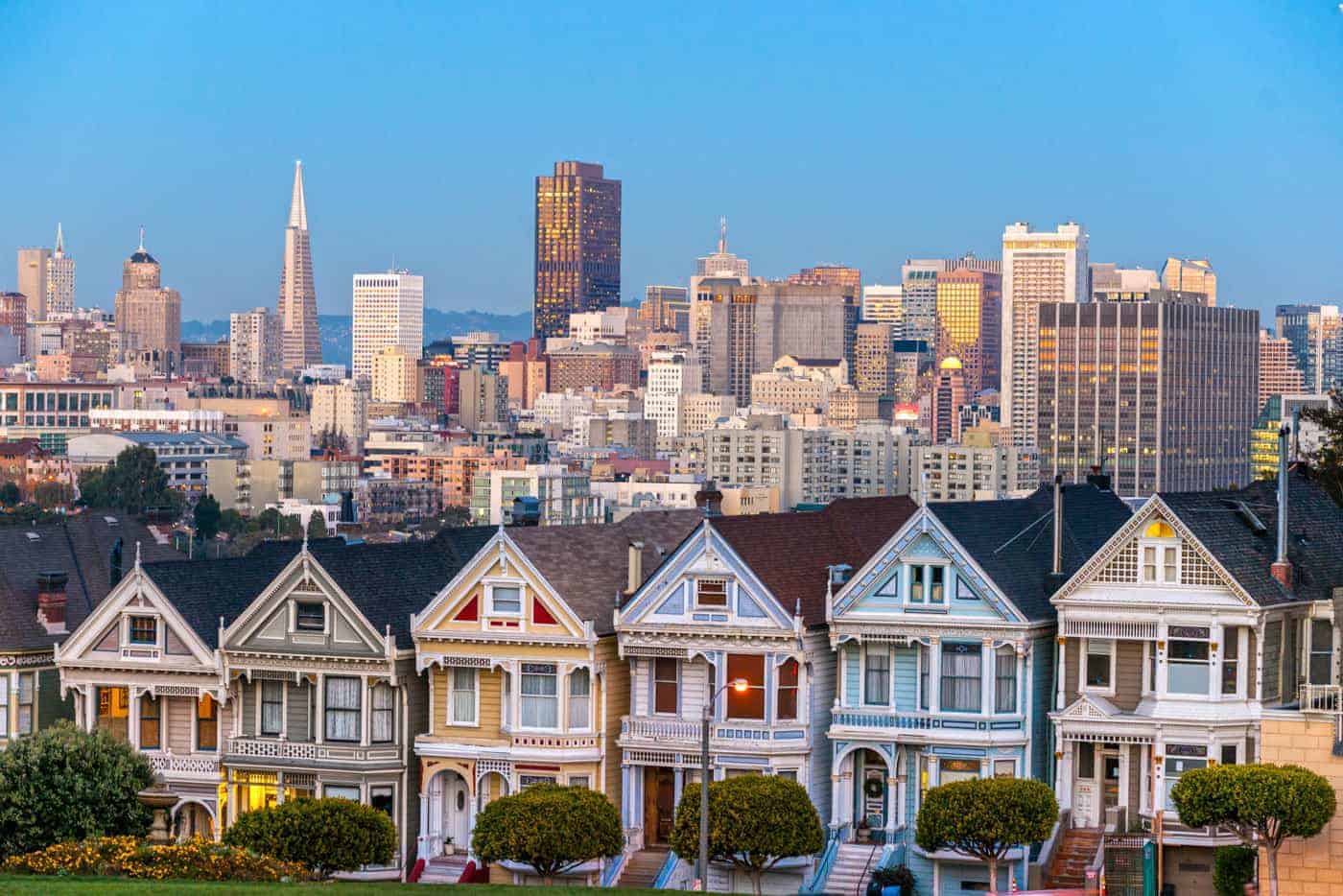 The Best of San Francisco's Boutique Shopping in Hayes Valley
Head down Hayes Street, the heart of Hayes Valley, one of my favorite SF neighborhoods, and enjoy the street's cute boutiques and cafes – personally, I love La Boulangerie for a pastry and a coffee! Shopping in Hayes Valley is one of my favorite ways to spend time in San Francisco.
Union Square
From there, it's a lengthy walk or a quick cab ride over to Union Square where you can enjoy the hustle-bustle of the city along with some amazing shopping and dining.
Nob Hill
If you've got the time, I also recommend taking the short walk uphill from Union Square to Nob Hill. Perched up above Union Square, you'll be able to see panoramic views of the entire city from this point in town.
San Francisco Museum of Modern Art
Just south of Union Square is the SF MOMA, a modern art museum that just completed a massive overhaul last year, tripling the size of the exhibit space. The SF MOMA was the first museum on the West Coast dedicated entirely to contemporary art, and it's a must-see!
Get your tickets to the SF MOMA online ahead of time here, and skip waiting in line!
San Francisco Ferry Building Marketplace
Once you've gotten your art fix, head along Market Street through the Financial District and towards the Ferry Building and the Embarcadero.
This is a great place to scope out the scene and grab some dinner. My favorite spots for dinner in the Ferry Building are The Slanted Door and Coqueta.
Farmer's Market at the Ferry Building
If you have time on your 3 day trip, the Ferry Building also hosts a fantastic farmer's market that is especially abuzz on Saturday mornings, so come back and check it out if your San Francisco travel schedule permits.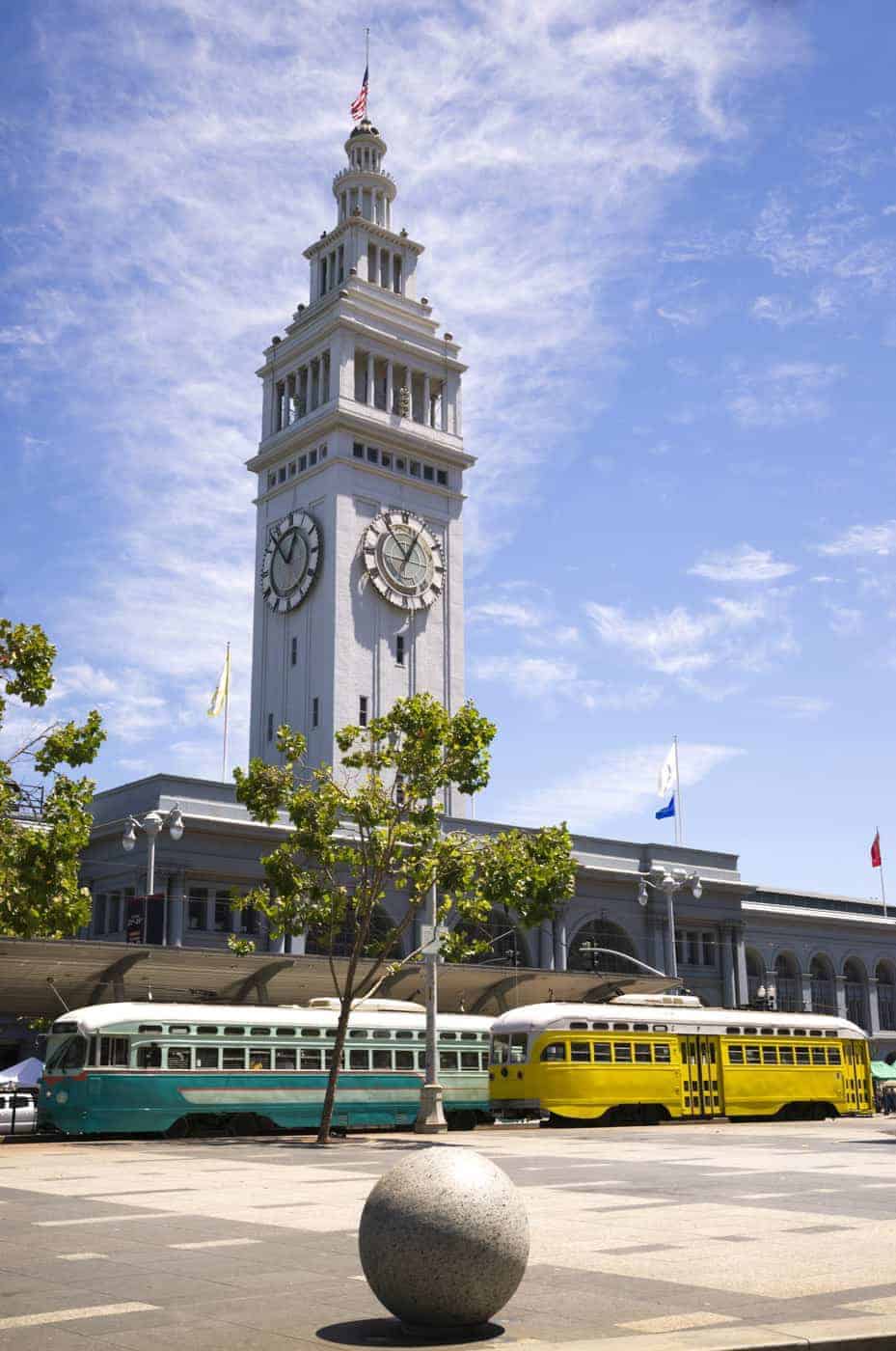 Depending on your interests (and whether or not the Giants are in town), I'd recommend ending your evening with a baseball game at Oracle Park, or with a private champagne tasting at the San Francisco Champagne Society (SFCS). It's about as cool as it sounds – just make sure to make a reservation in advance.
Day 3: Golden Gate Park, Golden Gate Bridge and Sausalito
Begin Day 3 by exploring Golden Gate Park, an urban park that's over 1,000 acres and home to gardens, museums and recreation areas. Personally, I love the California Academy of Sciences and the Japanese Tea Garden.
You can get your tickets to the California Academy of Sciences online ahead of time here.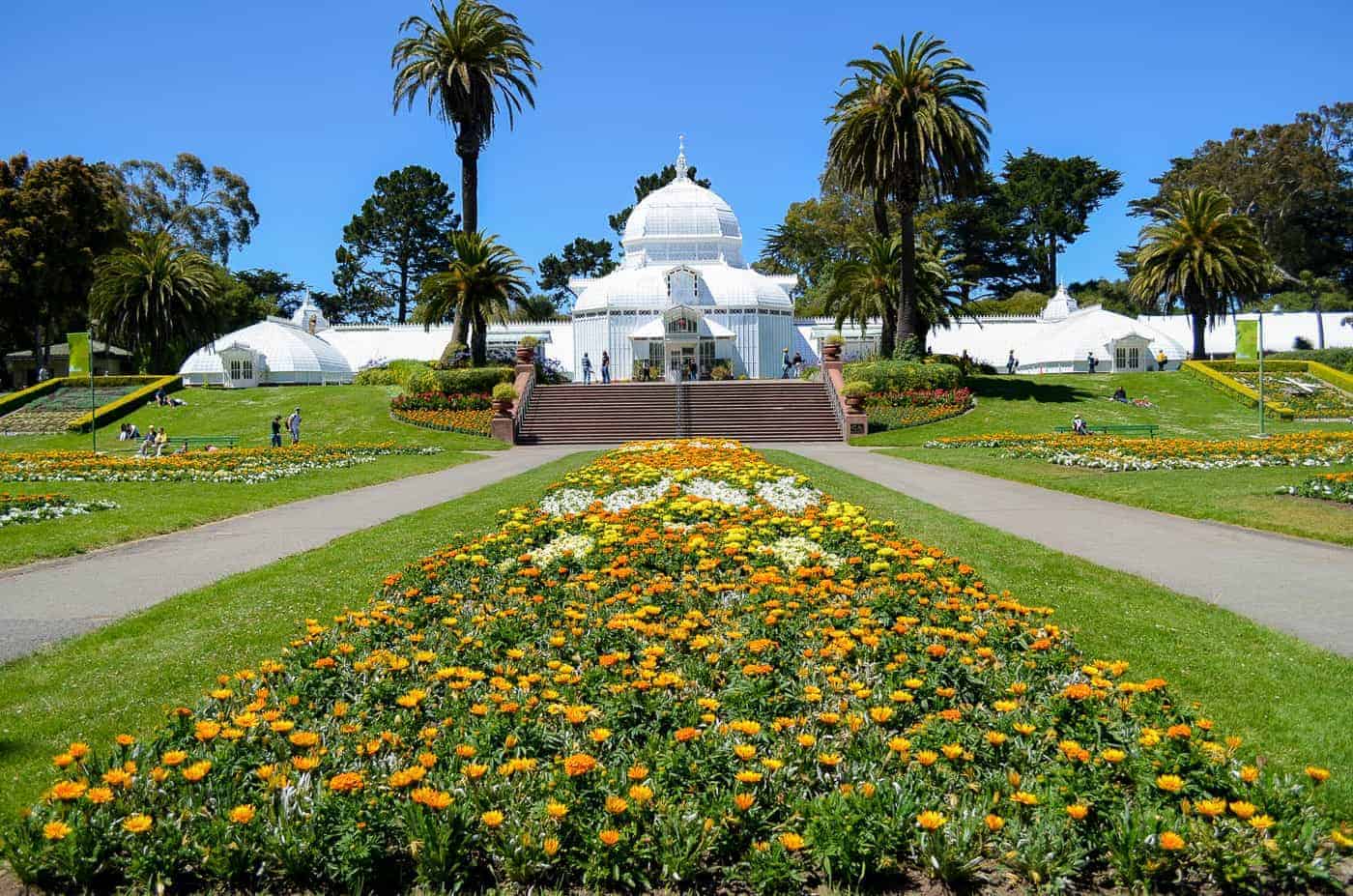 If you have time after visiting the Park, you can do a quick detour down Union Street and Chestnut Street for cute cafes and restaurants, as well as some of San Francisco's best boutique shopping.
Ocean Beach
If you have some extra time, or as an alternative to visiting the museums in Golden Gate Park, head west to Ocean Beach, where the city meets the Pacific Ocean.
Ocean Beach is a 3.5 mile stretch of sandy beach, where you'll see plenty of surfers, kite flyers, and locals enjoying the waves. Don't be surprised if it's chilly at the beach, though – so bring an extra layer if you plan to explore for a while.
Sutro Baths
A cool point of interest just north of Ocean Beach is the Sutro Baths. Built in the late 1800's by millionaire Adolph Sutro, the Sutro Baths were once a privately-owned public saltwater swimming facility.
While the baths had their heyday, today, all that's left of the Sutro Baths are concrete ruins, and they're part of the Golden Gate National Recreation Area.
Bike Across the Golden Gate Bridge
Otherwise, grab a cab directly to Ghirardelli Square where you can pick up some wheels and head out to bike across the Golden Gate Bridge. Riding a bike is such a fun way to see the city!
On the way to the bridge, you'll pass by Fort Mason, Crissy Field, and the Presidio – which are all some great spots to stop for a photo!
Palace of Fine Arts
You'll also pass by the Palace of Fine Arts, one of the most interesting historical buildings in San Francisco, and a gorgeous one as well.
The Palace of Fine Arts was originally built to showcase art pieces during the Panama Pacific Exposition in 1915. It was completely rebuilt in the late 1960's and is the only building from the expo that survives in its original location.
Sausalito
Once you cross the bridge, it's an easy 10 minute downhill ride into Sausalito, a quaint and charming little seaside town – and the perfect spot for dinner to end your day.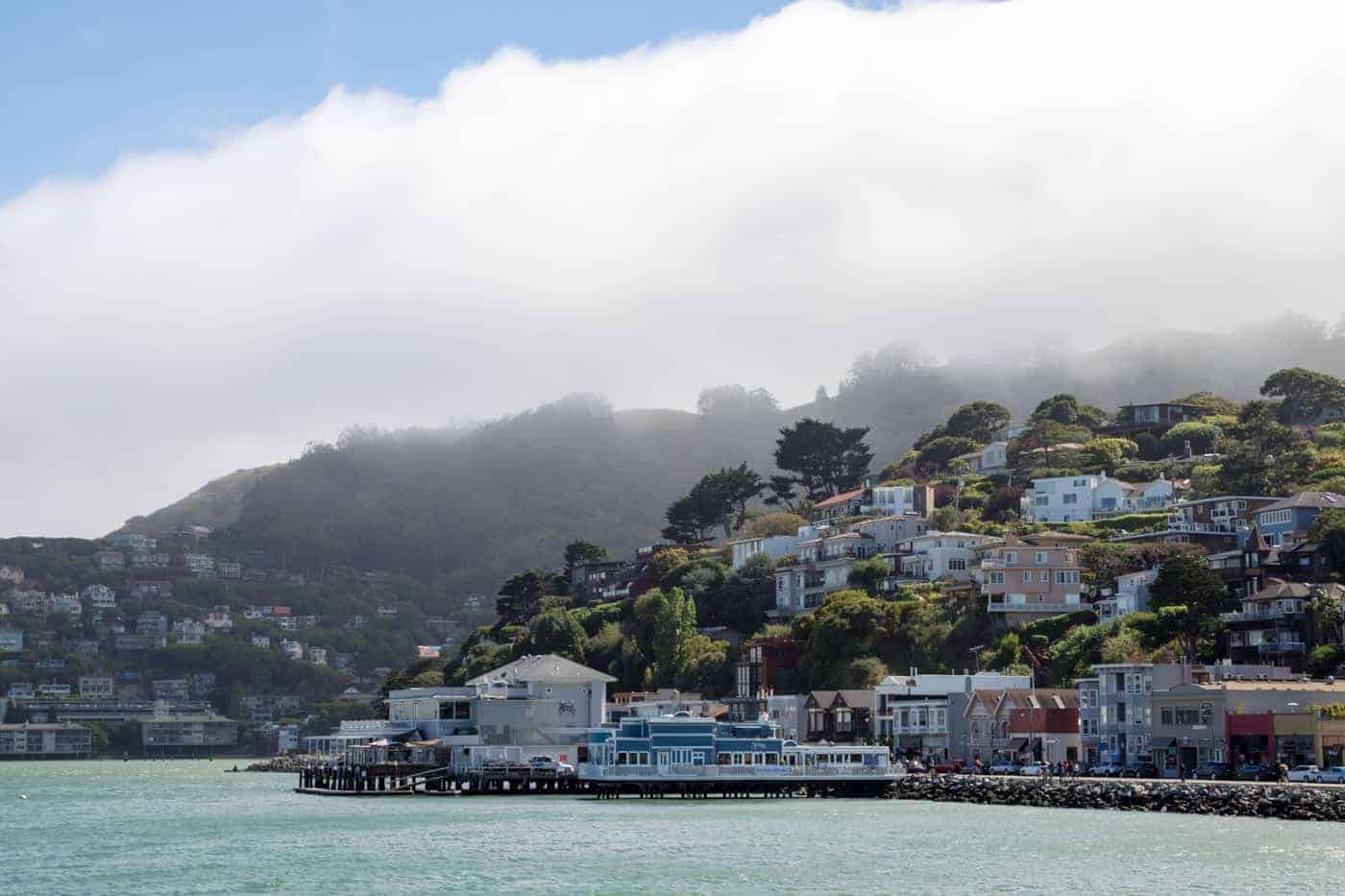 After dinner, catch the ferry from Sausalito back across the bay, enjoying more views of the Golden Gate Bridge and the city skyline as you go!
Take a Cable Car to Union Square
Once you get back to the city, take the Powell-Hyde cable car back to Union Square. You didn't think I'd let you visit San Francisco without a cable car ride, did you?
Cable Cars in San Francisco
Cable Cars are the quintessential form of public transportation in San Francisco, and cable car rides are a must for first-time visitors to the city.
There are three cable car lines that run throughout the city, but the Powell-Hyde line runs straight down Hyde Street and will take you from the ferry landing back towards Union Square.
Check out the Best Views of San Francisco
From Union Square, head to either Dolores Park or Twin Peaks for a phenomenal sunset view over the city to end your time here. Better yet – bring a blanket and a picnic and really settle in to the views!
What to Do if You Have More than 3 Days in San Francisco
This San Francisco itinerary is just a starting point – there's so much to see in the entire city of San Francisco and its surrounding area.
If you have a fourth day in the San Francisco area, or even more time than that, take some time to drive north of the city to check out a few more fun stops. Here are my recommendations if you have a longer San Francisco trip:
Napa Valley and Sonoma County
It's an easy day trip from the city to Napa Valley or Sonoma County, two of the finest wine countries in the world!  If you enjoy wine tasting, this road trip will be such a treat. And even if you don't enjoy wine, there's plenty of things to do in Napa besides wine tasting.
Planning a trip to Napa Valley can be pretty overwhelming, so check out my post on the perfect Napa Valley itinerary or Sonoma wine tasting for some ideas on where to go for great wine tastings, and where to eat, too! If you love bubbles, make sure to check out some of the amazing sparkling wineries in Napa.
Muir Woods National Monument
On the way to or from wine country, or as a separate day trip in itself, stop at Muir Woods National Monument.
Located just north of the city of San Francisco, the 550 acre Muir Woods National Monument is one of the last remaining redwood forests in the Bay Area. The redwood trees reach over 200 feet tall and are over 1,000 years old, so walking through the forest is an incredible experience.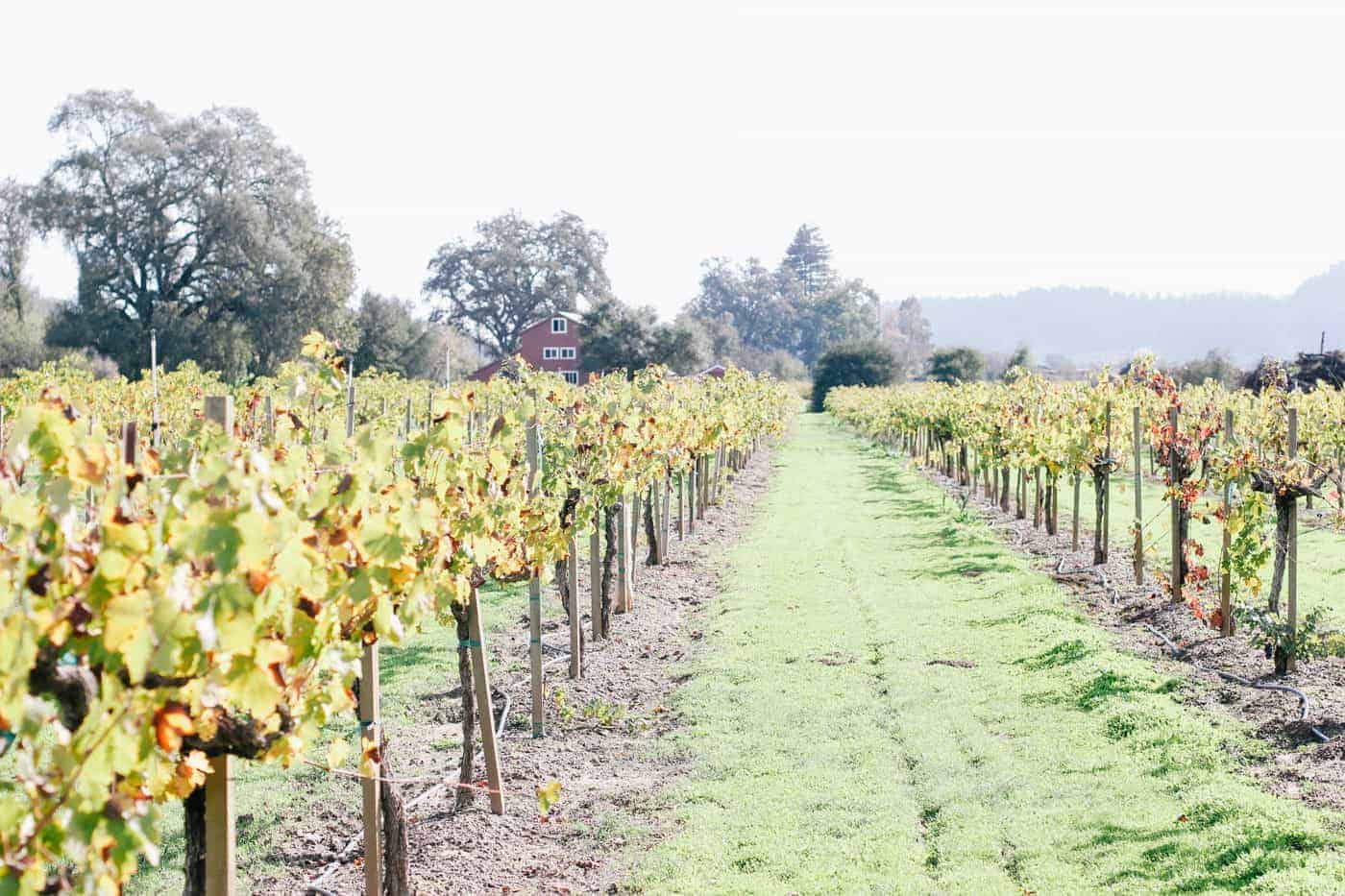 Is 3 Days Enough in San Francisco?
If you're wondering how many days are enough in San Francisco, I think a 3 day trip to San Francisco is the perfect amount of time to see the city, especially if it is your first visit.
Can You see San Francisco in 3 Days?
With 3 days in San Francisco, you will have plenty of time to see the city's top sights, without rushing from one place to the next.
But don't be surprised if you can't wait to come back for another trip!
Map of The Perfect 3 Day San Francisco Itinerary
I've put together a map that outlines the suggested San Francisco itinerary in this guide. Each day of the above itinerary is a separate layer in the map, and you can toggle them on and off.
The picture below provides a preview, and you can access the full Google map here to illustrate it in its entirety, or day-by-day. Happy exploring!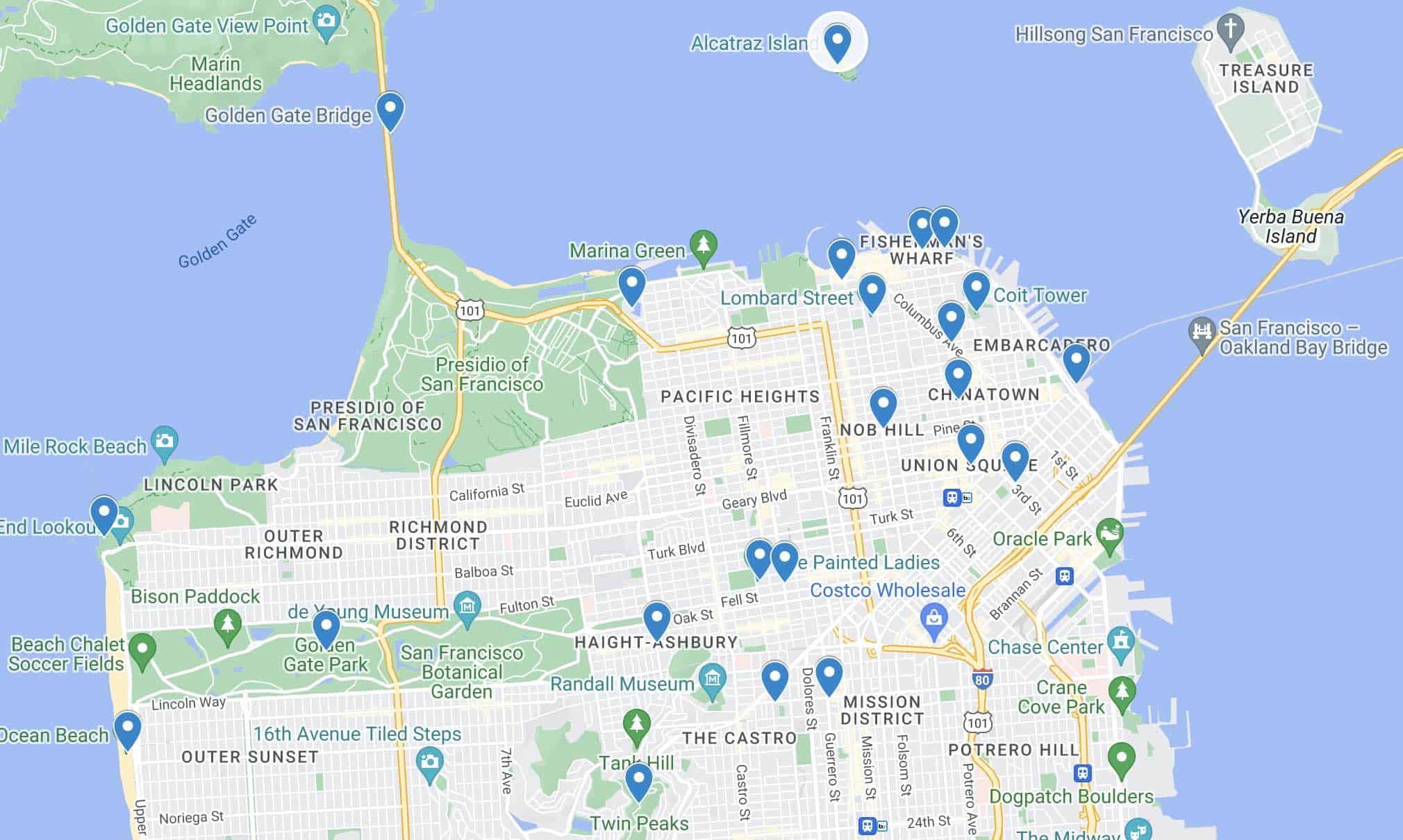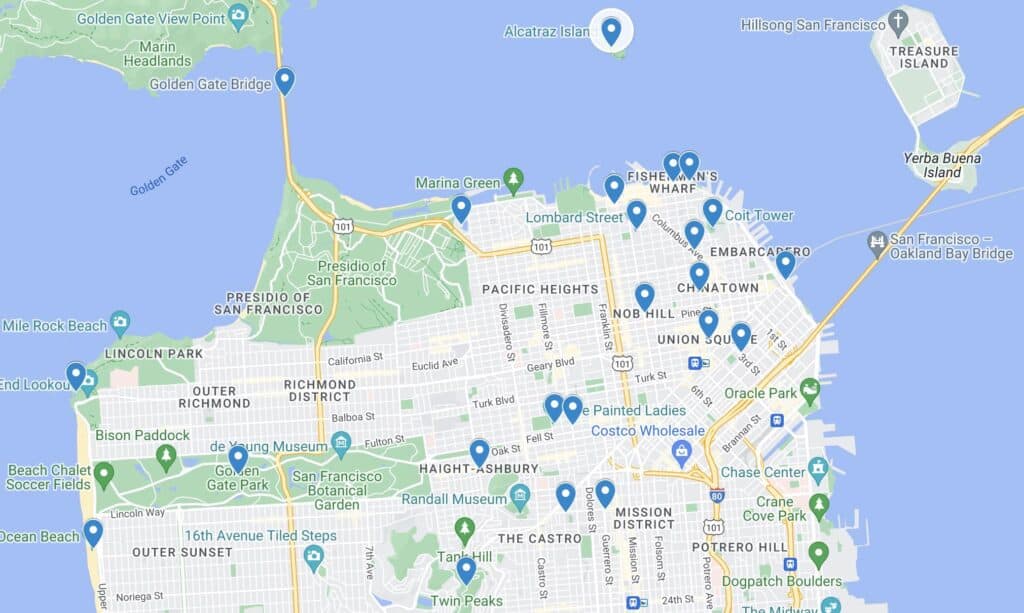 Frequently AskeD Questions
I've gotten quite a few questions about this post, so I've updated it to include a few of them.
When is the Best Time to Visit San Francisco?
The best time to visit San Francisco is during the fall months of September, October, and November.
During this time of year, the weather in the city is sunnier and warmer than the rest of the year, and the summer crowds have thinned out.
The summer months of July and August are also great times to visit the city. Just don't be surprised if it's not quite as warm if you had hoped.
Overall, there's not really a bad time of year to visit San Francisco. But if you visit during January, February or March, be prepared for at least a rainy day or two.
Can You see San Francisco without a Car?
Yes, you can absolutely visit San Francisco without a car. In fact, it is easier to see the city without a car because you won't have to worry about parking, which can be quite expensive in the city and also difficult to find.
It is easy to get around San Francisco using the city's excellent public transportation system, or by taking taxis or a ride share like Uber or Lyft.
If you decide to venture outside of the city into Napa Valley, Sonoma County, or Muir Woods, it is easier to just rent a car for the day.
What Should I not miss in San Francisco?
You could spend a lifetime living in San Francisco and STILL not see everything that this amazing city has to offer.
While there will always be more to do, after visiting San Francisco countless times over the years, I think this guide is the perfect San Francisco itinerary for first time visitors.
There You Have It – The Perfect 3 Day San Francisco Itinerary!
I hope this travel guide has helped you plan your 3 day San Francisco itinerary! Now you know exactly how to spend 3 days in San Francisco.
Have More time in California?
If you have more time to spend in California, there are so many amazing places to visit.
If you're staying in Northern California, don't miss my 3 day Yosemite itinerary, which is about a three hour drive from San Francisco. Yosemite is one of the most beautiful places in North America, and I highly recommend visiting if you have extra time in the Bay Area.
If you're headed down south, you'll love my Los Angeles 2 day Itinerary, along with my 3 day San Diego Itinerary.
And if you're going north, check out this Portland 2 day itinerary that's perfect for a weekend getaway!
For the best off-the-beaten path travel spots, my round up of the best hidden gems in California is a must-read!
Need Help Packing for San Francisco?
Here's everything you need to know about travel packing for women!
Pin it for Later!