Travel Packing for Women: 10 Expert Tips to Pack Light
This site uses affiliate links and I may earn a small commission when you use my links and make a purchase, at no extra cost to you. 
I used to be the world's worst packer.  I would have the heaviest bag, yet never have everything I needed.  My gigantic suitcase permanently sported the "HEAVY BAG" tag, but I always seemed to be lacking some key piece that I needed for my trip.  Fortunately, I've learned a few things in my many years of overpacking…and wanted to write this post to share my best packing tips for women.  I only wish I had known these tips all along!  It would have saved me quite a few backaches, heavy bag fees, and emergency shopping trips.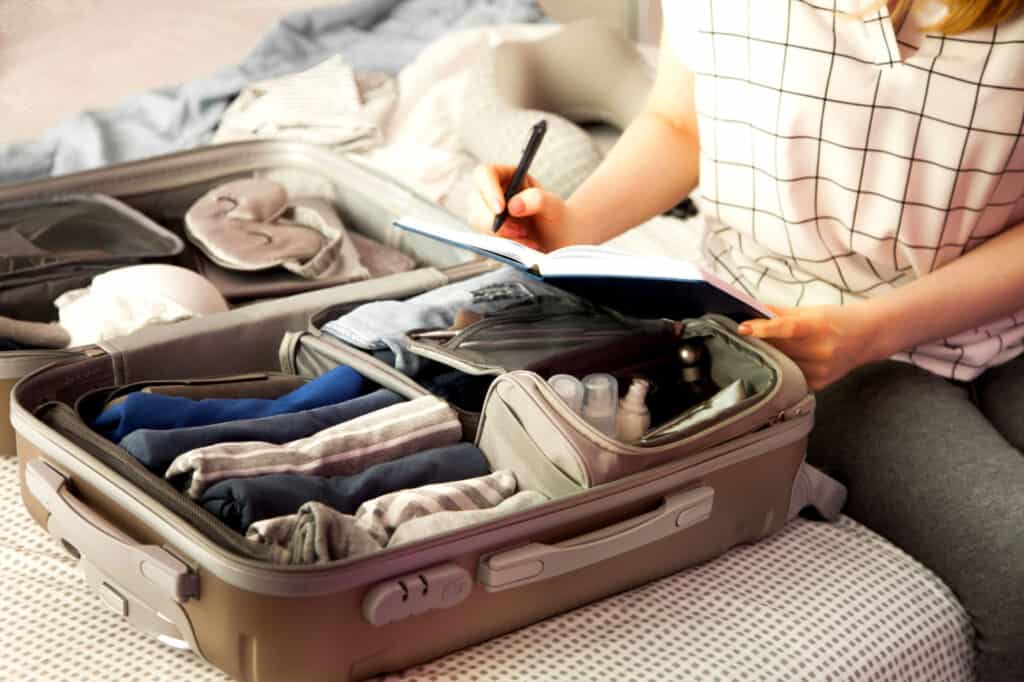 My Best Packing Tips for Women
So for all of you habitual over-packers, people with packing anxiety, or just people who love lists of packing tips (like me) – here's a few of my best packing tips for women.
I'm listing the ones that you might not hear all the time – so I hope there's something new here for everyone!
1. Pack reversible clothing
There's no easier way to create more outfits with fewer pieces than by packing reversible clothes.
If you need some ideas, check out the first post I wrote on reversible clothes for travel, as well as my post on reversible dresses for travel.
When I researched all of these posts, I was pleasantly surprised to see so many stylish options out there.
2. Pack an extra black t-shirt, no matter where you're going
I can't tell you how many times this has saved me. I have a plain black fitted t-shirt that I bought from Gap years and YEARS ago – it was on sale for $5. I bring it with me on EVERY trip.
It's my plan B if I need an extra top – whether it's because I spilled on what I originally planned to wear, my trip was unexpectedly extended, or I just need a fresh, clean layer. It can be dressed up or down and literally goes with everything.
Here are a few great options for well-made, versatile black t-shirts that are perfect for traveling.

Another great option is this t-shirt
which is a bargain. Sweet.
For more options on clothes that are perfect for travel, this travel capsule wardrobe has the only 15 pieces of clothing you need for your next trip.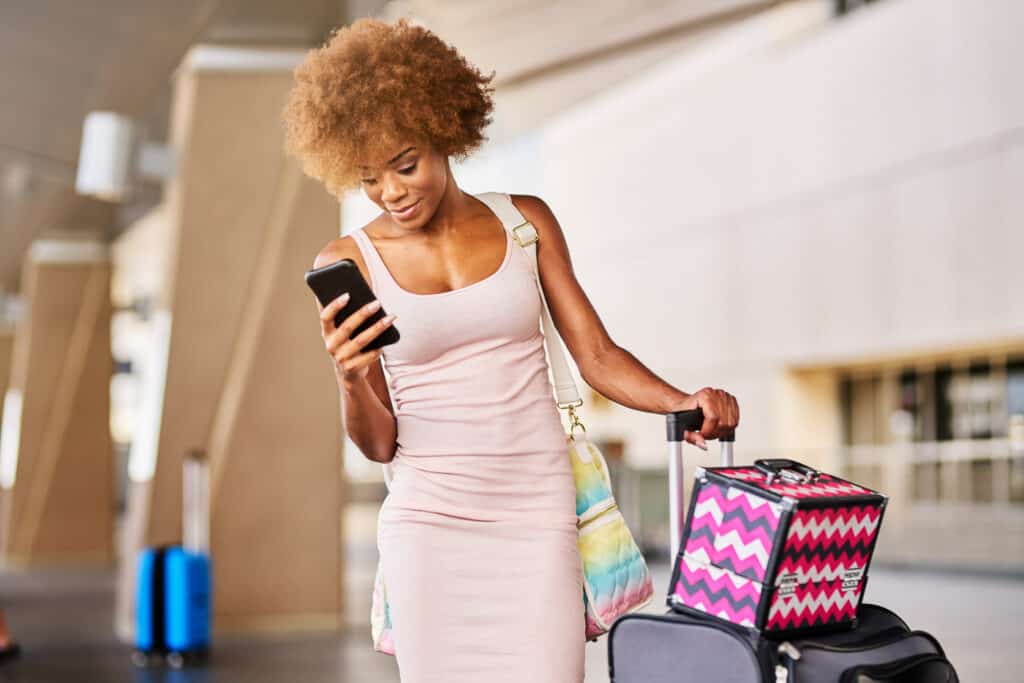 3. Wear your biggest shoes and heaviest layers on the plane
Sometimes I think this goes without saying, but I can't tell you how many times I've seen friends try to shove boots in their suitcases while wearing sandals on the plane. Keep your biggest stuff out of your bag, and you'll have room for that much more. For more help, check out how to pack a suitcase to maximize space.
Oh, and I swear you can pack for any trip with just two pairs of shoes. So that will help, too.
Pro Travel Tip: These days, travel can be more uncertain than ever. Check for any COVID-related restrictions at your destination, and never travel without travel insurance! I recommend SafetyWing, because they have flexible + affordable insurance plans, and also cover COVID-related impacts on your trip (not all companies do)!
4. Leave your hair dryer at home
Ah, the old hair dryer dilemma. To pack, or not to pack?
I used to never leave home without mine – and now it never, ever comes with me. But hotel hair dryers are the worst. So whaddya do? I have a few strategies that I use to avoid hotel hair dryers whenever possible.
For more travel hair tips, check out my favorite travel size hair products.
5. Dresses are your best friend
Dresses are an amazing way to carve more space out of your suitcase. One piece = an entire outfit. Sheath dresses are my go-tos for work travel, followed by dresses with sleeves – and maxi dresses are my staple for vacations and personal travel.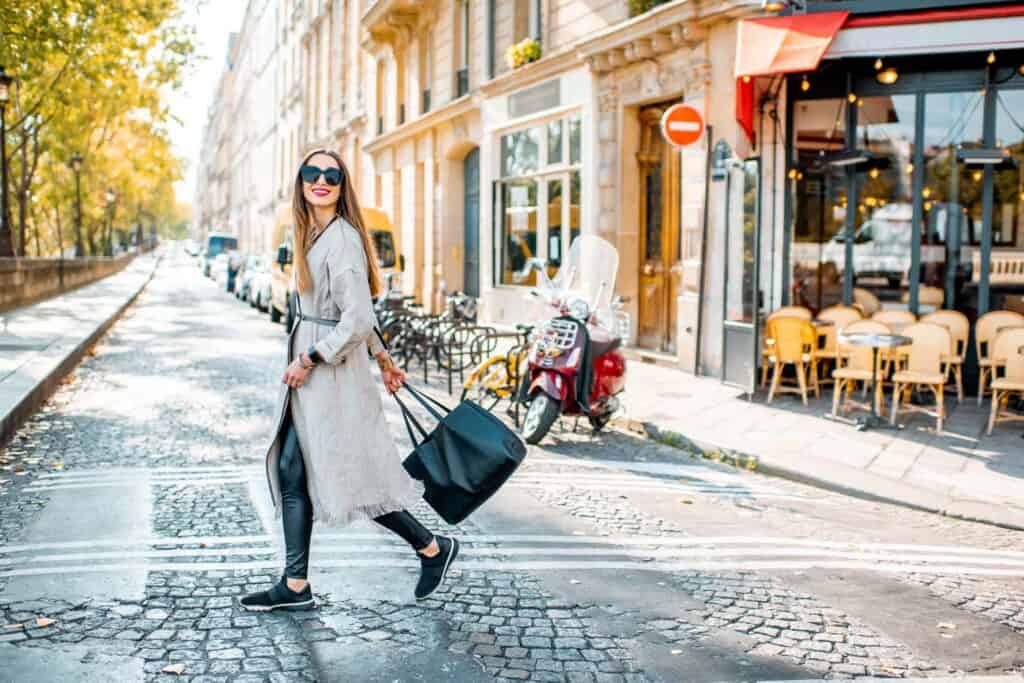 6. Keep your phone charger IN your handbag
I am all for keeping one's handbag as light as possible – but always, ALWAYS put your phone charger in your handbag, so that it can stay close to you at all times.
You never know when you might be separated from your carry on bag, and if you're like me and use your phone the entire flight – you don't want to arrive at your destination with no juice.
7. Never put any of these in your checked luggage…
Never put prescription medicine, travel documents, or valuable jewelry in your checked luggage. Keep them with you at all times!
Leaving any of these items in a checked bag can be a recipe for disaster! I usually avoid this possibility entirely by traveling only with a carry on bag, but even then, there are times when carry-on bags are gate-checked – meaning you can't keep tabs on it. So do yourself a favor and keep this stuff in a bag that will be WITH YOU – like under the seat in front of you.
For more help deciding what to pack where, check out this post on what to put in carry on vs checked bags.
8. Fit your toiletries into a one-quart bag. Here's how.
OK – if I can do it – I swear you can, too.
I'm not super high maintenance but I do have a lot of stuff. Hair products, skin care, makeup, etc, etc. – it's not easy to fit the entire lineup in a one-quart bag. I've learned how, though, with a strategy that I wrote about in this post on packing beauty products for travel.
My secret weapon is these containers
. Why? They're SMALL – so you can fit a bunch of them in your one-quart bag. They have white lids, so you can label them. And most importantly – they don't leak. You can get a pack of six on Amazon
for less than eight bucks – I haven't seen them cheaper anywhere else.
I also wrote a few more posts on this topic which might help, including where to find travel-size beauty products.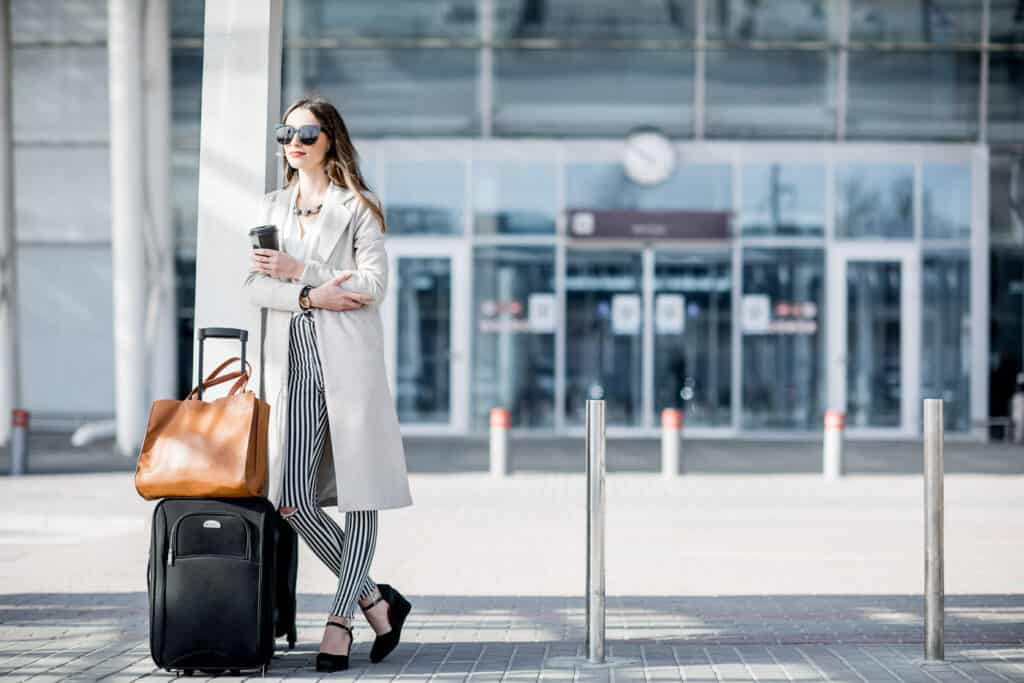 9. Invest in a convertible suitcase
For maximum versatility, invest in a suitcase that is a carry on size, but can expand to be a checked size. Check out one option here – this is similar to the bag that I have. You'll always have a backup plan if you end up doing some shopping!
For more of my favorite travel products, make sure to check out my shop!
10. Always keep a protein bar in your handbag.
Everyone's happier when they don't starve.
I've had flights that have run out of food, have only served disgusting food, or didn't have any food at all. And then there's the times when I've been stuck in an airport, late at night, when all of the restaurants have long since closed. HANGRY.
Having a protein bar tucked in my handbag has saved me numerous times. And if I don't end up eating it on the flight, it makes for a great quick breakfast the next morning.
I usually bring one or two of these bars
, since they're relatively healthy and pretty filling.
There you have it – my best travel packing tips for women!
What are your favorites?