Island Chic: The Perfect Hawaii Vacation Dresses for Your Tropical Getaway!
This site uses affiliate links and I may earn a small commission when you use my links and make a purchase, at no extra cost to you. 
Welcome to the ultimate guide to Hawaii vacation dresses! A trip to the beautiful islands of Hawaii offers a perfect opportunity to showcase your style and embrace the vibrant tropical atmosphere. If you're thinking about what to wear in Hawaii, choosing the right dresses for your vacation is essential to ensure both comfort and fashion. In this comprehensive guide, we will explore the cultural aspects of Hawaii, factors to consider when selecting vacation dresses, must-have dress styles, styling tips, and where to shop for the perfect outfits. Get ready to elevate your style and make a statement during your Hawaiian adventure!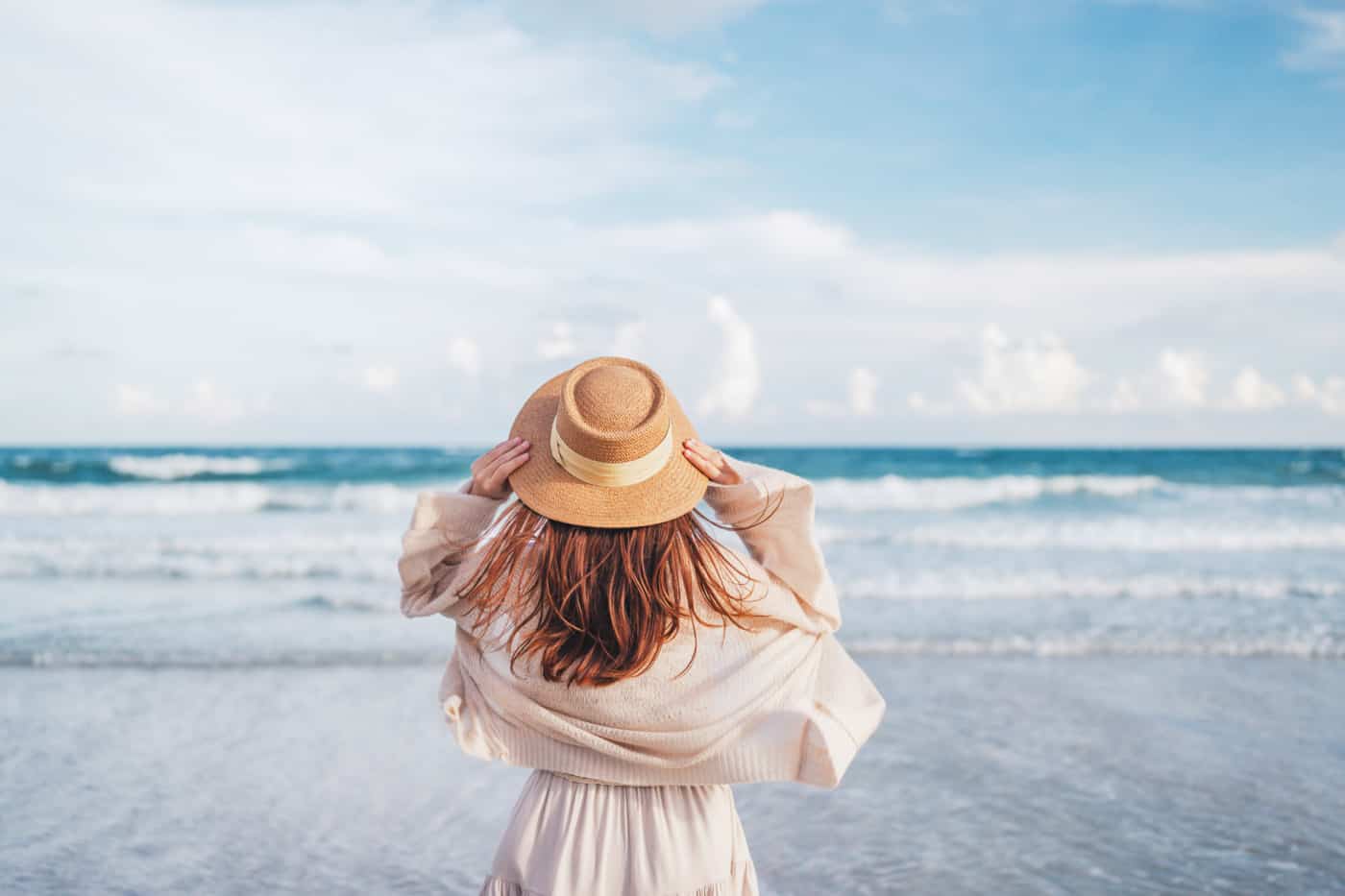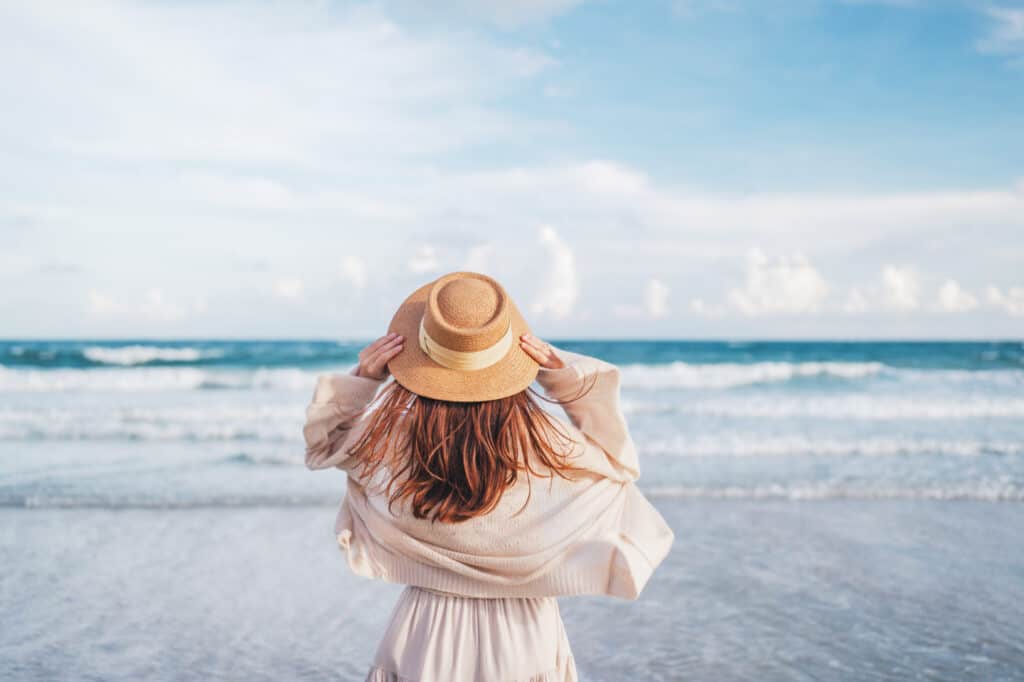 Understanding the Hawaiian Vibe
Hawaii is renowned for its rich cultural heritage and relaxed island lifestyle. Before diving into the world of vacation dresses, it's important to grasp the essence of the Hawaiian vibe.
The aloha spirit, which embodies warmth, friendliness, and hospitality, is a significant part of Hawaiian culture. When it comes to fashion, tropical prints, vibrant colors, and flowing fabrics are key elements to embrace.
Incorporating these elements into your vacation dresses will not only keep you comfortable but also help you blend in with the local style and immerse yourself in the Hawaiian experience.
Wearing Dresses on Vacation in Hawaii
Dresses should be at the top of your Hawaii packing list! When it comes to packing for beach trips (especially trips to Hawaii), I always bring 3-4 dresses. Why? They're so versatile, and one piece = one outfit. It's packing made simple!
It's easy to create an entire beach vacation capsule wardrobe around dresses, and they're a resort wear staple! So whether you're visiting Kauai, the Big Island, Oahu, Maui or Lanai, throw a few dresses in your bag and you'll be glad you did.
When it comes to picking what dresses to pack for Hawaii, there's a few things to keep in mind.
Factors to Consider When Choosing Vacation Dresses
When selecting dresses for your Hawaii vacation, there are a few things to consider so that you're prepared for the tropical climate and various activities the islands offer.
Fabric: Opt for dresses in lightweight and breathable fabrics such as cotton, linen, or rayon. These materials will keep you cool and comfortable in the warm Hawaiian weather.
Comfort: Choose dresses that allow freedom of movement and have relaxed fits. Flowy and loose silhouettes are ideal for capturing the laid-back Hawaiian lifestyle.
Versatility: Look for dresses that can be dressed up or down for different occasions. Versatile pieces will save space in your suitcase and give you more outfit options.
Suitability for Activities: Consider the activities you plan to engage in, such as beach days, sightseeing, or dining out. Select dresses that are appropriate for these activities, ensuring they are comfortable and practical for each occasion.
Casual vs. Formal: You can turn up just about anywhere in Hawaii with very informal attire. So 95% of the time, a casual sundress will do the trick. For fancy dinners, luaus, or weddings, you'll fit right in with a dress that's a bit more elevated – I've included plenty of those here in this guide!
Must-Have Dress Styles for a Hawaii Vacation
With those factors in mind, here are a few of my current favorite must-have styles and top picks for dresses for your Hawaiian vacation!
Maxi Dresses
Maxi dresses are a staple for any Hawaii vacation. They are not only fashionable but also provide comfort and versatility. Perfect for beach walks, sunset dinners, luaus, or casual outings, maxi dresses create an effortlessly chic look, all in a single piece.
Look for maxi dresses with tropical patterns or solid colors inspired by the Hawaiian landscape. Floral prints, palm leaves, or vibrant hues will enhance the tropical vibe of your outfit.
For petite body types, opt for a maxi dress with a higher waistline to create the illusion of length. Flowy fabrics like chiffon or jersey will provide a flattering drape.
If you have a curvier figure, choose a maxi dress with a defined waist or a wrap-style design. This will accentuate your curves while still offering a comfortable and breezy fit.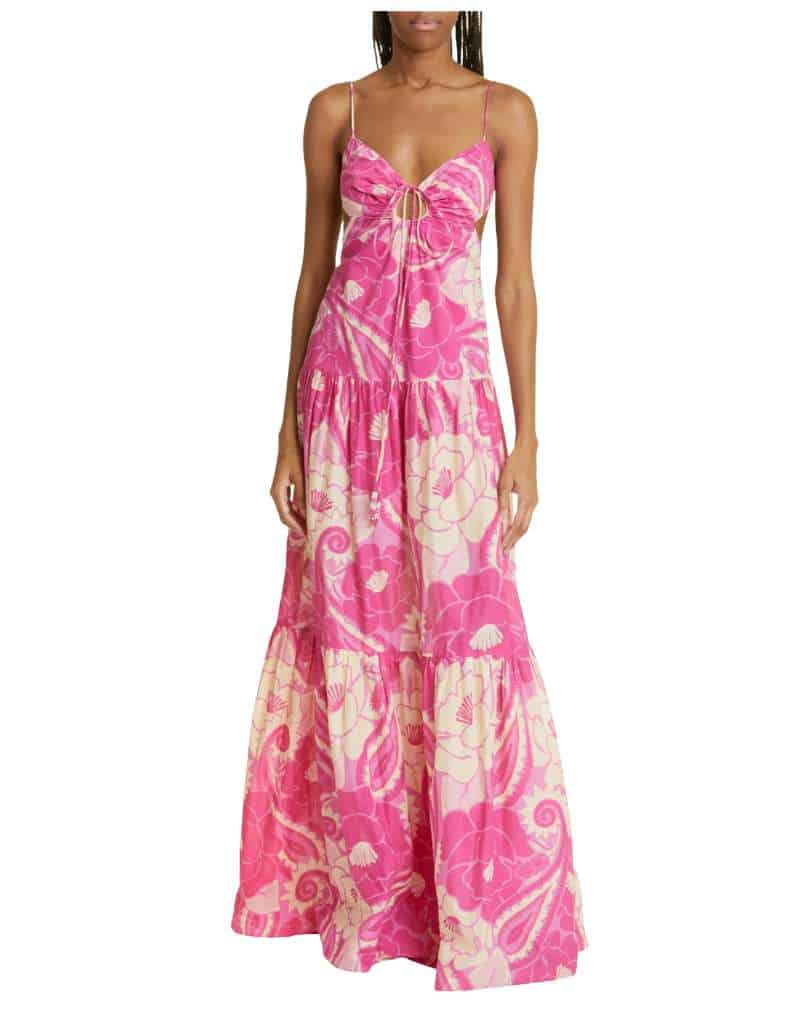 farm rio
TROPICAL PRINT DRESS
I'm starting this list of Hawaii vacation dresses off with a bang: this gorgeous, tiered, hot pink tropical print dress by Farm Rio. The details are incredible: the beaded tassel ties, the front cut-out, the ruffled tiers, and the back of the dress! The print of this dress is just begging to be taken somewhere beach-y and warm – like, say, Hawaii. It would be a standout at a luau dinner paired with neutral wedges and a straw clutch.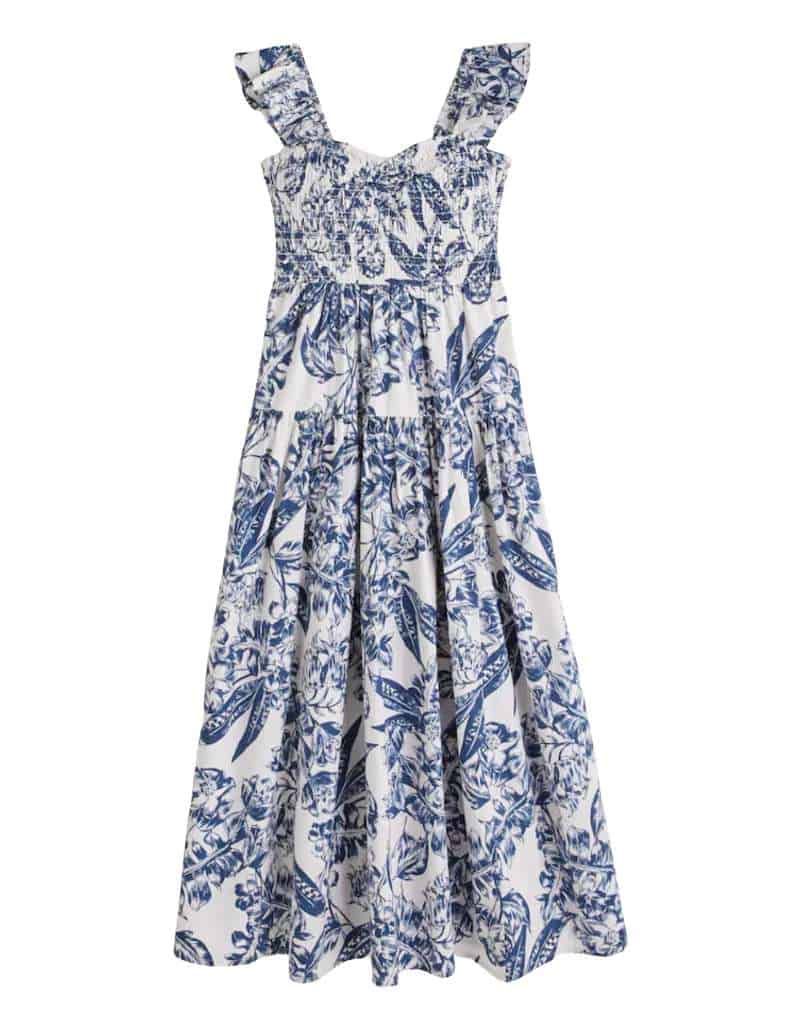 a&f
NAVY PRINT SMOCKED DRESS
I love this navy printed smocked dress because it can be dressed up or down, so it will be equally at home on the beach or out to dinner in Hawaii. The print is also perfectly versatile: it's tropical but not, like, tropical-tropical (is that a thing?), so it wouldn't look out of place at a dressy summer picnic back home, a day of wine tasting, or a dinner with friends.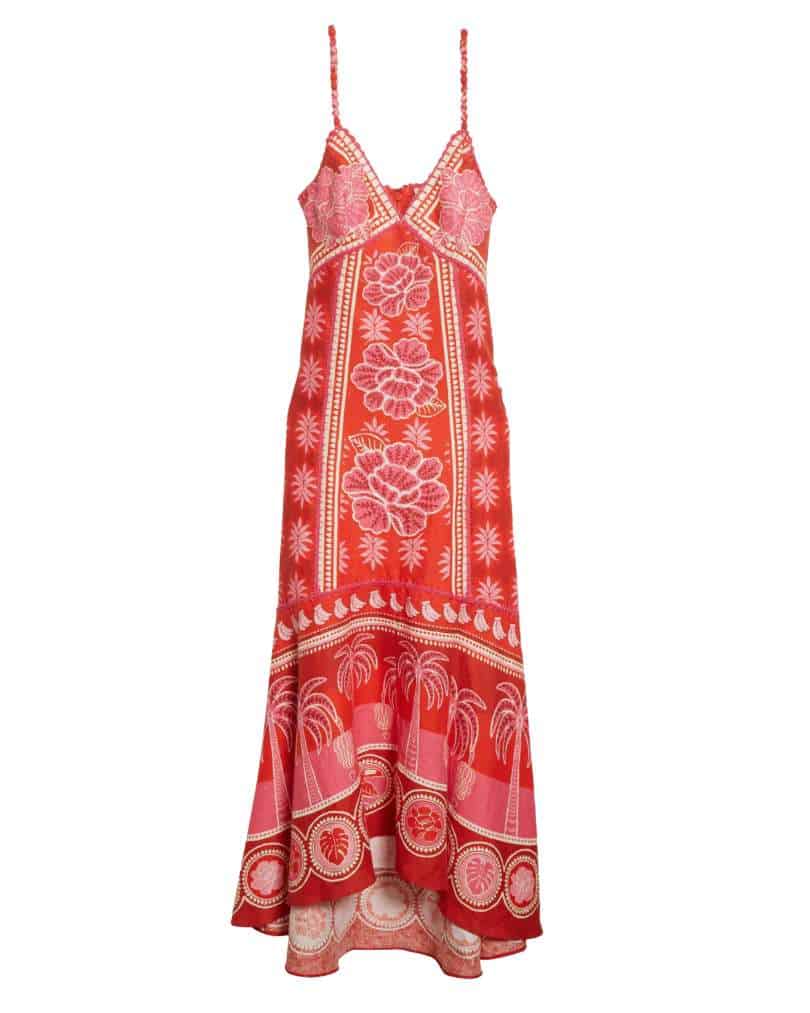 farm rio
EMBROIDERED LINEN MAXI
I can't get enough of the print in this dress. It's unique without being overwhelming, and the color is just gorgeous. But don't miss the other beautiful detail in this dress which is the embroidery throughout the design, but especially on the straps. I also love the cut of this dress, the bottom half is just swingy enough without being too much fabric for beach weather.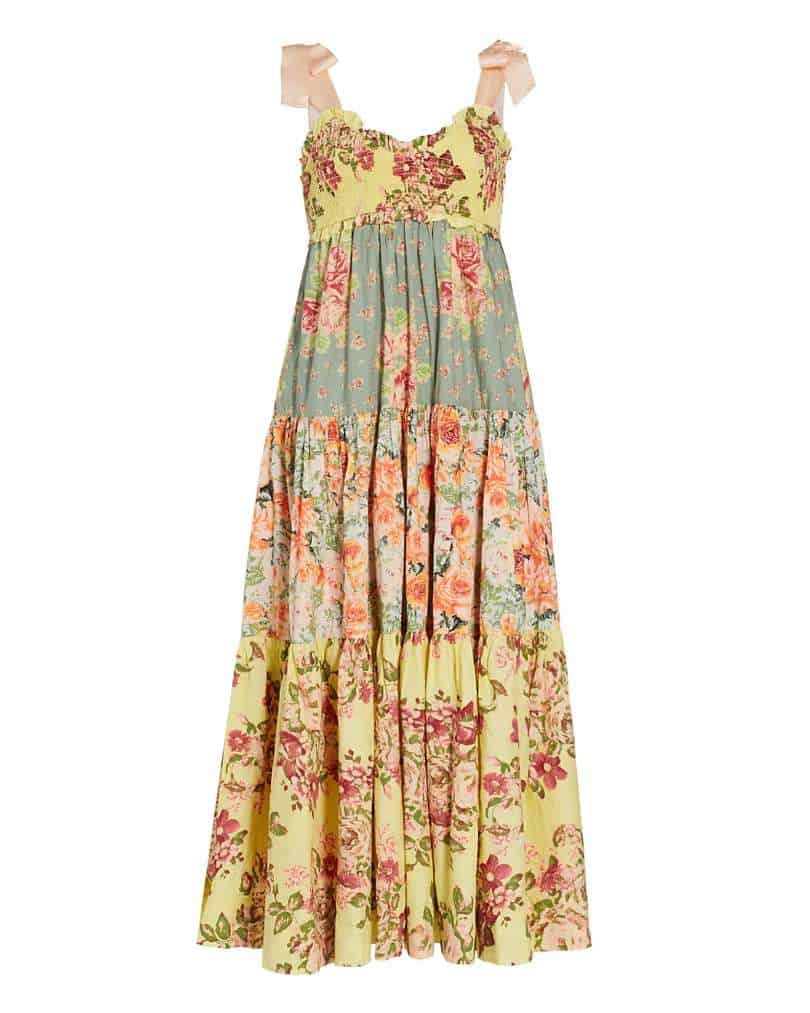 free people
TIERED FLORAL DRESS
Free People is one of my favorite brands for relaxed boho style. They also happen to make really cute dresses! I'm also a sucker for a yellow dress, so I love that this one has an overall yellow vibe to it, but it's not monochromatic. The way the prints pair is eclectically cute, and I adore the bows on the shoulder straps. Why don't more dresses have that? Wear this dress on vacation in Hawaii and then again back home to brunch with friends.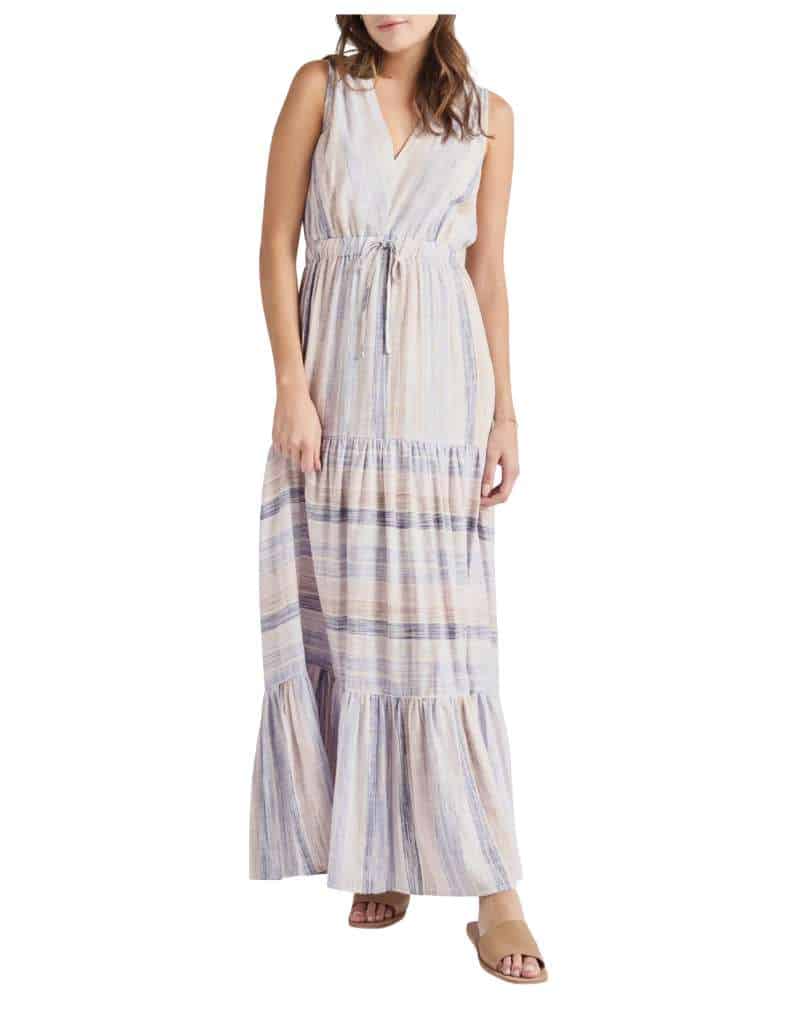 splendid
STRIPED MAXI
For those super-hot days, this striped maxi is a winner! It's a viscose-linen blend, so it's super lightweight but will wrinkle less than 100% linen. Not pictured: the beautiful cut-out in the back of the dress. Beautiful AND strategic, because even though there's a cut-out, you can STILL wear a regular bra with this dress (yep, I tried it on!).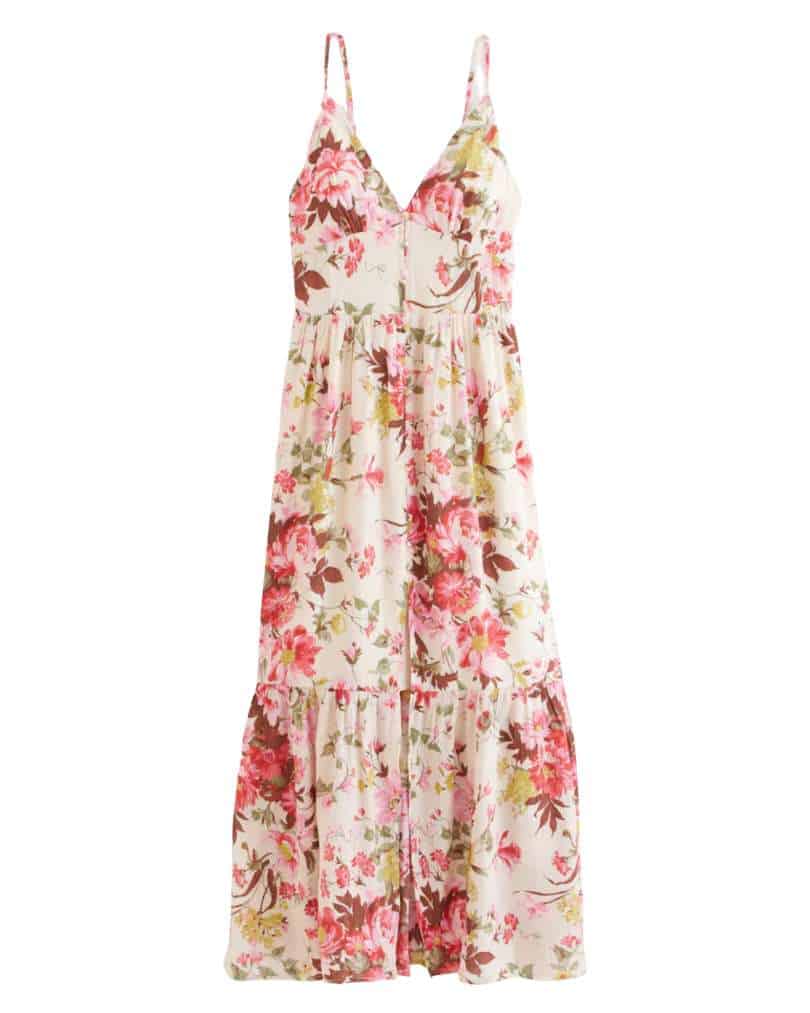 a&f
CRINKLED FLORAL DRESS
There is a special place in my heart for crinkled texture dresses like this one. Not only do I love having some interest in a fabric, but crinkling means that wrinkles from packing are just not a thing. Stuff it into a ball and throw it in your suitcase, and it'll still look great once you arrive. I love the summery print, ruffled bottom, and button detail down the front. At $100, you can't go wrong with this dress!
Sundresses: Midi Dresses and Wrap Dresses
Sundresses are perfect for daytime adventures and exploring the Hawaiian islands. They exude a casual elegance that effortlessly captures the essence of a tropical getaway.
Opt for sundresses in vibrant colors, playful prints, or breezy fabrics like cotton or linen. Floral patterns, tropical motifs, or geometric designs are all excellent choices.
Consider the length of the sundress based on your personal style and comfort. Knee-length or mid-thigh dresses are versatile and suitable for various activities.
Sundresses with adjustable straps or tie details are great options as they allow you to customize the fit to your preference.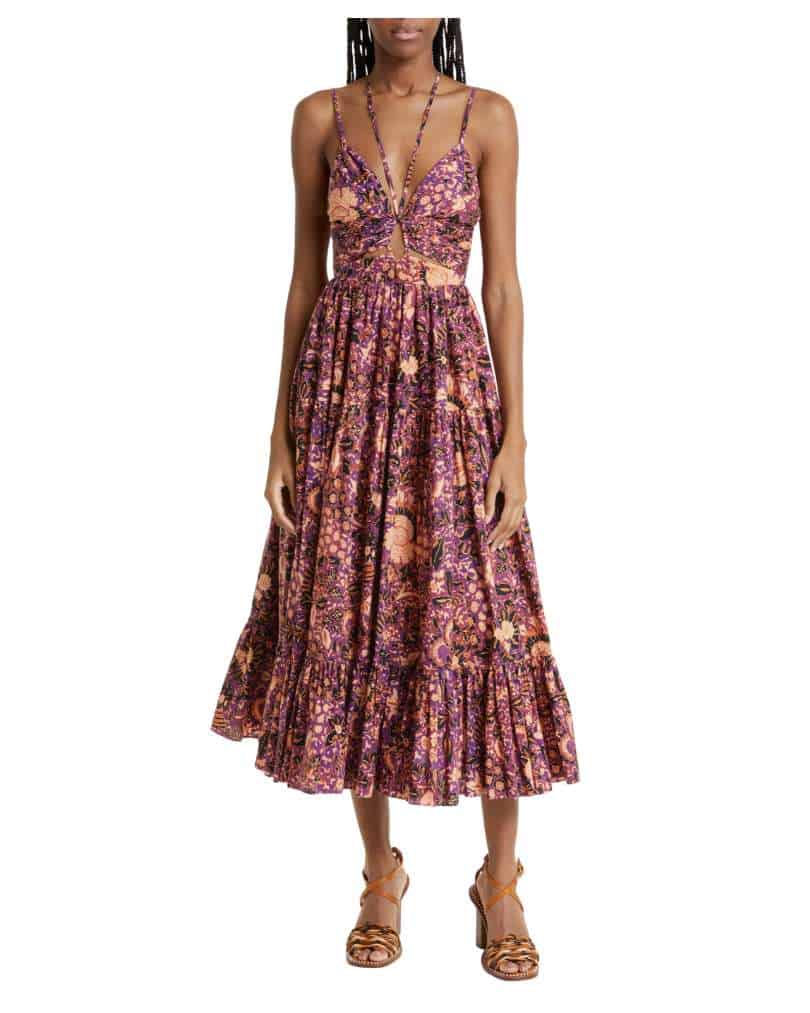 ulla johnson
CUTOUT MIDI DRESS
I am drooling over everything about this dress (as is common with me and Ulla Johnson's pieces). The unique print, the subtle cutout, the length, the ruffle hem, the extra straps, and the COLOR! It's called "Blackcurrant" which is the perfect name for this berrylicious deep purple print that would look amazing in the tropics! Or as a wedding guest. Or out to dinner. Pretty much anywhere!
Wrap dresses are known for their versatility and flattering silhouette, making them a fantastic choice for both daytime and evening wear in Hawaii. The wrap design allows you to adjust the dress to your body shape, emphasizing your waistline and creating a feminine and flattering silhouette.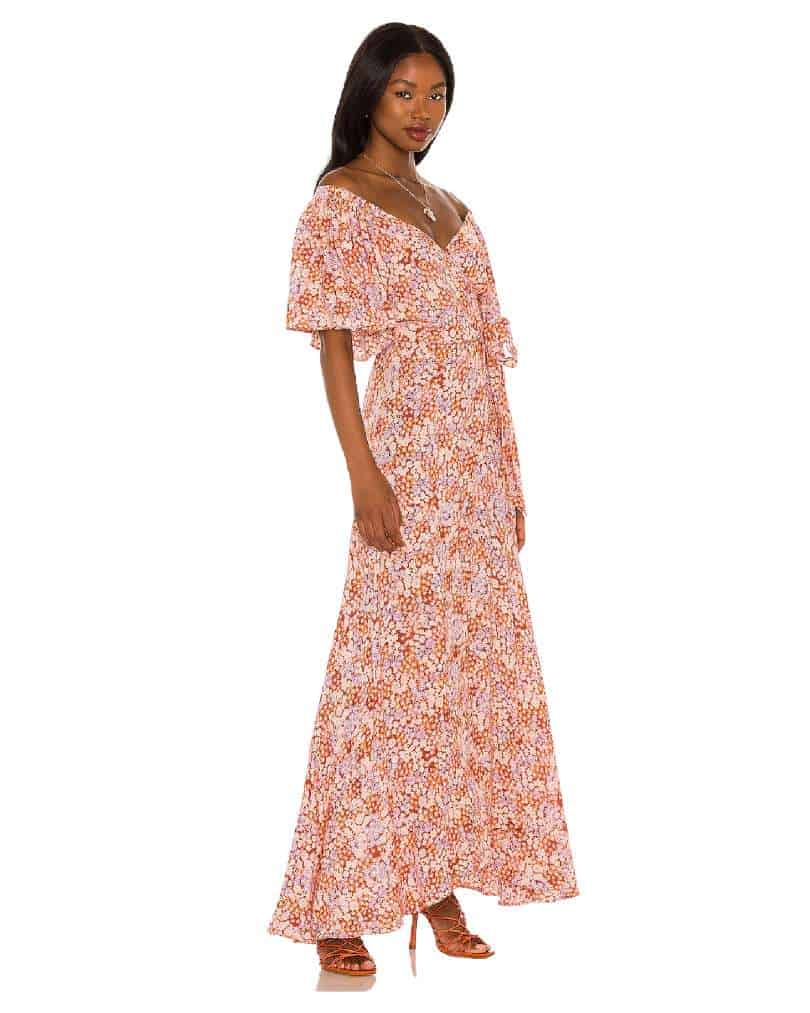 l*space
FLORAL MAXI WRAP DRESS
One of my favorite brands for vacation wear and warm weather clothing is L*Space. This dress is no exception! I love the floral print, the dramatic neckline, and flattering wrap style. As of the date of publishing this post, the dress was on sale! So don't wait if you want to scoop it up.
One Shoulder Dresses
The one shoulder trend is still going strong! I'm also including a very cute halter dress – although it's not technically a one shoulder dress, it was too cute not to include.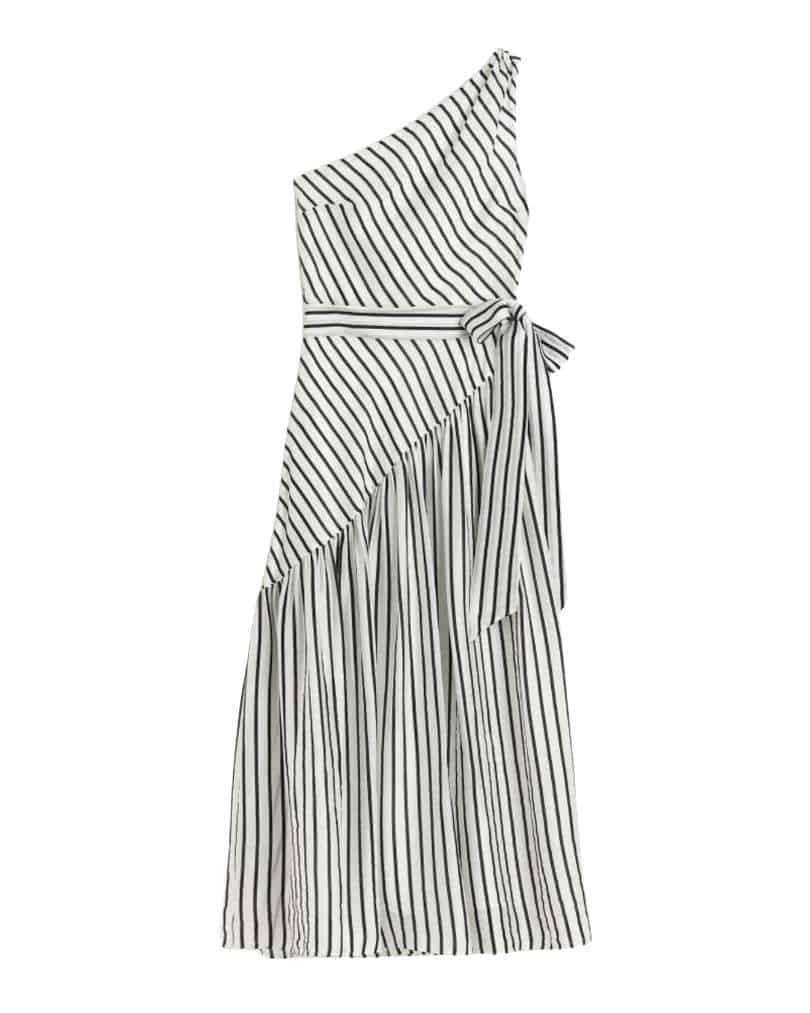 h&m
STRIPED ONE SHOULDER DRESS
This dress perfectly combines the trendy one shoulder silhouette with preppy chic style, and finishes everything off with feminine details. A true masterpiece, all for less than $85. It's also made from Lyocell, a synthetic fabric that's actually made from natural fabrics, so it doesn't wrinkle easily. That means it's perfect to pack!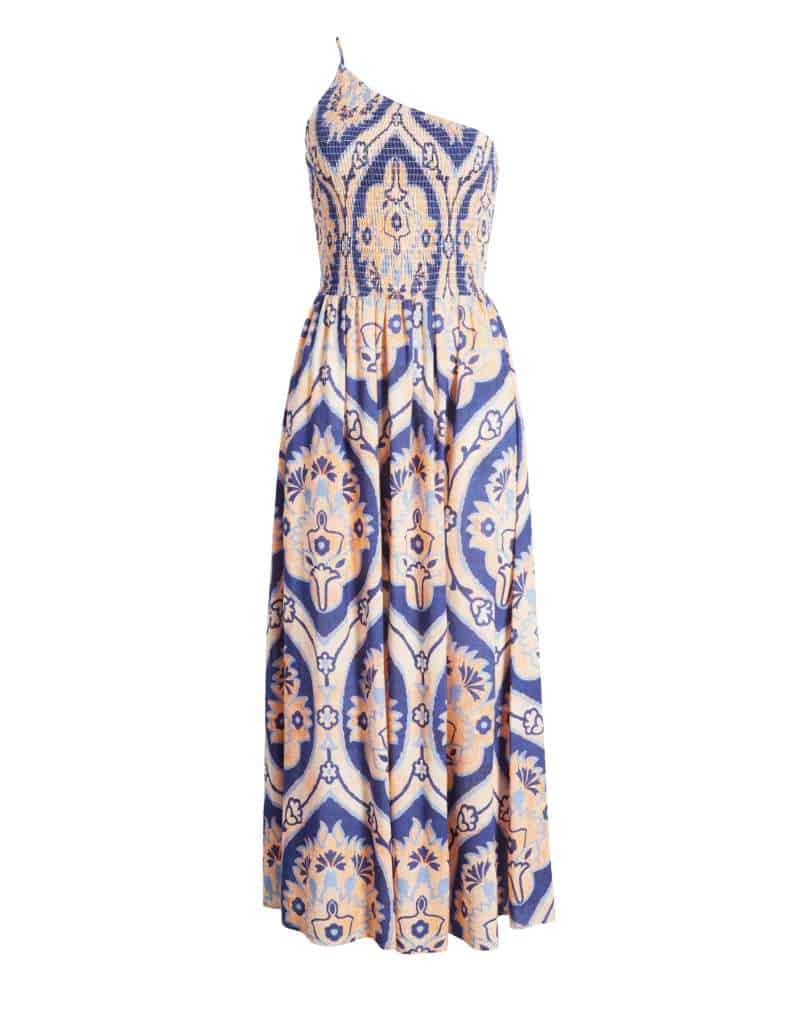 moon river
PRINTED ONE SHOULDER DRESS
This printed one shoulder dress is just begging to be taken out to dinner. The print does almost all of the styling work for you, because you could pair this dress with simple flip flops and look instantly polished. Or, try adding espadrille wedge sandals, a straw clutch, and gold statement earrings. Easy + chic!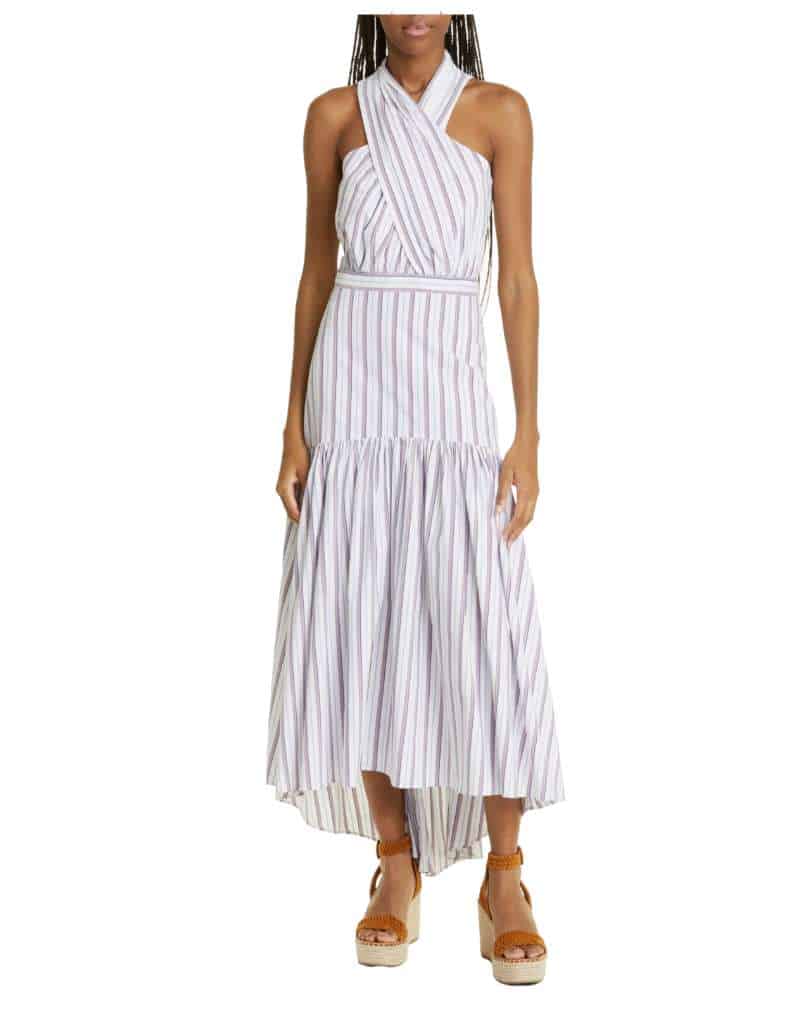 veronica beard
STRIPED HALTER DRESS
This striped dress is anything but simple. The ruffle hem and the defined waist are excellent details, but it's the halter neckline that truly makes it stunning. I know it's not technically a one-shoulder dress, but if you're looking for a dress with an interesting neckline, this is a winner! It's perfect for Hawaii because it would look fantastic with a simple ponytail or bun – or pretty much any style that keeps your hair up, which is always my preference in hot, sticky weather.
Beach Cover-Ups
Beach cover-ups are essential for protecting your skin from the sun and providing an effortless transition from the beach to other activities. They can also add a stylish touch to your beach ensemble.
Choose flowy caftans, sarongs, or kimono-style cover-ups in lightweight fabrics like chiffon or cotton. These options will keep you cool while providing coverage.
Look for cover-ups with vibrant prints, delicate embroidery, or playful tassel details to add a touch of personality to your beachwear.
Consider cover-ups that can be worn in multiple ways, such as a sarong that can also be transformed into a halter dress or a beach skirt. This will give you more outfit options during your vacation.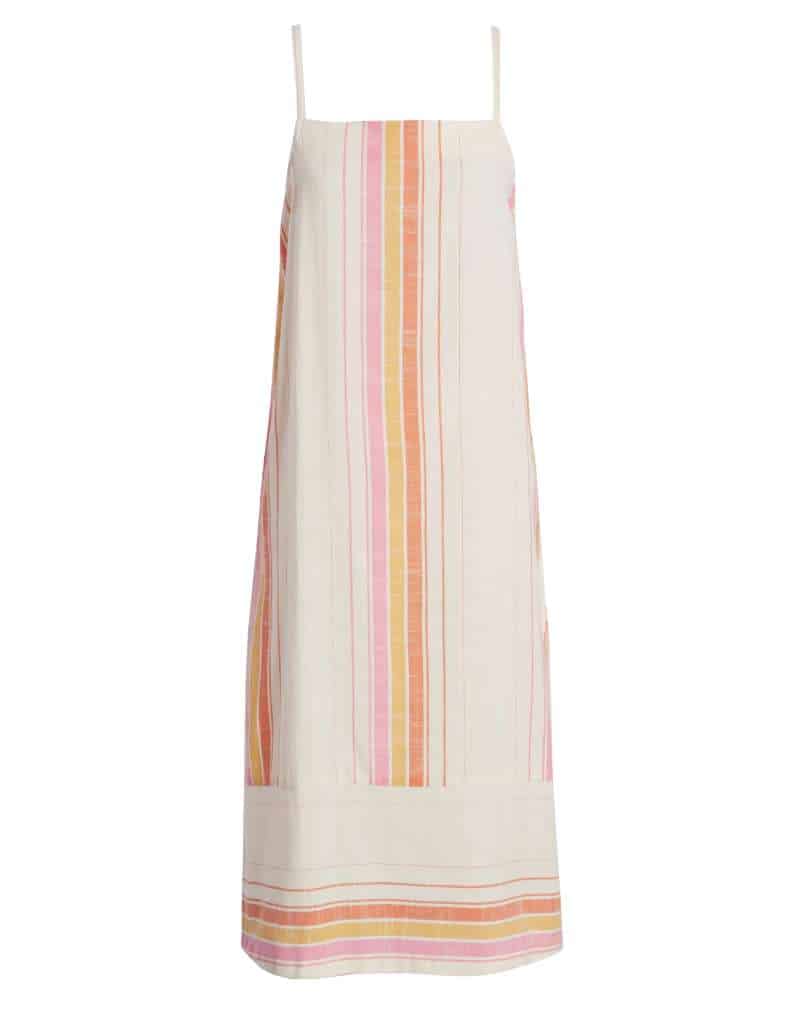 rip curl
SHERBERT STRIPED COVER-UP
This strappy striped cover up dress is about as easy as it gets in terms of a dress for your Hawaiian vacation. Throw it on over a swimsuit and wear it as a cover up, or add sandals and earrings and wear it to sunset cocktails later in the day. It will also look great back at home all summer long!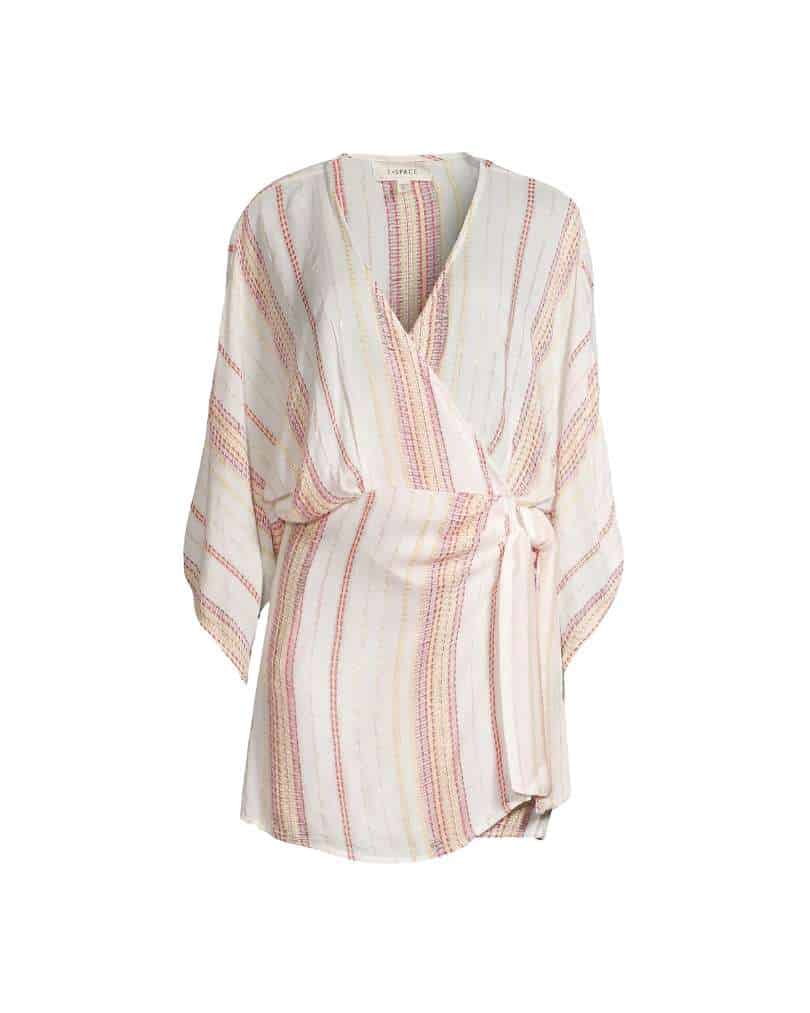 l*space
WRAP DRESS COVER UP
If you would rather have sleeves in your cover-up, this wrap dress is a very cute option. And yes, it is another dress by L*Space (I told you they're one of my vacation dress favorites!). I love how it drapes in the front, as well as at the ends of the sleeves, and the wrap silhouette is just so flattering. The fabric is also very lightweight, so even though the dress has sleeves, it won't weigh you down.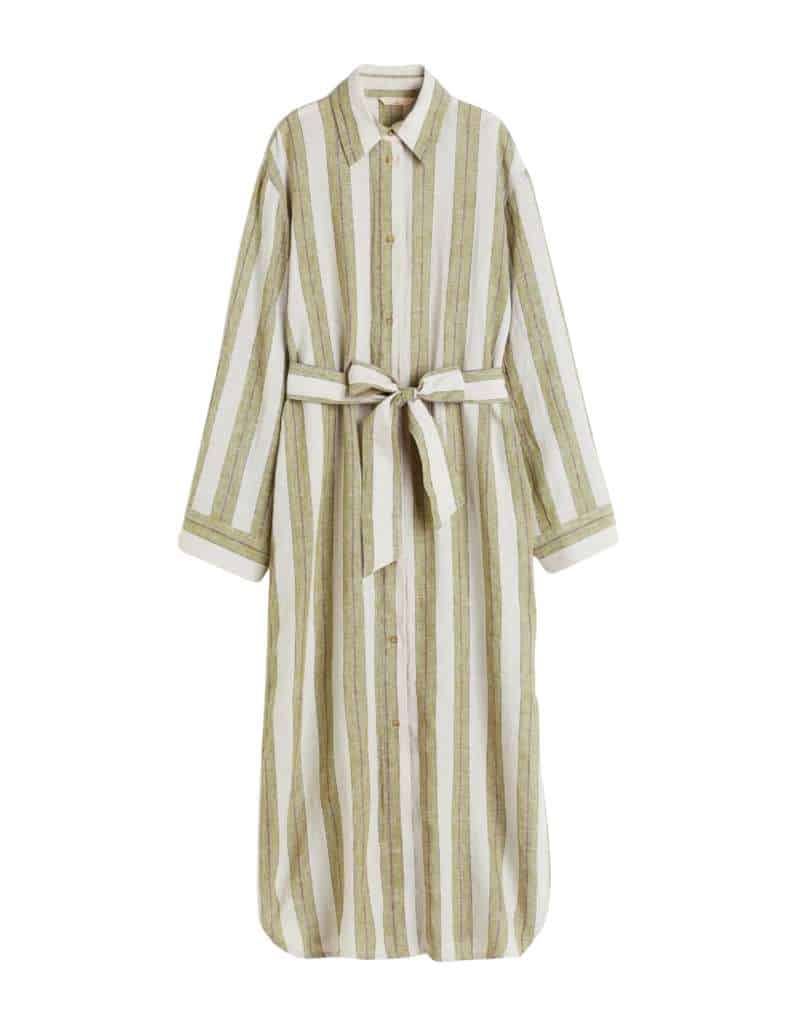 h&m
STRIPED SHIRT DRESS COVER-UP
If you would rather have a bit more coverage in your coverup, this shirtdress is the perfect option for Hawaii poolside or beachside lounging. The light green color is unique, yet still neutral enough to pair with anything, and I love that the dress has a tie at the waist, whereas most shirt dresses lack this flattering detail. This would look very cute with a giant sun hat and oversized sunglasses.
Styling Tips and Accessories for Hawaii Vacation Dresses
To complete your Hawaii vacation dress outfits, here are some styling tips and a few accessory suggestions:
Hats: Sun protection in Hawaii is key! Protect yourself from the sun while adding a stylish touch with wide-brimmed straw hats or floppy sun hats. Choose a hat that complements your dress and offers shade for your face.
Sunglasses: Choose sunglasses with UV protection to shield your eyes from the bright Hawaiian sun. Go for frames that suit your face shape and match your dress style.
Footwear: Select comfortable sandals or wedges that are suitable for both beach days and exploring. Look for styles that are lightweight and provide support for long walks. If you're going to Hawaii, leave your high heels at home! Try a wedge or espadrille instead.
Statement Jewelry: Enhance your vacation dresses with statement jewelry pieces like colorful beaded necklaces, shell bracelets, or oversized earrings. These accessories will add a touch of glamour and reflect the Hawaiian beachy vibes.
Tote bag or clutch: A straw clutch or tote bag will work to accessorize just about any dress in Hawaii!
Where to Shop for Hawaii Vacation Dresses
In addition to my specific dress recommendations above, here are a few clothing brands that are always my go-to's when it comes to shopping for beach vacations.
MY FAVORITE BRANDS:
At Nordstrom, try L*Space, Farm Rio, Free People and Agua Bandita
For budget-friendly options, try H&M, Nordstrom Rack, and Abercrombie & Fitch
Love high end resort wear? Check out Johanna Oritz at Moda Operandi
For swimwear, I love Marysia and Becca
For more of my favorite travel products, check out everything in my shop!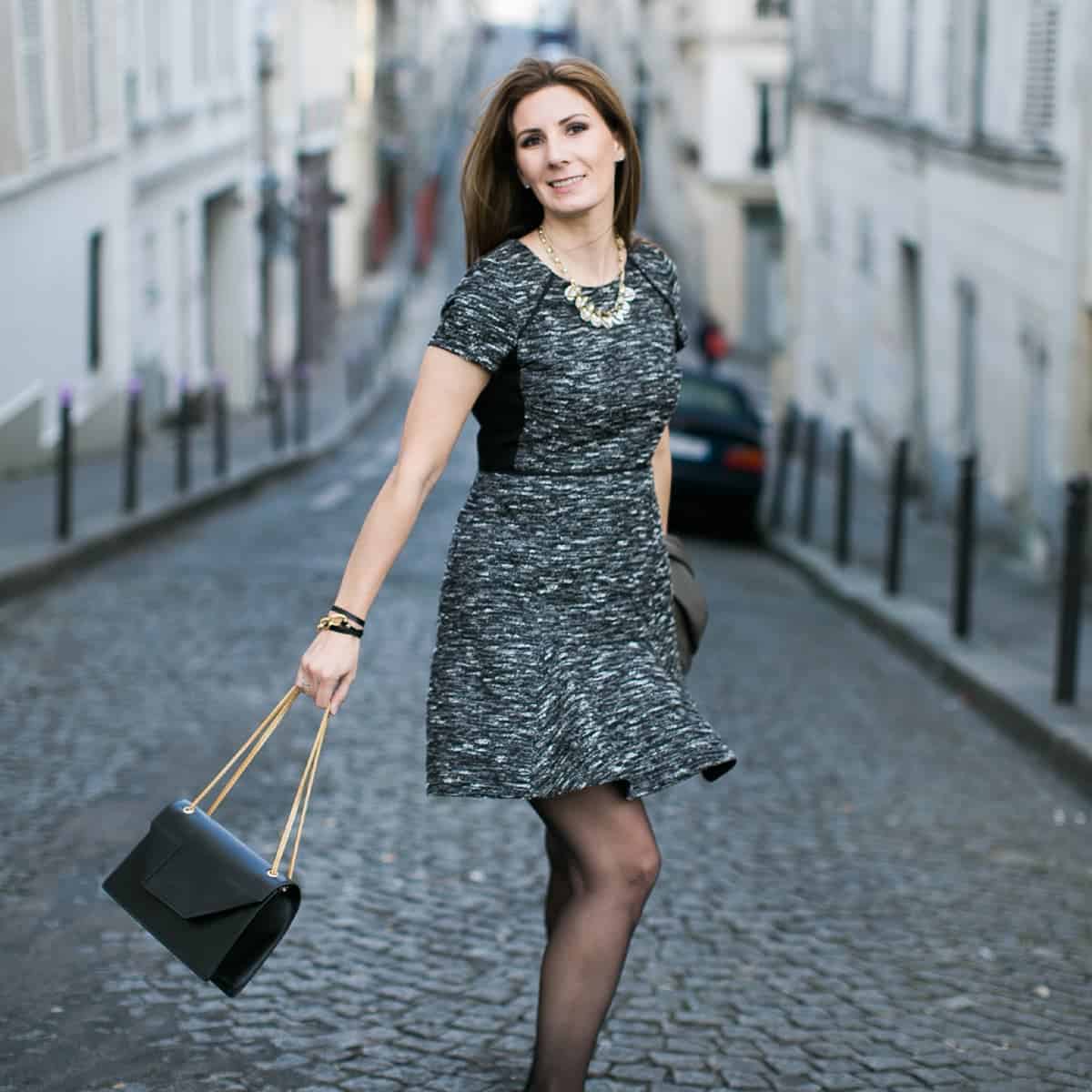 shop my favorite
TRAVEL ESSENTIALS
Ready to jet-set with ease? Discover my favorite travel products for your ultimate passport to stress-free adventures!
Conclusion
By following this comprehensive guide to Hawaii vacation dresses, you'll be well-prepared to enjoy a stylish and unforgettable tropical getaway in the Aloha State! Remember to consider the Hawaiian vibe, choose dresses that suit your comfort and style preferences, and accessorize with hats, sunglasses, and jewelry to complete your outfits. Don't forget to explore local boutiques and Hawaiian brands for unique finds that capture the essence of the islands. So pack your bags, embrace the tropical spirit, and get ready to make a fashion statement during your Hawaiian adventure!
Frequently Asked Questions
Are there any specific dress codes I should be aware of in Hawaii?
Hawaii generally has a relaxed dress code, but it's important to be mindful of specific dress codes at certain establishments or events. Some upscale restaurants or resorts may have a more formal dress code for evening dining. Additionally, when visiting sacred sites or attending cultural events, it's respectful to dress modestly and avoid revealing clothing.
Can I wear flip flops or sandals with all my vacation dresses?
Flip-flops and sandals are perfect for casual beach outings or exploring during the day. However, for more formal occasions or if you plan to do extensive walking, consider opting for comfortable sandals or wedges that provide more support and stability.
How can I style my vacation dresses for different activities in Hawaii?
For beach days, layer your dress over your swimsuit and accessorize with a floppy hat, sunglasses, and flip-flops. For sightseeing, pair your dress with comfortable walking shoes, a crossbody bag, and a lightweight cardigan in case of cooler temperatures. When dining out, dress up your vacation dress with wedges or sandals, statement jewelry, and a clutch or small handbag.
Can I wear shorts or skirts instead of dresses in Hawaii?
Absolutely! If dresses are not your preferred choice, you can opt for shorts or skirts as well. Look for lightweight and breathable fabrics like linen or cotton, and pair them with comfortable tops or blouses that match the tropical theme of Hawaii.
How many vacation dresses should I pack for a week-long trip to Hawaii?
The number of dresses to pack depends on your personal preferences and the activities you have planned. As a general guideline, packing 3-4 versatile dresses that can be mixed and matched with different accessories and shoes should be sufficient for a week-long trip. Consider packing a combination of maxi dresses, sundresses, and a wrap dress or two to cover various occasions.
Can I wear swim cover-ups as dresses in Hawaii?
Some swim cover-ups, such as flowy caftans or kimono-style cover-ups, can double as dresses in Hawaii. However, make sure they provide adequate coverage and are made of suitable fabrics. If you plan to wear a swim cover-up as a dress, choose one with vibrant prints or stylish details to enhance the overall look.
Can I wear white dresses in Hawaii?
Yes, you can absolutely wear white dresses in Hawaii. Just maybe not to a wedding! And be sure to pack a stain-remover pen just in case.