32 Tips for First Time Flyers With Anxiety
This site uses affiliate links and I may earn a small commission when you use my links and make a purchase, at no extra cost to you. 
If the idea of flying makes you nervous, then this article is for you. If you're found this page, you're already well on your way to being able to address your fear of flying. With about 33 to 40% of the population being nervous flyers, you should first understand that you are not alone! And what's even better is that there are a lot of different ways to put your mind at ease. In this post, I'm sharing 32 tips for first time flyers with anxiety to help reduce your fear of flying. These anxious flyer tips will help you prepare for your flight so that you can fly stress-free. Keep reading for my best tips on how to calm your nerves before flying!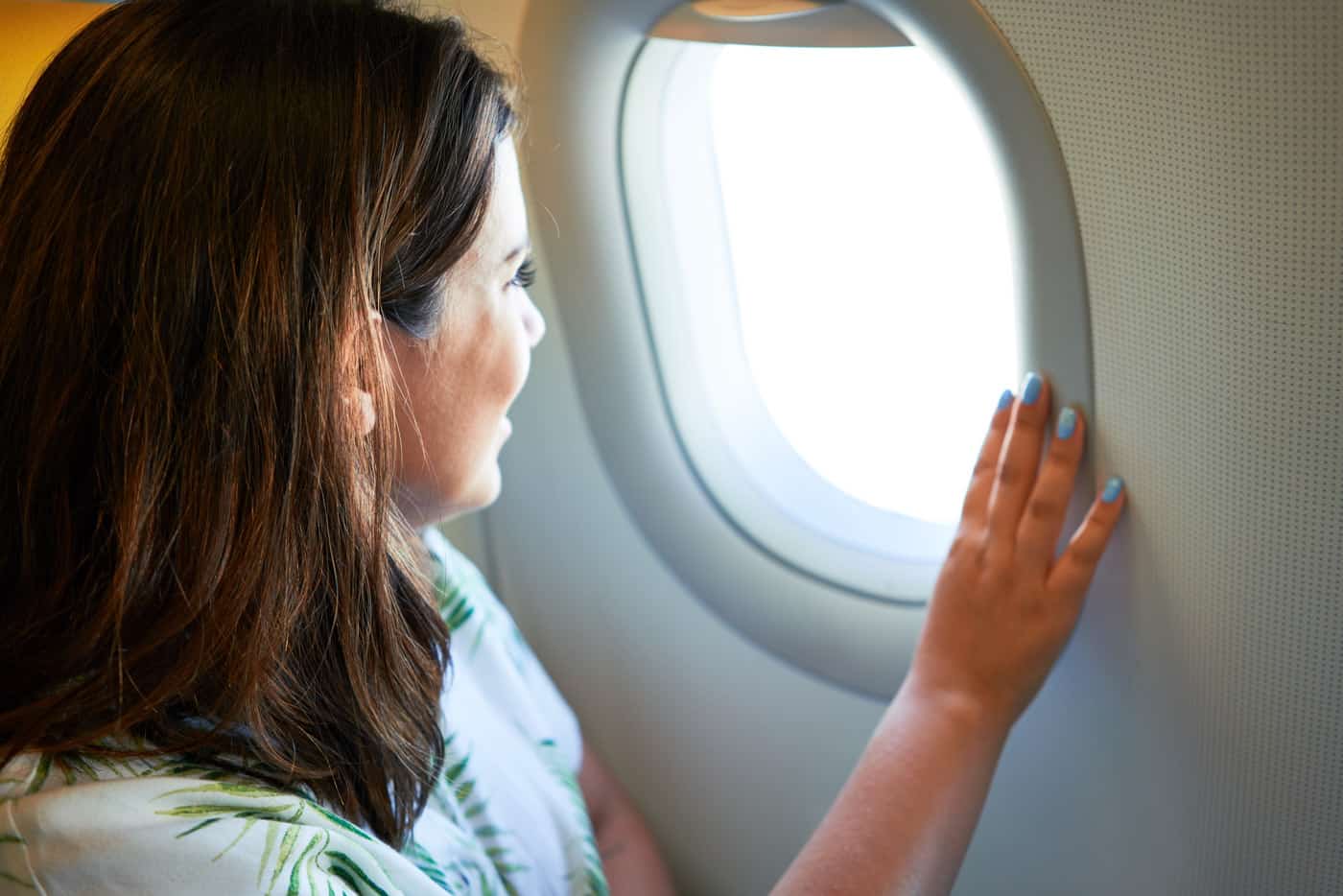 Tip 1: Educate Yourself on How an Airplane Works
Often, the antidote to anxiety is better information. For that reason, one of the best tips for first time flyers with anxiety is to take some time before you plan your trip to educate yourself on how planes work, and understand the statistics that support how safe it is to travel by air.
If you know you are going to be traveling by air, one of the first things you want to do, even before booking your flight ticket is to understand how a plane works. Understanding the mechanisms of a plane can help you know what to expect– such as how the plane takes off, turbulence during mid-flight, and the various plane motions. Knowing this background information ahead of time will help to neutralize the fears that come with those moments.
Flying is one of the safest ways to travel
Flying on a plane is one of the safest ways to travel. This is because the chances of you being involved in a plane crash or a mechanical failure are low as compared to other forms of travel such as using a car or bike.
According to Executive Flyers, the odds of being involved in a plane crash is 1 out of 9,821, while the chances of you being involved in a car accident are 1 out of 654 (if you are a passenger). Therefore, the odds are very much in favor of air travel when it comes to safety.
It is important to note that planes are designed to ensure your maximum safety, and the pilots have undergone numerous vigorous training before they are certified to fly commercially. Pilots undergo various mental, psychological, medical, and physical tests before flying a plane. And for further reassurance, every commercial plane has two pilots on board at all times.
Tip 2: Understand The Root Cause of Your Flying Anxiety
After you have learned about how an airplane works, the next step is to determine what about flying makes you scared. Is it the fear of heights? The fear of being in a crowd? Maybe the fear of being in an enclosed space? Or the fear of being a victim of a terrorist attack? Or is the fear of encountering an accident while in the air?
Taking the time to identify the type of aviophobia you have makes it easier for you to seek the right advice to help you combat your fear. Keep reading for tips on how to address your specific fear of flying.
Tip 3: Take a Fear of Flying Course
Once you understand your fear, you can also consider taking a flying course. A flying course will help you meet professionals in the aeronautics domain, as well as psychologists who can give you an in-depth presentation on how safe it is to fly on a plane. These professionals can also share various tips that will give you further support depending on the type of fear you have.
Luckily, most airlines offer flying courses to extensively take you through the whole flying process and help you with various tips which you can leverage to mitigate your fear of flight.
In-Person Fear of Flying Courses
While some courses may be online, you can also seek out an in-person course. One benefit of these in-person courses is that you get to meet other passengers like yourself who have a similar fear. This creates reassurance and provides a sense of belonging that you are not alone.
One great resource for an in-person fear of flying course is the Fear of Flying Clinic. This nonprofit group offers a 1-day workshop, as well as a 2-weekend bootcamp to help nervous flyers overcome their fears. Try searching for one in your local geography.
Tip 4: Get Travel Insurance Before Your Trip
With anxiety about flying can also come general anxiety about travel. If that's the case, buying travel insurance before your trip may help give you peace of mind.
If you're a nervous first time flyer, it might help to know a bit more about travel insurance. There are many benefits to travel insurance even if you do not have a fear of flying. Below are three main reasons why you might want to get travel insurance if you have aviophobia.
In case of any medical emergency during your travel, your travel insurance can help take care of the bill.
If you should cancel your trip, your travel insurance may reimburse part or the full amount you spent on your travel ticket.
Finally, another cause of flight anxiety is that some people are scared of their luggage being misplaced. Many travel insurance plans also cover lost luggage, so having an insurance plan in place before you fly can help address this particular worry.
I also recommend finding a travel insurance provider that covers impacts to your trip due to COVID-19. Not all providers do!
Pro Travel Tip: These days, travel can be more uncertain than ever. Check for any COVID-related restrictions at your destination, and never travel without travel insurance! I recommend SafetyWing, because they have flexible + affordable insurance plans, and also cover COVID-related impacts on your trip (not all companies do)!
Tip 5: Understand What Turbulence Is
In addition to studying the mechanics of how a plane works, learning how turbulence works can also help ease your anxiety. Turbulence is probably one major cause of airplane anxiety, and most first-timers tend to get scared if they experience turbulence during a flight. But it's important to understand that turbulence is a very common occurrence during air travel, and is no cause for concern.
Turbulence occurs when the plane encounters a strong air current, and this current tends to sway the plane to either drop in altitude, or change direction. Essentially, you want to think of turbulence as your car hitting a bump or a pothole. Happens all the time, right?
Pilots have been trained to handle the situation, and also, the mechanics of a plane have been designed to withstand any turbulence that it might encounter. Typically, when a plane encounters turbulence for an extended period of time, the pilot will navigate the plane to a slightly different altitude where the air is smoother.
Tip 6: Find Community with a Facebook Group
Another great tip for nervous first time flyers is to find support in a community. While preparing for your first trip, I also highly recommend that you join a Facebook community/group for first-time flyers with aviophobia.
These groups consist of first-time travelers like yourself, and also experienced travelers who can share their knowledge about how to deal with the various types of aviophobia.
If you are lucky enough, you might be able to build personal relationships with other first-time travelers. Also, once you have a successful flight, you can share your experience in the group to motivate other first-time travelers who are yet to take their first flight to motivate them and keep them unfazed about their first flight.
Tip 7: Arrive at the Airport At Least 2 Hours Early
If you're an anxious first-time flier, it's important to arrive at the airport at least two hours early for domestic flights, and three hours early before an international flight.
Arriving early at the airport helps first-time flyers deal with airport anxiety by ensuring you travel stress-free. The last thing you want as a nervous flier is to arrive at the airport about 20 to 30 minutes early and have to struggle to get your luggage checked in or have to stress about missing your flight while in the TSA line. Running late can be overwhelming, and add to your already-existing anxiety, which is never a good idea!
There are three main reasons why I recommend you arrive at least 2-hours early at the airport if you have flight anxiety:
The first reason is that when you arrive at least two hours early, you should be able to get through TSA with enough time to relax before your flight.
Once you get to the airport lounge, you should be able to engage in any practice that can help you lessen your fear of flying before you board the plane. For example, you could call a friend, do some breathing exercises, or listen to a guided meditation. This is also a good time to watch planes taking off and landing to reassure you that there is nothing to be scared about.
Finally, if you forget an essential item you need on your flight, you get the chance to purchase that item at the airport. Whether it's part of your plan to distract your mind (more on that below!), or something to keep you hydrated – you'll have time for any last-minute purchases that you might need.
Tip 8: Talk to the Flight Attendants
Another important tip for first time flyers with anxiety is to connect with the flight attendants on your flight. Flight attendants are there for your overall safety and to ensure that you have an enjoyable flight experience.
When you board the plane, take time to introduce yourself to any member of the cabin crew, and let them know about your fear of flying. This fear is very common (1 in 8 people!) and the flight attendants should be more than happy to help you in any way possible.
These flight attendants have undergone training on how to handle such situations, and also, they have had hands-on experience with various nervous flyers just like yourself; therefore, you should be in safe hands and they should be able to provide you with a wealth of information to help you combat your fears.
By informing the flight attendant about your fears, they can also check up on you when necessary, provide assistance, and make sure you are calm.
Tip 9: Bring a Personal Item Packed With Key Travel Essentials
A day before your flight, we highly recommend that you pack your carry-on bag. This will ensure that you have any travel essentials you might need to help you reduce your anxiety during your flight.
If you pack your bags in a rush, you might forget something you need to address your flying fear; so try to pack either the day before or the night before your flight. Make sure you have any medication (if recommended by the doctor), entertainment, or any form of distraction you need to keep you engaged while on the flight. Continue reading for my recommendations on how to distract yourself during a flight!
Need help figuring out what to pack where? Check out my guide on what to pack in a carry on vs. checked luggage.
Tip 10: Pick a Window Seat or An Aisle Seat
The seat you choose when booking your flight ticket is important, depending on the type of fear you have. If you have the fear of turbulence, then it is highly recommended that you choose a seat that is close to the front part or towards the wings of the plane. If you're concerned about turbulence, try to sit closer to the front section of the plane. This is because turbulence is felt more acutely at the back side of the plane.
If you have claustrophobia, then a window seat may be more beneficial. This is because it allows you to shift your attention from the other passengers on the plane and allows you to enjoy the outside view when the plane is taking off, or landing. If you also want to sleep throughout the flight, the window seat is most comfortable because it provides a place for you to rest your head.
If you have acrophobia (fear of heights), then you should stay away from the window seat and book an aisle seat. This is because if you book a window seat, you might be triggered to look outside and this might trigger your fears.
Another reason why aisle seats are great is because you can get up and walk around without disturbing any of the passengers in your row. In addition, the aisle seat can be a great option for people with dystychiphobia (fear of accidents). This is because aisle seats make you feel as though you can easily access the aisle and the exit in case of an emergency.
When booking the perfect seat for your flight, use a platform that helps you choose the right seat at the best price, this is why I recommend SeatGuru. SeatGuru is an all-in-one flight website that allows you to book flight tickets, choose your preferred seats, book rental cars, access seat maps, compare the prices of various airlines and many more.
Tip 11: Talk to an Online Therapist
If you're a nervous first time flyer, you can also consider seeking help from a professional. Signing up for an online therapy session can be another great way to work through your flying anxiety with a professionally trained therapist. She or she can help you better understand the root causes behind your fears, and also give you tools and techniques to help manage your flight anxiety.
If you feel that this might be helpful to you, check out Online Therapy. You can get matched with a therapist in minutes and you'll be one step closer to working through your fear of flying.
Another benefit to online therapy that is specific to travelers is that you can speak to a therapist at all times and from anywhere around the globe. This can be helpful if you need a professional to talk to before your flight or during a layover.
In addition, it can also be helpful to screen-record relevant sessions of your online sessions. In doing so, you can watch the session to calm your nerves mid-flight, just in case you're feeling extra anxious.
Tip 12: Prepare for Motion Sickness
Since you are a first-time flyer, you probably do not know how your body will react when the plane takes off, when the plane is landing, or when turbulence occurs.
For that reason, it's a good idea to prepare for the occurrence of motion sicknessin case you experience it while you're flying.
Motion sickness refers to the brain's inability to process information generated from the movement of the body, ears, or eyes, which causes a sense of dizziness, vomiting, or nausea, or triggers anxiety. There are a few measures you can implement that will help prevent motion sickness, and also address it in the moment if it arises.
Try these tips to help with your motion sickness if you start to feel any of the symptoms named above:
Create a distraction by listening to music. This always helps me a ton!
The worst part of motion sickness can be the hot flash that accompanies it. Make sure that the vent above your seat is on, and blowing cold air directly at you. It also helps to dress in layers so that you can remove a layer if you start feeling warm.
Close your eyes during takeoff and landing and breathe in and out slowly.
Tip 13: When You Board the Plane, Check Your Seat for the Basics
Once you have boarded the plane, check to make sure that your seat has all of the basics necessary for your flight. There are two mains things to look out for:
The plane information card: This card contains every essential information you need about plane safety, and also, how to exit the plane in the case of an emergency.
The Motion Sickness Bag: This bag comes in handy in case you experience motion sickness.
Once you're in your seat, take a look at the information card to help calm your nerves since it contains all the information you need to keep you safe. If you have any questions, don't forget that the flight attendants are there for your safety, and can answer any questions you might have.
Tip 14: Distract Your Mind in the Air
One of the best tips for nervous first time flyers is to distract your brain once you're in the air. Engaging your mind in an activity will lessen your focus on your fears.
Try to find an activity you enjoy for an immersive experience that will take your mind off the flight. Here are a few ideas:
Listen to a meditation to relax your body and mind
Read a book or a magazine to pass the time
Watch a movie or listen to music on the plane or on your devices. Pro tip: make sure to download your music or movie beforehand. This because most airlines charge you to access in-flight WiFi. So, pre-downloading your movies or music will save you some cash.
Listen to a podcast
When planning out your distraction, make sure you have enough materials to last you through the entire duration of the flight!
Tip 15: Do Breathing Exercises During the Flight
Practicing various breathing techniques during or before a flight is one of the most underrated yet effective ways to calm your nerves when you feel anxious.
Essentially, what breathing does is it increases the amount of oxygen in your body, and when this happens, it lowers your heart rate and blood pressure, which in turn relaxes your muscles.
When this occurs, the vagus nerve–which connects the brain to other parts of the body–is stimulated, and when stimulated, it stabilizes any irregular activity in your brain such as calming down the nervous system and turning off the reflex of fight or flight boosting your mood hence, making you feel less anxious.
This can also be a great way to practice self care while traveling in general.
Tips 16: If You're Prone to Panic Attacks, Talk To Your Doctor About Medication
If you have chronic panic attacks or even acute panic attacks, you should also consider consulting with a medical doctor before you take your first flight.
If it's appropriate for your medical situation, your doctor can prescribe certain sedatives for you to take before your flight to enable you to either relax or sleep during your flight.
I don't recommend that you purchase any over-the-counter sedatives; you only want to take medications prescribed by your medical doctor. I also recommend that you resort to this option if any of the other options I've suggested do not work for you. Your doctor can also advise you as to whether it makes sense to do a "test run" with the medication so that you're not taking it for the first time on the day you fly.
Tip 17: Avoid Caffeine the Day of Your Flight
Staying away from caffeinated products before your flight is a must if you are a nervous first time flyer. Try to stay away from caffeinated products for at least 24 hours before your flight. There are two main reasons why you might want to avoid caffeine before a flight:
The first reason is that caffeine is a stimulant that disrupts your sleep cycle by delaying the body's clock, increasing the brain's alertness, and increasing the overall energy level of the body, and when this happens, it becomes difficult for you to sleep.
So, if you planned on using sleep as a way to escape your fear of flight, you might end up staying awake during the whole flight if you consume coffee or any product that contains caffeine. Also, if you are prescribed any drugs and consume caffeinated products, the caffeine might end up countering the effect of the drug prescribed to you, making it useless.
Finally, caffeine increases the body's heart rate and breathing rate, and these effects can exacerbate the likelihood of an anxiety attack during your flight.
Tip 18: Avoid Alcohol The Day Before and During Your Flight
I know….what about that pre-flight glass of champagne??? To be honest, boozing before your flight is not always the best idea, and there are various reasons why you might want to avoid that.
Often, people think drinking alcohol might help you sleep during a flight, or make you less aware of your surroundings. Even though both of these pieces of "advice" from people might sound legit, it is quite the opposite that happens on the plane.
The plane reaches higher altitudes, what happens is that the oxygen concentration reduces, as such the plane has to use pressurized air to supply oxygen throughout the plane. This means, the oxygen content in the plane isn't as abundant as it would be on the ground; therefore if you consume alcohol before boarding your plane–especially if you are a nervous flyer–there are a couple of things that might happen.
The first is that, if you happen to have a drink 12 hours before your flight, what happens is that when you board the plane, the alcohol would begin to wear off, and once the alcohol wears off, you might feel lightheaded and it could lead to bade side effects mid-flight, such as anxiety, fear, and nausea. None of these will help your fear of flying!
Also, if you consume alcohol before a flight, what happens is that the pressurized air tends to metabolize the alcohol faster, and this rapid metabolism can aggravate the occurrence of motion sickness and anxiety.
Finally, cabin crew members and gate agents are required by law to prevent you from boarding the plane if you are intoxicated, and missing your flight due to being intoxicated is something your travel insurance might not even cover.
Therefore, to avoid all these issues, you should stay away from drinking before your flight, especially if you have the fear of flying. Save that glass of wine for when you land!
Tip 19: Wear Comfortable Clothing
I am almost always freezing cold when I fly. Unfortunately, being cold can also increase the likelihood of anxiety.
This is because the cold temperature disrupts the body's ability to produce neurotransmitters that deal with anxiety. So when you're putting together your travel outfit, you may want to wear long pants, and long-sleeved shirts, and don't forget to bring some sweaters and jackets to wear whenever you feel cold mid-flight.
Sometimes planes can also be unusually hot, though, so make sure to dress in layers! That way, you can adapt to any changes in temperature as you fly.
If you're boarding a long haul or international flight, here's a few ideas for what to wear.
Tip 20: Stay Hydrated During the Flight
Staying hydrated throughout the flight can also help you stay calm and feel less anxious. Being dehydrated can cause anxiety, fatigue, and depression while on a flight, therefore, you want to ensure that you have enough fluid flowing through your body to keep you calm and stress-free throughout your flight.
Also, if you are looking to have a great sleep while on the plane, then ensure to drink enough water. A study showed that dehydration can affect the quality and duration of your sleep.
Tip 21: Use a Travel Planner to Write Down your Travel Details
Sometimes, travel anxiety can be triggered by fear of the unknown. If you're traveling, you're going to be out of your typical routine, and it can be hard to envision what each day will bring.
One of the best ways to address this is to plan out your trip in advance, and put all of the details down on paper. Everything from flight details, to accommodation confirmations, to day-by-day itineraries can be put down on paper.
With everything in one place, your brain can start to picture what to expect in the coming days, and that should help quell some of your travel anxiety.
Try a Printable Travel Planner to Organize Your Trip
Need help putting together all of your travel details?  Check out my printable travel planner that can help you organize your entire trip!  It will capture all of your travel details, so that you can rest easy.  You'll know what to expect, and it'll also help you make sure you're not forgetting anything!
Tip 22: Make a List of Things You're Excited To Do Upon Arrival
Even though you're working through your fear of flying, don't forget why you're doing it in the first place. Travel is exciting! So another way to shift your focus from the flight to something else is to make a list of all the fun things you plan to do once you've arrived at your destination.
Doing this can trigger a positive emotion and keep you anticipating all of the exciting moments that are yet to come. These positive emotions can help to overshadow the negative emotions of being scared.
Tip 23: Store your Carry on Bag in An Overhead Compartment Near You or in Front of Your Row
If you have any essential items you might need during the flight to help you deal with your anxiety, make sure to store your carry on bag somewhere that it can be easily reached.
If there are any items that you need to be able to access at all times, keep these in your personal item that will be stored underneath the seat in front of you.
Tip 24: Board the Plane Early if Possible
If you're a first time flyer with anxiety, it may also help you to board the plane early before your flight. The order in which you board may depend on your assigned seat, or the fare class of your ticket.
In some cases, you can pay an additional fee to board the plane early. Check the details of your ticket before you purchase it, and also check with your airline ahead of time if there are opportunities to board the flight earlier.
There are three main reasons why we recommend you board the plane early:
By boarding the plane early, you will have time to interact with the cabin crew and pilot. This will help give you some extra reassurance that you'll be in good hands when you're flying.
You will have time to place your carry-on bag in the compartment above your seat. This is important if you have certain essential items you need to battle your anxiety.
Boarding the plane early is less stressful and more relaxing. If you board the plane near the end of the boarding process, it is easy to get overwhelmed due to people standing in the aisle and trying to place the bags in their compartments or trying to figure out where their seats are.
Tip 25: Listen to the Pilot's Announcements
Once you're on board, listen to the pilot's announcements. This is always a helpful tip for nervous first time flyers! Typically, the pilot will make an announcement at the beginning of the flight to introduce himself or herself, and tell you a little bit about the flight path and what to expect during the flight. Again, information is the best antidote to anxiety!
During the flight, the pilot may also make announcements from time to time, especially if the plane encounters turbulence. Don't forget that turbulence is nothing to worry about! It will help you to hear the pilot's confidence in the situation, and also what they expect to change in order to navigate around the bumpy air.
Tip 26: Bring a Mask and Hand Sanitizer
These days, we're all focused on staying healthy while traveling. In many ways, it can be its own source of flying anxiety! If you are worried about contracting germs while on the plane, make sure to bring a mask as well as hand sanitizer on the flight.
However, you must take note that the TSA only permits liquids that are up to 3.4 ounces or less to be brought on board. If you're bringing liquid sanitizer, make sure that it's less than 3.4 ounces.
Tip 27: Organize Photos On Your Phone
Here's another good tip to distract yourself from your fear of flying. If you're anything like me, you're always looking for a few minutes to organize, edit and delete the photos on your phone. If you need to occupy your mind, this is a great way to spend time on a flight and distract yourself!
What's even better is that going through your photos will also trigger positive emotions when you see happy memories from the past. This can help outweigh any anxiety you're experiencing while you're flying.
Tip 28: Look at the Flight Attendants During "Scary" Moments
In case you feel scared at any point during the flight, you can also look at one of the flight attendants. Flight attendants clock thousands of hours flying. Looking at how calm they are can be quite assuring that nothing scary is happening.
You'll probably also notice how calm the passengers around you are during these anxious moments. Seeing how others react to what are very normal occurrences during a flight can also help put your mind at ease.
Tip 29: Visualize Your Arrival
Visualizing your arrival can be another great way to boost positive vibes in your mind and subdue the negative thoughts. Try to focus on how excited you will be once you arrive at your destination, and all of the fun things that are in store for you to explore. And how proud of yourself you'll be once you've succeeded at taking your first flight!
Tip 30: Travel With a Companion
Another good anxious flyer tip: if you're flying for the first time and you're anxious about it, try to travel with a companion instead of flying alone.
Having a family member or friend with you when you're flying can really help to ease anxiety. You can share your fears with that person, and they can help to reassure you that everything will be just fine.
Tip 31: Give Your Neighbor A Heads Up
If you don't have a travel companion, you may also find comfort in chatting with your seat neighbor. More than likely, they are a frequent traveler! Seeing how confident another passenger is during the flight might help address some of your fears.
Some kind souls might even go the extra mile by switching seats with you or suggesting some tips to help you feel better.
Tip 32: Try to Stay Away From Negative News
Here's another tip for first time flyers with anxiety: before you fly, try to stay away from any negative news stories about planes and any movies about flying. Remember, movies aren't realistic!
Remember, you are going to be fine. Try not to focus on any plane accidents that have recently happened in the news, and remember that these are very few and far between!
In Summary:
Travel is exciting – take the bold step and do something you've never done before! There are tons of people flying around the world safely every single day, and you will be safe during your travels, too. I hope that these tips on how to calm your nerves before your first flight have helped you start to work through your fear of flying!