How to Create the Ultimate Beach Vacation Capsule Wardrobe
This site uses affiliate links and I may earn a small commission when you use my links and make a purchase, at no extra cost to you. 
Ready to soak up the sun, breathe in the salty air, and feel the sand between your toes? A beach vacation is the perfect escape from the hustle and bustle of everyday life, but packing for it can be overwhelming. One of the best ways to pack efficiently for a vacation is with a capsule wardrobe. Say goodbye to the stress of overpacking and hello to effortless style with this 15-piece beach vacation capsule wardrobe for 2023! Get ready to pack smarter, not harder, and look fabulous all vacation long!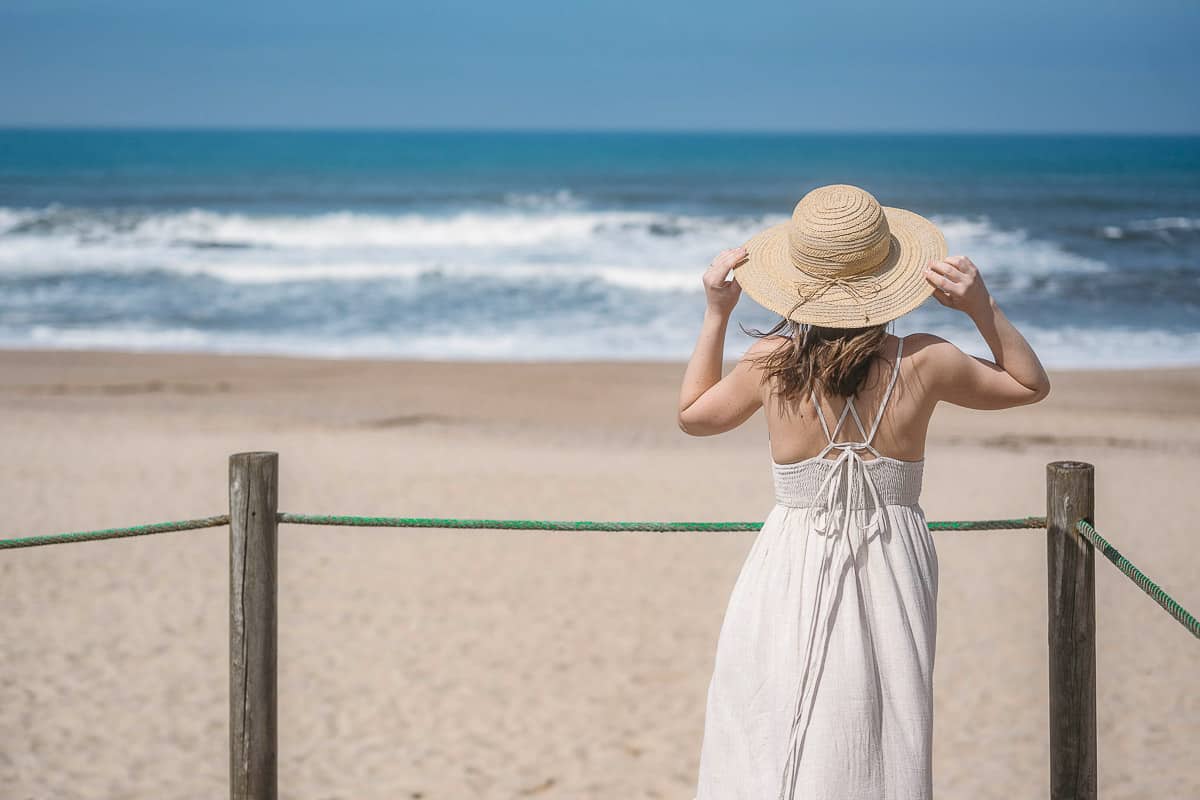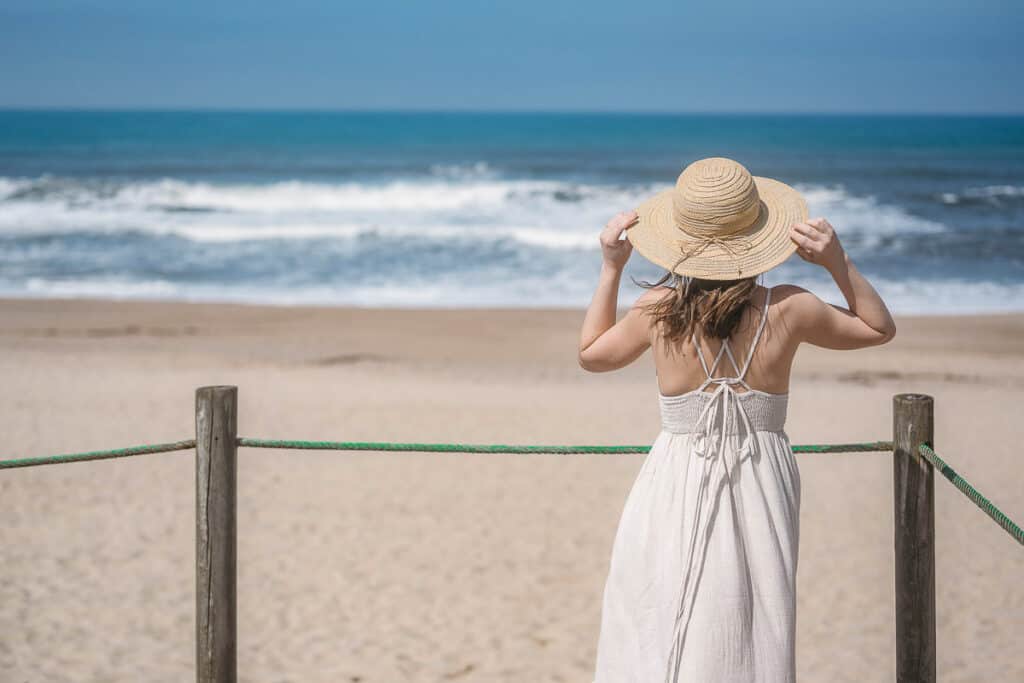 What is a Beach Vacation Capsule Wardrobe?
Let's start with a couple of quick definitions, shall we? If you're new to the blog, you may not know that I love to create capsule wardrobes for all kinds of travel!
So what, exactly, is a capsule wardrobe? A capsule wardrobe is a small collection of clothing pieces that all complement one another. Each piece in a capsule can go with almost every other piece, so you can mix the capsule pieces to create lots of different looks.
A beach vacation capsule wardrobe is a capsule wardrobe that is specifically intended for a beach vacation. It includes pieces like swimsuits, beach cover ups, and sandals that you can pair together in lots of ways to create endless looks.
Capsule wardrobes are a natural fit for travel!  If you pack a well-curated group of clothing pieces, it's so much easier to pack efficiently.  You can pack light, but still have plenty of options for stylish travel outfits for your trip. I'm all about keeping it simple when it comes to packing, so that I can focus on the trip itself.  
How Many Pieces Are in a Capsule Wardrobe?
A capsule wardrobe can include as many pieces as you want! But since one of the main objectives of a capsule wardrobe is efficiency, I recommend keeping the number of items in a capsule under 20.
I try to aim for 15 pieces in all of my capsules, so that there's plenty of room left over (and because I like a challenge :).
The 5-4-3-2-1 Packing Method
I use the 5-4-3-2-1 method to help assemble my capsule.
What's the 5-4-3-2-1 method, you ask? It's a framework to help structure a capsule wardrobe or packing list. Each number refers to how many of a certain kind of item you should pack. For example, I typically use this rule of thumb to structure my packing lists as follows:
5 tops
4 bottoms
3 outer layers
2 shoes
1 dress
Using this method, you will be able to mix and match the pieces in your capsule to create a ton of different looks.
What to Include in a Beach Vacation Capsule Wardrobe
Since this is a beach vacation capsule wardrobe, I've adjusted it to include primarily resort attire. Here's what I'm using for this capsule:
5 dresses or swim cover ups
4 tops and bottoms
3 swimsuits
2 shoes
1 beach bag
If you prefer to wear tops and bottoms vs. dresses, by all means, mix up the numbers! It's your capsule wardrobe, so it should fit your needs and preferences.
How Much to Pack
You're probably wondering: is 15 pieces enough for my trip? I get this all of the time!
In fact, one of the most common questions I get asked by readers is: how much should I pack? It can be a tough question if you're trying to pack light….but also not overpack. Fortunately, I've written an entire post on how many outfits to pack for your trip!
The capsule I've designed for this post should be enough for a 3-4 day trip. If you are taking a longer beach vacation (2 weeks for example), or planning to do a lot of non-beach activities, consider adding in some items from my summer travel capsule wardrobe, my spring travel capsule wardrobe or pieces from one of these cute spring travel outfits.
If you need to add more beachwear, check out my top picks for 2023 women's resort wear (all under $50 and available on Amazon, yessssss)!
Tips for Creating Your Beach Vacation Wardrobe
Use a Single Color Palette
The most important thing to keep in mind when creating any capsule wardrobe is to begin with a single color palette. I have found that the best palettes for capsule wardrobes have 1-2 neutral colors (black, gray, tan, white, navy) and 1-2 accent colors (for example: yellow, pink, olive, or purple).
Using a consistent palette is the best way to make sure that all of your clothing pieces complement one another. This takes the guesswork out of "what goes with what"?
Plan Your Outfits in Advance
It can be overwhelming to think about packing for an entire vacation. Instead, think about your trip one day at a time. What activities do you have planned, and what outfits do you need for each of them?
Even if you don't have specific plans, you probably have a general idea of how you will spend your vacation days: lounging, swimming, doing water sports, or outdoor exploring.
When you break your trip down into bite-size pieces, it's much easier to think about what to wear.
Download a Free Travel Outfit Planner
To make your vacation outfit planning super simple, I've created a printable travel outfit planner. Simply enter your email below and I'll send the planner straight to your inbox!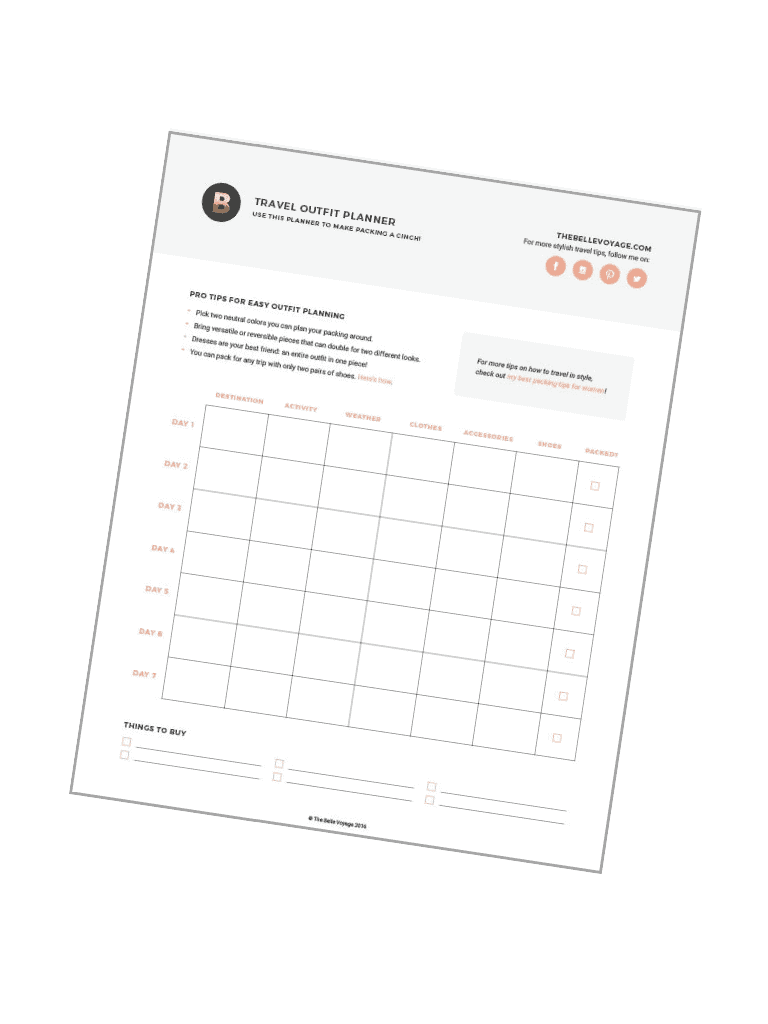 Love the travel outfit planner? You'll also love all of my other printable travel planners to help keep you organized. (Pssst….there's even a beach packing list!)
Pack Versatile Pieces
To make a capsule wardrobe work, it has to include versatile pieces. Versatile pieces are clothing items that are multipurpose! You can dress them up or down, and wear them in a variety of settings. They are your secret weapon when it comes to packing light.
A great example of a versatile piece for a beach vacation is a white t-shirt or tank top. You can wear a simple white top with shorts or capri pants for daytime activities, over a swimsuit with a sarong, or out to dinner with a cute maxi skirt. One top = three different outfits!
Be Strategic About Shoes
Finally, be strategic about the shoes in your beach vacation capsule. Shoes take up the most space in a suitcase, so it's important to not bring too many. For that reason, so many women struggle with shoes when it comes to packing. I get it! It's hard to find a universal shoe.
My advice is to not overthink it. For beach trips, I usually bring one pair of sneakers (which I wear on the plane), and pack a pair of simple tan or black sandals.
I wear sneakers for hiking, walking, or working out, and sandals for everything else. For the sandals, I look for styles that I can wear to the beach or pool, or out to dinner at night. That's it!
2023 Beach Vacation Capsule Wardrobe
Drumroll please….here it is: the 2023 beach vacation capsule wardrobe! I had so much fun putting this together and I hope you love all of the pieces I've included.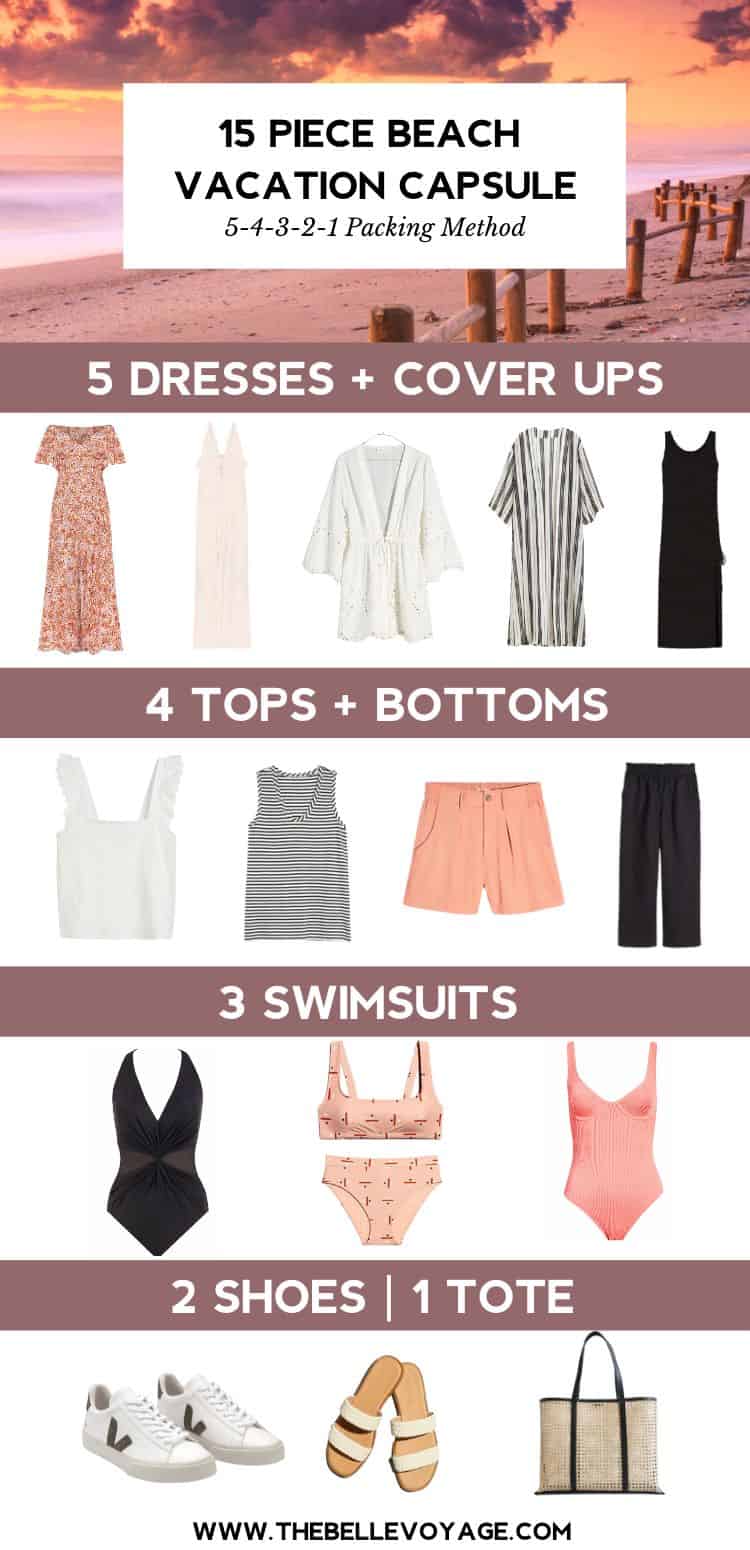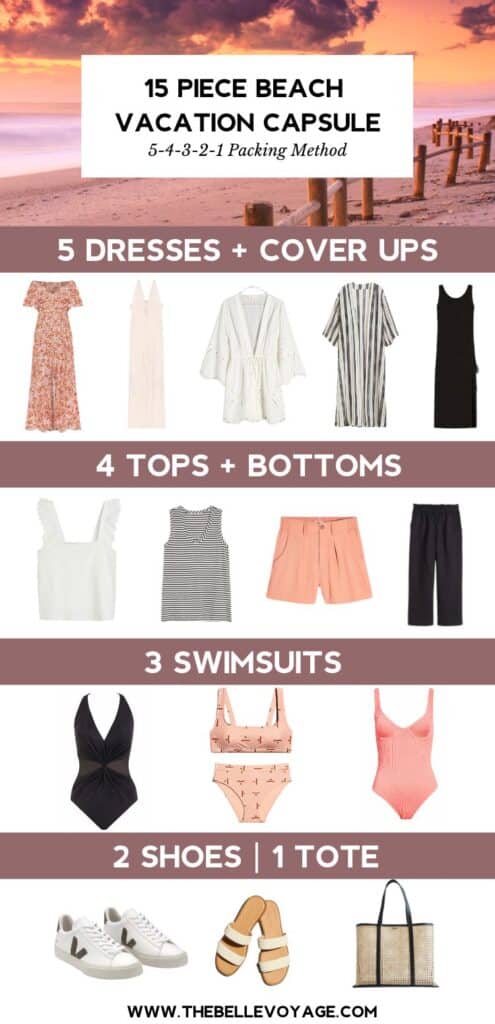 Shop the Capsule
Love these pieces? Create your own capsule by shopping the post below!

How to Style The Beach Vacation Capsule
Next, the fun part: styling the capsule! If you've followed my tips above for creating a capsule, it will be very easy to mix and match pieces to create different outfits for your trip.
Here are a few ideas to get you started:
Beach or Pool
The beach….it's why you're on vacation! These outfits are perfect for days in the sun. Don't forget to wear plenty of sunscreen!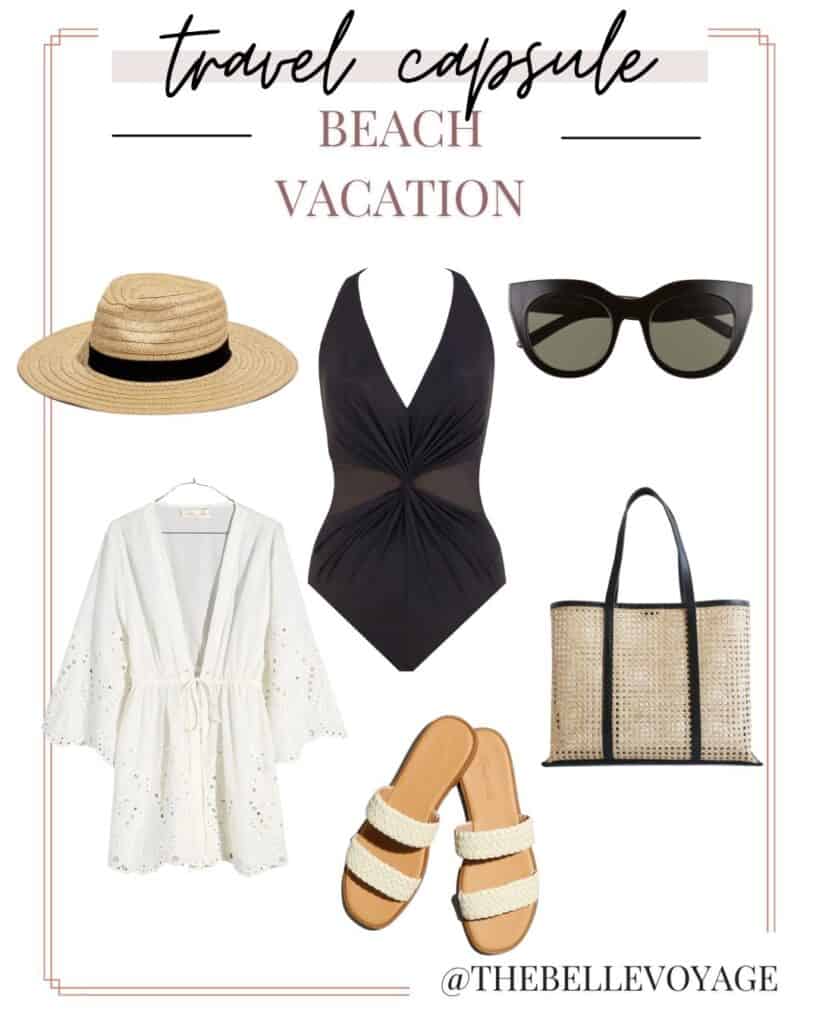 Activities or Evenings
In addition to beach time, your beach vacation will probably also include other activities such as sightseeing or exploring, as well as evening outings such as a BBQ, drinks or dinner.
The capsule has you covered for the beach and beyond! These outfit ideas are perfect for any non-beach activities during your vacation.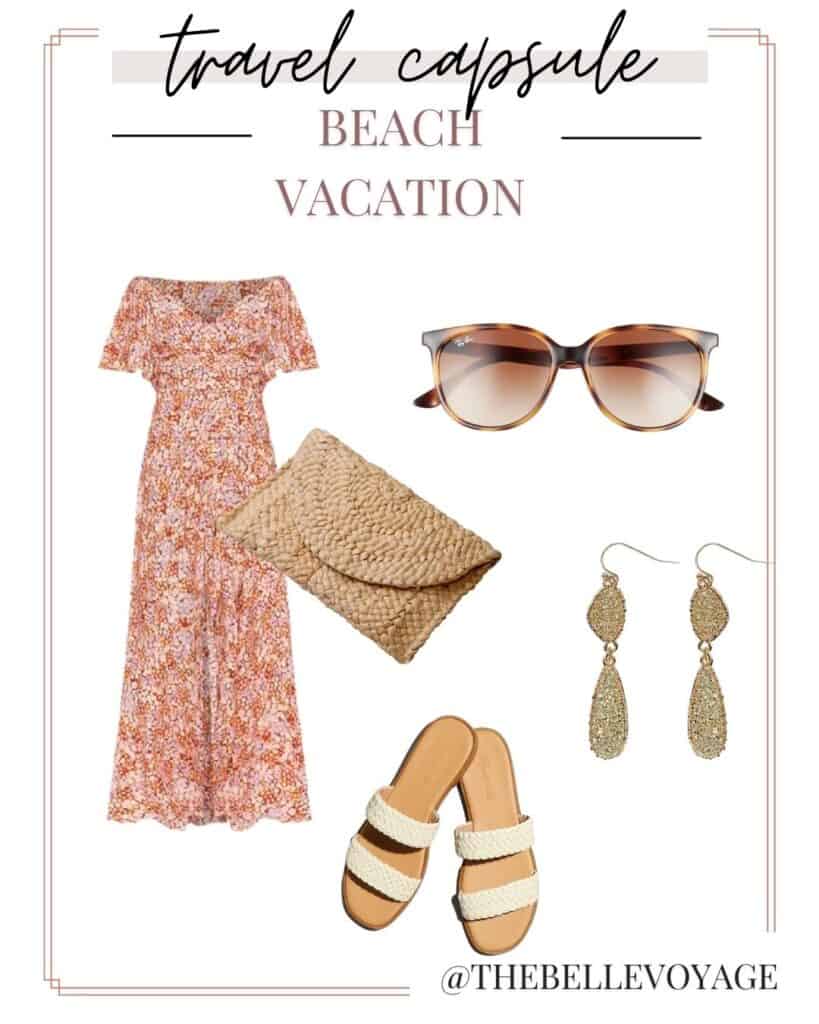 Need more ideas for beach vacation style? My guide on what to wear in Hawaii can be used for any beach destination! And for all of my favorite travel products, check out my shop!
Capsule Wardrobe Packing Tips
Finally, here are a few tips to keep in mind when it comes to packing your capsule.
Wear Bulky Items on the Plane
One of the best ways to pack light for a trip is to wear your bulkiest clothes and shoes on the plane or in the car.
On beach trips, I like to wear leggings, sneakers, and a t-shirt on the plane. I add an open button-down shirt, light cardigan or denim jacket for some warmth (planes are always freezing)! During the trip, I use the leggings as workout gear, and the layering piece to keep me warm in the evenings.
If you need more ideas, I've got you covered with these cute airplane outfits.
Pack Your Heavy Items on the Bottom of Your Suitcase
Pack heavy items such as shoes and toiletries at the bottom of your suitcase. This will keep your suitcase from tipping over, and will also protect your more delicate items such as tank tops and dresses.
Roll Your Clothes or Use Packing Cubes
Finally, the best way to pack a suitcase is to roll your clothes as you pack them. Always! This will keep wrinkles away as much as possible, and allow you to fit more in your bag.
Another great alternative is to use packing cubes, which will keep your things organized within your suitcase.
Need more help packing? Check out my women's Hawaii packing list, my ideas for dresses for Hawaii (that will work anywhere!) as well as this packing list for all-inclusive resorts in Mexico for more details.
Frequently Asked Questions
How many outfits should I pack for a beach vacation?
How much to pack for a beach vacation depends on the kinds of activities you will be doing.  In general, plan on packing 1-2 outfits per day.  1-2 outfits per day will give you enough clothing options for daytime activities like the beach or pool, as well as dressier or warmer outfits for evenings.
Pack at least two swimsuits so that you will always have a dry suit to put on.
What should I wear on a beach vacation?
If you plan to spend time at the beach or pool on vacation, start with a swimsuit as the foundation for your outfits.  Add on a beach cover up, or shorts and a light top, and accessorize with sandals and a straw tote.  Don't forget a hat and plenty of sunscreen.  Done!
How do I plan a capsule wardrobe for vacation?
Think about your trip one day at a time.  Consider what activities you will be doing and what outfits you will need for them.
To build a capsule wardrobe for vacation, start with a single color palette that includes 1-2 neutrals and an accent color.  Use versatile pieces that can be dressed up or down.  Basics are easiest to mix and match to create lots of different outfit options, so work with simple pieces and add additional interest using accessories.
How do I pack for a 2 week beach vacation?
For a 2 week beach vacation, create a capsule wardrobe using the 5-4-3-2-1 packing method.  Pack 5 dresses or swim cover ups, 4 tops and bottoms, 3 swimsuits, 2 pairs of shoes and 1 tote bag.  This method will give you enough outfits for a week, so plan on doing laundry once during your trip.
Creating a beach vacation capsule wardrobe is all about simplifying your packing process and maximizing your style. By focusing on versatile pieces that can be mixed and matched, you'll be able to create endless outfit options with just a few key items. Plus, with the extra space in your suitcase, you'll have more room for souvenirs and beach reads. So, whether you're lounging by the pool or strolling along the shoreline, you'll be ready for any adventure that comes your way. Happy travels!