How to Pack Jewelry For Travel: 5 Tips From a Pro Traveler
This site uses affiliate links and I may earn a small commission when you use my links and make a purchase, at no extra cost to you. 
One of the best ways to mix up and dress up the outfits in your suitcase is with jewelry. I know, I'm stating the obvious, but stick with me. For many years, I would stuff my suitcase with multiple drawstring pouches filled with chunky, heavy jewelry, and then wonder why I wasn't able to lift my bag. And to make matters worse, my jewelry would end up in a giant tangle when I arrived at my destination. It was clear that I had no idea how to pack jewelry for travel! Finally, after multiple failures, I learned a few things about how to pack jewelry for travel, and how to prevent necklaces from tangling when traveling! Now, jewelry packing tips are one of my favorite packing tips to share, and my necklaces are no longer tangled when I arrive! Read on for all of my secrets.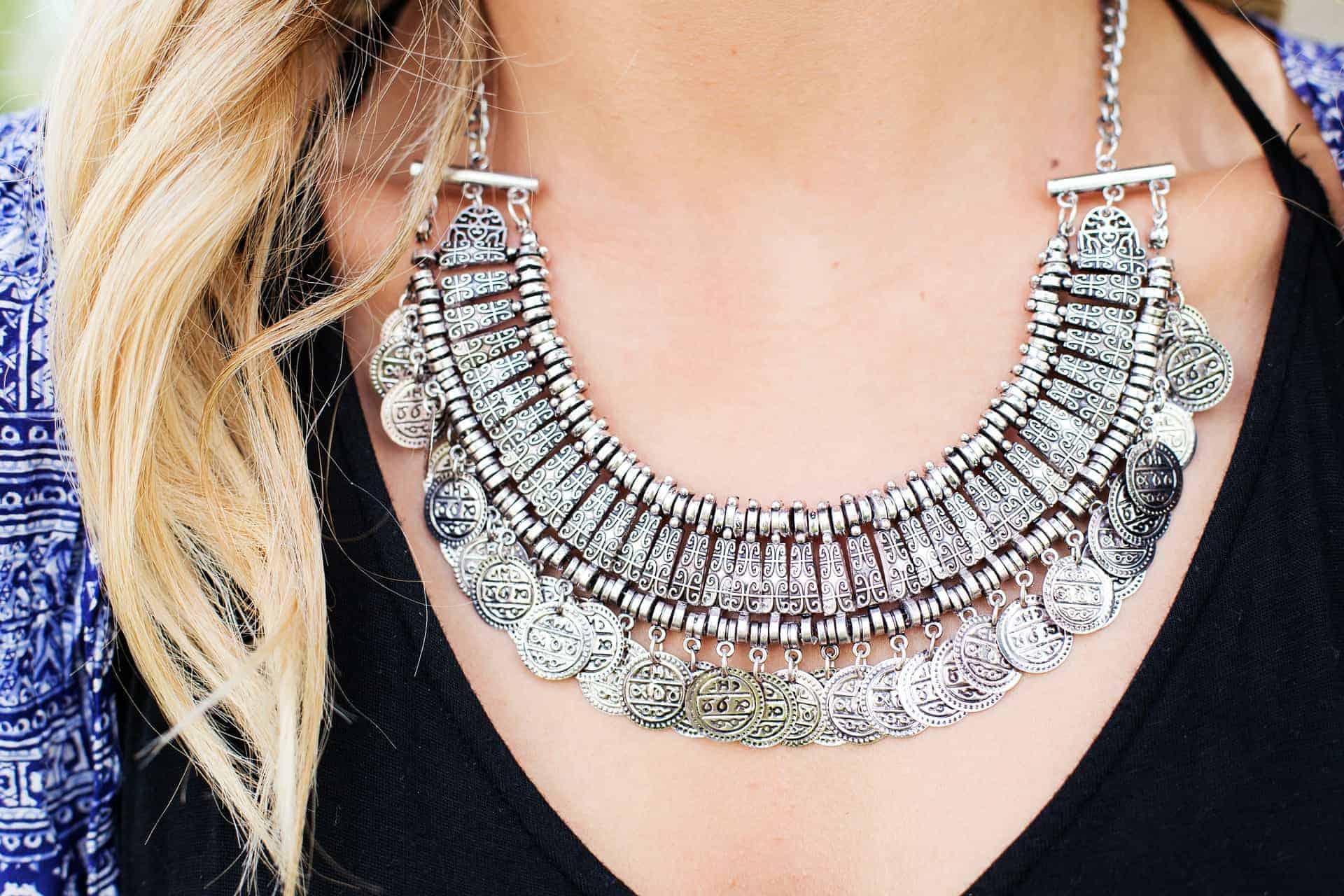 Bringing jewelry on your trip is a great way to add additional interest to your travel outfits, and dress them up or down for day or night.
But what's the best way to pack jewelry for travel? Read on for five tips from a pro!
1. Keep Your Jewelry in Your Carry On Bag
Always keep jewelry with you in your carry on bag, and never, ever put jewelry in your checked luggage!
By packing your jewelry in your carry on bag, it guarantees you won't be separated from it. On the other hand, if you pack your jewelry in your checked luggage, there's a chance that it might get lost, or even stolen.
Don't let that happen! And keep your jewelry only in your carry on so that it is with you at all times.
2. Choose Versatile Jewelry In a Single Color Palette
One of the best jewelry packing tips I can give you is to bring necklaces, earrings and bracelets in a single color palette. If you want to keep your packing list short, now's not the time to mix and match styles or metals.
Don't get me wrong – I love a mixed metal jewelry look in general. But when you're trying to keep it simple, stick to a single metal color, and putting together your accessories will be so much easier.
3. Leave Your Most Valuable Jewelry at Home
As much as you might want to bring that special, antique piece of jewelry on your trip, I recommend leaving your most valuable jewelry at home in a safe when you travel. There's two reasons for this.
First, it is just way too easy for jewelry to get lost or misplaced when you're traveling. I speak from personal experience, and this is a mistake I will never make again! I lost a very special earring on one of my last trips (yes, just ONE earring, UGH) and I still haven't forgiven myself for bringing them in the first place.
When you're choosing which jewelry to bring on your trip, try to choose pieces that you wouldn't be heartbroken about if anything were to happen to them.
Second, wearing valuable jewelry when you travel can be a safety issue, especially for women traveling alone. Don't get me wrong – I love sparkles as much as the next gal, but wearing flashy jewels can attract unwanted attention especially if you happen to come across a bad actor looking for a target. It's better to just avoid this altogether, and leave your most precious pieces at home.
Consider a Personal Articles Insurance Policy
If you absolutely must bring valuable jewelry with you when you're traveling, make sure that you have insurance for these pieces. Jewelry can be insured as part of a "Personal Articles" policy. Your current home, renter's, or auto insurance provider may offer personal articles coverage – so call them to ask about adding a rider to your current policy.
The cost of a personal articles policy depends on the value of the item that is being insured, but in most cases would be under $10 per month.
Pro Travel Tip: These days, travel can be more uncertain than ever. Check for any COVID-related restrictions at your destination, and never travel without travel insurance! I recommend SafetyWing, because they have flexible + affordable insurance plans, and also cover COVID-related impacts on your trip (not all companies do)!
4. How to Prevent Necklaces from Tangling When Traveling
Have you ever packed multiple necklaces for a trip, only to have them tangled in a huge knot once you arrive? These can be hard to untangle, and also scratch your jewelry.
There are two things you can do to prevent your necklaces from tangling while traveling:
Pack Each Necklace Individually
The first way to prevent your necklaces from tangling when traveling is simple: pack each necklace in an individual bag, rather than putting all of your jewelry into the same pouch.
This is a simple tip, and I recommend these bags because they are scratch-free and lightweight. By packing necklaces separately, they won't tangle with one another.
Unfortunately, they can still create knots by themselves, so try the trick below instead!
Try this Jewelry Packing Hack to Avoid Necklace Tangles
To prevent your necklaces from tangling individually, here's a super easy and cheap packing hack. First, get some straws. Yes, the kind you drink through! You'll need one straw for each necklace you want to pack.
Next, unclasp each necklace, and thread it through one of the straws. It should look like this: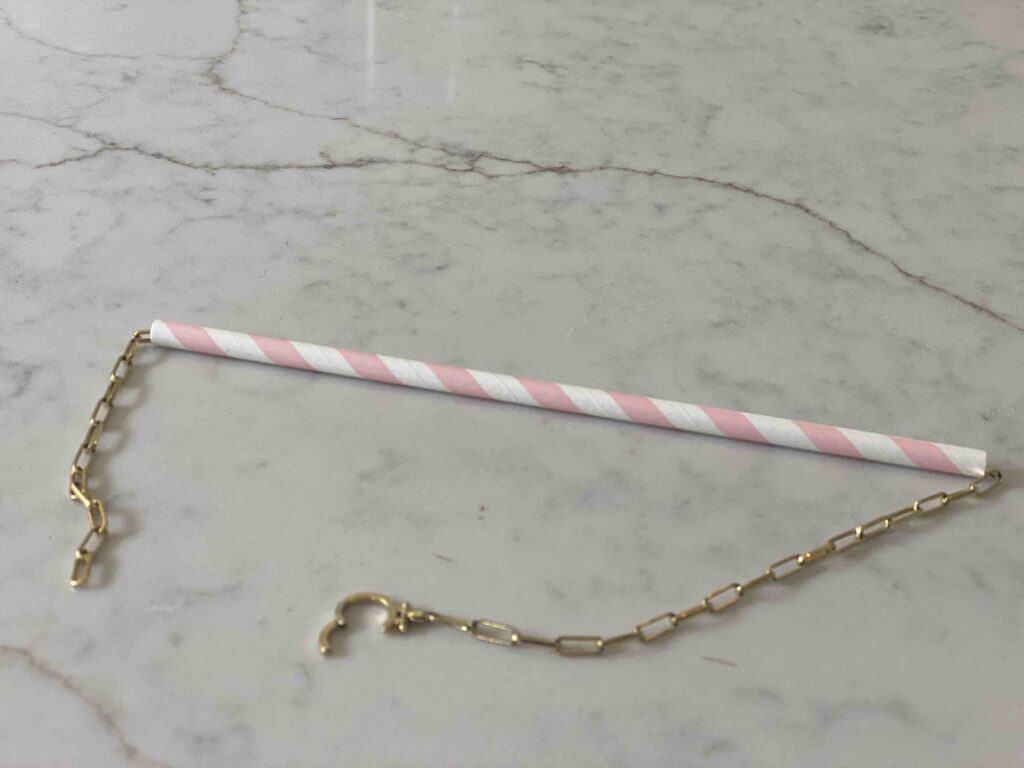 Then, re-clasp the necklace. That's it!
Once each necklace is threaded through a straw, you can pack your necklaces together in a jewelry roll or a pouch, and they won't get tangled! It will look like this when you're done: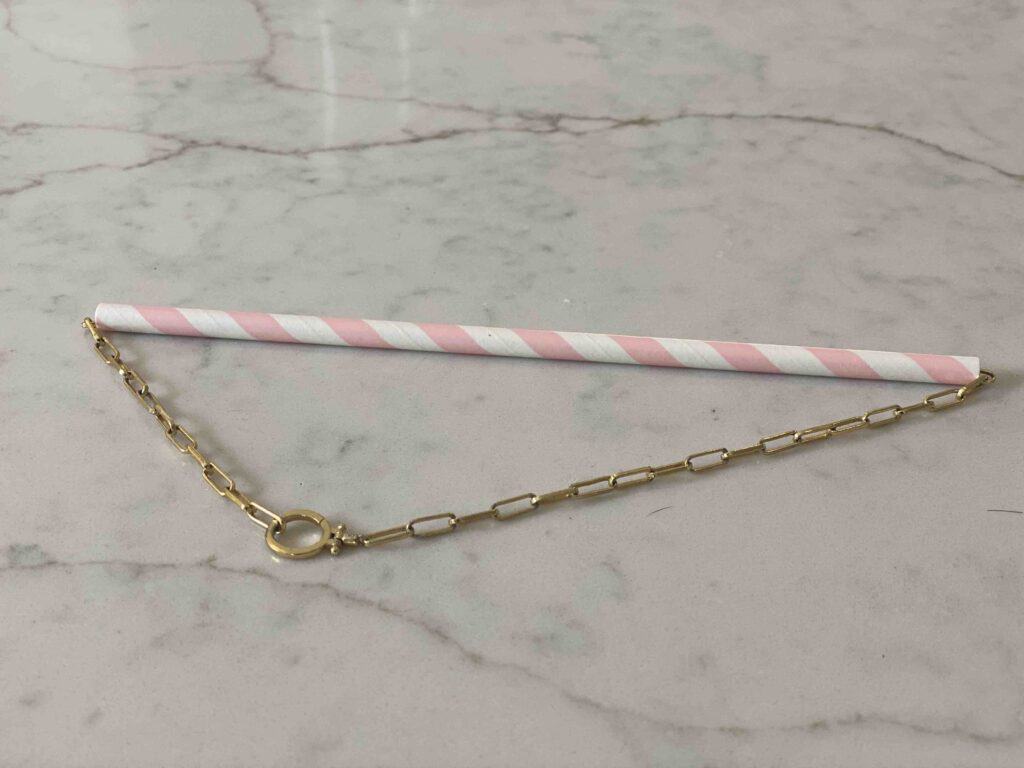 I recommend using reusable straws for this hack if you can. Look for silicone reusable straws instead of those made from glass or metal. I love these silicone straws, because they open up via a vertical seam, which makes it super easy to thread your necklaces through them!
If you have shorter necklaces, you may have to trim the straws. If that's the case, I recommend using paper straws, which is what I used in the photos above. These were leftover from a party I threw, and make for a great jewelry packing hack!
For more genius packing tips, check out my post on the best packing tips for women!
5. Use a Travel Jewelry Case to Pack Necklaces, Earrings, Rings and Bracelets
Finally, I recommend packing jewelry in a fit-for-purpose travel jewelry case. I used to just throw my jewelry into any old bag that was laying around, only to have it wind up getting scratched.
There are so many different kinds of jewelry cases out there, but I recommend this travel jewelry case. I like it because it's got multiple sections that zipper, so you can use it to separate your jewelry into types or different outfits.
The Best Travel Jewelry Case
This jewelry case comes in a bunch of different colors and is very reasonably priced!
In addition, it lays flat which is super important when you're packing a bag. Many travel jewelry cases are brick-shaped, so it's harder to find room for them in your suitcase.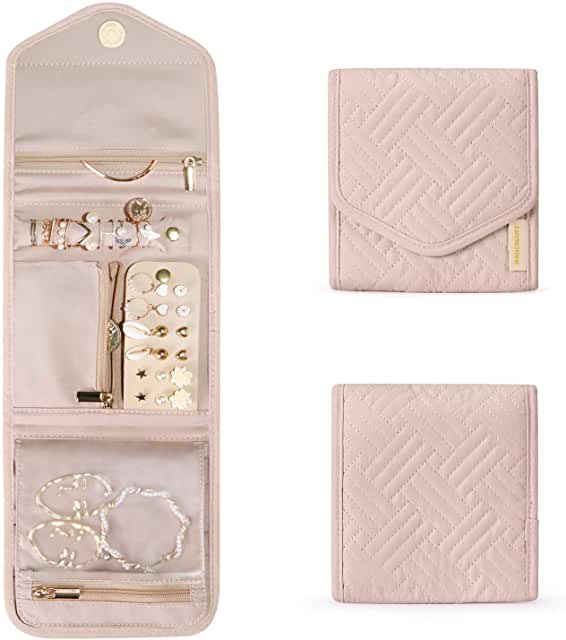 But most importantly, I love that it will fit your necklaces when you've packed them using the straw hack above! Place the necklace + straw pieces on top of the jewelry case, and then just close it via the magnetic closure. You wouldn't be able to do this with many other smaller cases out there.
I hope these tips have helped with showing you exactly how to pack jewelry for travel!