Heading to Chicago for The First Time?
You're in for one of the country's best blends of big city sophistication and laid-back charm!  Planning a trip to Chicago can be overwhelming, though, since there is so much to see and do.  I've put together this 3-day Chicago itinerary to help you plan the perfect experience for your time in the Windy City.  Read on for more!
Posts on this blog may contain affiliate links. At no additional cost to you, if you click through an affiliate link and make a purchase, I may earn a small commission.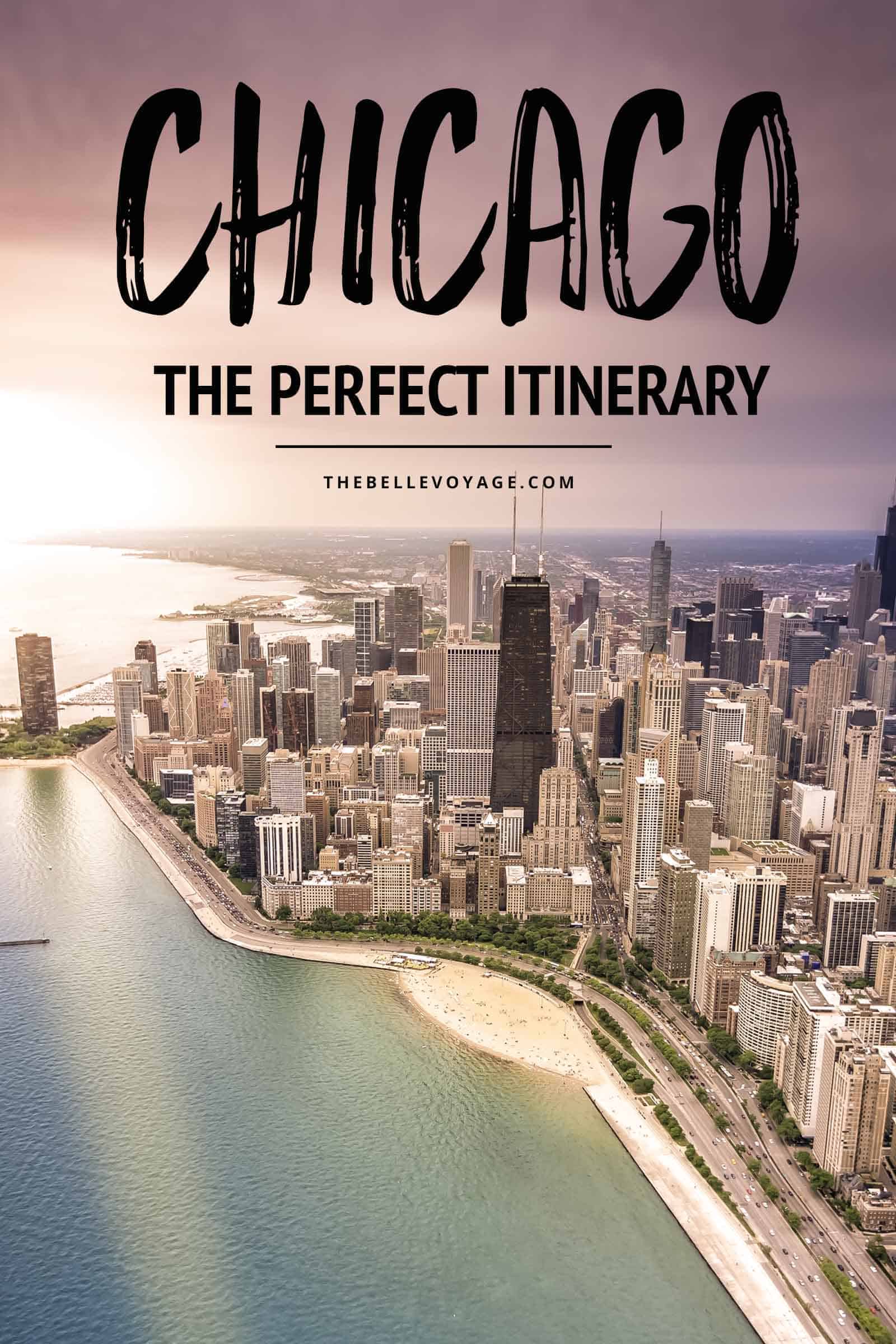 Before You Go to Chicago…
Make sure to get yourself one of these!  You'll fit right in with the locals, who are still talking about 2016. For all of my favorite travel accessories and products for female travelers, check out my shop.
Where to Stay in Chicago
I highly recommend staying at the Virgin Hotel in Chicago.  The hotel is perfectly located within walking distance to most of Chicago's main sights, the rooms are super chic and modern, and I love some of the details and touches that are so iconic to the Virgin brand.  And get this: each room has a REASONABLY priced mini-bar.  What???  It's true – you won't be paying $8 for a Kit Kat here, folks.
But what I loved best of all about the Virgin Hotel is its rooftop bar.  It's got an incredible view of the city, and particularly the city's unique architecture.  The summer humidity in the midwest keeps the nights warm, so the rooftop bar is a great spot to unwind with a glass of wine after a day of sightseeing.
Chicago Itinerary Day 1: Culture, Culture, Culture
Day one of your Chicago itinerary is all about soaking up some of the city's iconic places and things to do.
Best Museums to Visit in Chicago
Chicago's museums rival the best in the world, hands-down.  If it's your first time visiting Chicago, I'd recommend my two favorites: The Field Museum and the Art Institute.  You can certainly pick between the two, but they're both just THAT GOOD – that you should try to squeeze both in if you can!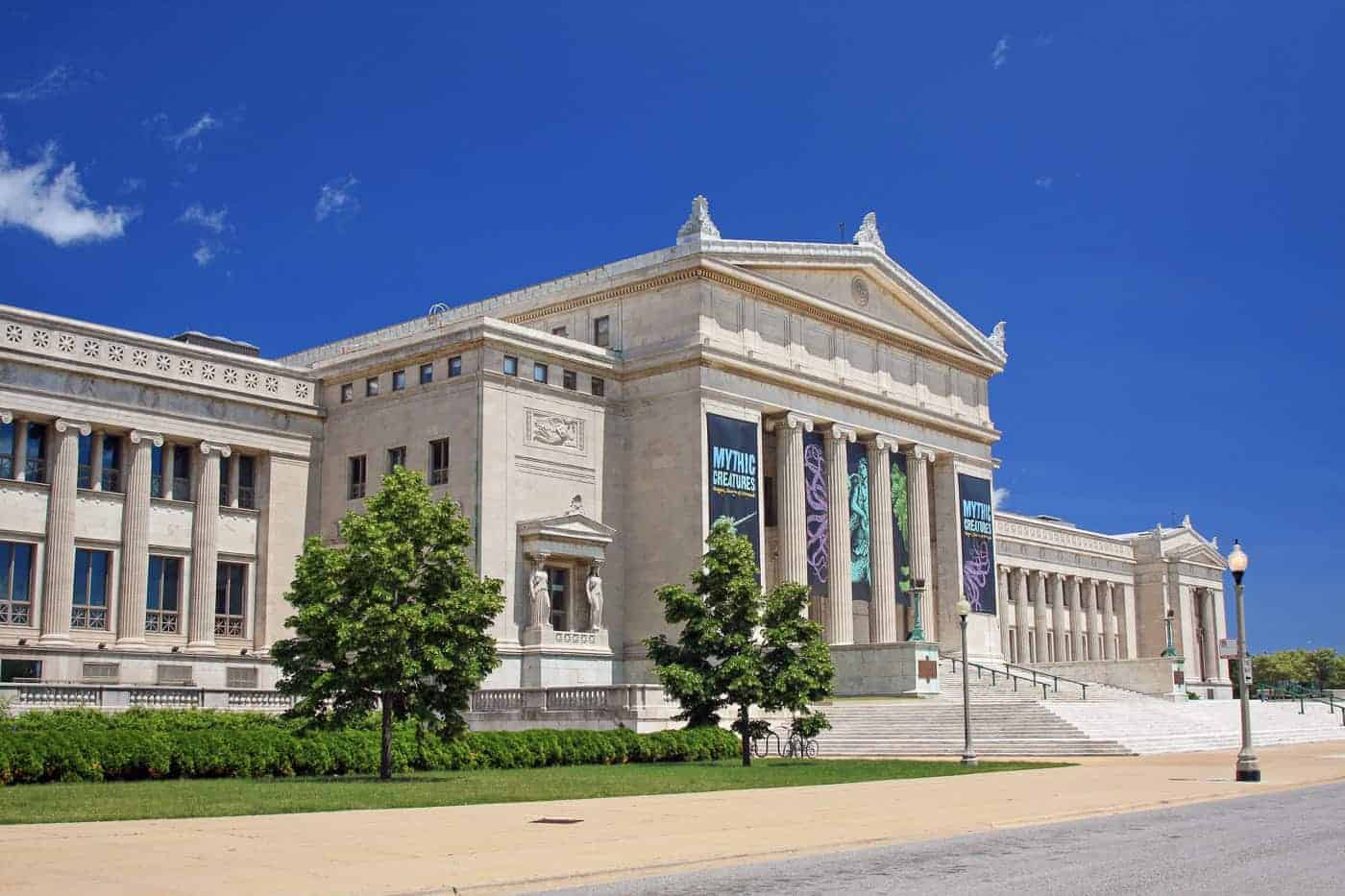 Get to The Field Museum first thing in the morning, to try and beat the crowds.  It's an absolutely enormous museum, entirely dedicated to natural history.  The museum's collections and specimens, along with the traveling exhibits that stop to call the museum home, are second to none.  From paleontology to the world's butterflies, you'll literally find it all here.
Next, head over to the Art Institute, another gem of a museum on a grand scale.    The Art Institute's collections are incredibly comprehensive, so it's hard to know where to start.  The museum is best known for its impressionist art, but you could literally spend days checking out all of the additional exhibitions.  It's a design lover's paradise.
Millennium Park and The Bean
After museum hopping, it's a quick walk over to Milennium Park.  It's a great place to picnic for the afternoon, and check out the sculptural art that's featured as part of the park.  Most famous is probably "the bean" – you know you've seen it on Instagram.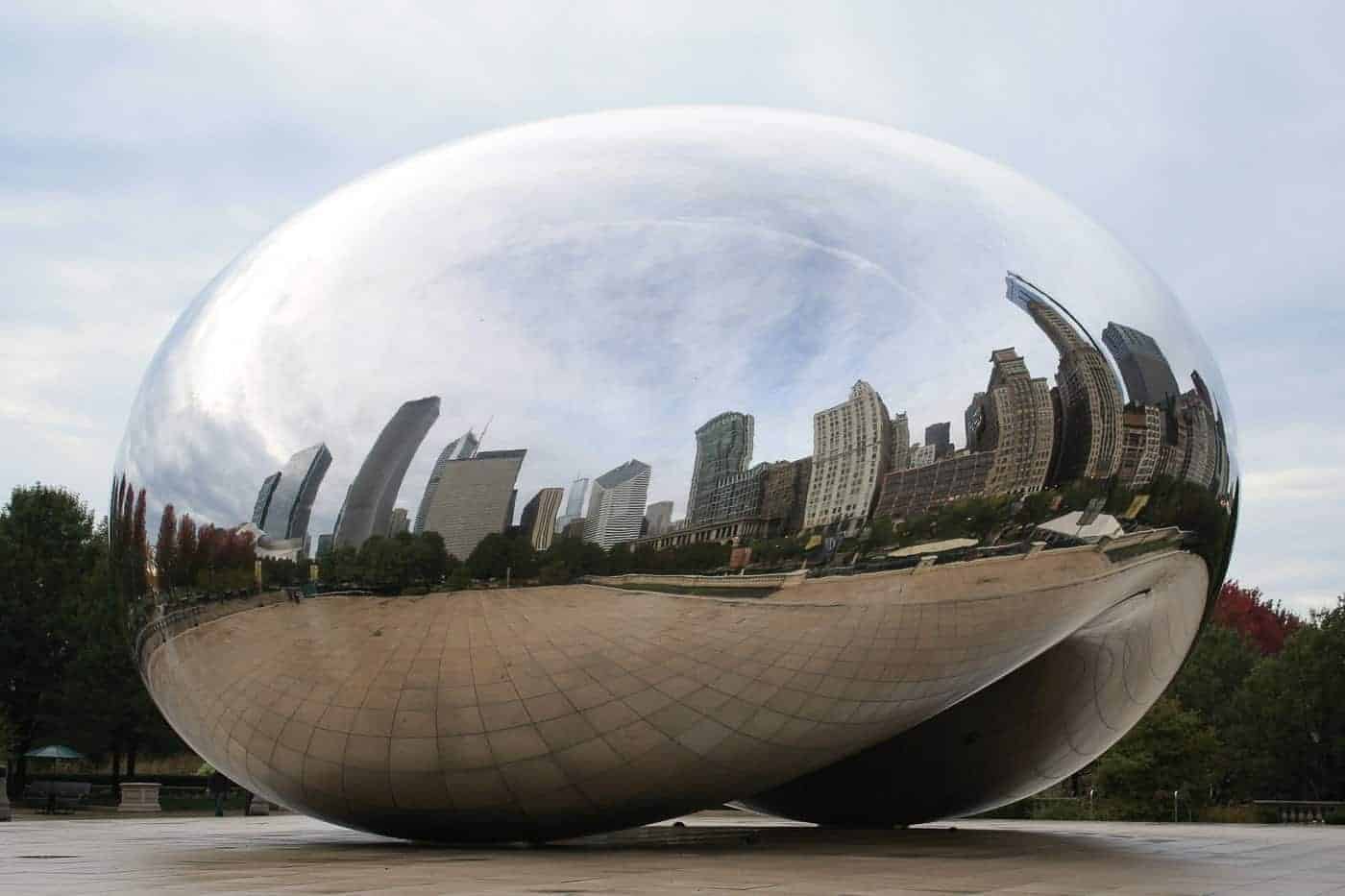 The bean's actual name is Cloud Gate, and it's insta-famous for a reason!  Nearby Pritzker Pavilion is another cool sight, and looks (to me, anyway) like the cousin of the cornucopia from a Hunger Games movie.
Dinner and a (Sweaty) Show
For the evening, grab a casual dinner and indulge in some of Chicago's most famous foods.  For Italian, check out Lou Malnati's (including the oh-so-delicious deep-dish pizza that I am drooling just thinking about), or Jim's Original for Polish sausage with peppers and onions.  Mmmmmmmm……
Chicagoans love their sports teams, so taking in a game for the evening is a great way to immerse yourself in the local culture.  In the winter, check out the Blackhawks or the Bulls home schedule, and in the fall, the entire Midwest revolves around football – so get yourself to a Chicago Bears game if you can.  In the summer, it's alllll about baseball – you'll just have to decide if you're going to be a Cubs or a White Sox fan for the day.
Chicago Itinerary Day 2: Views for Days
Start off the second day of your Chicago itinerary with an architectural tour of the city by boat.  You'll cruise down the Chicago river with a guide, certified by the Chicago Architecture Foundation, who will walk you through an overview of 50 buildings along the river, woven through a narrative of the history of Chicago.  Honestly, this is a Chicago must-do!  You can buy tickets ahead of time online.
360 Chicago for Views Galore
After the tour, get another perspective on the city's architecture with a view from up above by visiting 360 Chicago, an observatory among the clouds, located in the John Hancock building.  The observatory offers stunning views of the entire City of Chicago, as well as the coastline of Lake Michigan.  It truly gives you a sense for the expanse of the lake, because it's so big that it seems more like an ocean!
While you're visiting Chicago 360, make sure to check out the Tilt experience, where you can stand against a piece of glass that tilts out over the street.  Even the fearless will get a little bit of a thrill!
Explore Lincoln Park Boutiques
Once you've gotten your fill of sky-high views, catch a ride up to Lincoln Park, one of North Side Chicago's trendy residential neighborhoods, and named for the city's largest park, which is the lakeside centerpiece of this part of town.  The Lincoln Park Zoo and Lincoln Park Conservatory are both fun to wander through, but I love Lincoln Park for its cafes, boutiques, and adorable homes.
Armitage Avenue is a perfect spot to boutique-hop for the afternoon.  I love Art Effect for cute gifts (and travel accessories!), and Interior Define is fun to check out for home decor.  If it's one of those hot, sticky midwestern summer days and you're not up for shopping, check out one of the nearby beaches along Lake Michigan.  North Avenue beach is a local favorite.
Dinner and Dates
End your evening with dinner at Avec, an adorable, modern and warm spot where you can dine tapas-style.  You absolutely must order the chorizo-stuffed dates.  Holy moly, they are incredible!!!  You can thank me later.  After dinner, enjoy some classic Chicago nightlife with either a live jazz performance at Buddy Guy's Legends, or a comedy show at Second City.
Chicago Itinerary Day 3
Kick off the last day of your Chicago itinerary with brunch at Cochan Volant, a French bistro in the Loop that is basically a brunch-lovers paradise.  And indulge!  You'll walk it off later today.
Explore Navy Pier
After you've had your share of pastries galore, head over to Navy Pier, a Chicago landmark on Lake Michigan filled with parks, shops, restaurants and event space – there's always something going on there!  Take a ride on the Centennial Wheel, or check out the Navy Pier event calendar for the latest and greatest of what's going on.  Although I haven't experienced this myself, I just saw that Navy Pier shows outdoor films during the summer months, which would be a really fun thing to do while visiting Chicago.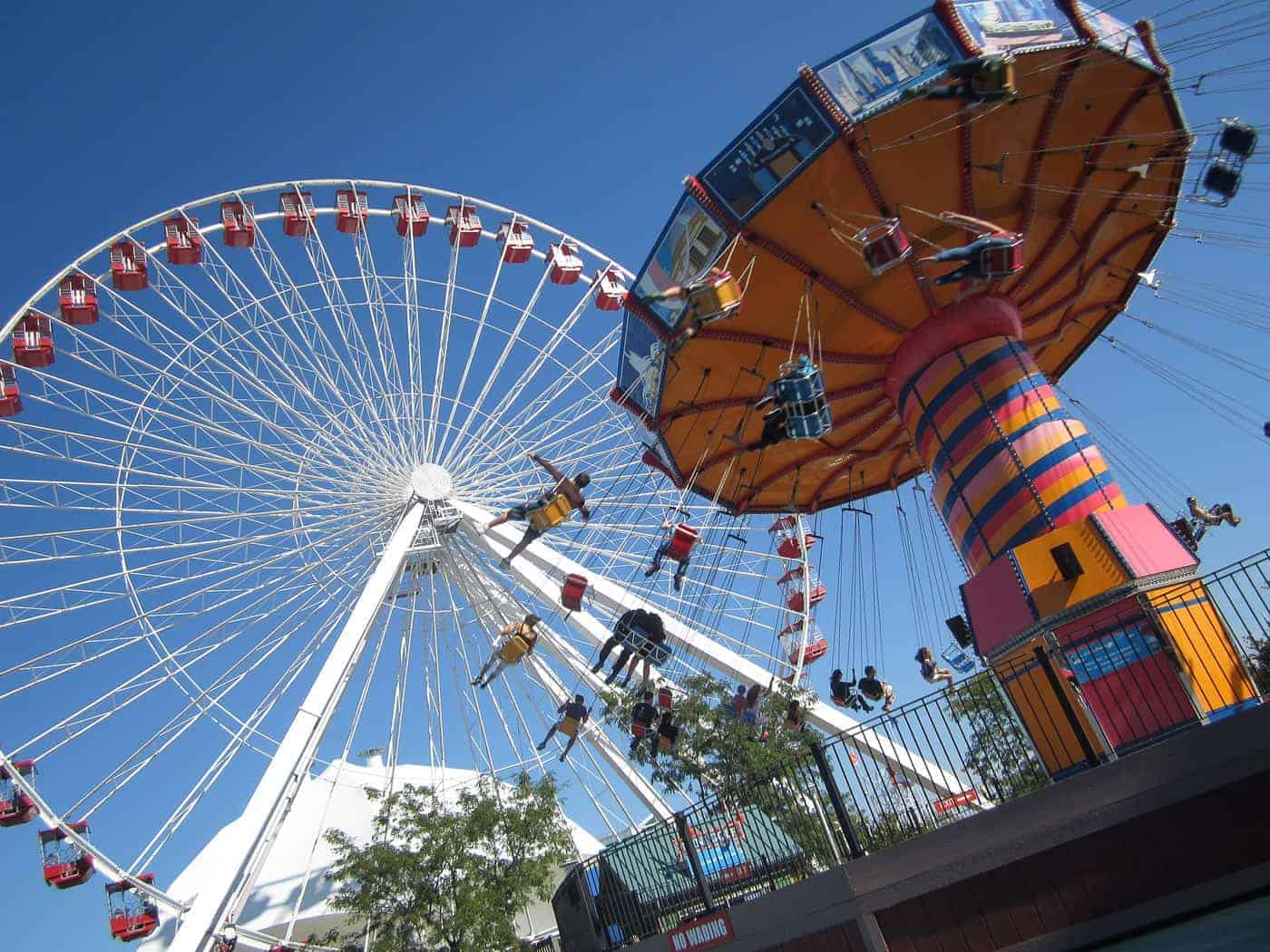 Check out the Shedd Aquarium
The Shedd Aquarium is another one of Chicago's finest – it's an ENORMOUS indoor aquarium and if you're traveling to Chicago with kids, they'll fall in love immediately with the exhibits and animal experiences.
Shopping on Michigan Avenue
No trip to Chicago would be complete without a stroll up Michigan Ave and the Magnificent Mile, so head up there after the aquarium.  Most of the shops here are super high-end (think Gucci), so if you're like me, you're mostly window shopping, but it's still fun to walk along and enjoy what is Chicago's version of NYC's Fifth Avenue.
Chicago's Lakefront Trail
I promised we'd do a lot of walking today, so next, head back towards Lake Michigan and enjoy the lakefront trail, a nearly 20-mile stretch of paved walkway that meanders down the city's coastline.  The views are spectacular and it's a great way to see the city's skyline from a distance.   If you'd prefer to bike the trail (highly recommended!), check out the city's bike-sharing system, Divvy, where you can grab a bike for a 24-hour rental period from one of the city's many stations
Dinner at Girl and The Goat
Wrap up the day with dinner at Girl and the Goat, my hands-down favorite restaurant in Chicago.  Go early or make a reservation, because this is one popular spot (but you'll see why once you visit)!  End your evening and toast to your time in the Windy City with cocktails at one of Chicago's rooftop bars.  I like Cindy's at the Chicago Athletic Association for lakefront views and a chic scene, but there's plenty of places to choose from!
There you Have it – The Perfect Chicago Itinerary!
Pin it for Later!
Wanna Learn to Pack a Suitcase Like a Boss?
Subscribe to download my three BEST travel planning resources:
Travel outfit planner
Pre-travel checklist
Carry on packing list