First Time in Vegas: Must-Do's and Travel Tips
This site uses affiliate links and I may earn a small commission when you use my links and make a purchase, at no extra cost to you. 
If you're visiting Vegas for the first time, can I please come with you? I'm a great guide! (And a decent craps player). No? Well then how about a list of must dos in Vegas for first timers? If it's your first time in Vegas, you're in luck – and you haven't even started gambling yet! Vegas is one of the many easy road trips from San Diego, so I visit often. Here's my guide to Las Vegas for first timers, including important tips for your first time in Vegas, and all of the best things to do in Sin City.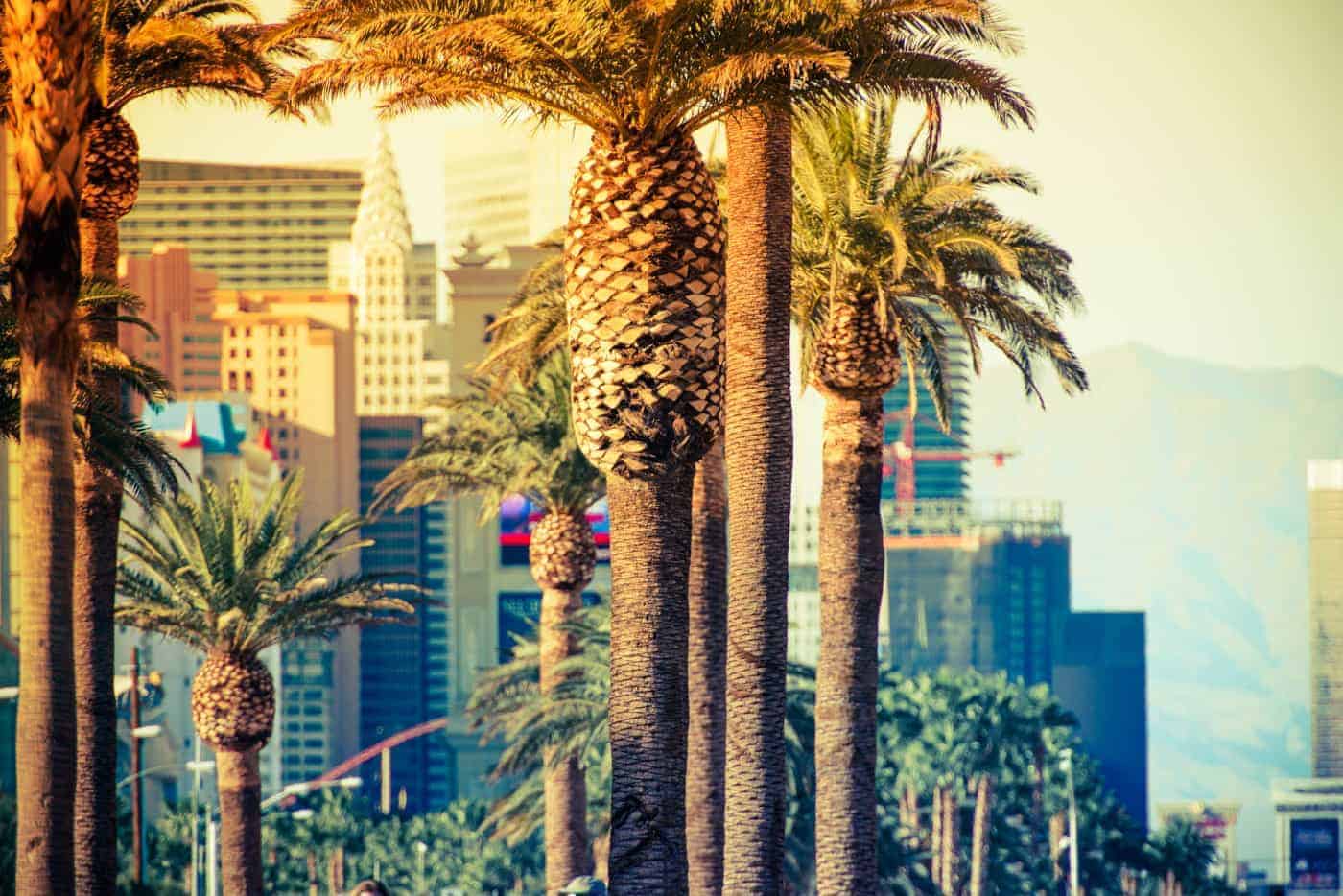 Before You Go to Las Vegas for the First Time…
You'll probably want to buy one of these. At less than $3, it could be an investment that pays off when you're gambling! I won't even ask for a cut of your winnings.
Where to stay in Las Vegas For First Timers
Important Travel Tip for Las Vegas: Where you choose to stay in Vegas is a HUGE factor in planning your first trip! I recommend staying at the Aria or Vdara. Check them out! Both are well-located, have amazing shops and restaurants, and have awesome rooms (and pools!).
Where you choose to stay in Las Vegas will be a big factor in planning your first trip.
Here's exactly why I recommend staying at the Aria or Vdara. I think they're the best hotels in Vegas for first timers for a few reasons:
Both properties are well-located right in the center of the strip.
Both have great on-site amenities including a spa, pool, restaurants, and shopping. So you can have an incredible trip and experience much of what Las Vegas has to offer without ever leaving your resort. You'll thank me when you see how long the cab lines can get!
Both hotels are relatively new, so the in-room technology is SUPER COOL (I won't spoil the surprises). Vdara is also non-smoking, so if that's important to you – Vdara is your spot.
First Time in Vegas: How to Choose a Hotel
When choosing your hotel for your first time visit to Vegas, discount hotel rooms can be deceiving! When you decide where to stay for your first time in Vegas, you need to make sure to factor in the costs of going to and from your hotel to other destinations.
For example, you might save $25/night by staying in a hotel that is off the strip, but you can EASILY spend that in cab fare getting around the city.
For that reason, consider staying in a Vegas hotel that is located at, or within walking distance to some of the places you plan to visit during your Las Vegas itinerary.
Pro Travel Tip: These days, travel can be more uncertain than ever. Check for any COVID-related restrictions at your destination, and never travel without travel insurance! I recommend SafetyWing, because they have flexible + affordable insurance plans, and also cover COVID-related impacts on your trip (not all companies do)!
Important Tips for Your First Trip to Las Vegas
What I love about Las Vegas is that it can be anything that you want it to be. While most people head to Vegas to gamble and party like there's no tomorrow, there's also so many things to do in Las Vegas that are exactly the opposite.
Las Vegas is home to incredible restaurants, terrific shopping, world-class shows and entertainment, and spas for days. So no matter what you're up for – Las Vegas truly has something to offer for everyone. Here's a few Las Vegas tips for first timers:
Plan to Gamble During Off-Peak Hours
If you're on a budget, but still want to gamble during your trip, plan to do so off the strip and during off-peak hours.
Gambling tables for games like blackjack, craps, and poker have "table minimums", which are the minimum bets you can place for a single round of betting. The minimum bets at tables actually vary depending on what day of the week it is, and what time of day it is.
If you're gambling on a Friday or Saturday night in Vegas, you can expect to see minimum bets of $25 – $30 per hand or turn, because these are peak gambling times in Vegas, when casinos bring in tons of revenue from weekend visitors to Sin City.
The same tables may have minimum bets of $5 per hand on a Wednesday during the daytime, so if your Vegas travel plans allow for it, try to visit mid-week to save a lot of money on gambling.
There are Lower Betting Minimums at Casinos Off the Strip
Just about EVERYTHING in Las Vegas is more expensive on The Strip, including gambling. If you're on a budget, but don't want to wager $25 per blackjack hand, you should look for casinos that are located off the Strip.
I really like the Downtown Las Vegas area for gambling. It's a fun place to visit in Vegas, especially if it's your first vacation in Vegas, and there are TONS of casinos, with betting minimums that are much lower than casinos on The Strip. Keep reading for more details on Downtown Vegas!
The Best Place to Stay in Vegas is a Hotel with Restaurants and Shops You Plan to Visit
One thing that first timers to Vegas may not know is that it can take a LONG TIME and also be very expensive to get from one place to another in Las Vegas.
On a weekend in Vegas, it is not unusual to wait in line for a taxi for 30 minutes, sit in traffic for another 30 minutes, and pay $40 just to go from one hotel to another. That adds up!
For that reason, it makes sense to stay in a hotel with amenities that you'll use, including restaurants, shopping and spa facilities. You'll spend a lot less time and money if you can just walk from your hotel to a brunch buffet or dinner.
Check out my recommendations above for suggestions on great hotels for Vegas first-timers. Both of these Vegas hotels have fantastic restaurants and things to do!
Going to and from places in Vegas during peak times can take FOREVER (long cab lines, traffic on the strip, etc.) so it can be nice not to leave your home base.
The Best Way to Save Money When Visiting Las Vegas for the First Time
One more Las Vegas tip for first timers – if your travel plans allow for it, plan to visit Las Vegas mid-week if you can!
You'll save a TON on hotel costs. Las Vegas hotels during a weeknight are a FRACTION of the price of hotels on a Thursday, Friday, or Saturday night.
If you can visit Vegas for the first time Monday – Wednesday, you will be able to save not just on hotel costs, but also on flights getting to and from Las Vegas, which tend to be less expensive on weekdays, too.
And if you're worried that Sin City won't be as exciting in the middle of the week – you'd be surprised what sort of trouble you can cause in Vegas on a Tuesday.
Las Vegas for First-Timers: The Perfect 2 Day Itinerary
There's so many things to do in Vegas for first timers that just figuring out a game plan can be completely overwhelming. That is why I've pulled together all of my Vegas favorites into the perfect 3 day Las Vegas itinerary for first timers.
Day 1: Start With The Must-Dos for First Timers in Vegas
If it's your first time in Vegas, you're probably itching to see The Strip! So once you arrive at your hotel, head out on foot to stroll the Strip. Bonus points if you decide to take a 3-foot-tall frozen drink with you.
Yes, it's legal to walk around The Strip with an open container of alcohol, so I recommend taking advantage of this unique street scene!
While you're walking the Strip, check out some of the more interesting theme hotels on the Strip. Some of the best hotels to see on the Vegas Strip have really unique features and entertainment on the outside.
Visit The Best Hotels with Tourist Attractions on the Strip
If you're visiting Las Vegas for the first time, I recommend checking out these hotels to marvel at their exteriors and take in their unique entertainment:
A Must Do in Vegas for First Timers: View the Las Vegas Strip from Above
Grab pre-dinner drinks at the High Roller Ferris Wheel at the Linq for an amazing view of the Strip as the night lights come on. Having your own bartender will make for a pretty fun ferris wheel ride!
You can buy your tickets to the Linq online ahead of time, and have them sent straight to your email which I highly recommend. Get them here at this link, and cross one thing off your to-do list!
Enjoy French Food at My Favorite Las Vegas Restaurant
For dinner, head to the nearby Paris hotel to hit up Mon Ami Gabi – my favorite restaurant in all of Las Vegas! If you can, try to sit outside so that you have a perfect view of the fountains at the Bellagio Hotel. You can't go wrong with the steak frites at Mon Ami Gabi.
If you have time after dinner, I recommend visiting the viewing deck ontop of the Eiffel Tower at the Paris hotel. If you're visiting Las Vegas for the first time, you will get a kick out of this! You can get tickets to the Eiffel Tower viewing deck here.
Make sure to get tickets ahead of time, since this is a popular Vegas tourist attraction, and can get really crowded.
Any First Trip to Las Vegas Should Include a Show!
If it's your first trip to Las Vegas, you've got to see a show while you're in town! There are so many options, depending on your preferences. I love the Cirque de Soliel shows, and highly recommend The Beatles LOVE, O, or Michael Jackson ONE. Make sure to get your tickets in advance.
If you prefer music, you can see who is in town for the weekend, or check out one of the current music artist residencies in 2022.
Another really unique show is the Blue Man Group at the Luxor Hotel – it's like nothing else I've ever seen!
How to Save Money on Shows in Las Vegas
If you're flexible in terms of what show you see, you can also look for discount tickets on the day that you plan to see a show.
There are a few places in Vegas where you can buy same-day show tickets at a significant discount. I recommend Tix4Tonight, where you can buy same-day show tickets for up to 50% off the regular price.
Las Vegas Itinerary Day 2: Poolside Shenanigans, Shopping and Skydiving
Start day 2 of your first trip to Vegas by grabbing room service or a quick coffee. With a quick breakfast, you will have time to enjoy the entire day!
If you're visiting Las Vegas in the spring, summer, or fall, you'll probably want to enjoy the warm (and in summer, HOT) weather by spending the day enjoying the pool. Head out to the pool early to snag a pool chair and soak up the sun for a few hours. And I mean EARLY.
Some of the pool chairs will get claimed with towels starting as early as 7am! As long as you're out to claim a chair by around 10am – you should be fine.
What's the Best Pool in Vegas?
When it comes to pools in Vegas, there are a TON of options, but they fall into two categories: chill or party. Almost all resorts have a "chill" pool option – with plenty of lounge chairs, drinks on repeat, and a bit of a see-and-be-seen scene.
If it's in your budget, consider renting a poolside cabana where you'll have a dedicated space for your group to gather, as well as plenty of shade. Cabanas are a great option for a bachelor or bachelorette party in Vegas – you can be as relaxed (or not!) as you want to.
If you're looking for more of a poolside party scene, Las Vegas has some pretty incredible daytime pool parties that are more like clubs than they are pools – and they're worth experiencing at least once – especially if it's your first time in Vegas.
The people-watching at daytime pool parties in Vegas is nothing short of AMAZING. The best ones in my book are Mandalay Bay's Daylight or Tao Beach at the Venetian.
For the Afternoon, Enjoy The Amazing Shopping at the Grand Canal
For the afternoon, head to the Venetian hotel and stroll through the shops in the Grand Canal and grab some gelato while you're at it. The inside of the Venetian and Palazzo hotels is one of the coolest things to see in Vegas. The whole scene looks so much like Venice that you may feel like you can check that city off your bucket list!
You can even take a gondola ride through the canal, complete with your very own singing gondolier (be on the lookout for marriage proposals!).
If you're still hungry post-gelato, a pizza at Grimaldi's is about as close as you can get to Italy without actually going there.
A Must Do for First Timers to Vegas: Zipline Through Downtown Vegas
If shopping isn't your thing, spend the afternoon doing an activity that is one of my favorite things to do in Vegas. Try indoor skydiving or ziplining through Freemont Street.
Once you've checked those off your Las Vegas bucket list, back to your hotel to put on your Saturday-night-finest, and then head out for the evening!
First Time in Vegas? Check out the Secret Cocktail at the Chandelier Bar
If it's your first time in Vegas, you can't miss the Cosmopolitan hotel. Start your night with drinks at the Chandelier Bar at the Cosmopolitan, a 3-story bar where you're literally having drinks INSIDE a chandelier.
While you're there, you HAVE to try the secret cocktail that you won't find on the menu – The Verbana. Talk about tingly.
Afterwards, head to dinner at Beauty & Essex (also in the Cosmopolitan Hotel) then to Marquee, the nightclubclub at the Cosmopolitan where you can dance the night away. Bottle service for the win.
Las Vegas Itinerary Day 3: A Buffet Breakfast + Hiking Red Rock Canyon
The last day of your Vegas itinerary is the perfect time to indulge in one of Vega's famous buffets. The buffets are EVERYWHERE – but there's only a few that are worth the price tag. My favorites are The Buffet at The Bellagio, The Buffet at the Wynn, and the Bacchanal Buffet at Ceasar's Palace.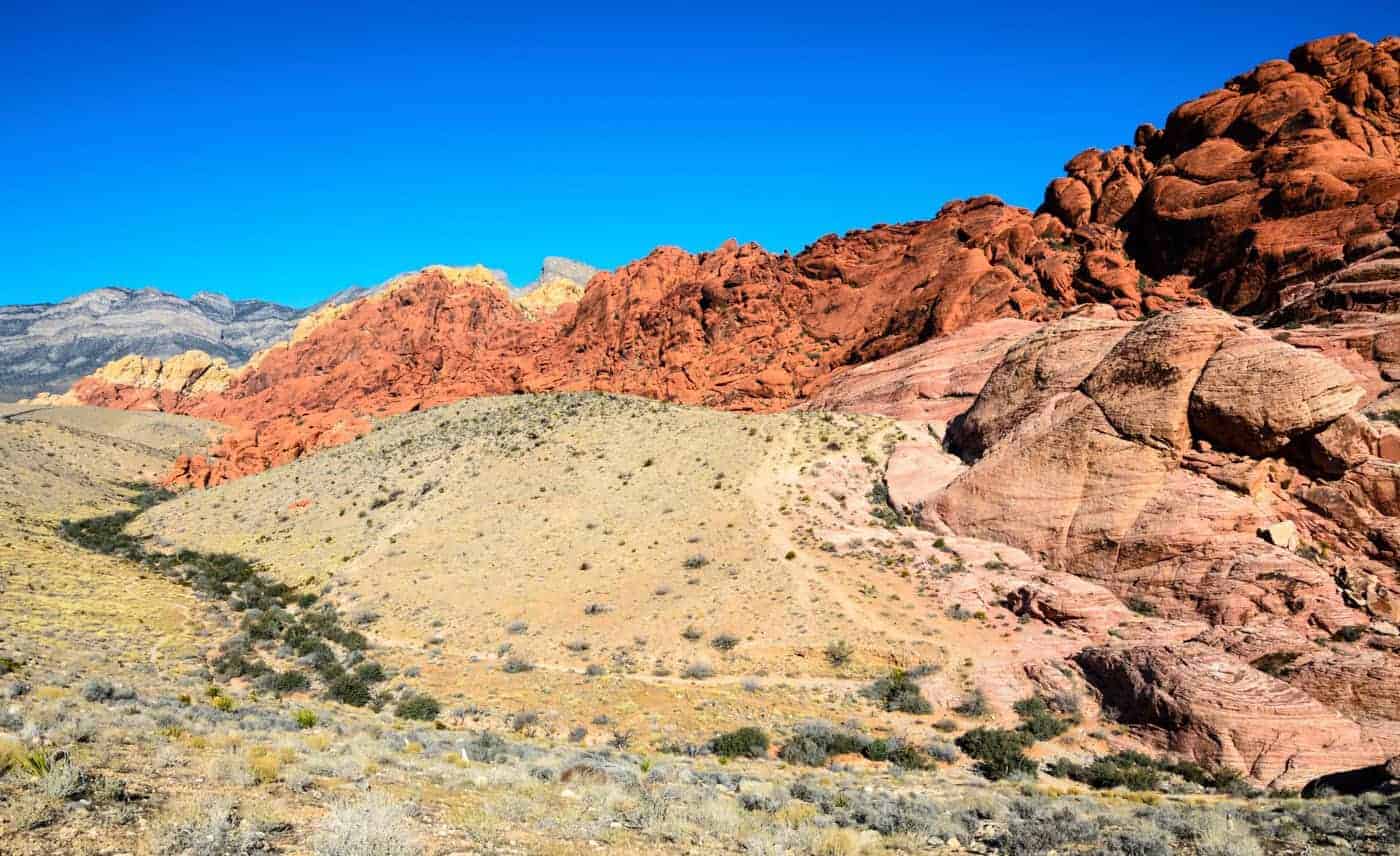 Burn Off Breakfast by Hiking at Red Rock Canyon
If you're game post-breakfast, I highly recommend checking out the natural beauty in and around Las Vegas. Even though it tends to be overshadowed by the Strip, the natural scenery in Las Vegas is absolutely stunning, which is why I recommend it to first time visitors to Las Vegas.
Try either a helicopter tour over the Grand Canyon and Hoover Dam, or if you'd rather burn off that buffet, the hiking trails at Red Rock Canyon are unbelievably beautiful.
There You Have it – All the Best Things to do For Your First Time in Vegas!
If you're interested in a day trip from Vegas, you'll love my one day in Zion National Park itinerary, where you can do one of the beautiful easy hikes in Zion.
Pin it for later!