The Perfect 5 Day New York Itinerary for First Time Visitors
This site uses affiliate links and I may earn a small commission when you use my links and make a purchase, at no extra cost to you. 
Planning your trip to New York City? I've put together the perfect 5 day New York itinerary to show you all of the best things to do and places to see in New York City. 5 days in New York is the perfect amount of time to spend in NYC, especially if it's your first visit to New York City. With 5 days in NYC, you'll have time to explore the highlights of Manhattan, and get a little taste of Brooklyn, too. Read on for all the details!
Before you plan your 5 Day New York Itinerary…
Make sure to get yourself one of these! If you follow my itinerary for spending 5 days in New York, you'll need it on day 2!
Where to Stay in New York
For this New York itinerary, I'd recommend staying in lower Manhattan. You'll be far away from the crowds of Midtown, and you'll be located very close to, or within easy transit of, most of the things you'll want to see as a first-time visitor.
My Favorite NYC Hotel
Escape the tourist traps of Times Square and stay at one of my favorite hotels in New York City – The Bowery Hotel.
Not only is it adorable and located within walking distance of tons of cafes and boutiques, but you're likely to spot an A-lister in the lobby. Oh, and you'll get your own teddy bear in your room. Need I say more?
Another great option to check out on Manhattan's west side is The Dominick hotel. The views here are incredible. For a more budget-friendly option of where to stay in New York, take a look at 11 Howard.
Where NOT to Stay in New York
There's one place that I don't recommend staying in New York, and that is Times Square. Yes, there are a ton of hotels concentrated in this area, and it's typically the first place that tourists consider staying. But, hear me out.
The downside of staying in Times Square is that it is insanely busy and crowded, nearly 24 hours every day. Insanely crowded!
It's also packed with cheesy touristy bric-a-brac and overpriced restaurants, and there's really nothing about it that's authentic to New York.
With 5 days in New York City, you won't have to rush around to see everything, so you don't need to worry about staying in Times Square.
Why It's Hard to Sleep in Times Square
Apart from all of that, Times Square is not the best place to get a good night's sleep!
The gigantic screens play videos on loop, so the flashing lights can be disturbing, even to the best of sleepers.
I remember spending one very sleepless night at a hotel overlooking Times Square because the window blinds wouldn't close all the way, and the flashing lights kept me up ALL NIGHT. Consider yourself warned!
What to Do in 5 Days in New York
Now that I've got those tips out of the way, let's plan your trip to New York!
With 5 days in New York, you'll have plenty of time to see the best that the city has to offer. I've put together the 5 day New York itinerary below to help you plan your time during your trip.
While the days here are full, the pace isn't crazy, and you'll have plenty of time to relax and enjoy all 5 days in NYC. If you're looking for a side trip from New York, check out my perfect Toronto itinerary.
Pro Travel Tip: These days, travel can be more uncertain than ever. Check for any COVID-related restrictions at your destination, and never travel without travel insurance! I recommend SafetyWing, because they have flexible + affordable insurance plans, and also cover COVID-related impacts on your trip (not all companies do)!
5 Day New York Itinerary Day 1: Welcome to New York!
Spend the first morning of your 5 day trip to New York exploring the city's famous 5th Avenue and the surrounding sights. You can begin your morning anywhere you like, but I'd suggest starting in the mid 40's and working your way north.
You can wander up and down the high-end shops that line the street, and enjoy some window shopping while you're at it.
Shoe lovers will get a kick out of the original Sake Fifth Avenue, where the shoe department is so large that it actually has its own zip code. No joke!
Kick Off your 5 Days in New York with a Visit to Rockefeller Center
On 50th St, make a stop at Rockefeller Center. If you have 5 days in New York during the holidays, you can take a spin on the ice rink, or you can head up to the Top of the Rock for an amazing view of the entire city.
It's a great thing to do in New York at Christmas. On the other side of 5th Avenue is St. Patrick's Cathedral, built in the late 1800's, and an architectural icon of Manhattan.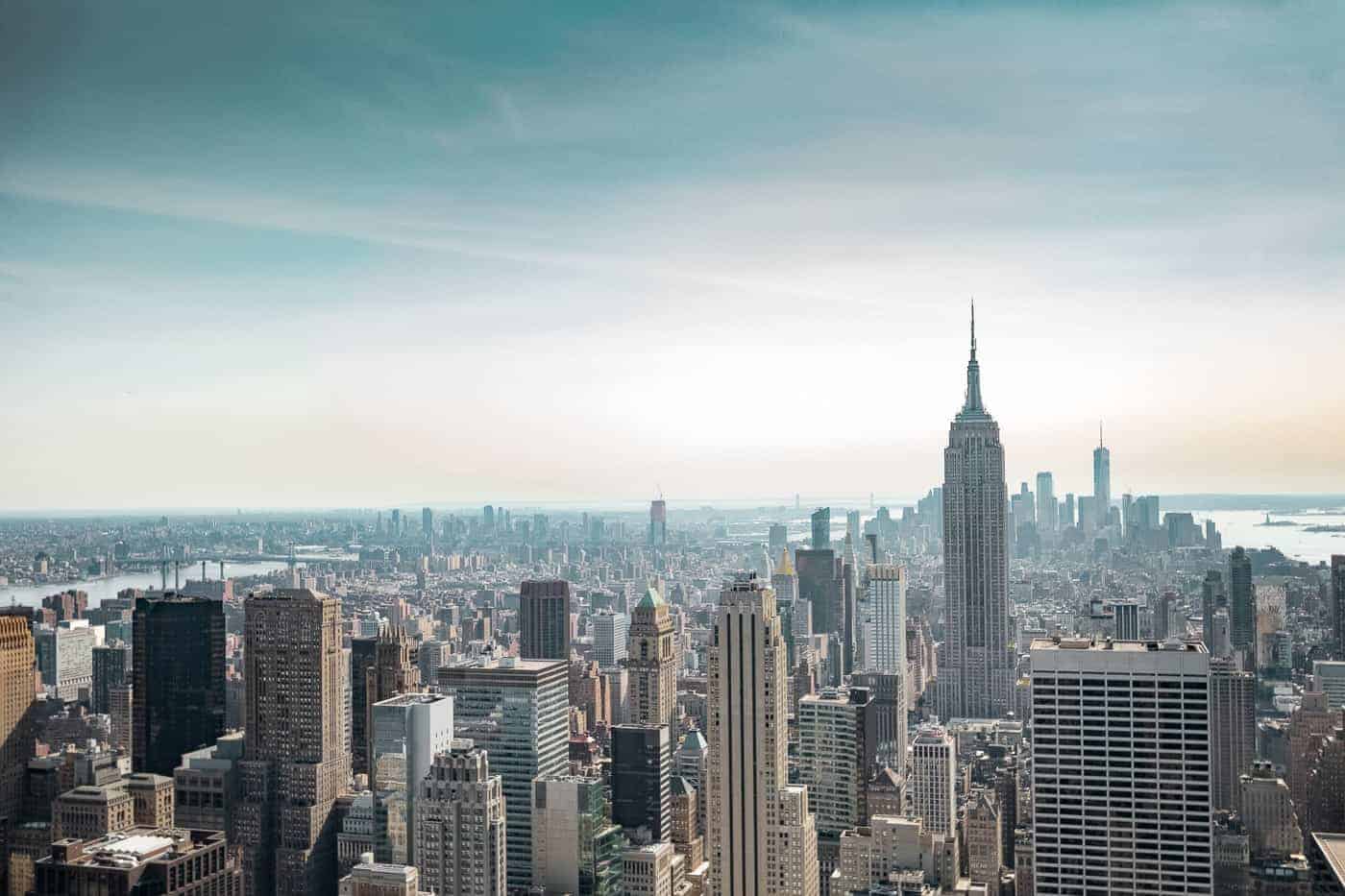 Lunch at New York's Best "Secret" Burger Joint
I'll be sharing plenty of places to eat as part of this 5 day New York itinerary, so I hope you're hungry!
For lunch on your first day in NYC, grab a quick, casual lunch at a "secret" burger joint that serves up one of the best burgers in town. Located on 56th and 6th Avenue, the Burger Joint at The Parker Meridien can be a little hard to find – but look for the neon burger sign in the corner of the lobby.
You might also be tipped off by the line waiting to get in – it's a popular spot, but with good reason.
And don't even worry about indulging, so make sure to get the large fries, too. With 5 days in NYC, you'll be doing plenty of walking!
Visit the MOMA
After lunch, spend the rest of the afternoon enjoying the Museum of Modern Art, a true gem in New York city. The collection at the MOMA boasts nearly 200,000 pieces, including many famous pieces of art such as Van Gogh's Starry Night, Monet's Water Lilies, and Andy Warhol's Campbell's Soup Cans.
The gift shop is also a good stop for unique souvenirs and gifts.
You can buy your tickets to the MOMA online ahead of time, and have them sent straight to your email which I highly recommend. Get them here at this link, and cross one thing off your to-do list!
Check out Times Square
When you head out for the evening, take a stroll through Times Square. Even though it's a tourist mecca, and New Yorkers avoid it at all costs, it's still quite a sight to see, especially when it's all lit up at night. Giant screens and bright lights galore, Times Square deserves at least a peek, especially if it's your first time in New York.
Experience a Broadway Show on Day 2 of This 5 Day New York Itinerary
For the evening, book tickets to a Broadway show. You can either book them ahead of time, or wait until the day of, and see what's on offer at Today Tix.
Buying tickets the day-of means you may not get to see the exact show you're interested in, or sit in the best seats, but if you're not picky, you'll pay a fraction of the price.
If you prefer to plan ahead of time, I highly recommend trying to get tickets to either Hamilton, Kinky Boots, The Lion King or Phantom of the Opera. Regardless of which show you see, you're in for a treat!
Post-Show Dinner
For a late post-show dinner tonight, carnivores will love Quality Meats.
If neither of those look good to you, you can wander down 9th Avenue in Hell's Kitchen to find just about every type of international cuisine imaginable.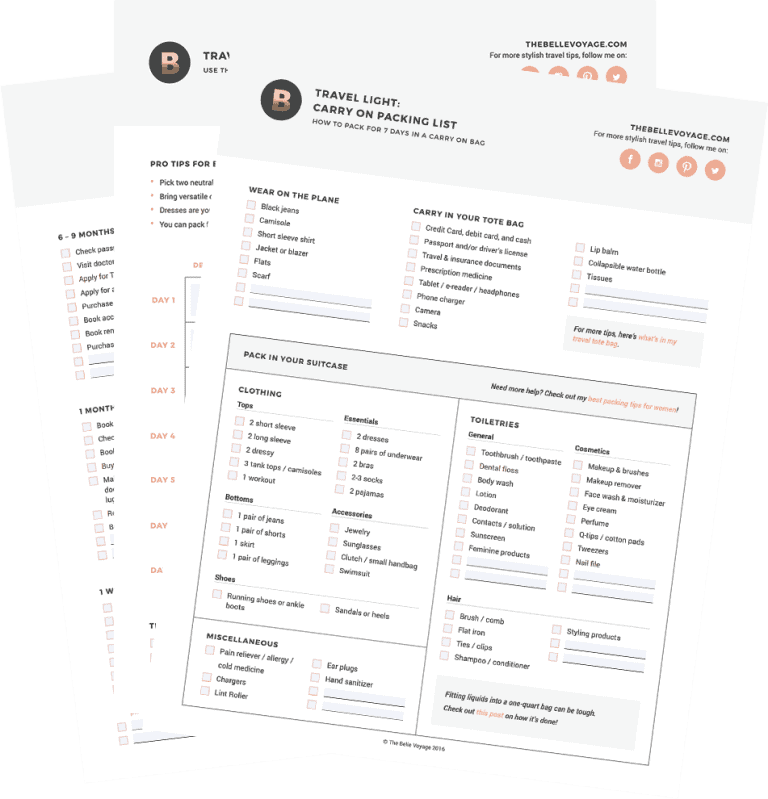 free printable travel resources
PACKING LISTS + PLANNERS
Get ready for your next adventure with my free printable travel planners and packing lists – the perfect companions to make packing a cinch and keep you stress-free!
New York Itinerary Day 2
Start off the second of your 5 day New York itinerary with a visit to the top of the Empire State Building. On your way, ask the cab to drive by the iconic Flatiron building, or stop there for a quick photo op.
Once you get to the Empire State Building, you're heading all the way up! Enjoy the views in all directions from one of the best vantage points in the city.
I have waited in line for over an hour to get in to the Empire State Building! Learn from my mistakes and buy your Express Entry Tickets online ahead of time, and have them sent straight to your email which I highly recommend. Get them here at this link, and cross one thing off your to-do list!
Stroll Through Central Park
After the Empire State Building, head north up to the south end of Central Park.
Have a cab drop you off at 59th Street and 5th Avenue, so you can enter the park from its southeast corner. Spend as long as you'd like in the park, making your way north as you go.
The Metropolitan Museum
Exit Central Park on its east side at 79th street and head over to the Metropolitan Museum of Art. Check out this guide for all of the must-see pieces in the Met.
You can buy your tickets to the Metropolitan Museum of Art online ahead of time, and have them sent straight to your email which I highly recommend. Get them here at this link, and cross one thing off your to-do list!
If you still have time in the afternoon, you can spend it boutique-hopping on Madison Avenue on New York's upper east side.
Start in the low 70's on Madison, and work your way north, stopping anywhere that strikes your fancy.
Root For the Home Team
For the evening, plan to catch a Yankees or Mets game if they're in season and playing at home. Even if you're not a baseball fan, a visit to Yankee stadium is a classic New York experience.
If a ball game isn't doable, look in to getting tickets for a late-night show. The Tonight Show or The Late Show with Stephen Colbert would be great choices.
5 Days in New York: Day 3
The first stop on day three of your 5 day New York itinerary is Wall Street, the heartbeat of the world's finance community.
Check out the famous bull sculpture and pause for a photo op. Afterwards, head further south to the Freedom Tower, where the World Trade Center towers used to stand. The area is now home of the 9/11 Memorial and Museum.
9/11 Memorial and Museum
The terror attacks on September 11, 2001 were a tragically impactful event in the city's history, and the museum is a very powerful tribute to the lives lost on that day.
Visiting the museum is a moving experience, so be prepared – but it is important to understand the magnitude of what New York City experienced on that devastating day.
The museum gets quite crowded so I recommend buying your tickets online ahead of time.
Visit Ellis Island
After your time at the 9/11 Museum, you will be well-positioned to take a trip over to Ellis Island and the Statue of Liberty.
If you're less inclined to visit Ellis Island, you can also take a ride on the Staten Island Ferry. The ferry is free and the views of Manhattan from the water are spectacular.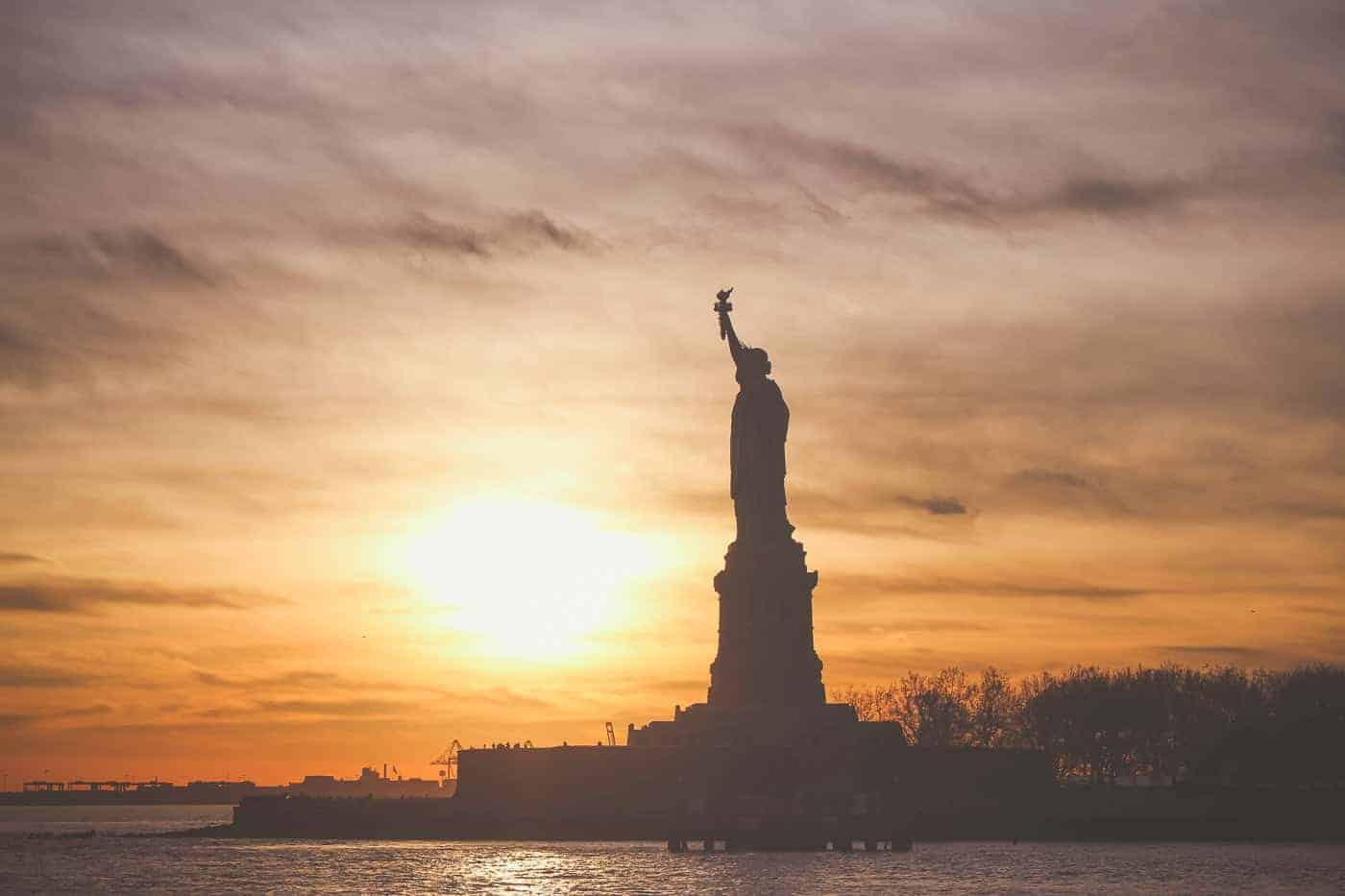 Check Out the High Line
Back on Manhattan, take a cab over to The High Line, a 1.5 mile long urban park in Manhattan's Chelsea neighborhood.
The park is built atop of an old rail line that is elevated about the streets of Manhattan's west side. Check out the art that's on display, shop among the kiosks, or just enjoy the hipster feel of the park while people watching.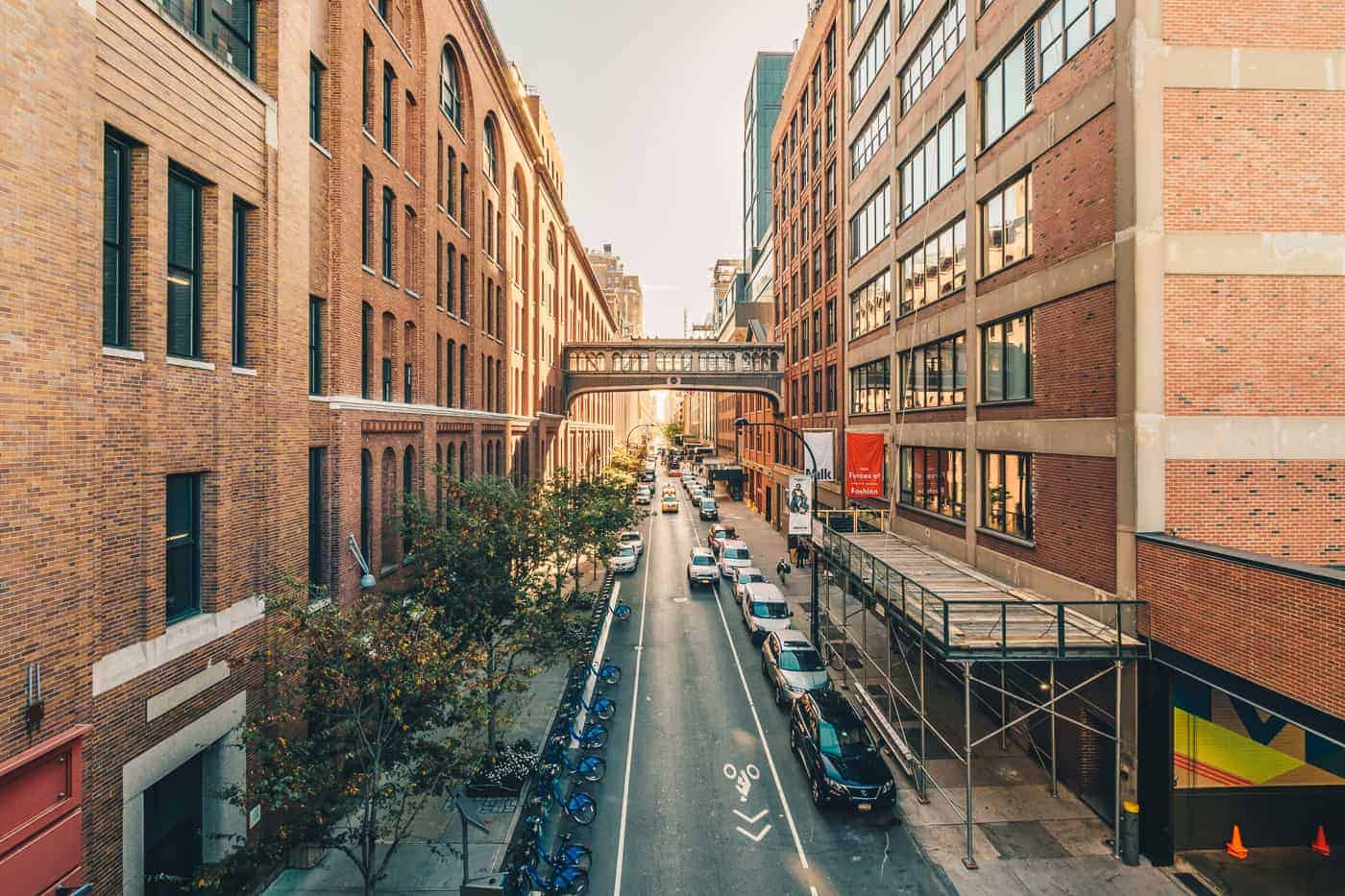 Wander Through Chelsea Market
Once you've had your fill of the High Line, take the stairs down near 16th Street and head inside Chelsea Market.
The market is home to some of the best casual food spots in New York, so it's the perfect place to sit down for a quick bite. Check out this guide for some recommended places.
Browse Boutiques in The Meatpacking District
Round out your day by wandering the shops in the trendy Meatpacking District, where old warehouses are now home to high-end hipster boutiques and shops.
For dinner, head over to the West Village for superb Italian food at cozy trattoria Morandi, or hit up the Gramercy Park Hotel for celeb-spotting and fine dining at another Italian New York favorite, Maialino.
New York Itinerary Day 4
No 5 day New York itinerary would be complete without a bagel, so grab breakfast at Sadelle's and a coffee to go.
This morning's plan has you taking a nice, long walk to burn off last night's pasta! Take a stroll through Chinatown and into Little Italy, making your way towards SoHo.
In Soho, I love strolling through the boutiques that line the cobblestone streets. If you get hungry, make a stop at Dean & Deluca for a tasty snack.
If you haven't gotten your shopping fix in yet, SoHo is the place to do it!
Washington Square Park
In the afternoon, spend an hour relaxing in Washington Square Park. The people-watching is incredible, and your'e likely to be able to enjoy some of New York's finest street music. Once your feet have had a rest, take a stroll around the rest of the West Village.
Dinner in the West Village
Make a dinner reservation for local neighborhood favorite, The Little Owl. During dinner, you might notice people outside taking photographs.
It's because the restaurant is located in the same building that is shown in the opening credits to Friends, so it's become somewhat famous in its own right.
New York Itinerary Day 5
You've spent the first four of your five day New York itinerary exploring Manhattan's best sights and activities, so today, you'll get a little taste of another New York City borough, Brooklyn.
Walk Across the Brooklyn Bridge
First thing in the morning, head over to the Brooklyn Bridge, with a coffee in hand. The walk across the bridge takes about 30 minutes, and you'll be rewarded with up-close views of the bridge's stunning architecture.
Don't forget to turn around and look behind you for incredible views of Manhattan's skyline.
Explore DUMBO
Spend a few hours exploring DUMBO, which stands for "Down Under the Manhattan Bridge Overpass". The park area and waterfront are a great place to enjoy the views over lunch.
For the afternoon, head back across the bridge and make a pit stop at your hotel for a quick nap. I bet you're ready to get off your feet for a few hours!
Rooftop Bar on the Lower East Side
After an afternoon at leisure, get your evening off to a good start with a pre-dinner cocktail at Mr. Purple. Mr. Purple is one of Lower Manhattan's best rooftop bars.
The photos alone make me want to book another trip to New York immediately! Grab a seat at the chic bar and toast to your last night in The Big Apple, all while starting your evening in style.
Afterwards, pop by Katz's Delicatessen, home of the famous scene from Harry Met Sally. A block or two away is dinner for the night at Dirty French. Be on the lookout for celebrities!
Wrap Up your 5 Day New York Itinerary
If you saved room for dessert, hit my favorite NYC gelato spot next door for some delicious gelato after dinner. I promise it's worth it!
If you're up for a nightcap, a drink and people-watching at Beauty & Essex is a perfect way to end your last day in New York City. It has a secret, speakeasy feel to it, since you have to walk through a working pawn shop to get to the restaurant itself.
Save Money Sightseeing with the New York Tourist Card
If you're planning to do sightseeing in New York City, you'll save money buying the New York Tourist Card. The card gets you admission to The MoMA, The Empire State Building, and the Statue of Liberty. PLUS an audio guide to NYC and a 10% discount on admission to whatever tickets you book next! Get the New York Tourist Card here at this link, and cross one thing off your to-do list!
There You Have it, the Perfect 5 Day New York Itinerary!
I hope this post helps you plan your 5 day New York itinerary! You're going to absolutely love your time in the city. If you love exploring urban areas, you'll love my Chicago 4 day itinerary, as well as this 2 day Los Angeles itinerary.
If you need help packing for your trip, check out my best tips on travel packing for women, as well as my quick and easy printable travel planners!
Pin it For Later!