The Best California Hidden Gems and Unique Places To See in California
This site uses affiliate links and I may earn a small commission when you use my links and make a purchase, at no extra cost to you. 
Are you in search of some California hidden gems? If you're looking for unique places to visit in California, this guide is for you! I've teamed up with ten other travel bloggers who have shared their favorite California hidden getaways. Check out these off the beaten path California destinations to find the best secret spots for your next trip!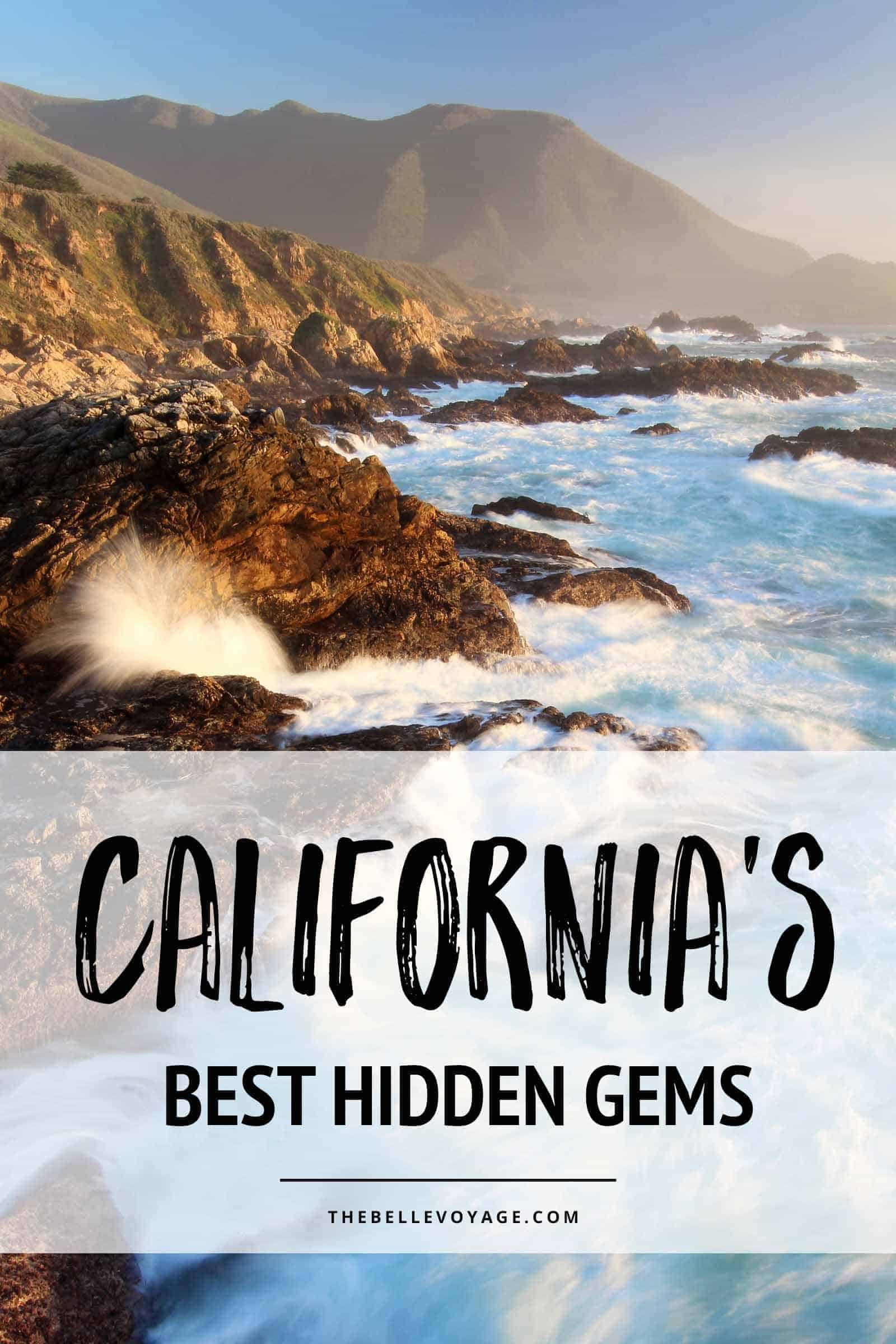 If you're planning a trip to California, I'm willing to take a guess that your itinerary includes LA and San Francisco. And maaaaayyyyybe San Diego. And it's true – these places are all must-sees for good reason.
For those of you who want to get off the beaten path in California, there are so many hidden gems in California that may not make the "Big Three" on many itineraries, but are just as filled with California charm, and are fabulous additions to any itinerary.
Keep reading for more on our favorite hidden getaways in California!
Pro Travel Tip: These days, travel can be more uncertain than ever. Check for any COVID-related restrictions at your destination, and never travel without travel insurance! I recommend SafetyWing, because they have flexible + affordable insurance plans, and also cover COVID-related impacts on your trip (not all companies do)!
The Best Unique Places to Visit in California
I've worked with ten other travel bloggers to put together a list of the best California hidden gems! Been to any of these spots? Let us know in the comments below! In search of more California hidden gems and unique places to visit in California? Check out the California bucket list I've put together.
Point Lobos State Natural Reserve
A California hidden getaway contributed by Addie of Addie Abroad. Follow Addie's adventures on Instagram!
If you're on a road trip down the California Coast, then be sure to stop at Point Lobos State Natural Reserve. This unassuming little park is the perfect place to stretch your legs and get a little bit of fresh air.
Not to mention the fact that it is absolutely full to bursting with that special kind of California beautiful that can't really be put into words.
Rocky cliffs jut out into the most beautiful blue water you have ever seen, and you don't have to listen very carefully to have the sound of the waves lapping against the shore overpower your senses.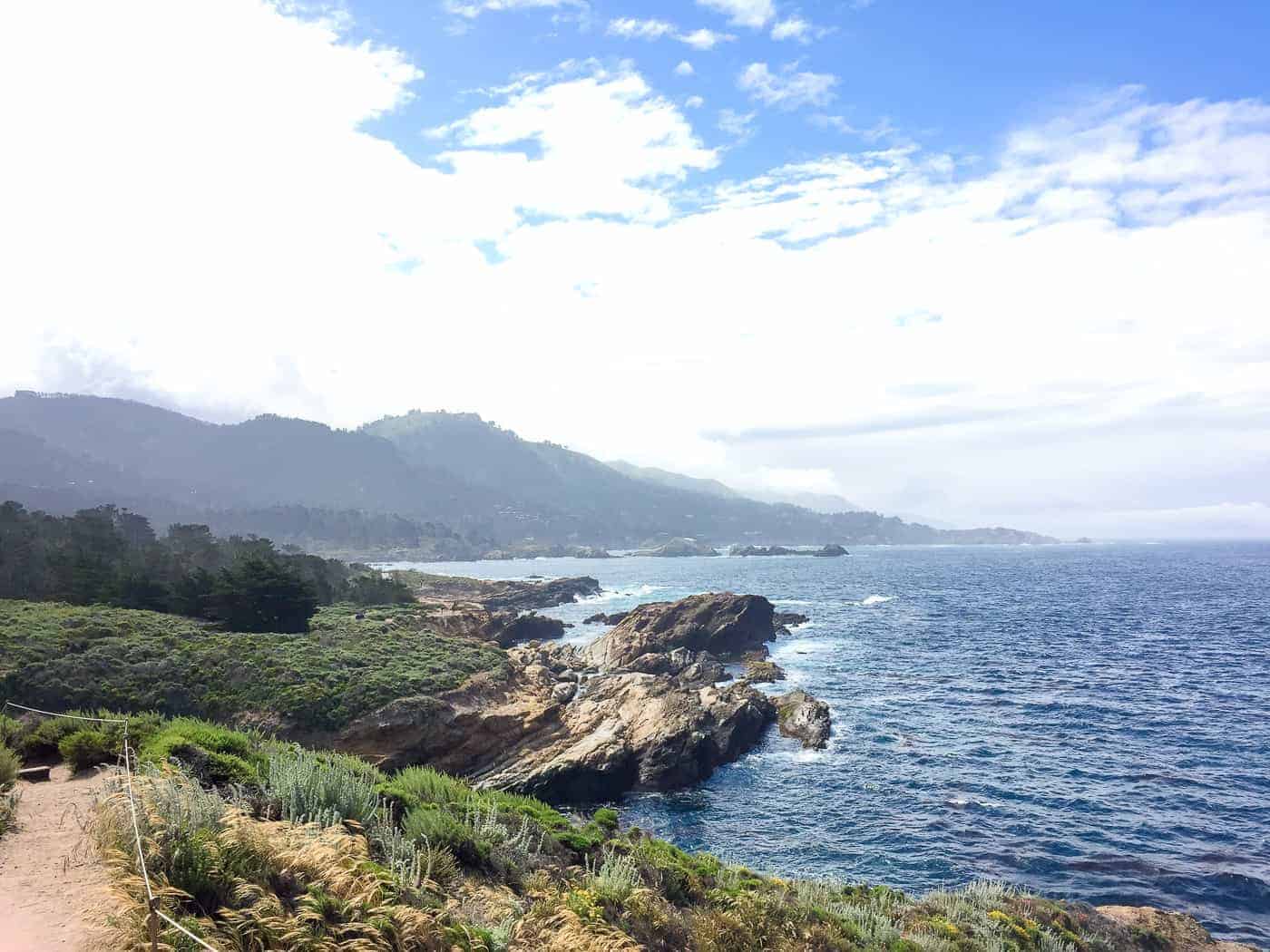 Set off on one of the trails that follows the coast and you're guaranteed to be blown away no matter which way you go. Point Lobos really has something for everyone — from the degree-studded naturalist to the curious recreationalist. Even divers can find opportunities for themselves.
There are plants galore in this beautiful corner of the earth (including the famous Monterey cypress), and if you're a fan of seeing marine animals then you've come to the right place. Seals and sea lions dot the shores, and if you're lucky you might even spot some otters or even a whale out in the ocean.
But even if you don't have a goal in mind, you're sure to find something about Point Lobos that will make you swoon.
I stopped at Point Lobos following the same path that so many road-trippers before me had, and spent only an hour or so there.
I walked the Cypress Grove trail and saw more beauty than I ever thought possible. I could have stayed the whole day, but we decided to forge on. Now, all I dream of is a chance to return.
Contributed by Jennifer of My Own True North.
About one hour south of Palm Springs, amidst miles of desert farmland, Salvation Mountain stands three stories tall as Leonard Knight's testament and love letter to God.
The adobe and straw formed "mountain" was declared "a folk art site worthy of preservation and protection" by the Folk Art Society of America and is formally registered and recognized as a piece of folk art.
Despite being in what truly feels like the middle of nowhere, Salvation Mountain is an easy day trip for daydreamers in Southern California.
Lovers of art, lovers of the desert, lovers of the 'gram, and lovers of anything and everything worth loving can all find something to love about this kaleidoscopic colorful and quirky space. I heartily encourage twirling on site.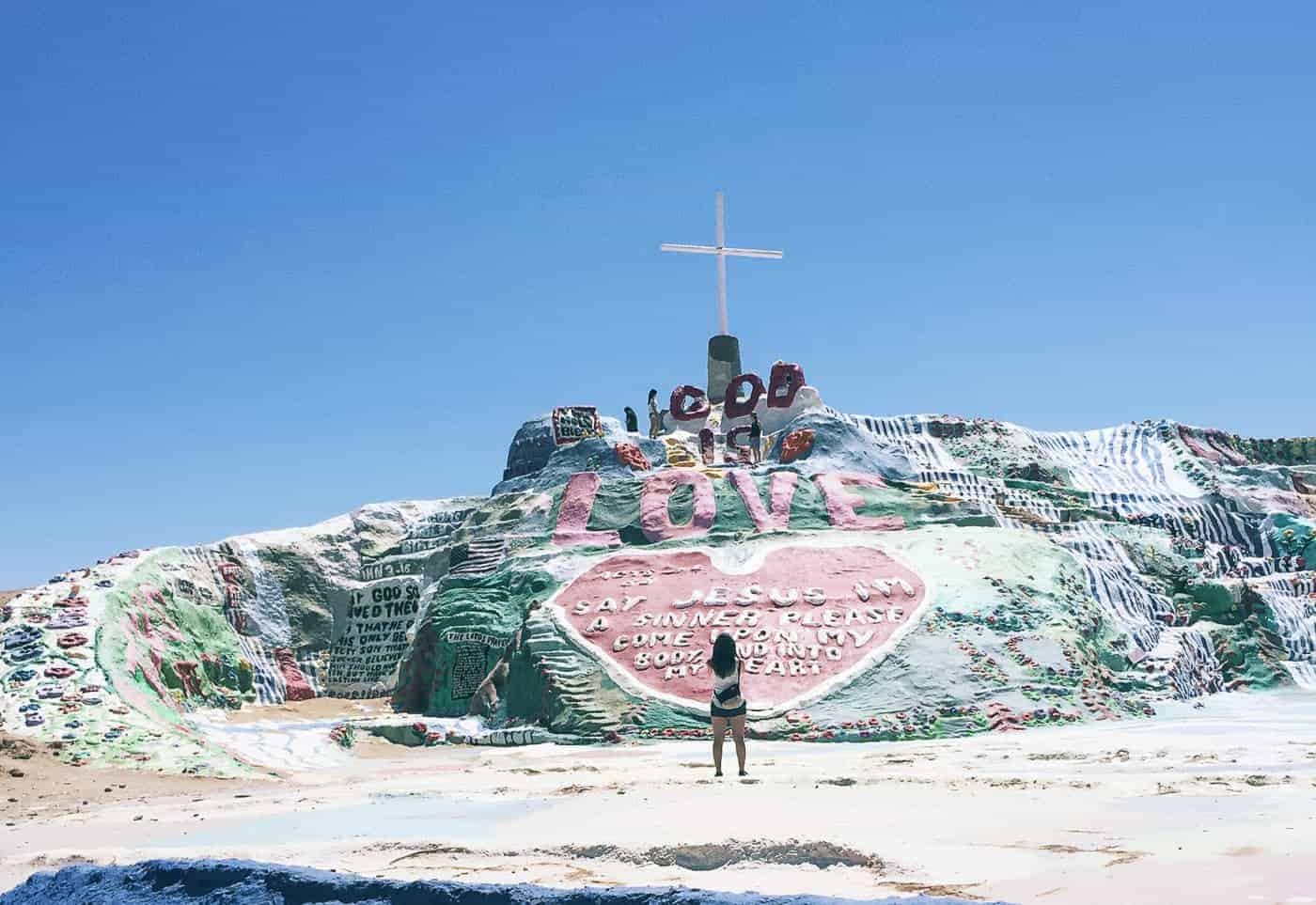 Volunteers work year round with an onsite caretaker to preserve and protect Knight's vision that was over 30 years in the making at the time of his death in 2014.
They are happy to have you and will welcome you with grace and friendship. You can walk on the Sea of Galilee and climb the yellow brick road to the summit which affords you a bird's eye view of Slab City, made famous in the 2007 movie, Wild.
In fact, you might recognize Salvation Mountain and Leonard Knight from the film, as well!
I recommend planning your trip to arrive in the morning as you are exposed to all of the elements. There is no shade, water, or services of any kind.
You can easily make a couple of add-ons to visit East Jesus, an unconventional art "gallery" in Slab City and Salton Sea which is quite close to the Salvation Mountain site. If you pass through Mecca , stop at a roadside fruit stand for fresh coconut water and fruit snacks!
A Northern California hidden gem contributed by Paroma of Year of the Monkey.  Follow Paroma's adventures on Instagram! If you visit Calistoga, here's the perfect Napa Valley itinerary for your trip!
Calistoga, once a sleepy little farmland at the northern most point of Napa valley, has gradually morphed itself into one of the best spa retreats in the state, thanks to all the geothermal action going on in this town.
However, the best kept secret of Calistoga is perhaps the mini "Old Faithful Geyser" that erupts periodically (hence the name) on Tubbs lane.
This is one of the only two "Old Faithful" geysers in North America, the other being it's famous cousin at Yellowstone National Park, which thousands flock to see every year.
The property also includes a delightful goat farm and feeding the goats is allowed. You can buy some goat chow at the visitor center to feed these frisky four legged beings (they are within an enclosure and are pretty inquisitive) or take a quick peek inside the tiny geological museum on the grounds, which has some pretty neat exhibits about the geyser.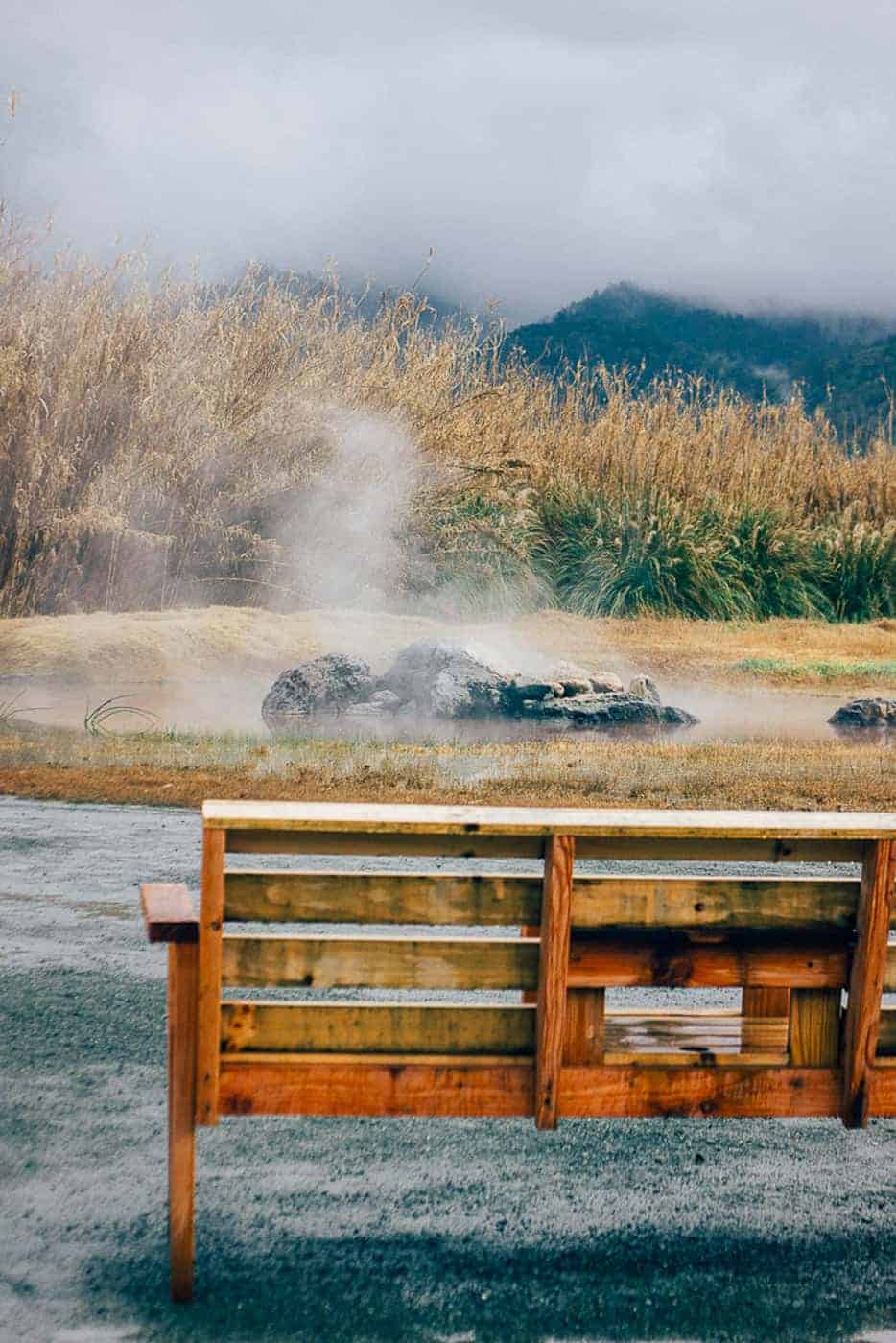 The other major attraction here is the Petrified forest, the only one of it's kind in California with some of the tallest Redwood trees.
Not alluding to scary, the "petrification" here is of the geological kind where a volcanic explosion about 3.4 million years ago from what is now named Mt. St. Helena (an extinct volcano) fossilized the trees with a thick deposition of ash.
In terms of food and drinks, a visit to restaurant Solbar, at the famous Solage luxury resort and spa, is a must to taste some amazing Californian-American fare.
Finally, do not forget to taste some wine (this is wine country after all) at one of the many wineries scattered here, including the very beautiful Dutch Henry winery and Markham vineyards, both with tasting rooms that are not too crowded and offer friendly service.
Lizard's Mouth in Santa Barbara
A Southern California hidden gem contributed by Daisy of Beyond My Border.
Santa Barbara's Lizard's Mouth is a beautiful hidden gem a half-hour drive from its city center.
Tucked away in the middle of some mountain hills, it might be difficult to get to unless given clear directions. However, once you reach the peak, the view is incredible!
The formation overlooks all of Santa Barbara. To the South, the city sits quietly against the Pacific Ocean. To the West, the sea stretches out endlessly.
We reached Lizard's Mouth right around sunset. After pushing past a few bushes, we arrived at a huge formation that had a 45-degree tilt towards the forest under.
There are no railings that protect us from the cliff, which is just a couple few meters away. As someone that was incredibly afraid of heights, I was very reluctant to march forward. But my friend, a Santa Barbara native, pulled me along the rocks like no one's business.
Since we were so high up in the mountains, it was super breezy. At one point, I had to get on all fours and pray to the almighty gods that I wouldn't get blown right across the rocky formations into the wild.
Once we reached the viewpoint however, it was all worth it. The area barely had any people or animals. Aside from the wind, it was extremely peaceful.
Speechless, I crouched down near Lizard's Mouth and embraced the beaming sunset. Against the backdrop of the ocean and city lights, it was probably one of my favorite spots in California.
Contributed by Lia of Practical Wanderlust. Follow Lia's adventures on Instagram!
Morro Bay is a sleepy little coastal town located on California's Central Coast. It's 20 minutes from the much rowdier San Luis Obispo, located on a natural harbor.
Morro Bay can be easily identified by its two major landmarks: an old power plant whose three large smoke stacks can be seen from anywhere in town, and famous Morro Rock, a giant volcanic behemoth located directly on the beach.
Jokingly referred to as "Three Stacks and a Rock," Morro Bay is home to great restaurants, friendly locals (like my husband! It's his hometown), and a ton of wildlife. Morro Bay is a natural refuge for animals like harbor seals, sea lions, sea otters, snowy plovers, peregrine falcons, and more adorable critters.
You may have heard of Morro Bay as the setting of "Finding Dory," however, there is no Marine Life Institute and no one calls it "The jewel of Morro Bay, California." But don't worry – there's plenty to do in Morro Bay!
Rent a kayak or a stand-up-paddleboard and float past nesting otters and barking sea lions in the harbor. Go surfing next to Morro Rock. Stroll the foggy Embarcadero and snack on some saltwater taffy.
And make sure you try Morro Bay's seafood specialties while you're there: clam chowder, fish & chips, and BBQ oysters – fresh caught in the harbor, of course!
After dinner, try some of the local craft beer by the The Libertine Brewing Company, which uses local wild yeast to create their one of a kind beers – including one that's made with salt water directly from Morro Bay's harbor!
This hidden getaway in Southern California was contributed by Miranda of Miranda's Muses.
If you're looking for a classic California beach day, look no further than Oceanside, California.
Located just next to Carlsbad, and bursting with character, Oceanside is a spot you definitely shouldn't miss. As you may have guessed by the city's name, Oceanside has a picture perfect beach with plenty to see and do for when you're craving a day spent by the sea.
My favourite part of Oceanside is its spectacular pier, which features Ruby's Diner. Ruby's is truly unique, as most beach eateries simply face the ocean, whereas Ruby's is on it. Literally.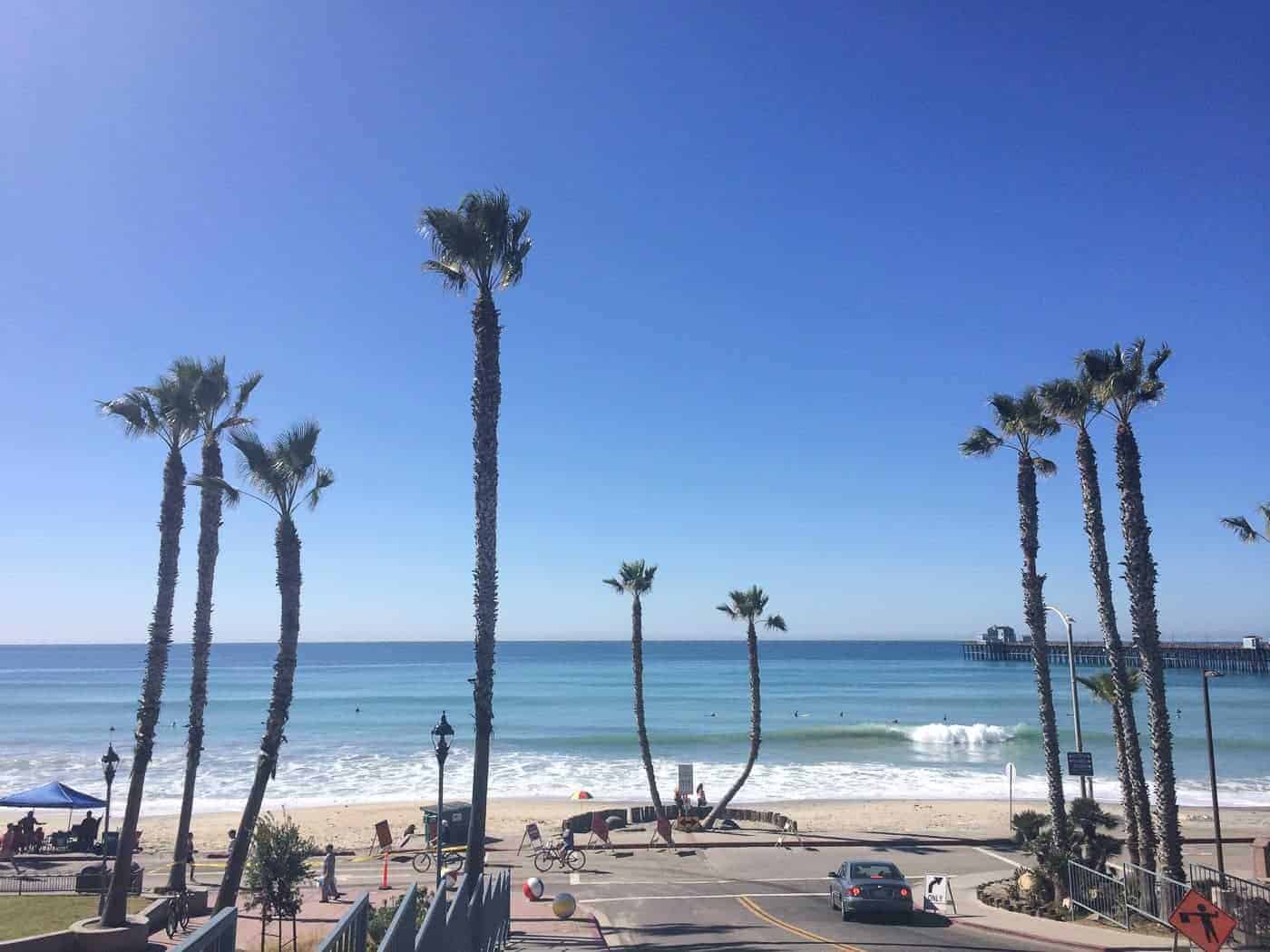 Strap on some walking shoes and head down to the end of Oceanside's impressive boardwalk, and Ruby's diner is parked on the end of it, suspended over the sparkling sea.
Not only can you have the retro diner experience while sipping on a milkshake, but you can enjoy panoramic ocean views through the large windows that wrap around the restaurant.
After you've had your fill of tasty burgers, you can easily spend hours on the pier alone, enjoying all that there is to see and do. It's the perfect place to view breathtaking sunsets, or watch the surfers ride the crashing waves below.
The pier is also an excellent spot for fishing, as there's even a bait shop incorporated part way down the boardwalk.
All around, as someone who greatly enjoys people watching, I can honestly say that this pier is one of my favourite spots to do this, as there's such a variety of people and activities happening. Trust me when I say it's never a dull moment on the Oceanside pier!
Off the pier, there's also plenty more to do, with an abundance of museums to visit, such as the California Surf Museum, or the Oceanside Museum of Art.
As you can see, Oceanside, California really does have something for everyone, and is the perfect beach day for California locals, and tourists alike.
Contributed by Alexandra Black of Positive Impact Journey. Follow Alexandra's adventures on Instagram! A special thanks to Alexandra for providing this post's featured image.
While the big cities, fancy dining, infamous signs and never ending sandy beaches take all the glory when it comes California, this state actually harbors an enchanting wildlife scene and dramatic rugged rocky coasts immersed in turquoise blue waters.
To truly experience those vibrant blue waters crashing against the jagged peaks, set your sights on Big Sur. Nestled on the central coast of California, an hour south of Monterey and a possible day trip from San Francisco, this destination provides scenic views as you traverse south on the 101 highway.
Plan your tour for late morning or mid afternoon to avoid the possibility of dense fog. You'll encounter a few of tiny old fashioned diners tucked along the highway, which adds to the charm of the journey.
Ramp up the scenery by exploring some of the trails, particularly near the Pfeiffer Big Sur State Park area. Many cut through the jagged rock walls to clear a path to the few sheltered sandy beach areas.
For a real adventure, embark on a backpacking trip the Sykes Hot Springs and campground. You earn a nice long soak after finishing this popular summer 10-mile (one way) trek. Too bad they don't have hot springs on the way back.
Malibu Lagoon
This unique place to visit in California was contributed by Rosalie from Rosalie Goes. If you visit Malibu, make sure to check out Malibu Wines, one of the many cute wineries close to Los Angeles!
While I love the buzz and excitement of the popular Los Angelean beaches, sometimes I want to escape it all. On those days, I head up to Malibu on the Pacific Coast Highway, where tucked behind soaring palm trees and craggy cliffs you'll find a little paradise known as Malibu Lagoon.
It's actually a California State Park, which is why it has remained meticulously maintained to this day.
At one edge of the estate is the lagoon itself, where you can spot monarch butterflies, pelicans, and the occasional grey whale. At the other end is the Adamson House, a Spanish colonial home covered in some of the best preserved ceramic tile in the country.
The grounds are totally free to wander, and offer up countless little hideaways shaded by lemon trees and . You're free to bring volleyballs, towels, and even a little picnic to make yourself truly at home.
If you're keen to get into the ocean, Surfrider State Beach runs adjacent to The Lagoon. It's a spot that's known for not only having some of the best waves around, but also not having to battle through crowds to catch them.
If you prefer dining out to picnicking, half a mile down the road on the pier you'll find Malibu Farm. It's an institution that is part cafe, part bar, and part restaurant serving organic food with stunning ocean views.
I love Malibu Lagoon most because of its ability to transport me to a totally different world. Surrounded by the soaring trees, cawing birds, and crashing waves I forget that I'm in a city of upwards of 10 million residents.
I love the clean, quiet beaches and the feeling of isolation, while still having everything I could need within reach. And, if you visit, I think you'll love it too.
Santa Cruz
This California hidden gem was contributed by Carol of Wayfaring Views. Follow Carol's adventures on Instagram!
Santa Cruz is the prototype for a hippie chillin' California beach town. The city's history as a Spanish Mission settlement, a left-leaning university campus and a surfer town has given it an eclectic cultural mash-up.
There is a lot to do on a weekend getaway to Santa Cruz and visiting there is never boring.
The main attraction in Santa Cruz is the oldy timey beach boardwalk. It's the west coast's answer to Coney island and you can rediscover your inner nine year old by riding the roller coaster and eat fried Twinkies.
For more adult pursuits, you can explore the Pacific Avenue downtown shopping and eating district. Try eating breakfast at Zachary's and cruise the shops on Pacific. Be sure to stop into Bookshop Santa Cruz, it's one of the best independent bookstores in the Western US.
For wildlife, you can find resident sea lions at the city pier and see elephant seals at Año Nuevo State Park. Just inland from Santa Cruz are fragrant redwood forests with hundreds of miles of hiking trails.
Santa Cruz is truly a surfer town. Chat up your bartender and he'll tell you all about it. If the surf is up, walk along West Cliff drive to see the surfers out riding the waves.
If you truly want to experience the full Santa Cruz chill, then you must go to the beach. There is a wide beach right in front of the boardwalk.
But you can get even better views at the Natural Bridges State park. Pack some snacks, grab a beach chair and plan to stay through sunset. Watching the sunset slip into the Pacific is one of those profoundly satisfying human experiences. Perfectly chill.
Contributed by Kaila of Nylon Pink. !
California's Ultimate Hidden Gem is Claremont, California: insiders know the city as the "City of Trees and Ph.D's" It is an idlyllic little college town with so much to offer!
Not only is it an incredibly safe city, Money Magazine voted it as one of the top 5 cities to live in the United States. That's quite an impressive accomplishment. It's also Southern California's first Fair Trade city.
Fair Trade products are sourced from small, family owned farms and artisans from around the world. Fair Trade supports to eradication of poverty and human rights all around the world.
Claremont is home to the Claremont Collages so the center of the city, Claremont Villages is populated by baby boomers, Gen Xers and youthful college students and respectable college professors alike. Claremont is quickly building a name for itself as a food destination featuring many award winning restaurants and many artisan food purveyors.
My favorite restaurant in Claremont is Viva Madrid !, a local's favorite. It features authentic Spanish Tapas such as the popular well-known paella and more obscure and adventurous dishes such as Angulas, Spanish baby eels (delicious!)
There are plenty of nature destinations and hikes available within Claremont. My favorite is the Rancho Santa Ana Botanic Garden.
This one of a kind garden has been dedicated to the conservation of native Californian plants for over 85 years and is the largest botanic garden of its kind, spanning over 86 acres. You can take a relaxing walk through the garden grounds from flat topped hills to sweeping mountain views.
The highlight of the garden is undoubtably the Butterfly Garden. Set inside an enclosed space, visitors can view hundreds of butterflies that are being protected until the garden's release event.
You might now know much about Claremont, but I hope that you'll take a second look at it as a possible day trip in the future
Contributed by me…I'm lucky enough to live in San Diego!
Cardiff-by-the-Sea is a quintessential, laid-back California beach town, with just the right amount of chic. Located about 20 minutes north of San Diego proper, Cardiff is an absolute must-see California hidden gem, especially for coastal road-trippers. Cardiff is the perfect addition to a 3 day San Diego itinerary if you're in town for a long weekend.
You definitely won't go hungry in Cardiff! Eat breakfast among surfers at Pipe's Cafe, where you can grab a breakfast burrito and a coffee for under $8. Just bring cash, because they don't accept cards!
For lunch, locals love the Cardiff Seaside Market. Grab a plate of "Cardiff Crack" from the outdoor BBQ stand for lunch and you'll understand how this marinated tri-tip got its nickname.
READ MORE: Top 9 unique places to stay in San Diego.
READ MORE: The Best San Diego Beachfront Hotels for Every Budget
Dinner at Las Olas is hard to beat, not just because of the Mexican food, but because of the location – you'll be sitting beachfront right across from the waves at Cardiff State Beach.
If you have time to meander around Cardiff, don't miss Sea + Wander, which is an adorable boutique filled with gifts and clothes for women and children.
The number one thing to do in Cardiff? Hit the beach! While the popular beaches of Pacific Beach and Mission Beach are filled with out-of-towners, Cardiff's beaches are true local's favorites!
Check out Swami's for a boho vibe and gorgeous cliffs, or Moonlight Beach in Encinitas for a family-friendly place to soak up the sun.
I hope that this guide has given you some ideas for the best California hidden gems to seek out on your next trip. There are so many unique places to see in California, and it's easy to stick to the well-trodden tourist path if you're visiting California.
But I encourage you to add one of these California hidden getaways to your California bucket list!
Pin It For Later!