Portland 2 Day Itinerary: The Perfect WeekEnd Getaway
This site uses affiliate links and I may earn a small commission when you use my links and make a purchase, at no extra cost to you. 
The Perfect 2 Day Portland Itinerary
With only 2 days in Portland, Oregon, it is important to plan for your trip in advance to make the most of your time. Portland is one of those cities that you could explore ENDLESSLY. There's so much to see and do that if you only have a weekend in Portland, it can be hard to fit everything into 2 days. This 2 day Portland itinerary has all of my favorite things to do in Portland, with exactly how to plan your days so that you make the most of your weekend in Portland, and see all of the best sights in the city!
2 Days in Portland: Where to Stay
With only 2 days in Portland, I recommend staying in a central area so that you can easily visit all of the places in this itinerary. Here are a few suggestions for hotels in Portland neighborhoods that are great areas to stay for visiting the city for a weekend.
Where to Stay in Portland's Pearl District
Portland's Pearl District is a great area to stay for this Portland weekend itinerary because you'll be able to walk to a ton of shops and restaurants, and you'll also be well-located to venture into other parts of the city.
Here's some of my best hotel recommendations for places to stay in the Pearl District:
Best Hotel Vibe in Portland: The Portland Ace Hotel perfectly captures Portland's culture – from its decor to its vibe. Even if you don't stay here, check it out for a drink!
Best Central Location in Portland: The super-central Kimpton Hotel Vintage is my favorite choice for a weekend in Portland This hotel is great for its chic looks, as well as its daily wine hour (see you there!).
Best Budget Hotel Option in Portland (With Style!): To save a few dollars but not sacrifice style, I recommend either the Society Hotel or The Hoxton. These are both great hotel options for places to stay in Portland that are budget-friendly and centrally-located.
Best Places to Stay Near Alberta Street Portland
Another fantastic neighborhood to stay in is Portland's Alberta Arts District. In this area of Portland, there are some one-of-a-kind spots to match this funky part of town and it is a great area to stay with only 2 days in Portland because you'll be able to walk to a ton of restaurants and shops. Here's a few recommendations:
Indigo Lane: cute-as-a-button home rental that is absolutely beautifully decorated.
Alberta Villa: a bungalow for rent with the most gorgeous color kitchen cabinets!
Pro Travel Tip: These days, travel can be more uncertain than ever. Check for any COVID-related restrictions at your destination, and never travel without travel insurance! I recommend SafetyWing, because they have flexible + affordable insurance plans, and also cover COVID-related impacts on your trip (not all companies do)!
2 Day Portland Itinerary: Day One
Start off your Portland weekend itinerary the right way, by making a beeline for a doughnut. Voodoo Doughnuts is a Portland classic, and Blue Star is a local favorite. Check out this map for some doughnut guidance.
Explore Mount Tabor Park
Doughnut in hand, you'll be ready for your first day exploring Portland.  Head over to Mount Tabor park, where the view of Portland's skyline makes for a terrific welcome to Portland!  
It's more of a stroll than a hike, but it's a great way to start your day and orient you to the layout of the city.
Explore Portland with Wheels on the Waterfront
If you didn't get enough exercise at Mount Tabor, head back downtown and check out BIKETOWN, Portland's bike rental program.  These orange Nike bikes are available throughout the city and are oe of my favorite things to do in Portland.  
You can rent them for a single ride, or for the day.  Starting at $2.50/ride and $12/day, they're a very affordable way to get around if you only have 2 days in Portland.
Check out this map to see where they're located. I recommend riding along the waterfront trail for beautiful riverside scenery.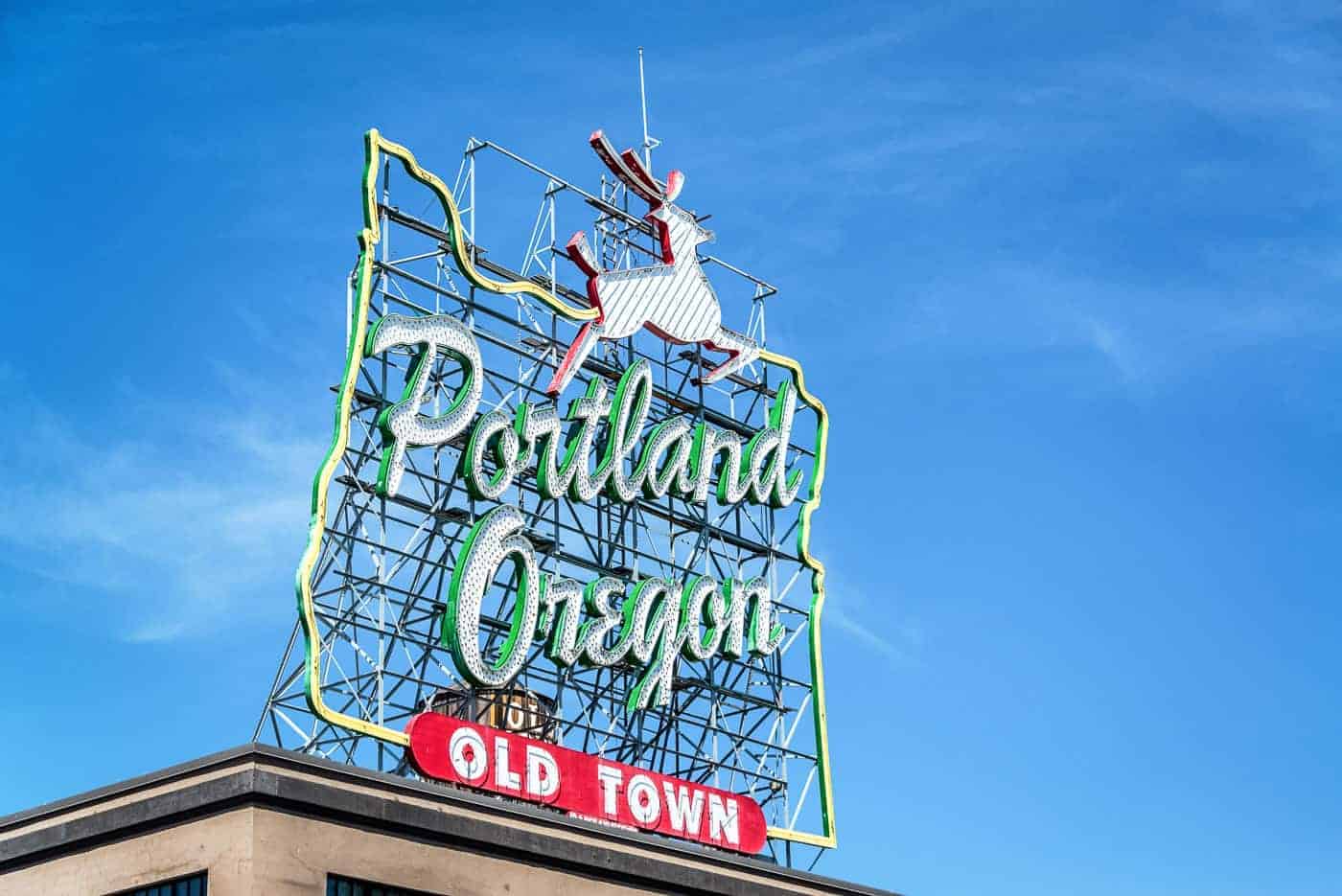 Grab Lunch from a Portland Food Truck
No Portland weekend itinerary would be complete without a pit stop at a food truck. The hardest part will be picking which one! Check out this map (and this one, too) for where to find food trucks in Portland.
Stroll Through Portland's Pearl District
Spend the afternoon of day one of the Portland 2 day itinerary exploring the Pearl District in the heart of the city.  Once home to industrial warehouses and railroad facilities, Portland's Pearl District has undergone a complete transformation in the past several decades.  
Now, you'll find high-rise condos, upscale shopping and dining, art galleries, and well-manicured townhomes.
The streets of the Pearl District are fun to wander – soak in all of the unique architecture and history of the area.  Don't miss Powell's City of Books, the world's largest independent bookstore.  
There's a few locations in Portland, but the one in the Pearl District is huge!  I truly could've spent all day there.  If you're a book-lover, you'll be in heaven, but even if you're not – it's still worth a stop.
Where to Shop in Portland
If you're looking to do some shopping while you're spending the weekend in Portland, there are also a ton of cute boutiques in the Pearl District.  
My favorite was the House of Lolo!  Woonwinkel is an adorable home decor and gift store – I literally wanted everything in it, but managed to cull my desires down to two cute picture frames! 
You also just might fall in love with Porch Light and everything in it – but I'll let you decide for yourself.
Finish Your First Day in Portland with Cocktails and City Views
Souvenirs in hand, head over to Departure or Portland City Grill for an evening drink, and to watch the sunset from these rooftop favorites. Once the sun sets, wrap up your first day in Portland with dinner at the Mediterranean Exploration Company for group-friendly eats.
2 Days in Portland Oregon: Day Two
With 2 Days in Portland Oregon, You'll Have time to Hike
With only 2 days in Portland Oregon, you will need to get an early start on the second day of your weekend by renting a car and making the quick 40 minute drive to Multnomah Falls.  
Early is key here since this popular spot (along with its limited parking lot) gets crowded quickly as the day goes on.
Another way to beat the crowds is to hike the ~2 miles up to the top of the falls. The crowds thin quickly as the trail snakes up the hillside, and you'll be rewarded with beautiful views and the opportunity to cool your feet off in the river up at the top.
Visit the Alberta Street Restaurants in Portland
On your drive back in to town, park near La Bonita on Alberta Avenue, which is on the east end of the Alberta Arts district.  
Fuel up with tacos and margaritas (don't miss the queso dip….and I admittedly think about the carnitas tacos OFTEN) before exploring westwards on Alberta.  Alberta Avenue is full of cool boutiques, independent art galleries, and some of Portland's very best food.
Not in the mood for tacos?  Portland locals also love Pine State Biscuits (there'll be a line but it moves quickly), as well as the Waffle Window.  
If you have a sweet tooth, Salt and Straw has incredibly unique ice cream flavors, and it's mouthwateringly delicious.
Whatever you decide to chow down on, you can't miss the murals that grace the walls of Alberta St.  Checking out street art was one of my favorite things to do in Portland, and on Alberta street there is so much of it to see!  
Make sure you take time on one of your 2 days in Portland Oregon to visit Alberta Street.
Breakfast on Alberta Street in Portland
As a bit of an aside, if you happen to find yourself in need of breakfast on Portland's Alberta street, I would hands-down recommend Petite Provence. Their specialty brunch dishes are unreal, and the croissants are the most delicious ones I have ever had outside of France!
They also have about 15 different flavors of mimosas (yes, please!) including lavender, Hawaiian and Prickly Pear. If you can't decide, you can order a flight of four mini-mosas in four flavors of your choice. Hands-down, my favorite breakfast restaurant on Alberta.
After getting (more than?) your fill at the Alberta Street restaurants, grab some caffeine to fuel up for the rest of the day at Barista, home of the most incredible Vanilla latte I have ever tasted. I could honestly live on them!
Spend the Afternoon of your Second Day in Portland on NW 23rd Street
Next up on this Portland weekend itinerary?  Head to NW 23rd street, which is another fun drag in town.  Home decor shops, clothing boutiques, cafes, and just general Portland charm fill this cute street.  
I loved Margaret O'Leary for cozy sweaters!  In case you missed Salt and Straw on Alberta, there's another location here, too.
Finish Your Weekend in Portland by Tasting Some Portland Brew
Portland has a HUGE craft beer scene.  I'm not a big beer drinker, so I didn't include any of the local breweries in this itinerary, but check out this post for some great recommendations.  
One spot I definitely recommend though, is 10 Barrel Brewing for a taste of some local craft beers, paired with a rooftop seating area that's perfect for warm summer evenings.  
Even if you only have 2 days to spend in Portland, you definitely need to try out some of the city's craft brews!
Grab some bites to go with your beer, or if you'd prefer another nice dinner, nearby Andina is a great option to wrap up your Portland weekend itinerary!
Is 2 Days Enough in Portland?
I set up this 2 day Portland itinerary to help you make the most of your time there, if you only have a long weekend in Portland Oregon. Personally, I think 2 or 3 days in Portland is the perfect amount of time to spend there.
With 2 days in Portland Oregon, you'll be able to see many of Portland's best sights, eat at a sampling of Portland's best restaurants, and best of all, you'll have some sights left on your list for your next visit to Portland.
There You Have it, The Perfect 2 Day Portland Oregon Itinerary!
Looking for More Perfect Itineraries?
Check out my travel guides to the perfect 4 day Chicago itinerary, an amazing San Francisco itinerary, the perfect Toronto itinerary and a great Los Angeles 2 day itinerary!
Pin for later!