The Perfect 2 Day San Sebastian Itinerary for First Timers
This site uses affiliate links and I may earn a small commission when you use my links and make a purchase, at no extra cost to you. Many thanks for supporting this website!
Are you looking for a 2 day San Sebastian itinerary? If yes, then you've come to the right place. In this article, I'll show you the highlights of one of my favorite cities of the Basque Region in Spain. San Sebastián is located at the northern coast of Spain, close to France. The city has a population of around 100,000 residents and is known for its beautiful beaches and great food.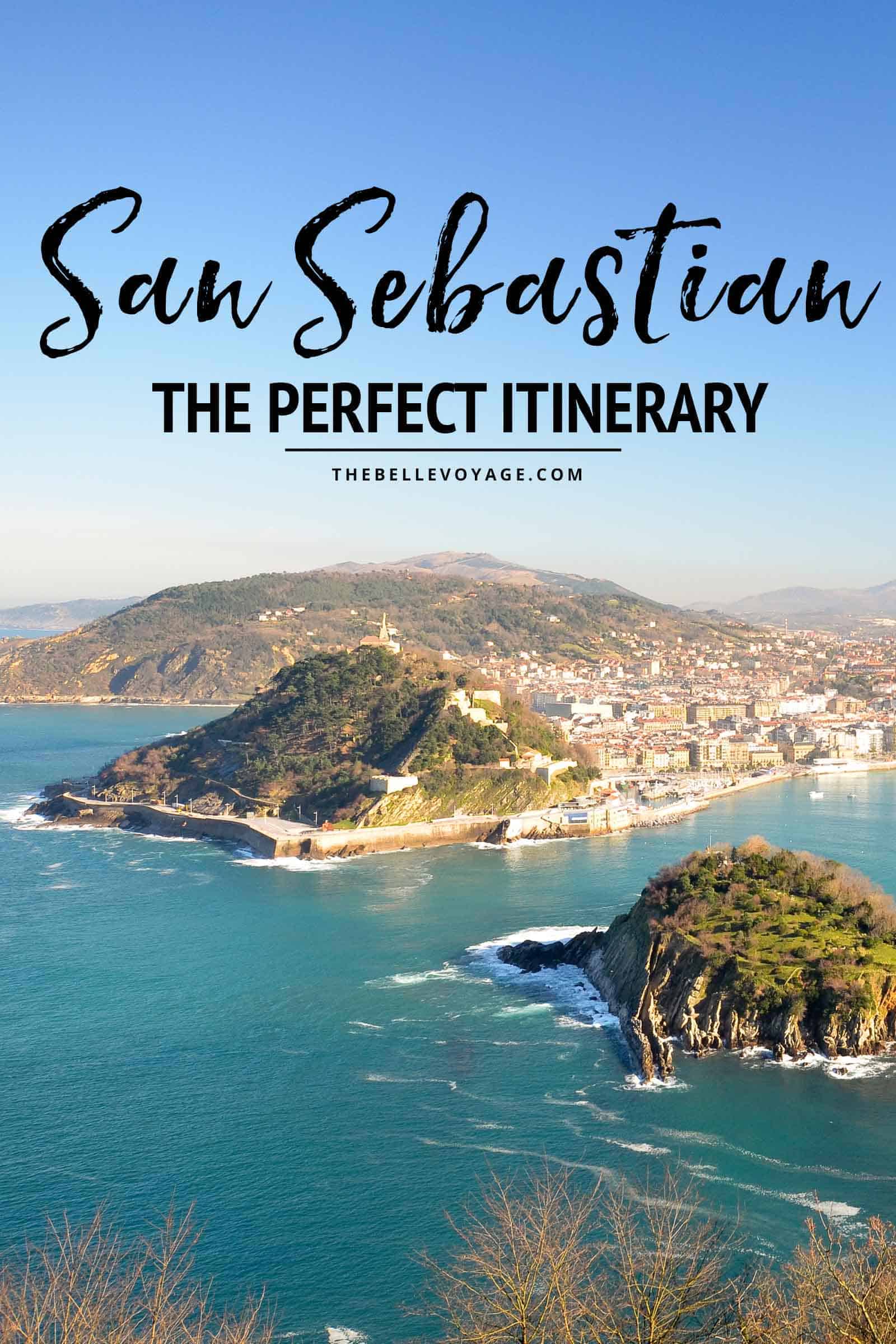 Before You Travel to San Sebastian…
Make sure to pack one of these! You're going to need it for all of your essentials during your trip. For more packing essentials, check out all of these must-have items for Europe.
Where to Stay in San Sebastian: a Travel Guide
If you're looking for a place to stay in San Sebastian, I highly recommend the Hotel de Londres y Inglaterra.
The hotel is perfectly located within the city, and is walking distance to everything you will want to see and do during your visit. I absolutely loved my stay there.
Even if you don't end up staying at the Hotel de Londres, pop in to the lobby bar of a glass of txakoli to enjoy the view of La Concha beach (Playa de La Concha). The views here are hard to beat!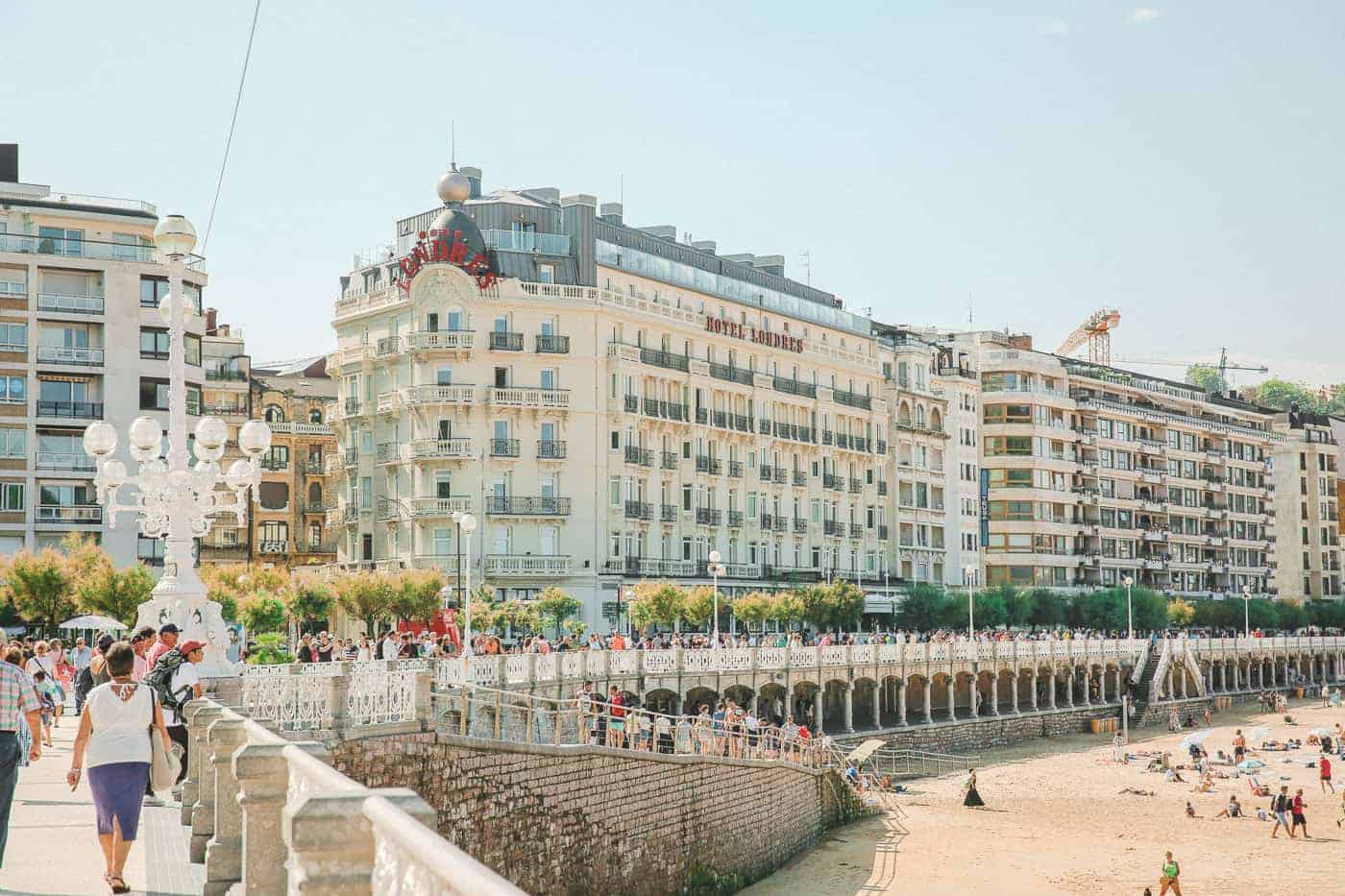 The Maria Cristina Hotel: A High End Choice for Travel to San Sebastián
Another luxurious option for hotels in San Sebastian in the Hotel Maria Cristina. If you adore old school glamour and luxury, you can't go wrong here.
Book early during the summer months, and also during the San Sebastian film festival where hotel rooms sell out extremely early.
Akelarre: San Sebastian's Most Luxurious Hotel
Finally, I'd be remiss in my San Sebastian hotel recommendations if I didn't mention Akelarre. OH MAN. This place is chic, modern and hands-down the most incredible place to stay in San Sebastian.
Perched up above the city, Akelarre is a cliffside sanctuary that is fit for royalty. It comes with a price tag to match, but even if Akelarre isn't in your budget, stop by for a visit and to have a drink at the bar. The views are unforgettable.
Pro Travel Tip: These days, travel can be more uncertain than ever. Check for any COVID-related restrictions at your destination, and never travel without travel insurance! I recommend SafetyWing, because they have flexible + affordable insurance plans, and also cover COVID-related impacts on your trip (not all companies do)!
The Perfect San Sebastian Itinerary
How much time should you spend in San Sebastian? Two days in San Sebastian is exactly right amount of time to spend in the city.
You'll have enough time to explore San Sebastian at a relaxed pace, without feeling like you're missing out on the highlights, and you'll have enough time to see other parts of the Basque region and Spain.
If it's your first time visiting Spain, don't miss my best Spain travel tips for first time visitors.
San Sebastian Itinerary Day 1: Parte Vieja and Pintxos
On your first day in San Sebastian, you'll get the lay of the land, as well as a taste of the city's highlights (literally). Plan to do a bit of walking today, so make sure you have some comfortable and stylish walking shoes for Europe with you.
Panoramic Views at Mount Urgull (Monte Urgull)
Grab a coffee and a pastry to go, and kick off your San Sebastian itinerary with a bird's eye view of the city. Hike up Monte Urgull, the eastern anchor of La Concha beach.
It's roughly a 20 minute walk up to the top, where you'll be rewarded with amazing panoramic views of San Sebastian's red roofs, and the beach below. In case you're wondering, this San Sebastián itinerary has plenty of walking, so you'll definitely be ready to enjoy some of San Sebastian's food during mealtimes!
Mount Urgell was Originally a Military Fortress
Mount Urgull was a military fortress in the 12th century, and you can still see the walls of the Castilla de la Mota fortress, which played a key role in defending the city from siege. There's a small museum dedicated to the city's history which you can stroll through during your visit.
Take your time wandering atop Monte Urgull, where there are plenty of places to stop and take in the views of the entire city. If you haven't finished that pastry yet, camp out here to do just that.
Stroll Along Paseo Nuevo, San Sebastian's Promenade
If you're up for more walking, you can stroll down Paseo Nuevo at the bottom of Mount Urgull. Paseo Nuevo wraps around Mount Urgull, and it is about a 40 minute walk into Old Town.
The path goes directly next to La Concha Bay, so watch out for big waves if the sea is choppy! They've been know to come up over the wall and soak tourists!
Visit San Sebastian's San Telmo Museum
Next up on your San Sebastian itinerary? Hike back down Monte Urgull to the nearby San Telmo Museum.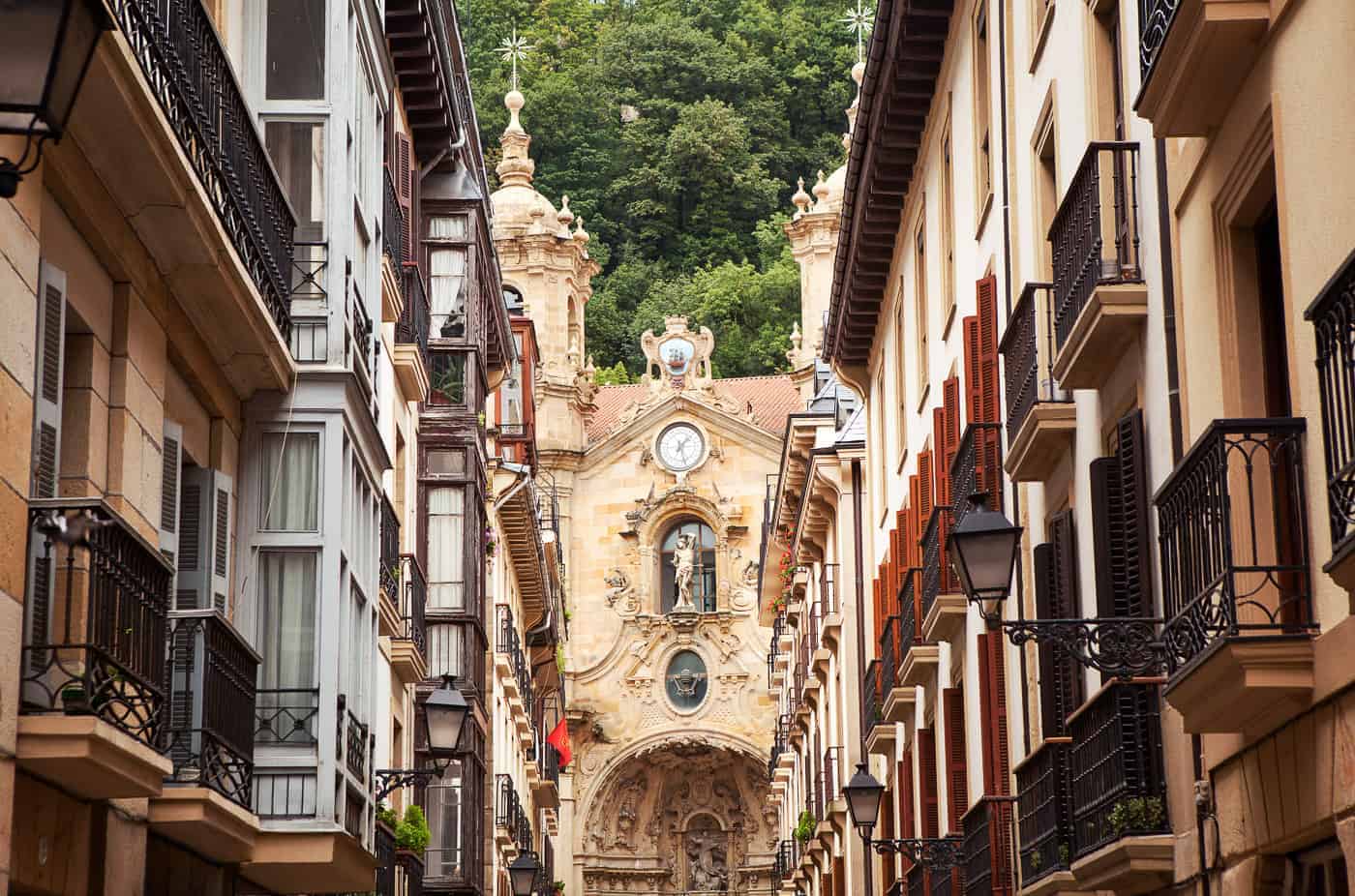 The culture and history of Spain's Basque Country is truly fascinating, and the San Telmo Museum is one of the best places in this part of Spain to get a glimpse into the fabric of this society.
Collections here change frequently and it's important to know that the signs are in Spanish and Basque only. If you decide to visit, pick up an audio guide. The guides are available in additional languages, including English.
Lunch at La Fabrica
By this point in the day, you've probably worked up an appetite, so stop in for lunch at local favorite La Fabrica.
A late lunch around 2pm is the largest meal of the day for the Spanish, so a 3-course meal is not unusual this time of day.
You won't be disappointed at La Fabrica, where the daily set menu is consistently delicious and also includes a half bottle of wine per person – so enjoy!
It's generally a good idea to have reservations for lunch in Spain, especially if you're visiting during the busy summer months, and the same is the case with Fabrica. Call ahead to book a table.
Explore Parte Vieja, San Sebastian's Historic Old Town
After lunch, next on your San Sebastián itinerary is to take a few hours to wander through the narrow streets of Parte Vieja. The best way to enjoy this part of the city is to get lost and simply soak it all in.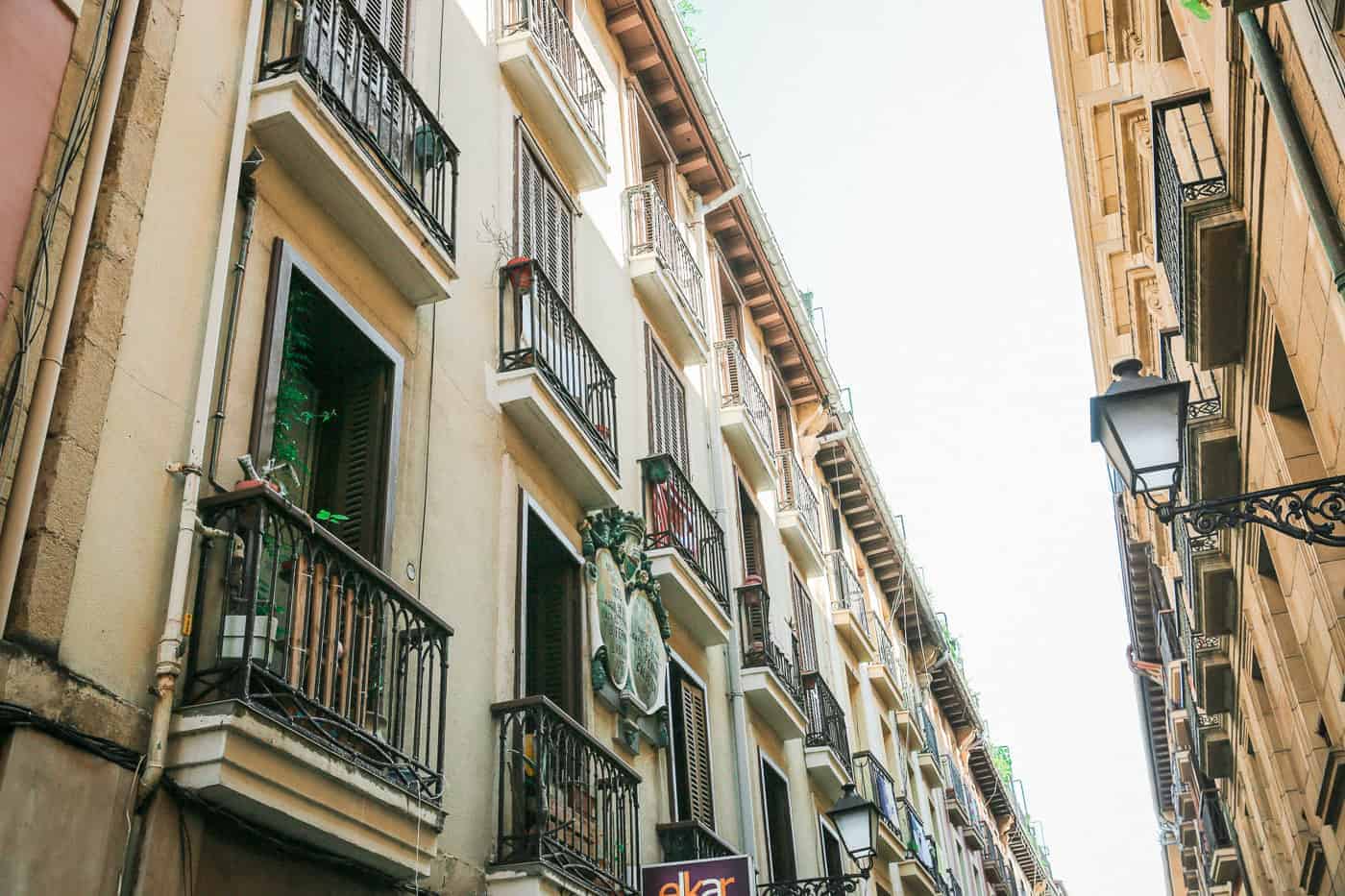 Visit Constitution Square (Plaza de la Constitución)
One of the best places to visit in San Sebastian's Old Town is Constitution Square, or Plaza de la Constitution.
Plaza de la Constitution is considered San Sebastian's main square. The square was once used as a bull fighting ring, but today it is used for parties and celebrations.
There are many bars and restaurants surrounding Plaza de la Constitution, so it's a good place to stop for a snack if you need one.
Check out The Neo-Gothic Architecture at the San Sebastian Cathedral
On your way back to your hotel to freshen up, pop by the Good Shepherd of San Sebastián Cathedral, to marvel at the gorgeous Neo-gothic architecture.
Built in the late 19th century, the San Sebastian Cathedral is the city's largest church. If you're able to stop inside the cathedral, you'll appreciate the beautiful stained glass windows that line the walls.
Enjoy Delicious Food and Wine on Evening Pintxo Crawl in Parte Vieja
No San Sebastian itinerary would be complete without a pintxo bar crawl for an evening meal, so plan on doing just that for your first evening in San Sebastian.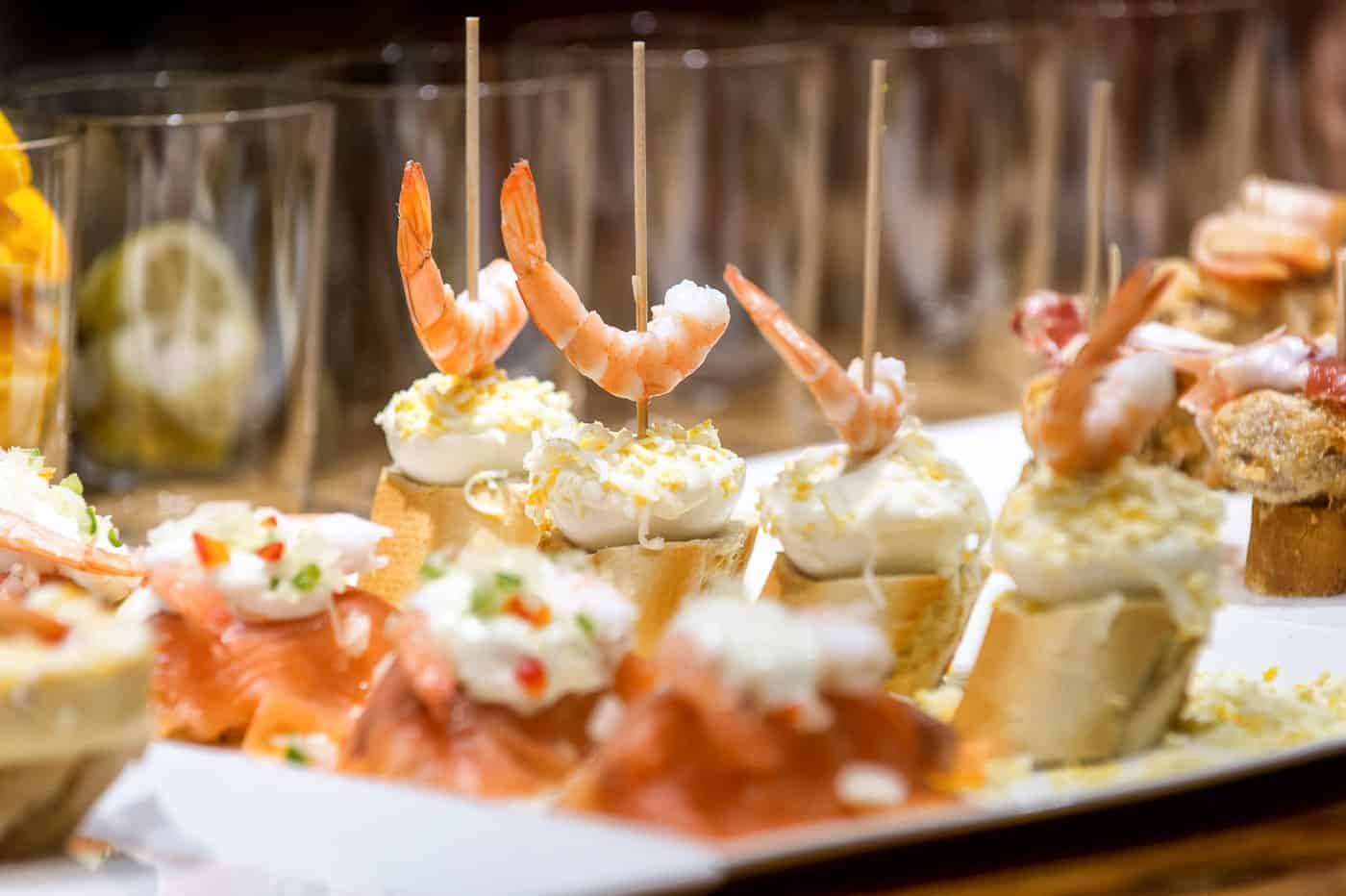 A pintxo crawl throughout San Sebastian's Parte Vieja will undoubtedly be one of the highlights of your trip. Each pintxo bar in San Sebastian has a particular dish that it's known for.
I'm planning a future post with all of the must-eats and I'll link to that here once it's complete.
In the meantime, wander the Parte Vieja to your heart's content, sampling any pintxos along the way that look delicious, and washing them all down with a glass of Rioja wine.
San Sebastian Itinerary Day 2:
For day two of this San Sebastian itinerary, you'll explore the western side of La Concha beach, visit the surfer neighborhood of Gros, and dine at one of the world's finest restaurants.
La Concha Beach Promenade (Playa de la Concha)
Start off the second day of your San Sebastian itinerary with another morning walk. Starting on the east end of La Concha beach, head west towards Monte Igueldo.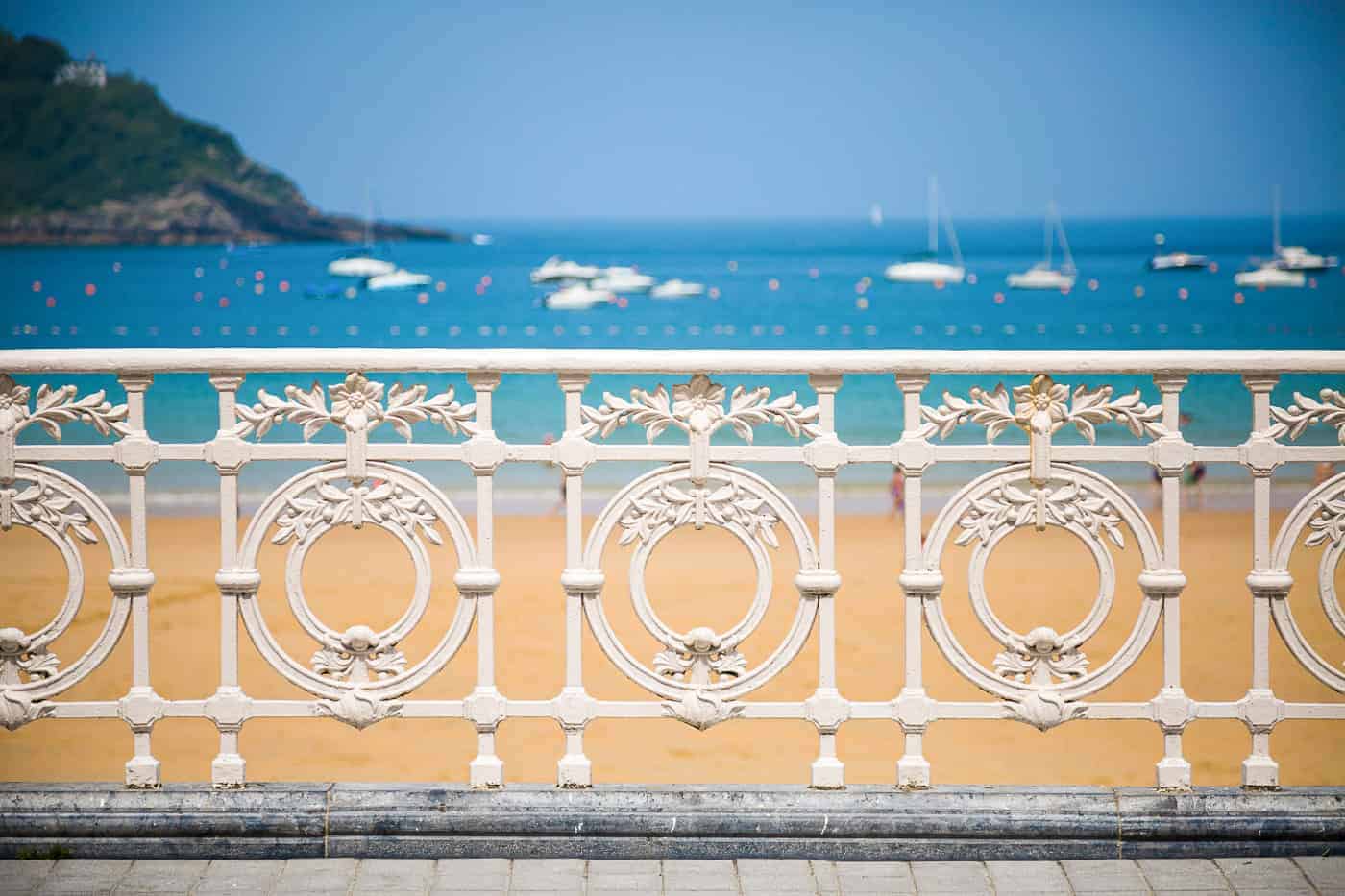 Miramar Palace
The first stop along the way is Miramar Palace. The palace was built to be the summer home for the royal family during their visits.
The palace isn't always open to the public so it is best admired from outside where you can appreciate the cottage-style architecture that dates back to the 19th Century.
Enjoy the View from Ondaretta Beach
After Miramar palace, you'll walk by Ondaretta Beach. Ondaretta Beach is one of San Sebastian's main beaches, and it's a beautiful spot for sunbathing and surfing.
Gaze at Santa Clara Island
Just off the coast is Santa Clara island, a tiny island that is within swimming distance of Ondaretta Beach. The island is home to a unique lizard species, the Iberian Wall Lizard, which can only be found on Santa Clara Island or nearby Mount Urgull.
View el Peine del Viento, Eduardo Chillida's Series of Steel Sculptures
On your way to Mount Igueldo, don't miss one the spectacular steel sculptures by the renown artist Eduardo Chillida, who was born in San Sebastian.
The series of three giant sculptures each weigh over nine tons, and are located in the wave breaks at the bottom of Mount Igueldo.
The Funicular up to Mount Igueldo (Monte Igueldo) Will be a Highlight of your 2 day Trip to San Sebastián
On the far end of the beachside walkway, you'll end up right next to the lower end of a funicular that can take you the rest of the way up to the top of Mount Igueldo.
Buy a ticket and hop aboard the short ride to the top of Mount Igueldo where you'll be charmed by a vintage amusement park.
If rides aren't your cup of tea (or if the weather isn't great), stop in to the Mercure Hotel which sits atop the mountain for a drink in the lobby bar. The views are phenomenal.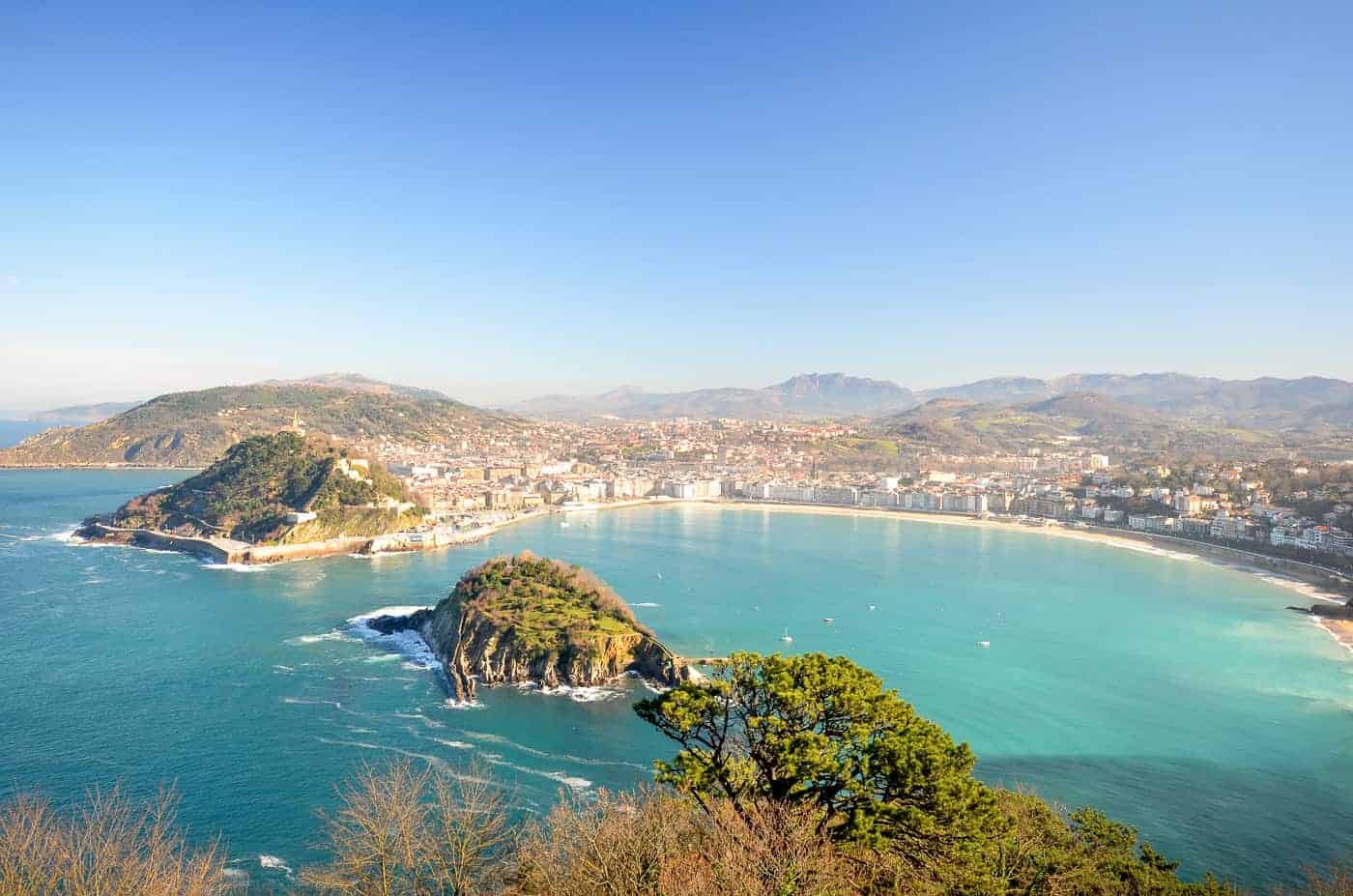 Lunch in The Trendy Gros Neighborhood
After Mount Igueldo, take a cab over to the other side of San Sebastian to visit the hip and trendy neighborhood of Gros, located near Zurriola beach.
Stroll along the Playa Gros where you can watch local surfers catch waves. Further inland, stroll through the streets of this young neighborhood and enjoy the trendy boutiques and leafy squares.
Dinner tonight is at one of the best restaurants in the world, so as you decide where to eat in Gros, you may want to go lighter on lunch today. But in a city like San Sebastian where every bite is more delicious than the next, that can be hard to do.
Bretxa Public Market
As you wander back to your hotel from Gros, stop at Bretxa Public Market on your way, where the region's finest produce, meats and fish are on display. This basement market is the pulse of this city centered around the joy of eating.
If the weather is warm, another alternative is to spend the remaining afternoon hours relaxing on La Concha beach and dipping your toes in the azure sea.
Indulge in Dinner at Arzak, One of the Best Restaurants in San Sebastián
Foodie capital San Sebastian is home to more Michelin-starred restaurants than any other city in the world. For that reason, experiencing fine dining here is a key part of any San Sebastian itinerary.
Arzak is known among foodies as one of the best restaurants in the world. And it's with good reason! If your budget allows, visiting Arzak as part of your San Sebastian itinerary is a must.
Make sure to book well in advance – and by that I mean months and months. A meal at Arzak doesn't come cheap, but the experience is worth every penny.
Experience San Sebastian's Food Culture
If you're visiting San Sebastián, odds are good that you enjoy delicious food. The best way to experience San Sebastian's food culture is by learning how to cook Spanish specialties yourself!
Recommended Activity
Spanish Cooking Class in San Sebastian
The heart of San Sebastián is its culinary culture. In this class, you can master cooking Spanish dishes such as paella, gazpacho, Galician octopus, and Spanish omelettes. Sit down to feast on the dishes cooked after the class!
Pros:
4 hours

Free cancellation

Small group of less than 10
Learn More
If You have More than 2 Days in San Sebastian
With more than 2 days in San Sebastian, you have time for some day trips outside of the city.
Visit Chillida Leku to see Dramatic Sculpture Art by Eduardo Chillida
A quick 15 minute drive from San Sebastián is Chillida Leku, a museum and sculpture garden dedicated to the artwork of the late Eduardo Chillida.
The museum reopened in 2019, and is well-worth the short drive from the city if you have more time in your San Sebastián itinerary.
You can buy your museum tickets online ahead of time here.
Take a Day Trip to Bilbao and San Juan de Gaztelugatxe
I highly, highly recommend a day trip to San Juan de Gaztelugatxe! It is a perfect day trip from San Sebastian, and one of the most unique and beautiful sights I've ever seen.
Here's a great day trip option that includes a visit to both Bilbao and San Juan de Gaztelugatxe. Leave the driving and planning to a pro and just enjoy your day!
Top Tour
Day Trip to Bilbao And The Bay Of Biscay
Spend the day with a private guide and explore the Basque Coast. Visit the spectacular Guggenheim Museum in Bilbao, La Ribera Market, Mundaka Beach and San Juan de Gaztelugatxe (famous for its appearance in Game of Thrones)!
Pros:
8 hour private tour with a local guide

Includes hotel pickup and transportation

Free cancellation
Learn More
There you have it – the perfect San Sebastian itinerary for first time visitors to the city!
If you're spending more time in Spain, check out the perfect Barcelona 3 day itinerary that I've put together.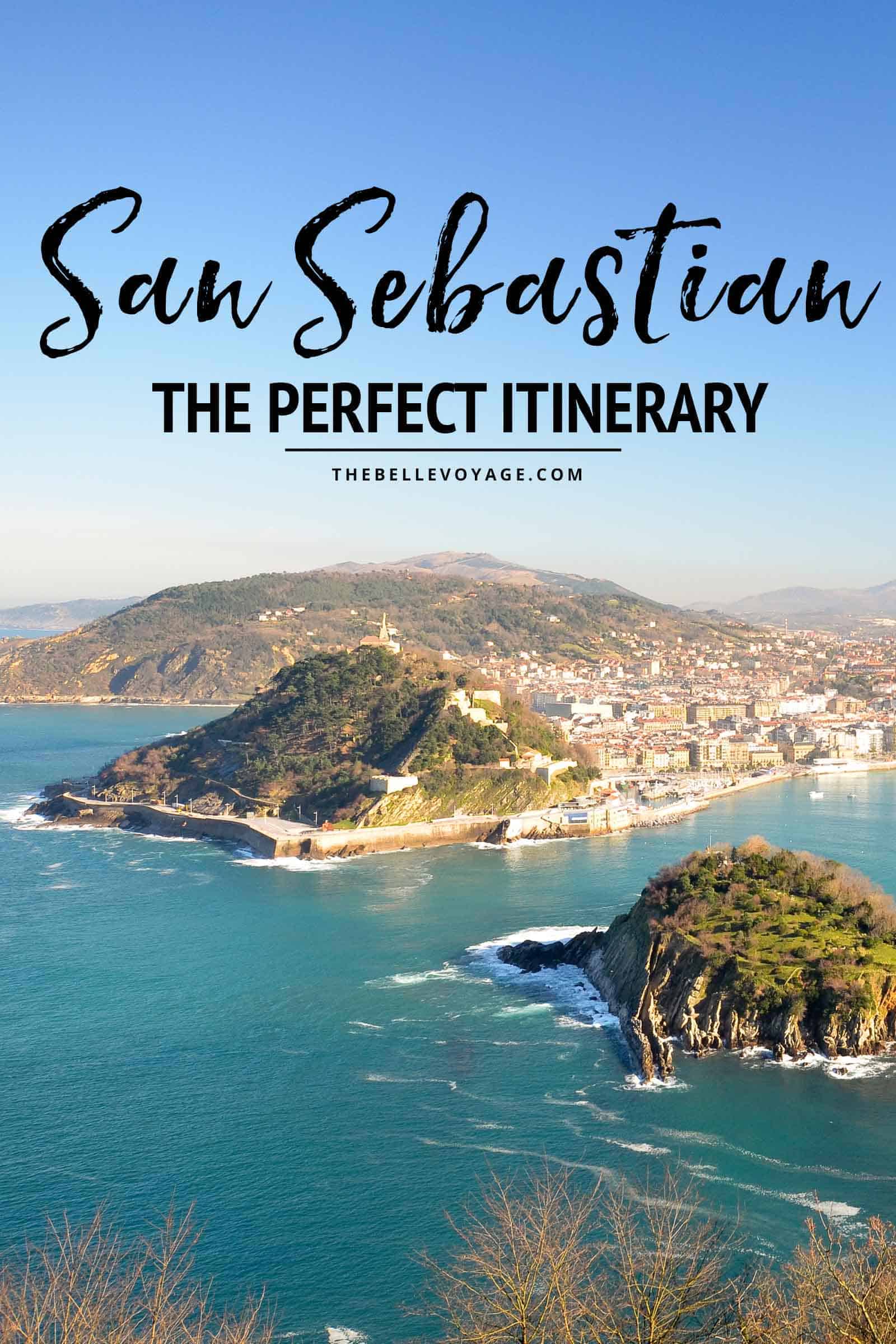 Wanna Learn to Pack a Suitcase Like a Boss?
Subscribe to download my three BEST travel planning resources:
Travel outfit planner
Pre-travel checklist
Carry on packing list