The Perfect 3 Day Barcelona Itinerary for First Time Visitors
This site uses affiliate links and I may earn a small commission when you use my links and make a purchase, at no extra cost to you. 
If you're traveling to Spain, you might be wondering: how do I plan for 3 days in Barcelona? This guide has you covered! I've put together the perfect 3 day Barcelona itinerary for a complete guide to help you plan your first visit to Barcelona, Spain. This itinerary for Barcelona will show you all of the city's highlights in a short period of time. Read on for all of the best things to do and places to visit in Barcelona in 3 days!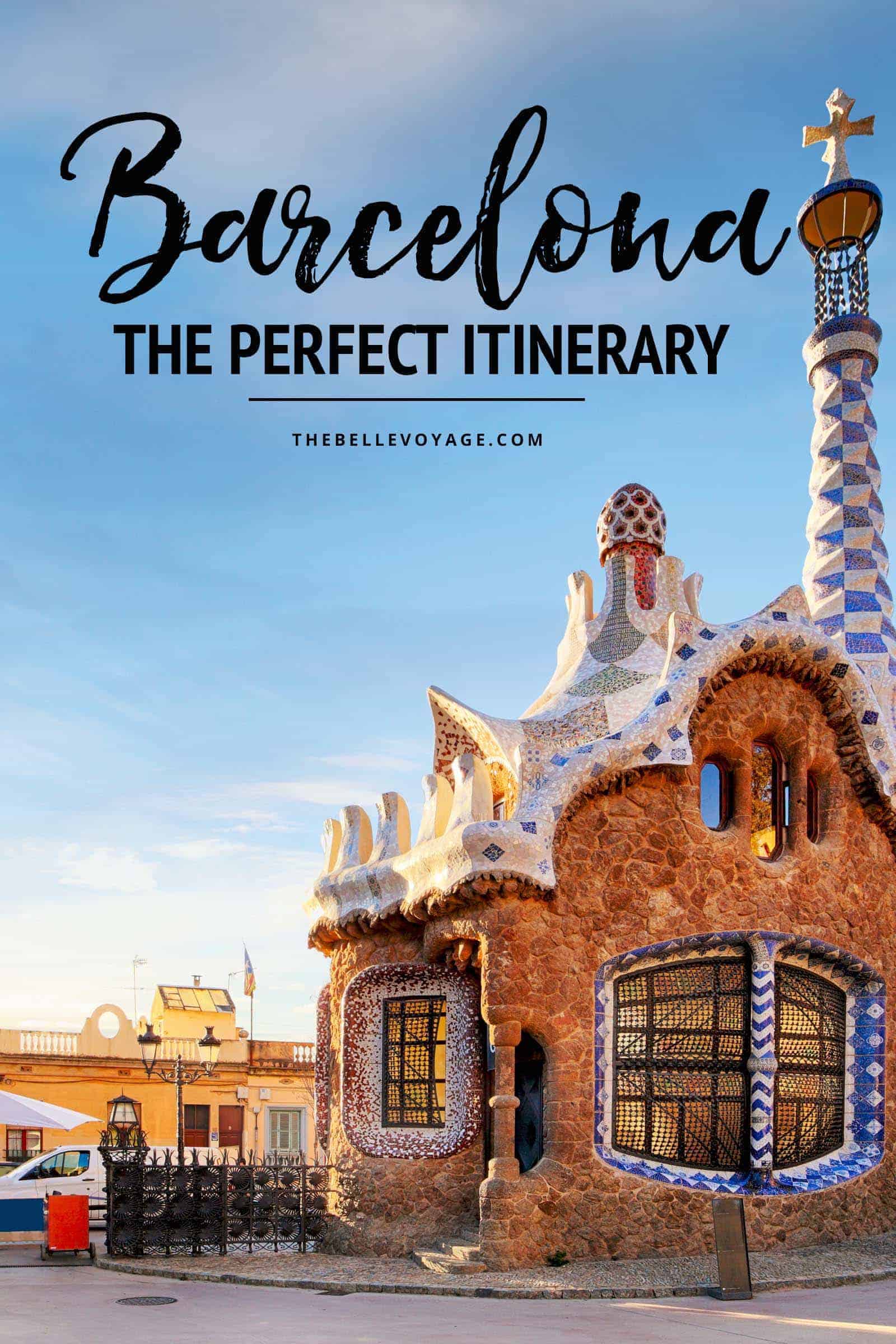 Located on Spain's Costa Brava ("Wild Coast"), the city of Barcelona is a traveler's dream. From delicious food to rich history and stunning architecture, this gem of a city truly has it all.
But how do you plan an itinerary for Barcelona? If you only have 3 days to spend in Barcelona, this guide will walk you through the city's best highlights. You'll see the main attractions in Barcelona even if you don't have much time in the city.
Before your First visit to Barcelona…
Important Packing tip for Spain: Don't forget to pack a power adapter! I love this power adapter for Spain because it has an outlet AND two USB ports. AND it's less than $15!
And if you're traveling to Spain for the first time, don't miss these 10 Essential Spain Travel Tips for first time visitors!
Where to Stay in Barcelona for First Time Visitors
If it is your first time visiting and you only have 3 days to spend in Barcelona, the best areas to stay are Barcelona's most central neighborhoods.
It's relatively easy to get around the city center of Barcelona via metro, bus, or taxi. Nevertheless, if you stay in a central location, you'll be walking distance to many of the places in this itinerary. Here are my top choices:
Most charming hotel in Barcelona (and rooftop bar!): Hotel 1898
Best Barcelona hotel for using Marriott points: Le Meridien Barcelona.
Both of these hotels are located on La Rambla, a popular pedestrian street, and a perfect area to stay in Barcelona if it's your first time.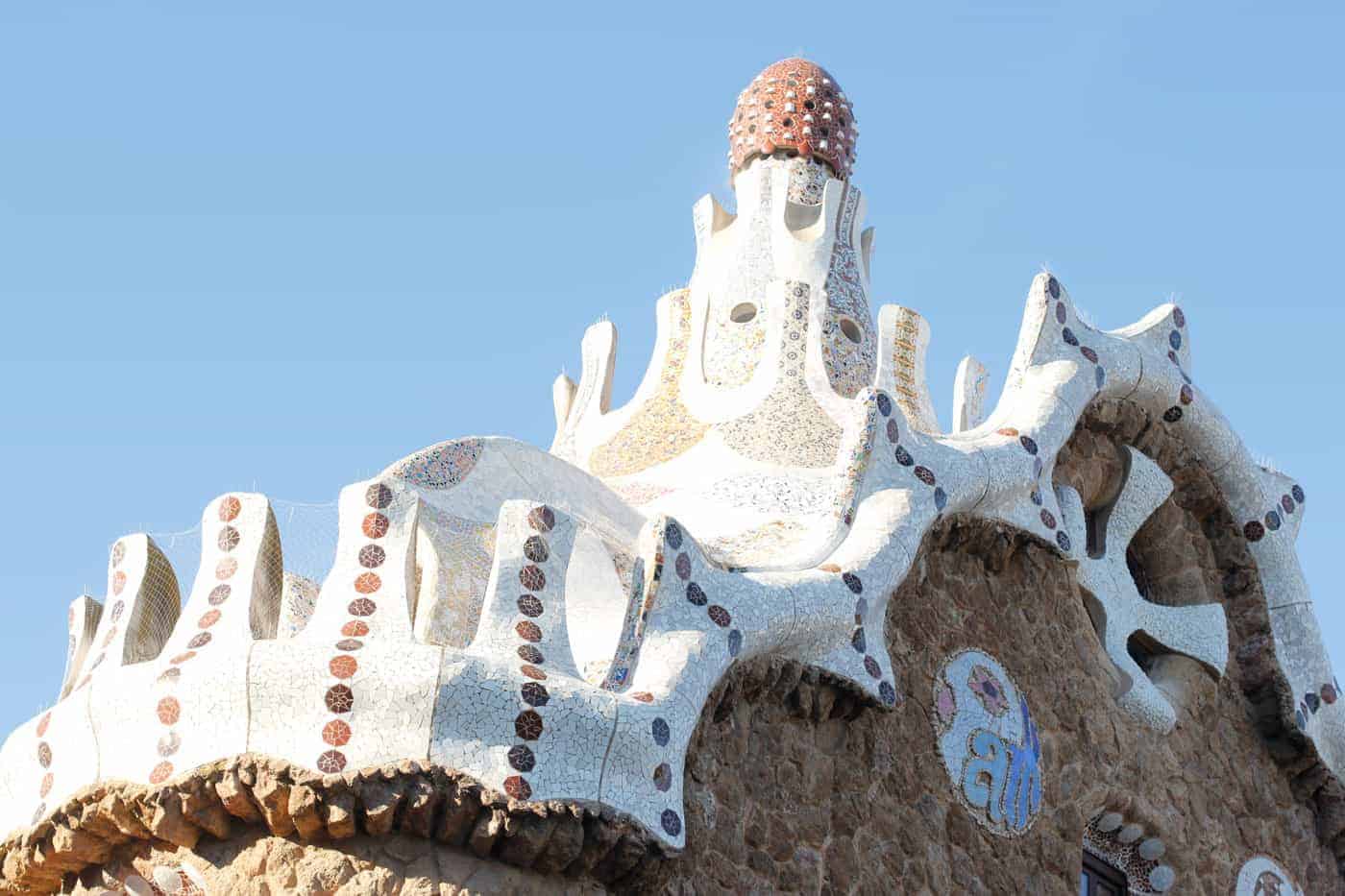 Pro Travel Tip: These days, travel can be more uncertain than ever. Check for any COVID-related restrictions at your destination, and never travel without travel insurance! I recommend SafetyWing, because they have flexible + affordable insurance plans, and also cover COVID-related impacts on your trip (not all companies do)!
Day 1: Welcome to Barcelona!
Start off your 3 day Barcelona itinerary by being one of the first to arrive bright and early at Barcelona's Park Güell (pronounced "gway").
Visit Park Guell
A masterpiece of Antoni Gaudí, Park Guell is series of buildings, gardens, and gorgeous tiles. It's a UNESCO World Heritage Site with panoramic views of the entire city.
Park Guell is also one of the most photographed sights in the city, and it is one of the top things to do in Barcelona.
Although you can visit Park Guell (or Parc Guell) by walking about 25 minutes from the nearest metro station, it's all uphill! So I'd recommend taking a cab directly to the entrance of the park.
Buy Your Park Guell Tickets Online Ahead of Time
Make sure to buy your tickets online ahead of time to guarantee your entry time. Consider a skip-the-line ticket if you're visiting Barcelona on a holiday weekend or during the busy summer months.
The best time to go is right when the park opens, because as the day goes on, it'll get more and more crowded. Like, REALLY crowded. After all, Park Guell is one of the most popular places to visit in Barcelona so there are long lines, especially in the late afternoon.
An early bird arrival means that there'll be fewer people to dodge when you're trying to take photos.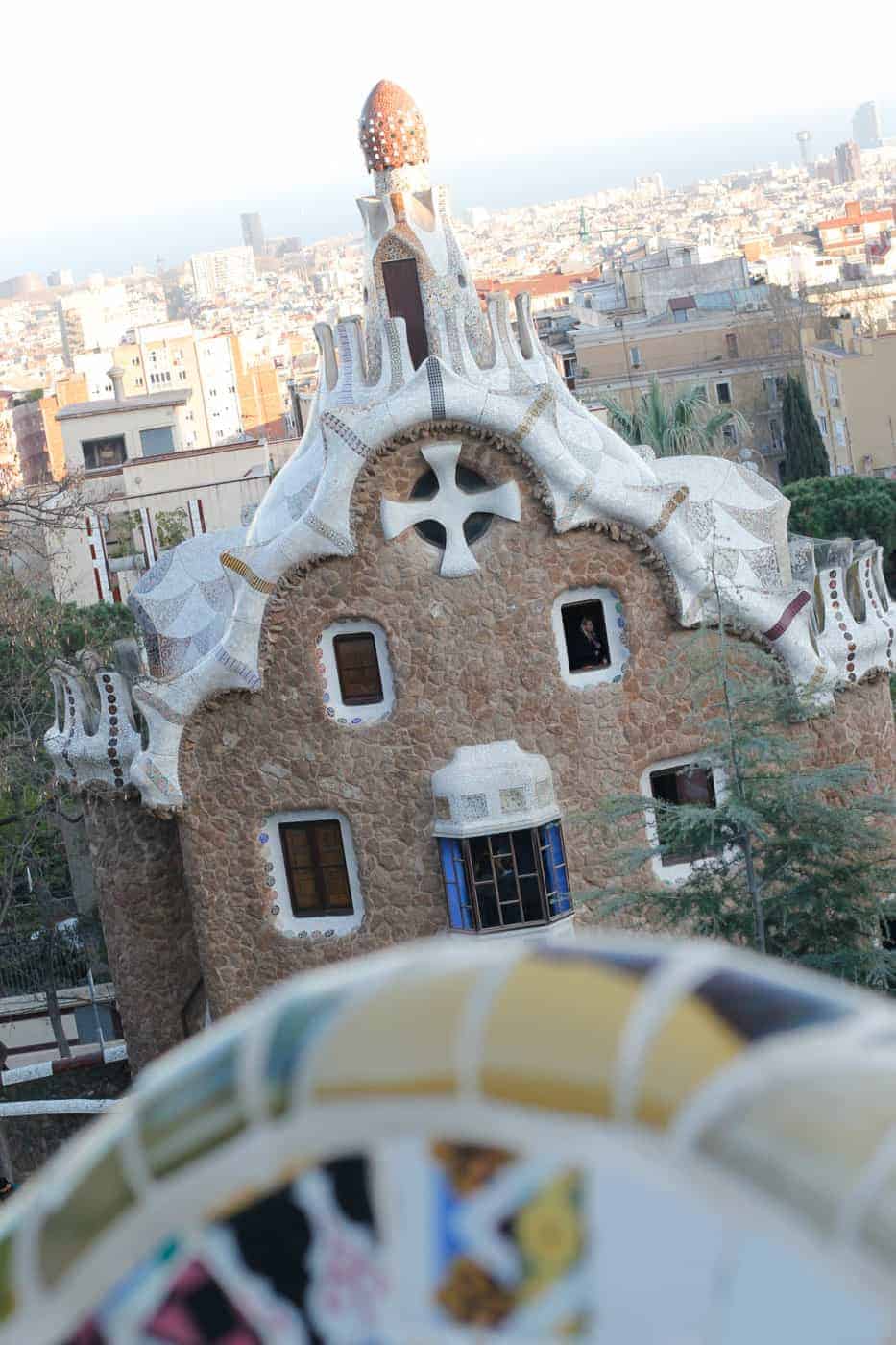 Passeig de Gracia and PlazA de Catalunya
After Park Güell, make your way back to central Barcelona and explore the Passeig de Gracía. Passeig de Gracia is one of the main shopping streets in Barcelona, and it's filled with every clothing store imaginable!
Casa Amatller
As you stroll the Passeig de Gràcia, don't miss Casa Amatller. This building, designed by architect Josep Puig I Cadafach (one of Gaudí's contemporaries) is one of three buildings that make up the Illa de la Discordia ("Block of Discord") on the famous street.
Plaza de Calalunya
At the southern end of the Passeig de Gracía is the Plaça de Cataluña, or Plaza de Catalunya. Te Plaça de Catalunya is a central square in Barcelona where several of the city's main streets intersect. It's also known as the city center and where the old town (the Ciutat Vella) and the 19th century city meet.
Visit La Boqueria Market and La Rambla
Next up on this 3 day Barcelona itinerary is La Rambla.
La Boqueria
Next, you're heading to La Boquería. La Boqueria is Barcelona's biggest market, and a great spot to stop for lunch. From fresh produce to seafood and jamón, you'll find it here!
La Rambla
After lunch, spend some time meandering La Rambla, the widest street in Barcelona, along with the some of the side streets that connect to the main drag (considered Las Ramblas). There are tons of cute shops and great people-watching!
Just make sure you stay very aware of your belongings, because this is a prime area for pickpockets. I never felt unsafe walking on La Rambla, but just make sure you keep your bag close to you.
Relax at The Best Rooftop Bar in Barcelona
After exploring La Rambla, head to the nearby Hotel 1898 for sunset cocktails and tapas on their rooftop terrace, where you can look out across the sprawling city. No 3 day Barcelona itinerary would be complete without rooftop tapas!
Dinner in El Raval
For dinner on your first day in Barcelona, you can walk through the trendy boutiques in El Raval and take your pick of delicious places to stop for a meal, stopping to check out the shops along the way.
Palau Guell
While walking through El Raval, don't miss Palau Güell (Güell Palace). This stunning building was designed by Antoni Gaudi for tycoon Eusebi Güell and built between 1886 and 1888. It was Güell's private home and also a meeting venue for the elite.
A Tip for First Time Visitors to Barcelona – Dinnertime is Late!
If this is your first visit to Barcelona, you should know that dinnertime in Barcelona is LATE compared to most other parts of the world!
Most locals don't head out to dinner until around 10pm. For that reason, if you show up at 6 or 7pm, you'll be the only one in the restaurant. It took some getting used to for me!
Day 2: Explore the Gothic Quarter
For your second day in Barcelona, spend your time exploring Barcelona's Gothic Quarter, the center of old Barcelona and one of the best preserved medieval areas in Europe.
Places to Visit in Barcelona's Gothic Quarter
The architecture in Barcelona's Gothic Quarter is incredible, and there's plenty of delicious eats tucked away within the narrow streets.
Go Shopping in The Born
A fun neighborhood to wander in is The Born (also known as el Born) where there's tons of cool boutiques and trendy stores. Check out the streets around Passeig del Born.
In this area, you can meander through chic clothing and concept stores that are far less touristy than those around La Rambla.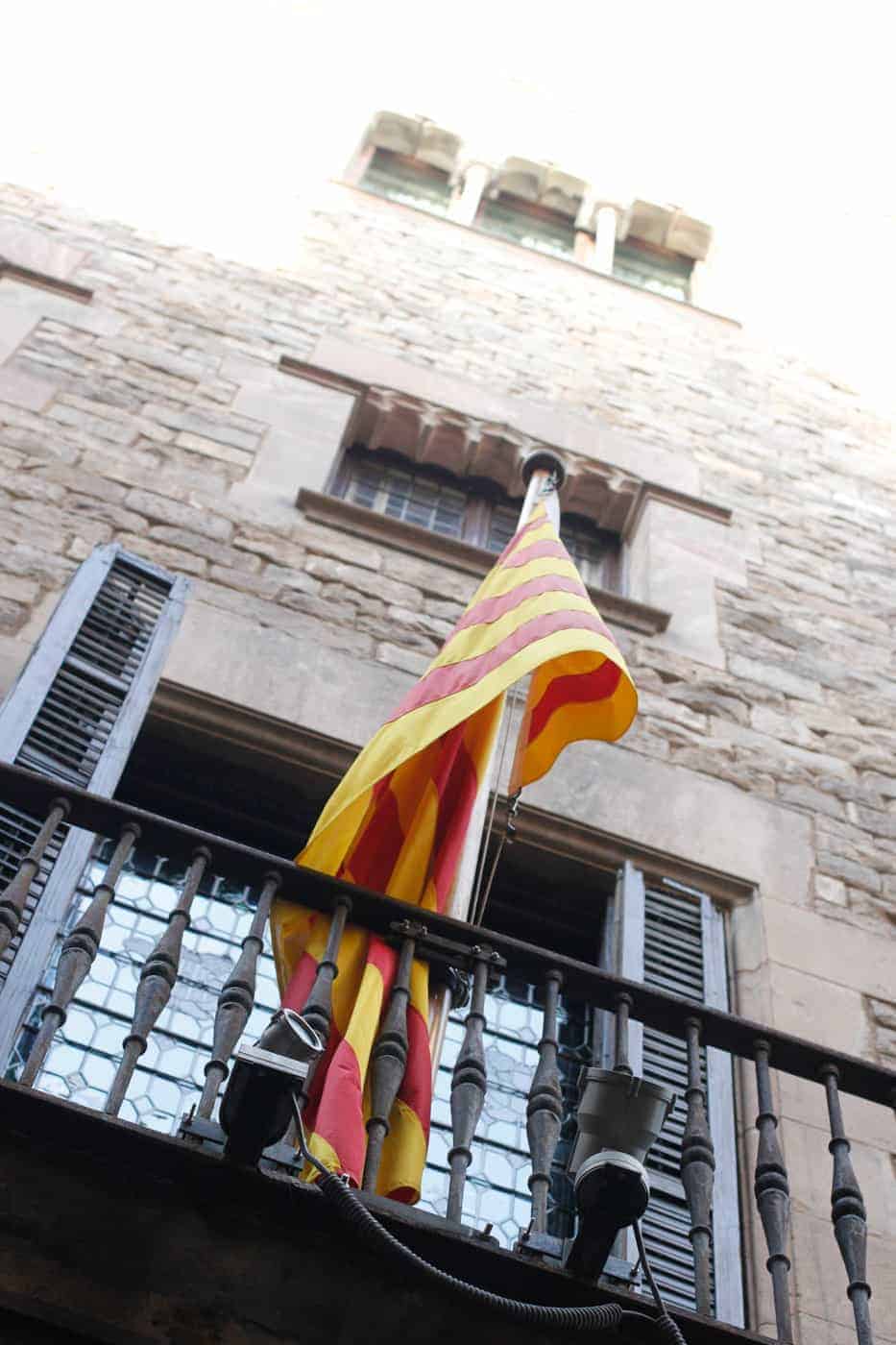 Bordering The Born neighborhood is the Gothic Quarter, and it's a great place to get lost for an afternoon. Enjoy the narrow streets and the gorgeous architecture.
Or better yet – stop for a glass of cava (or two!) as you make your way through this beautiful part of the city. Lookout for the Barcelona Cathedral on Pla de la Seu and the Pont del Bisbé on Carrer del Bisbe.
The Picasso Museum
If you're wondering what to do in Barcelona for 3 days, you've got to include a visit to Barcelona's Picasso Museum in the heart of the Gothic Quarter. The museum is open until 7pm during the week and 9pm on Thursdays so it's the perfect place to spend an evening.
It's one of the most extensive collections of Picasso's work anywhere! You can buy your tickets for the museum online ahead of time, and you'll save yourself a wait in line.
Wrap up your day in the Gothic Quarter with dinner at Bar de Pla, a short walk from the Picasso museum and a local favorite for delicious tapas!
Day 3: Experience Antoni GaudI's Finest
The third day of your Barcelona 3 day itinerary is filled with Gaudi's famous works, which are a seamless blend of nature and architecture. Start your day early by being one of the first entrants into the Sagrada Familia.
Visit La Sagrada Familia
Like Park Guell, Sagrada Familia is one of Barcelona's most popular sights, so it gets really crowded really quickly.
You can buy your tickets online ahead of time, which I would highly recommend. It's optional to buy a ticket that allows you to climb up the tower of the church for a beautiful view across the city.
TakE a Tour of La Sagrada Familia
You can take an audio guided tour of Sagrada Familia and learn more about the history of this gothic cathedral (it's been under construction since the late 1800's – and still isn't complete), or you can just absorb the beautiful light that enters the building via the multitude of stained glass windows that will dazzle you with their beauty.
I've seen many churches in Europe, and La Sagrada Familia is without a doubt, one of the most stunning and memorable.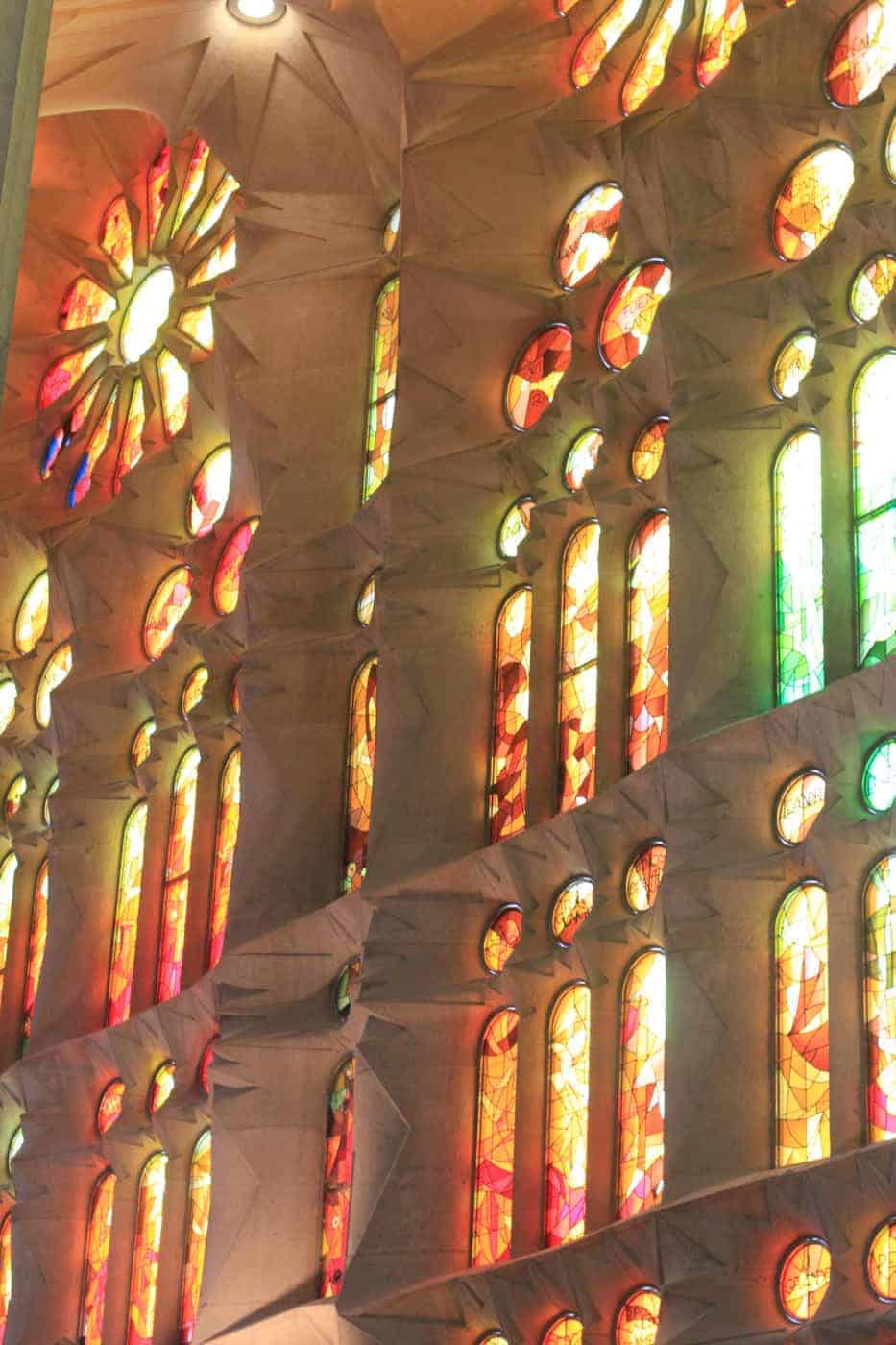 Explore More of Gaudi Architecture in Barcelona
After La Sagrada Família, it's time to explore more masterpieces by Antoni Gaudi.
Casa Batllo and La Pedrera (Casa Mila)
Head over to Casa Batlló (pronounced bay-yo) or La Pedrera. La Pedrera translates to stone quarry in English and is also known as Casa Milá. You can choose one if you think you'll be pressed for time, but it's likely that you'll be able to fit both of them in during the afternoon. Both are designated as UNESCO World Heritage sites.
If you have to choose between Casa Batllo and Casa Milà, personally I thought that Casa Batlló was a standout. For both buildings, make sure to buy your tickets online ahead of time to avoid lines that can be incredibly long.
For Casa Batllo, you can do that here, and for La Pedrera, you can do that here.
Taste Some Modern Tapas
For dinner tonight, check out the adorable Mont Bar, a modern and sophisticated take on traditional Spanish tapas – the food is just incredible and it's one of the best restaurants in Barcelona.
Are 3 Days Enough for Barcelona?
I am often asked the question: are 3 days enough for Barcelona? The answer is yes! You could easily spend more time in the city, but 3 days in Barcelona is plenty of time to see the top places to visit at a relatively relaxed pace.
If you're trying to plan a trip to Barcelona and you're worried that you may not have enough time there, don't stress! 3 days is plenty of time. And if you follow this itinerary, that will make it easy to plan for 3 days in Barcelona!
If You Have More than 3 Days in Barcelona
Finally, if your trip to Barcelona includes a fourth day, you've got extra time for a day trip outside of the city. For day trips, check out Santa Maria de Montserrat Abbey, go on a wine tasting tour, or check out Bogatell Beach, one of Barcelona's most beautiful and popular beaches.
There are also a number of other popular tourist attractions in addition to what I've included in this itinerary for Barcelona.
Camp Nou
If you have extra time in Barcelona, you can also visit Spotify Camp Nou, the home of Barcelona FC (football club). It's huge! It might not be the largest stadium in the world, but it's close: it's the fourth largest. Even if you're not a football fan, it's still worth visiting.
Casa Vicens
Located in Barcelona's Grácia neighborhood, Casa Vicens is considered to be Gaudí's first major project. The building was constructed between 1883 and 1885 and was a private home for the Vicens family. It is also a UNESCO World Heritage site.
Poble Espanyol
Originally constructed for the 1929 International Exhibition in Barcelona, Poble Espanyol is an open-air architectural museum that includes over 100 examples full-scale building replicas from architecture styles all over the Iberian Peninsula.
Today, the area contains a small museum of modern art, restaurants, and artisan workshops and offers free admission.
Teleferic de Montjuic
For some of the best views of Barcelona, check out the Teleféric de Montjuïc, a cable car that will take you from the city of Barcelona to Montjuïc Castle, a historical building that was a military camp in the 1600's.
Frequently Asked Questions about Planning an Itinerary for Barcelona
I get tons of questions about traveling to Barcelona. Here are the most common questions I hear from readers planning a trip to Barcelona.
What's the best way to get around Barcelona?
It's quite easy to navigate Barcelona via public transportation. Many of the places in this itinerary for Barcelona are located quite close to a metro line.
Another option for tourists is the Hop-On Hop-Off bus, which circles the main tourist attractions in Barcelona.
Is the Barcelona Card worth it?
The Barcelona Card is a tourist pass for the city. It's a 3-in-1 Barcelona pass that includes transportation, museum entry and additional discounts.
In terms of whether the card is worth it or not, it really depends what you plan to do in Barcelona. But for most first time visitors who plan to follow a similar 3 day Barcelona itinerary, you would ultimately save money by using the card.
What are Barcelona's UNESCO World Heritage sites?
Barcelona is home to 9 UNESCO World Heritage Sites. In this 3 day Barcelona itinerary, you will see many of them!
The UNESCO World Heritage sites in Barcelona are: La Sagrada Familia, Palau de la Musica Catalana, Park Guell, Casa Batlló, Hospital de Sant Pau, La Pedrera, Palau Güell, The Crypt of Colonia Güell, and Casa Vicens.
3 Day Barcelona Itinerary Map
Below is a map view of this 3 day Barcelona itinerary.
There you have it! The perfect Barcelona itinerary for first-timers!
If you have more time in Spain, I highly recommend a side trip to San Juan de Gaztelugatxe, one of the most magical places in the entire country. And to take in the charm of Spain's Basque Region, you can't miss this amazing San Sebastian itinerary.
Need help deciding what to pack for Barcelona?
Here's how to pack light and fashionable for Europe, as well as everything you need to know about travel packing for women!