Top 9 Unique Hotels in San Diego: The Best Places to Stay!
This site uses affiliate links and I may earn a small commission when you use my links and make a purchase, at no extra cost to you. 
If you're looking for unique hotels in San Diego? Staying in a hotel that's connected to the local area always brings a special flavor to your trip, and there are so many fun things to do at night in San Diego, that you're going to need a place to stay afterwards! Since I'm a San Diego local, I've got the scoop on all the best unique places to stay in San Diego! Here are my favorite picks, and a few things that I love about each hotel!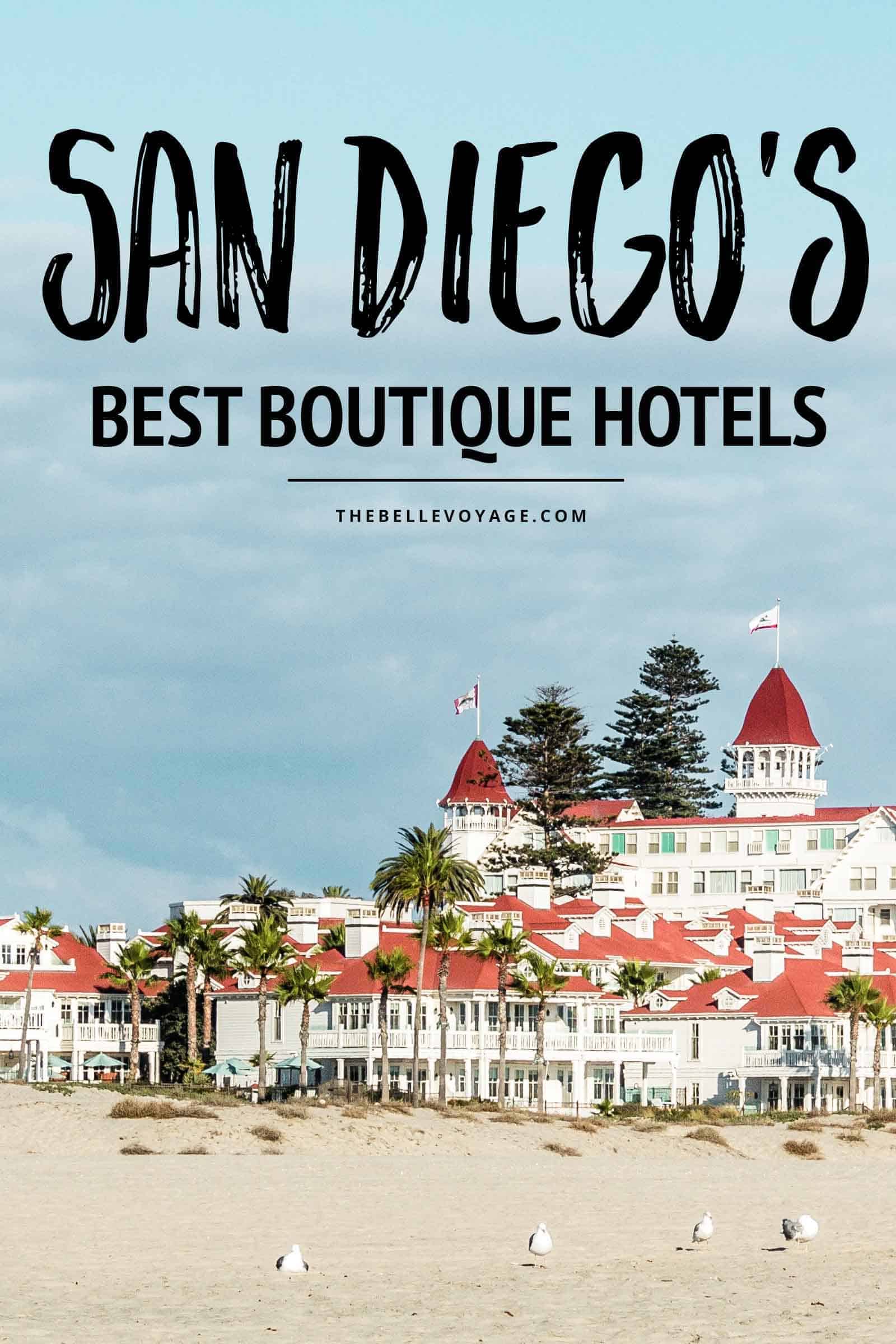 Where to find Unique Hotels in San Diego
The two areas in San Diego where I typically recommend that people stay are La Jolla and the Gaslamp Quarter. For more about each area, check out the perfect 3 day San Diego itinerary for first-time visitors to San Diego.
Fortunately, there are boutique San Diego hotels in both of these neighborhoods! Here are my top choices, organized by geography. And whatever hotel you decide, check out my list of hotel room hacks to make your hotel stay even smoother.
Unique Hotels in La Jolla
Upscale, beachy-chic La Jolla is a great choice of where to stay in San Diego. Geographically, La Jolla is located in the center of San Diego, so staying in La Jolla means that you'll be close to everything that San Diego has to offer. But you may just never want to leave!
With its gorgeous rocky coves, trendy restaurants, well-heeled boutiques and multi-million dollar homes, it's easy to see how La Jolla (Spanish for "the jewel") earned its name. There are plenty of La Jolla boutique hotels to choose from:
The Grande Colonial La Jolla
The Grande Colonial La Jolla has to be one of the most picturesque and charming boutique hotels I've ever seen. Established in 1913, the Grande Colonial is just plain classy and elegant, and personalized service is the cornerstone of its hospitality. Rooms and suites here look out over the famous La Jolla cove, which is merely steps away.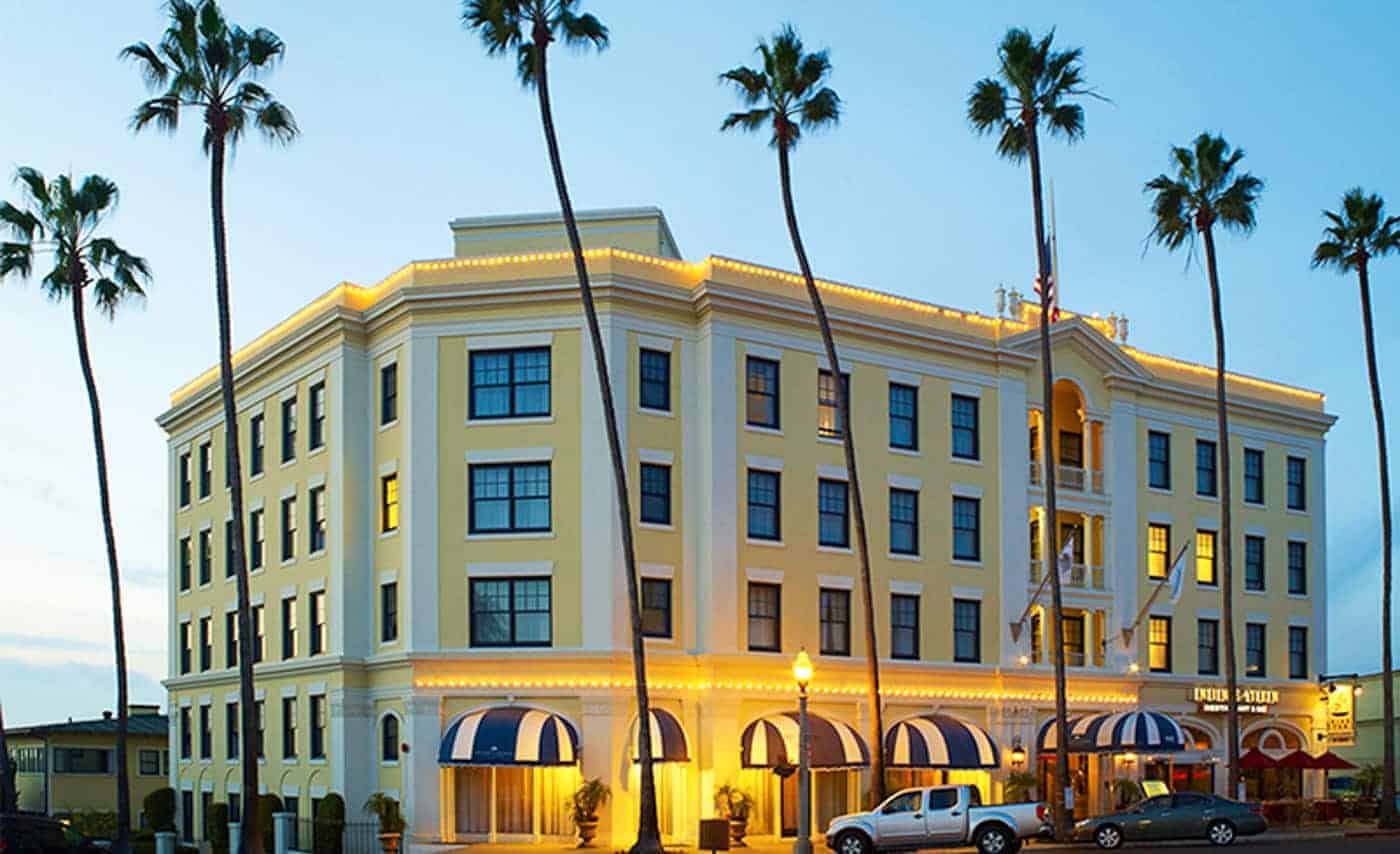 The hotel's restaurant, Nine-Ten, is home to one of the finest gourmet dining experiences in San Diego. Don't miss the opportunity to feast with a sunset view while you're visiting.
READ MORE: Best Beachfront Hotels in San Diego
La Valencia Hotel
The La Valencia Hotel is considered the "Pink Lady" of La Jolla, because its eye-catching color stands out against the ocean! The vibe of the La Valencia is what I'll call "vintage, sophisticated mediterranean", and the hotel bar is a favorite local hangout, especially when there's live music on the books. Drinks on the hotel's back patio, overlooking the cove, are what La Jolla dreams are made of.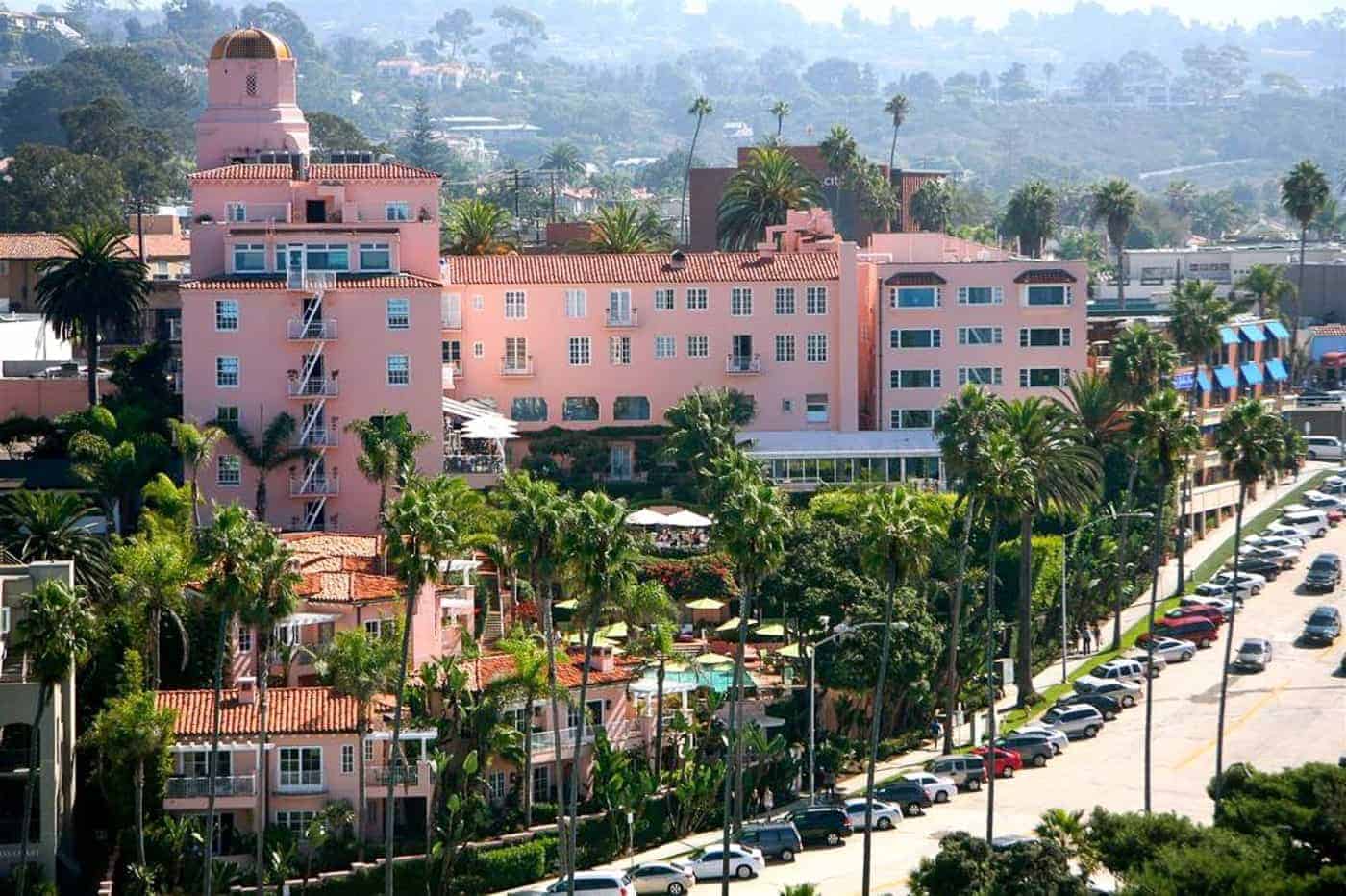 Staying at the hotel, you'll be a stone's throw away from some of the best restaurants that La Jolla has to offer. Check out my favorites Herringbone and George's Ocean Terrace. At the end of the night, you'll love coming home to one of the elegant rooms at the La Valencia. Or maybe even one of the hotel's sky-high suites, with unparalleled views of the La Jolla beaches.
Hotel La Jolla
Brand spankin' new after a recent complete renovation, Hotel La Jolla is a beautiful boutique hotel with a whole lot of style. It's located a short walk from one of the finest beaches in La Jolla: La Jolla Shores beach, a long stretch of sand that's perfect for families and large groups. I love going for drinks and appetizers at Cusp, the glass-walled restaurant at the top of the hotel, where the view is incredible – especially at sunset.
Finally, there's an added bonus at the Hotel La Jolla. The hotel offers "s'mores kits" to their guests to use in the fire pits near the pool. Yes, please!
The Lodge at Torrey Pines
Further up the coast from La Jolla in Del Mar, The Lodge at Torrey Pines is located atop beachside cliffs, and the view of the ocean from the hotel is absolutely stunning. The craftsman-style architecture and warm vintage decor are quintessential San Diego. The hotel may be best-known for its golf course, which is home to the annual Farmer's Insurance Open, but in my world, it's best-known for its spa facilities which are incredible!
Staying at the hotel, you'll be less than a mile from Torrey Pines State Reserve, the crown jewel of San Diego's beaches, and the best place in San Diego to enjoy an easy clifftop hike.
Boutique Hotels in the Gaslamp Quarter
If you're looking for nightlife as part of your stay in San Diego, finding a boutique hotel in the Gaslamp quarter is your best bet. Restaurants, shops, bars and clubs pack every block in the Gaslamp quarter. It's a really fun place to spend an evening.
A few of my favorite spots for dinner are Neighborhood, and Cowboy Star – and a drink on a rooftop bar afterwards is the perfect next stop. There are quite a few Gaslamp boutique hotels, but these two especially rank high in my books:
The Hotel Indigo
The Hotel Indigo has everything you want in a Gaslamp boutique hotel. It's LEED-certified, has its own rooftop bar, and the rooms are like something out of the pages of Elle Decor. And best of all, it's smack in the middle of the Gaslamp quarter. So, you'll be a mere minutes from Petco Park, and all the shopping and dining that your heart desires.
The Hotel Indigo is also pet-friendly, which is always a bonus if your BFF has four legs (mine does). Some of their room packages even come with doggy day care!
The Pendry
For the ultimate in downtown vibes and chic jetsettery, look no further than the Pendry Hotel, the newest boutique hotel in the Gaslamp quarter. Its modern, posh decor will inspire all sorts of Instagram envy! The pool at The Pendry has the perfect setup for rooftop poolside shenanigans, too.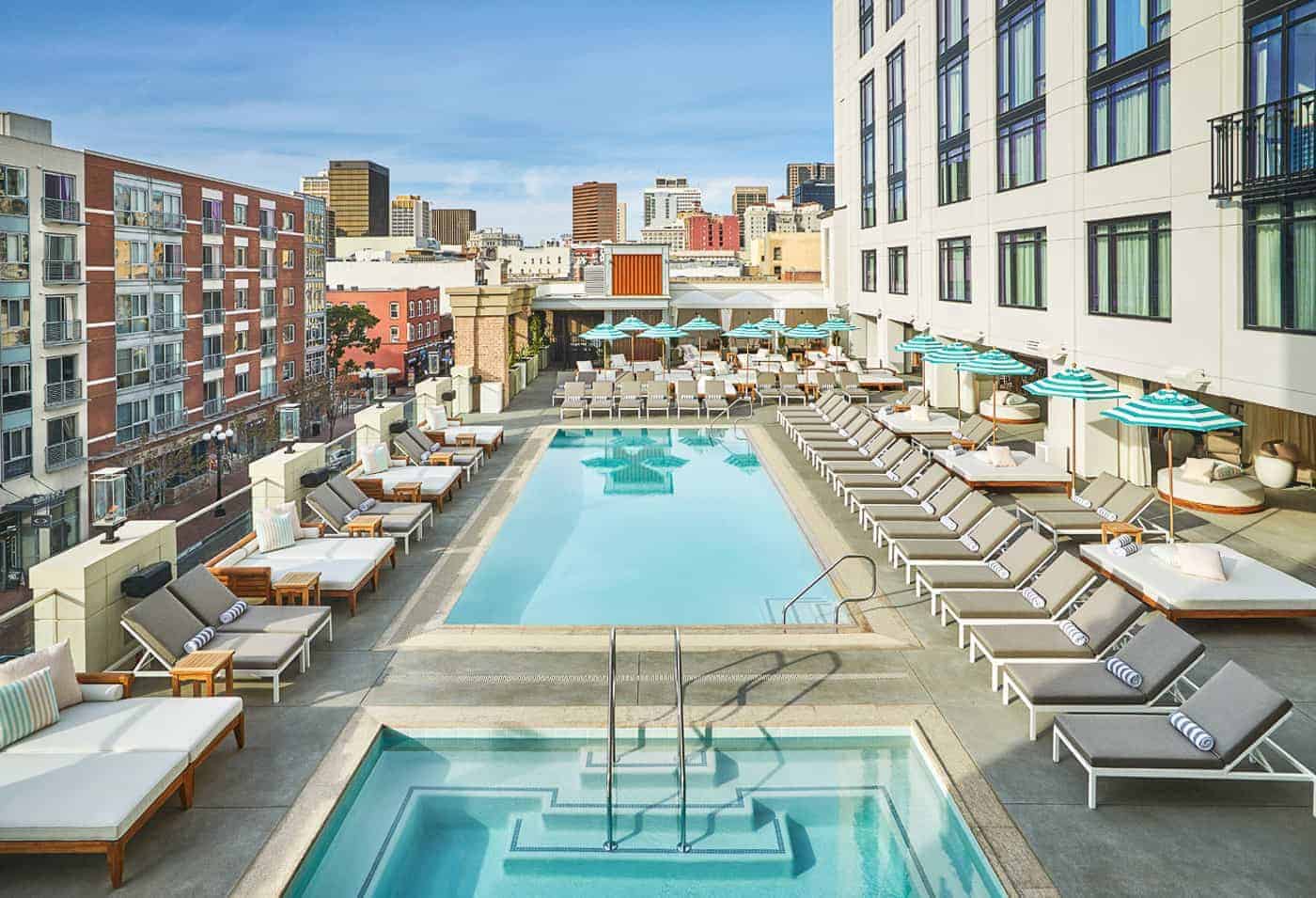 There are also three fabulous restaurants at The Pendry, so you won't be short on places to dine. I especially love Lionfish!
Additional Unique Places to Stay in San Diego
If you're interested in exploring outside of La Jolla or the Gaslamp, here are a few other San Diego boutique hotels:
Tower 23
Perched right on the beach in Pacific Beach, Tower 23 Hotel is the San Diego boutique hotel where you go to see and be seen. From the hotel, you can walk anywhere in PB, or take a beach cruiser out for an easy peddle down the boardwalk. Best of all, it's completely oceanfront! So there will be nothing standing in between you and the San Diego sunsets.
Rancho Valencia
The Rancho Valencia is hands-down, my absolute favorite boutique hotel in San Diego.
It's tucked away in a garden enclave just east of San Diego. I love that it's not far from the city, but it feels so quiet and secluded. For that reason, many locals don't even know about it!
Finally, if you enjoy a good spa day, you will LOVE visiting the Spa at the Rancho Valencia. It's the absolute BEST spa I've ever been to.
If you go, take advantage of the gorgeous yoga pavilion, and then spend the afternoon at the pool!
Hotel Del Coronado
There isn't a hotel more iconic to San Diego than the Hotel Del Coronado. Locals call it "the Del", and this boutique hotel is a must-see if you're traveling to San Diego.
First of all, one look at the fairytale red roofs and the endless white sand beach, and you'll be a goner.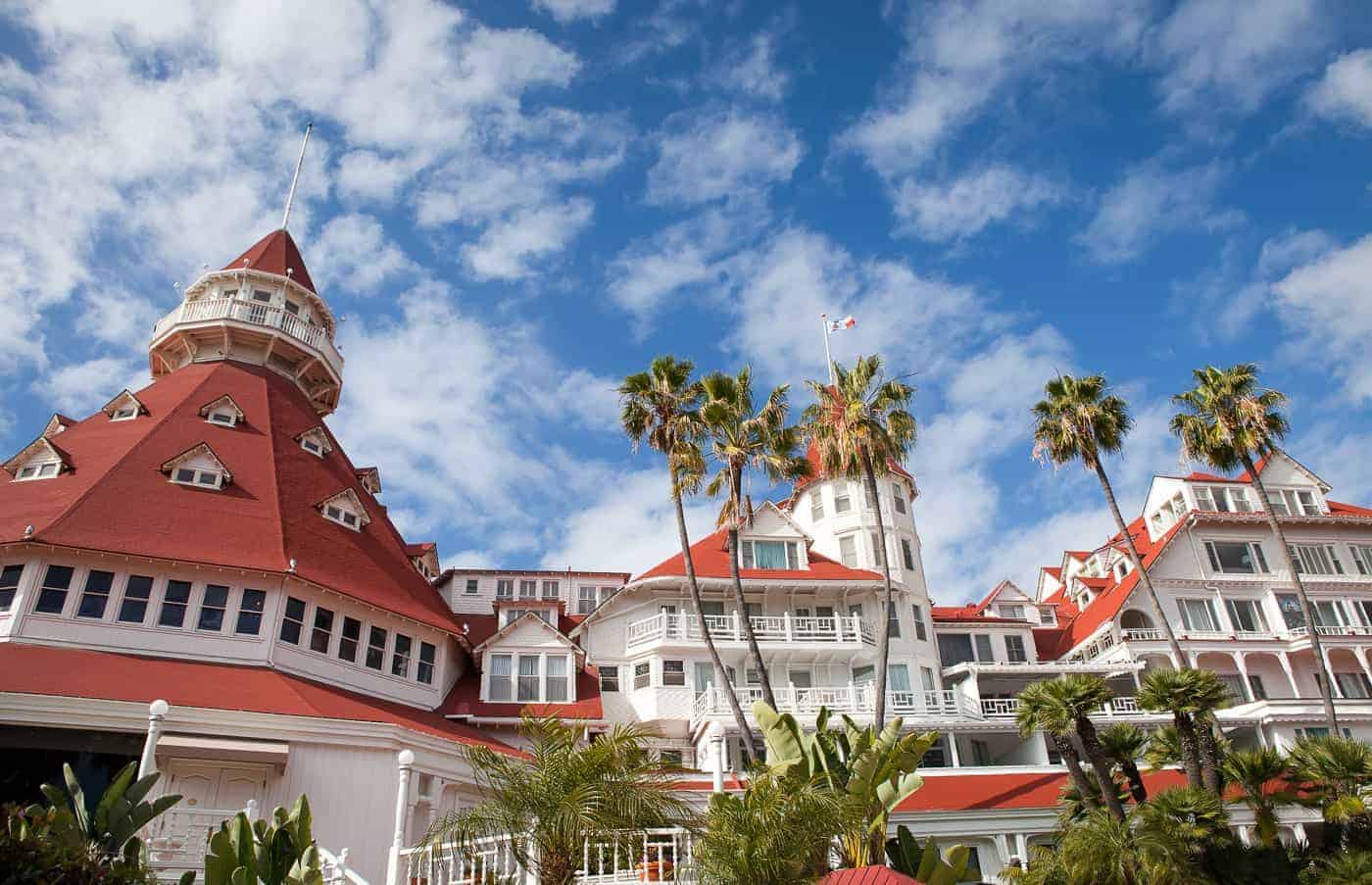 In addition, the hotel is steeped in history. It was the ver first west coast resort! Celebrities, Presidents, and yes, even ghosts have all stayed at the Del.
You can check out the photo evidence throughout the hotel itself. Best of all is an afternoon cocktail out on the pool overlooking the sand in front of the hotel!
There you have it – my favorite San Diego Unique hotels!
Looking for more hotel options in San Diego?  Check out my list of the best beachfront hotels in San Diego.  If you'll be visiting California for a while, you might also love my Los Angeles itinerary for first timers, my San Francisco itinerary for first timers, and a round up of the best hidden gems in California!
And if you're a wine lover, why not take a road trip a little further north to do some wine tasting in Temecula or explore one of the many cute wineries close to Los Angeles!
Pin for later!