How to Earn Frequent Flyer Points Without Flying
This site uses affiliate links and I may earn a small commission when you use my links and make a purchase, at no extra cost to you. 
Looking for ways to earn frequent flyer points without flying?  This guide has you covered.  Here's the exact strategies that I used to earned over 150,000 air miles and flew first class for FREE from the US to South Africa!  Read on for all of the details on my best ways to earn air miles without actually flying.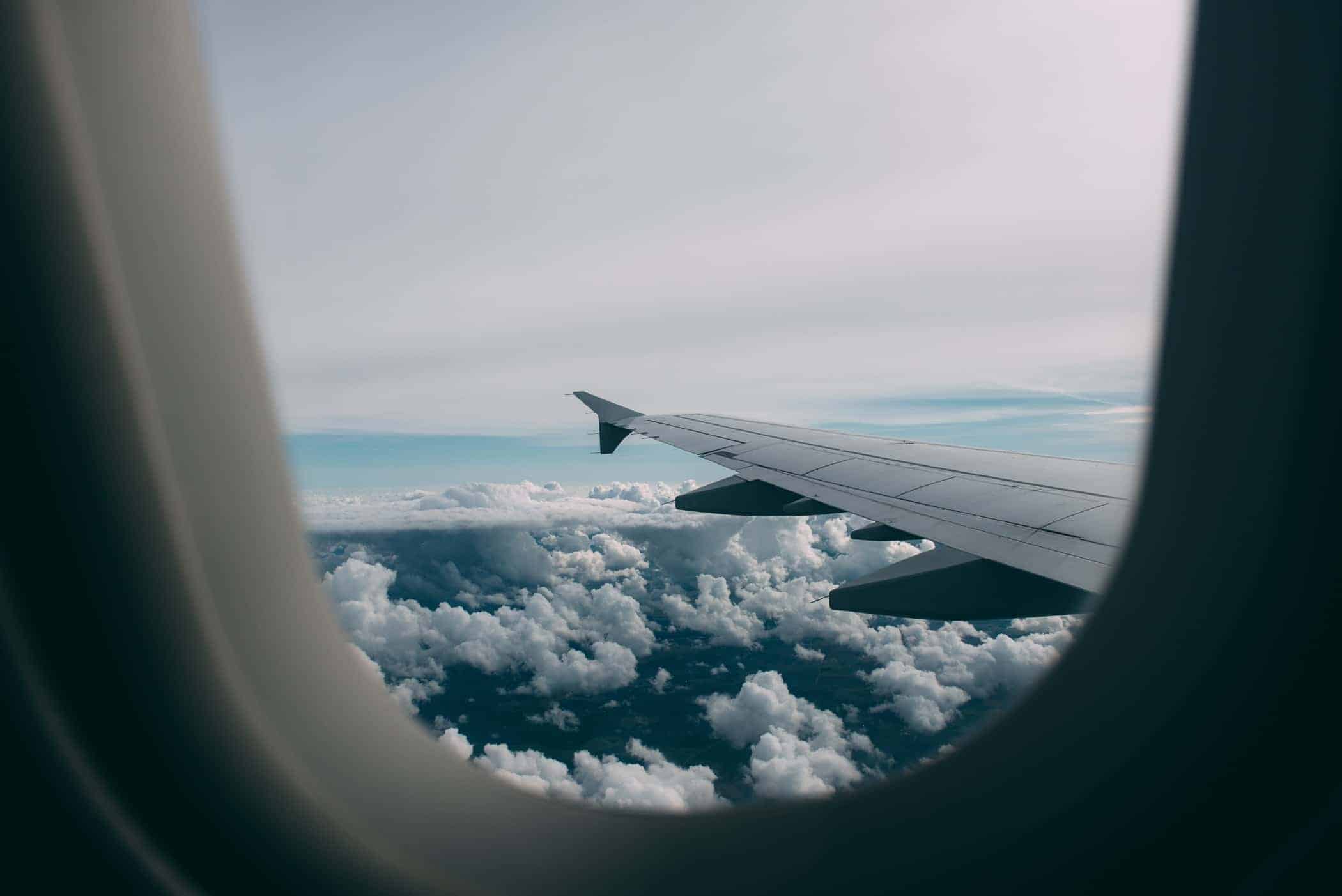 7 Ways to Earn Air Miles Without Flying
Believe it or not, two months ago, I had about 5,000 American Airlines air miles to my name. But in the past 60 days, I was able to earn over 150,000 air miles, which was enough for a round-trip, business class ticket to South Africa from San Diego.
And I earned all of the air miles without flying. In this guide, I'm sharing my exact strategies for earning frequent flyer miles without setting foot on an airplane.
But first, I will offer a quick caveat: everyone's situation is different. These strategies may or may not suit your personal situation – they're just what I did, and what worked for me.
In addition, I want to acknowledge that there were many ways in which my personal situation was helpful in my efforts to earn miles:
First, I do travel frequently for work, so I had a few hotel points laying around which I had earned through work travel.
Second, you'll see below that I opened three new credit cards to earn additional miles. I'm fortunate to have good credit to start with, and acknowledge that this is not be a possibility for everyone.
Third, a lot of these strategies DID include spending money to earn miles. BUT…I only spent money I would have been spending anyways – and never went out of my way to spend more just to get miles.
2023 Update: I've updated this post where relevant, but have kept the strategies I used and the actual miles I earned at the time of publishing this article for illustrative purposes.
Offers to earn air miles and hotel points change constantly and differ from one airline to the next, so please check ahead for current offers from any of the strategies noted below.
1. Choose The Right Airline
Before you try to earn air miles without flying, make sure to plan ahead. I recommend starting with a specific destination in mind, so that you can earn miles on the airline that has the most flights to that destination.
I was planning a trip to South Africa, and after a bit of research, I figured out that the airline with the most efficient routes from San Diego to Cape Town was American Airlines. So, I focused on earning air miles specifically on American.
The last thing you want is to spend time and money earning air miles on an airline that doesn't even fly to your chosen destination, so it's worth putting in some research ahead of time.
2. Open an Airline Credit Card
Let's start with the basics. You can earn lots of air miles by opening airline credit cards.
Earning miles with airline credit cards is nothing new…but it's important to be strategic if you want to earn a lot of air miles really quickly.
The three most important things to keep in mind if you want to learn how to earn frequent flyer points by opening an airline credit card are:
Be thoughtful about WHEN you open the credit card
Be strategic to meet the card minimum spend needed to receive the points bonus
Never charge more than you can afford to pay off every month!
I ended up opening two American Airlines cards: a platinum card and a gold card.
The platinum card offer was 60,000 miles for spending $2,000 in the first three months, and the gold card offer was 25,000 miles for spending $750 in the first two months.
Here are the strategies I used to maximize my air miles from opening new credit cards:
First, I decided to open these two credit cards during a time of year when I knew I'd be spending more than usual: the holidays. I used my new cards for ALL of my holiday shopping and celebrating! Both of which quickly added up.
Second, I decided to purchase things in advance that I knew I'd be buying sooner or later, and that wouldn't expire. So I stocked up on things like dog food, cleaning supplies, and just general household necessities. I also paid in advance for a few things – like a 5-pack of classes at my favorite spin studio.
Third, I used the new cards to pay for EVERYTHING. I paid my cell phone bill, cable bill, internet bill, streaming services (like Netflix and Hulu) and really just everything I could with the new cards.
Most utility providers will let you auto-pay your bill using a credit card, so make sure you are maximizing what you get from this spending!
Pro Tip: Open Two Cards for the Same Airline
The last tip here is also critical: check to see if your preferred airline has more than one credit card offer. This is key! I almost didn't realize that I could sign up for a platinum AND a gold card back-to-back for American Airlines. Doing so earned me many more miles.
Miles earned: 85,000 (!!!) (60,000 from the Citi Platinum AAdvantage card and 25,000 from the Citi AAdvantage gold card).
3. Convert Hotel Points to Air Miles
Many people aren't aware, but the points earned through many hotel loyalty programs can be converted to airline miles. The list of hotel points that convert to American Airlines miles is here.
Use Points From Multiple Hotel Brands
Discovering that I could convert hotel points to air miles was a HUGE discovery for me, since I had points scattered over several different hotel loyalty programs.
Individually, none of them were enough to redeem for anything meaningful, but pooled together as air miles, they were actually useful.
The Best Hotel Loyalty Program
If you're new to the world of hotel points, I highly recommend setting up a Marriott Bonvoy account. You can transfer Bonvoy points to almost any airline's frequent flyer program, typically on a 3:1 ratio.
The bonus is that when you transfer 60,000 Bonvoy points to air miles, Marriott will kick in 5,000 extra miles. So yes – free milesl!
Miles earned: 54,500 (25,000 from converting Starwood points, 4,500 from converting Hyatt points, and 25,000 from converting Marriott points).
When this article was originally published, Starwood and Marriott were separate brands. Today, they operate as a single brand under the "Marriott Bonvoy" Program.
4. Open a Hotel Credit Card
Once I realized that I could convert hotel points to air miles, I started looking at various credit card offers that offered hotel points as promotional bonuses.
Sure enough, I found a Marriott card that would earn me 50,000 Marriott points after I hit a minimum spend. I employed the same strategies that I used above with my other new credit cards to rack up the initial bonus miles in a short period of time.
Miles earned: 15,000
5. Maximize Your Online Shopping
I made sure to maximize my holiday spending by doing all of my online shopping through the American Airlines online shopping portal.
What's that?
If you go to a store's website via the portal, you'll earn a certain number of miles if you make a purchase.
For example, if you go to nordstrom.com from the portal, anything you buy at Nordstrom will earn you 3 miles per dollar. That's in addition to the 1 mile per dollar that I was already earning from using an American Airlines credit card.
It adds up fast, especially when it comes to holiday shopping! During this time of year, many stores run promotions where you can earn double or triple the normal amount of miles.
Miles earned: 6,000
6. Magazine and News Subscriptions
If you enjoy reading magazines and check the news online every day, why not maximize your reading by earning air miles?
Yep – if you open a subscription to the Wall Street Journal online, you'll bank 1,000 American miles. A subscription is only $4/month, so it's well worth it.
And for every dollar you spend on magazines.com, you'll get 15 American Airlines points.
When this article was originally written, I signed up for a magazine access service called Texture, since I read magazines often when I travel. After a free 30-day trial, Texture offered 2,000 American Airlines miles with the first paid month of service.
Miles earned: 2,000
7. Hotel Reservations
Another strategy to earn frequent flyer points without flying is a website called RocketMiles.
Rocketmiles is a portal through which you can make hotel reservations and receive a meaningful number of air miles for doing so (think 1,000 – 10,000 miles per night!).
At the time this article was originally published, Rocketmiles had a promotion with American where you could earn an additional bonus 3,000 miles on your first booking.
This was perfect timing, since I was planning to book a night at a hotel in LA for a trip that had already been planned. I used RocketMiles to book it, and earned 2,000 miles for the night in the hotel, plus my bonus 3,000 miles.
Miles earned: 5,000
Grand Total
In total, I earned 85,000 + 54,500 + 15,000 + 6,000 + 2,000 + 5,000 = 167,500 miles in two months!
When I first started this endeavor, I never imagined that I'd be able to rack up enough miles before it was time to get my flights for South Africa – needless to say in business class. But in two months, there I was!
I hope these strategies are helpful for you, too!
Liked this post? PIN IT!