How to Practice Self Care While Traveling
This site uses affiliate links and I may earn a small commission when you use my links and make a purchase, at no extra cost to you. 
Even if you've established a good self care routine at home, it is so easy for that routine to go sideways while traveling. Whether or not you're on the road, it's important to find time to relax, take the time to check in with yourself about how you're feeling, and take care of your physical health including getting plenty of sleep, eating healthy foods, and getting some exercise. All of these are fundamental to taking good care of yourself! If you're looking for ways to practice self-care while traveling, this guide is for you! I've put together 22 easy tips for practicing self care on the go. Read on for all the details.
The importance of good self care can't go understated. It's a foundation of good mental health, and keeps our minds and bodies in good shape. Unfortunately, travel has a way of disrupting what can otherwise be a good routine.
There's nothing like jet lag, traveling across time zones, and trying new foods to get in the way of basic self care practices. Once self care practice goes sideways, it's easy to get derailed and experience discomfort, anxiety and even depression. Here's a few ways to make sure that you're practicing good self care, even when you're traveling.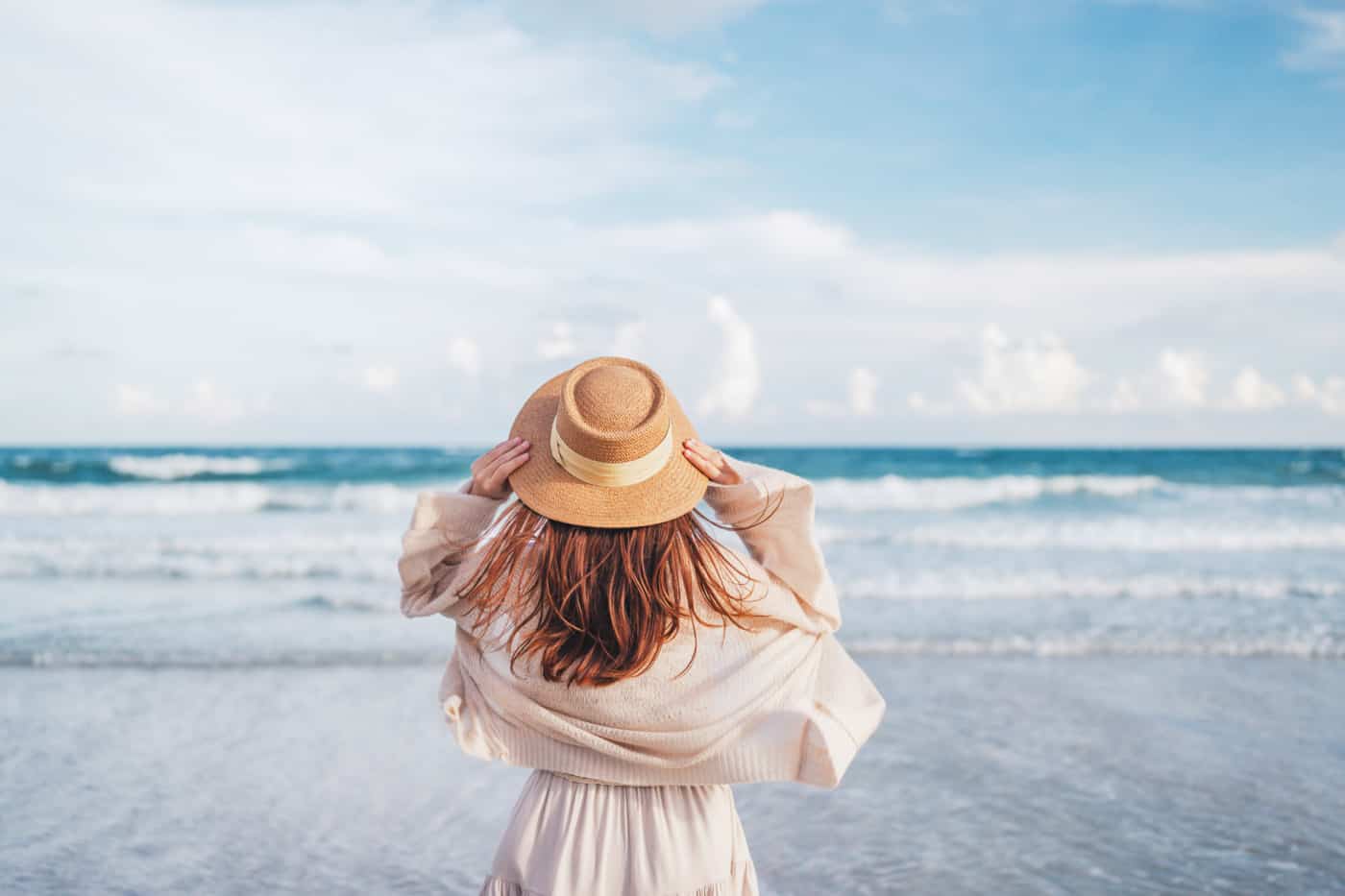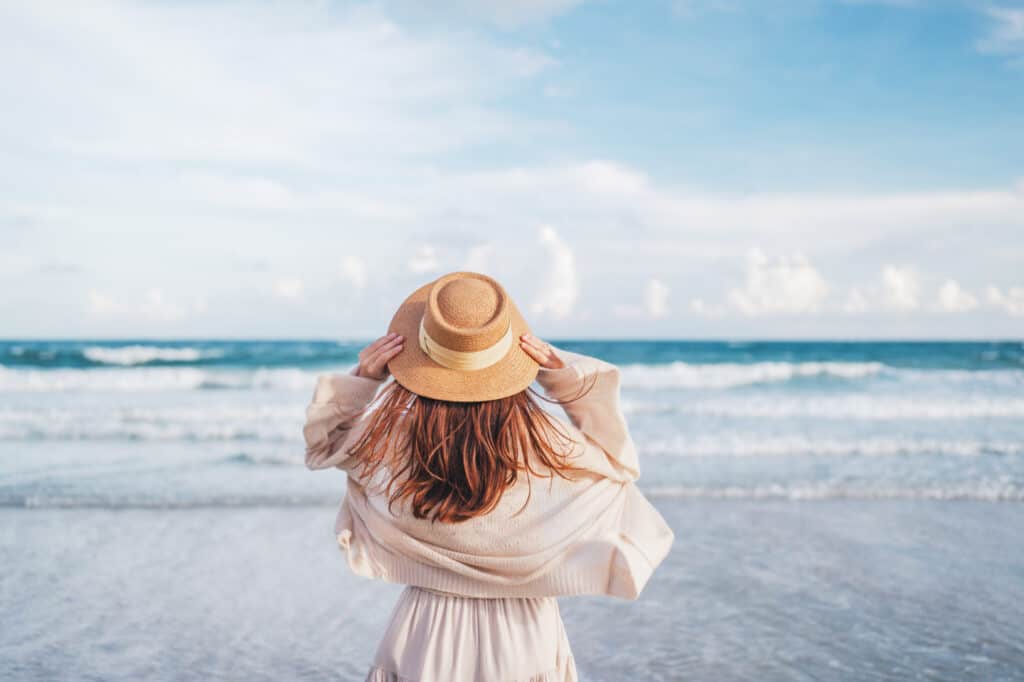 1. Take Time to Capture Your Thoughts Each Day
One of the best ways to practice self-care while traveling is to take the time to capture your thoughts at the end of the day, and check in with yourself about how you're feeling.
For many people, this takes the form of jotting down a few thoughts in a travel journal each day. Not only is this a great way to capture your travel memories, but it also is a good way to figure out what your needs are for the next day.
If you're feeling down, plan some relaxation time for the next day. Feeling energized and motivated? Maybe tomorrow is the right day for that half-day walking tour.
2. Take Care of Your Physical Health with Exercise
It probably goes without saying, but it's hard to practice good self care while traveling unless you take care of your body first. That means getting some exercise!
Whether you hit the gym in the morning, take a jog around a new neighborhood, or just walk from one sight to the next, getting physical activity is so important for your well-being. Try to plan time for exercise as part of your travel itinerary. Oh, and make sure you bring the right shoes with you on your trip!
3. Build Some Free Time Into Your Itinerary
I know, you want to pack sights, restaurants, and activities into every last minute of your trip. Fear of missing out (FOMO) can be a beast when it comes to travel. As a society, we're so concerned that we might miss out on THE VERY BEST THING EVER that we try to do everything. And then we end up exhausted.
I always advise travelers to build some "white space" into their itineraries. This gives you time to relax, take a nap, or just see what comes your way! Often, it's these unplanned times that make for the best memories from a trip.
4. Stay Hydrated
Yes, just like mom taught you. Staying hydrated is an important form of self care. Drinking enough water while you're traveling sounds basic – I know. But it really matters!
Travel, especially flying, is incredibly dehydrating for your body. Stay hydrated by always bringing a reusable water bottle with you.
Lately, I've also been loving hydration packets. They're electrolytes in single-serving powder form that you can add to a bottle of water. The electrolytes will hydrate you faster than water alone!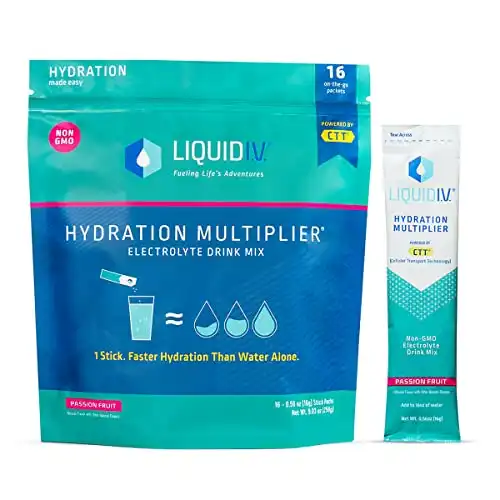 Liquid I.V. Hydration Packets
These electrolyte packets are perfect for keeping you hydrated while you're traveling!
All you do is mix one packet in a bottle of water - it will hydrate you so much faster than water alone.
Shop Now
5. Reach Out to Others if You're Feeling Isolated
Travel is exhilarating and empowering, but it can also be incredibly isolating, especially if you're traveling by yourself.
When you're away from home, you're missing the relationships that you are used to relying on for support. And if you're constantly traveling, it's hard to grow new ones that can give you the same sense of community and belonging.
If you're feeling isolated, reach out to someone! Call a family member or friend and fill them in on your adventures. A phone call…so old fashioned, I know! But taking the time to chat will give you points of connection with others, and that is so important when it comes to self-care.
6. Try Online Therapy
To practice this form of self care while traveling, check out an online therapy provider. The site Online Therapy will match you with a professional therapist within minutes!
You can then connect with your therapist in a virtual session – meaning that you can get help and support no matter where in the world you are.
7. Pack Something That Reminds You of Home
Once you've packed your essentials, toss something in your bag that reminds you of home.
Maybe it's a scented candle, a homemade snack, or a book that your friend lent you. Having a reminder of home when you're in a new place can bring a lot of comfort when you're traveling.
8. Do The Activities That Matter to YOU, Not What You Think You "Should" Do
One of the foundational tactics for practicing self-care is learning how to say "no" to something if it doesn't meet your needs. This is absolutely the case for travel, too!
It's so easy to get caught up in lists or ideas of what other people think are "best" in any destination. You can find yourself running from one place to the next, just to check sights and restaurants off of your proverbial bucket list.
You can practice good self care while traveling by tossing aside everything you think you SHOULD do on vacation. Instead do only and exactly what you WANT to do! The ideal trip looks different for everyone, and the best way to take care of yourself while you're traveling is to meet your own needs in terms of what you want to get out of your trip.
Don't worry about the latest instagram hotspot if it's not your jam! Go find that vintage bookstore that you've been dreaming of visiting. By making your trip your own, you're honoring your own needs – and that's a great way to take care of yourself!
9. Traveling with a Group? Set Expectations Ahead of Time
If you're traveling with a group, it can be easy to fall into a routine or plans that work for everyone else…except you! Before you book a group trip, take the time to chat with everyone about how they want to spend their time on the trip.
Even the best of friends (or family members) can have completely different priorities and budgets when it comes to travel. For example, if you're an introvert on an unlimited travel budget who likes to be in bed early, traveling with a group of budget-conscious, late-night bar hoppers is going to quickly wear on you!
Talking openly about what you do and don't want to get out of a group trip will help you avoid issues before they arise, and keep you in a positive mental state.
10. Listen to Your Body
Travel can be really tough on your body, even if it doesn't seem immediately apparent. Being crammed into a tiny airplane seat, suffering from jet lag, or even the novelty of walking for miles to explore a new area can all take their toll on your body.
Practice good self care while traveling by listening to your body. If you're tired, take time to rest – the sights will be there when you're ready. If you're feeling achy, do something less strenuous the next day. Paying attention to the physical signals that your body sends you can go a long way in terms of taking care of your mental health, too.
11. A Good Self-Care Routine Includes Healthy Foods
By all means, travel is the time to try new foods! Finding new restaurants and sampling local cuisine is one of my very favorite things to do when I travel. It's easy for changes in your diet to impact your mental health, though.
So if you know you'll be indulging in some special meals or lots of treats (hello, gelato!), try to plan some healthier meals in between to keep your diet rich in fresh fruits and vegetables.
This is one reason I like staying in a rental home when I travel, especially for longer trips. Having a kitchen makes cooking a few healthy meals much easier!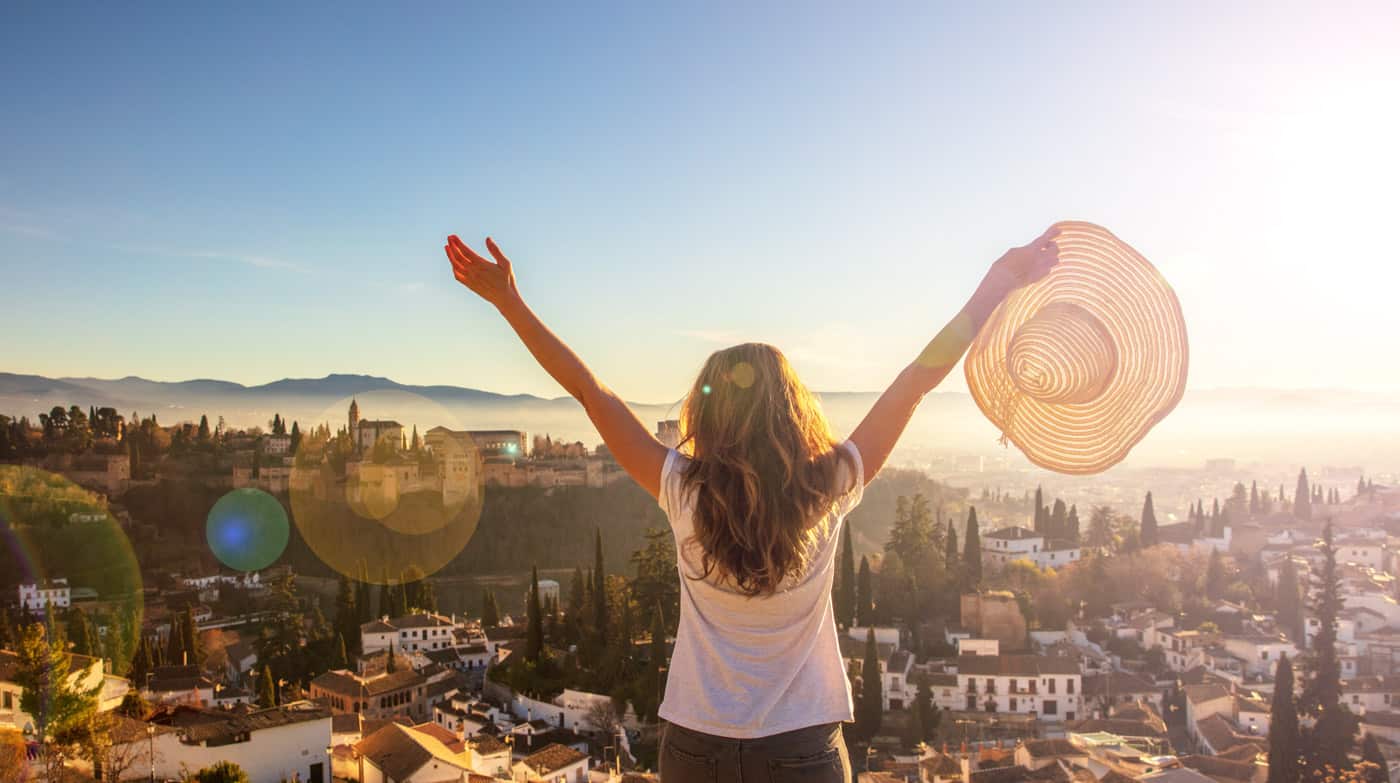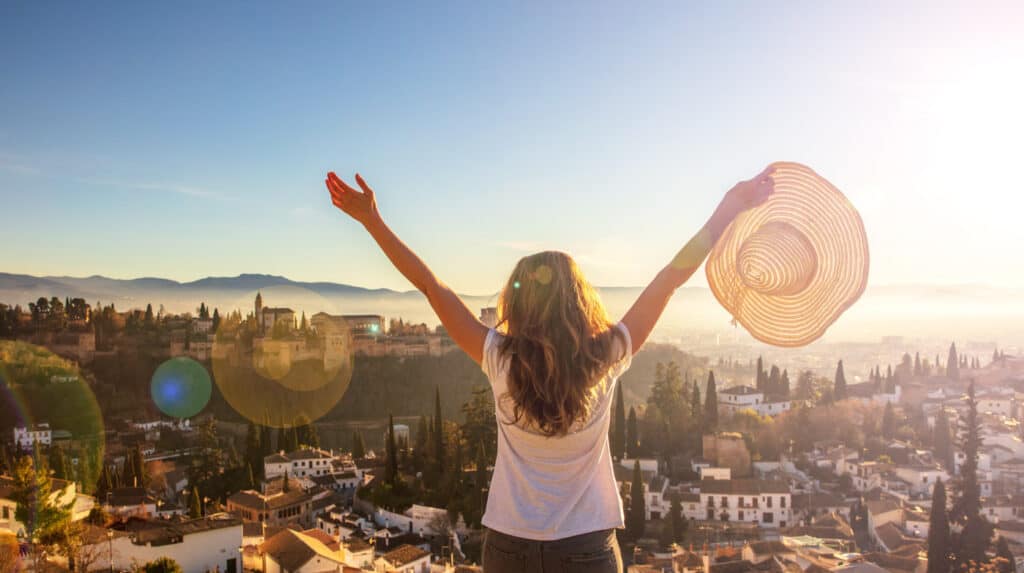 12. Overcome Jet Lag Quickly and Get Enough Sleep Each Night
Getting enough hours of sleep is so critical as a form of self care, but travel across time zones can be detrimental to your schedule. Once you arrive at your destination, try these tricks for getting over jet lag as quickly as possible.
And even though it might be tempting to be out exploring until the wee hours, shortchanging your sleep while traveling is a sure way to erode a positive mental state. Fuel up for the next day's activities by making sure to get enough sleep each night when you're traveling.
13. Stay Organized with a Travel Planner
Another one of my favorite ways to practice self care while traveling is to stay organized ahead of my trip. I use travel planners to put all of the details of my trip in one place, and also to make sure I don't forget anything.
With everything captured on paper ahead of time, I am less frazzled and have much more mental energy to focus on enjoying my trip!
Need some help getting organized? Check out my printable travel planners! They'll practically organize your trip for you, and save you headaches down the road.
14. Carve Out a Few Minutes for Yourself
If you're traveling with a group, try to carve out some alone time to practice self care. Offer to walk and get coffee for the group in the morning, read by yourself for a few minutes before you go to sleep, or take that jog you've been wanting to do.
Having the space to be alone with your own thoughts will help you check in with yourself and clear your head.
15. Try a 15 Minute Meditation
Sometimes it's the little things that make all the difference! Try taking the time to do a quick guided meditation during the day while you travel.
I love the app Headspace. They've got tons of guided meditations available, that are as quick as 5 minutes. Focusing on mindfulness and breathing will help ease any stress or anxiety that can easily be brought on by travel.
16. Try to Stick to Your Daily Routine
Even though traveling can throw a wrench in your daily schedule, try to keep to the same daily routine that you do at home. This includes things like your sleep cycle and exercise routine.
If you're used to getting a solid eight hours of sleep and working out three times a week while you're at home, try to stay consistent with this routine while you're traveling.
17. Try a New Activity
New experiences are so good for the soul! And the beauty of travel is that new opportunities are around every corner. Travel is a great way to get out of your comfort zone and try something you've never done before.
Taste that local specialty, tackle an adventure you never thought you could, or just explore an unknown area. You'll create new memories that come with positive vibes.
18. Ease Up on Alcohol
Ah, yes – booze. With travel comes so many opportunities to drink beer, wine, and cocktails. A cool wine bar! A brewery tour! Did someone say tequila tasting?
As much as I love to travel to explore food and wine, there's no denying that alcohol impacts your mental health. It's easy to feel lethargic, anxious, and depressed if you've had too much to drink – especially for a few days in a row.
If you're in need of some self care or are going through a rough patch, try to avoid alcohol while you're traveling. If you can't avoid it altogether, try and keep your consumption to a minimum if you can.
19. Make a "Don't Do" List Based on Your Last Trip
Before you plan your next trip, think about your last trip. What did you enjoy? What worked for you, and what didn't? Did you enjoy being able to sleep in? Or have leisurely afternoons?
Or maybe you thought "winging it" for dinner each night would be a great plan, but it just ended up stressing you out.
Take the time to think about the good, the bad, and the ugly from your last trip, and use it to make a list of things you're NOT going to do on your next trip. Getting to know yourself and your preferences is a very important form of self care!
20. Taking a Social Media Break is a Great Form of Self Care
Social media is a great way to stay in touch with others, but it can also be incredibly draining for your mental health.
I know it's tempting to want to post all of your vacation photos in the midst of your trip! But scrolling through social media can quickly lead to overwhelm, and negative feelings about yourself.
Try taking a social media break while you're traveling, even if it's just for a day or a few hours. You'll get the added benefit of fewer distractions so you can focus on the here and now!
21. Give Back to the Local Community
This is one of my favorite tips for practicing self care while traveling!
Sometimes the best way to take care of yourself is by donating your time to a worthy cause. Consider using part of your trip to contribute to a local organization in need. Volunteering can alleviate stress, it's great for your soul, and it's a unique way to experience a local culture in a way you couldn't as just a tourist.
While you're planning your itinerary, check out organizations such as Give a Day Global and VolunteerMatch. These groups help pair travelers with local volunteer opportunities. Volunteer opportunities tend to be shorter in duration (1 day or less), so they're perfect for travelers. Odds are good that you'll find the perfect fit!
Volunteering is also a great way to meet new people when you're traveling, and connecting with others is a great mental health boost. Plus, what better way to give back to the community you have enjoyed exploring!
22. Try a Spa Treatment
There's nothing like some pampering to help with practicing self-care when you're traveling. The trick is keeping it easy, and within your budget!
If a luxury spa isn't part of your travel plans, try an at-home treatment in your hotel room. I love bringing these face masks with me when I travel. They're super hydrating and feel like a little taste of luxury when I'm away from home.
Face Mask Sheets, 5-Pack
I always toss a face mask sheet (or two!) in my carry on bag when I travel!
These are individually-packaged and are great for keeping your face hydrated while you're on a flight or once you reach your destination.
Shop Now
Another trick I use as part of my self-care routine while traveling is to bring some essential oils with me. I dab it on my wrists at the end of the day, and it helps me to wind down from a day filled with travel excitement. I love lavender essential oils because they're intended to help you wind down and relax.
Finally, if you're lucky enough to have a bathtub as part of your accommodations, a bubble bath can do wonders for your mental health!
I hope these tips have given you some ideas for how to keep up your self care routine while you're traveling!