The Best Travel Maxi Dress: Adiona by Encircled
This site uses affiliate links and I may earn a small commission when you use my links and make a purchase, at no extra cost to you. 
Dresses will always be a packing staple for me, no matter what kind of trip I'm taking. They save space, are incredibly versatile, and look great with flats. The ultimate travel clothing trifecta, if you will.
In fact, maxi dresses were pretty much all I packed on my trip to Napa earlier this year! They made packing a cinch, but they weren't without some minor irritations.
First, a few of them require a strapless bra – which means a day of discomfort, AND one more thing to remember to pack. Second, they are looooong. I'm 5'6″ and while standing, my maxi dresses are the right length, but when I walk, I have to pick up the front of my maxi dresses to avoid tripping (graceful I am not). Finally, there is no place to slip my phone or ID – because NONE of my dresses have pockets.
Encircled has elegantly solved all of these #traveldressproblems with their new Adiona dress – a maxi dress for travel. I love all of the company's thoughtfully-designed pieces, so when they offered to send me one of their Adiona dresses, I was incredibly excited. I adore all of encircled's pieces, including their Revolve Dress, dressy sweatpants, and a very cute multiway wrap top.
Clothes and travel are two of my favorite things, so to test-drive a product that combines the two? Right up my alley. The best part was that I got the dress just in time for my recent trip to New York City , so along it came.
If you happen to be traveling to NYC soon, you'll love this 5 day New York itinerary!
Typically, I think of a maxi dress as something I'd pack for a summer trip or beach vacation. Since this trip was in late September, I knew I'd need to do some creative styling to suit the changing temperatures in New York that time of year.
Turns out that the Adiona dress is just right for transition seasons – it was really easy to style it for fall with my ankle boots and leather jacket. I was bringing both of those pieces anyway, and the layers allowed me to change things up a bit as the day went from cool to warm and back again.
An aside: if you're wondering about the name, Adiona is the Roman goddess of travel. Given the chance to channel someone with an outfit while traveling, I will choose a goddess EVERY time.
What I love about the Adiona dress
I fell in love with this dress like you fall in love with anything: at first sight, and then by discovering, one by one, all the things that make it special and unique.
The first thing I adored about the Adiona dress when I pulled it out of the box is the FABRIC. Oh my gosh it's soft and buttery. All I wanted to do was put it on, and then never take it off.
Once I tried it on, I started to notice all of the details that make the dress a perfect travel staple. Encircled surveyed over 500 women to get a sense for their likes, dislikes, and wishes when it comes to dresses for travel, and all of this research is evident in the thoughtful design.
Let me start with the length, which is perfect for travel. The shorter hem in front allows you to walk around without worrying that you will trip over the front of the dress.
Consistent with Encircled's other clever designs, you can also switch up the draping of the front of the dress to create three different looks, shown here on Encircled's site. In these photos, I'm wearing the dress with a side-drape, because I liked how the higher hem line looked with the ankle boots.
The design of the dress is also genius when it comes to undergarments. And let's face it – that can make or break a dress.
Since these photos don't really show off the undergarment-specific features, check out the product page for a better view of what I'm talking about.
First, there's no need to wear a strapless bra with the dress, which as we all know can be uncomfortable and far less flattering than a regular bra. And that's assuming you remember to pack it. The Adiona dress has a middle strap on the back that fits perfectly over a regular bra, hiding it from sight but preserving an open-back design.
In addition, the dress has "bra-keepers" sewn into the straps, to keep your bra straps hidden in place under the straps of the dress. I LOVED this feature, because I'm constantly going to the tailor to have these sewn into my tops and dresses….so THANK YOU, Encircled, for saving me another errand!
Oh and let's talk POCKETS. Mmmmmhmmmm. Pockets that are actually deep enough to be useful, but don't stick out on the sides of the dress and make your hips look awkward. WIN.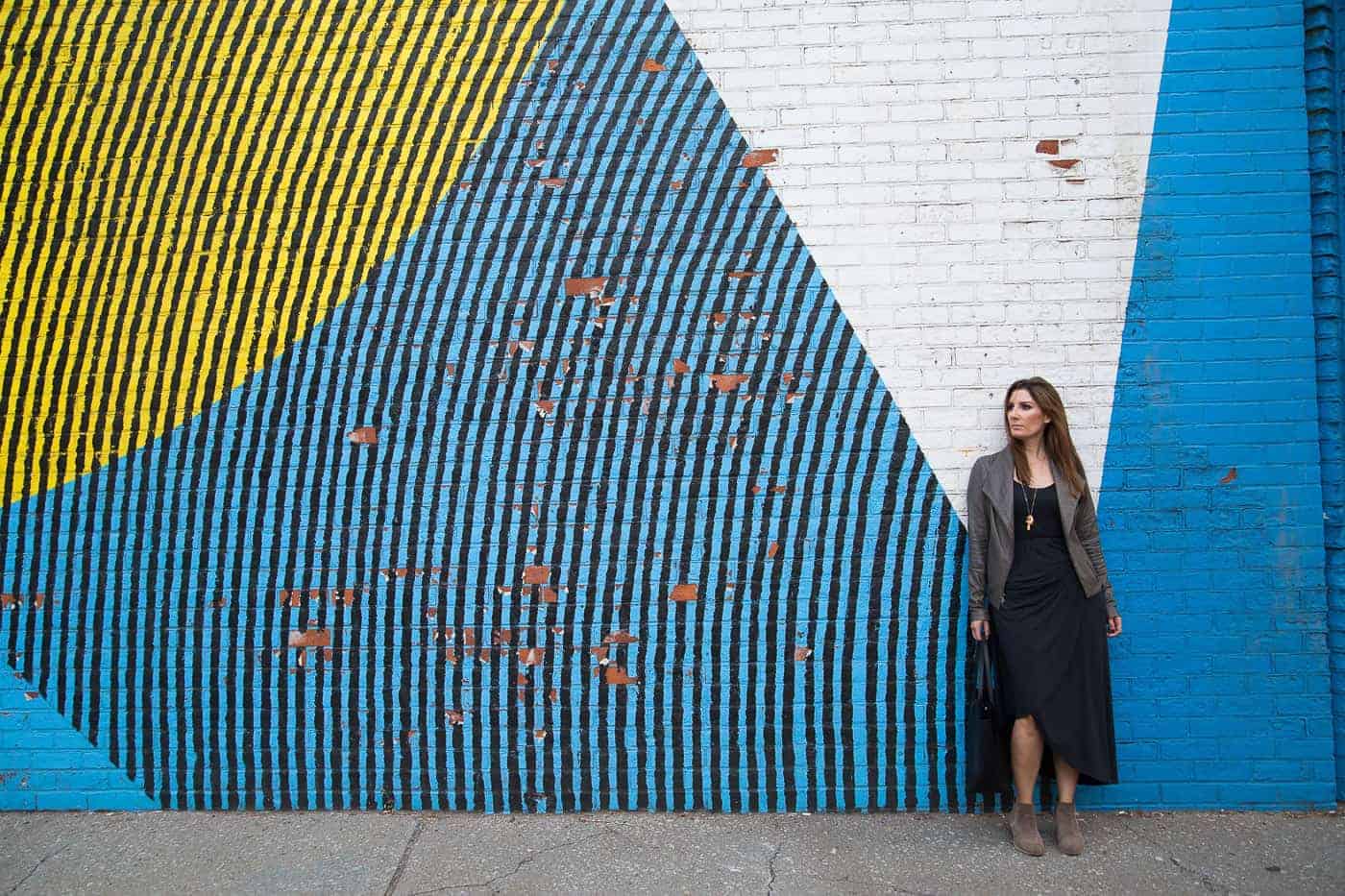 Now that I've given this dress a spin, it's going to be tough for me to ever pack a regular maxi dress again! I am picturing myself sighing with disdain as I get poked in the side by my strapless bra while reaching down to pick up the extra fabric I'm tripping over in the front of my maxi dress. The fact that there is the potential for this to never happen AGAIN feels so freeing.
Needless to say, the Adiona dress manages to elegantly address a female traveler's every need when it comes to finding the perfect dress for travel. Talk about a stylish problem-solver.
Finally, if you're not familiar with Encircled, check out the story about how Encircled started. Kristi is such an inspiration!
Adiona dress c/o encircled; photos by Johnny Wolf for Flytographer (use code #FLYFAN for $25 off!)