Travel Prep Checklist for Your Next Trip
This site uses affiliate links and I may earn a small commission when you use my links and make a purchase, at no extra cost to you. Many thanks for supporting this website!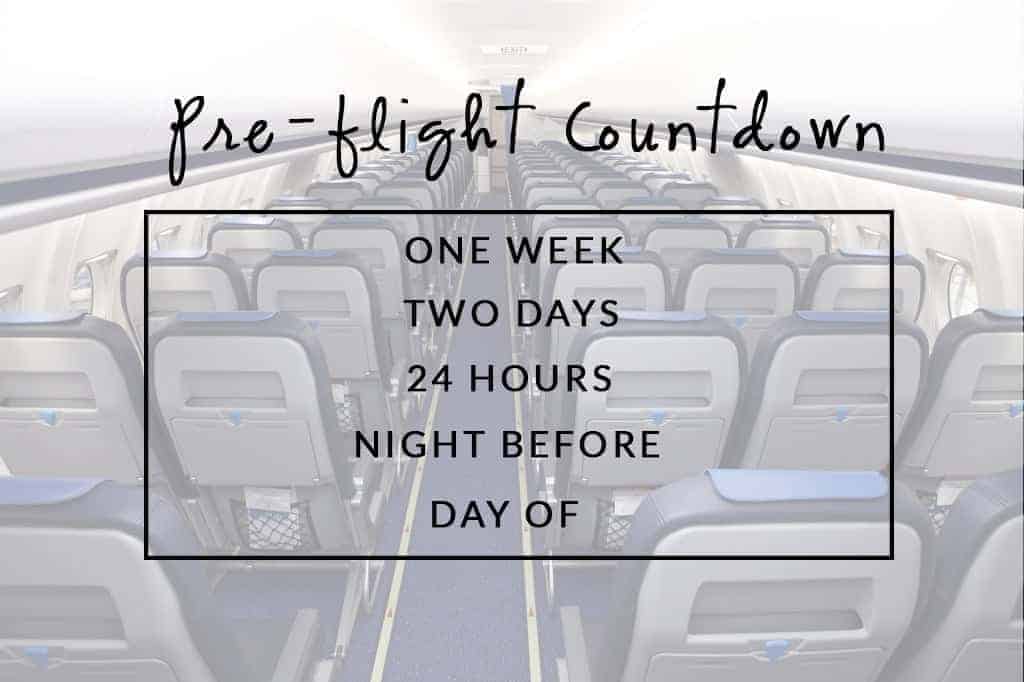 I used to run around like a crazy person to get ready for a trip but these days, I can pretty much do the routine in my sleep.  Here's my checklist for traveling when it comes to domestic trips by air – international trips usually require a little more planning and preparation.
Checklist for Traveling: What to Do and When
One week before:
At this point I usually have a general idea of what I will want to pack and I try to think about whether anything needs to go to or be picked up from the tailor or dry cleaner's.  It's also usually around this time that I buy anything specific that I might need for my trip – whether it's a specific piece of clothing or an accessory.
Two days before:
Next on my checklist for traveling?  A few days before my trip I try to load up my iPad or computer with any magazines or movies I want to check out on the flight. I can never count on good wifi once I leave home so I try to download all of my entertainment before I head out.
This is also around the time that I try to do my laundry (yawn, I'm talking about laundry!) and vaguely round up what I think I will be bringing. If this includes something new or a new combination, I will also try everything on.  This helps me plan what I'm wearing by the day.
If I don't know what I'll be doing on any given day I just bring lots of layers and versatile pieces. I keep my clothes on hangers by outfit or day until the night before I leave.  I always separately set out what I plan to wear on the flight so that I'm not panicked the morning of that I have no clean pants (true story).
I also scope out the weather where I'm headed. I know this sounds obvious but I live in southern California so it's easy to forget that everywhere else actually has weather that I might need to prepare for!
24 hours before:
Check in!  Sometimes your seat depends on it and people out there are VULTURES when it comes to checking in 24 hours beforehand. I wish it hadn't gotten to be like this but it just has. So if you can't beat em, join em.
The Night before:
The night before leaving I pack up the clothes, shoes and accessories that will go in my suitcase. You know the drill – shoes and heavy stuff on the bottom, then stuff that is least likely to get damaged (t shirts, jeans etc) then dresses or dressier tops. Roll like you've never rolled before.
I also charge all of my electronics the night before leaving.  There's nothing worse than being psyched to spend a flight catching up on your kindle, only to realize it is about to die.
The morning of departure:
Last up on my checklist for traveling: the morning of.
The morning that I leave, I start by checking online to make sure my flight hasn't been delayed or cancelled. As long as everything is going as planned I will do my hair (to avoid hotel hair dryers) and pack my makeup.
For the details on what makeup comes with me, check out this post.  I usually pack my makeup as I put it on that morning so that I know I'm not forgetting something!  I also pack up all of my toiletry items and then toss them in my purse (not my suitcase) so that they're easy to retrieve when I go through security.
Lastly, I make sure I have my wallet, my ID and any prescription medicine. Worst case scenario, pretty much anything else you forgot to bring can be replaced!
Need more help packing?  Check out My Best Packing Tips for Women!
Liked this post?  PIN IT!
Wanna Learn to Pack a Suitcase Like a Boss?
Subscribe to download my three BEST travel planning resources:
Travel outfit planner
Pre-travel checklist
Carry on packing list