30 Best Road Trips from San Diego California: The Ultimate Guide
This site uses affiliate links and I may earn a small commission when you use my links and make a purchase, at no extra cost to you. 
San Diego is a gorgeous city in Southern California, a hot travel destination, and a world-class place to live. There are so many things to see and do in San Diego, that it's easy to forget about all of the other destinations that are easily accessible as road trips from San Diego. Whether you're spending 3 days in San Diego, or are planning a longer trip to California, think about spending some time outside of greater San Diego. You can easily check off everything on your California bucket list!
It turns out that some of the best places to see in California are within easy reach from San Diego. Here are the best road trip destinations from San Diego, ranked from closest (1 hour to Temecula) to furthest (9.5 hours to Tahoe).
With plenty in between, there's a road trip for everyone, whether you have a day or an entire week. Read on for the full guide, along with my recommendations for places to stay along the way!
1. Temecula
1 hour from San Diego (60 miles)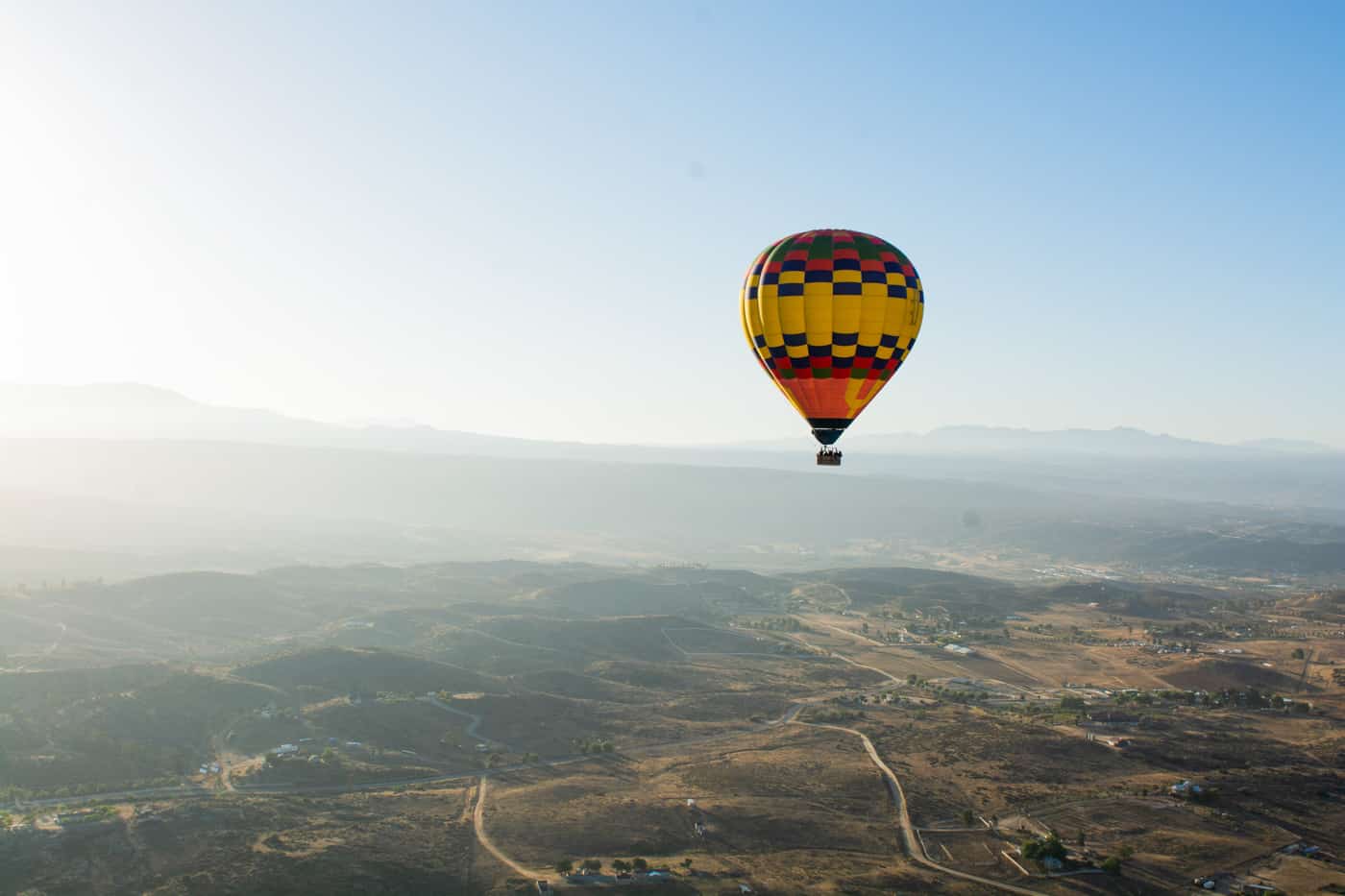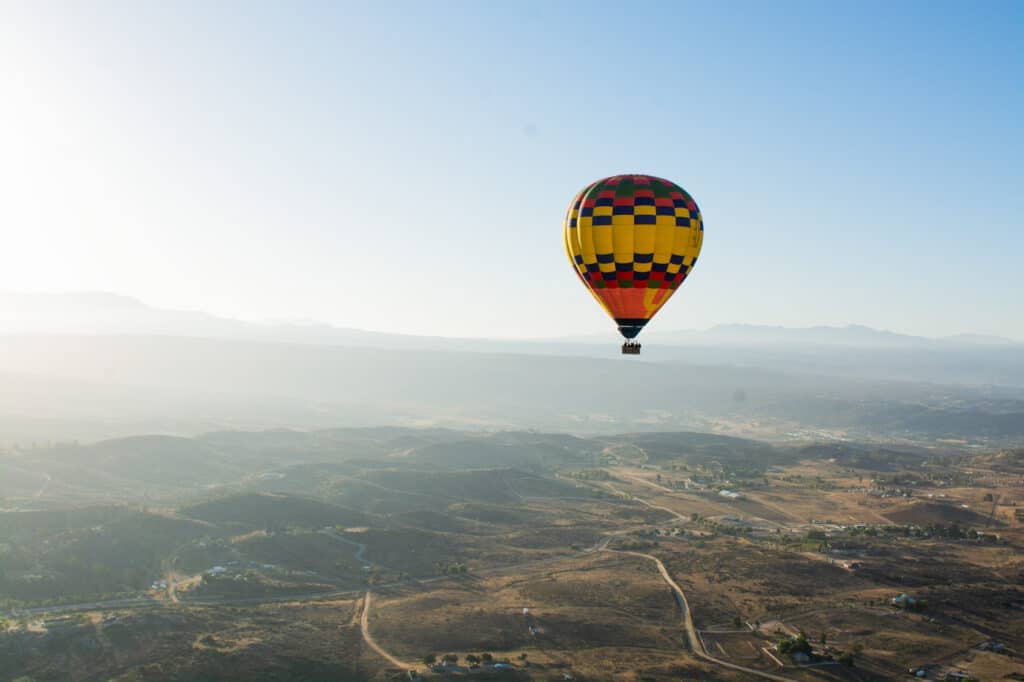 Temecula is a small town in Southern California. It's located about an hour from San Diego and is home to several wineries, restaurants, and historic sites. Temecula is one of the best road trips from San Diego because it's such a relaxing area to visit. The weather is great year-round, and Temecula has plenty of things to do when you aren't exploring its beautiful hillsides or vineyards.
It's easy to do a day trip for wine tasting in Temecula or weekend getaway from San Diego. Check out the Temecula Valley Museum, or grab an outdoor lunch and enjoy the shops at Vail Headquarters. Visit historic Old Town Temecula for an example of the town's wild-west style architecture and culture. You can also take a tour through Temecula Valley Vineyards, where you can sample wine from around the world while listening to live music on their outdoor patio.
There are plenty of places in town where you can grab a bite to eat or stay overnight if you want to explore more of this quaint town. If you have time before heading home, check out Temecula Brewing Company, where they have delicious food and beer brewed on-site.
Where to stay in Temecula: Ponte Vineyard Inn or Domaine Chardonnay
2. Julian
1 hour from San Diego (60 miles)
Julian is a small town in the Santa Ana Mountains, only an hour's drive from San Diego. The area has a lot of natural beauty and is also home to many national parks and monuments.
The best thing about Julian is that it's an excellent place for families. There are plenty of activities for kids and adults, including hiking trails and horseback riding tours.
Julian is best known for its apple orchards. In the fall, Julian is the perfect place to go apple-picking and enjoy apple pie, all while keeping warm in the mountain town's chillier temperatures.
If you're on the hunt for snow during the winter season, Julian is one of the few places near San Diego where you can find it!
Where to stay in Julian: Julian Gold Rush Hotel
3. Dana Point
1 hour from San Diego (65 miles)
Dana Point is a city located in Orange County, California. It is known for its harbor, beaches and its small-town feel. Dana Point is located about an hour south of Los Angeles, so it's an easy road trip from San Diego.
Dana Point's beachfront is incredibly popular. The best time to visit is during the summer when temperatures are mild. Ensure you bring a sweatshirt or jacket for when it gets cooler later in the day.
The beach at Dana Point has 300 acres of sand that stretches along miles of coastline with views of Catalina Island, Los Angeles, and San Diego. The beaches are famous among locals who swim, surf, or relax with family and friends on the dunes or close to the water's edge.
The city's downtown area has many restaurants and shops that cater to those looking for something different from what they can find in other parts of California. You can find everything from French bistros to Mexican food and souvenir shops selling T-shirts and other souvenirs.
Where to stay in Dana Point: Monarch Beach Resort or Blue Lantern Inn
4. Laguna Beach
1.5 hours from San Diego (80 miles)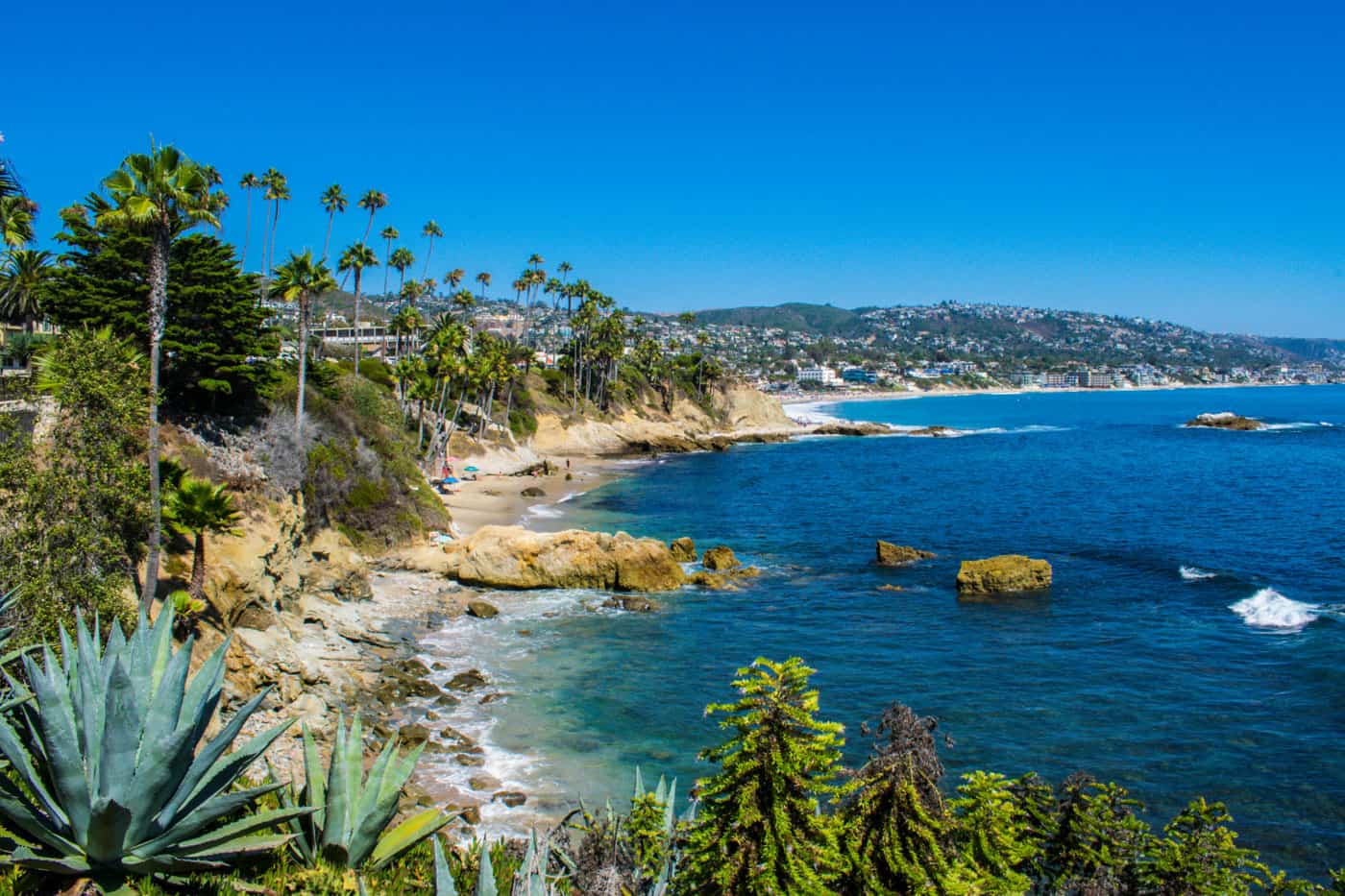 It's not just that one show on MTV….Laguna Beach is a perfect place for a day trip from San Diego. It is located in Orange County, California, and is known for its natural beauty and great weather.
The town of Laguna Beach has many different things to offer travelers who visit. There are many hotels, restaurants, and shops to choose from. It's also a great place to stay if you want a small-town feel with high-end restaurants and resorts.
The city of Laguna Beach has a well-known beach that extends approximately one mile long along the coastline of Dana Point Harbor. Personally, I think the beaches in Laguna are some of the most beautiful in all of Southern California.
Where to stay in Laguna Beach: Montage Laguna Beach or Surf and Sand Resort
5. Long Beach
1.5 hours from San Diego (110 miles)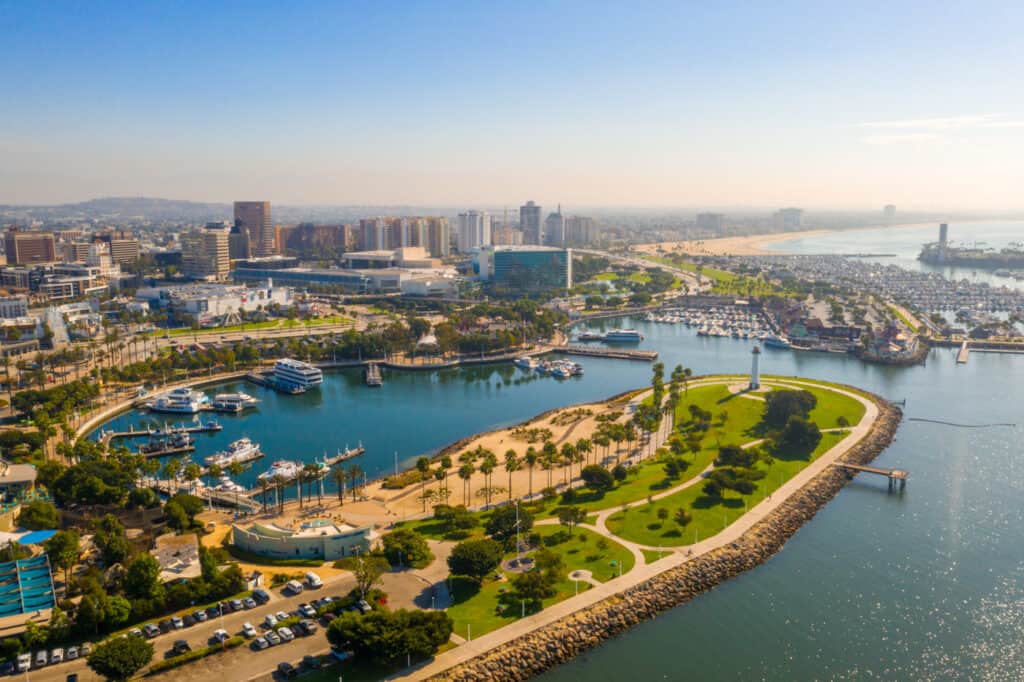 Long Beach is a great place to visit if you're planning a road trip. It's close to Los Angeles but still has a unique, independent feel. It's also home to the Queen Mary and Queen Mary 2, both incredible tourist attractions.
There are so many things to do in Long Beach! One of the most popular places to visit is the Aquarium of the Pacific for a deep sea adventure. Make sure to make a reservation if you're going on the weekend.
There are also plenty of museums around town and parks with picnic areas where you can relax and take in all that beautiful scenery surrounding you while enjoying an afternoon at the park with your family or friends.
Where to stay in Long Beach: The Belmont Shore Inn or Terranea Resort
6. Newport Beach
1.5 hours from San Diego (90 miles)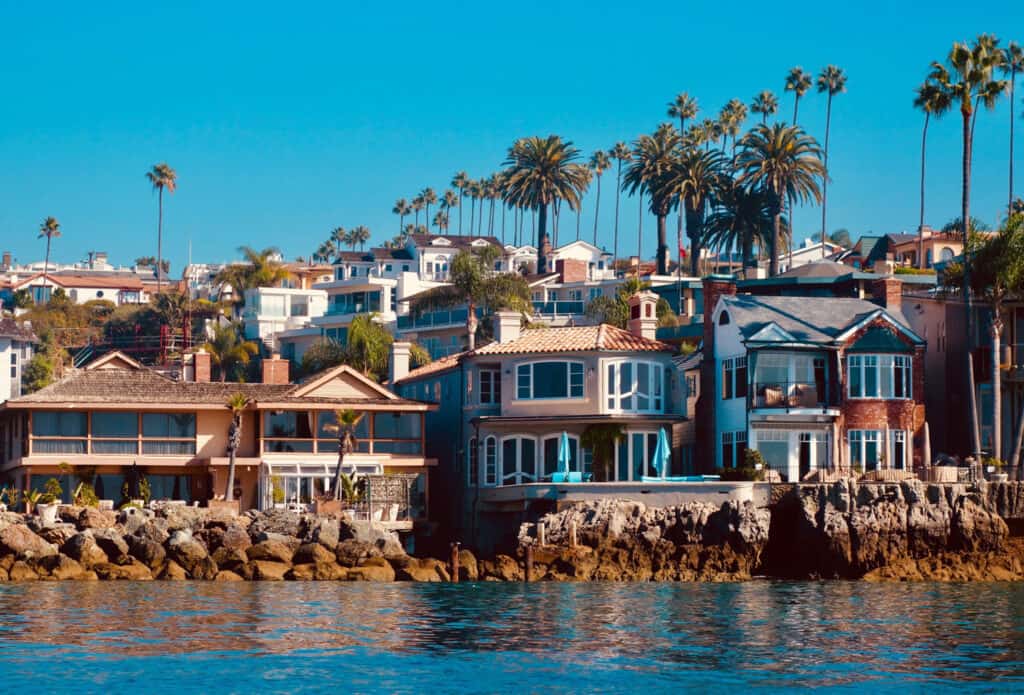 Newport Beach is one of Southern California's most popular vacation destinations and home to one of the country's top coastal resorts. Although it's not as large as San Diego or Los Angeles, Newport Beach offers visitors a wide range of attractions and activities.
Newport Beach's beaches are among the best on the west coast with beautiful stretches of sand along a 15-mile stretch from Balboa Pier to Corona del Mar State Beach. The water is calm and clear for miles out into the ocean, making it an ideal place for surfing, body boarding, and swimming.
If you want too see more than beaches, there are plenty of other activities available in Newport Beach that will make for a great trip itinerary.
* Hiking trails through state parks or along Pacific Coast Highway.
* Exploring tide pools at Balboa Peninsula State Beach.
* Watching surfers compete in world-class competitions at Mavericks during March.
* Enjoy a scenic drive along the Pacific Coast Highway.
* Shopping at local boutiques
* Eating at some of Newport Beach's best restaurants.
Where to stay in Newport Beach: Resort at Pelican Hill (if you want to indulge!) or VEA Newport Beach
7. Venice Beach
2 hours from San Diego (130 miles)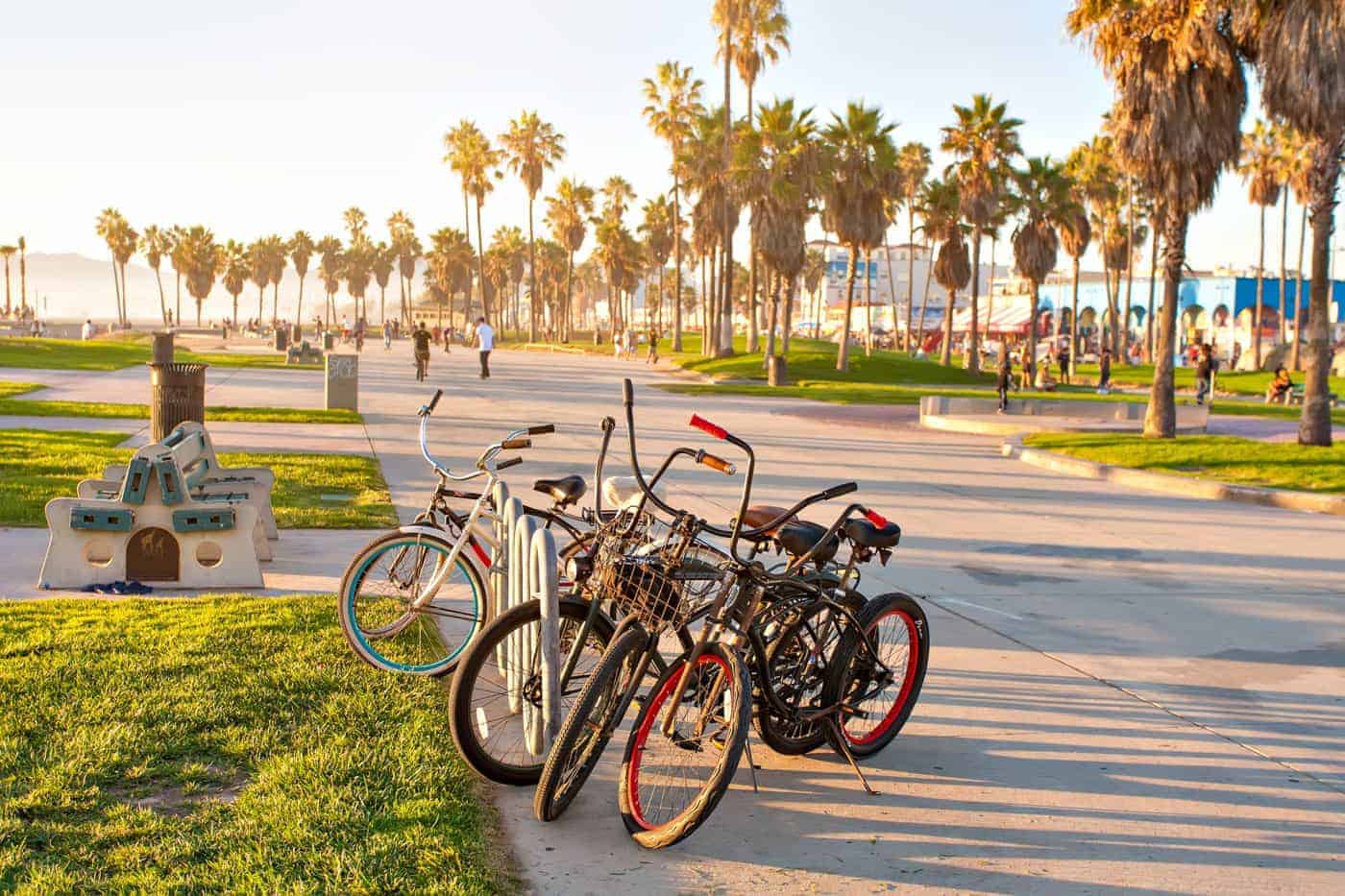 Venice Beach is a prime destination for anyone who loves the beach and is looking to enjoy a creative, artistic vibe.
Venice Beach is located in California, but even though it's close to Los Angeles, it's not strictly part of the city. The beach has plenty to offer, including places like Venice Pier and Muscle Beach. These two locations are great for people-watching and taking photos.
One of the best ways to get around Venice Beach is to rent a bicycle. On a bike, you can explore the bike path that runs north-south along the beach. You can also ride over to the Venice Canals, and check out the adorable houses that line the canals that the city was named for. It's a must-see if you're road tripping to Venice Beach!
Where to stay in Venice Beach: The Kinney or Hotel Erwin
8. Anza-Borrego Desert
2 hours from San Diego (90 miles)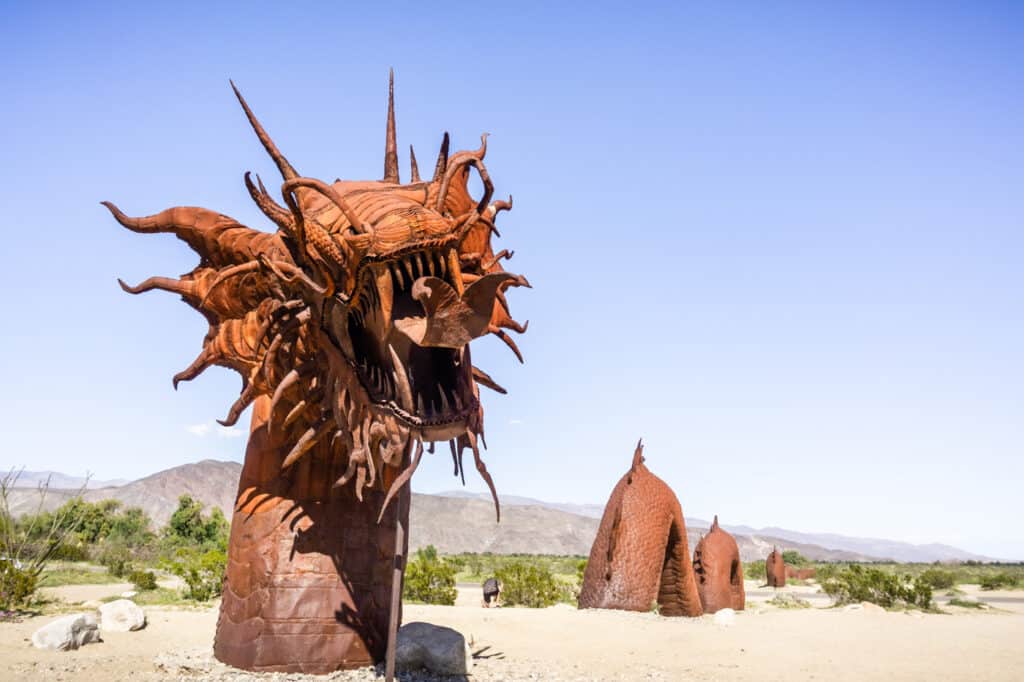 Anza-Borrego Desert State Park is a desert gem in San Diego County. The park covers over 600,000 acres and the best time to visit is in the spring, when the desert flowers bloom endlessly.
The park features red rock formations, desert plants, animals and birds, and a variety of outdoor activities. Visitors can ride horses, hike through the desert landscape on trails, or explore hiking trails that lead to scenic areas such as Arroyo Seco Canyon or Tumamoc Hill.
One of my favorite hiking trails in Anza Borrego is the Borrego Palm Canyon trail. It's an easy 3.5 mile loop that takes you to a shady oasis of natural palm trees, tucked away among the hills. If you're lucky, you'll catch some of the bighorn sheep that reside near the trailhead parking lot.
While you're visiting Anza Borrego, make sure to stop in the town of Borrego Springs, where you can view the giant metal sculptures that are dotted throughout the town, including the dragon above. They're such a unique, quirky sight, and will cap off a great road trip to the desert.
Where to stay in Borrego Springs: Borrego Springs Resort and Spa
9. Los Angeles
2 hours from San Diego (120 miles)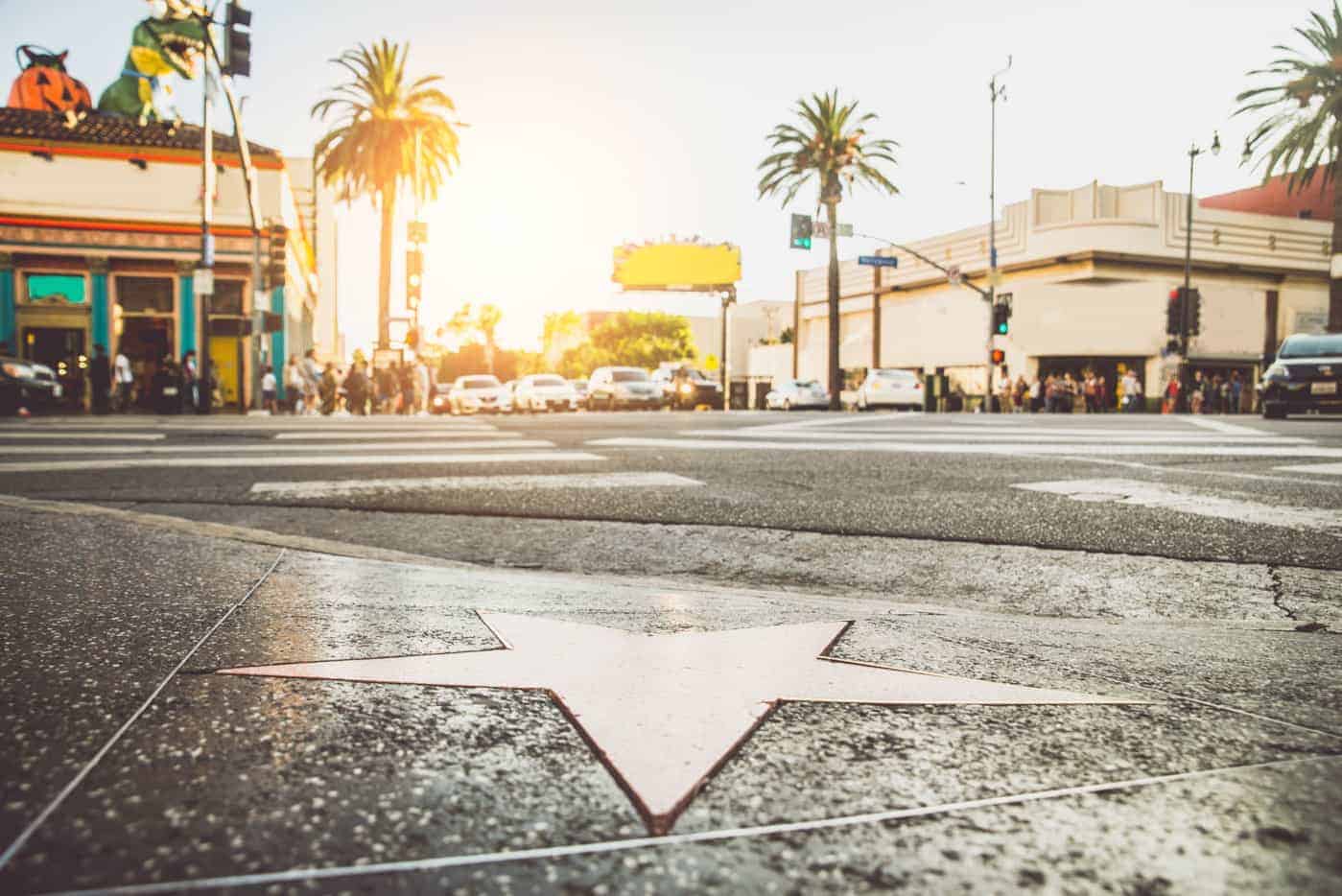 Los Angeles is not just Hollywood's home but also a great place to visit. It's the second largest city in the country, with a population of over 3 million.
Los Angeles is known for its beaches and entertainment industry, including Hollywood and Downtown Los Angeles. The city also has plenty of museums and art galleries that offer free admission to visitors. Here are some of our favorite things to do when you visit Los Angeles: Take a scenic drive on PCH (Pacific Coast Highway). It's a beautiful drive along the coast, stopping at various destinations. There are also plenty of scenic overlooks along the route that offer great views of the ocean and surfers in action.
Visit Santa Monica Pier. This is hands down one of our favorite places in Southern California! It's an amusement park with rides galore, carnival games, and live entertainment on the beach!
See a show at The Theater at Ace Hotel Downtown LA. This theater recently opened under new management, offering incredible sound and lighting technology in addition to top-notch performances by local artists.
For more details on what to do, check out my guide to the perfect 2 days in Los Angeles.
And if you're interested in seeing more beyond LA, check out these amazing wineries close to Los Angeles!
Where to stay in Los Angeles: Andaz Hollywood or The Huntley
10. Valle de Guadalupe
2 hours from San Diego (90 miles)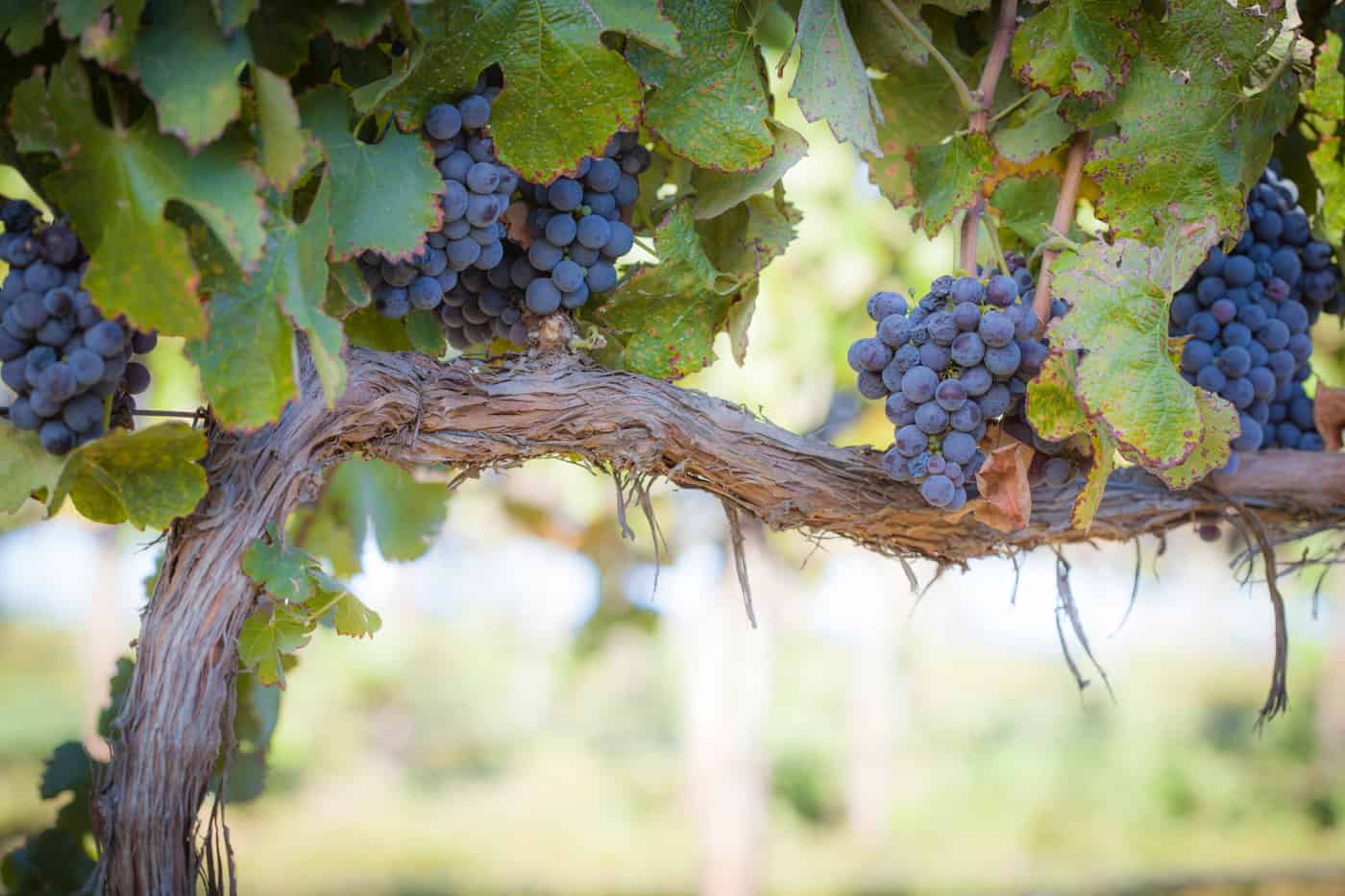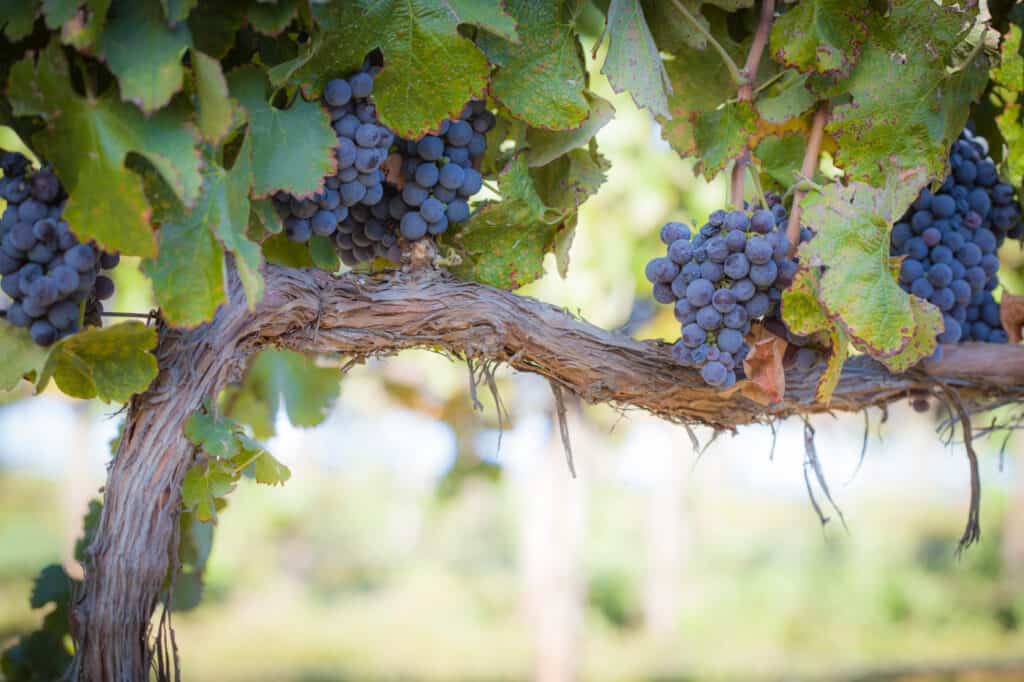 The Valle de Guadalupe is a beautiful valley in the Mexican state of Baja California Sur. The region has attracted travelers for decades with its natural beauty and warm climate.
The area is home to several small villages, including San Pancho, El Cielo, La Gloria, and Guadalupe. The town of Guadalupe is located at the base of the mountains, while several other towns are located on the slopes of the mountains above it. The area offers a variety of activities for visitors to enjoy during their stay in Baja California Sur.
The Valle de Guadalupe is known for its hot springs and rivers flowing through the region: Los Mimbres and Rio Grande del Norte. Both rivers provide fresh water to many communities throughout this part of Mexico.
It's primarily known for its booming wine industry! Tons of new boutique wineries and resorts have opened in Valle de Guadalupe in the past decade, and it's now a very popular tourist destination from San Diego.
Where to stay in Valle de Guadalupe: El Cielo Resort
11. Joshua Tree National Park
2.5 hours from San Diego (150 miles)
Take a Joshua Tree day trip and you'll quickly see that Joshua Tree National Park is a beautiful, secluded area that offers a unique experience. The park is located where the Mojave Desert meets the Colorado Desert, and is home to some of the tallest and oldest Joshua trees in the world. The park also offers rock climbing, hiking trails, camping, and cross-country skiing.
There are tons of things to see in Joshua Tree while driving through the park, including my favorite – the Cholla Cactus Garden. In addition to sightseeing, the best way to really explore the park is on foot.
There are a ton of day hikes in Joshua Tree, with something for everyone depending on your abilities and desires.
Where to stay near Joshua Tree: Pioneertown Motel
12. Malibu
2.5 hours from San Diego (150 miles)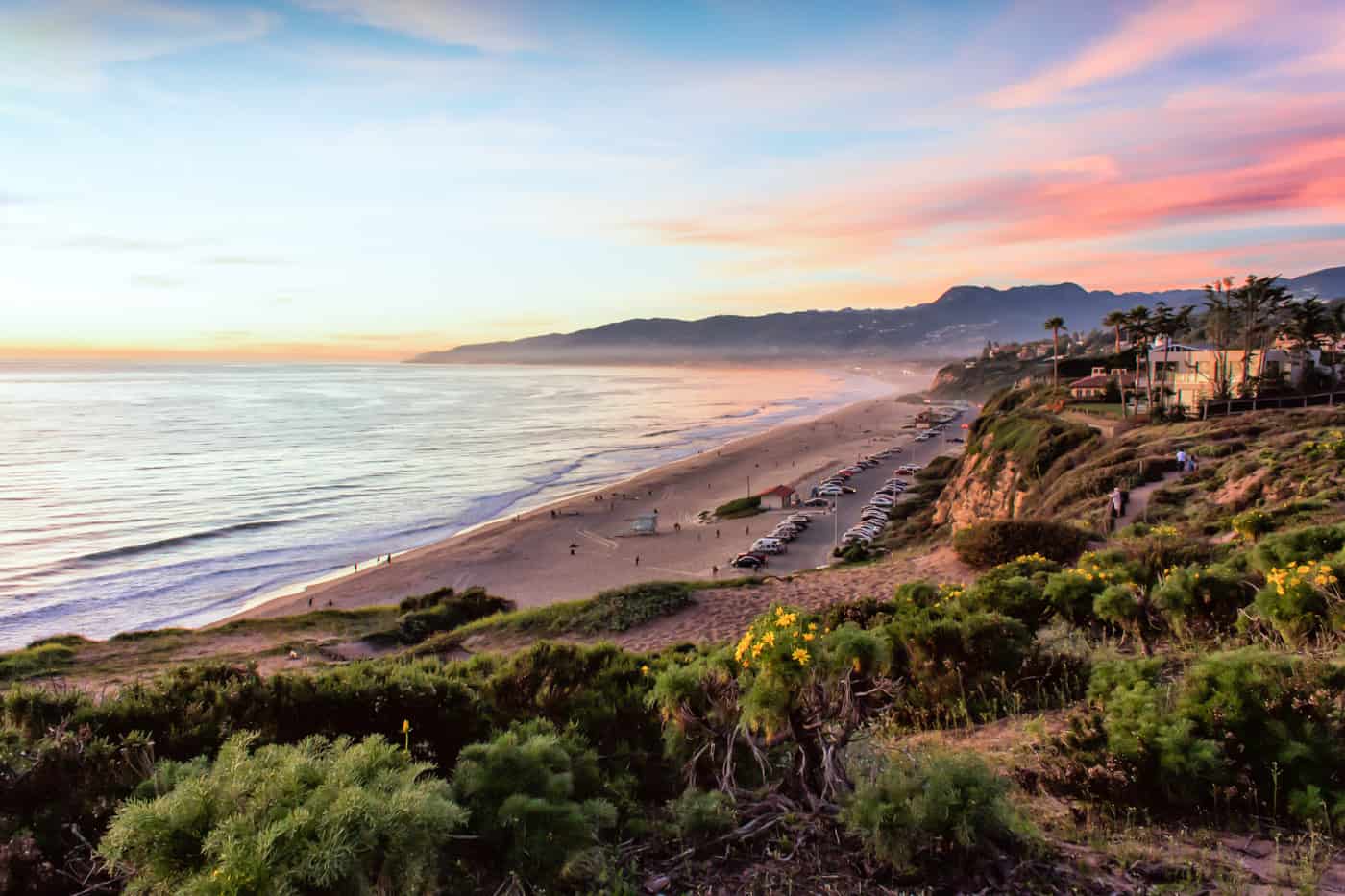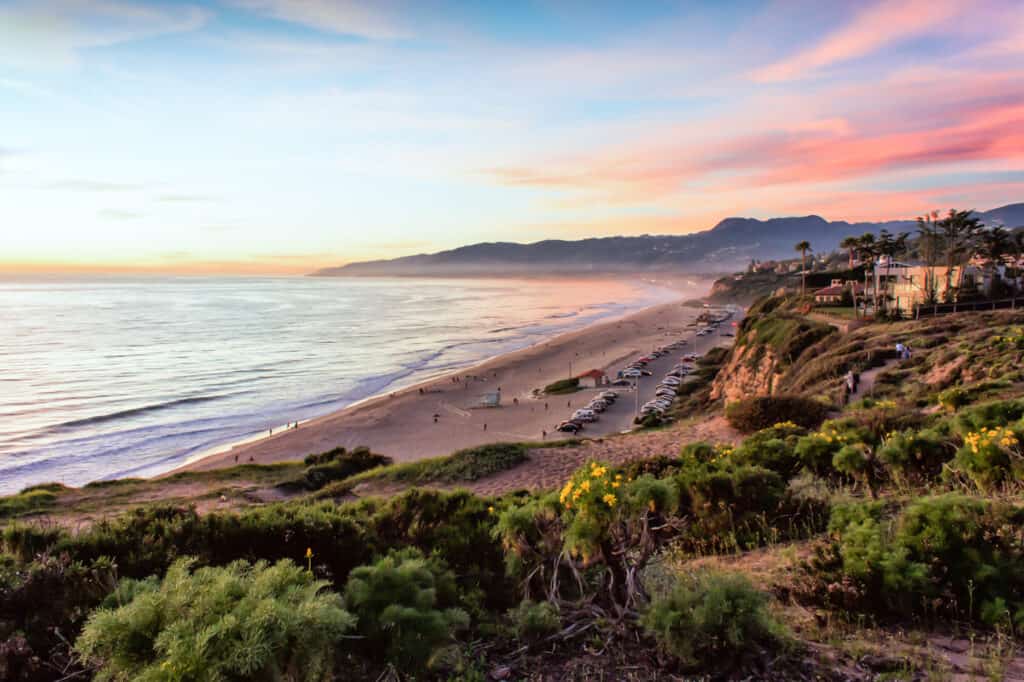 Malibu is one of the most popular destinations for beach-goers in Southern California, and for a good reason. The beaches are heavenly, and Malibu is one of the most picturesque beaches in the world.
Malibu is also home to amazing hikes, like Zuma Beach and Point Mugu State Park. Get the real Malibu experience by taking a surf lesson, hiking Tuna Canyon, visiting Malibu Country Mart, or wandering down the Malibu pier.
Where to stay in Malibu: The Surfrider Malibu
13. Lake Arrowhead
2.5 hours from San Diego (130 miles)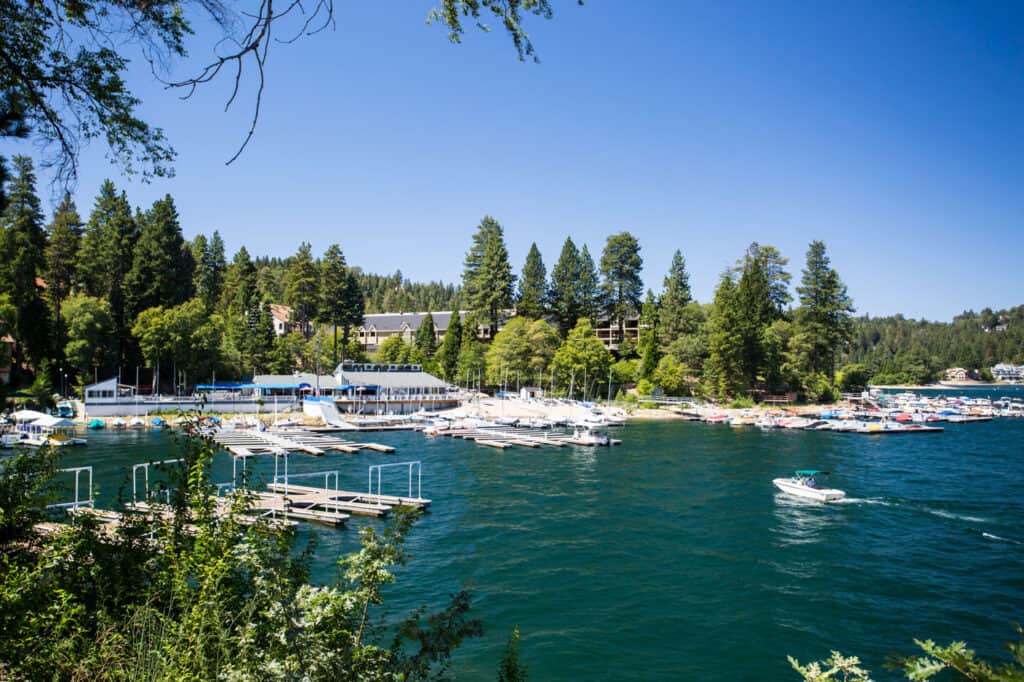 Lake Arrowhead is a beautiful California region with many great attractions for tourists. Many people come here to enjoy the fantastic scenery, but there are also so many awesome things to do in Lake Arrowhead.
* Go hiking – Many trails lead up to beautiful mountain peaks and other areas of interest. Some of these hikes take hours to complete, so be sure to bring plenty of water and food.
* Visit the hot springs – The area around Lake Arrowhead offers numerous hot springs where you can relax after a long day of hiking or exploring. Be sure to bring some towels if you plan on spending any time at one of these springs.
* Visit the ski resort – If you don't want to hike up mountains, there are also several ski resorts in this region that offer downhill skiing and other activities such as sledding and snowboarding.
Where to stay in Lake Arrowhead: Lake Arrowhead Resort & Spa
14. Salton Sea
2.5 hours from San Diego (120 miles)
This is one of my favorite road Trips From San Diego!
The Salton Sea is a large saline lake in California's Coachella Valley, near the border of Mexico. The sea has existed for thousands of years, but it was created by the Colorado River Delta Works from 1905 to 1913.
The Salton Sea is located about 80 miles east of San Diego and 45 miles north of Palm Springs. It has an area of about 100 square miles, or four times the size of New York City 's Central Park.
The Salton Sea has been called "the most bizarre place in America" because it is so different from anything else in California. The water is salty and briny, with a pH level between 11 and 12.5, much lower than seawater.
Visitors can enjoy boating and fishing on the lake, but they should be prepared for high winds and low visibility due to low clouds and fog (which can last for several days at a time).
Where to stay in Salton Sea: There aren't many accommodations near the Salton Sea so plan on staying in Palm Springs (see below).
15. Palm Springs
2.5 hours from San Diego (140 miles)
Palm Springs is a desert resort town in the Coachella Valley. It is known for its outdoor activities and year-round mild temperatures. The city has a rich history, being founded in 1905 as a resort destination for wealthy Los Angeles residents who enjoyed winter vacations in the desert.
Palm Springs has been called "Los Angeles' little sister" because of its similar climate, architecture, and culture. Although Palm Springs is primarily a winter destination, it is also a popular summer getaway because of its mild climate and numerous outdoor activities, such as golfing and hiking. Palm Springs offers many attractions to travelers, including several golf courses that have been ranked among the top 100 in the United States.
While you're visiting Palm Springs, check out the Aerial Tramway as well as Desert X, the biennial (every other year) art festival in Palm Springs.
Where to stay in Palm Springs: Ace Hotel Palm Springs or The Saguaro
16. Catalina Island
3 hours from San Diego (1.5 hour drive + 1.5 hour minute ferry ride)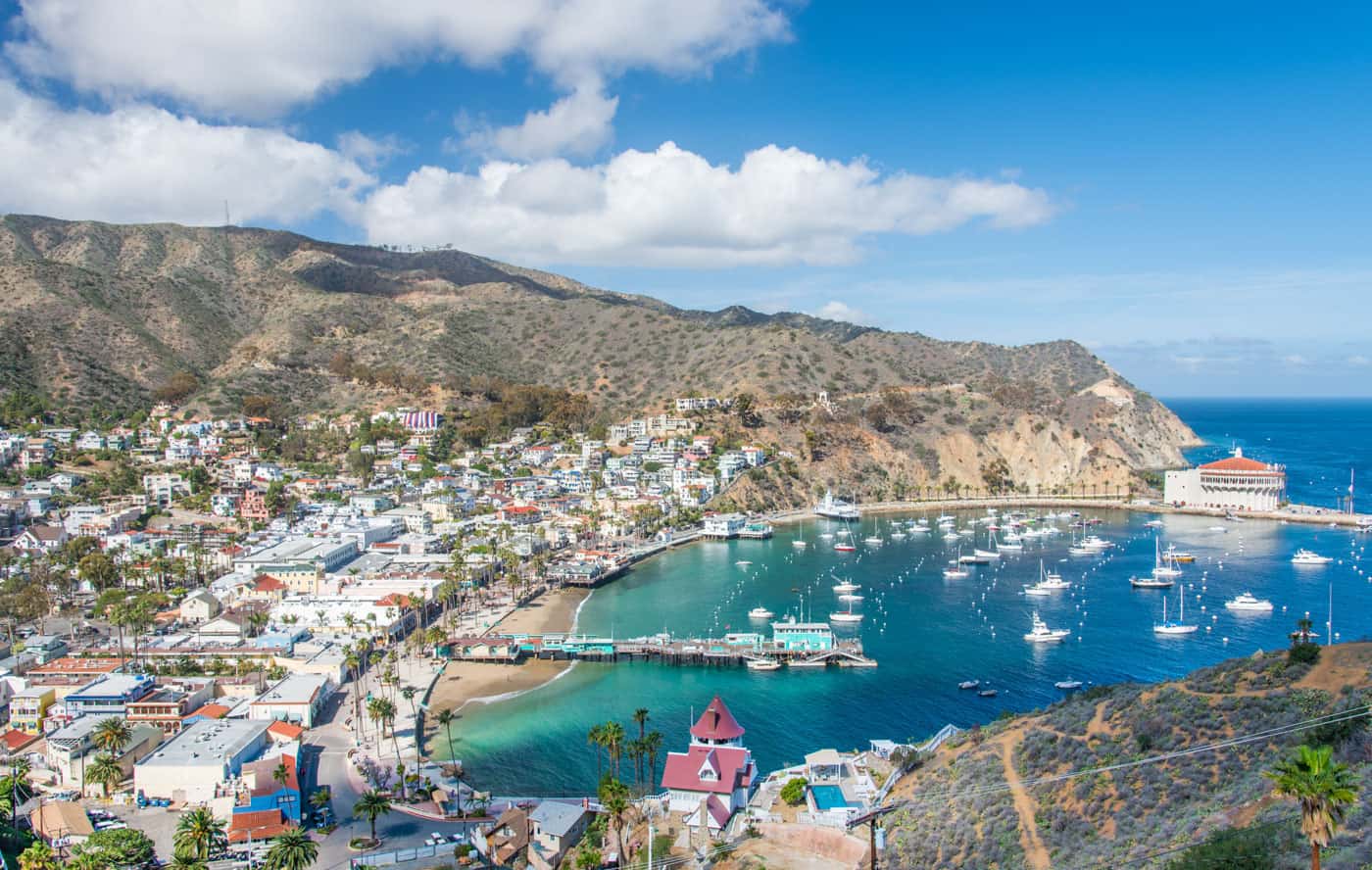 If you're up for taking a ferry in addition to your road trip, check out Catalina Island! Located off the coast of Orange County, Catalina is an idyllic paradise for tourists.
Catalina has great beaches for swimming and relaxing. One of the most popular things to do in Catalina is snorkeling, where the clear water will give you great views of Garibaldi fish. If you're lucky, you might also see dolphins jumping out of the water!
Catalina is also home to some fantastic hiking trails that take you through redwoods and other natural wonders while giving you a chance to get away from it all.
Where to stay in Catalina: Bellanca Hotel or Hotel Metropole
17. Santa Barbara
4 hours from San Diego (220 miles)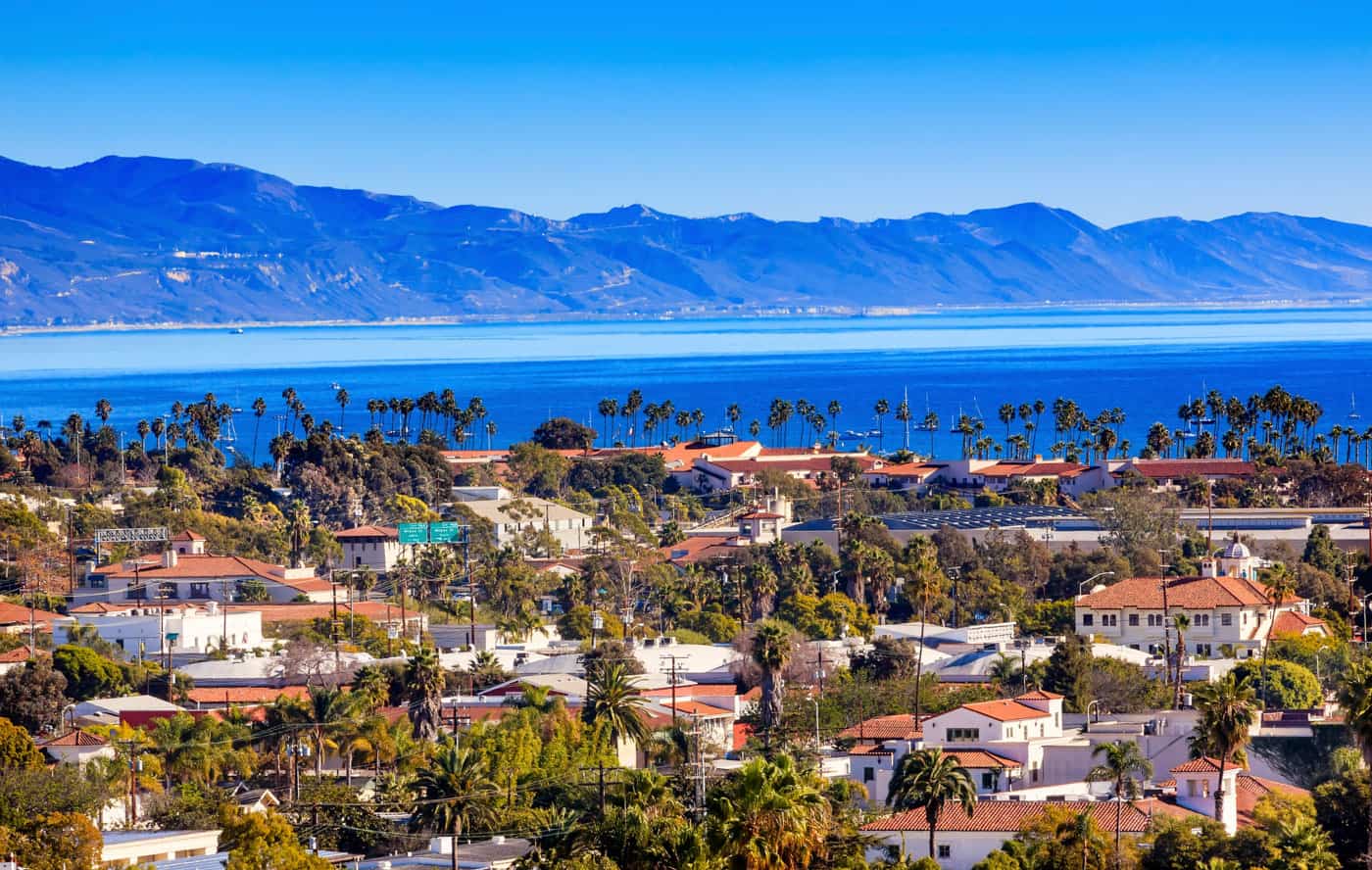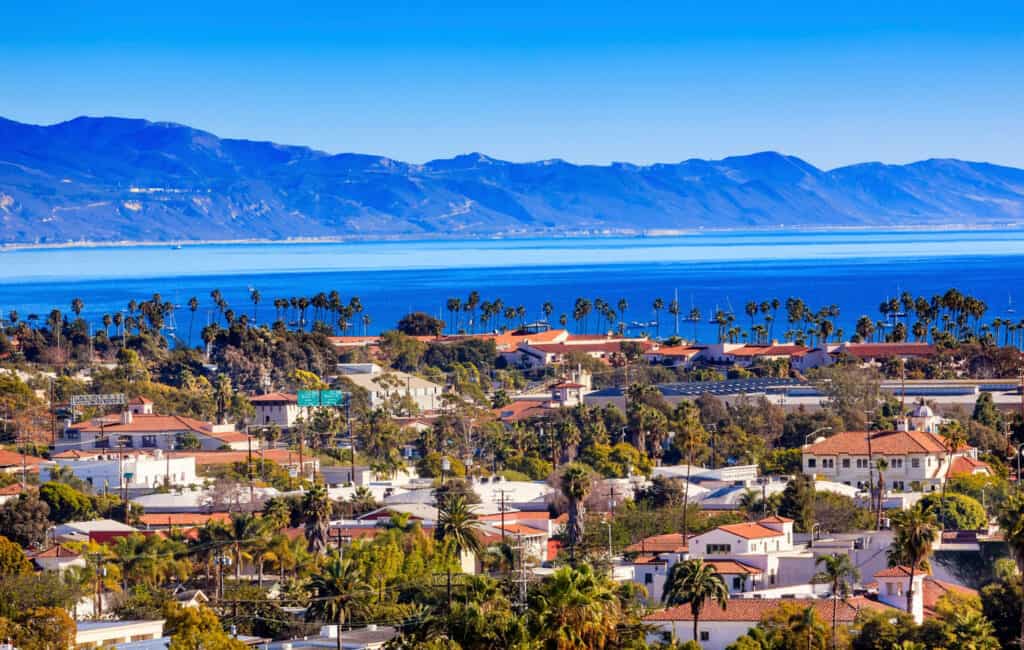 Santa Barbara is a charming city located on the coast of southern California. Its beautiful beaches, vibrant art scene, and world-class wine country are some of the highlights of Santa Barbara.
Santa Barbara offers visitors plenty of things to do and see during their time here. Explore the quaint downtown area, or check out the nearby Santa Ynez Valley if you enjoy wine country.
Some of my favorite wineries include Babcock and Sunstone Winery, which is modeled after a French Chateau. Gorgeous!
If you want to get away from all of the hustle and bustle of everyday life (and don't mind paying a little extra for it), Santa Barbara offers many luxurious resorts where you can enjoy some peace and maybe even one nice meal.
Where to stay in Santa Barbara: Kimpton Canary Hotel or El Encanto (if you want to splurge!)
18. San Luis Obispo
5 hours from San Diego (315 miles)
If you're looking for a fun and exciting weekend getaway, the San Luis Obispo ("SLO") area in Central California is the place to go. The city has everything from bustling urban areas to quiet beaches and quaint little towns. But what makes San Luis Obispo one of the unique cities in California is its rich history, which can be seen in many different areas of the city.
Take a walk down Main Street, and you will see numerous buildings that have been restored or restored to look like they did in their heyday. San Luis Obispo also has several historical homes and museums where tourists can explore history by visiting these locations.
One historical sight not to miss in SLO is the San Luis Mission, founded in 1772 by Father Junipero Serra.
Where to stay in San Luis Obispo: Granada Hotel & Bistro or Hotel San Luis Obispo
19. Death Valley National Park
5 hours from San Diego (300 miles)
Death Valley is one of California's nine National Parks. It's a quiet, remote place. It's not crowded or bustling with activity. But it's still one of the most visited places in California and one of the most beautiful.
Death Valley National Park is the hottest, driest, and lowest National Park in the US. It is well-known for its giant dunes and beautiful scenery, but it also has a rich history. It was home to a community of Native Americans as early as 7000 B.C. who lived off the land and struggled against the harsh conditions of their environment. The place has been used as a location for films like Lawrence of Arabia and Burt Reynolds' masterful movie Smokey and the Bandit II, so you're sure to see some famous views while you travel through this area.
The most famous hike is the Badwater Loop, which requires 4WD and lasts 12 miles round trip.
The scenery is spectacular, and the climate is perfect for hiking and camping. There are many hiking trails, which can be accessed by car or on foot. You can explore different parts of the park by taking one of the many trails that lead you through the landscape surrounding you. You'll get an up-close look at some of the natural wonders that make Death Valley so unique (like rocks shaped by wind erosion).
Where to stay in Death Valley: The Inn at Death Valley
20. Las Vegas
5 hours from San Diego (330 miles)
Las Vegas is a city unlike any other in the world. The lights, the glitter, and the excitement draw people worldwide to Las Vegas. Whether you're looking for a night out on the town or an adventure-filled weekend away, there is something for everyone in Vegas, so it makes for a great road trip from San Diego.
Make sure to check out this guide ahead of time if it's your first time in Vegas.
The Strip is home to some of the most luxurious hotels in America, so if you want to stay at one of these hotels, be prepared to pay a premium. But if you're willing to do that, it can be well worth it! You can expect to find everything from high-class restaurants and clubs to shopping malls and casinos.
Las Vegas also has plenty of things to do outside of gambling and drinking; many different hiking trails and desert tours are perfect for those who want a little adventure while they're here. There are also plenty of places near the Strip where you can go hiking or biking around town instead of taking long drives out into the desert. Check out Red Rock Canyon Park for a break from the glitz of the Strip.
Where to stay in Las Vegas: Wynn Las Vegas or ARIA Resort & Casino
21. Paso Robles
5.5 hours from San Diego (325 miles)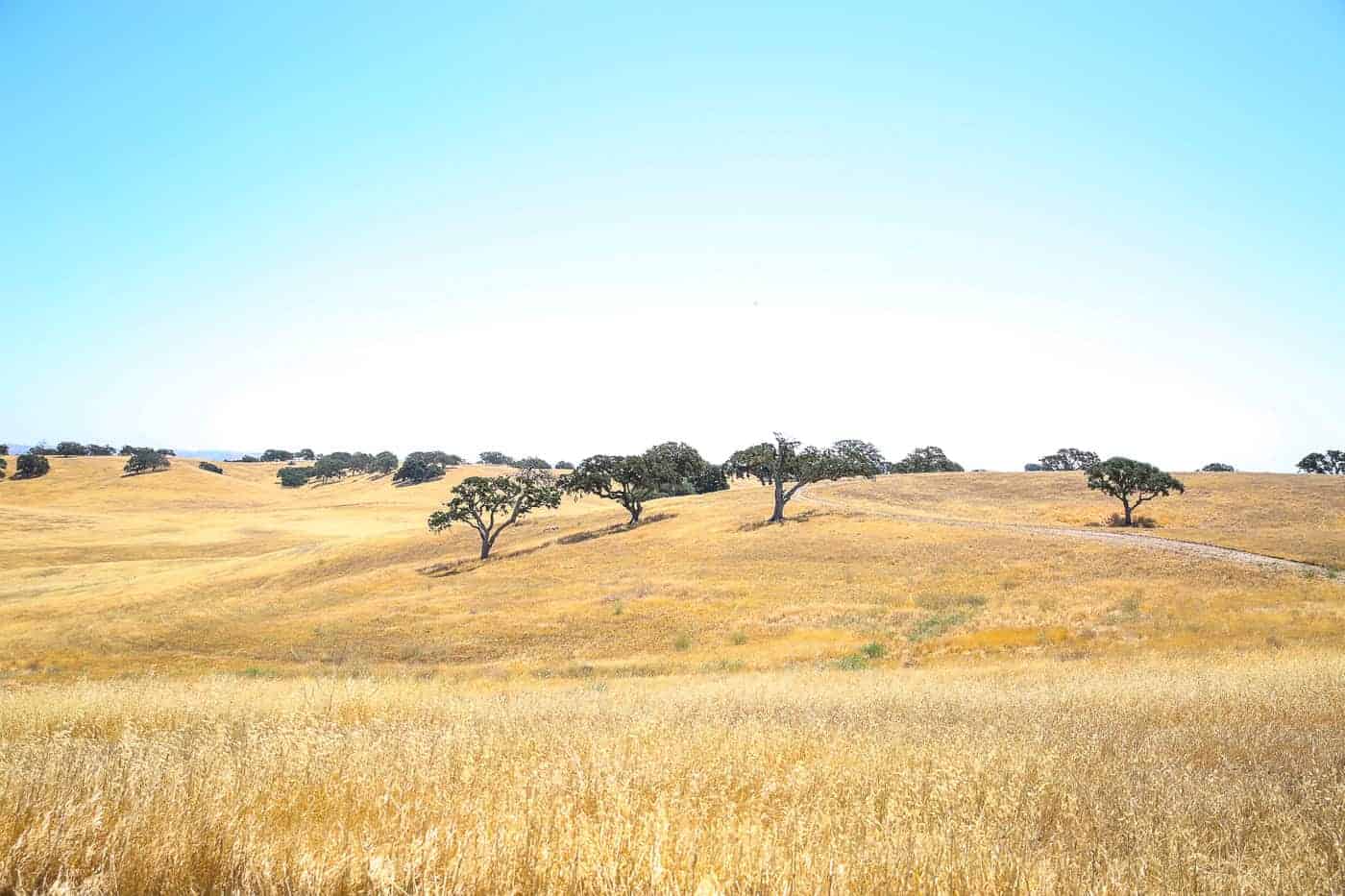 Paso Robles is a small city that is located in central California. It is known for its wine industry, which has been around for years. The area is perfect for visiting if you want a relaxing weekend getaway from San Diego.
Although Paso Robles is about a 5 hour drive from San Diego, it's perfect for a road trip destination because it's so unique. You'll feel as though you're worlds away from the Southern California beach culture!
The Paso Robles wine country offers many wineries that offer tours, tastings, and food pairings with their wines. Check out the town's quaint main square, which is lined with boutique stores and restaurants. Follow this perfect Paso Robles itinerary and you'll feel like you've gone back in time!
Where to stay in Paso Robles: Sirena Vineyard Resort or Croad Vineyards – The Inn
22. Sequoia National Park
6 hours from San Diego (320 miles)
Sequoia National Park is one of the most amazing places to visit in California. The park was established in 1890 and is one of the oldest national parks in America.
The Sequoia trees in the park were named after the Sierra Nevada mountain range, where they were found.
The tallest tree in Sequoia National Park is called the General Sherman Tree. This tree was cut down in 1898 because it had become too weak to support itself anymore. The General Sherman Tree weighed more than 4,200 tons when it was cut down by railroad workers trying to remove its branches so they could use them as building materials for their trains.
Today, you can still see some giant sequoias at various locations throughout Sequoia National Park. One such location is Old Faithful Spring, about two miles from Giant Forest Lodge on Highway 198. This spring has been producing water since 1895, when it was discovered by railroad workers.
Where to stay near Sequoia: The Darling Hotel
23. Phoenix and Scottsdale
6 hours from San Diego (355 miles)
Phoenix and Scottsdale are two of the most popular vacation destinations in Arizona.
The cities have a lot to offer, including plenty of outdoor activities and attractions, great food, and beautiful scenery. Phoenix is located in central Arizona and has a population of over 4 million people. It's home to several major universities, like ASU and UA, as well as the largest airport in the state.
Scottsdale is located just north of Phoenix and has a population of over 1 million people. It's home to several golf courses, museums, parks, and art galleries. If you want high-end shopping, resorts, and restaurants, then you'll love Scottsdale.
Where to stay in Scottsdale: W Scottsdale or The Phoenician
24. Tucson
6 hours from San Diego (400 miles)
Tucson, Arizona, is a stunning city and the perfect way to experience the Sonoran Desert. Tucson has many to offer travelers, from world-class museums to great food and art.
Tucson is located in the middle of Arizona and is home to over 550,000 people. While it's not quite as big as Las Vegas or Phoenix, it still has a lot to offer visitors. The city's temperate climate makes it perfect for outdoor activities during all seasons of the year.
The city is known for its beautiful desert environment that offers hiking trails, bird watching tours, mountain biking trails, and many other outdoor activities. There are also several large parks where you can enjoy picnics or relax on a sunny day.
Where to stay in Tucson: The Graduate Tucson or The Tuxon Hotel
25. Kings Canyon National Park
6.5 hours from San Diego (360 miles)
Kings Canyon National Park was established in 1940 and currently covers an area of approximately 2,700 square miles. It has been rated as one of the most beautiful parks in the world by National Geographic Magazine due to its varied landscape, which includes canyons, mountains, rivers, and lakes.
The park is home to over 3000 species of plants and animals, including bald eagles, bighorn sheep, and elk.
One of the best ways to explore King's Canyon is by hiking. Whether you're backpacking or day hiking, its the best way to experience the park's natural beauty.
Where to stay near Kings Canyon National Park: Wuksachi Lodge or John Muir Lodge
26. Yosemite National Park
7 hours from San Diego (400 miles)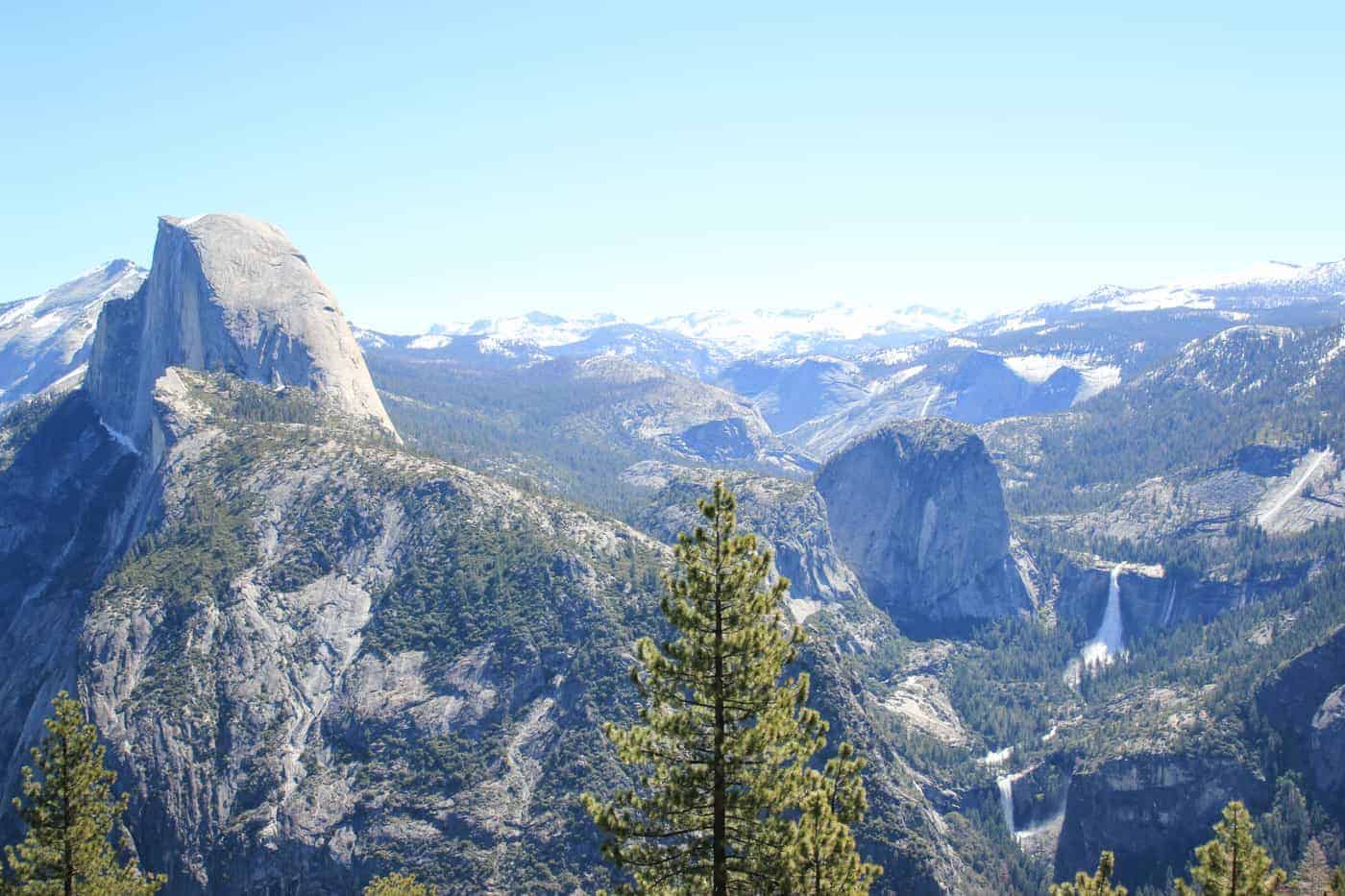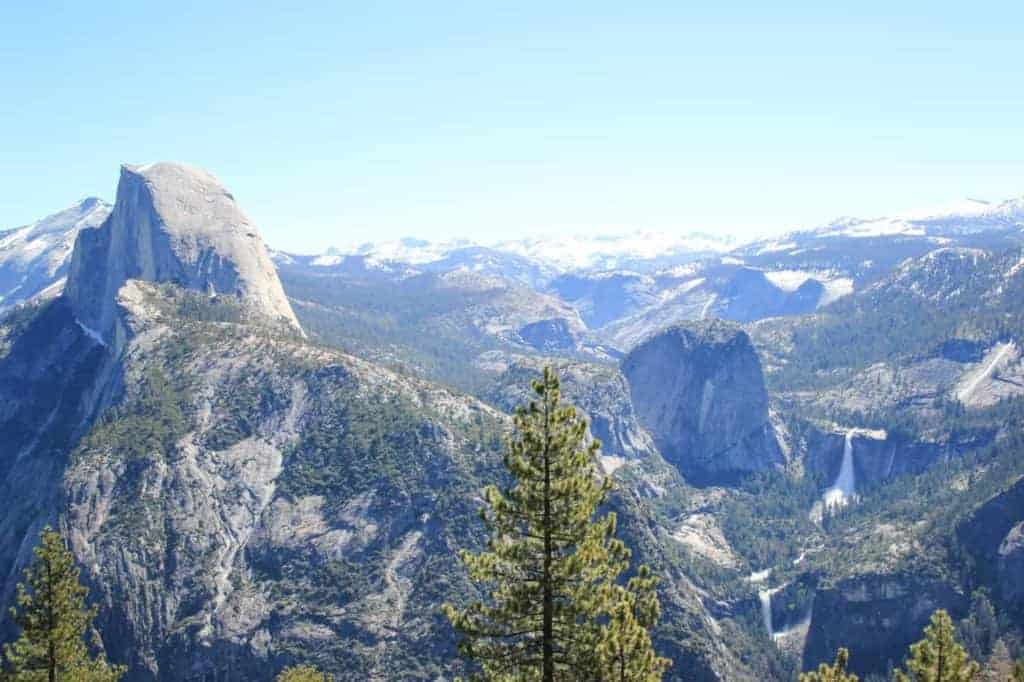 Yosemite National Park is one of the most popular U.S. national parks, with 3 million people visiting each year.
Yosemite is known for its breathtaking views and beautiful vistas, but there are plenty of other things to do in the park. From watching glacier-fed waterfalls to hiking through ancient sequoias, there's so much more than just walking to see at Yosemite National Park.
Attractions include:
* YOSEMITE FALLS – one of the tallest waterfalls in North America, this 2-mile waterfall drops 1,425 feet over granite cliffs into the Merced River gorge. Visitors can walk behind the falls or climb aboard a shuttle bus that takes visitors along the rim of Yosemite Valley, where they can see from above!
* HALF DOME – Half Dome rises 8,843 feet above Yosemite Valley, making it one of the most iconic sights in Yosemite National Park and one that has been climbed since 1921 when Warren Harding made his first trip to visit here on horseback.
To see everything that Yosemite has to offer, check out my perfect 3 day Yosemite itinerary.
Where to stay in Yosemite: The Ahwahnee
27. Big Sur
8 hours from San Diego (420 miles)
Big Sur is a great place for road trippers. It's close enough to visit by car, yet still far enough away from the rest of Southern California that you can enjoy some peace.
You'll also find some great camping options along Big Sur if you want to rough it for a night or two. There are plenty of state parks where you can pitch your tent or camp out under the stars without worrying about finding a room at a hotel or hostel.
Where to stay in Big Sur: L'Auberge Carmel or the Bernardus Lodge & Spa
28. Zion National Park
8 hours from San Diego (500 miles)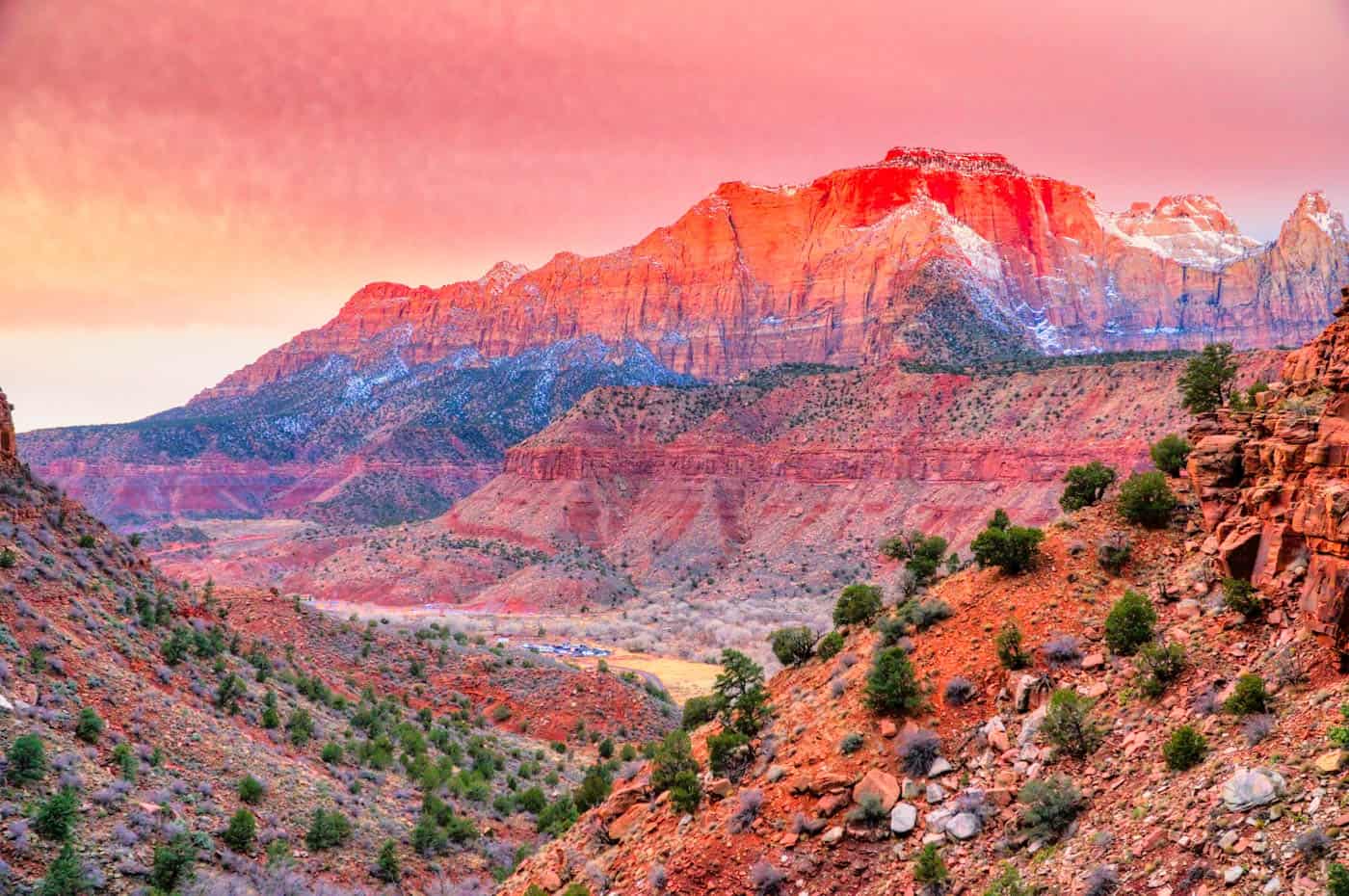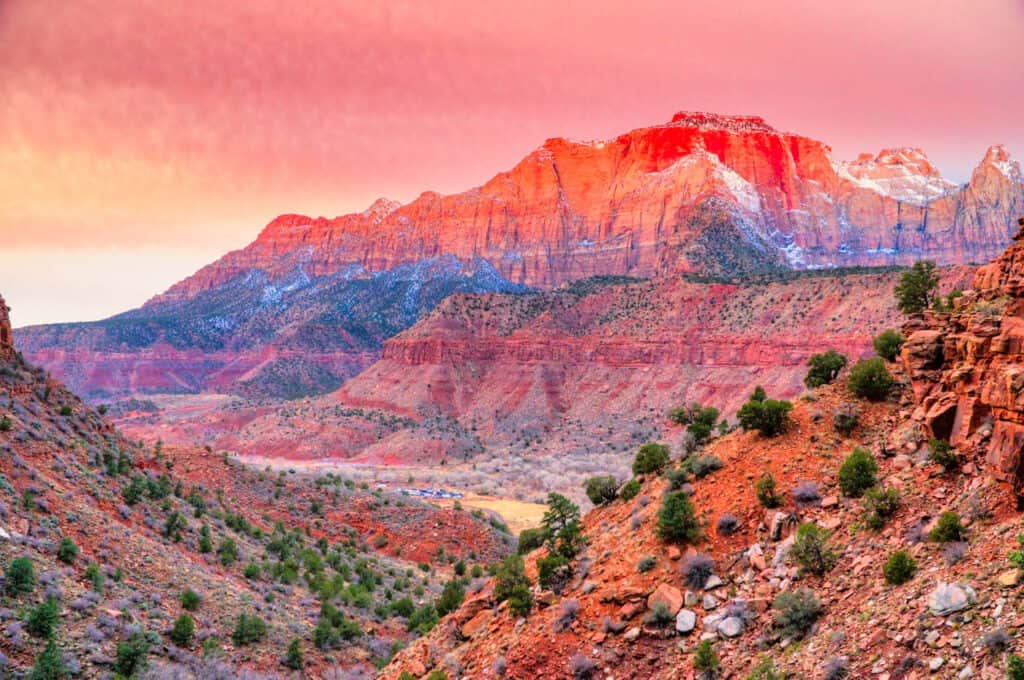 Zion National Park is one of the most popular national parks in the United States, and it's easy to see why. This gorgeous park sits near Bryce Canyon and Arches National Parks in southern Utah, with a diverse landscape that includes canyons, desert sandstone cliffs, and forested canyons.
If you're planning to visit Zion, check out all of my planning tips! And you'll also want to take a look at the Zion packing list I put together. While there's great hikes throughout the park, some of the best hikes in Zion are accessible via the main road through Zion Canyon. You can easily spend one day in Zion National Park, but it's worth staying even longer.
If you want to get up close and personal with some of Zion's most iconic features, don't miss Angel's Landing — a hike with steep elevation changes that will make your heart beat faster! You can also take a short walk to check out Hidden Canyon Vista from atop Angel's Landing — this view will put everything else you've seen into perspective. And for an iconic Zion hike, don't miss my guide to hiking the Narrows for beginners.
Where to stay near Zion National Park: Cliffrose or Zion Canyon Lodge
29. San Francisco
8 hours from San Diego (500 miles)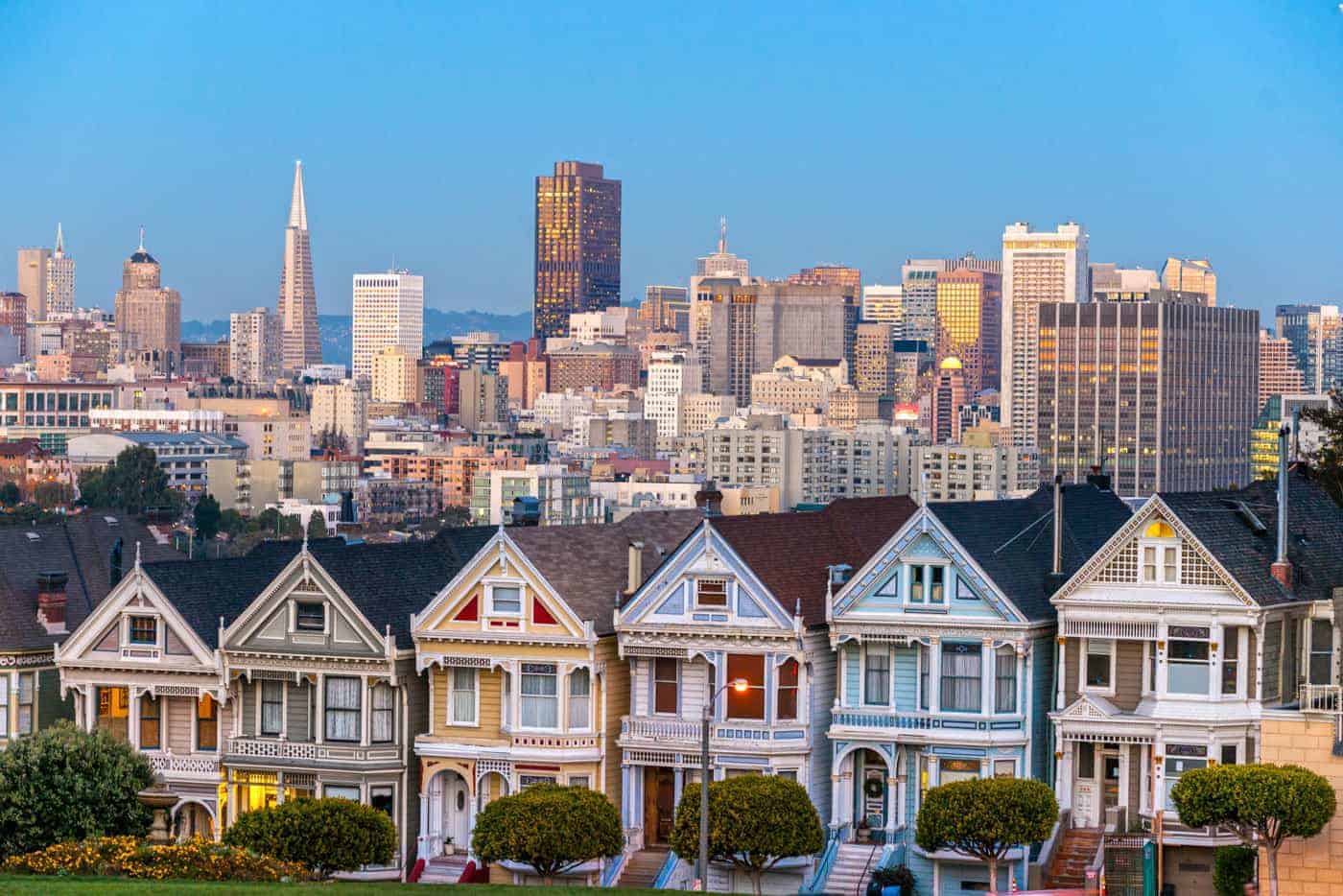 San Francisco is one of the most popular destinations in the world, with an estimated 10 million visitors per year. It's a city known for its artsy vibe and diverse culture, but it also has some of the best food and wine in the country.
San Francisco is known for its vibrant cultural scene, including museums and galleries. Everyone will find something to love in this city's museums and art galleries. The San Francisco Museum of Modern Art (SFMOMA) is one of the world's finest art museums, featuring works from Pablo Picasso, Andy Warhol, and many more famous artists.
Other popular museums include the Yerba Buena Center for the Arts and Asian Art Museum. There are also plenty of other attractions like Golden Gate bridge), Alcatraz Island, and Chinatown that make sure you have plenty of things to do when you visit. Follow my 3 day San Francisco itinerary for all the highlights!
If you're visiting San Francisco, make sure to check out nearby Sonoma wine tasting and this awesome Napa Valley itinerary. Even if you're not a wine lover, there's plenty of things to do in Napa besides wine tasting.
Where to stay in San Francisco: 1 Hotel San Francisco or the Argonaut Hotel
30. Lake Tahoe
9.5 hours from San Diego (530 miles)
Lake Tahoe is a natural wonder and an iconic American icon. This lake is located in the Sierra Nevada mountain range, at an elevation of 6,225 feet above sea level, with a surface area of 1,645 square miles (10,000 km2), making it the largest alpine lake in North America.
Lake Tahoe is best known for its year-round recreational opportunities and its sensational scenery. The lake has two main beaches, Emerald Bay and Emerald Cove. The famous Emerald Bay beach offers recreational activities such as swimming, boating, and fishing on Lake Tahoe. In addition to these activities, visitors can enjoy hiking along the Lake Tahoe Rim Trail or take advantage of other attractions such as lodging options and restaurants.
In addition to its recreational opportunities, Lake Tahoe has many historical sites worth visiting when you visit the area. Several museums are located around the region, including the Donner Memorial Museum, which was established in 1846 by pioneer settlers trapped in a winter storm on their way to California during their journey through the Sierra Nevada Mountains. It features exhibits detailing the history of California.
Where to stay in Lake Tahoe: The Landing Resort & Spa or Hotel Azure
Wrapping Up
If you've heard the call of the highway, then you're likely ready to hit the open road and go on a road trip. Lucky for you, San Diego is an excellent state for road tripping and has many different options that can cater to various interests and tastes. Whether you're looking for a day trip or a weekend getaway from San Diego, these road trip destinations have something to offer everyone! And once you're back home, make sure to check out these top 20 things to do at night in San Diego!