Planning a 3 day trip to San Diego?  This 3 day San Diego itinerary has everything you need to know to help plan your trip.  In this itinerary, you'll find out exactly what to do, where to stay, and where to eat to make the most out of 3 days in San Diego!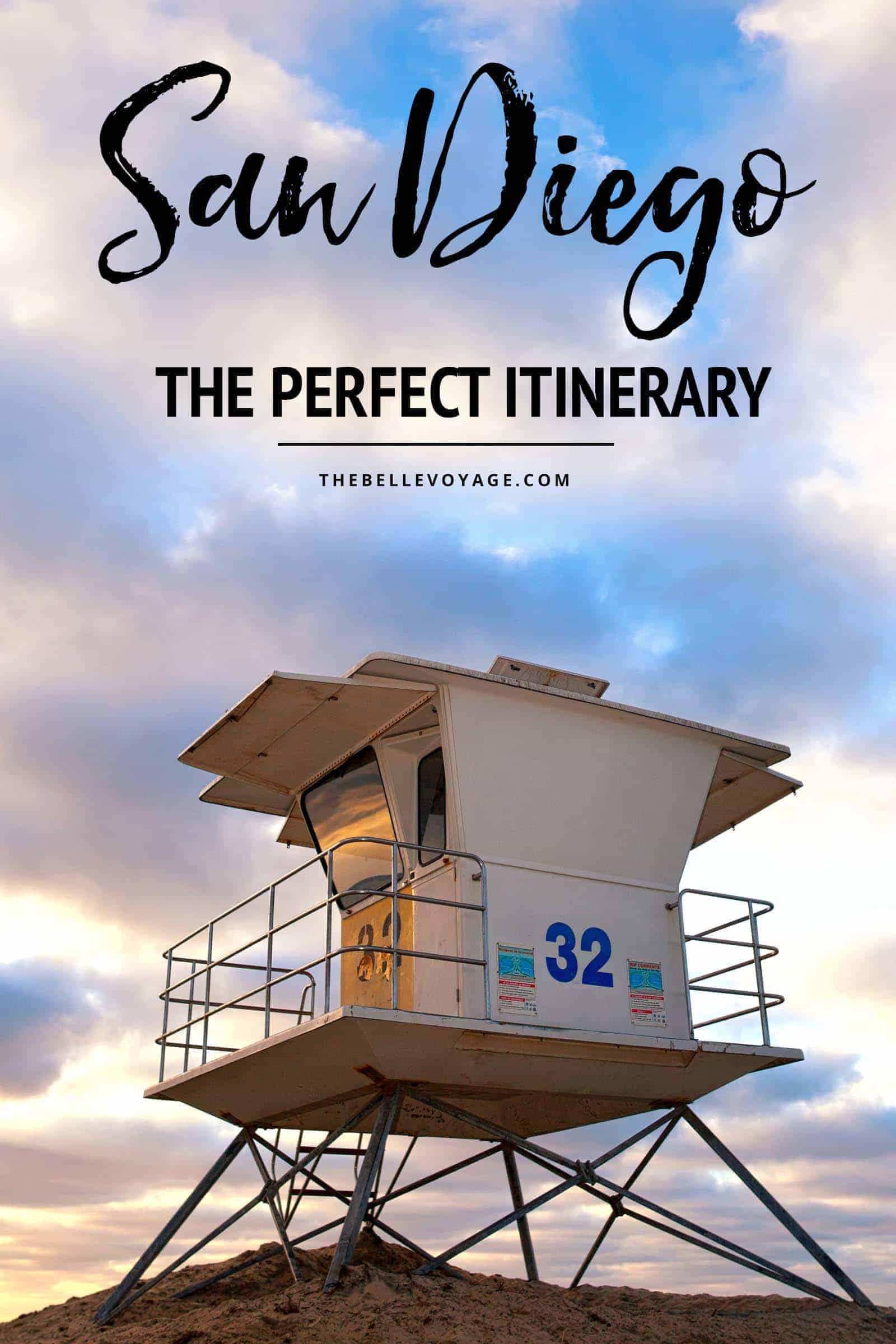 Before Your 3 Day Trip To San Diego…
Before you travel to San Diego, make you sure you throw these in your suitcase or grab some cute travel accessories or products from our shop.  You'll fit in perfectly with the locals!
The Best Area to Stay in San Diego If You Have 3 Days to See the City
Geographically, San Diego is quite spread out.  For that reason, no matter where you stay, expect to drive to see some of the sights you want to see.
With three days in San Diego, I recommend staying somewhere in the Gaslamp Quarter in downtown San Diego.
The Gaslamp Quarter is a 5-minute ride from the airport, and very walkable so it's the perfect area to stay for visitors to San Diego.
In the Gaslamp, there are TONS of hotels to choose from, and I've listed my best recommendations below:
Where to stay in San Diego's Gaslamp Quarter
Best Boutique Hotel: Pendry Hotel – I LOVE all of their restaurants, and especially their pool.  Another great option is the Hotel Indigo, which is also pet-friendly!
Best luxury hotel in the Gaslamp Quarter: The Andaz Hotel – also known for its amazing rooftop pool and bar.
Best for using hotel points in San Diego: The US Grant (a Marriott property).  I love the charm of the US Grant!
The Best Area of San Diego to Stay with Kids
If you're traveling to San Diego with kids, I recommend staying on Coronado Island.  Coronado is incredibly charming, easy to walk around, and kids will love the wide beaches with gentle waves.
Best hotel in Coronado (hands-down!): The Hotel Del Coronado
READ MORE: The Best San Diego Beachfront Hotels
READ MORE: Top Boutique Hotels in San Diego
Pro Travel Tip: These days, travel can be more uncertain than ever. Check for any COVID-related restrictions at your destination, and never travel without travel insurance! I recommend SafetyWing, because they have flexible + affordable insurance plans, and also cover COVID-related impacts on your trip (not all companies do)!
3 Day San Diego Itinerary Day one: Explore San Diego's Beautiful North County
Start your first day in San Diego with a hike in one of San Diego's prettiest spots: Torrey Pines State Reserve.
If you have time on your drive there, stop off at the Glider Port.  At the glider port, you can watch adrenaline-fueled adventurers hand-glide from the rocky cliffs down to the beach.
Any San Diego Itinerary Should Include Hiking at the Torrey Pines State Reserve
Torrey Pines is one of the most beautiful sights in San Diego, so I always recommend a visit there as part of your San Diego itinerary.
My favorite hike at Torrey Pines is the Beach Trail, but you can take your pick from the trail map.  Make a stop at Razor Point for an unbelievable view, and if you're lucky, you'll spot some dolphins playing in the waves below!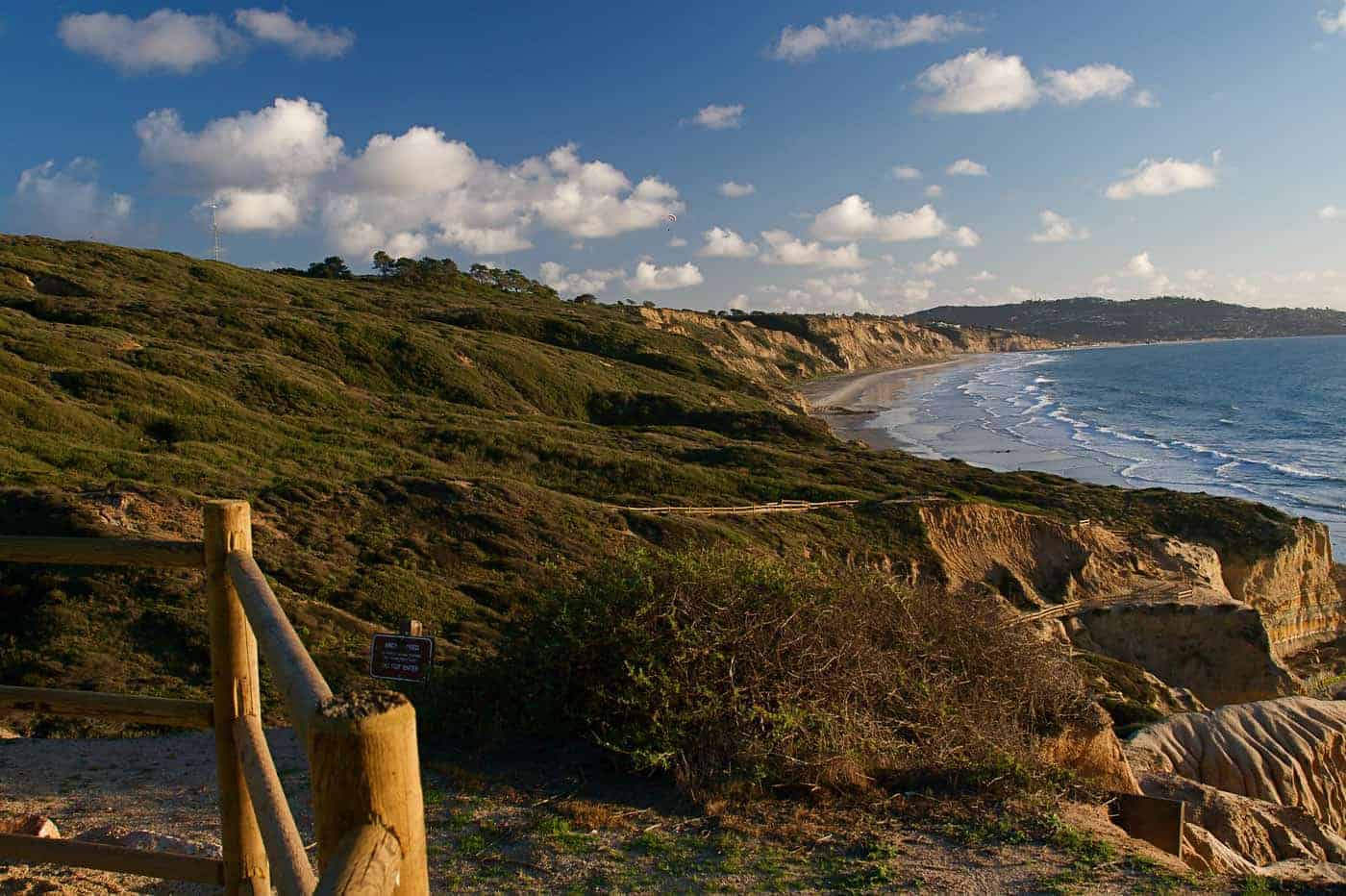 After hiking Torrey Pines, drive into quaint downtown Del Mar to grab a late breakfast at Americana or Pacifica Breeze Cafe.
After breakfast, take a short drive back down south and spend time in La Jolla, an upscale neighborhood in San Diego that's right on the beach.
On your way to La Jolla, stop at the top of Mt. Soledad for another incredible view of San Diego from above.
Spend the first afternoon of your three days in San Diego Visiting La Jolla
To explore La Jolla, first head to La Jolla Cove, where you can walk along the beach and scope out the group of seals that call the Cove home.  If you only have 3 days in San Diego, this is a must-see!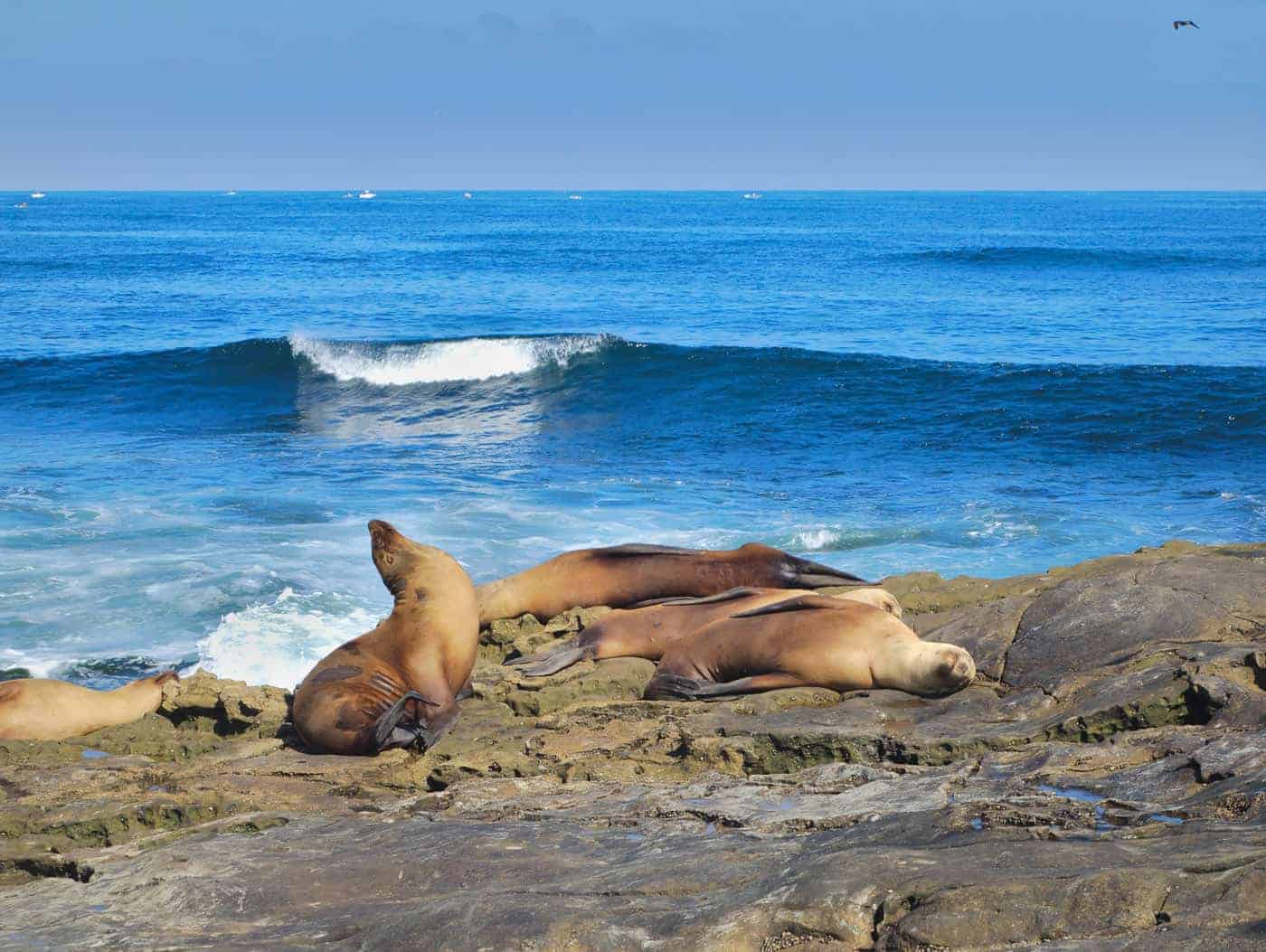 Explore Downtown La Jolla
It's a lot of fun to walk around downtown La Jolla and explore the cute shops and art galleries.  If you're looking for adventure, kayaking is a popular activity in La Jolla.
La Jolla Shores: One of The Best Beaches To Visit in San Diego if you have 3 days
Any San Diego itinerary should include plenty of beach time, so plan to spend the afternoon at La Jolla Shores, which is the perfect spot for families.
If you want a beach that's bit more lively, you can head down to Pacific Beach and Mission Beach.  Both beaches are great for people-watching on the boardwalk.
Make sure to grab drinks at a beachy bar, and even perfect your surfing skills at The Wave House.  Yep, at The Wave House, you can surf an artificial wave (or watch others do it)!
For dinner, I highly recommend George's Ocean Terrace.  At George's , you can eat outdoors and overlook the rocky coves that are unique to La Jolla.  Be sure to make a reservation, since it's a very popular spot (and for good reason)!
Spend The Second Day of your 3 Day Trip to San Diego Visiting Coronado Island
On the second day of your 3 day San Diego itinerary, hop aboard a ferry across San Diego's harbor to Coronado Island, a seemingly fairytale-perfect beach community that's a lot of fun to explore.
Once the ferry docks, it's a quick stroll to rent bikes, your wheels for the day.
Tour the Hotel Del Coronado
It's a quick ride to the opposite side of the island, where you'll fall in love with the iconic Hotel Del Coronado, one of San Diego's oldest and most luxurious hotels.
It's worth parking your bike for a bit and wandering through the grounds and shops to check out the rich history of the property.
A refreshing drink overlooking the beach on the outdoor patio is also highly recommended!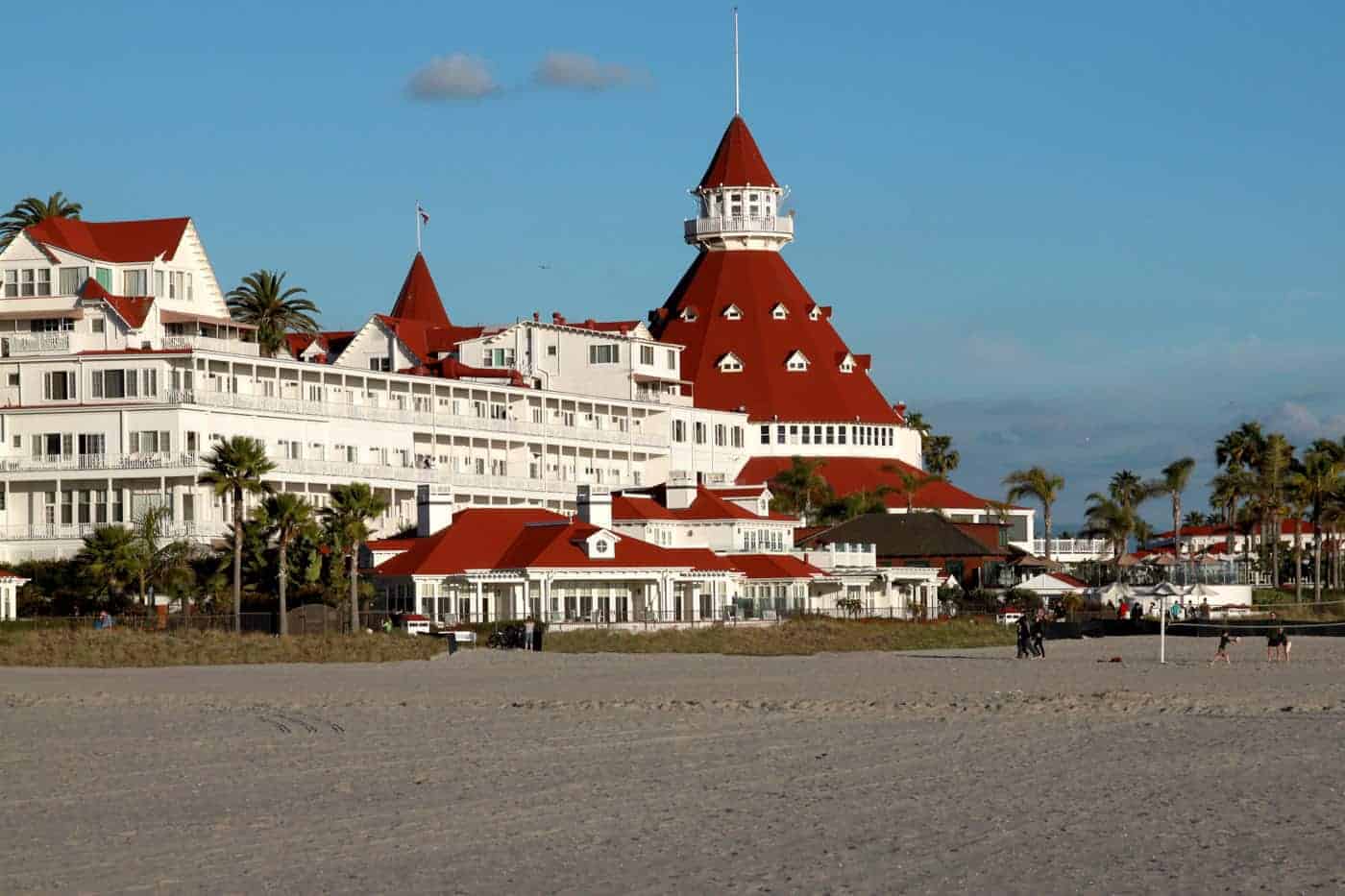 One of My Favorite Things to do in San Diego – Take a Gondola Ride in Coronado
A fun afternoon treat is a gondola ride through the Coronado Cays, a Venice -like neighborhood built on water canals.
This is one of my favorite San Diego secrets – most San Diego locals don't even know that it exists!   If you decide to go, make a reservation ahead of time.
Next up on the 3 day San Diego itinerary is dinner!  Make your way back to the ferry landing via Orange Avenue, Coronado's main street, to return your bikes and head back to downtown.
Start your evening at one of the Gaslamp's rooftop bars (Altitudes is a favorite), followed by dinner in Little Italy, San Diego's neighborhood packed with chic restaurants and bars.  I recommend Herb + Wood.
3 Day San Diego Itinerary Day three: Balboa Park and Point Loma
Day three of this San Diego itinerary begins in Balboa Park, San Diego's cultural epicenter and home to over 15 museums.
Stroll around and take in the beautiful grounds, gardens, and Spanish architecture, and explore one of the museums if you're inclined.
My favorites are the Natural History Museum (get your tickets online ahead of time here) and the Museum of Us.  The elegant Japanese Friendship Garden is also worth a visit.  
Grab lunch at The Prado, located within Balboa Park, and try to get a table on the outdoor terrace.
Shopping in Northpark
Next on your San Diego itinerary is exploring Northpark, one of the nearby neighborhoods.  If you're into quirky shops and hipster coffee joints, you'll love Northpark.
Don't miss Pigment, my favorite store in ALL of San Diego!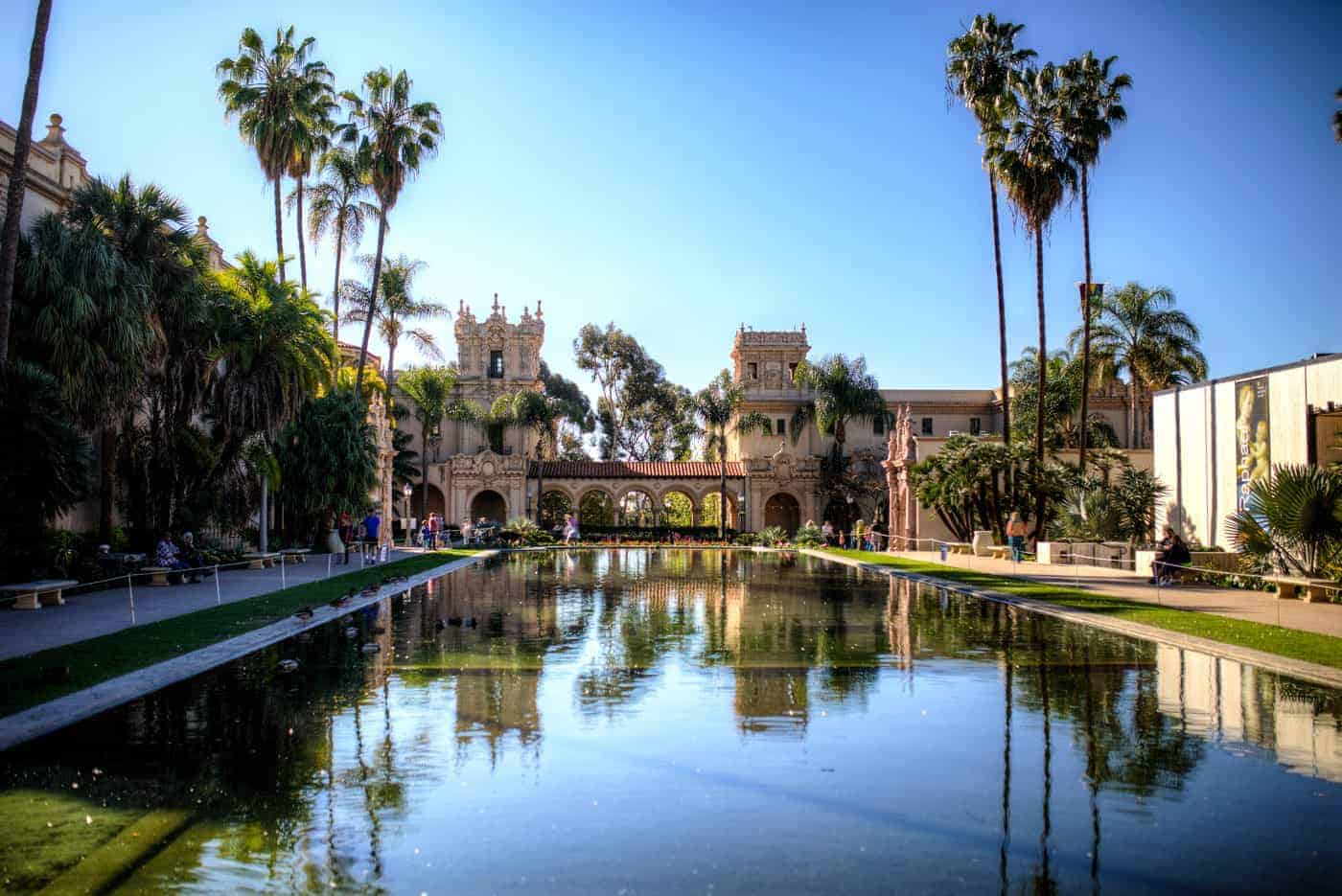 If you're more of the outdoorsy type, head over to Cabrillo National Monument.   You can check out the vintage Point Loma lighthouse and take in gorgeous views of the city harbor.
Try to time your visit with low tide, because you'll be able to check out the tide pools for creatures.
Every San Diego Itinerary Should Include Delicious Mexican Food
Even if you only have 3 days in San Diego, your itinerary should include sampling some of San Diego's amazing Mexican food.
For dinner with a view, I'd recommend Coasterra where you can dine with a picture-perfect view of San Diego's skyline.
If you're visiting San Diego with kids, I recommend going to San Diego's  Old Town, a festive spot filled with amazing Mexican restaurants, to end your 3 day San Diego itinerary the way that locals do – with burritos and margaritas!
If You Have 3 Days in San Diego with Family or Kids
If you're traveling to San Diego for 3 days with kids, I would recommend spending one of your days exploring one of San Diego's well-known parks.
My favorites are the San Diego Zoo and the San Diego Safari Park!  Younger kids will also love Legoland, located in Carlsbad.
You can buy your tickets to the San Diego Zoo and San Diego Safari Park online ahead of time, and have them sent straight to your email which I highly recommend. This will save you lots of time waiting in line! Get them ahead of time here for the Zoo and here for the Safari Park and cross one thing off your to-do list!
If you have More Than 3 Days in San Diego
With more than 3 days in San Diego, check out the city's fast-growing craft beer scene by taking a brewery tour.
Is wine more your thing?  I so, I highly recommend doing a Temecula day trip.  Temecula wine country is about 50 minutes northeast of downtown San Diego, where you can spend the day wine tasting.
There you have it – the perfect 3 Day San Diego Itinerary for First Timers!
If you're traveling elsewhere in California, make sure to check out my posts on a 3 day Los Angeles itinerary, the perfect San Francisco itinerary, and the best hidden gems in California!  You might also love my California bucket list – which has my top 20 places to visit in the sunshine state.
Need Help Packing for San Diego?
Check out my best packing tips for women!
Pin it for Later!

Wanna Learn to Pack a Suitcase Like a Boss?
Subscribe to download my three BEST travel planning resources:
Travel outfit planner
Pre-travel checklist
Carry on packing list