The Perfect 3 Day San Diego Itinerary
This site uses affiliate links and I may earn a small commission when you use my links and make a purchase, at no extra cost to you. 
Planning a 3 day trip to San Diego? This 3 day San Diego itinerary has everything you need to know to help plan your trip. In this itinerary, you'll find out exactly what to do, where to stay, and where to eat to make the most out of 3 days in San Diego! Whether you're visiting the San Diego area for the first time, or if you're just coming back for more, this local's travel guide will help you plan the perfect trip.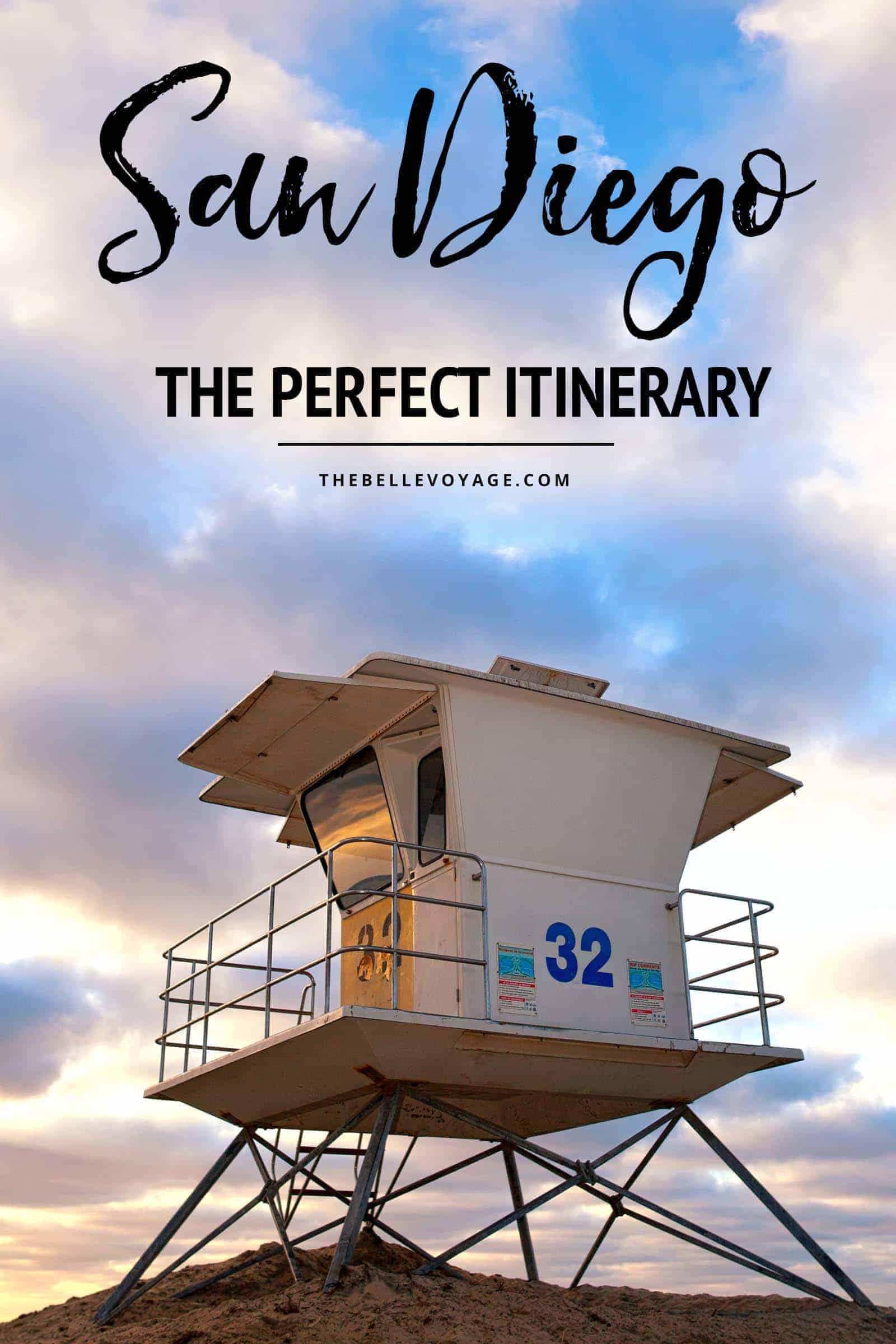 Located at the very bottom of Southern California, just north of the Mexican border, the city of San Diego is nicknamed "America's Finest City". Between San Diego's beautiful weather, gorgeous scenery, and ever-evolving culture, it has definitely earned its reputation as one of the most charming cities in the United States.
There are so many things to see and do in San Diego that it can be overwhelming to plan your day-by-day schedule. I've got you covered! I've lived in San Diego for over 20 years, so I've seen all of the best sights in the city.
Here's exactly what to do, what to see, where to stay, and where to eat in San Diego! And if you need more ideas for what to do after the sun goes down, you'll love my guide to the best things to do at night in San Diego.
Before Your 3 Day Trip To San Diego…
Before you travel to San Diego, make you sure you throw these in your suitcase. You'll fit in perfectly with the locals!
If you need more help packing for San Diego, check out my list of travel essentials for women.
The Best Area to Stay in San Diego If You Have 3 Days to See the City
Geographically, San Diego is quite spread out. For that reason, no matter where you stay, expect to drive to see some of the sights you want to see.
Gaslamp Quarter
With three days in San Diego, I recommend staying somewhere in the Gaslamp Quarter in downtown San Diego.
The Gaslamp Quarter is a 5-minute ride from San Diego International Airport, and very walkable so it's the perfect area to stay for visitors to San Diego. It's also relatively central to all of the sights and attractions I recommend in this itinerary.
In the Gaslamp Quarter, there are TONS of hotels to choose from, and I've listed my best recommendations below:
Where to stay in San Diego's Gaslamp Quarter
Best Boutique Hotel: Pendry Hotel – I LOVE all of the restaurants at the Pendry Hotel, and especially their pool. Another great option is the Hotel Indigo, which is also pet-friendly!
Best luxury hotel in the Gaslamp Quarter: The Andaz Hotel – also known for its amazing rooftop pool and bar.
Best for using hotel points in San Diego: The US Grant (a Marriott property). The vibe at the US Grant is old school glamour, and I love the charm of the US Grant!
The Best Area of San Diego to Stay with Kids
If you're traveling to San Diego with kids, I recommend staying on Coronado Island. Coronado is incredibly charming, easy to walk around, and kids will love the wide beaches with gentle waves.
Best hotel in Coronado (hands-down!): The Hotel Del Coronado
For more ideas, you'll love all of these unique hotels in San Diego.
READ MORE: The Best San Diego Beachfront Hotels
Pro Travel Tip: These days, travel can be more uncertain than ever. Check for any COVID-related restrictions at your destination, and never travel without travel insurance! I recommend SafetyWing, because they have flexible + affordable insurance plans, and also cover COVID-related impacts on your trip (not all companies do)!
Day 1: San Diego's Beautiful North County
From downtown, drive 20 minutes north to the community of Del Mar to start your first day in San Diego with a hike in one of San Diego's prettiest spots: Torrey Pines State Reserve.
If you have time on your drive there, stop off at the Torrey Pines Glider Port. At the glider port, you can perch on top of the rocky cliffs and watch adrenaline-fueled adventurers hand-glide from the rocky cliffs down to the beach.
It's a really unique sight to see! On a clear day you can see miles of pristine beaches in both directions, from Solana Beach in the north to the La Jolla Cove in the south.
Any San Diego Itinerary Should Include Hiking at the Torrey Pines State Reserve
Torrey Pines State Reserve is one of the most beautiful sights in San Diego, so I always recommend a visit there as part of your San Diego itinerary.
My favorite hike at Torrey Pines is the Beach Trail, but you can take your pick from the trail map. Make a stop at Razor Point for an unbelievable view, and if you're lucky, you'll spot some dolphins playing in the waves below!
The best way to hike back to your car is via the beach, but make sure you check the tide charts before you go. At high tide, the waves come all the way up to the cliffs, and you won't be able to walk on the beach itself.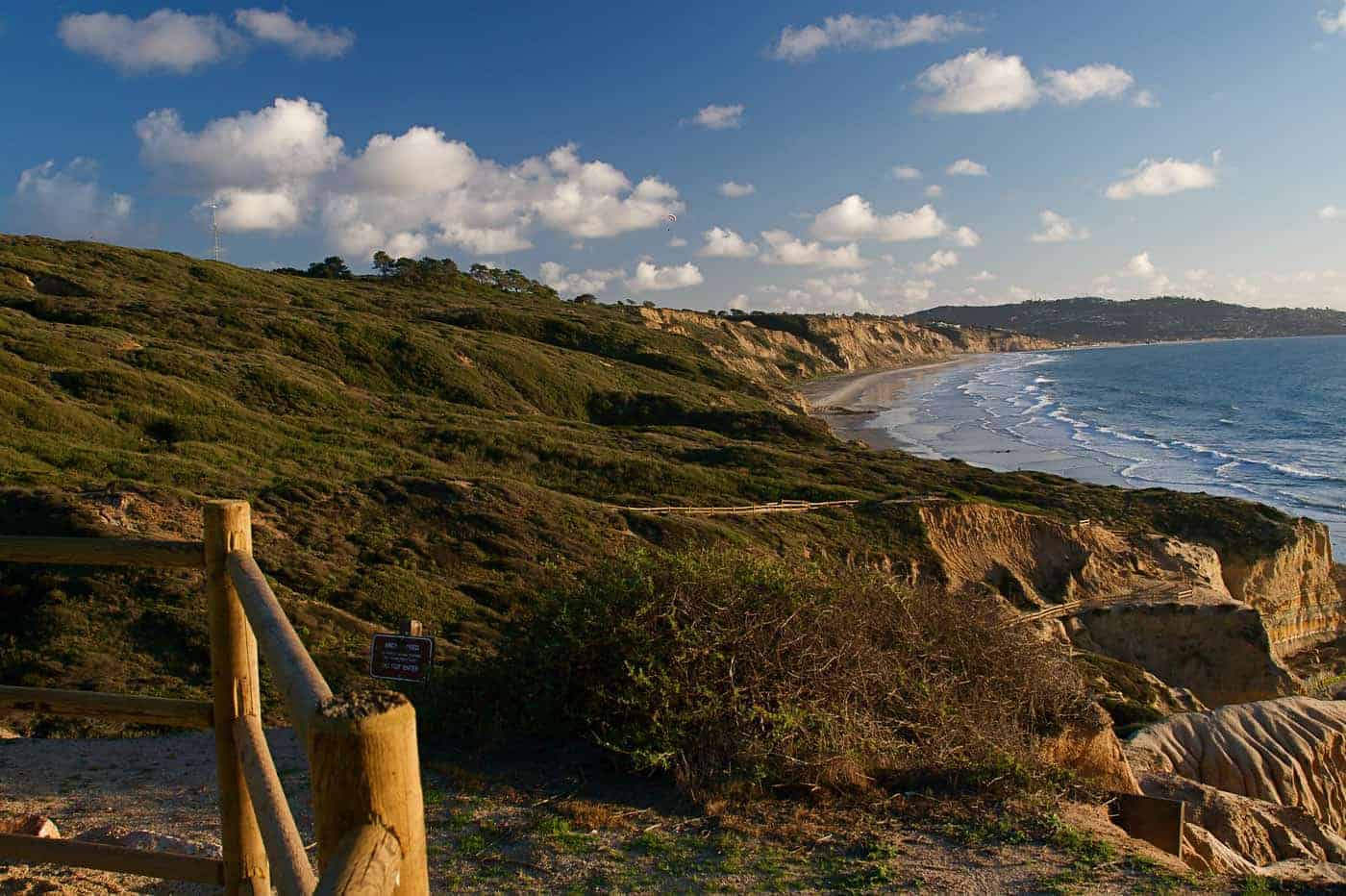 After hiking Torrey Pines, drive into quaint downtown Del Mar to grab a late breakfast at Americana or Pacifica Breeze Cafe and wander the boutiques and shops of this upscale San Diego beach town.
After breakfast, take a short drive back down south to spend the afternoon in La Jolla, an ultra-chic neighborhood in San Diego that's right on the beach. Pronounced "la hoya", La Jolla means "the jewel" in Spanish, and you'll soon see why.
Mount Soledad Veterans Memorial
On your way to La Jolla, stop at the top of Mt. Soledad to visit the Mount Soledad Veterans Memorial. This is one of the highest points in coastal San Diego, so you'll be able to see an incredible view of San Diego from above.
Spend the first afternoon of your three days in San Diego Visiting La Jolla
To explore La Jolla, first head to La Jolla Cove, where you can walk along the beach and scope out the group of sea lions that call the Cove home. If you only have 3 days in San Diego, this is a must-see!
Make sure to keep your distance from the animals at all times.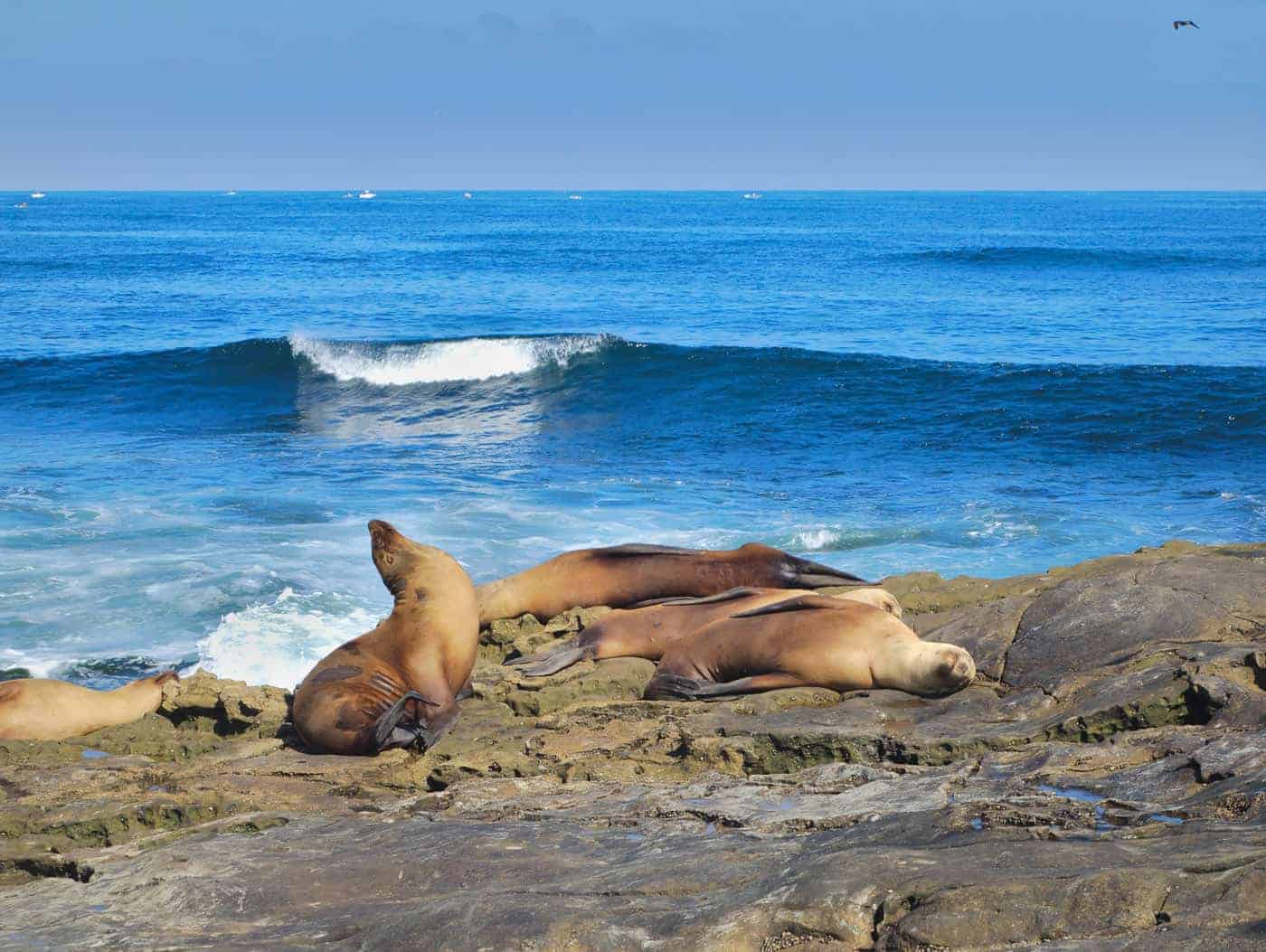 Explore Downtown La Jolla
It's a lot of fun to walk around downtown La Jolla and explore the cute shops and art galleries. If you're more in the mood for adventure, kayaking is also a popular activity in La Jolla.
La Jolla Shores: One of The Best Beaches To Visit in San Diego if you have 3 days
Any San Diego itinerary should include plenty of beach time, so plan to spend the afternoon at La Jolla Shores, which is the perfect spot for families, or in Mission Beach, which is more lively.
For dinner, I highly recommend George's Ocean Terrace. At George's , you can eat outdoors and overlook the rocky coves that are unique to La Jolla. Be sure to make a reservation, since it's a very popular spot (and for good reason)!
Mission Beach
If you want a beach that's bit more lively than La Jolla Shores, you can head down to Pacific Beach and Mission Beach. Both beaches are great for people-watching on the boardwalk.
Make sure to grab drinks at a beachy bar, and even perfect your surfing skills at The Wave House. Yep, at The Wave House, you can surf an artificial wave (or watch others do it)!
Belmont Park
One of the best things to do in Mission Beach is visit Belmont Park, a beachside amusement park that's home to the iconic Giant Dipper Roller Coaster.
The Giant Dipper was built in the 1920's and is made entirely of wood. It reaches speeds of 48mph, so if you're an adrenaline junkie, you don't want to miss it.
Day 2: Coronado Island
On the second day of your 3 day San Diego itinerary, hop aboard a ferry across San Diego's harbor to Coronado Island, a seemingly fairytale-perfect beach community that's a lot of fun to explore.
Once you're at the ferry landing on Coronado Island, it's a quick stroll to rent bikes, your wheels for the day.
Coronado Bridge
The first thing you'll see when you hop aboard your bike is the iconic Coronado Bridge. This 2.1 mile bridge was built in the late 1960's and provides a second, more convenient connection between Coronado Island and the mainland.
Although driving across the bridge provides incredible views of downtown, the island of Coronado, and the Pacific Ocean, the view of the bridge itself is a sight to behold.
Take the bike path that winds next to the San Diego Bay, heading west towards Coronado Beach.
Tour the Hotel Del Coronado
It's a quick ride to the opposite side of the island, where you'll fall in love with the iconic Hotel Del Coronado, one of San Diego's oldest and most luxurious hotels.
It's worth parking your bike for a bit and wandering through the grounds and shops to check out the rich history of the property.
A refreshing drink overlooking the beach on the outdoor patio is also highly recommended! Afterwards, spend a few hours enjoying Coronado Beach, or walking along the paved pathway that runs from south of the Hotel Del all the way up to the Coronado Dog Beach.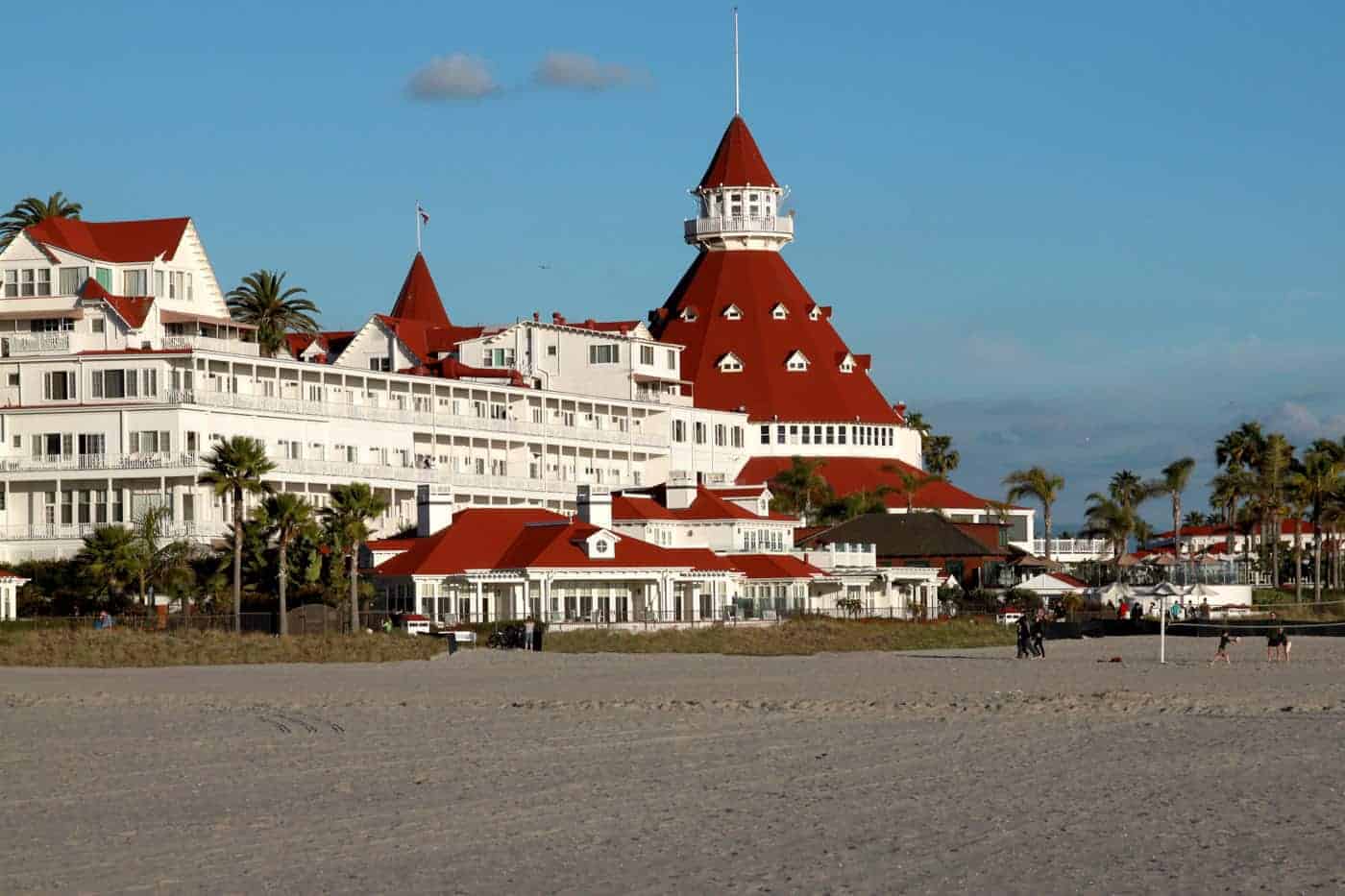 One of My Favorite Things to do in San Diego – Take a Gondola Ride in Coronado
A fun afternoon treat is a gondola ride through the Coronado Cays, a Venice -like neighborhood built on water canals.
This is one of my favorite San Diego secrets – most San Diego locals don't even know that it exists! If you decide to go, make a reservation ahead of time.
Dinner Downtown
Next up on the 3 day San Diego itinerary is dinner! Make your way back to the ferry landing via Orange Avenue, Coronado's main street, to return your bikes and head back to downtown.
Start your evening at one of the Gaslamp's rooftop bars (Altitudes is a favorite), followed by dinner in Little Italy, San Diego's trendy neighborhood packed with chic restaurants and bars. I recommend Herb + Wood.
Day 3: Balboa Park and Point Loma
Day three of this San Diego itinerary begins in Balboa Park, San Diego's cultural epicenter and home to over 15 museums.
Stroll around Balboa Park and take in the beautiful grounds, botanical gardens, and Spanish architecture, and explore one of the museums if you're inclined.
Balboa Park Museums
There are so many amazing museums in Balboa Park that it's hard to pick just a few. Two of the most popular museums for out-of-town visitors are the San Diego Museum of Art, and the San Diego Air & Space Museum.
San Diego Museum of Art
The San Diego Museum of Art houses a varied collection of fine art pieces with a focus on Spanish Art. The museum's collection includes over 20,000 pieces that range from 3000 B.C. to contemporary and modern art.
In addition to boasting a broad collection of artwork,, the exterior of the building itself is absolutely beautiful. The Spanish fountain in front of the museum is a great spot for photos!
San Diego Air & Space Museum
The San Diego Air & Space Museum is one of the best places to visit in Balboa Park if you're interested in aviation and space exploration.
The museum contains originals and reproductions of a variety of aircraft and spacecraft including Apollo 9 and the 1902 Wright Glider.
In addition to special exhibits, the museum's regular exhibits include various artifacts from the history of air and space exploration, with a particular emphasis on San Diego's contributions to this history.
My personal favorite Balboa Park museums are the Natural History Museum (get your tickets online ahead of time here) and the Museum of Us. The elegant Japanese Friendship Garden is also worth a visit.
Grab lunch at The Prado, located within Balboa Park, and try to get a table on the outdoor terrace.
Shopping in North park
The next stop on your San Diego itinerary is exploring North Park, one of the closest neighborhoods to downtown. If you're into quirky shops, hipster coffee joints, and breweries, you'll love North Park.
Start at the intersection of University and 30th Street, and wander in whatever direction the day takes you. Don't miss Pigment, my favorite store in ALL of San Diego!
North Park is also home to many of San Diego's famous craft breweries. If you like beer, check out Mike Hess Brewing Company or Belching Beaver. These are two fun stops among tens of other breweries in North Park!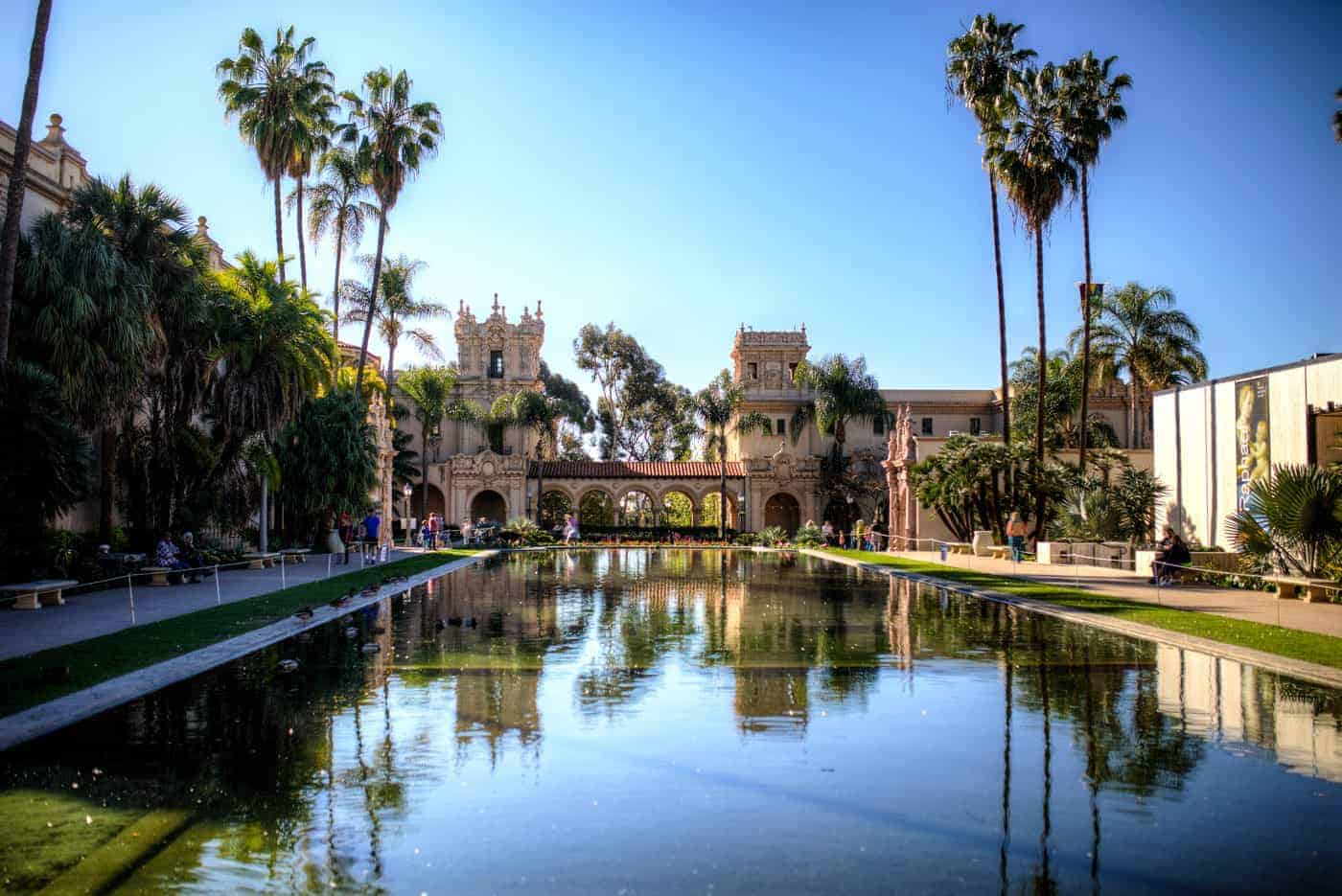 Cabrillo National Monument
If you're more of the outdoorsy type, head over to Cabrillo National Monument. You can check out the vintage Point Loma lighthouse and take in gorgeous views of the San Diego Bay, Mission Bay, and the Pacific Ocean.
Try to time your visit to Cabrillo National Monument with low tide, because you'll be able to check out the tide pools for creatures.
If you feel like stretching your legs, take the short but scenic Bayside Trail that starts just before the light house. It's a 2.5 mile round-trip hike with scenic views of downtown, Coronado, and the Pacific Ocean.
Every San Diego Itinerary Should Include Delicious Mexican Food
Even if you only have 3 days in San Diego, your itinerary should include sampling some of San Diego's amazing Mexican food.
For dinner with a view, I'd recommend Coasterra where you can dine with a picture-perfect view of San Diego's skyline. The margaritas are delicious, but dangerous (advice from a friend).
Old Town San Diego
If you're visiting San Diego with kids, I recommend going to San Diego's Old Town, the location of the first European settlement in California.
Today, Old Town San Diego is a festive spot filled with amazing Mexican restaurants, to end your 3 day San Diego itinerary the way that locals do – with burritos and margaritas!
Is it Worth Visiting Old Town San Diego?
Old Town San Diego is definitely worth visiting, especially if it's your first time in San Diego. It's free to visit, and it's a really fun spot to walk around, and enjoy the beautiful gardens, restaurants, and lively scene.
Not only is Old Town one of the best places in San Diego to enjoy Mexican cuisine, Old Town has a rich history, too. Located within Old Town are the Old Town San Diego State Historic Park, as well as the Presidio Park, both of which are listed on the National Register of Historic Places.
If You Have 3 Days in San Diego with Family or Kids
If you're traveling to San Diego for 3 days with kids, I would recommend spending one of your days exploring one of San Diego's well-known parks.
My favorites are the San Diego Zoo and the San Diego Safari Park! Younger kids will also love Legoland, located in Carlsbad.
You can buy your tickets to the San Diego Zoo and San Diego Safari Park online ahead of time, and have them sent straight to your email which I highly recommend. This will save you lots of time waiting in line! Get them ahead of time here for the Zoo and here for the Safari Park and cross one thing off your to-do list!
If you have More Than 3 Days in San Diego
With more than 3 days in San Diego, check out the city's fast-growing craft beer scene by taking a brewery tour.
Is wine more your thing? I so, I highly recommend doing a Temecula day trip. Temecula wine country is about 50 minutes northeast of downtown San Diego, where you can spend the day wine tasting.
Another great option is to spend one day in Joshua Tree National Park. This day trip is perfect for outdoor-lovers!
If you want to try your luck in Sin City, Las Vegas is less than 5 hours from San Diego by car. This guide to your first time in Vegas will tell you everything you need to know ahead of time! For more ideas, check out the best road trips from San Diego.
Frequently Asked Questions about Visiting San Diego
What are the Top Attractions in San Diego?
If I could only pick a handful of top tourist attractions in San Diego that are the most popular for out of town visitors and first-time visitors to San Diego, they would be:
World Famous San Diego Zoo
Many people visit San Diego just to go to the world-famous Zoo. From koalas to polar bears, the San Diego Zoo is one of the best in the world.
USS Midway Museum
Docked at Navy Pier in downtown San Diego is the USS Midway, home to the USS Midway Museum. This historic aircraft carrier served from 1945 to 1992.
When visiting the museum, you can tour the ship, including living quarters, officers' quarters, cockpits, and see the collection of aircraft parked on the deck and inside the ship. You can even have a go at one of the flight simulators on board!
Maritime Museum of San Diego
Visiting the Maritime Museum of San Diego is an incredibly unique experience. The museum consists of one of the world's best collections of historic boats, all docked together in the San Diego harbor.
Visitors to the museum can tour each of these boats, including the Star of India, the world's oldest active ship. It's an amazing experience and I highly recommend it!
SeaWorld San Diego
Many people come to San Diego just to visit Sea World, as it's the city's only theme park.
Personally, I think that the Zoo is a much better experience for visitors to the city, but if you have your heart set on SeaWorld, you're in the right place.
What's the Best Time to Visit San Diego?
Since San Diego has beautiful weather all year round, there's not really a bad time to visit San Diego.
Fall: September and October
As a local, I think the best time to visit San Diego is in September or October. During these months, the weather is generally dry and warm, so you're less likely to experience any rain during your trip.
In the fall months, most of the summer crowds are gone, and prices tend to be less expensive since schools are back in session.
Summer: June, July and August
The summer months of June, July and August are the most popular times to visit San Diego.
During the summer, the city and its beaches are quite crowded, temperatures are warm, and hotel prices are at their peak.
Spring: March, April and May
Although there's not a bad time to visit San Diego, the months of March, April and May can often be overcast and cloudy, especially on the coast. If you're visiting San Diego to enjoy its beaches, I recommend avoiding the spring months if you can.
Winter: November, December, January and February
The winter months in San Diego are mild, but they're also when the city gets the most rain. "Most rain" is still a relative term, as many days during the winter in San Diego are clear and enjoyable, especially inland from the coast.
Other than peak prices around the holidays and the possibility of rainstorms, the winter months can be a great time to visit San Diego.
Do You Need a Car to Get Around San Diego?
I definitely recommend renting a car if you want to see San Diego. The city is quite spread out, and this itinerary covers the highlights from the beaches in north county all the way south to Coronado.
If you absolutely don't want to rent a car while you're in San Diego, I recommend staying somewhere with good walkability such as downtown La Jolla (near the cove), the Gaslamp Quarter, or Coronado Island.
Each of these areas are filled with bars, shops and restaurants, so you won't have to rely on other transportation to get around.
Public Transportation in San Diego
Public transportation in San Diego is getting much better, but still isn't widespread, especially depending on where you're staying.
The Trolley system is great for going between discrete locations, but the stops are generally limited throughout the city. Unless you're staying right next to a Trolley stop, don't count on this as your main mode of transport in San Diego.
San Diego also has a bus transit system, but if you plan on traveling longer distances, it can be quite time-consuming.
For the best way of getting around San Diego, rent a car, or use a rideshare app.
What are the best things to do in the downtown area of San Diego?
If you have extra time in the downtown area of San Diego, and looking for more things to do, don't miss these top attractions.
Petco Park
If you love baseball (and even if you don't), you'll love checking out Petco Park, home of the San Diego Padres. Petco is one of the most beautiful ballparks I've ever been to, and it's located smack in the city center.
If you have the time, taking a guided tour of Petco Park is well worth the visit.
Seaport Village
Another one of the most popular things to do in downtown San Diego is visit Seaport Village. Seaport Village is a collection of boutique shops and restaurants that line the harbor walking pathway on the San Diego Bay.
It's a great spot to grab a drink or just take a walk with a beautiful view of the bay (maybe with an ice cream in hand)!
Can You Visit Mexico As a Day Trip from San Diego?
Many visitors to San Diego wonder if they can visit Mexico as a day trip while they're staying in San Diego. After all, Downtown San Diego is located just 15 minutes from the US-Mexico border.
You can absolutely visit Mexico as a day trip from San Diego. That said, I recommend being selective about where you go, and keeping in mind a few important tips.
Where to Go
Even though Tijuana is the closest city to the US border, I don't recommend visiting Tijuana (or "TJ" as you will hear it called). This is due not only to safety concerns, but also because in my opinion, there are more beautiful and interesting places to see!
Instead of Tijuana, check out Rosarito, Ensenada or the wine country in Valle de Guadalupe.
Tips for Visiting Mexico as a Day trip from San Diego
If you're planning to spend the day in Mexico, don't drive yourself. It is prohibited to take US rental cars into Mexico. And if you have your own car, US insurance policies won't cover your car while it's in Mexico.
Instead of driving, I recommend either going with a guided tour for the day (check out Viator for good options), or just walking across the border. Once you walk across, you can then take a taxi or Uber to your destination.
Second, remember to bring your passport with you!
How many days do I need in San Diego?
If you're visiting San Diego you might be wondering how much time you need to truly see the city and all of its highlights. I recommend spending at least three days in San Diego and even longer if you have more time.
If you have more time to spend visiting San Diego, you could easily spend a week seeing all of the top attractions in the San Diego area without getting bored.
Is San Diego or LA Better to Visit?
So many people ask me which is better to visit: San Diego or Los Angeles.
Having lived in both cities myself, I can honestly say that they're both a lot of fun to visit. So choosing between the two just depends on the kinds of things you want to do.
Choose Los Angeles if you want world-class restaurants and shopping, along with a more urban feel. If you like nightlife in general, or are looking for an adults' getaway, LA might be a better choice for you.
Choose San Diego if you want to sample Southern California's beach culture, and spend a lot of time outside. San Diego is also a great choice if you're traveling with kids.
What are the best places to watch the sunset in San Diego?
If you're looking to find a beautiful sunset in San Diego, go to the Sunset Cliffs Natural Park in Ocean Beach.
This post covers more than 30 best sunset spots in San Diego!
There you have it – the perfect 3 Day San Diego Itinerary for First Timers!
If you're traveling elsewhere in California, make sure to check out my posts on ow to spend 2 days in LA, the perfect San Francisco itinerary, and the best hidden gems in California! You might also love my California bucket list – which has my top 20 places to visit in the sunshine state.
Need Help Packing for San Diego?
Check out my best tips on travel packing for women!