Perfect 4 Day London Itinerary for First-Timers: How to Spend 4 Days in London
This site uses affiliate links and I may earn a small commission when you use my links and make a purchase, at no extra cost to you. 
London for first timers can be completely overwhelming! If you have 4 days in London, it's important to think about how to spend your time in the city. I used to live in London, and put together this guide to outline the perfect 4 day London itinerary for first time visitors to London.
Whenever friends or family came to visit me, this is exactly where I'd take them! With 4 days in London, you will have plenty of time to see all of the best sights in London for tourists. I've also included my recommendations on where to eat and where to stay if it's your first time in London. Keep reading for the perfect first time London itinerary!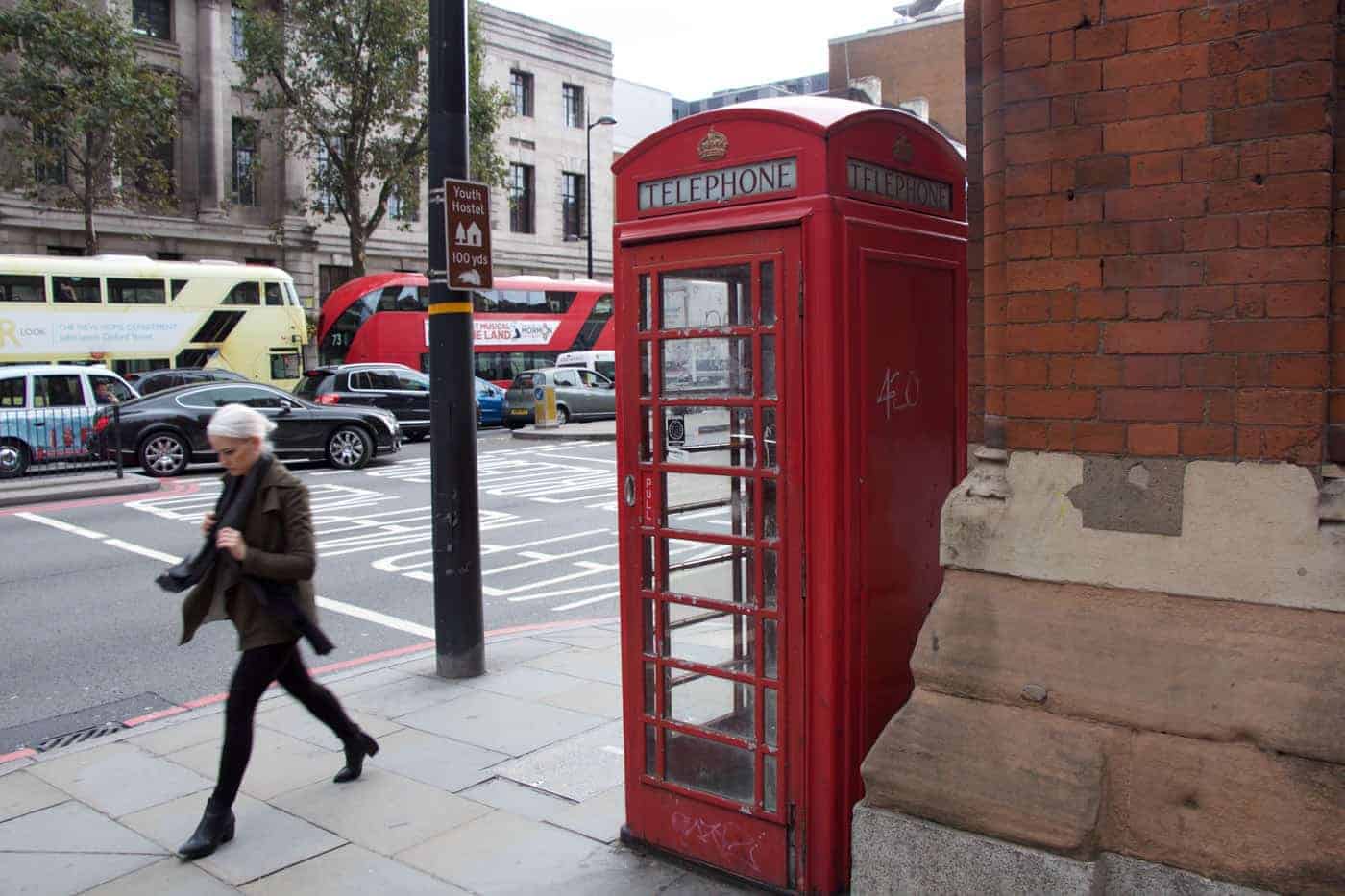 Before You Visit London for The First Time, You'll Need…
When you're planning your first trip to London, there are so many things to think about ahead of time. I've put together this handy checklist for traveling to London, so make sure to check it out to simplify your London travel planning!
When you're packing for London, there are a few things that you'll need to bring on your trip. Most importantly:
Important Packing tip for England: Don't forget to pack a power adapter! I love this UK power adapter because it has two outlets AND two USB ports. AND it's less than $15!
Where to Stay With 4 days in London
How do you even start to pick a place to stay in London? The hotel options are truly countless. With 4 days in London, you should stay in a central part of the city, and close to a tube station, so that it is easy to get around.
You can also check out a post I've done on the best neighborhoods to stay in London for first time tourists. This must-read guide has all my favorite places to stay in London!
First Time London Itinerary: Best Hotels
The London hotel I've stayed at again and again is the Marriott Grosvenor Square. It's perfectly-located!
The Marriott Grosvenor Square is close to multiple tube lines, meaning that it is very easy to get around. It's also walking distance to TONS of shopping and restaurants. I also love that I can earn or spend my Marriott Bonvoy points there.
Another favorite London hotel is The Rosewood London. If your budget can accommodate a stay here, I couldn't recommend a better hotel!
For a budget-friendly option, I recommend the Thistle Piccadilly.
How to Spend 4 Days in London
Now that you know what to pack and where to stay, let's kick off your 4 day trip to London! This itinerary will cover many the city's famous landmarks in central London, including St. Paul's Cathedral, Westminster Abbey, Big Ben and Parliament, the London Eye, Tower Bridge and the Tower of London, Covent Garden, Hyde Park and even more!
I'll make sure that you hit the top attractions in London, and also give you a few ideas for exploring London like a local.
Experience London like a local!
Go beyond London's most popular sights! Download my FREE local's guide to London, packed with all of my favorite non-touristy things to do in this amazing city.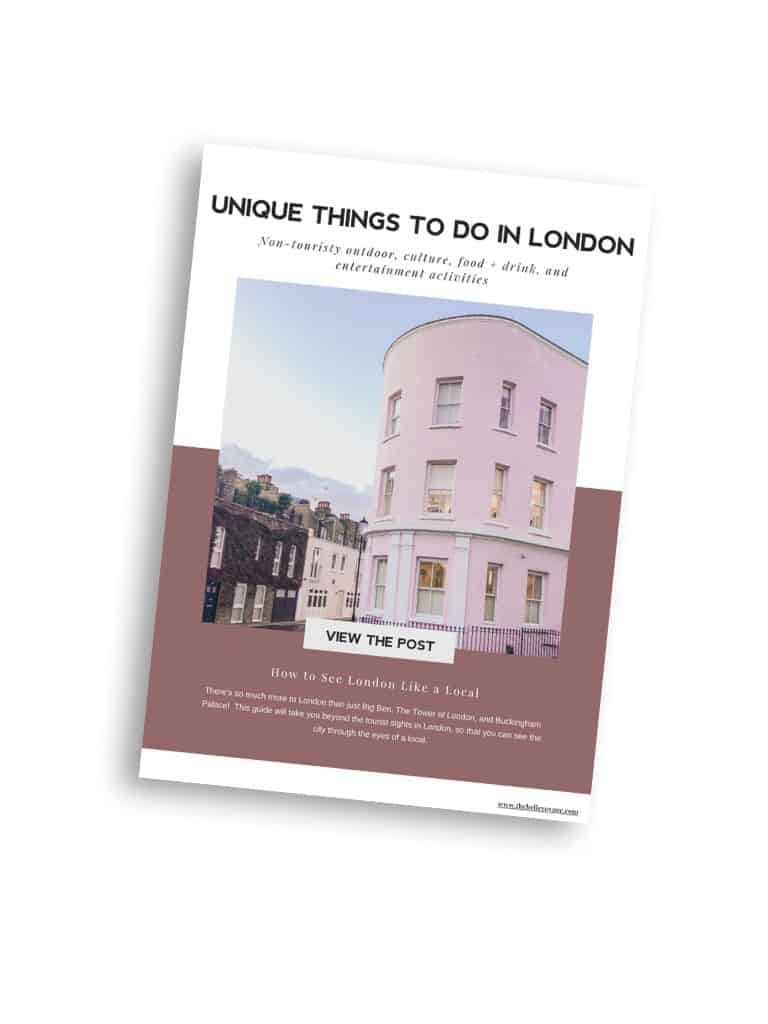 Day 1: Tower of London, St. Paul's Cathedral and the Shard
Get your trip, and your perfect London itinerary, started on the right foot with a visit to my absolute FAVORITE spot in London: The Tower of London.
Tower of London
I love visiting the Tower of London because of its vivid history and the role that it played in London's past.
The Tower of London is a UNESCO World Heritage site, and its history will give you goosebumps. You even get to view the crown jewels as part of the tour. Be sure to buy your tickets online ahead of time to avoid the lines.
After your visit to the Tower, walk along the promenade by the River Thames, which is the perfect spot for a photo opp with the Tower Bridge in the background.
Wait long enough, and you're likely to see Tower Bridge open up to let a ship pass through. Many people confuse Tower Bridge with London Bridge, which is further up the river and not nearly as good-looking.
London Bridge
I haven't included a visit to London Bridge in this 4 day London itinerary, since seeing it in person isn't nearly as interesting as you might expect. Many people confuse Tower Bridge with London Bridge.
Tower Bridge is the more iconic of the two, located just outside of the Tower of London; it's the iconic bridge you'll recognize from photos.
Even though London bridge is less photogenic, it has played an important part in the city's history and has been the site of several notable events, including the Great Fire of London in 1666 and the London Bridge attack in 2017.
READ MORE: The Best London Instagram Spots
Lunch at Duck & Waffle
At this point, you've probably worked up an appetite. Lunch at Duck & Waffle is the perfect place to stop. The restaurant is open 24/7, but there's not an all-night-diner vibe in sight.
Instead, you'll be treated to boho chic decor along with incredible views of the city. Not to mention the coolest tile floors I've ever seen! There's a reason it's always on my list of the most Instagrammable restaurants in London.
St. Paul's Cathedral
After lunch, pop over to St. Paul's Cathedral, one of the architectural icons of London. You'll no doubt recognize it from photos of the city, and some will remember St Paul's as the location of the royal wedding between Prince Charles and Princess Diana. You can book your tickets ahead of time here.
You can tour the inside of the cathedral, but make sure to appreciate the exterior, too. You can also ascend 528 steps to the top of the cathedral where you can visit the Golden Gallery.
This circular walkway that runs around the outside of the cathedral's dome, offering panoramic views of the city. The name comes from the fact that the original walkway was covered in gold leaf. While the current walkway is not covered in gold, it still offers a stunning and unique view of London's skyline.
One of the best places to see the outside of St. Paul's Cathedral is by walking across the Millennium Bridge to the south side of the Thames. Turn around halfway across Millennium Bridge, and you'll have a very cool photo opportunity of old meets new in London.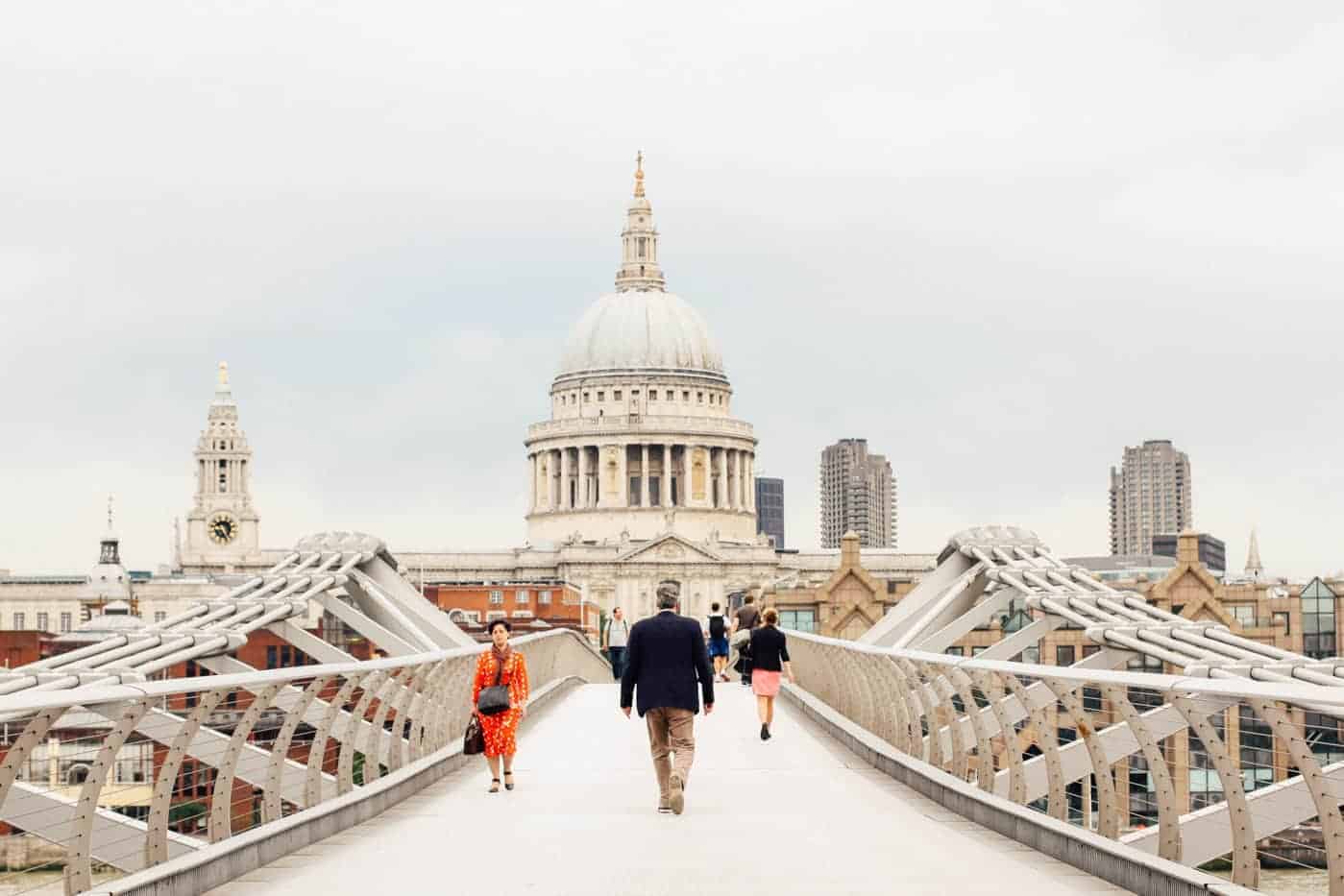 Across the bridge on the south bank of the Thames is the Tate Modern, another one of London's gems. The Tate is absolutely worth a visit, especially if modern art is up your alley. Even better? Entry is free!
Pro Travel Tip: These days, travel can be more uncertain than ever. Check for any COVID-related restrictions at your destination, and never travel without travel insurance! I recommend SafetyWing, because they have flexible + affordable insurance plans, and also cover COVID-related impacts on your trip (not all companies do)!
The Shard
End the first of your 4 days in London with a view of the London skyline from The Shard. The London skyline is a visual representation of the city's evolution from the old world to a modern diversity, and this change is evident in the architecture. I recommend going up to the observation area of the Shard, and getting a glass of champagne.
You can get your tickets to the viewing area online ahead of time. Afterwards, make your way to dinner at one of the chic restaurants in the building. I would recommend either Aqua Shard or Hutong.
Pro tip: many tourists choose to go on the London Eye to see London from above. Personally, I think that the Shard is a much better view of the city than the London Eye. It's also less touristy than the London Eye, and last time I checked, you can't get champagne on the London Eye.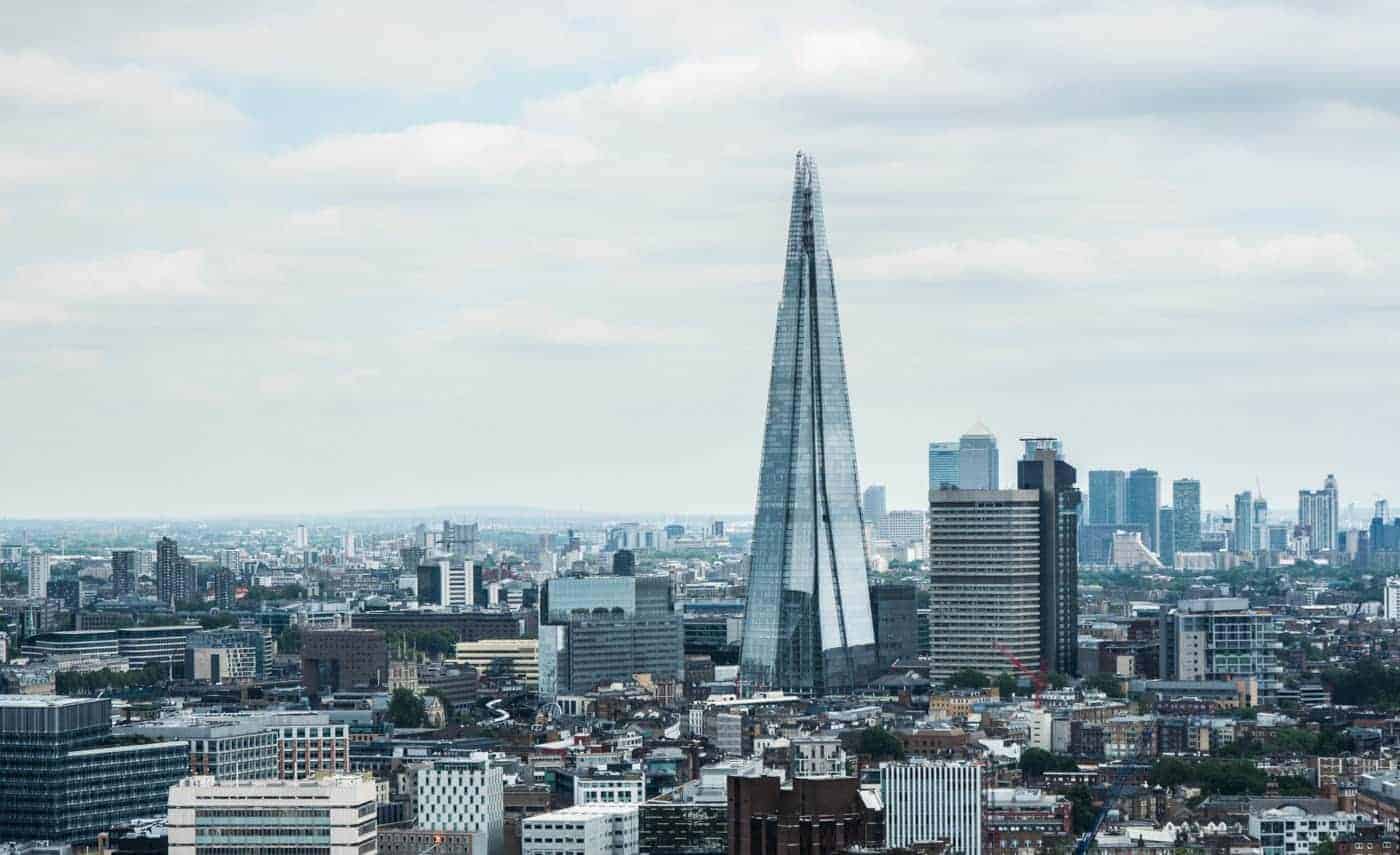 Day 2: Notting Hill, Buckingham Palace, Harrod's, Kensington Palace, and the British Museum
Notting Hill
Get an early start this morning with breakfast in Notting Hill. Notting Hill is London's most picturesque neighborhood, filled with candy-colored houses and dreamy private gardens, so wandering through it is a real treat.
Walk down Portobello Road, the most well-known street in the neighborhood due to the famous Portobello Road Market. The main day for the Portobello Road Market is Saturday, so if you're visiting Notting Hill on a Saturday, make sure to arrive early. It gets incredibly crowded as the day goes on, particularly on sunny days.
In addition to Portobello Road, don't miss the smaller side streets around Westbourne Grove, which are incredibly charming.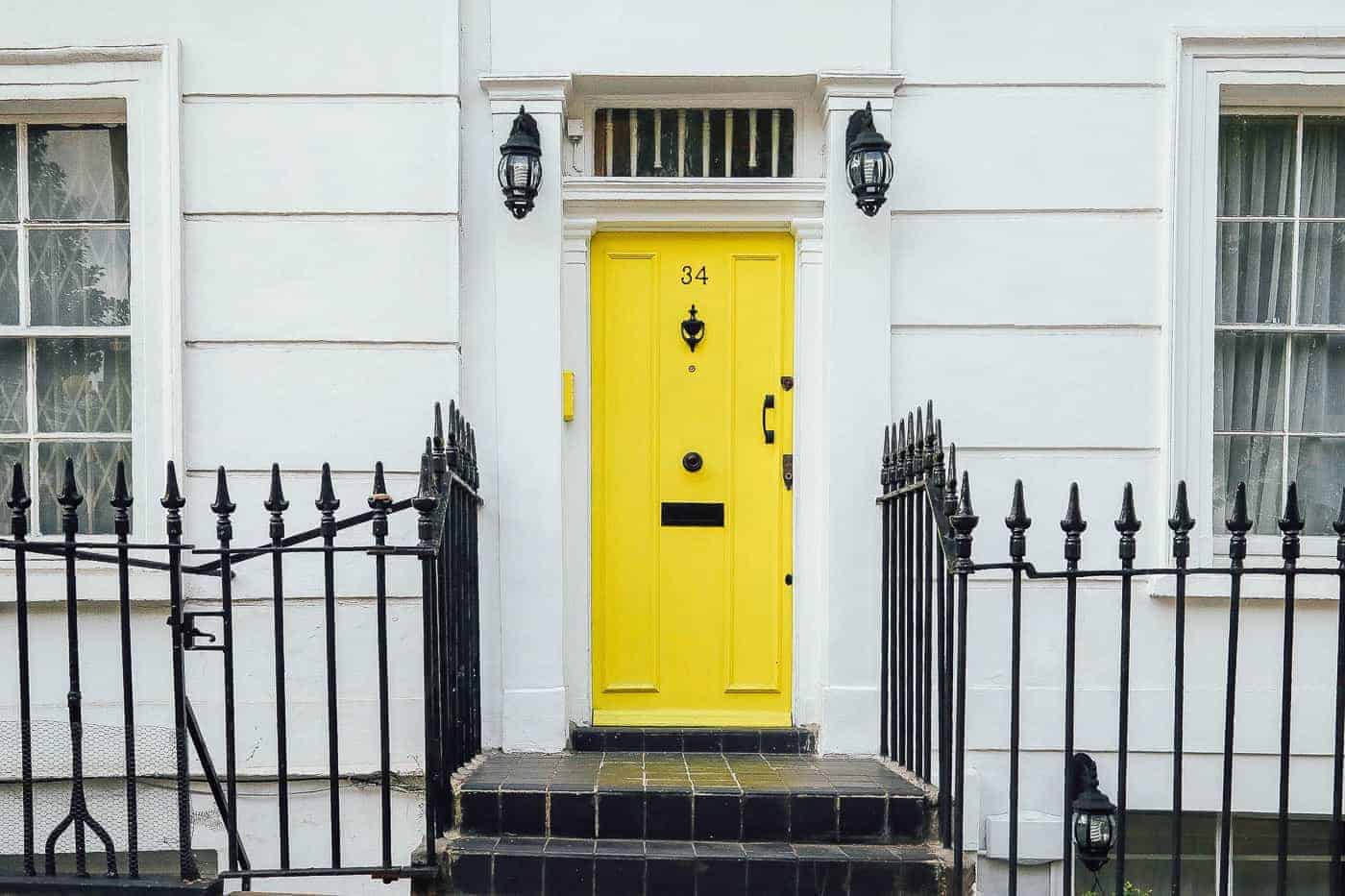 My favorite spot for breakfast in Notting Hill is Farm Girl Cafe, where you won't be disappointed in the food, the coffee, or the instagram-worthiness of the decor!
Farm Girl opens at 8:30am, so you'll have plenty of time for food before heading to your next stop: Buckingham Palace and the changing of the guards.
Changing of the Guards at Buckingham Palace
Perhaps the most famous tourist attraction in London is Buckingham Palace, the official residence of the Sovereign and many other members of the British royal family.
If you want to get a good spot for viewing said guards, you'll want to get to Buckingham Palace by 10:30am at the absolute latest. It gets crowded quickly!
The ceremony typically takes place at 11:00am – and it doesn't always happen every day! So make sure to check the schedule ahead of time so you can plan accordingly.
READ MORE: The Top 10 Mistakes Tourists Make in London…And What to Do Instead!
Harrod's
It wouldn't be a trip to London without enjoying the city's public parks, many of which used to be hunting grounds for the Royal Family.
After Buckingham Palace, you can stroll through Green Park and then over to Harrod's, London's most luxurious department store, and an absolute must-see if it's your first time in the city. Don't miss the food halls on the very bottom floor!
London's Public Parks
In addition to Green Park, there are a number of other gorgeous parks in central London that you may pass through during this 4 day London itinerary. A few of the most popular parks are:
Hyde Park
Hyde Park is located in the center of the city near Kensington Gardens. It covers an area of 350 acres and is famous for its beautiful landscaping, large lake, and recreational facilities.
Hyde Park is home to a variety of wildlife, and is also known for hosting many events and concerts throughout the year, such as the British Summer Time music festival.
St. James's Park
Located in the heart of London, St. James's Park covers an area of 57 acres. It is the oldest Royal Park in London and is famous for its stunning views of Buckingham Palace and the London Eye.
The park is also home to a lake, which features two islands, including Duck Island. The park is known for its pelicans, which have been a feature since the 17th century. St James's Park also has many beautiful gardens and is a popular spot for picnics.
Regent's Park
Regent's Park is located in the north-west part of central London, covering an area of 395 acres. It is famous for its stunning gardens, including Queen Mary's Gardens, which features over 12,000 roses.
The park is also home to London Zoo, the Open Air Theatre, and the boating lake. Regent's Park is also known for its stunning architecture, including the elegant Nash terraces and the Queen Mary's Gardens.
Afternoon Tea
After you've gotten your shopping fix, walk through Hyde Park to Kensington Palace Pavilion, where you can have a lovely afternoon tea overlooking Kensington Palace and the palace gardens. If you're visiting London, enjoying afternoon tea is a must.
Kensington Palace Pavilion is my favorite spot for afternoon tea in London! It's located just next door to Kensington Palace, so you can stroll through the palace gardens, or take a tour after your tea service if you like. Make sure that you make a reservation in advance.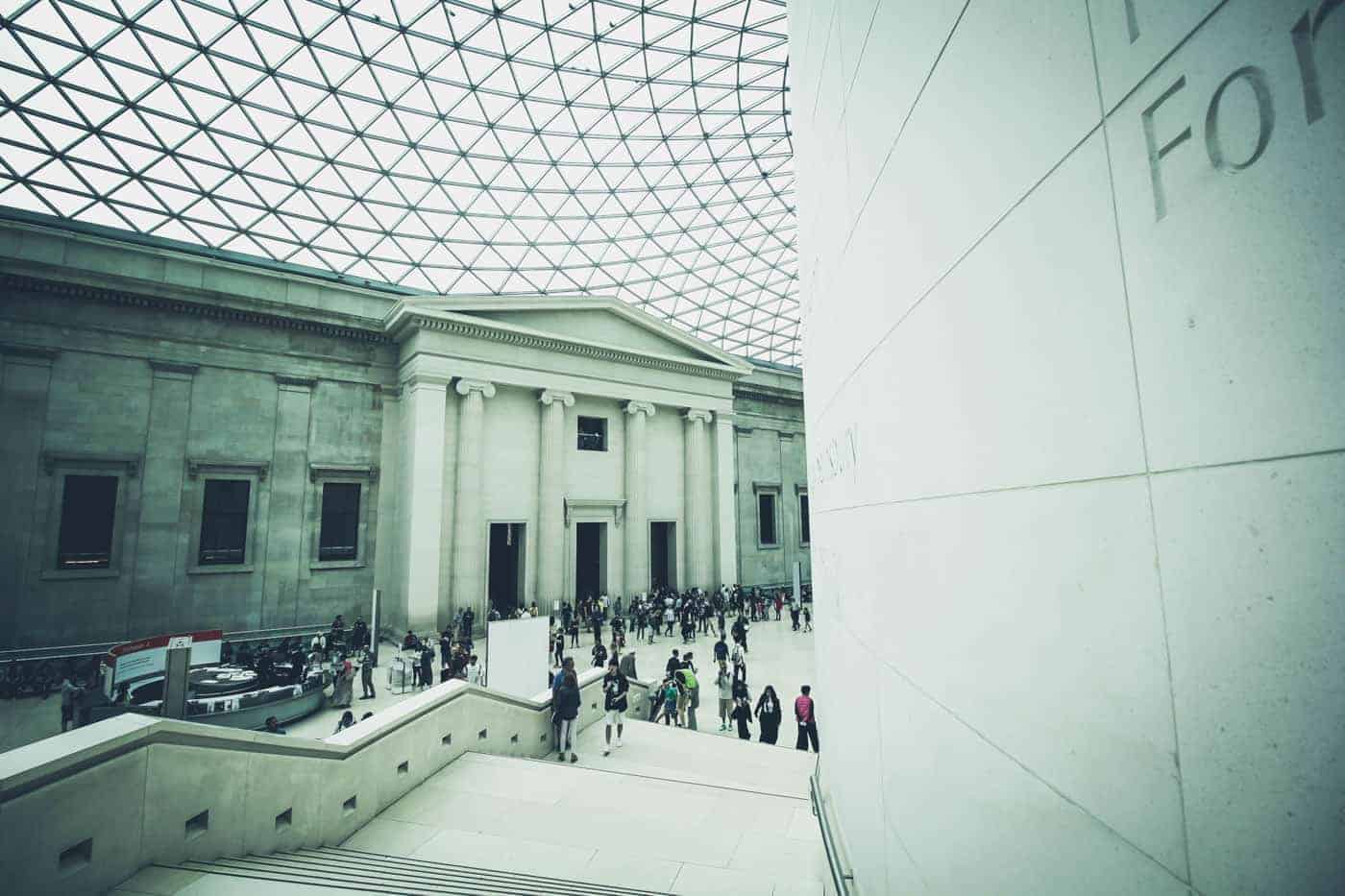 British Museum
No 4 day London itinerary would be complete without a visit to the British Museum.
So plan on spending the last few hours of the afternoon at this museum, another must-see if you're visiting London.
This Museum is TEEMING with incredible treasures that celebrate human history and culture…including the Rosetta Stone! The museum is typically open until 5:30pm, but check the website for opening hours on the day you're planning to visit.
For dinner on Day 2, you can't go wrong with Sketch for delicious food and an amazing ambiance. The decor, including egg-shaped toilets (!) is a must-see.
Day 3: Westminster Abbey, Big Ben, House of Parliament, and Trafalgar Square
Start off the next day of this 4 day London itinerary by checking out some of the most iconic sights in London's West End: Big Ben, Parliament, and Westminster Abbey. For first time visitors to London, these are a must!
Westminster Abbey
If you're visiting London, you can't miss Westminster Abbey. Start your experience outside the building, where you can admire the Gothic architecture of the Abbey, and then head inside to soak up the vast amount of British history that's housed there.
Founded in the 10th century, the Abbey has been the site of numerous royal coronations and weddings. Inside you'll find numerous chapels and tombs, as the Abbey is the final resting place for many British monarchs, statesmen, poets, and other famous figures, including the likes of Sir Isaac Newton, Charles Dickens, and Sir Winston Churchill.
Another highlight inside the Abbey is the Coronation Chair, which has been used in every British coronation since 1308. The Abbey has also been the location for numerous royal weddings, including the marriage of Prince William to Kate Middleton.
You can buy your tickets online ahead of time to avoid long lines during peak times of the year.
Big Ben and House of Parliament
Walk over to next door Big Ben and the House of Parliament. Fun fact: Big Ben isn't the name of the tower – it's actually the name of the bell that's inside the tower! Now you know.
If you're interested in seeing the inside of the building, you can take a virtual tour online, but my favorite thing to do is walk across nearby Westminster Bridge to view the building from across the river.
This is also a great spot to check out the London Eye!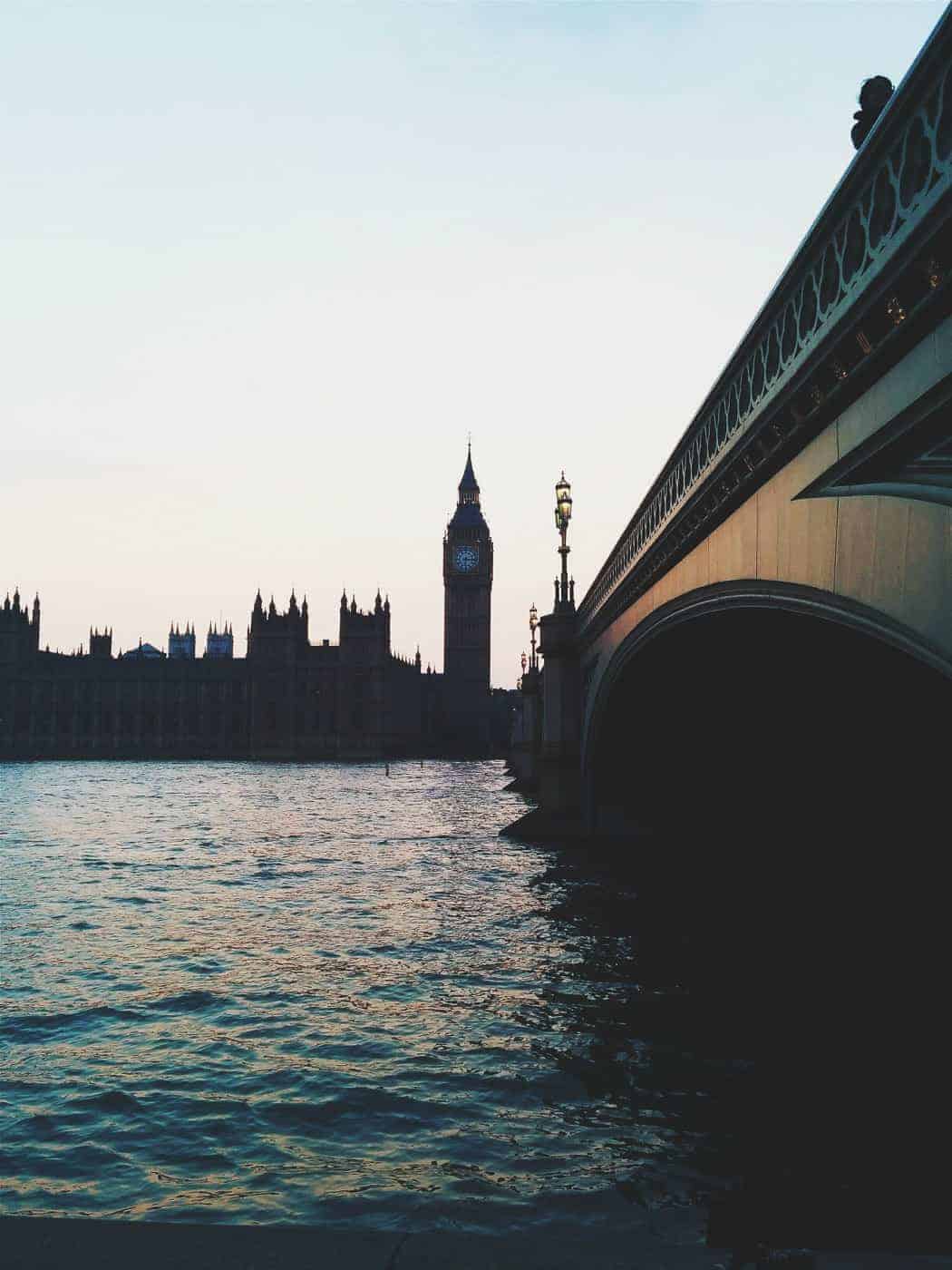 Trafalgar Square
Afterwards, walk over to Trafalgar Square and the National Gallery, home to world-famous paintings by Van Gogh and Michelangelo.
Trafalgar Square is one of the most famous public spaces in London, located in the heart of the city's West End. The square was named after the Battle of Trafalgar, a naval victory won by the British in 1805, and features the iconic Nelson's Column, a statue of Admiral Lord Nelson who died in the battle.
National Gallery
Trafalgar Square is surrounded by several historic buildings, including the National Gallery, one of the most prominent art museums in the world.
Some of the most famous works on display include "Sunflowers" by Vincent van Gogh, "The Arnolfini Portrait" by Jan van Eyck, and "The Fighting Temeraire" by J.M.W. Turner.
The museum's collection also includes works by famous artists such as Leonardo da Vinci, Michelangelo, Raphael, Rembrandt, and Vermeer. The National Gallery offers free admission, and visitors can also enjoy a variety of exhibitions, tours, and educational programs.
Piccadilly Circus
On your way from the gallery to the rest of your evening, walk through Piccadilly Circus.
Piccadilly Circus is a famous public space and road junction located in London's West End, at the intersection of five busy roads. Known for its large video display and neon signs, Piccadilly Circus is more of a tourist attraction than anything else, but it's fun to see the chaos and neon signs lit up at night.
Covent Garden
After the museum, you're in the perfect spot to head to nearby Covent Garden where you can shop, grab a drink, or eat dinner.
Located in the West End, Covent Garden is an important part of London's history. It was originally a convent garden in the 13th century, hence the name Covent Garden.
In the 17th century, the area became a popular place for the upper classes to shop for fresh produce and flowers. During the 18th century, the area became known for its theaters and became a center for the performing arts.
Covent Garden continued to grow and evolve throughout the 19th and 20th centuries, with the construction of the Royal Opera House, the Covent Garden Market, and the Covent Garden Piazza.
After dinner, you can check out a show in Leicester Square. London's West End has some of the world's finest theatre on offer (think Mamma Mia, Wicked and the Lion King) so it's worth checking out what will be on when you're visiting!
If a West End musical isn't your thing, it's also worth seeing what performances are on at the Royal Albert Hall and Shakespeare's Globe Theatre.
Day 4: Greenwich, East End, Shoreditch, and Museums
Greenwich
Start off your last morning in London with a cruise along the River Thames to Greenwich, where you can visit the Cutty Sark (the world's last-surviving tea clipper, built in the late 1800's and designed to carry tea from China to England ) and the National Maritime Museum.
You can also stand on the Prime Meridian line – otherwise known as 0 degrees longitude.
Check out the Greenwich foot tunnel that goes under the River Thames (and is rumored to be haunted!) and make your way back north and over to Shoreditch, one of London's most colorful, up-and-coming trendy neighborhoods. The graffiti is photo-worthy for sure!
East End and Shoreditch
For the next few hours, explore the trendy Shoreditch neighborhood in East London. In general, if you're looking for non touristy things to do in London, you'll love London's East End, and Shoreditch is one of my favorite neighborhoods to visit.
There's plenty of cool shops on Redchurch Street, as well as in nearby Spitalfields Market. Another cool shopping spot is Boxpark, a shopping area in Shoreditch made entirely of shipping containers.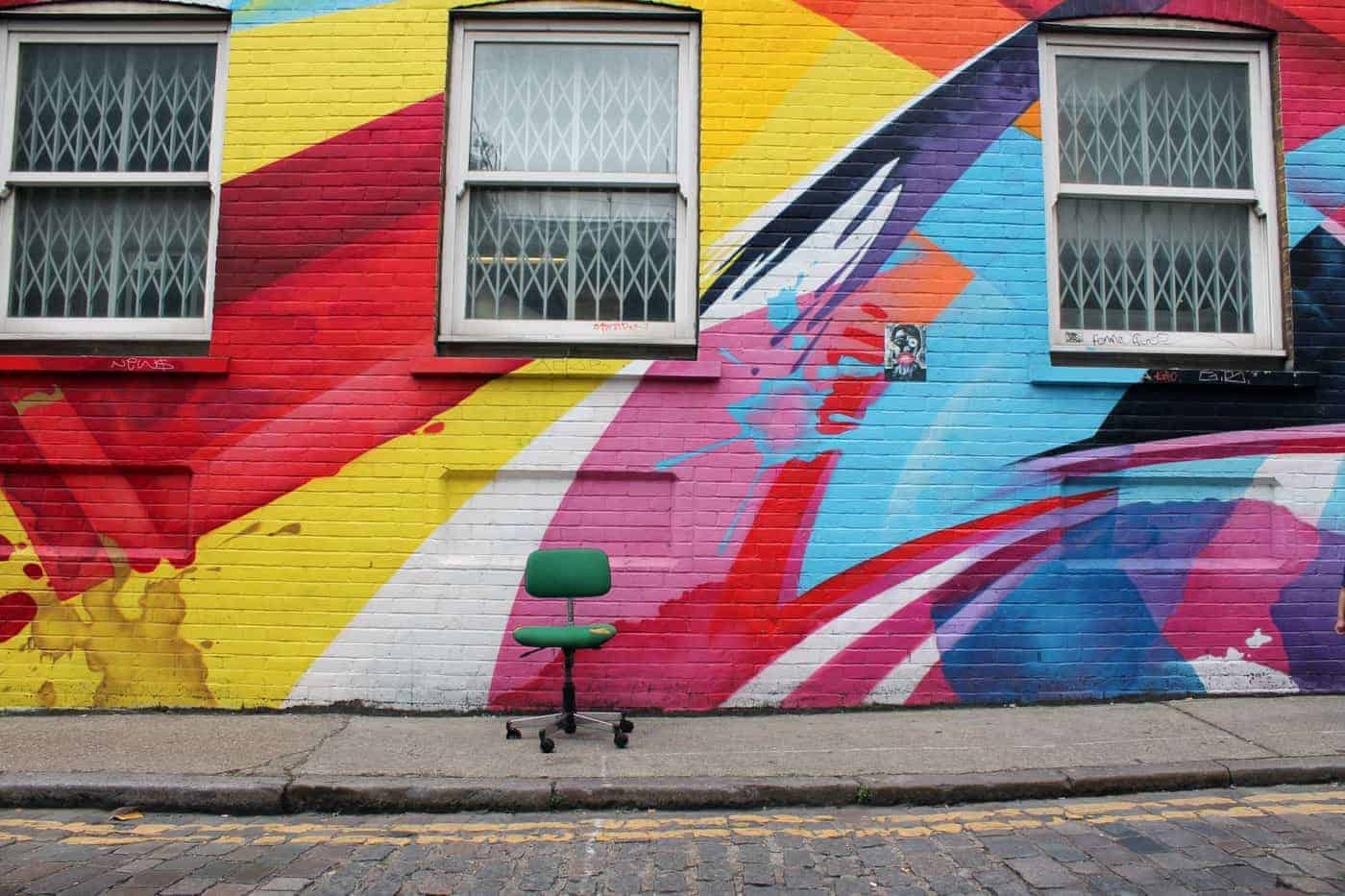 A great spot for lunch is Boundary London, or one of the many delicious curry joints on Brick Lane.
Brick Lane
Brick Lane is famous for its Indian and Bangladeshi curry houses, vintage markets, street art, and live music venues. The street has a rich history, once being home to Huguenot silk weavers in the 18th century and Jewish immigrants in the 19th and 20th centuries.
Today, Brick Lane is a popular destination for locals and tourists alike, offering a unique mix of food, fashion, and culture.
Natural History Museum or Churchill War Rooms
With a few hours left in the afternoon, you can head back across town to check out either the Natural History Museum or Churchill's War Rooms (a secret bunker from World War 2).
Natural History Museum
Located in South Kensington, the Natural History Museum showcases the diversity of the natural world. The museum's collection is vast, with over 80 million specimens, including fossils, minerals, plants, and animals.
Some of the most famous exhibits at the Natural History museum include the skeleton of a blue whale, a life-sized model of a T-Rex, and the Darwin Centre, which showcases the museum's research and collection facilities.
Churchill War Rooms
World War II is an important part of British history, and you can get a firsthand look at this by visiting the Churchill War Rooms.
This museum is located in the basement of the Treasury building, where Churchill and his government set up their underground headquarters during the war.
Visitors can explore the historic war rooms, which have been preserved to look much as they did during the war, and see where Churchill and his advisors made important decisions that helped shape the course of the war.
Had enough museums? A great alternative is to spend the afternoon checking out some of the markets and boutiques in London. Here are a few options for good shopping in London, depending on what you're looking for.
King's Road in Chelsea: independent, high-end boutiques and cafes (and one of my favorite places to shop in London)!
Camden Market: for a more boho, hipster vibe, head to Camden Town where you'll love the vendor stalls in Camden Market. Camden Market is open 7 days a week.
Oxford Street: London's Oxford Street is one of the most popular streets in all of London. On Oxford Street, you'll find lots of chain stores, along with lots and lots of crowds. It's a good shopping spot because it's centrally-located, but just know what to expect when you visit.
Old Spitalfields Market: Located in London's East End, Old Spitalfields Market is one of my favorite places for shopping in London. It's a mix of boutiques, food stalls, and shops, with more of a unique, independent feel than the shopping streets in central London.
For drinks and dinner, you can't go wrong with The Wolseley or Chiltern Firehouse.
4 Day London Itinerary Map
I've created a custom Google map of this 4 day London itinerary. Below is a sneak peek of what it looks like.
Click here to access the full map, which is set up so that you can view the entire trip, or just one day at a time.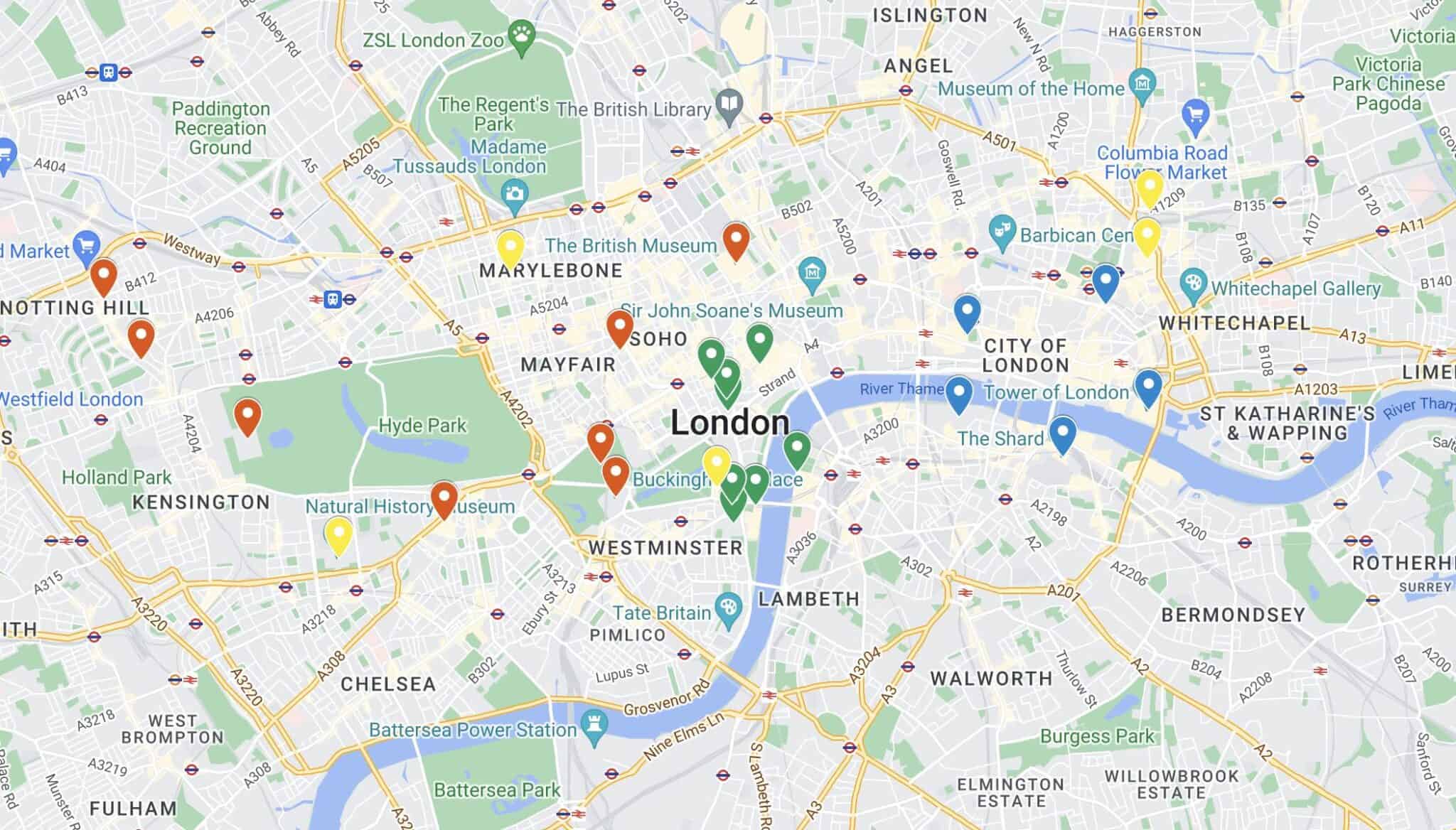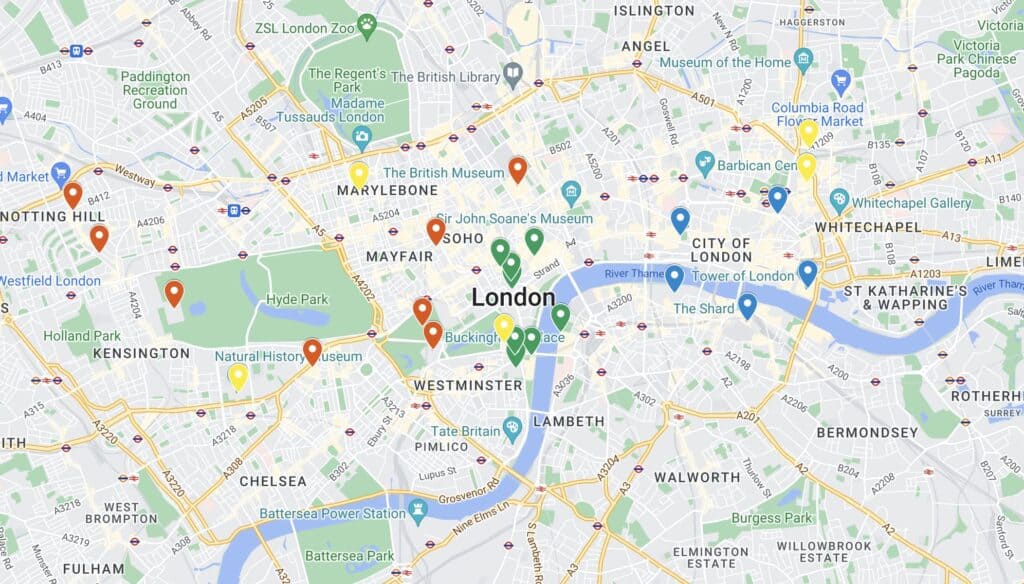 There you have it, the Perfect 4 day London Itinerary!
I hope that this 4 day London itinerary has helped you plan your first trip to London!
What to Do with 4 Days in London (For Harry Potter Fans)
If you're a Harry Potter fan, there are a few special stops you should add to this 4 day London itinerary!
Platform 9 3/4 at King's Cross Station: Fans can take a photo pushing a luggage trolley through the wall to access the Hogwarts Express.
The Harry Potter Shop at Platform 9 3/4 (King's Cross Station): this shop sells official Harry Potter merchandise and souvenirs.
The Leaky Cauldron: Although the Leaky Cauldron is a fictional pub, fans can visit the real-life inspiration for the pub, the Leadenhall Market in the City of London.
The Harry Potter Walking Tour: This tour takes fans to several locations used in the Harry Potter films, including Diagon Alley and the entrance to the Ministry of Magic.
If you have more time and want to take a day trip outside of London, I highly recommend visiting the Warner Bros. Studio Tour London: The Making of Harry Potter. During a visit to the studio, you can check out the sets, props and costumes from all of the Harry Potter films. A full post is coming soon!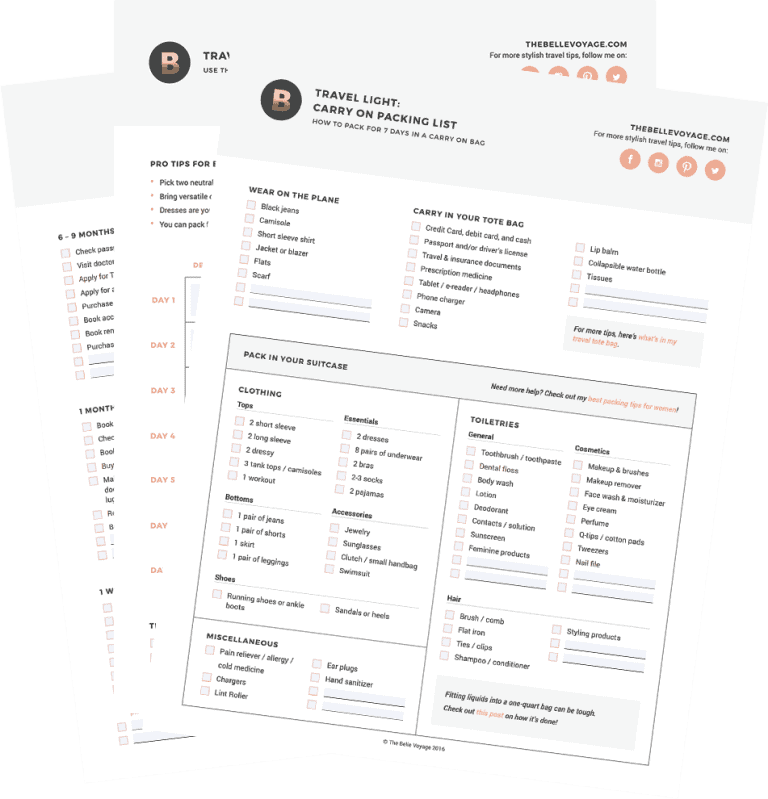 free printable travel resources
PACKING LISTS + PLANNERS
Get ready for your next adventure with my free printable travel planners and packing lists – the perfect companions to make packing a cinch and keep you stress-free!
How Many Days are Enough in London for First Time Visitors?
If it's your first time visiting London, I recommend spending at least 4 or 5 days in the city. With 4 or 5 days in London, you will have enough time to see most of the city's main sights, but be able to do so at a relatively relaxed pace.
In addition to seeing the top sights in London, 4 days in London is enough time to enjoy the city's fantastic restaurants and boutiques.
For more ideas on the best things to do in London, check out my London bucket list that has my recommendations for the top 50 London activities!
Is 4 Days Enough for London?
If it's your first visit to London, you might be wondering if 4 days is enough time to spend there.
While you could spend months, even years, exploring everything that London has to offer, 4 days in London is enough time to see most of the tourist highlights of the city. Of course, if you have more than 4 days in London – there is even more to see!
If You have More than 4 Days in London
With more than four days in London, you definitely have time for a day trip to explore outside of the city! If you're into castles, check out Hampton Court Palace or Windsor Castle.
If you'd rather spend your time exploring a smaller city with tons of curb appeal and a rich history, you could visit Cambridge or Canterbury.
I also highly recommend a day trip to Rye Sussex. It's about an hour from London by train and the most charming English town I've ever seen!
If You Only Have one Day in London
If you only have one day in London, I would recommend seeing Big Ben, Parliament, Westminster Abbey, and the Tower of London. Those sights will give you a good flavor for the city in a very short period of time.
What is the best Month to Visit London?
If you're planning your first trip to London, you might be wondering what month is best to visit London. I recommend first-time visitors to London try to visit between May and August.
In the summer months, the weather is warm and the outdoor weather means that you can enjoy so much more of the city.
Of course, if you're not able to plan your first trip to London during the summer, the early fall months of September and October are also great months to visit London.
More Frequently Asked Questions
What is the London Pass?
The London Pass is a single digital pass that provides access to over 90 of London's top attractions, including many that you will likely include in your 4 day London itinerary, such as the Tower of London, Tower Bridge, Westminster Abbey, St. Paul's Cathedral, and the Queen's Gallery in Buckingham Palace. It also includes a 1 day hop-on hop-off bus tour of the city.
Is the London Pass worth it?
Whether or not the London Pass is worth it really depends on what you're planning to do as part of your London itinerary. If you follow the 4 day London itinerary that I've laid out in this guide, you will save money by buying the London Pass.
For More London Inspiration and Packing Ideas, Check out These Posts!
How to Pack Light and Fashionable for Europe
My best Tips on Travel Packing for Women
If you're heading elsewhere in Europe, you'll love my 2 day Berlin itinerary, an amazing 3 day Barcelona itinerary, and my travel guide to Bellagio Italy!