Lucca, Italy: The Ultimate Travel Guide for First Timers
This site uses affiliate links and I may earn a small commission when you use my links and make a purchase, at no extra cost to you. 
It's so easy to fall in love with Lucca, Italy. Dare I say it – but I think Lucca is one of Tuscany's best-kept secrets. Whether you have one day in Lucca or more, I'll show you everything you need to know to travel to Lucca. And if you're planning a trip to Italy, make sure to check out my top tips for visiting Italy for the first time, as well as a list of the 20 best places to visit in Italy on my Italy bucket list.
History of Lucca, Italy
Lucca is a city in Tuscany, central Italy, with a rich history dating back to the Etruscan and Roman times. During the Roman period, Lucca was a thriving city and an important military stronghold. After the fall of the Roman Empire, it became a free commune in the Middle Ages, and in the 13th century, it became a prosperous trading center and a center of textile production.
In the 16th and 17th centuries, Lucca was ruled by powerful families such as the Medici, and it was also a center of humanism and the arts. During this time, many notable artists and architects, such as Jacopo della Quercia and Ilaria del Carretto, worked in Lucca.
In the 19th and early 20th centuries, Lucca was part of the Grand Duchy of Tuscany and then became part of the newly formed Kingdom of Italy.
Today, Lucca is a frequent tourist destination for travelers to Tuscany. Although it is a popular city to visit, it remains off the beaten path that most tourists take in Italy ( Rome - Venice - Florence ), so it still retains much of its authentic Italian charm.
The Best Things to do in Lucca
Piazza Anfiteatro
Your first stop in Lucca should be the Piazza Anfiteatro, the heart of the city. It is named after the ancient Roman amphitheater that once stood on the site.
The amphitheater was built in the 1st century AD and was one of the largest in the Roman Empire, with seating for up to 20,000 spectators. It was in use until the 5th century and was then gradually buried by the city's expansion.
Today, Piazza Anfiteatro is a charming square surrounded by historic buildings and cafes. The shape of the piazza is an oval, and follows the outline of the ancient amphitheater. The original walls of the amphitheater can still be seen in some parts of the square.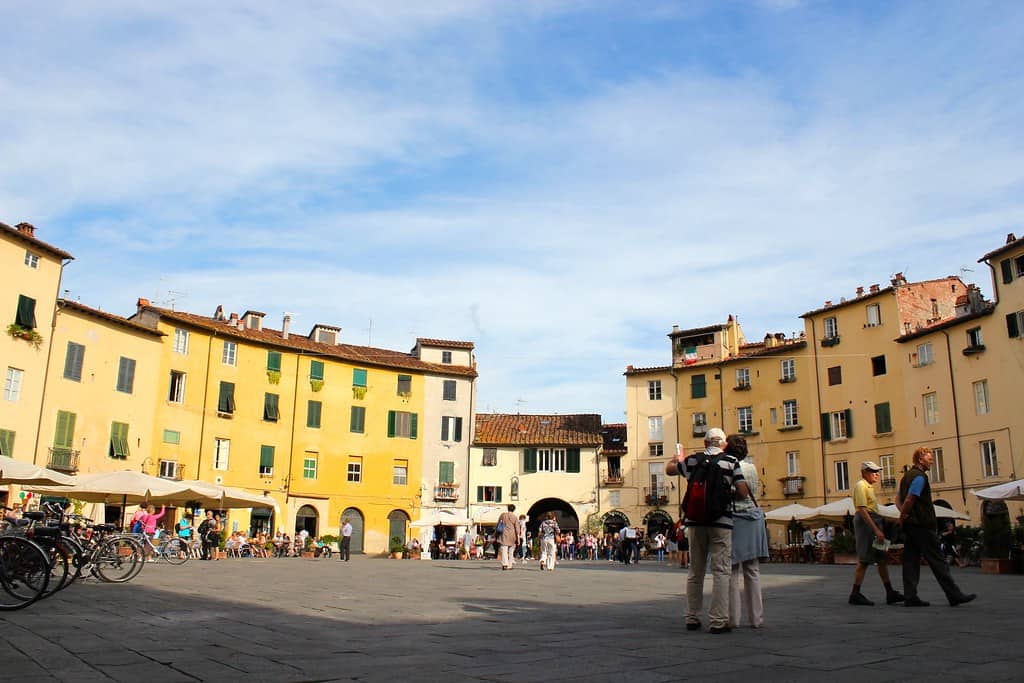 Lucca's Medieval Walls
One of the first things you will notice when you arrive in Lucca is the tall, wide stone walls that surround the city.
The walls are a well-preserved medieval fortification that were built in the 16th and 17th centuries. They're still in near perfect condition because Lucca managed to escape bombing in WWII, so the composition of the city center hasn't changed in hundreds of years.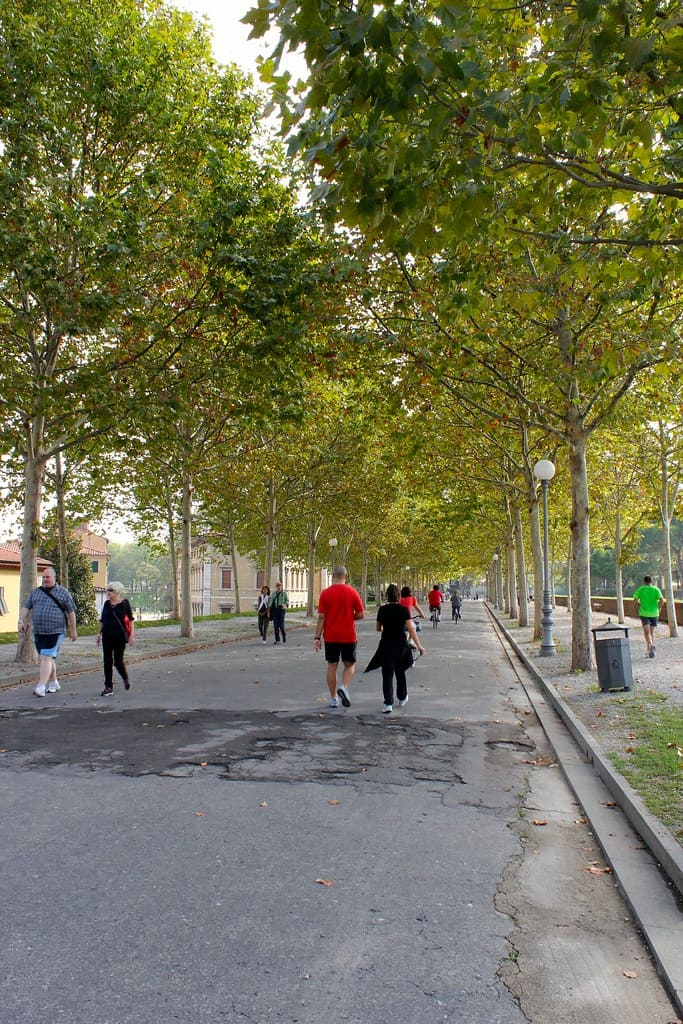 The walls are about 30 feet high and there's a wide pathway on top which today is a bike path / walking path / place to see and be seen on a Sunday afternoon.
The walls are about 3 miles in circumference so a lap or two will put you in good shape to enjoy plenty of pasta!
Via Fillungo
Via Fillungo is Lucca's main street, and is lined with shops, boutiques and restaurants. Known for its architecture, the street is lined with medieval and Renaissance-style buildings, and many of the shopfronts feature elaborate stone carvings and frescoes.
Via Fillungo is one of the busiest streets in the city and is a popular destination for both locals and tourists. It's a great place to stroll in the evening, do some shopping, and enjoy a gelato.
Guinigi Tower
The Guinigi Tower (Torre Guinigi) is one of the city's most iconic landmarks and is one of the few remaining towers from the many that once dotted the city's skyline. The tower was built in the 14th century by the Guinigi family, a wealthy and influential family in Lucca during that time.
The tower is best known for the large oak tree that grows on its rooftop terrace. The tree, which is believed to be over 500 years old, provides a unique and beautiful contrast to the tower's medieval stone walls.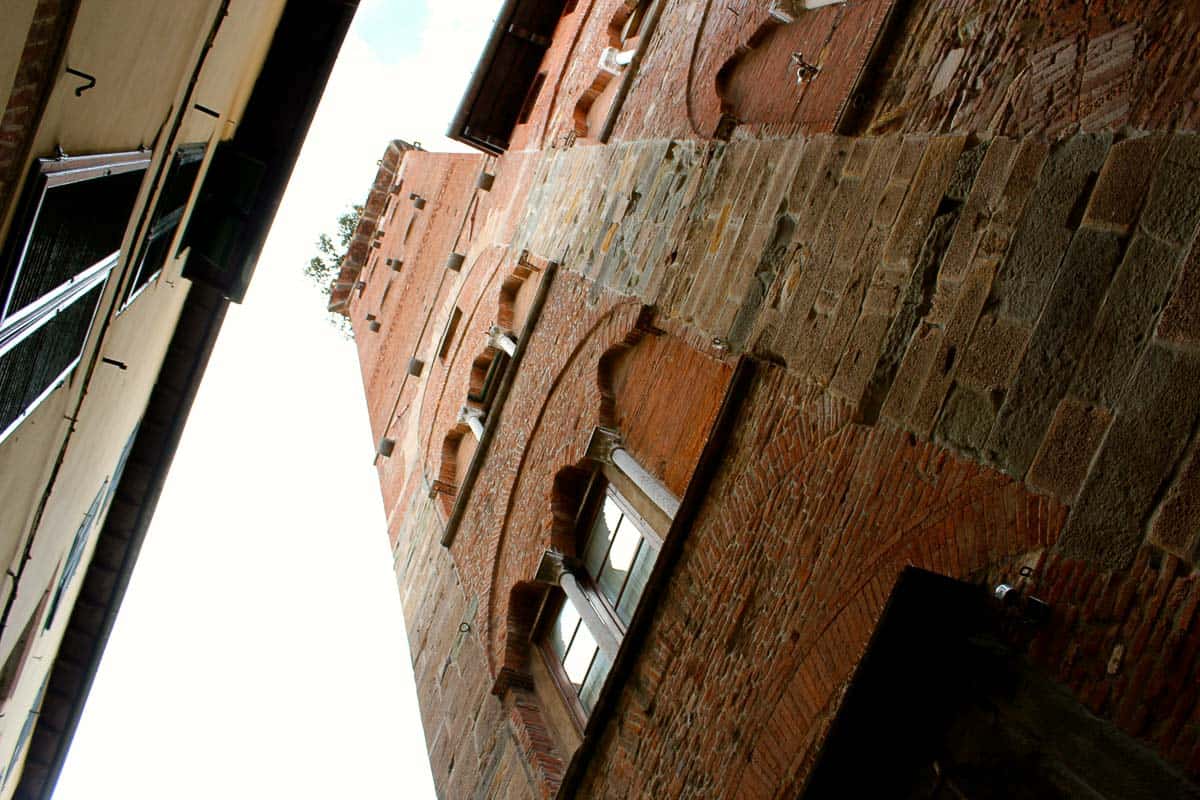 Climbing to the top of Guinigi Tower is one of the best things to do in Lucca. Atop the tower, you're rewarded with a gorgeous view of Lucca's red rooftops, with the mountains and Tuscan countryside in the distance.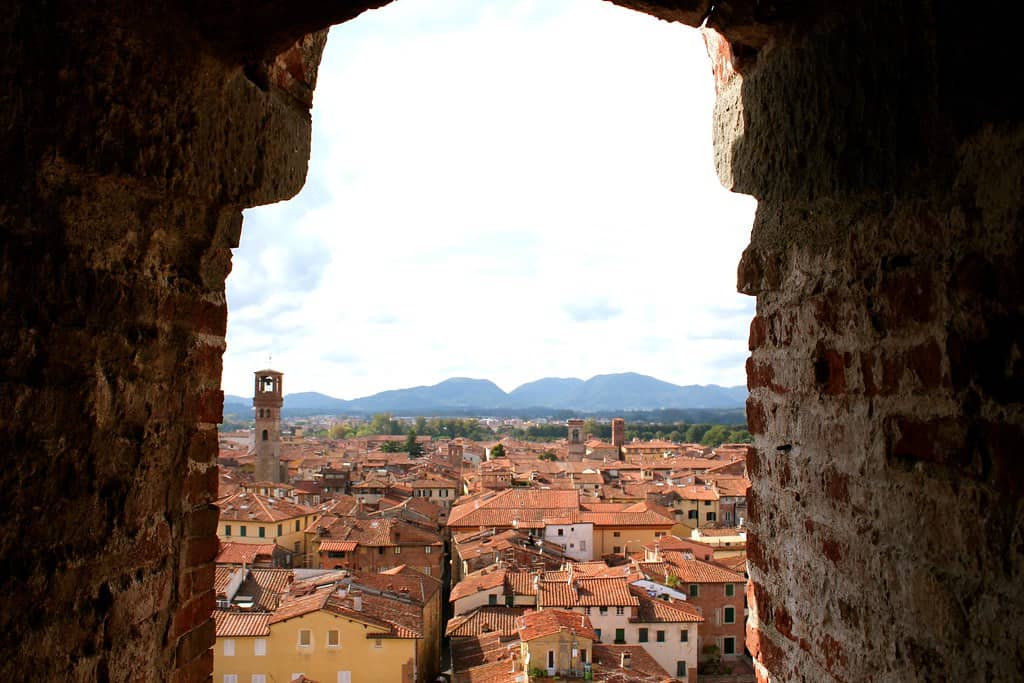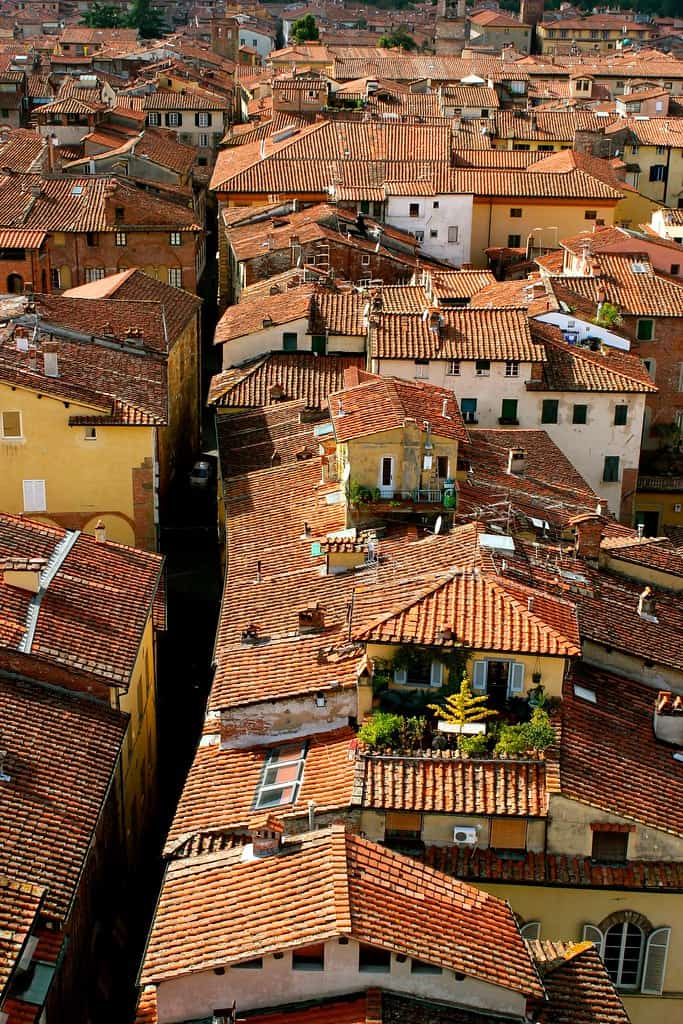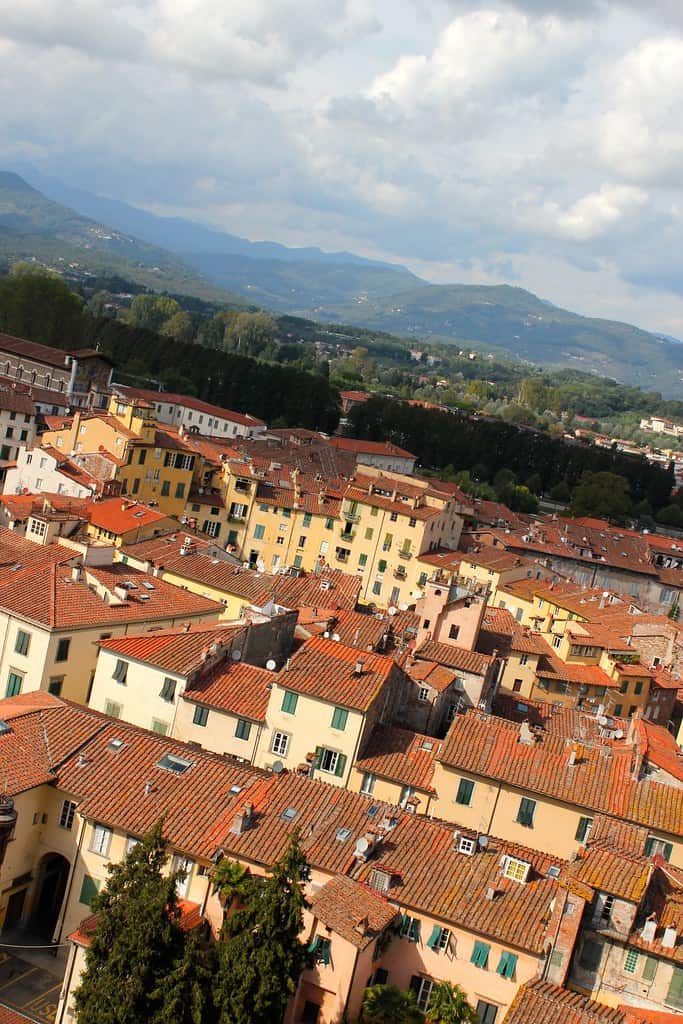 Address: Via Sant'Andrea, 41
Hours: 10:00am – 4:00pm
Admission: €6
See a Puccini Concert
Italian composer Giacomo Puccini was born and raised in Lucca, and the city honors his connection to the area with a Puccini concert every Thursday, Friday and Saturday night in Lucca (check the schedule in the link).
If you're visiting Lucca, I highly recommend staying for at least one night so that you can enjoy one of the nightly Puccini concerts! Concerts are approximately an hour long, and the performance varies depending on the day. They're also free to attend.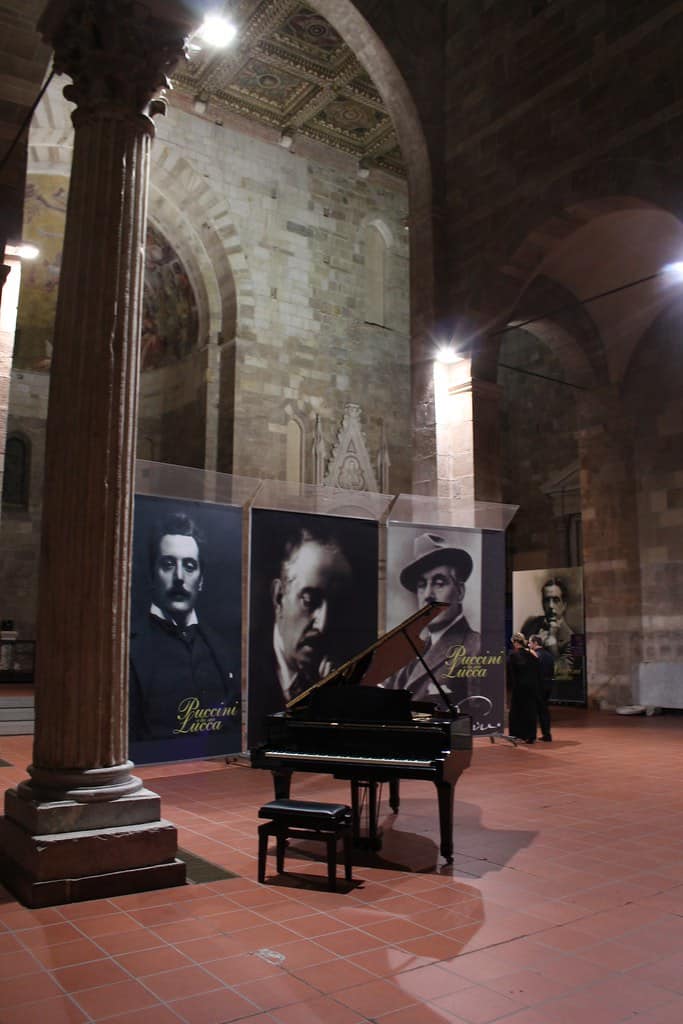 San Giovanni church, where the concerts are held, is actually the same church where Puccini was baptized and even played the organ as a teenager.
Best known for composing La Boheme, Tosca, and Madame Butterfly, Puccini was also rather scandalous – he had a longtime affair with a married woman before marrying her himself (must have been that mustache).
Address: San Giovanni Church, Piazza S. Giovanni
Hours: 7:00pm on Thursdays, Fridays, and Saturdays
Admission: Free; donations welcome
Palazzo Pfanner
Visiting the historic Palazzo Pfanner is another great thing to do in Lucca. The Palazzo was built in the late 17th century by the architect Francesco Galli Bibiena and is considered one of the most important examples of Baroque architecture in the city.
Named after its most famous owner, German merchant Johann Pfanner, the Palazzo is renowned for its grand entrance hall, which features an elaborately decorated ceiling and frescoes, as well as its grand staircase and ornate salons.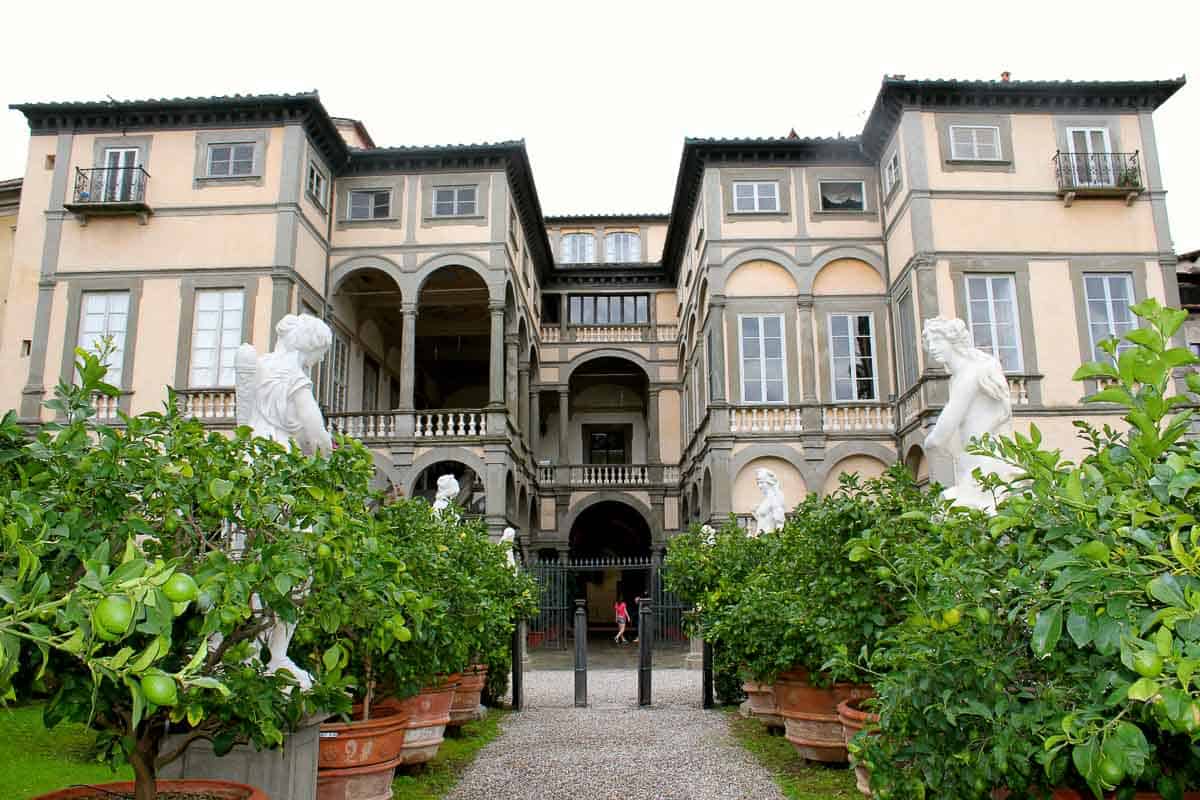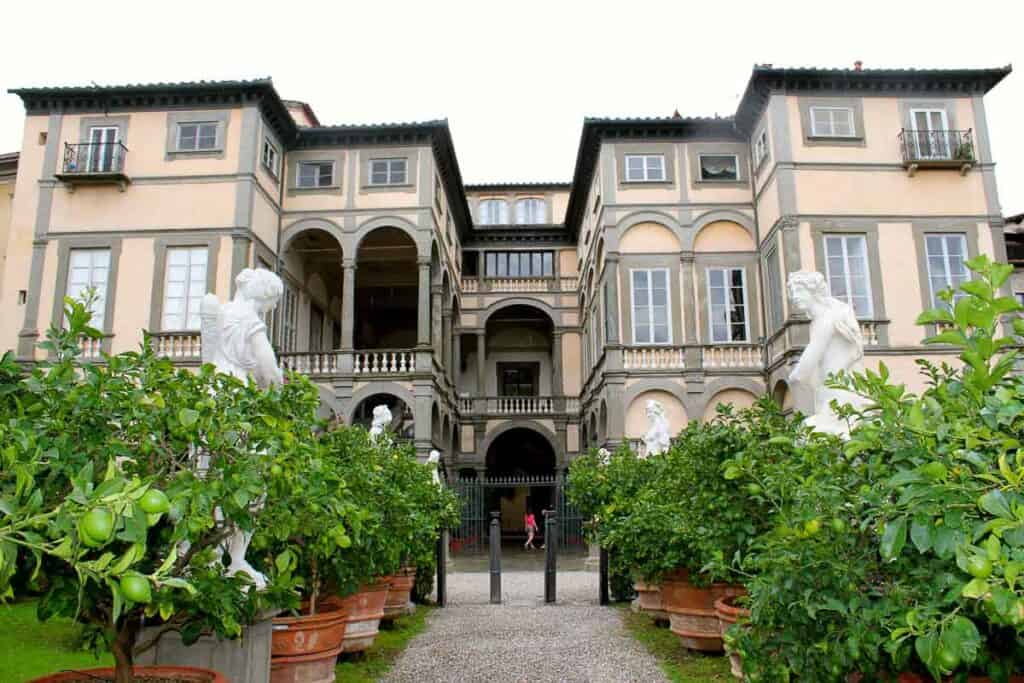 The palace also has a beautiful garden, which is surrounded by high walls and features a large pond, fountains, and many statues.
Address: Via degli Asili, 33
Hours: April – November, 10:00am – 6:00pm
Admission: €6.5 (residence and garden)
Food and Drink in Lucca
Lucca, is known for its delicious Tuscan cuisine, and there are plenty of great restaurants to choose from.
I've included a few restaurant options below, but I also recommend wandering into Lucca's scenic piazzas, and picking any restaurant that strikes your fancy. Here, you can enjoy the food as much as the view, sip on wine that's cheaper than water (no really) – but delicious – and enjoy some of the regional cuisine and local produce.
Trattoria Da Leo: A traditional trattoria serving classic Tuscan dishes and local specialties.
Osteria Le Cantine: A cozy osteria offering a wide range of dishes made with fresh, seasonal ingredients.
Ristorante Il Matterello: A high-end restaurant with an extensive wine list and a menu featuring innovative takes on classic Tuscan dishes.
La Bottega del Buon Caffè: A popular cafe and wine bar offering light bites and drinks in a chic, contemporary setting.
Ristorante Il Santo Bevitore: A Michelin-starred restaurant serving contemporary Italian cuisine in a stylish, elegant setting.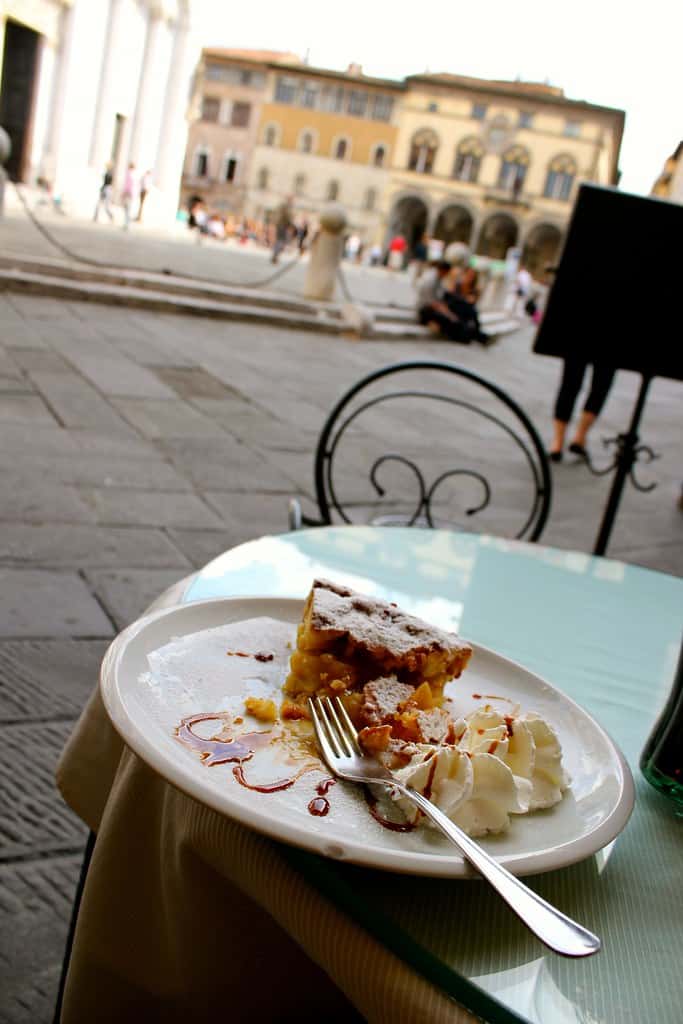 If you want to experience Lucca's cuisine the way that locals do, check out one of the local markets, and pick up supplies for an impromptu picnic atop the walls.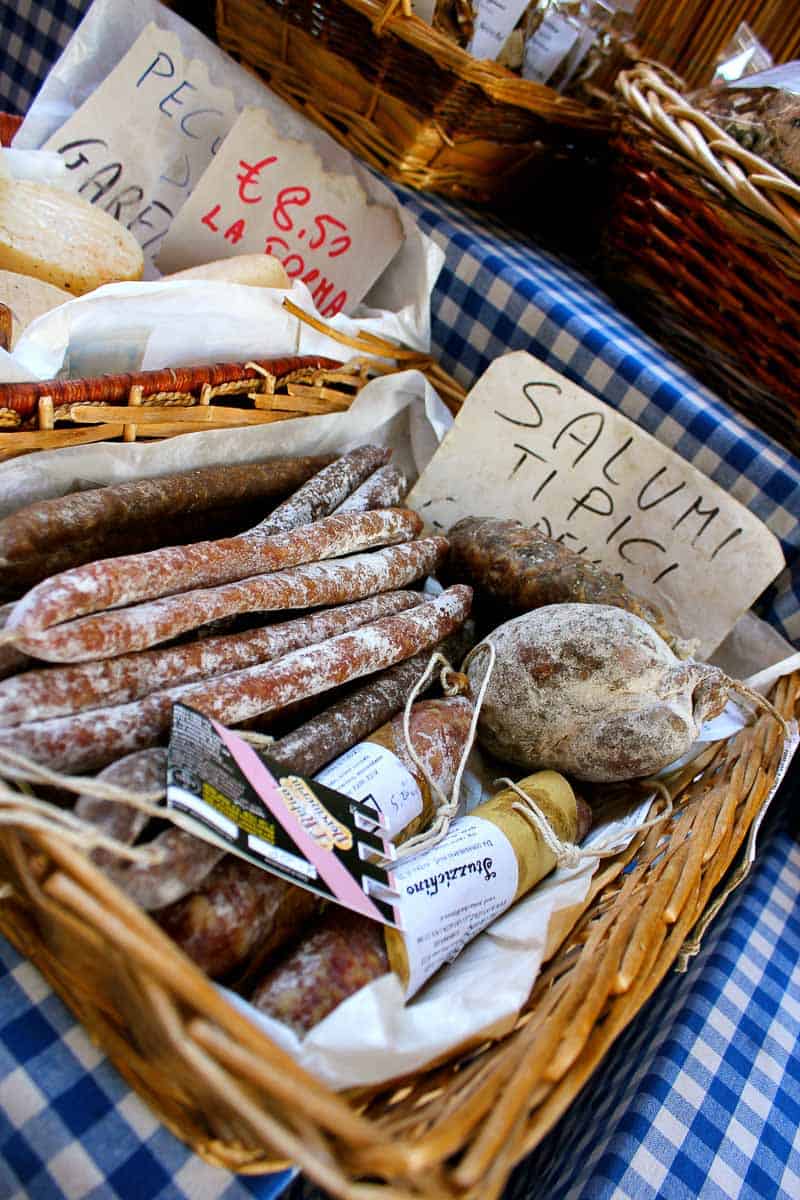 Where to stay in Lucca
It terms of where to stay in Lucca, there are two choices: inside the city walls, or outside the city walls.
If you don't have a car, I highly recommend staying inside the city walls, because you'll easily be able to get anywhere you need to go on foot.
If you do have a car, you can stay outside the city walls, and you'll still have flexibility with transportation. Make sure to check with your hotel ahead of time to see if parking is provided for hotel guests.
If you have a car but want to stay inside of Lucca's city walls, you will need to park in one of the large parking lots just outside the city center, and walk to your hotel. Check with you hotel for parking logistics for guests.
Any of these top picks below are a great place to stay when visiting Lucca:
Inside the city walls: Hotel LaLuna. The location is amazing, the hotel staff couldn't be more kind, and it is great value for the money. I absolutely loved my stay here!
Outside of the city walls: Albergo Celide. It's located JUST outside Lucca's walls and offers guest parking, so logistics will be easy. They also provide guests with free bike rentals!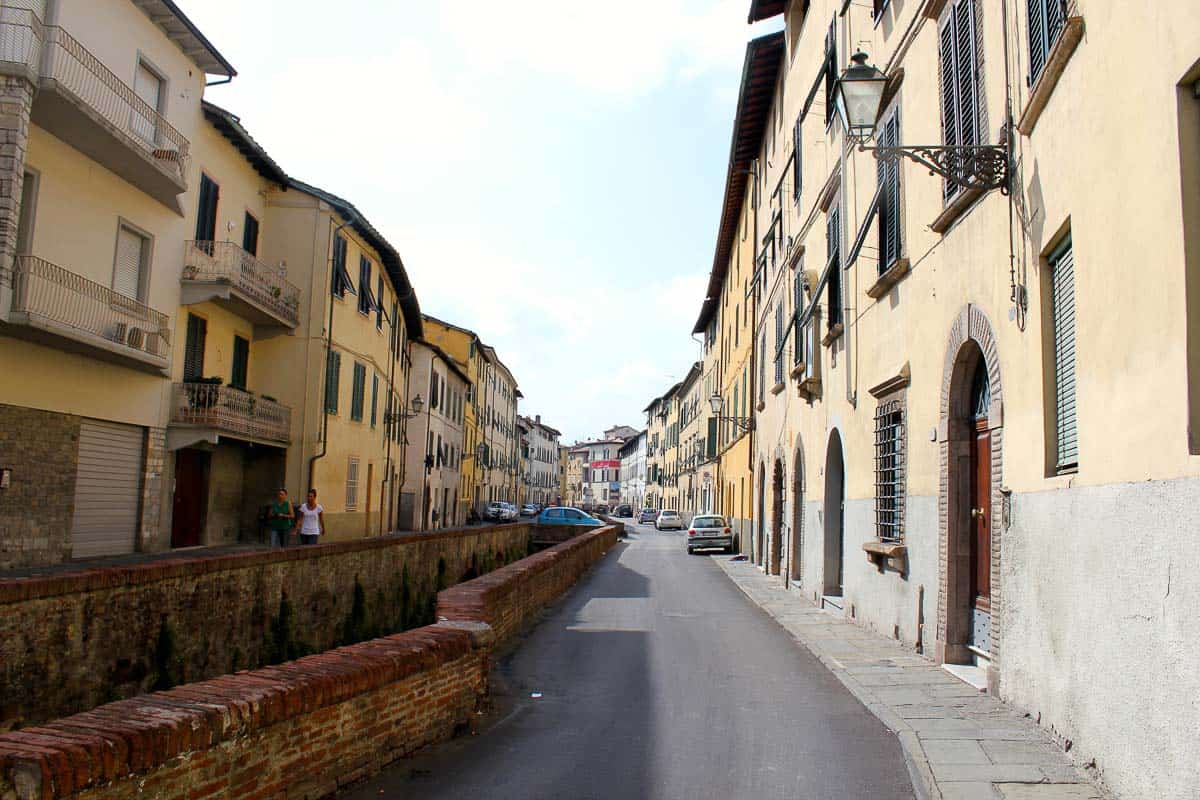 Pro Travel Tip: These days, travel can be more uncertain than ever. Check for any COVID-related restrictions at your destination, and never travel without travel insurance! I recommend SafetyWing, because they have flexible + affordable insurance plans, and also cover COVID-related impacts on your trip (not all companies do)!
Planning Your Trip to Lucca
How much time do you need in Lucca?
To truly experience the best that Lucca has to offer, I recommend spending at least two days exploring the city.
With two days in Lucca, you will have time for some of the city's main sights (Piazza Anfiteatro, Via Fillungo, Guinigi Tower, and the city's medieval walls) as well as a Puccini concert. You will be able to do these activities and also have time for leisurely exploring, and having relaxing meals in an outdoor cafe.
If you only have one day in Lucca, it is possible to see many of its highlights in a day. If you're visiting Florence or Pisa, Lucca makes for an easy day trip. Get an early start, and you can do all of the above if you stay at a good pace!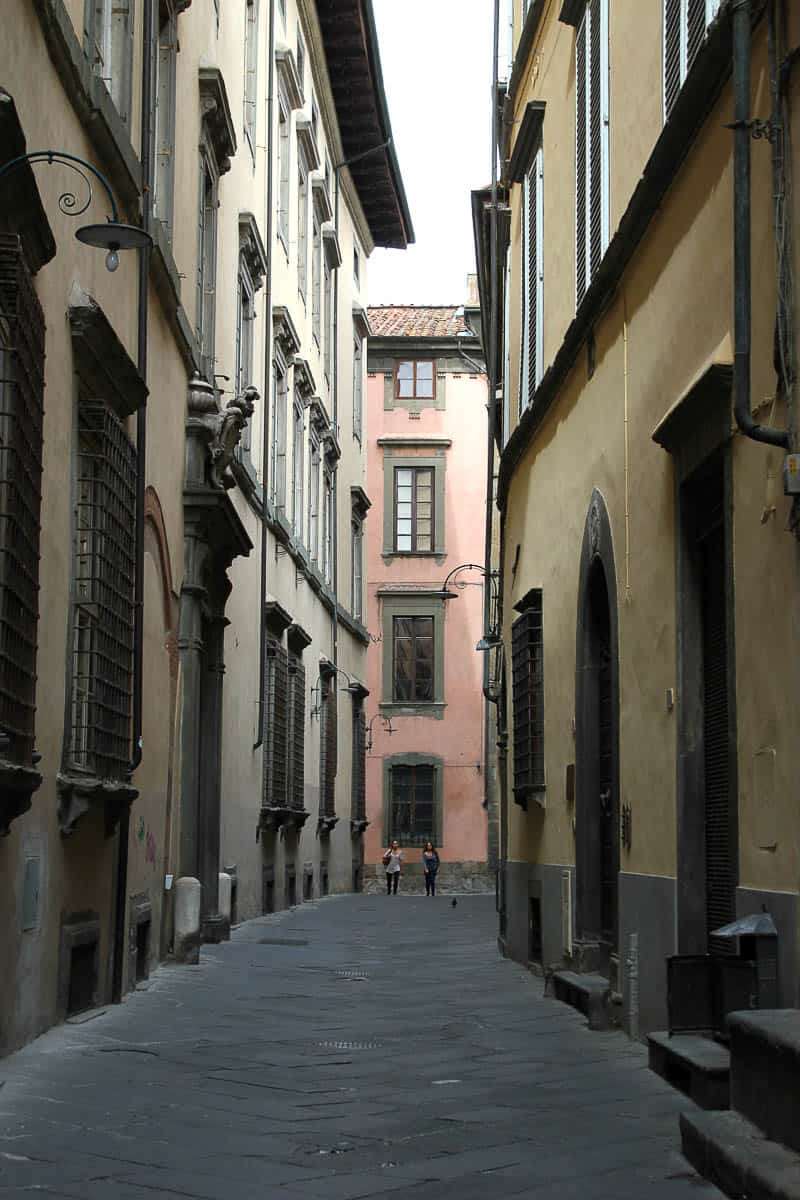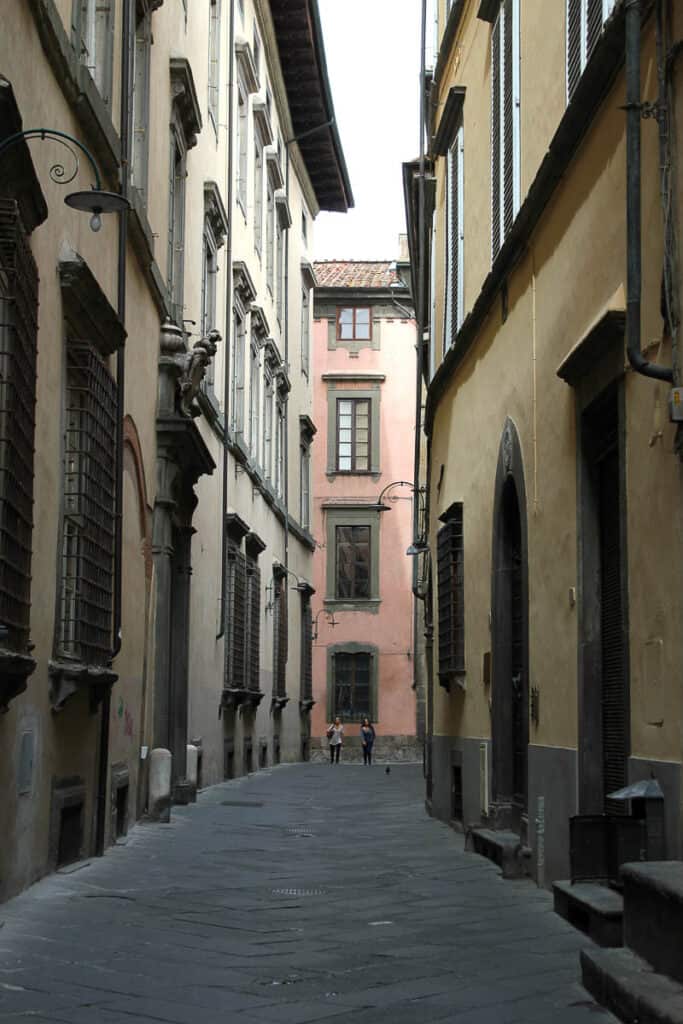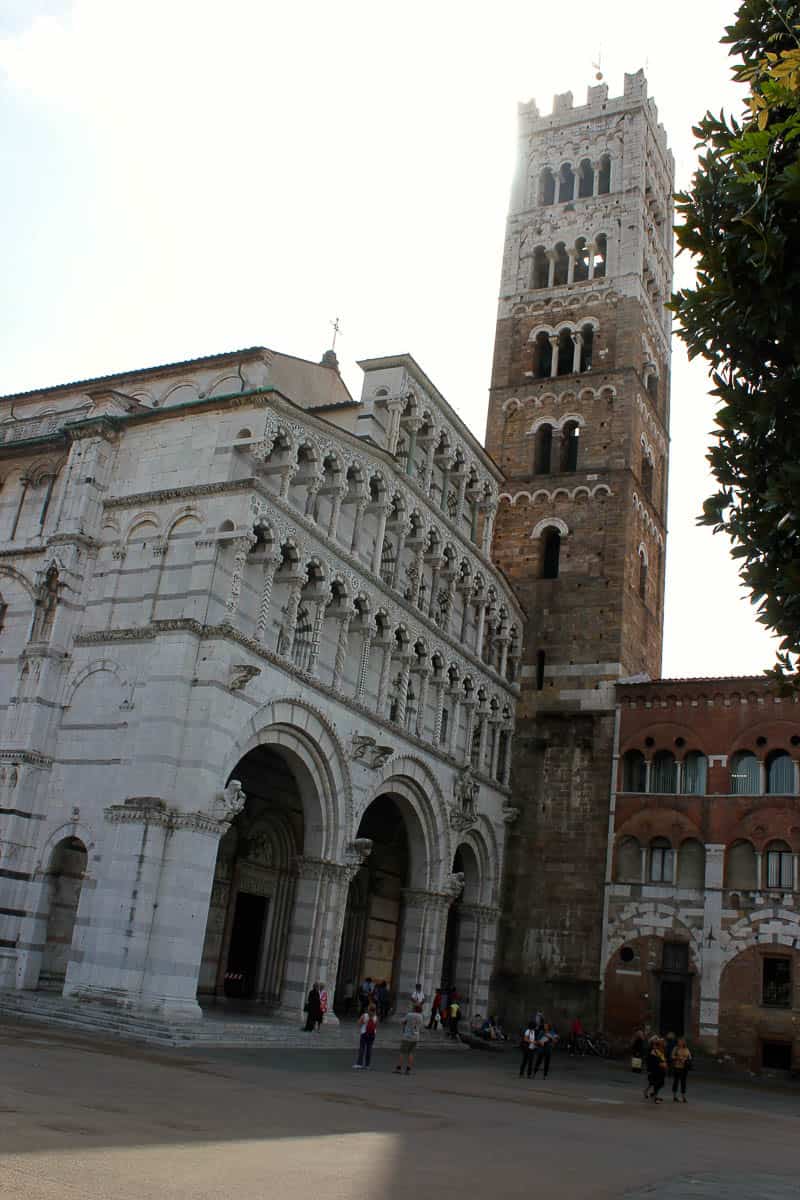 How to get to Lucca
It is easy to reach Lucca by car or by train.
If you arrive by train, Lucca's train station is located within a few minutes' walking distance of the town's center. Trains from Florence and Pisa arrive frequently and do not need to be booked in advance.
Transportation and Getting Around
The best way to get around Lucca is on foot or by bicycle.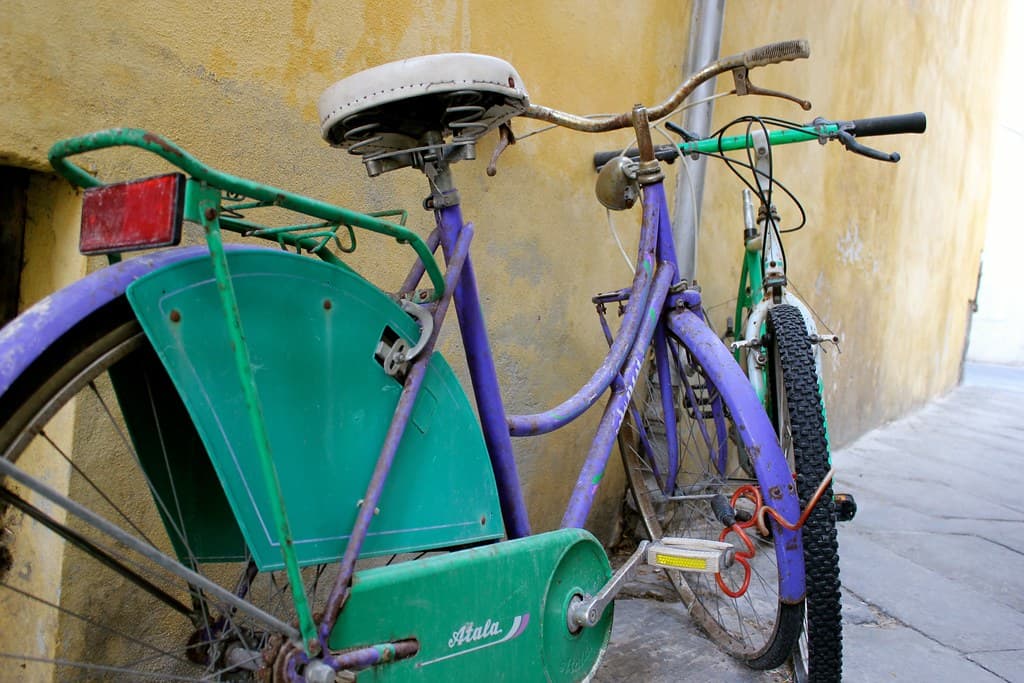 The city is relatively compact, so even if you only have a day in Lucca, you will be able to see the highlights by walking. Walking is also the best way to navigate the city center, since Lucca's main streets are quite narrow and crowded with pedestrians.
I also recommend renting a bicycle so you can explore some of the further corners of Lucca, to get out of the main tourist area. You will find plenty of bike rental companies in Lucca.
Frequently Asked Questions About Lucca
Is Lucca, Italy worth visiting?
Lucca is a hidden gem in Tuscany that is absolutely worth visiting. The town's well-preserved medieval architecture and authentic Italian charm make it a must-see for travelers.
Which is better: Siena or Lucca?
Lucca is a smaller city, easier to navigate, and has fewer crowds and tourists than Siena. Siena is a larger city, but it is more centrally-located within Tuscany, and well-connected to other cities by train, so it's a good home base to explore other small towns in the area.
For more packing help, check out my best tips on travel packing for women, and the Europe Travel Capsule Wardrobe I've put together.
Traveling Elsewhere in Italy?
You'll love my travel guide to Bellagio Italy. Besides Lucca, it's my other favorite city in Italy! And be sure to check out my travel tips for going to Italy for the first time.
Liked this post? PIN IT!