22 Long Flight Essentials You Need to Stay Sane
This site uses affiliate links and I may earn a small commission when you use my links and make a purchase, at no extra cost to you. 
Do you have a long haul flight in your future? If so, it's important to plan ahead and think about everything you should carry on with you. The right carry on essentials can make a long haul flight comfortable end enjoyable, even if you're flying in economy. In this guide, I'm sharing the most important long flight essentials you should pack with you to make your flight more comfortable, restful and – dare I say it – even enjoyable!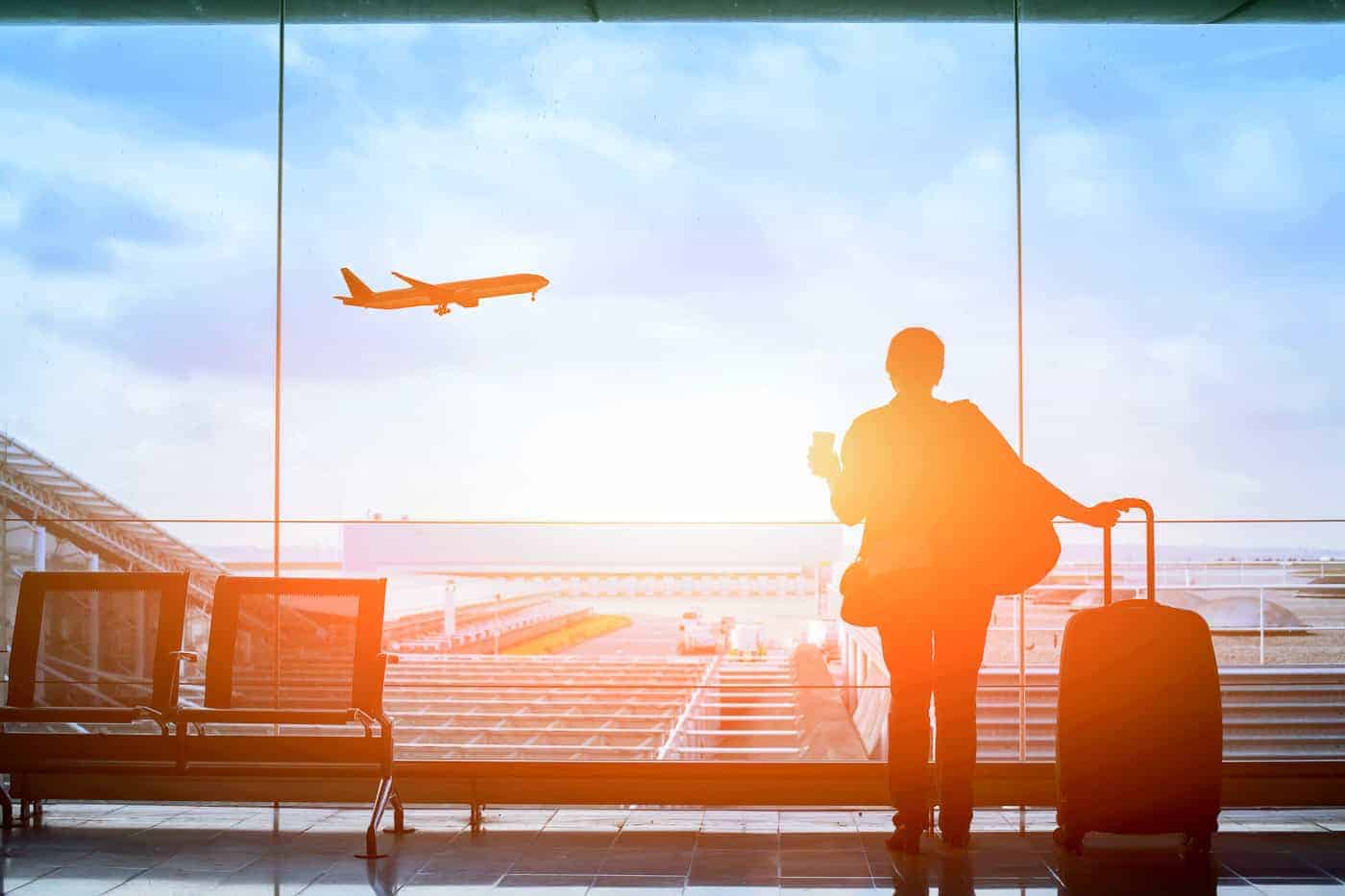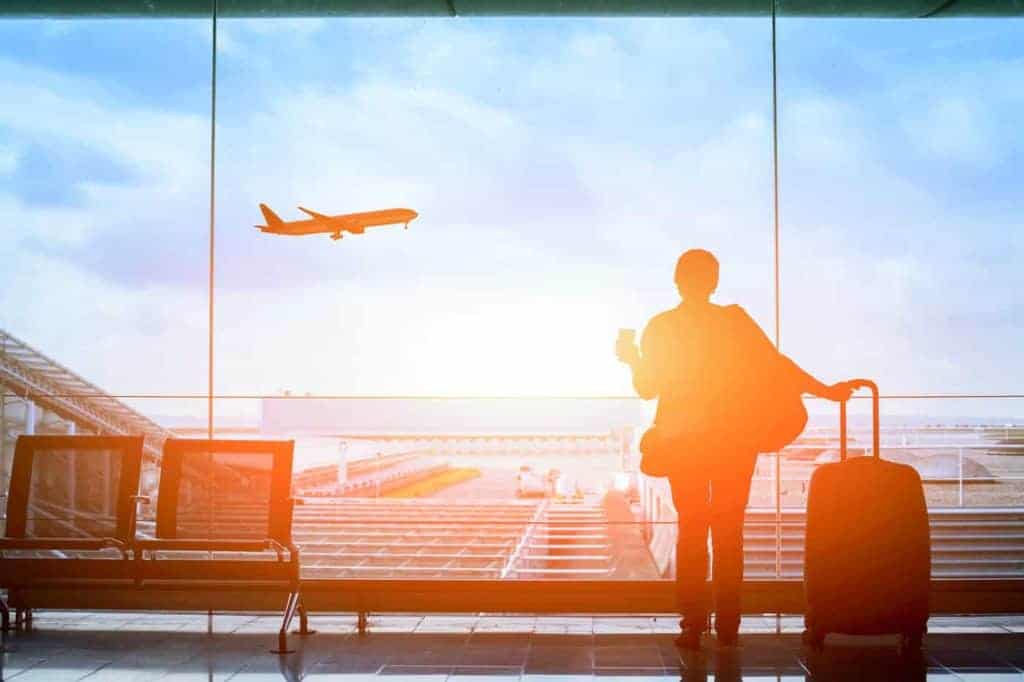 What is a Long Haul Flight?
A long haul flight is a nonstop flight that is longer than 7 hours. Long haul flights are usually international flights, and are often overnight.
In general, the airplanes that fly long haul flights are larger and carry more passengers. These aircraft are typically wide body airplanes such as the Airbus A380 or the Boeing 787, and offer multiple classes of cabins such as economy, business and first class.
Long haul flights also typically have meal and beverage service in all cabins, along with some sort of in-flight entertainment.
Ultra Long Haul Flights
What is an ultra long haul flight? It's a nonstop flight that is over 12 hours.
The longest ultra long haul flight is the service between New York's JFK airport and Singapore 's Changi airport. Operated by Singapore airlines, this ultra long haul flight is 18 hours and 30 minutes long!
Why You Need the Right Long Flight Essentials
Even if you're not flying from New York to Singapore, any flight that's over 7 hours long can feel like an eternity. And a long flight can be downright miserable if you're not prepared with the right long flight essentials!
I used to fly from California to London and back on a regular basis. That flight is over 10 hours long! The first time I did it was a complete fail. I was freezing cold and really uncomfortable. And I was bored out of my mind, but still couldn't sleep!
Since my first trans-atlantic flight, I've learned a few things along the way, and now I have my list of long haul flight carry-on essentials down to a SCIENCE.
Exactly What to Bring on a Long Flight
In this guide, I'll walk through all of the right essentials to bring with you on a long haul flight. This list includes things that will keep you comfortable, the right toiletries and personal items, and what food to bring with you. I'll also give you a list of exactly what to put in your carry-on so that you don't get bored while you're in-flight.
If you need more help preparing for your long haul flight, my guide on what to pack in your carry-on vs checked bag should help you out!
Essential Items for Comfort
Taking a long haul flight is never comfortable! Airplanes are almost always freezing cold, and it's difficult to try and sleep.
Here are the long flight essentials that will help to keep you as comfortable as possible while you're in the air, so that you can stay warm and get some rest.
1. Eye mask
An eye mask is essential for a long haul or overnight flight! Whether the cabin lights are on, or your neighbor has his or her light on, it's hard to sleep on a long flight without an eye mask.
Top Pick
Cotton Eye Mask
Pros:
Creases around the nose keep light from filtering in
Comes with a travel pouch for easy packing
Shop Now
Look for an eye mask that has creases around the nose, rather than just a flat piece of fabric. This kind of eye mask has better coverage, because it doesn't allow light to filter in under your eyes.
2. Earplugs
It's also difficult to sleep on an airplane without earplugs. Beverage or meal services, a crying baby, or chatty seatmates can all interrupt your peace and quiet and make it difficult to get some rest.
Pack some earplugs in your carry on so you can block out the noise and stay comfortable! As a bonus, they're also handy to have with you while traveling, in case you get stuck in a hotel with loud neighbors.
3. Neck pillow or Travel Pillow
If you plan to sleep during your long flight, make sure to pack a neck pillow or a travel pillow. Either of these will help to support your neck, making it a little easier to sleep upright.
Top Pick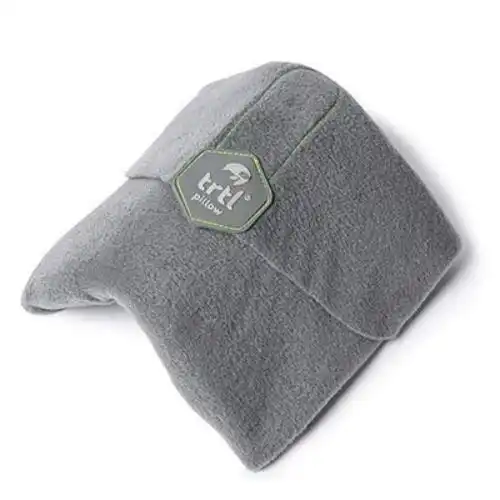 Trtl Neck Pillow
Pros:
Ergonomic design keeps your head in an upright position while you sleep
Packs up small so it's perfect for travel!
Shop Now
Sometimes I bring both a neck pillow and a regular travel pillow on long flights. I like to put the regular pillow behind my lower back when I'm on a long flight. I find that it gives my back more support, and my back doesn't ache as much the day after a flight.
4. Scarf or Blanket
Airplanes are notorious for being incredibly cold, especially on longer flights. Pack a scarf or blanket in your carry on to keep yourself warm.
Top Pick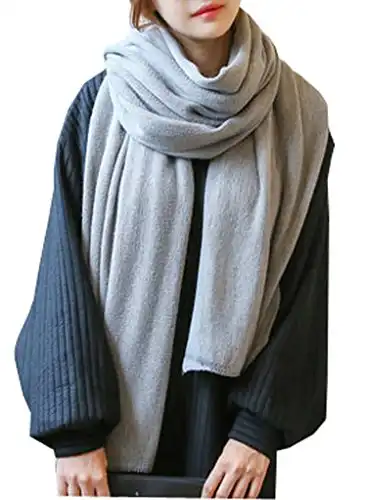 Cozy Women's Long Shawl
Pros:
Made from wool to keep you cozy while traveling
Comes in 16 different colors so there's a perfect one for your travel outfit!
Shop Now
Look for something that's lightweight yet warm, and not bulky, so that it doesn't take up too much space in your bag.
5. Socks
If you're on a long flight, you will probably take your shoes off to get comfortable. Make sure to bring warm socks in your carry on to keep your feet cozy!
Why Compression Socks are Essential for Long Flights
Specifically, I recommend bringing compression socks if you're flying long haul. The snug fit of compression socks eases blood flow in your legs, preventing deep vein thrombosis (DVT).
What's deep vein thrombosis? DVT is a kind of blood clot that can form during long flights because passengers sit still in a confined space for a long period of time.
Compression socks, along with getting up to walk around, can reduce the risk of developing DVT.
6. Foot sling
This is a new addition to my list of carry on essentials for long flights! I recently saw a foot sling for the first time and thought it was a genius way to stay comfortable on a long flight.
It hooks on to the seat in front of you and is similar to having a foot rest. You'll feel like you're in first class, even if you're sitting in economy.
Most airplanes don't have footrests, so this is a great (and inexpensive) way to find a comfy sleeping position! I also love that the footrest folds up into a small bag that's easy to put in your carry on tote.
The Best Food to Bring on a Long Flight
With meals and beverages being more limited on flights these days, it's best to plan ahead, and think about food and beverages as part of your carry-on essentials for long flights. Here's what to pack:
7. Water Bottle
The air on an airplane is much drier than what your body is typically used to, so dehydration will creep up on you quickly! Make sure to bring a reusable water bottle as one of your carry-on essentials so that you don't have to wait for beverage service on the plane to drink water.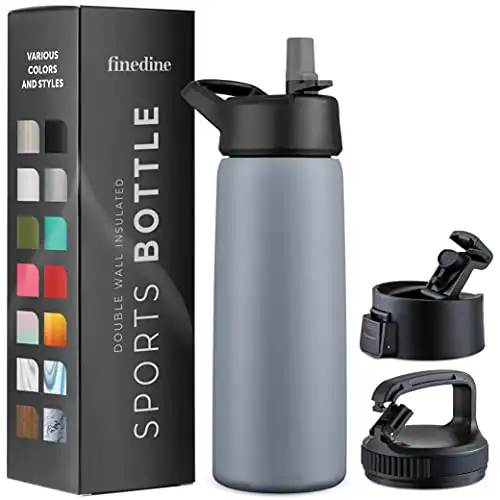 8. Snacks
Bring a few snacks in your carry on bag to keep you going during your long haul flight. Look for snacks with plenty of protein to keep you full, that don't require refrigeration, and also things that don't squish easily (like a banana).
Packets of trail mix, protein bars, nuts, or dried fruit are all great options for an airplane snack.
9. Mints
Finally, toss some mints or gum in your carry on for a quick freshen up between meals and beverages.
Essential Toiletries and Personal Items for Long Flights
Your list of carry-on essentials for a long haul flight should also include some key items that will help you feel like yourself when you land. Here are the essential toiletries and personal items to put in your carry on bag for a long flight.
And to help you look more like yourself once you land, check out my guide on how to look good after a long flight!
10. Lip balm
Your lips are one of the first places to show signs of dehydration. Keep them feeling good by adding some lip balm to your carry on bag!
This 4-pack of lip balm is always my go-to!
11. Sheet Face Mask
I love bringing a sheet face mask with me on long flights. Sheet masks are individually packaged hydrating masks that you put on your face for a few minutes.
A sheet face mask will leave your skin feeling great, even at 30,000 feet. I love them so much that they're part of my regular airplane skincare routine.
12. Hand cream
Bring a small tube of hand cream with you for a long flight, and your hands will thank you for it! I love this kind because it keeps my hands super-soft and it smells amazing.
13. Tissues/wipes
A travel size pack of tissues or wipes will do the trick! They're also great to have on hand in the event that you (or your neighbor) spills something mid-flight.
14. Hand sanitizer
Don't forget hand sanitizer! I bought a large case of travel size hand sanitizers and just tossed one in all of my bags, my car – pretty much everywhere.
15. Toothbrush and Toothpaste
Nothing feels worse than waking up on a long flight with a case of bad breath. Bring a travel sized toothbrush and toothpaste with you so that you can brush before trying to sleep, and again after you wake up.
I also love Colgate wisps. They're single-use brushes that come pre-loaded with toothpaste. So all you have to do is brush! You get the same clean feeling as you do with a regular toothbrush, but they're much easier to use when you're on an airplane.
16. Hairbrush
If your hair gets unruly on a flight (like mine), throw a travel size hairbrush in your carry on bag, so you can give yourself a quick brushing before landing.
It's also a good idea to bring hair ties with you on a long flight. Put your hair up in a loose bun or ponytail before sleeping and it'll keep tangles at bay. I love these silk ones because they don't leave a dent in your hair.
17. Blotting Papers
If you have oily skin, the dry air on an airplane will actually make it even oilier. That's because when your skin is dry, your oil glands will shift into high gear to try and make up for the lack of moisture in your skin, but they actually overcompensate and produce too MUCH oil.
So if you tend to have a complexion that is oily or combination, bring a pack of blotting papers with you on a long flight to soak up some of the shine.
How to Stay Entertained on a Long Flight
One of the hardest parts about surviving a long flight is keeping yourself entertained. These long flight essentials will help you stay occupied while you're not sleeping so that the hours will fly by.
18. Phone
Bringing your phone on a long flight is probably obvious! You probably used it for your boarding pass, and many people use their phones for watching a movie, listening to music, or playing games during a flight.
Personally, I like to take the time to delete, edit and organize my photos when I'm on a long flight. I go through photos from the last few months, delete what I don't want, and edit and organize the ones I like to keep.
19. Book or e-Reader
Another key thing to bring with you on a long flight is an ipad, e-reader, or a good old fashioned book. This is likely to be your main source of entertainment during your flight!
I keep a running list on my phone of books I want to read and movies I want to watch. When I have a long flight coming up, it's easy to decide what to bring or download.
I used to be the woman in the airport with a carry on tote bag FILLED with books. Not anymore! I've slimmed down my packing because I only bring my Kindle. I love how much space it saves in my bag.
Top Pick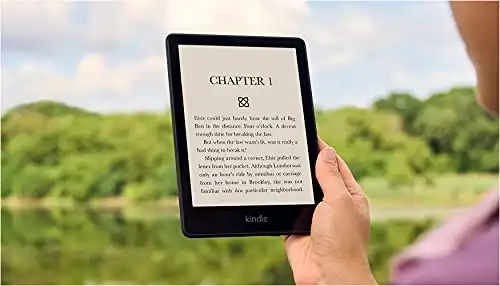 Kindle Paperwhite
Pros:
Easy on the eyes with adjustable warm light
10 weeks of battery life means you won't need to pack a charging cable!
Shop Now
20. Headphones
If you want to watch a movie or listen to music during your flight, you'll definitely need headphones. I recommend bringing noise canceling headphones on your flight. You don't realize just how loud it is on an airplane until you've used them to block everything out.
As a bonus, you can also use them when you're sleeping in lieu of earplugs.
Traditional headphones work, but personally I prefer earbuds because they're smaller, lightweight and easier to pack. I can't say enough good things about my Airpods Pro. I wasn't certain about the price, but I decided to give them a try and I was blown away!
On my last flight, there was a baby who cried the ENTIRE flight. I felt badly for the entire family! But I couldn't hear a thing thanks to the noise cancellation feature of my AirPods Pro. Worth every penny!
21. Portable charger
With all these devices, you should also bring a portable charger with you in your carry on. Not all airplanes have outlets built in! The last thing you want is to run out of power in any of your devices while you're in the air.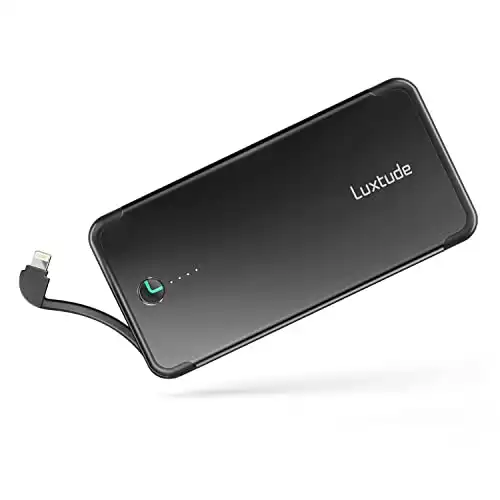 I recently bought this Luxtude charger and there's a few things I love about it. It's compact and lightweight, so it's easy to toss in my carry on. But best of all, it comes with a built-in charging cable. That means one less cable to pack!
22. A Pen
Last but not least, make sure to pack a pen in your carry on, especially if you're flying on an international flight. You will need a pen to fill out immigration and customs forms, and flight attendants don't typically have any pens to hand out.
Need More Help When It Comes to Packing?
Now that you're prepared for your upcoming flight, check out all of my secrets to flying like a pro. And subscribe below to receive my three best travel printables! You'll be packed in no time at all!