This site uses affiliate links and I may earn a small commission when you use my links and make a purchase, at no extra cost to you. Many thanks for supporting this website!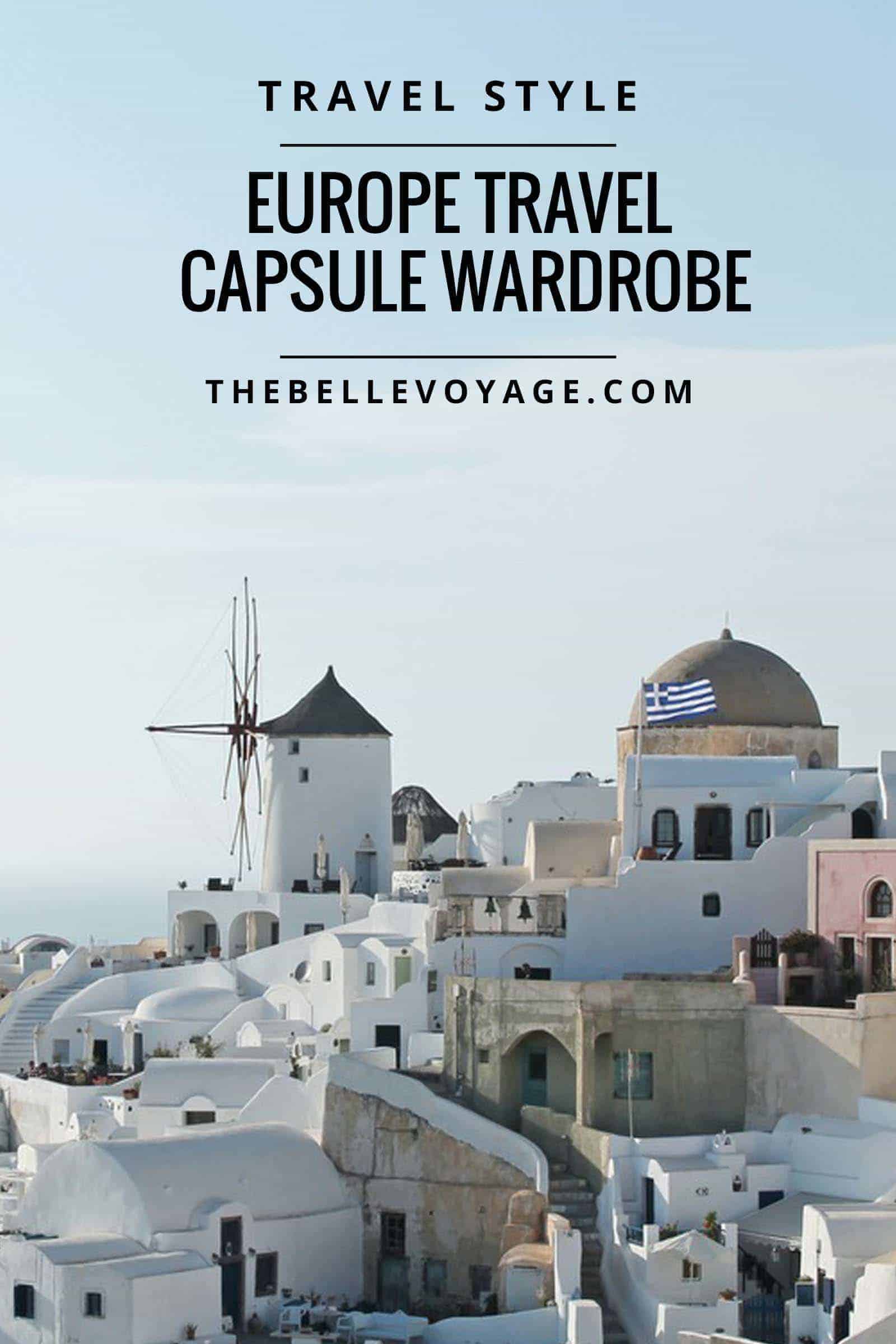 Recently, one of my blog readers, Pam, reached out to me to ask for help building a capsule wardrobe for her upcoming trip to Europe this summer.
Europe capsule wardrobe? No problem. Just as long as you promise to bring me along, k?
Pam's trip sounds wonderful! She's visiting Europe with her husband and his family, and will be making stops in Paris and throughout Italy. She'll be traveling for an entire month (lucky girl!) and will be coming all the way from Australia.
Update: If you're looking for more examples of a capsule wardrobe, check out the 2022 fall travel capsule wardrobe and winter travel wardrobe I put together!
Packing for a Trip to Europe
Preparing for a trip to Europe can be overwhelming! Fortunately I've put together a few posts that will help! Here's how to pack light and fashionable for Europe, and of course the best travel essentials for women!
Europe Capsule Wardrobe
How to Build a Europe Capsule Wardrobe
Here's the lowdown on my packing strategy for building Pam's Europe capsule wardrobe. Check out the graphic below for how it all came together!
In general, I tried to pick clothes that could be easily laundered, since chances are that she'll do laundry at least once during such a long trip. Also – it's going to be HOT in the summer, so I've stuck to mostly warm weather clothes, but also added a few layering pieces that she could wear on the plane coming from Australia where it'll be winter.
I stuck to mostly neutrals for tops. This is one of my favorite tips for building a capsule wardrobe! This way you can wear your tops with pretty much anything. The tops can all be dressed up or down, and they have cute feminine details so that they still look polished on their own.
I added some interest with bottoms by including black lace-trimmed shorts as well as a watermelon-colored pair. For more conservative areas, there's also a knee-length skirt and lightweight cargo pants.
I threw in a few dresses, again mostly in neutral colors so they'd go with any of the layering pieces. They're casual enough to wear during the daytime, but she can dress them up at night for dinners with her husband.
Lastly – the accessories. This is where I added some color with a few fun pieces.
First the tote bag. Guys, this might be my favorite tote for travel EVER. Why? Ummm…cuz it's REVERSIBLE! And you know how I feel about reversible clothing for travel. The pattern is shown in the collage, but it reverses to be a brown leather tote. YES.
Pro Travel Tip: These days, travel can be more uncertain than ever. Check for any COVID-related restrictions at your destination, and never travel without travel insurance! I recommend SafetyWing, because they have flexible + affordable insurance plans, and also cover COVID-related impacts on your trip (not all companies do)!
There's also a cross-body bag that's perfect for walking around, and a scarf to bring with her when she's visiting what I generally call Places in Europe Where One's Shoulders Must Be Covered.
As for shoes: a comfy sandal that is great for day or night, along with a neutral pair of sneakers for heavy walking days. Need some help? Check out my list of the best walking shoes for Europe.
Pam's Europe Capsule Wardrobe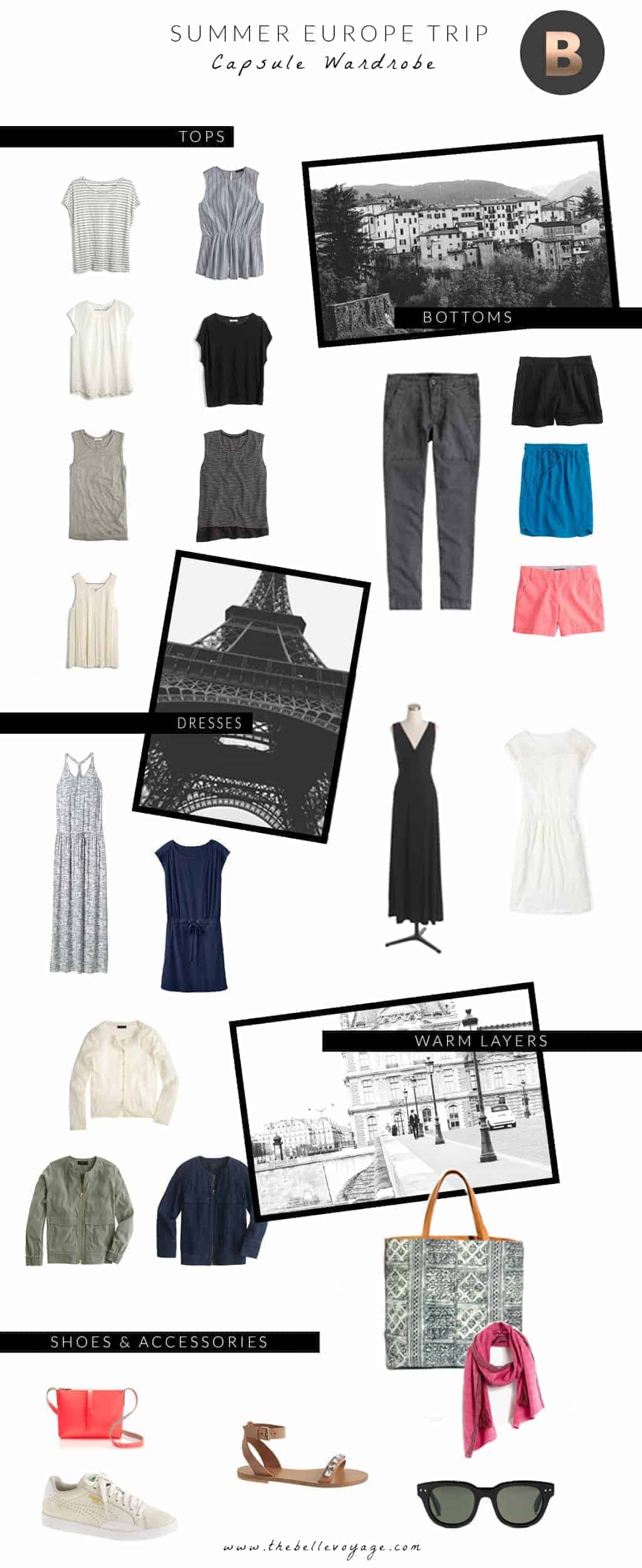 Tops (L to R, top to bottom): stripes, gray, white, black, gray, stripes, ivory
Bottoms (L to R): cargos, black, skirt, pink
Dresses (L to R): gray, navy, black, white
Warm Layers (L to R): green, ivory, blue
Shoes & Accessories (L to R): cross-body, sneakers, sandals, tote, scarf, sunglasses
The Extras
A few other things to toss in her bag if there's room: one more pair of shoes, another pair of pants for the flight, and some jewelry. As for necklaces, see my post on the Rule of Three Necklaces for some ideas!
Also – a few more tops! These get dirty faster than bottoms so it's great to have extra.
More Packing Ideas
For other capsule wardrobe ideas, you can also check out this post on a capsule wardrobe for Jennifer's trip to Asia this summer.
Have a wonderful trip, Pam! I can't wait to hear all about it!
Planning a Trip to Europe?
I've got lots of tips and advice for you! Starting with my favorite city, London. Here's the best places to stay in London.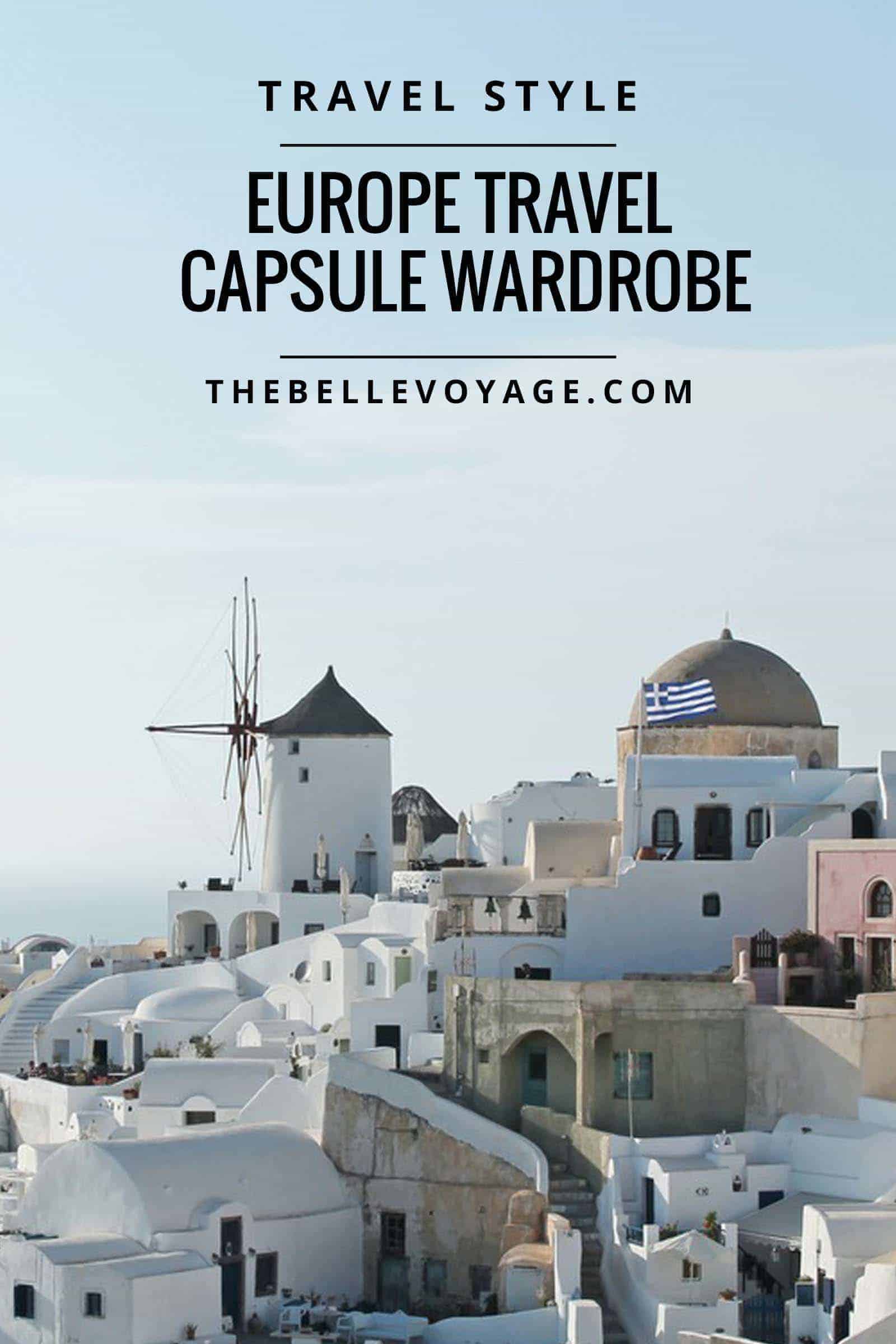 Liked this post? PIN IT!
Wanna Learn to Pack a Suitcase Like a Boss?
Subscribe to download my three BEST travel planning resources:
Travel outfit planner
Pre-travel checklist
Carry on packing list