How to Create a Europe Capsule Wardrobe
This site uses affiliate links and I may earn a small commission when you use my links and make a purchase, at no extra cost to you. 
If you're packing for Europe, I'll show you how to create a Europe capsule wardrobe for your trip. With just a few pieces, you can mix and match to create endless different outfits, no matter where you're going or what you have planned on your trip. That's the beauty of a travel capsule wardrobe! Read on for all the details, as well as my full guide on exactly what to pack.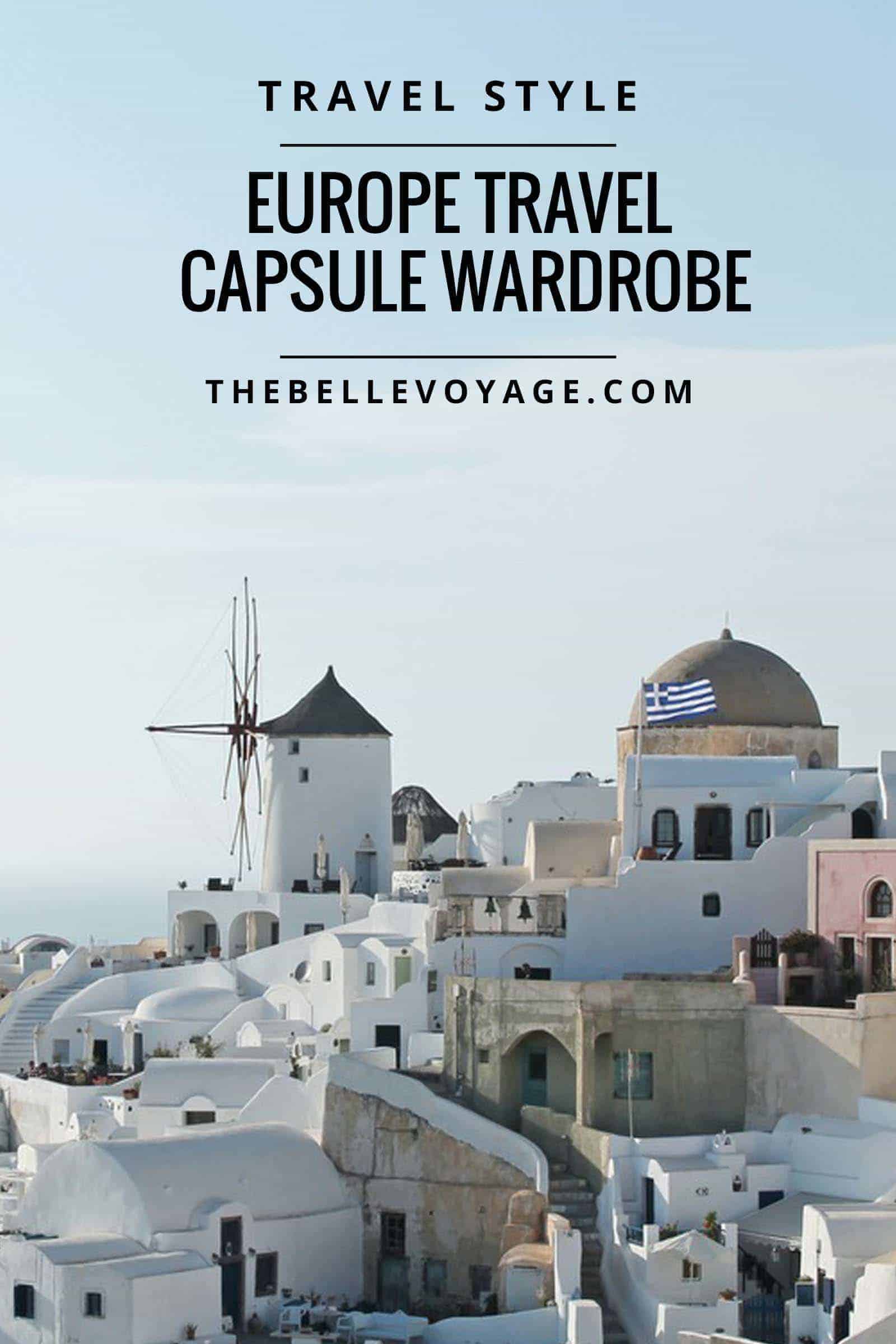 Recently, one of my blog readers, Pam, reached out to me to ask for help building a capsule wardrobe for her upcoming trip to Europe this summer.
Europe capsule wardrobe? No problem. Just as long as you promise to bring me along, k?
Pam's trip sounds wonderful! She's visiting Europe with her husband and his family, and will be making stops in Paris and throughout Italy. She'll be traveling for an entire month (lucky girl!) and will be coming all the way from Australia.
Update: If you're looking for more examples of a capsule wardrobe, check out the summer travel capsule wardrobe, fall travel capsule wardrobe, winter travel wardrobe, and spring travel capsule wardrobe I put together!
How to Pack Light for a Trip to Europe
Preparing for a trip to Europe can be overwhelming! Fortunately I've put together a few posts that will help! Here's how to pack light and fashionable for Europe, and of course the best travel essentials for women!
What is a Travel Capsule Wardrobe?
What is a travel capsule wardrobe, anyway? A capsule wardrobe is a small collection of clothing pieces. All of the pieces in the collection can be mixed and matched in different ways to create lots of different looks.
A travel capsule wardrobe is a capsule wardrobe that is intended for a specific trip, or travel in general.
Travel capsule wardrobes are one of the best ways to pack efficiently!
How to Create A Europe Capsule Wardrobe
Let's start with a few tips on how to build a capsule wardrobe for traveling to Europe.
Start With a Neutral Color Palette
First, start to build your capsule by choosing 2-3 neutral colors that will be the foundation color palette for your collection. By neutral, I mean colors like black, white, cream, gray, navy, tan, or brown.
As you build your capsule, the majority of your clothing pieces should be one of the colors in your neutral palette.
Some of my favorite neutral color palette combinations for capsule wardrobes are:
Black, white and gray
Tan, cream and brown
Cream, navy and tan
Add an Accent Color
Next, add in an accent color. Choose an accent color that pairs well with all of the colors in your neutral palette.
Colors like pink, rust, navy, and olive green make for great accent colors because they will go with almost any neutral shade.
Your capsule should include 3-4 pieces in this accent color, or that include a pop of this accent color.
Look for Versatile Pieces
My best advice when creating any capsule wardrobe is to look for versatile pieces of clothing. I consider a piece to be versatile if it can be:
Worn with (almost) everything else in the capsule
Styled for both day and night
What to Include in a European Capsule Wardrobe
Now that you know more about how to build a travel wardrobe for Europe, let's talk about what goes in it. So what should you include in your capsule for Europe?
Women tend to dress up more in Europe than we do in the States. This is obviously a generalization, but it's been my personal observation both when I lived in Europe and also every time I've visited since then.
So when it comes to what to include in your Europe packing list, steer more towards elevated basics rather than cutoffs and tank tops. (Don't get me wrong…I love my cutoffs and tank tops. But I also try to not look like a tourist!). Here are a few tips:
Tops
In Europe, women commonly wear short-sleeved or sleeveless tops more often than tank tops. So if you want to blend in with the locals, pack fewer camisoles and tank tops, and bring short-sleeved or sleeveless tops instead.
If you can, try a reversible top! I absolutely love reversible clothing for travel. It can be a great way to save space in your suitcase.
Bottoms
I have seen women in Europe wear skirts or capris more often than shorts. When I do see shorts, they tend to be a bit longer in length. In terms of pants, yes, it's fine to wear jeans in Europe. Nobody is going to jean-shame you!
If you're planning to go to a nicer dinner, though, I recommend wearing non-jeans (is that a word?) or a dress/skirt.
Dresses
Dresses just might be your best friend when it comes to packing a capsule wardrobe for Europe! You can go just about anywhere in a midi sweater or tank dress!
Layers
Pack a few layers for chillier evenings, or when visiting more conservative places in Europe such as churches.
Shoes & Accessories
As for shoes: a comfy sandal that is great for day or night, along with a neutral pair of sneakers for heavy walking days. Need some help? Check out my list of the best walking shoes for Europe.
In terms of bags, a cross-body bag is perfect for exploring, and a tote bag makes for the perfect personal item on the flight.
Pro Travel Tip: These days, travel can be more uncertain than ever. Check for any COVID-related restrictions at your destination, and never travel without travel insurance! I recommend SafetyWing, because they have flexible + affordable insurance plans, and also cover COVID-related impacts on your trip (not all companies do)!
The Perfect Europe Capsule Wardrobe for Travel in 2023
Here's how an entire Europe capsule wardrobe can look when it's all put together!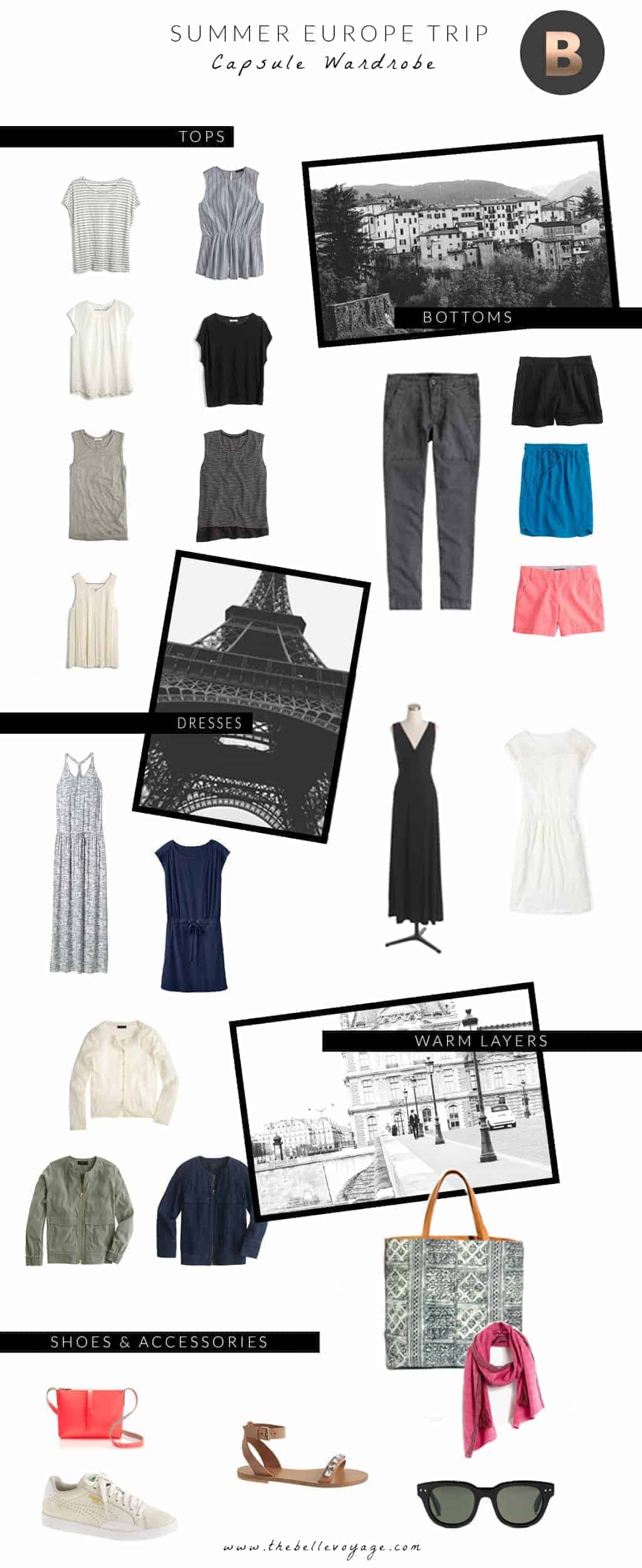 Tops (L to R, top to bottom): stripes, gray, white, black, gray, stripes, ivory
Bottoms (L to R): cargos, black, skirt, pink
Dresses (L to R): gray, navy, black, white
Warm Layers (L to R): green, ivory, blue
Shoes & Accessories (L to R): cross-body, sneakers, sandals, tote, scarf, sunglasses
Planning a Trip to Europe?
I've got lots of tips and advice for you! Starting with my favorite city, London. Here's the best places to stay in London.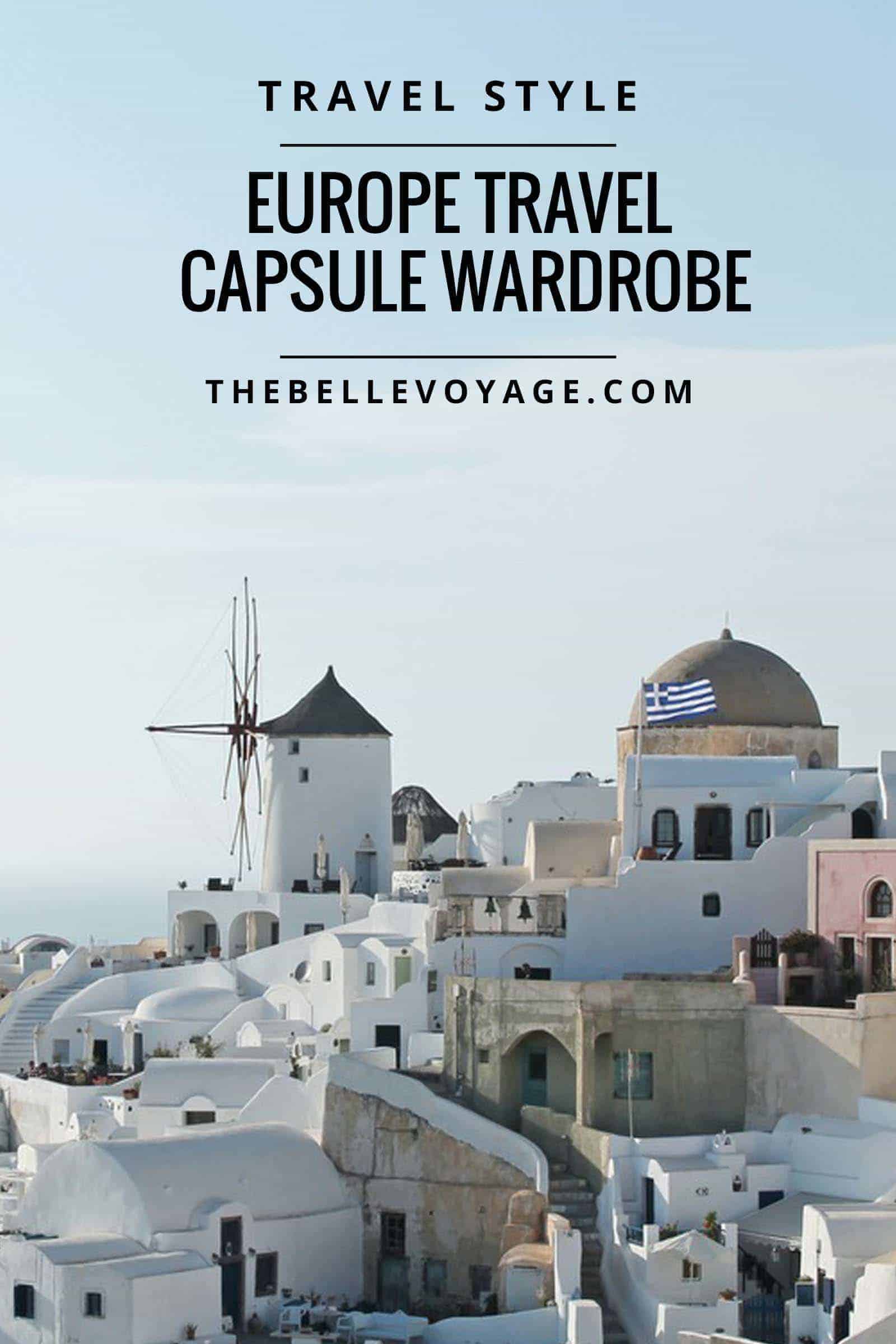 Liked this post? PIN IT!