How to Pack Makeup for a Flight: Travel Beauty Tips from a Pro!
This site uses affiliate links and I may earn a small commission when you use my links and make a purchase, at no extra cost to you. 
If you love makeup and skincare products, and are heading out of town, you're probably wondering how to pack your makeup for travel. You've come to the right place! I am a complete makeup junkie who travels constantly, so I've learned a ton of tips and tricks when it comes to how to pack a suitcase and also packing beauty products. In this post, I'm sharing exactly how to pack makeup for a flight. These tips will help you pack light, and also make sure that all of your cosmetic products arrive in perfect condition, so you can look your best while you're traveling.
Somewhere along the way, my hair and skin care routine started to involve more and more products. Blame it on aging, the beauty industry, or….maybe…just…myself??…but now I seem unable to leave home without all of my hair and makeup products, moisturizers and creams.
Unfortunately that means that it's gotten harder and harder to fit all of my cosmetics products into my carry on suitcase and all of my liquids into a TSA-approved one-quart bag.  And it certainly doesn't help me avoid overpacking.
I've learned through a ton of trial and error the best way to fly with makeup, so read on for all of the details and my step by step guide for how to pack makeup for travel.
Pro Travel Tip: These days, travel can be more uncertain than ever. Check for any COVID-related restrictions at your destination, and never travel without travel insurance! I recommend SafetyWing, because they have flexible + affordable insurance plans, and also cover COVID-related impacts on your trip (not all companies do)!
How to Pack Makeup For Travel
If you're overwhelmed trying to figure out how to pack your makeup for your next trip, I've got you covered! These tips will help make sure that you can pack all of the cosmetic products that you want to, while ensuring that you still pack light.
Step 1: Pare Down Travel Makeup to Just the Essentials
First, pare down your travel makeup to just the essentials.
When it comes to travel, I recommend keeping your makeup look natural and simple. Use an eyeshadow palette that's neutral, with colors that can be layered to create a more dramatic look for evening.
One easy way to change your makeup look when traveling is by bringing two lip colors. Use a neutral for daytime, and a bold lip color for evening, or when you just want to keep it simple but make a statement.
The same goes for all of your toiletries! Check out this toiletry packing list for more help with packing!
Step 2: Liquid Vs Non-Liquid Makeup When Flying
Next, divide your makeup and beauty products into two categories: liquid and non-liquid. This is because when you're flying with only a carry on bag, anything that is a liquid needs to be packed in a separate bag.
Liquid beauty products include liquid foundation, shampoo, conditioner, moisturizer, lotion, under-eye cream, toner, astringent, perfume, shaving cream, nail polish and any other products that are creams, gels, or liquids. Yes, liquid foundation is considered a liquid when you're flying, so make sure to pack accordingly!
Non-liquid beauty products include: eyeshadow, lip gloss, liquid eyeliner, lip balm, blush, lipstick, eye and lip pencils, powder foundation, makeup palettes, brow gel and brow pencils.
Pack Non-Liquid Makeup in a Cosmetics Bag
Use a travel cosmetics bag to pack your non-liquid makeup for travel. Here are a few tips on finding a good travel cosmetics bag (there are a lot of bad ones out there!):
Find a travel cosmetics bag with an inner liner that is easy to wipe down, since the inside of the bag will get smudged with makeup.
You should also look for a cosmetics bag that closes completely with a zipper, to avoid any spills or leaks. Avoid makeup bags with a snap closure, as these might leak.
Many travel cosmetic bags are large and bulky, meaning that they are difficult to pack and take up way too much space in your suitcase. Instead, look for a pouch-style cosmetics bag, because it can lay flat in your suitcase, and take up less space.
This travel cosmetics bag is very cute, reasonably priced, and comes in a bunch of different colors.
I love that it has all of the above features, and even has some inner pockets so that you can organize your makeup products.
Pack Liquids in a Clear, One Quart Bag
If you are traveling with just a carry on suitcase, pack all of your liquid makeup and beauty products in a clear, one quart bag. Although you can use a ziplock bag, be warned that it will likely leak at some point. The last thing you want is for your products to leak all over your clothing and shoes!
That's why I recommend getting a liquids bag that is more permanent (the planet thanks you!) and also less likely to leak.
This reusable clear plastic toiletries bag is very affordable and the plastic is so sturdy that you can cram every cubic inch full of products and it just won't break. It'll also last you for years to come! I also like that it's sleek and won't add extra bulk to your suitcase.
Step 3: Where to Pack Your Makeup
Now that your makeup and beauty products are packed, it's important to understand WHERE to pack beauty products in your suitcase.
Put your liquids bag in your travel tote or purse, so that it is easily accessible as you go through airport security.
Pack your non-liquid makeup in your suitcase. If you're traveling with just a carry-on bag, you can place your cosmetics bag anywhere in the suitcase.
If you are checking your suitcase, place your cosmetics in between layers of clothing to give it some more protection and padding.
For more help with what to pack where, here's what to put in carry on vs. checked bags.
How to Save Space Packing Makeup for Travel
If you followed the steps above for how to pack makeup for a flight but need more space, here are a few additional tips!
Use Solids Instead of Liquids
If you're short on space in your liquids bag, try to find solid versions of your liquid products. Here are a few examples of solid beauty products you can pack instead of liquids:
There are also a few liquid beauty products that you can consider leaving at home, for example body wash and shaving cream. 99% of the time there is body wash wherever you're going and as far as shaving cream, you can use hair conditioner as an alternative!
Find Travel-Size Products
Another good strategy for packing makeup for travel is to find travel-size versions of your favorite products. Think beyond things like shampoo and conditioner, which are easy to find as travel size. Here are a few examples:
And don't forget about brushes, which can take up a ton of space in your cosmetics bag. Save more space with my picks for the best travel makeup brushes.
Need more ideas for travel-size beauty products? I wrote an entire post on this topic!
For more of my favorite travel size hair products, check out this post. And to keep your complexion looking good while you travel, you'll love all my info on the best travel skincare products.

Create your Own Travel-Size Products
If you can't find a ready-made mini, you'll have to take matters into your own hands and create one. There's a certain kind of container that works best for this.
I recently discovered mini acrylic jars like these which are perfect for things like moisturizer, hair styling cream, or eye cream – things that you need but don't use a lot of. I love these containers because I can fit sooooo many into my 1 quart bag.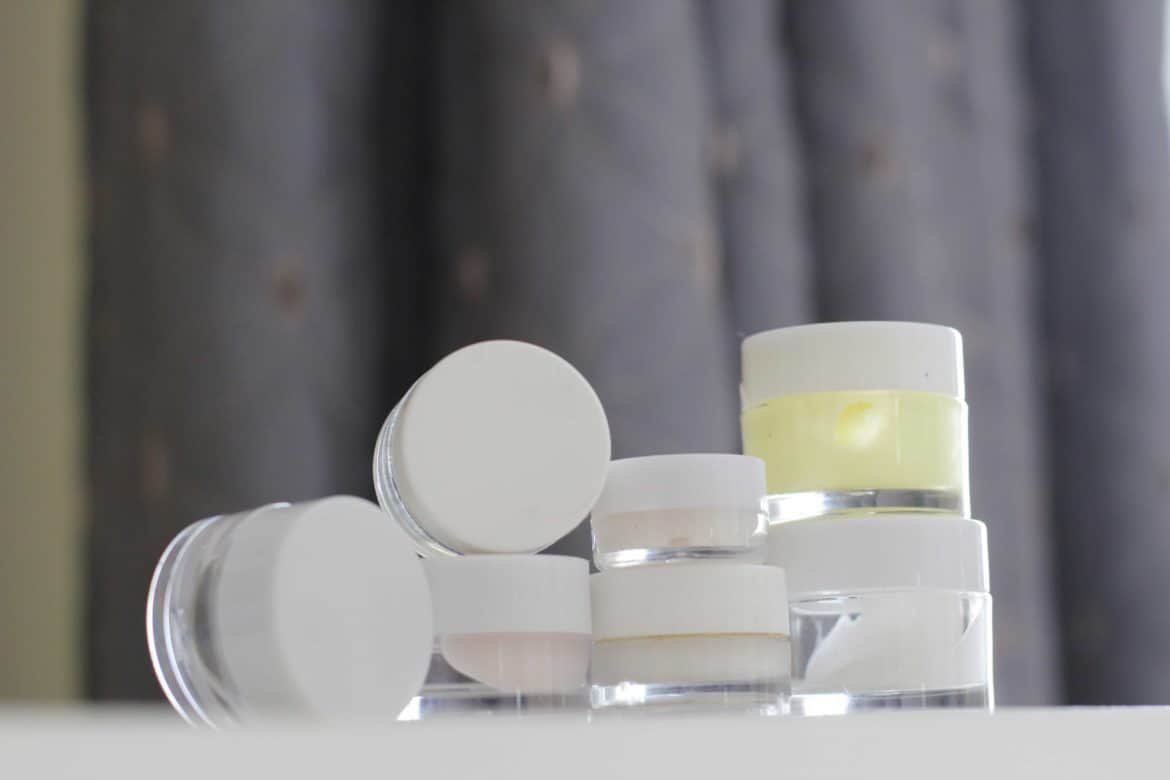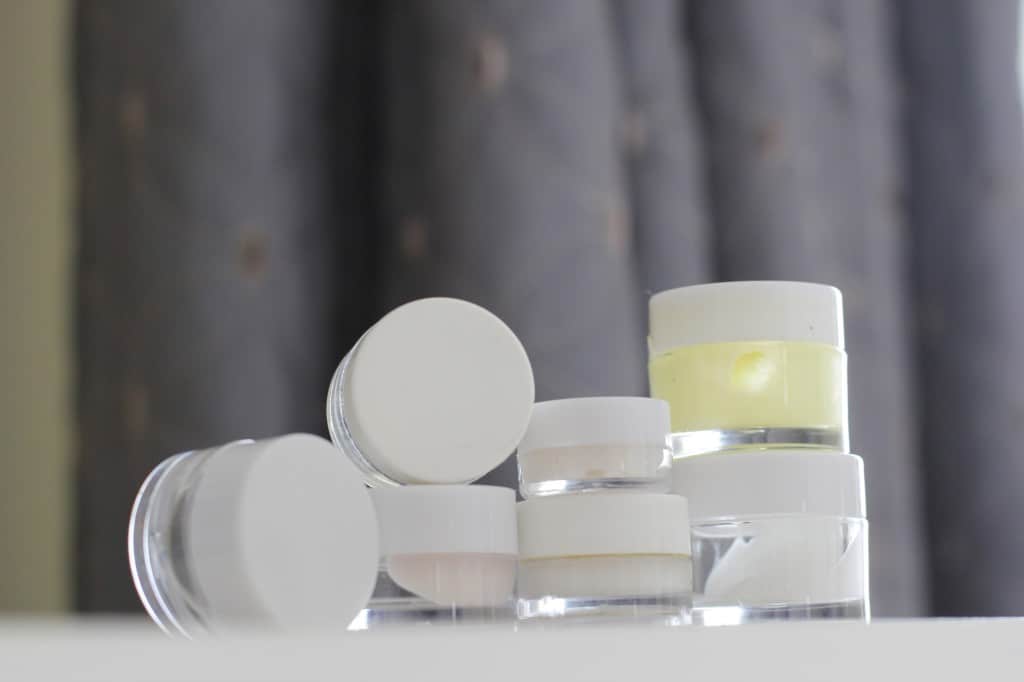 Since they are screw-top and not flip-top they never, EVER leak. YES. I label the tops with a sharpie to keep everything straight because I can't stop myself from doing it. The cheapest I've found them is on Amazon, so even if you lose or break them, they're no big deal to replace.
Voila…a one quart bag with everything I need and (believe it or not) room to spare!
If you're a beauty product fiend like I am, I hope this helps you pack your makeup for your next flight!