2 Days in Los Angeles: The Perfect Los Angeles Weekend Itinerary
This site uses affiliate links and I may earn a small commission when you use my links and make a purchase, at no extra cost to you. Many thanks for supporting this website!
The Perfect 2 Day Los Angeles Itinerary
If you're planning a trip to Los Angeles, I've crafted the perfect 2 day Los Angeles itinerary to help guide you on exactly what to see, where to stay, and all of the best things to do in LA in 2 days. If you plan your trip ahead of time, a weekend in Los Angeles is plenty of time to see many of LA's best sights. So if you're wondering what you can do in LA for 2 days, this guide has all of the info you need.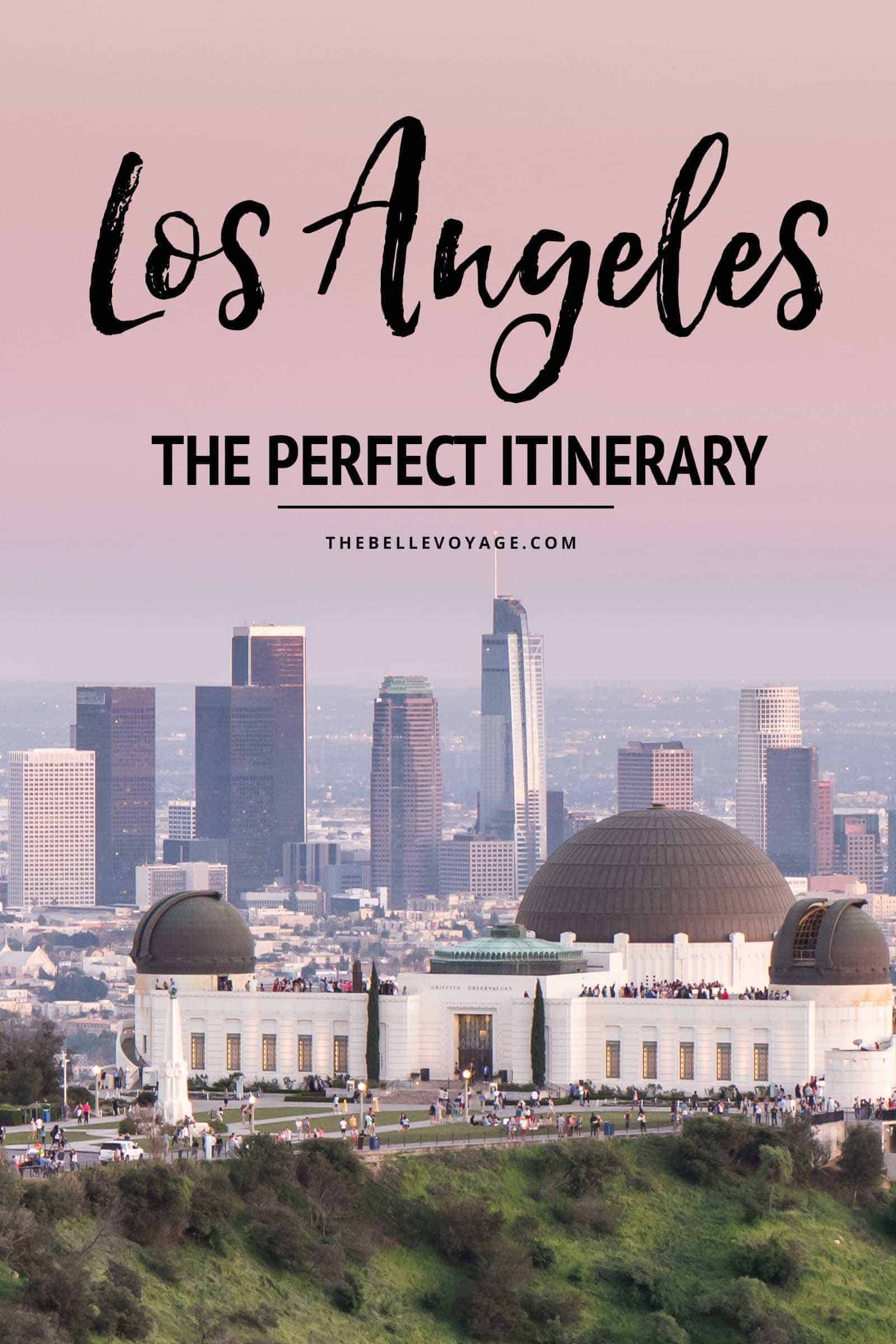 Before You Spend 2 Days in Los Angeles..
Make sure you have a pair of these. They're an LA necessity, and you'll fit right in with the locals! If you're in a "treat yo self" mood, check out our shop for some cute travel accessories and products. And if you'll be in California for a while, you should check out my list of the 20 best places to visit in California.
Where to Stay if you have 2 Days in LA
With 2 days in Los Angeles, you should stay in an area that has nearby shops and restaurants, and is close to many of the sights you plan to see during your weekend so that you can make the most of your time in Los Angeles.
I recommend staying in Santa Monica when visiting LA. It's a really walkable part of town, and you'll be close to the beach! So if you want some downtime, Santa Monica is a great area of Los Angeles to stay in if you're visiting LA for a few days.
The Best Hotels in Santa Monica for 2 Days in LA
For hotels in Santa Monica, here are my top recommendations:
Best location: Le Meridien Delfina. The pool is fabulous, and it's really well-located close to restaurants, shopping, AND the beach. You'll be able to walk to tons of places (yes, sometimes people DO walk in LA!), and you can also rent one of the hotel's bikes. Oh, and you'll rack up Starpoints, too!
Best Boutique Hotel in Santa Monica: The Huntley. It's a great choice if you like more boutique-y style hotels, and The Huntley has a really chic vibe. It's also located SUPER close to the beach, and the views are UNREAL.
Best Ocean View Hotel in Santa Monica: Casa Del Mar. Right on the beach and entirely luxurious, Casa Del Mar has an absolutely amazing view of the Pacific Ocean and you're only steps from the sand.
Best Budget-Friendly Option in Santa Monica: The Hampton Inn & Suites. The most centrally-located budget option that there is in Santa Monica.
Pro Travel Tip: These days, travel can be more uncertain than ever. Check for any COVID-related restrictions at your destination, and never travel without travel insurance! I recommend SafetyWing, because they have flexible + affordable insurance plans, and also cover COVID-related impacts on your trip (not all companies do)!
Start your 2 Day Los Angeles Itinerary by Visiting Venice Beach, Santa Monica and Malibu
Kick off your 2 day Los Angeles itinerary with some of the highlights of LA's west side. It was my home turf for a few years so I know it well! Admittedly, it's also my favorite part of the city, hands-down. It's walkable (cab-able), but you could also consider renting some wheels to get around.
Breakfast and Shopping in Venice Beach
Start day 1 of your 2 day Los Angeles itinerary in Venice Beach with breakfast at Gjelina, well-located on Venice's Abbot Kinney Blvd. Afterwards, wander up Abbot Kinney for some of the best shopping in LA! Don't miss Burro, a concept store to rival all concept stores. If you're looking to bring home any cute, unique goodies from your time in LA – this is the place!
Another sweet spot is Ilan Dei Venice, epicenter of all things outdoor chic – and total eye candy to wander through.
Venice Beach Canals
No 2 day trip to LA is complete without visiting the Canal District of Venice to check out the canals that meander through this part of town. It's true! Venice, CA, has canals just like the city of Venice in Italy. In fact, Venice, CA was inspired by the Venice of old, and intended to become a cultural hub of LA.
You might recognize the bridges over the canals from the movie Valentine's Day. Remember?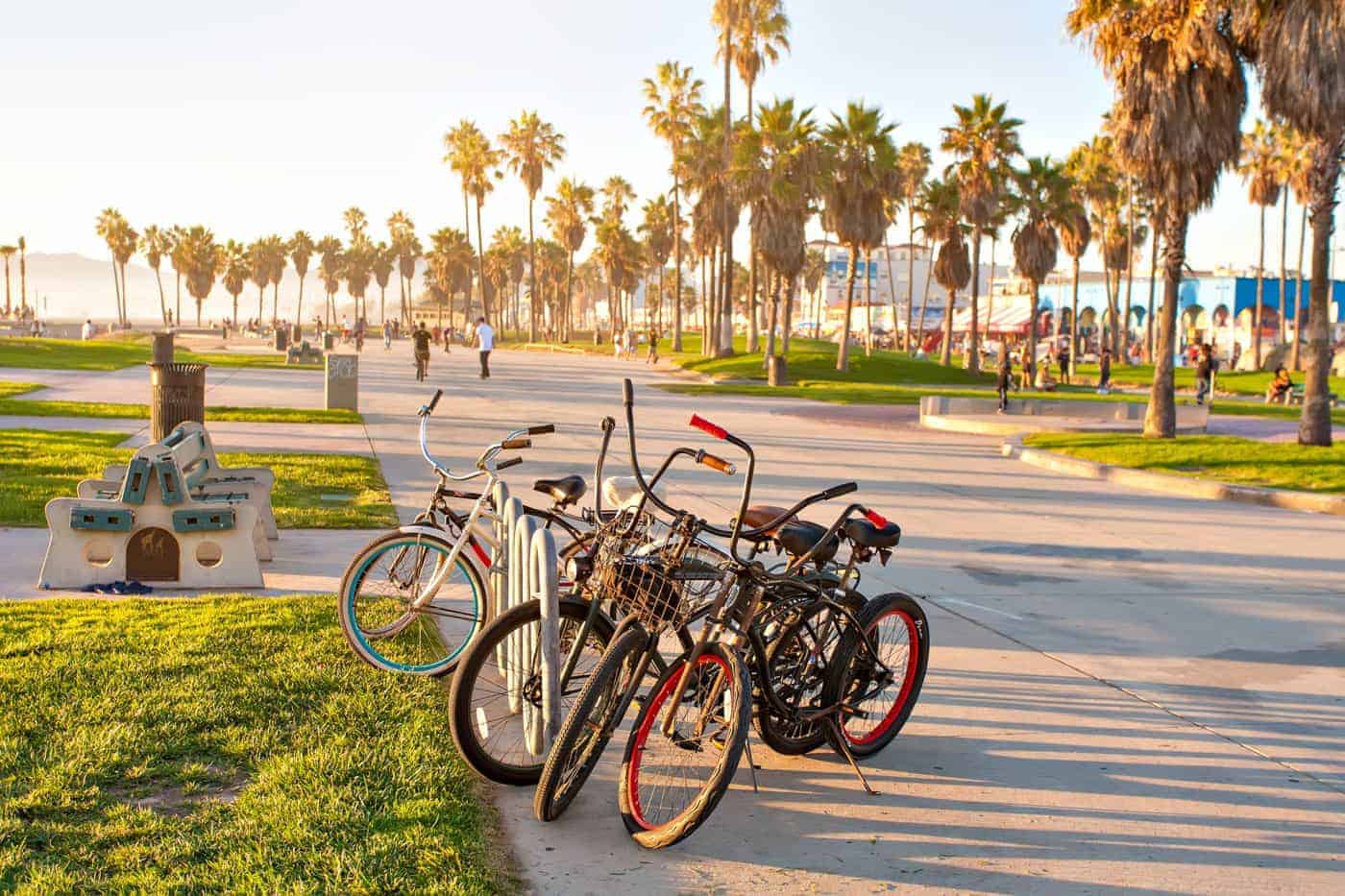 One of the Best Things to Do in LA in 2 Days is Visit Venice Beach
Next on your LA weekend itinerary, head west to Venice Beach and stroll or ride north along the boardwalk. This is some of the best people-watching in LA! Not to mention once of the city's most popular beaches. Don't miss the skate park, as well as Muscle Beach – a Venice classic where people pump iron right on the sand (you know you want to).
Explore Santa Monica Pier and the Santa Monica Promenade
Head further north up the coast to Santa Monica, LA's crown jewel on the coast. No visit to Santa Monica would be complete without a walk out on Santa Monica Pier, and a ride on the ferris wheel. Afterwards, take a stroll through the 3rd Street Promenade, a three-block-long pedestrian mall.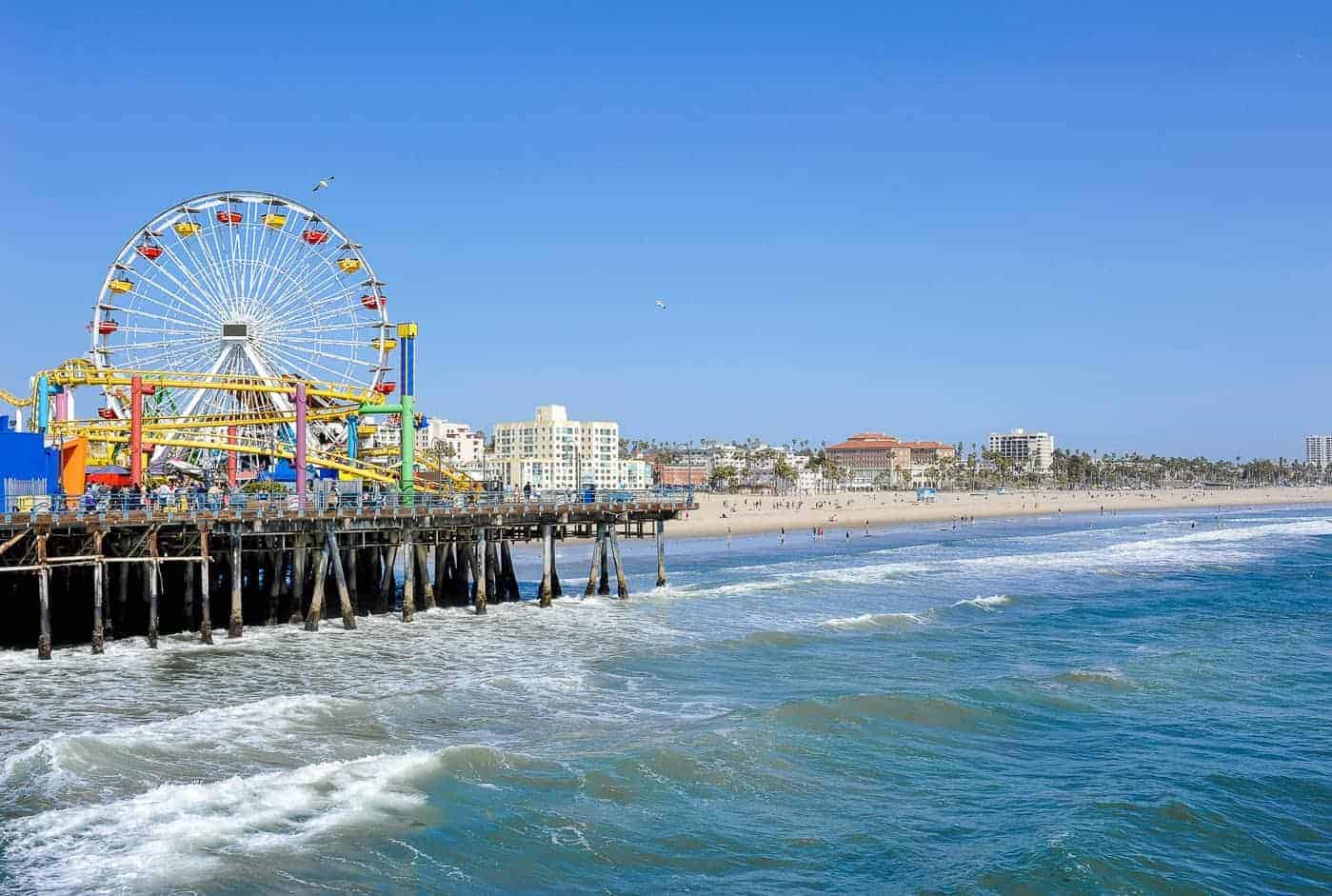 Shopping on Montana Avenue
Once you've gotten the lay of the land in Santa Monica, you can stroll up to Montana Avenue, on the north side of the neighborhood. From 2nd street going east, Montana Avenue has adorable boutiques, coffee shops, and restaurants galore.
A great spot to stop for lunch is Father's Office, home of the best burger in LA, and one of the best I've had in my life – EVER. Father's Office is only open for lunch on the weekends, so if it's a weekday, I also recommend R+D Kitchen. Keep your eye out for celebrities – I've had many a sighting at one of the Starbucks on Montana!
Santa Monica Stairs
In fact, if you're in the mood for celeb-spotting, drive by the Santa Monica Stairs, just north of San Vicente. The stairs are built along a steep canyon, and we a well-known (yet still somehow "secret") workout spot for locals – and celebrities always seem to be there, too!
Wrap up the Day 1 of Your Weekend in Los Angeles by Visiting Malibu
Now that you've covered some of Santa Monica's highlights, head further up the coast to check out Malibu. You'll need a car to get there from Santa Monica. Malibu is best-known for its beaches, and with good reason.
You can spend the remainder of the day either living the beach life on the sand, exploring the Santa Monica Mountains, or checking out Malibu's highlights – including the Getty Villa and the Malibu Country Mart.
A classic Malibu spot to end the first night of your weekend in Los Angeles is Duke's Malibu – perfect for tropical cocktails and ocean views!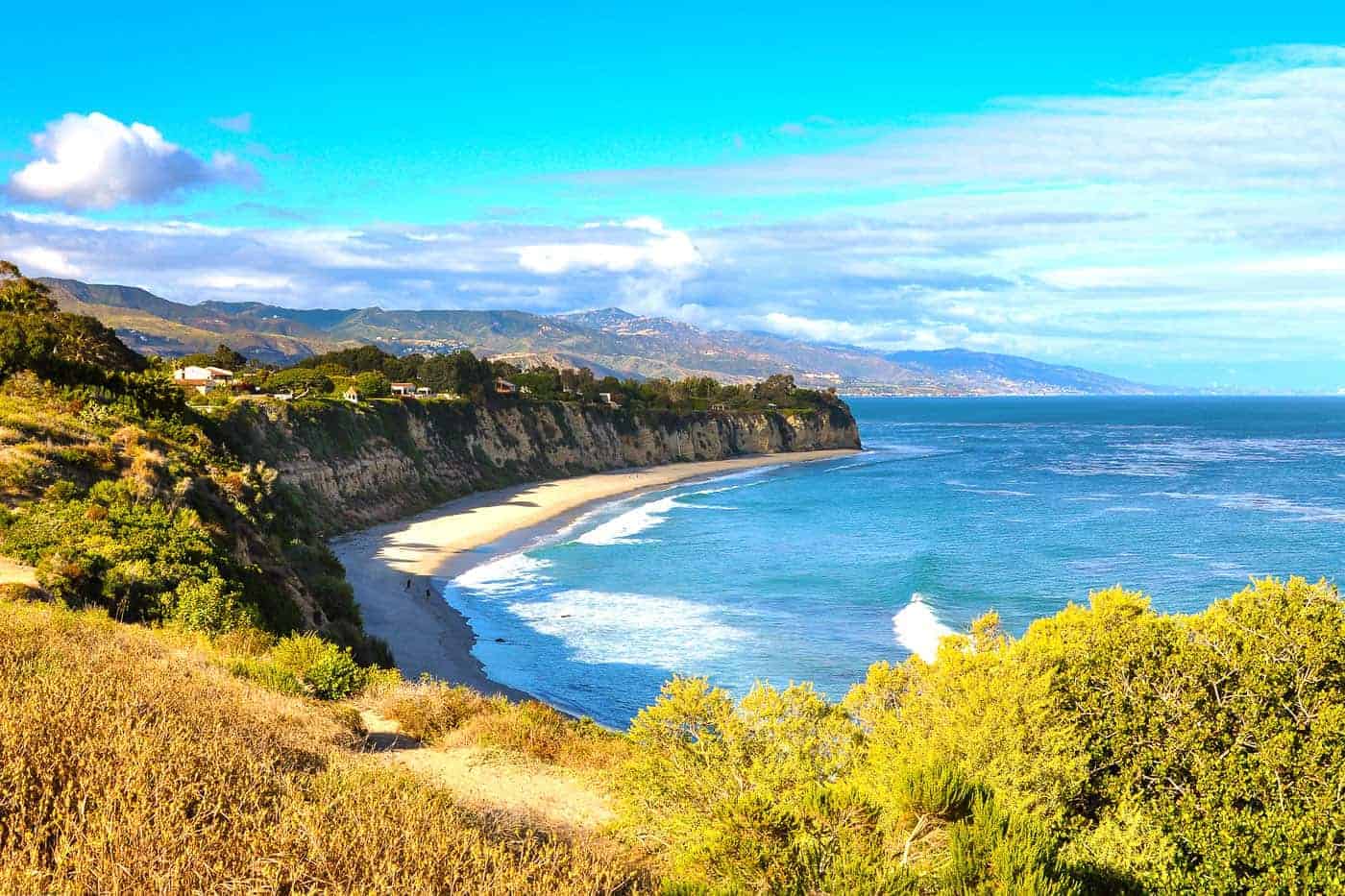 2 Day Los Angeles Itinerary – Day 2: Sightsee in Beverly Hills and Hollywood
Start off Day 2 of this 2 day Los Angeles itinerary with a walk down the famous Rodeo Drive, home to designer boutiques galore. At the very southern end of Rodeo is the Beverly Wilshire, made famous by the movie Pretty Woman. It's a gorgeous hotel, and worth a stop to admire the glitz.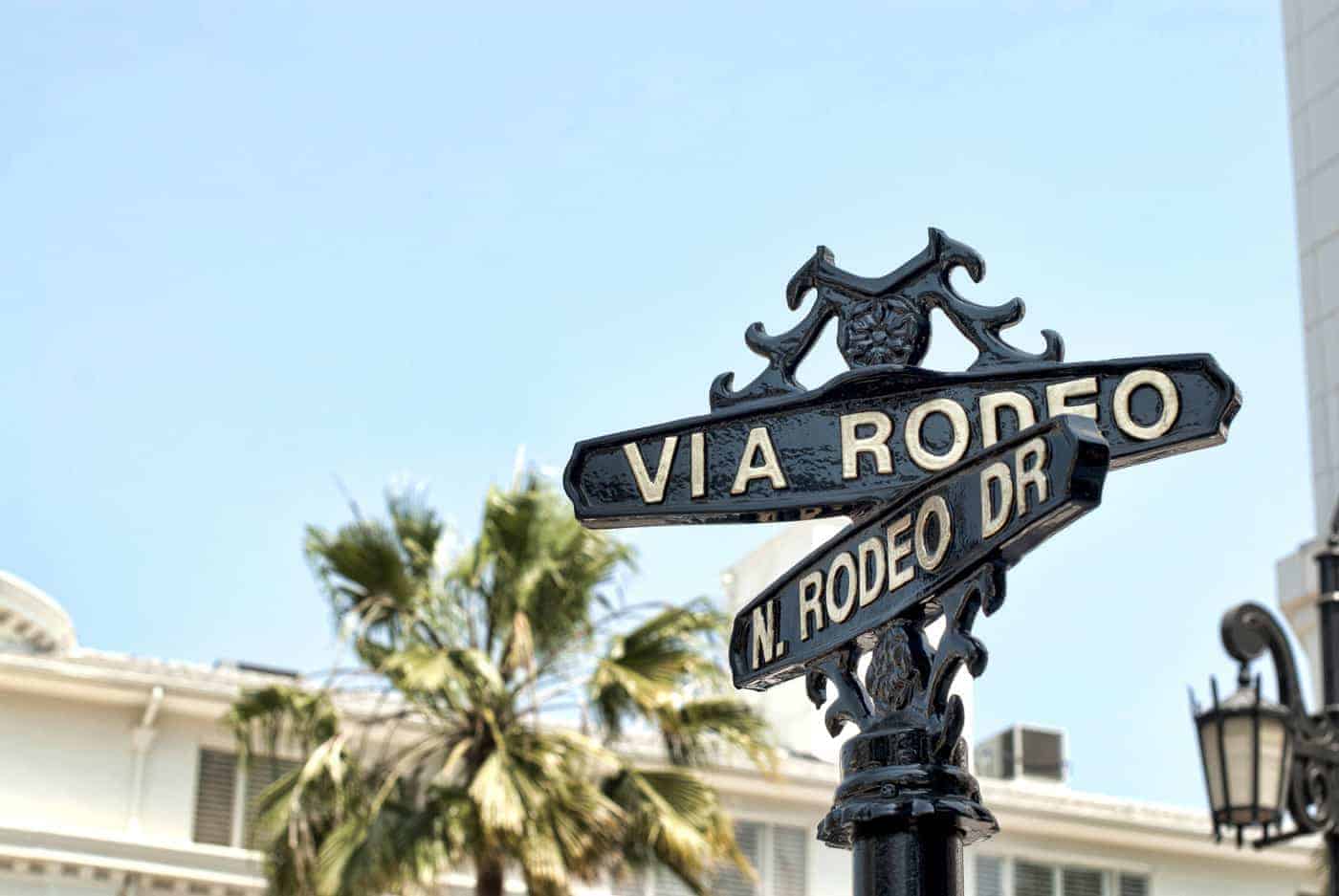 Explore West Hollywood
With 2 days in LA, you can spend your second day checking out West Hollywood. From Beverly Hills, you can cruise down the one and only Sunset strip to get there. If you didn't get enough shopping on your first day in LA, there's plenty more to be had here! Take your pick from the boutiques of Melrose Avenue upscale The Grove mall. There's also tons more shopping (and celeb-spotting) on the streets surrounding the intersection of 3rd and Robertson.
With 2 Days in Los Angeles You Can See the Tourist Highlights
If you want to check out the tourist gems during your 2 days in LA, continue east over to Hollywood proper. You can check out the famous Chinese Theatre, home to many a movie premiere. Continue on down Hollywood Boulevard to the intersection of Hollywood & Highland, which is a great spot for a photo of the Hollywood sign in the distant hills.
Further along down on Sunset is the Hollywood Walk of Fame. Who's your favorite star?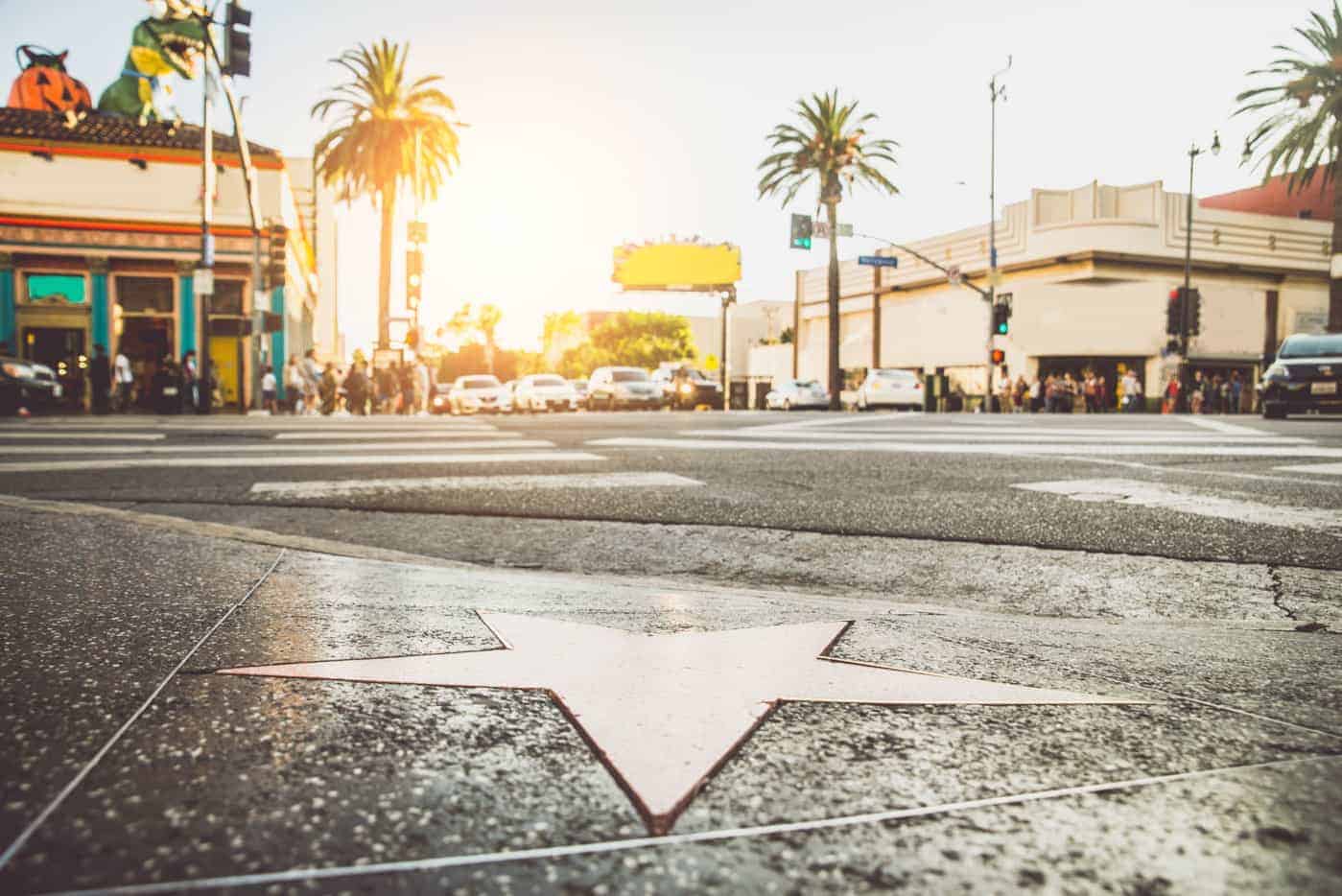 Visit the Los Angeles County Museum of Art
If the tourist magnets aren't your thing, check out the Los Angeles County Museum of Art (LACMA) instead. The museum is home to a GIGANTIC collection of art – in fact, it's the largest art museum on the west coast. You can buy your tickets online ahead of time. The LACMA is also home to Urban Light, that quirky and charming group of lampposts that you've seen all over instagram!
See Los Angeles from Above at the Griffith Observatory
Every Los Angeles weekend itinerary should include a view of the city from up above. Head over to Griffith Park and visit the Griffith Observatory, perched on top of Mount Hollywood. It's also a great spot for another view of the Hollywood sign!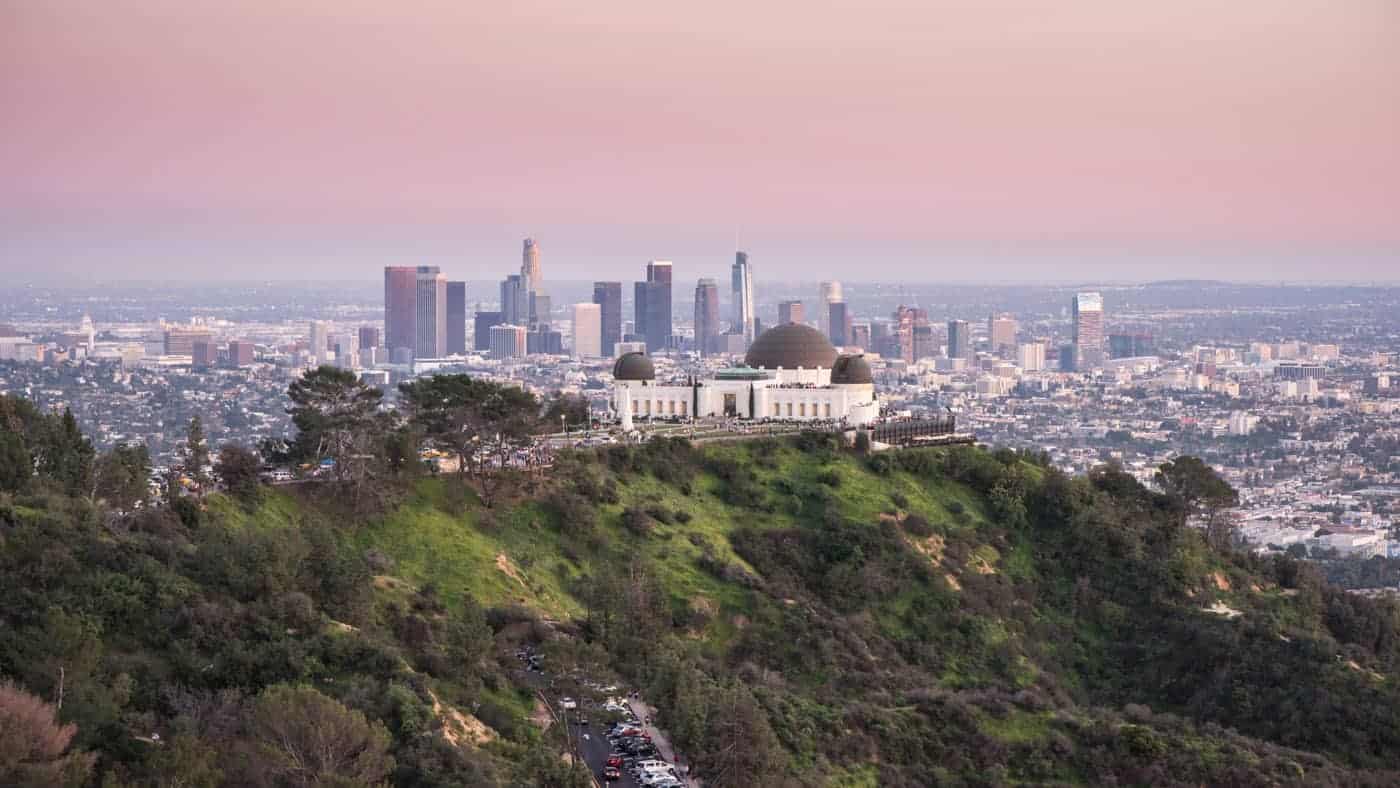 If you'd rather spend the last of your 2 days in LA getting a workout, an alternative is to hike Runyon Canyon. The views from the top of the trails are just as stunning, and you're bound to bump into a celebrity getting Fido some exercise! I can almost guarantee it.
How to Spend More than 2 Days in LA
There's so much to do in LA that it's hard to fit it all in during 2 days! But if you're lucky enough to have more than two days to spend in LA, there's plenty more to see.
One must-see in LA that you could include is a visit to The Getty Museum. The architecture of the building itself is worth seeing, and the treasures inside are the icing on the cake! Or maybe the cake itself? Anyway, it's incredible!
If you're outdoorsy, check out the beachy towns in LA's South Bay: Hermosa Beach, Manhattan Beach and Redondo Beach. Tons of beachy bars and of course, oceanside relaxation! Another option is to check out a Dodgers game if they're in town.
If you're into exploring cute neighborhoods, check out Silverlake and Echo Park for hipster boutiques and restaurants. Or, if you're traveling with kids, you could hit up one of LA's theme parks, including Universal Studios (Don't miss Citywalk!) and of course Orange County's Disneyland. But you've probably already heard of that.
You can buy your tickets to Universal Studios online ahead of time, and have them sent straight to your email which I highly recommend. Get them here at this link, and cross one thing off your to-do list!
If you enjoy wine tasting, Paso Robles is a quick trip from LA by car, and I have the perfect Paso Robles itinerary all set up for your visit!
And if you love the outdoors, try taking a day trip to Joshua Tree National Park. You'll fall in love with the desert scenery!
There you have it – the perfect 2 Day Los Angeles Itinerary!
Now that you know all of the best things to do in LA in 2 days, I hope that this weekend itinerary for Los Angeles helps you plan your trip to LA.
If you're traveling to California, make sure to check out my suggestions for the perfect San Francisco itinerary, and the perfect San Diego itinerary! If you like off-the-beaten path travel spots, check out my roundup of the best hidden gems in California!
And did you know that Vegas is only a few hours from LA by car? Check out this post on all the must dos if it's your first time in Vegas.
Pin It For Later!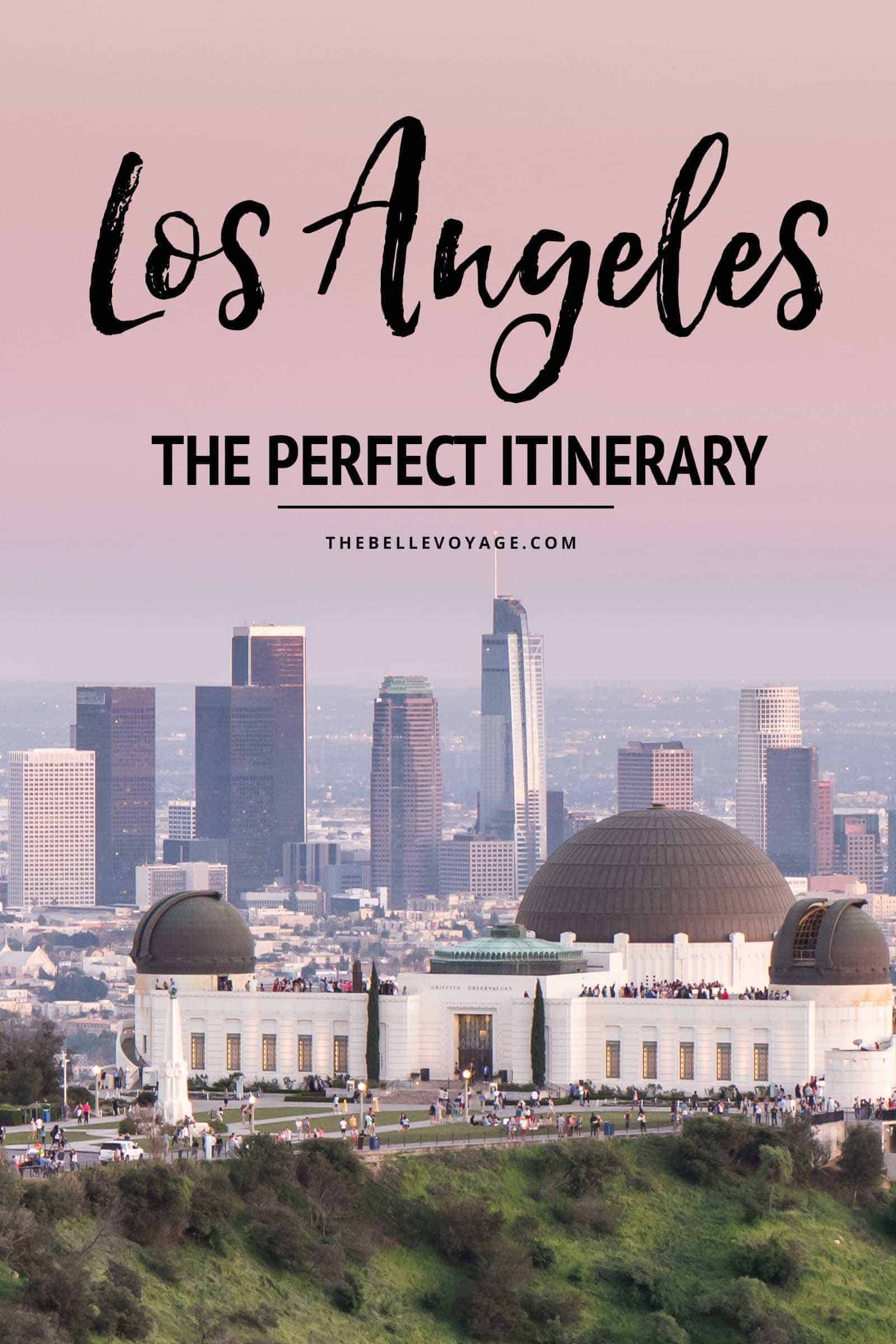 Wanna Learn to Pack a Suitcase Like a Boss?
Subscribe to download my three BEST travel planning resources:
Travel outfit planner
Pre-travel checklist
Carry on packing list