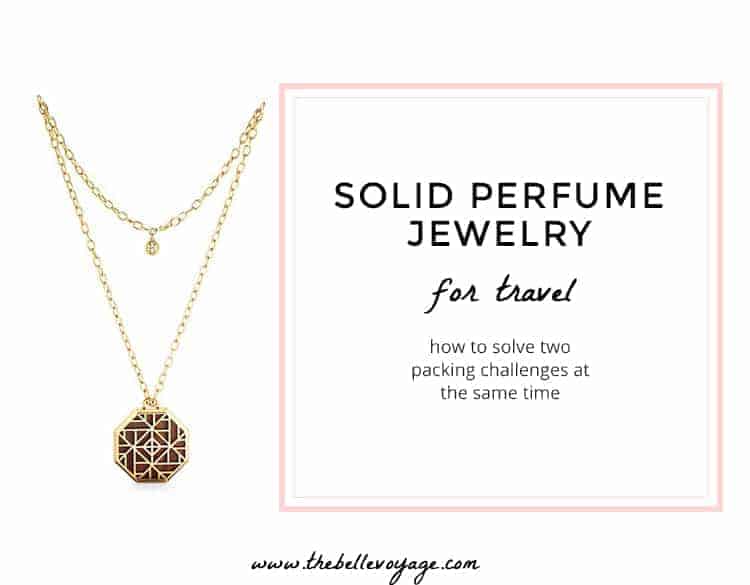 Posts on this blog may contain affiliate links. At no additional cost to you, if you click through an affiliate link and make a purchase, I may earn a small commission.
Based on this post title, I bet you're thinking: solid perfume jewelry…is that actually a thing?  I didn't know that it was, until recently.
But first let me back up a moment, if I may.
So Tory Burch just seems to be FEELING me these days.
I might even go so far as to call it a spring fling.  Between this makeup palette and these fold-up travel ballet flats, Tory seems to be all about drumming up travel-friendly accessories that facilitate traveling in style.  Which I'm not mad about.
I'm guessing Tory's been so inspired by globetrotting because she travels so much that she could be her own rap song.
I mean, check out her Instagram account.  Looking at her photos manages to ignite some serious travel envy in me on a daily basis.  But at the same time, she's making MY life easier by adding her signature style to travel must-haves that I'd probably buy anyways.
I'd call that a win-win.  My win doesn't include private jets, but…..#travelproblems.
Welp, Tory is at it again, this time with a new travel-friendly accessory that I just discovered the other day.  Wait for it…..
Solid perfume.  In a necklace.  Solid perfume jewelry, ya'll.
Take that, TSA.
No but really – I think the concept of solid perfume jewelry is genius.  Genius in the sense that it manages to address several packing challenges SIMULTANEOUSLY.
I've written an entire post about how to fit your liquids in a one-quart bag – the struggle is real.
One strategy is to find solid alternatives to liquid products.  Solid perfumes are a great answer to this, and there are a ton of beautiful options out there.
Solid perfume + my rule of three necklaces = solid perfume jewelry.  With one accessory, you've seamlessly solved two packing dilemmas at the same time.
And that's a beautiful thing!
You can check out the Tory necklace here.
If you don't love Tory's solid perfume necklace, you can check out a few other solid perfume jewelry options.  First another necklace option here, and two ring options here and here.
Wanna Learn to Pack a Suitcase Like a Boss?
Subscribe to download my three BEST travel planning resources:
Travel outfit planner
Pre-travel checklist
Carry on packing list