Cute Spring Travel Outfit Ideas: What to Wear on A Spring Vacation
This site uses affiliate links and I may earn a small commission when you use my links and make a purchase, at no extra cost to you. 
Looking for some spring travel outfit ideas? Trying to figure out what to wear for a spring trip can be a little tricky. Transition seasons like spring and fall can be notoriously hard to pack for, since the weather isn't exactly consistent. So today I am sharing 5 cute spring travel outfit ideas that will work for your trip, no matter what the weather might be. 
Many of the travel clothing pieces I used to create these outfits are from my spring travel capsule wardrobe. If you haven't seen it yet, it's a must-read! And wow, was it a hit, too. (Thank you to the 20,000 people who read it within the first four days of publication)! It seems like everyone is trying to figure out what to wear on spring vacation, so I've gotcha covered in today's post.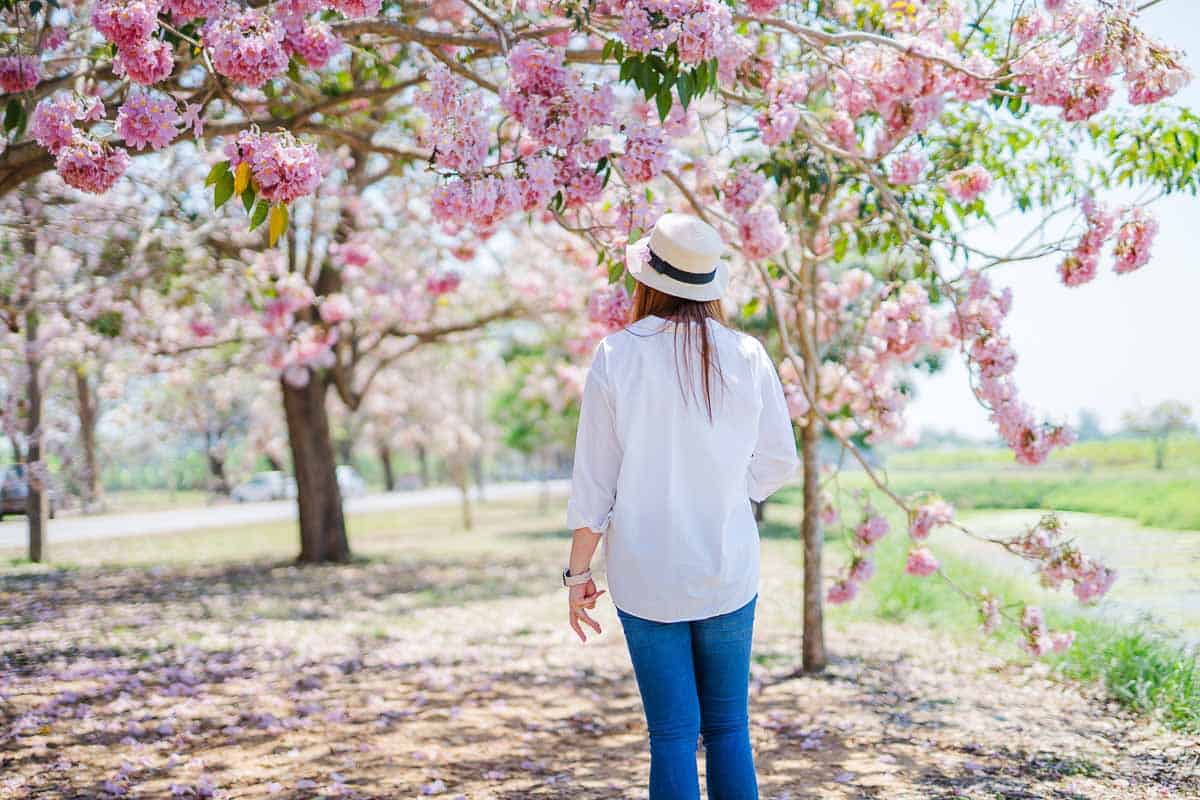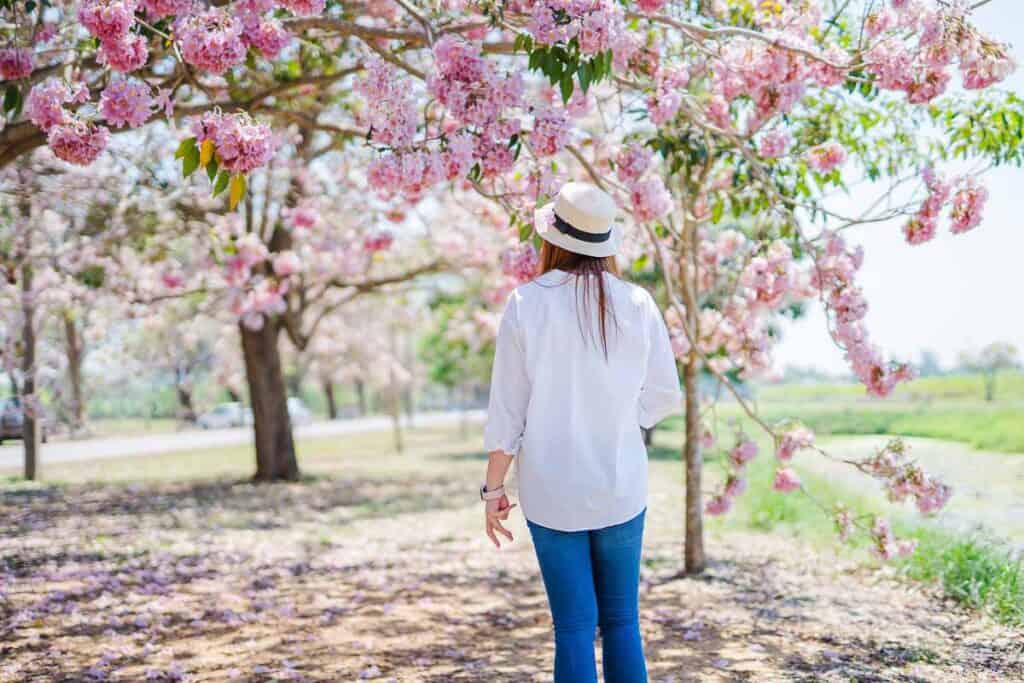 I created this guide to show you a range of cute spring travel outfits, designed to fit the unpredictable weather that is so common in spring. There's an outfit idea for every kind of weather!
Plan your spring travel outfits according to how warm or cool it will be during your trip. Maybe you'll be lucky enough to catch a super-warm day, or maybe it's just the opposite. Either way, these spring travel outfit ideas will help give you inspiration for what to pack no matter what the weather will bring.
These outfit ideas are organized from what to wear in cold weather to what to wear in hot weather, and everything in between. No matter what the temperature will be, you'll be prepared.
In a hurry? Jump directly to the outfits here.
How to Put Together a Spring Travel Outfit
Let's start with a few tips on how to put together a spring travel outfit, and what you should keep in mind when you're deciding what to pack.
Plan for Spring Weather
Spring is one of the most popular seasons for travel, but it's also one of the hardest to pack for. Depending on where you're going, the weather might vary wildly from one day to the next.
Unlike summer and winter when you can expect consistently hot or cold weather, in the spring, you will probably need to pack travel outfits for both warmer and cooler temperatures. Make sure to check the forecast before you begin packing.
Pack Versatile Pieces
Because spring weather is unpredictable, make sure that your travel outfits are versatile. It's always a good idea to pack versatile pieces for travel, but that is especially true when you're trying to plan for changing weather.
Look for pieces that you can easily layer to create different looks depending on how warm or cool it will be. Keep reading for my recommendations on five go-to pieces that are super versatile and perfect for travel.
Use a Capsule Wardrobe
If you will be doing a lot of travel during the spring this year, consider creating a travel capsule wardrobe, and using your capsule as a packing list.
What's a capsule wardrobe? It's a small collection of clothing pieces that can be mixed and matched in lots of different ways to create a wide variety of styles and outfits. WIth only 15 pieces, you can create a ton of different styles if you use the right pieces. Check out the guide for all the details!
5 Cute Travel Outfits for Spring
Now for the fun part: travel outfit inspiration! If you need some spring travel outfit inspo, here are a few of my favorite looks for this season. I've organized them from coldest weather to warmest weather, to make packing easy depending on the weather.
Outfit #1: Cold Spring Weather
If the spring weather on your trip will be more winter than it is spring, build your travel outfit around black leggings.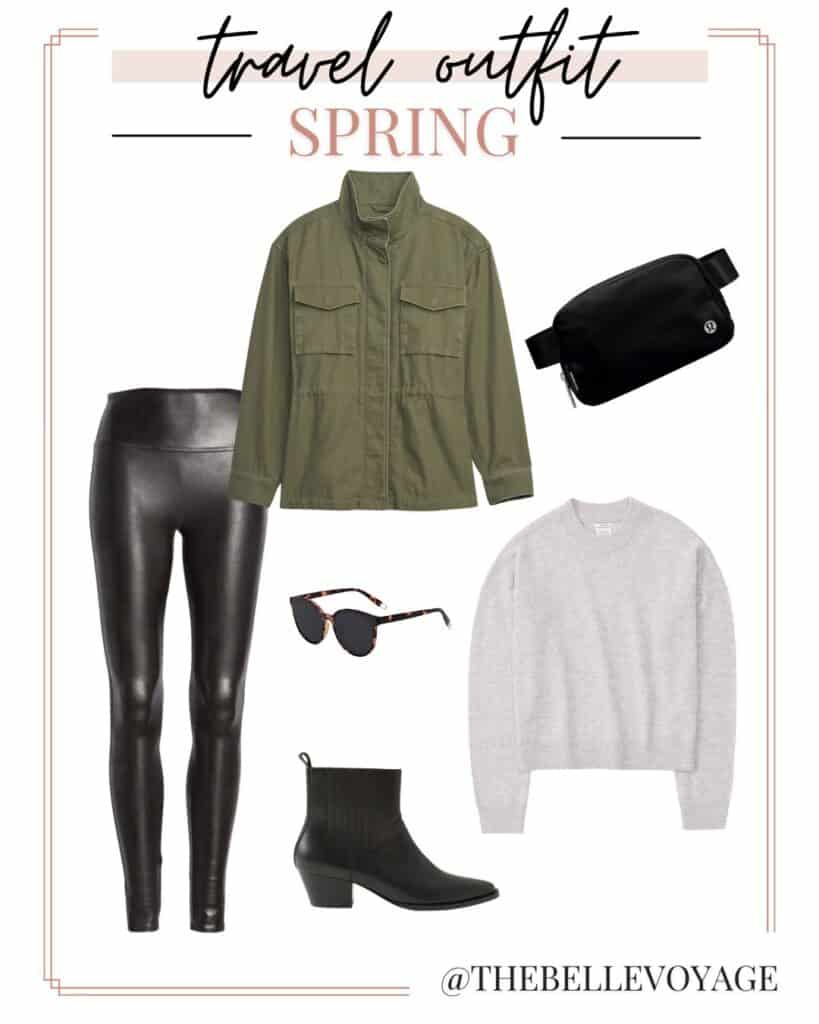 I recently bought my first pair of faux leather leggings and all I can say is oh my goodness….why did I wait so long.
They're so warm, comfortable and versatile. Plus they take up almost no space in a suitcase! So they're really the perfect pants for traveling.
Pair them with comfortable ankle boots, layer a sweater under a utility jacket on top for warmth, and maybe even add a cozy scarf as an accessory. You can even wear them as part of your airplane outfit!
Outfit #2: Cool Spring Weather
If temperatures will be in the 50's during your spring trip, you'll still need some layers for your travel outfits, but the layers can be a bit lighter.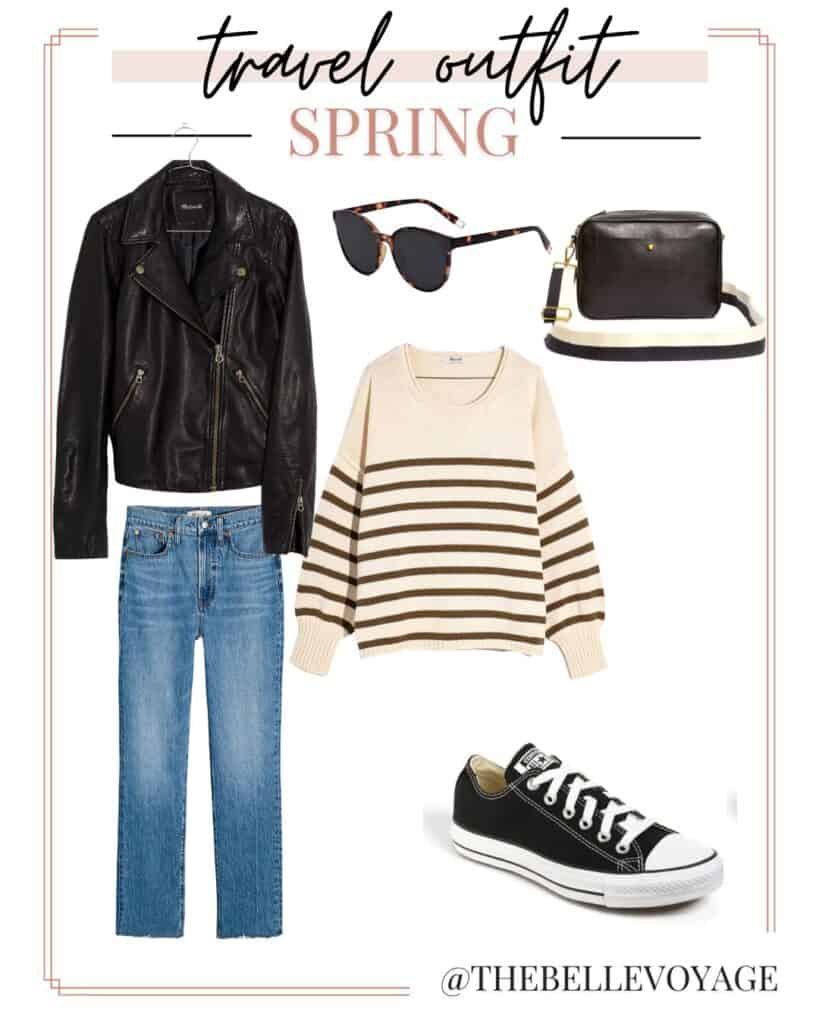 Build your spring travel outfit around these jeans, which have plenty of stretch (so they're comfortable for travel), and a super flattering shape. They're cropped to exactly the right length to work with sneakers or flats, too.
With weather that's cool-but-not-cold, you don't need a bulky wool sweater, and instead can wear a lighter springtime sweater under a leather jacket.
I love this sweater-jacket combo because the stripes on the sweater add interest, while the leather jacket will keep you toasty and can be styled with plenty of other pieces in your suitcase.
If you need more styling ideas for cooler weather, these fall travel outfits are the perfect place to start!
Outfit #3: Mild Spring Weather
If the weather on your trip will be truly-spring like in the 60's, you can mix up your spring travel outfits with a cute t-shirt dress layered under a denim jacket.
I love this camel dress from Madewell. It's simple, but the neckline and sleeves give it a unique look, and the color can be styled with just about anything.
If you don't have one already, I also highly recommend a denim jacket for spring travel. I finally got this one a few weeks ago, and now I bring it with me everywhere.
It's the perfect layer for the kinds of warm days and cooler evenings that usually come with spring weather, and since it's so versatile, I don't need to pack any other layers.
Outfit #4: Warm Spring Weather
If you're heading to a warm weather spring travel destination, try building one of your travel outfits around a versatile midi skirt.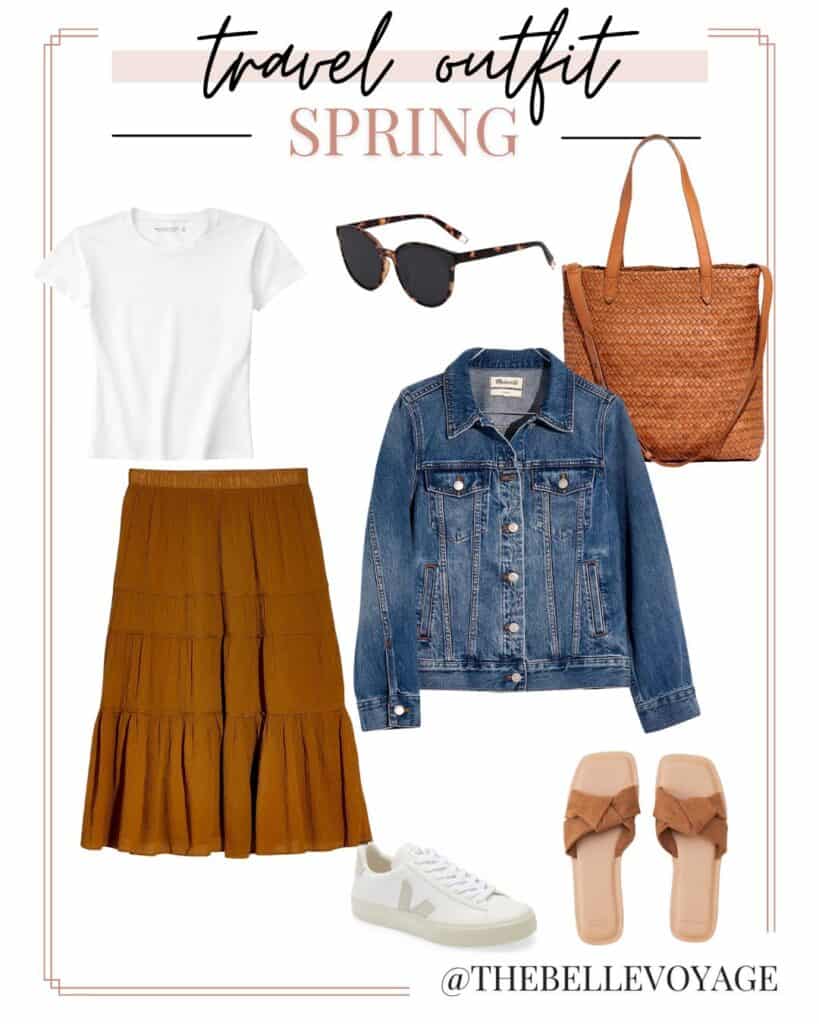 I love to pack midi skirts when I travel, because they add a touch of polish to something as simple as a t-shirt, and you can wear them with sandals, sneakers, or ankle boots.
If the weather is warm enough, you may not need an outer layer, but it's always a good idea to bring at least one to wear on the plane, or in case it gets chilly at night. A denim jacket is your best bet.
Outfit #5: Hot Spring Weather
If you are traveling to weather that will be in the 80's for your spring trip, you're either heading to a beach, or you'll just be lucky enough that it'll feel like summer the whole time!
This spring travel outfit couldn't be easier. For a cute and comfortable travel outfit, throw on a dress that can double as a swim cover-up.
You can wear it with flat sandals during the daytime, and dress it up at night with some metallic flat sandals or wedges.
I adore the black and white print of this dress. It's a splurge for sure, but it's a classic you can wear for years.
For more warm weather ideas, check out these summer travel outfits.
What to Wear on A Spring Trip: 5 Essential Pieces
Need some help deciding where to start? Start with some basics! These are my top five essential spring travel clothing pieces.
If you only add these five things to your travel wardrobe, you'll be set for any travel plans you have this spring.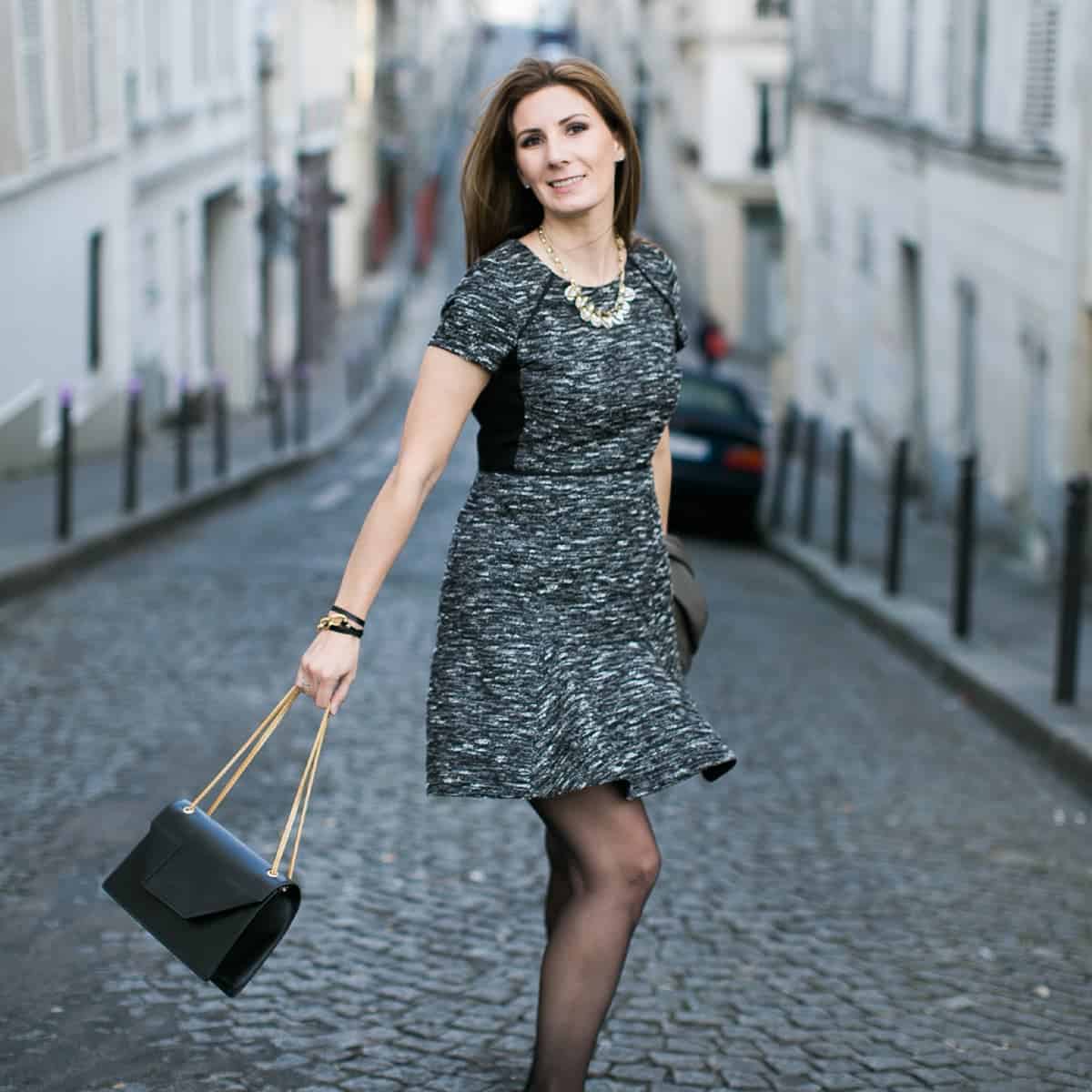 shop my favorite
TRAVEL ESSENTIALS
Ready to jet-set with ease? Discover my favorite travel products for your ultimate passport to stress-free adventures!
1. Faux Leather Leggings
I can't tell you enough how much I love my faux leather leggings. They add just the right touch of interest to a simple outfit like sneakers and a sweater. They're a great clothing item for spring because you can pair them with sweaters or t-shirts depending on the weather.
What's great about faux leather leggings for travel is that they take up almost no space in a suitcase, so you can easily stuff them inside a pair of shoes. Compared with a bulky pair of black jeans, you're far better off with faux leather leggings if you want to pack light.

2. White Sneakers
White sneakers are one of the most versatile kinds of shoes out there. They're a little bit more elevated than regular sneakers, so they look great with jeans OR a dress.
At the same time, the arch support in sneakers means that they're more comfortable than most flats or sandals, so they're a good choice for trips where you will be walking a lot, but don't want to bring your running shoes.
If you will be doing a lot of walking, check out one of these cute walking shoes for Europe.

3. Tank or T-Shirt Dress
Speaking of versatility, if you don't have a tank or t-shirt dress yet, add one to your spring wardrobe! Look for a dress in a neutral color like black, navy, or camel, and I promise you'll wear it all spring and summer.
Layer your tank or t-shirt dress with a denim jacket or a leather jacket when it's cooler, and wear it alone when the weather warms up.

4. Spring Sweater
Another essential piece of clothing for spring travel is what I like to call the "spring sweater". Unlike its siblings, the fall sweater and the winter sweater, a spring sweater is one that's made of lighter material (like cotton) and has a crew or v-neckline rather than a turtleneck or mock turtleneck.
A spring sweater will keep you warm enough, especially layered under a jacket, but it's not designed for COLD weather, so you won't overheat when you're moving around.

5. Denim Jacket
Another wardrobe staple that I waited way too long to buy is a denim jacket! A denim jacket is the absolute perfect layering piece for spring travel.
I adore my Madewell denim jacket (linked below) because it's the perfect shade and feels already worn-in, so it's super comfortable and not stiff or bulky.

How to Pack for Spring Travel
So how do you pack your clothes for that upcoming spring vacation? Here's a few tips:
Pack Plenty of Layers
Packing layers is a good strategy for any trip, but it's especially important for the wild temperature swings that can come with spring weather. One day you're soaking up warm sun rays, and the next, you're shivering in your t-shirt!
For spring trips, make sure to pack tops and jackets that you can layer up or down, depending on what the forecast calls for.
Don't Forget Rain Gear
When you're packing for a spring trip, don't forget to pack some rain gear, since chances are good that you'll experience some raindrops while you're traveling this time of year.
You don't have to go overboard on packing rain gear, though, since it can be bulky, but packing one or two essentials can make a big difference in how comfortable you are if you're caught in less-than-ideal weather.
If you're limited on space, this raincoat is super packable (and has a hood), and I love this travel umbrella because it's lightweight and folds up to be very small in your bag.
Plan Ahead
The best way to pack for any trip is to do some planning ahead of time. My best advice is to think about your trip one day at a time, and consider the activities that are planned for each day.
The easiest way to do this is by using my free travel outfit planner! It's a day-by-day grid that you can download and print, and use to help guide your packing strategy. By planning your outfits ahead of time, you will avoid overpacking, and you won't leave any of your important essentials behind.
Download A Free Travel Outfit Planner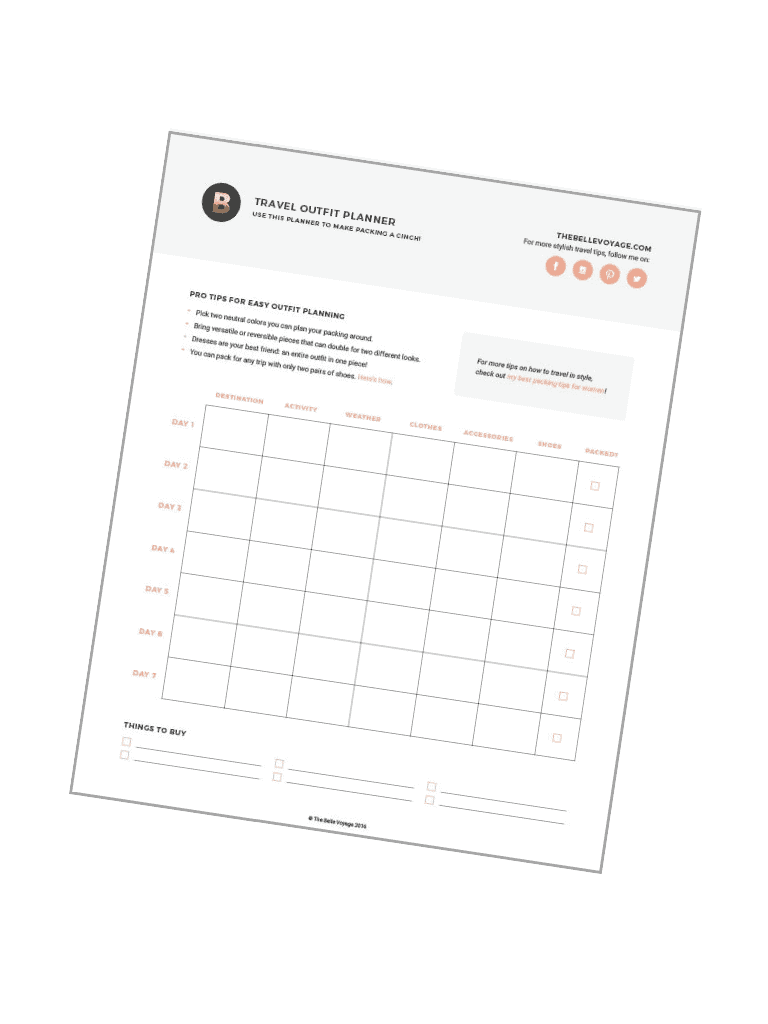 Spring Travel Packing List
Looking for a spring packing list? My packing list for spring is in the works and will be coming soon! Check back or subscribe for my email newsletter for updates.
Until then, check out my free printable travel planners in my resource library. They've got everything you need to pack for your spring vacation – and it'll all fit in a carry on bag!